Those who know me, know I love to throw parties! I love to celebrate all of life's moments, big or small. So when my little guy turns 5, I went all out with a beach themed birthday party in our backyard. So fun, so easy and plenty of ways to keep the costs down low.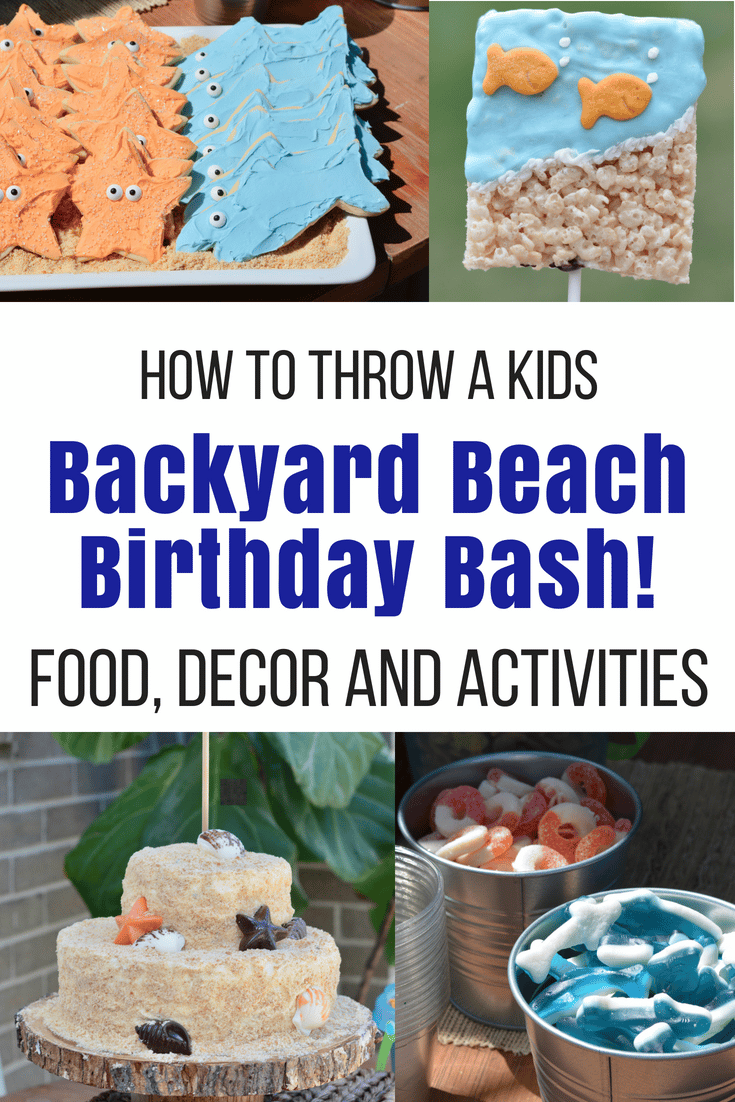 A few of my own rules for kids parties (to save money and sanity):
Party at two - 2:00 is the best time for a kids party. No meal required and kids aren't cranky yet.
Choose a general theme - "beach" is so much easier and cheaper than "Finding Nemo". I much prefer a general theme so I'm not forced to overspend on decor. I can just buy blue plates, rather than something with Dory's face on it. Kids will still love it and you'll save your sanity and your dollars. It's also easier to incorporate things you already have when you keep it general.
The rule of three - there should be 3 activities or sources of entertainment. For my son's party, we had a shark bean bag toss, hula hoop beach ball throw, and face painting.
Make ahead - almost everything should be made ahead of time. On the day of my son's party, I had time to focus on my son and enjoy getting ready for his day, rather than running around frantically.
Make a list and stick to it - when I brainstorm a party, I make a list of activities, decor and food and I stick with it. It's soooo easy to get swept up in Pinterest mania and end up doubling your list without thinking twice. RESIST! Keeping it simple is best for you and your budget.
Create my own invite - I use Canva to create invites, favor tags, food signs and just about anything else. It's a really great, FREE program that anyone can use to design. I make an invite, download it to my computer and send it to myself via email. I then text it to those I have phone numbers for, and print out a few copies for the one's we hand-deliver at school. Easy!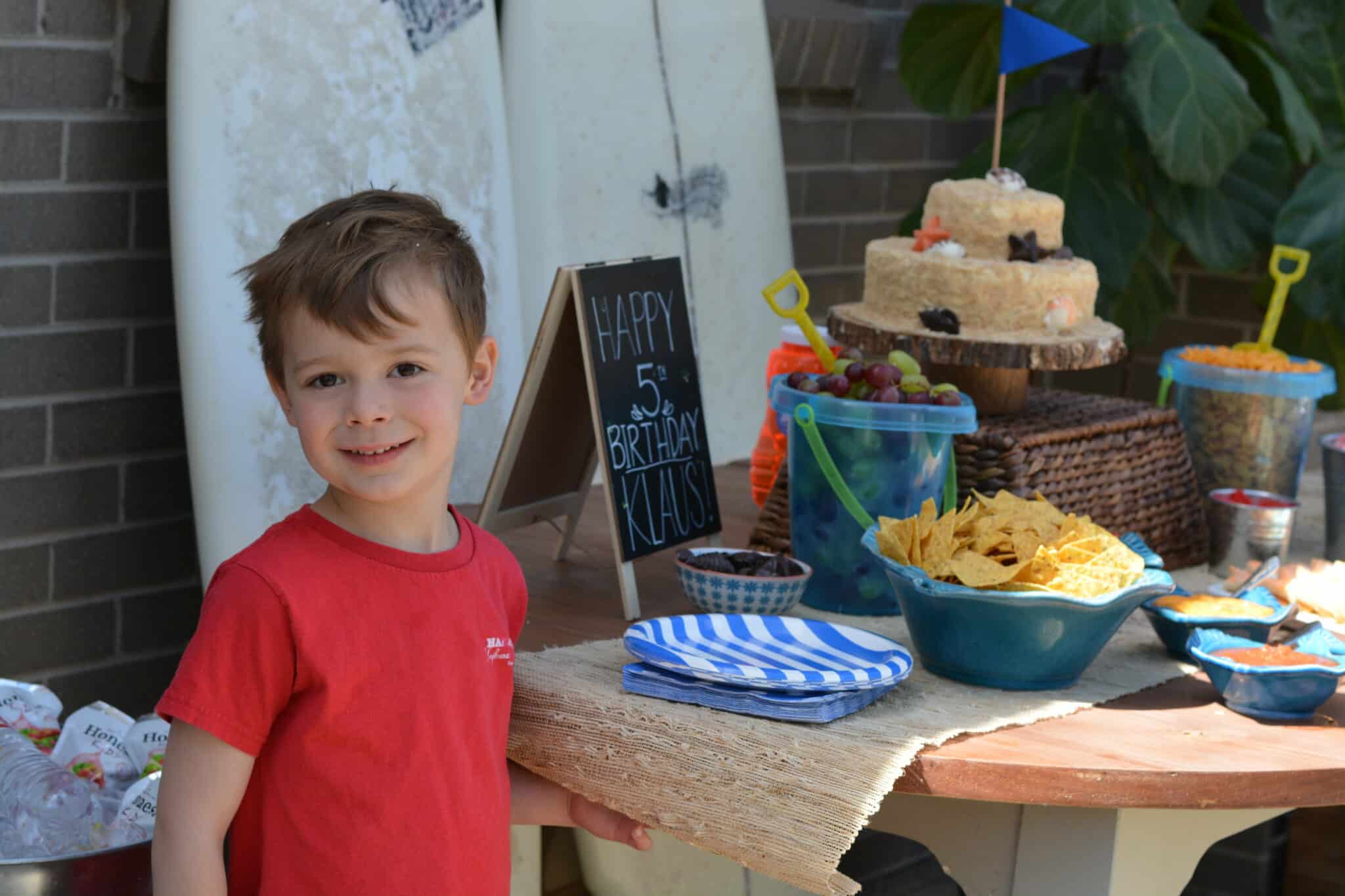 How to make it feel like a party in 3 easy steps:
Play music - For my son's beach theme party, we created a Beach Boys station on Pandora and played it outside near the action. (Don't play the music too loud. It will overpower conversation and make the kids a little nuts.)
Bubble machine - anytime we have an outdoor party we stock up on Miracle Bubbles (affiliate link) and turn on the bubble machine (affiliate link).
Wear your party - I love to make or buy something for the kids to wear that goes along with the party theme. For my son's Star Wars party, we did printed headbands of the characters. For my daughters flower party, I made flower bands kids could wear on their head or arm. And for the beach party, we did face painting. What kid doesn't love face painting? My husband and I also dress to go along with the party. Star Wars shirts, beach print shirts, flowers, etc. You get the idea. Carry the theme in everything you can!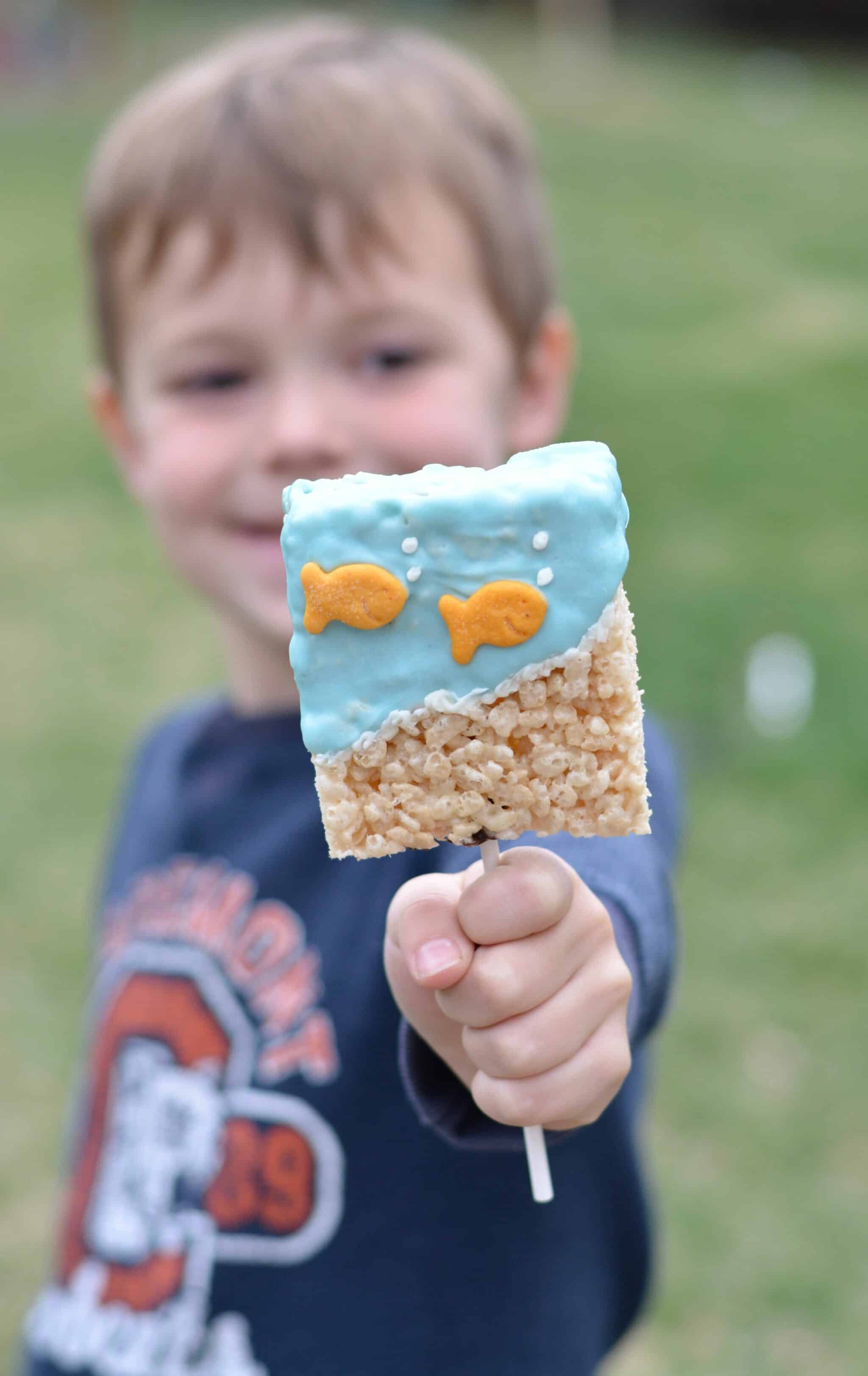 Party Favor Thoughts (and my personal preferences):
Keep it to one item - I send kids home with one larger item as opposed to lots of little trinkets. This is my preference, both to give and to get.
Make it part of the party - for my son's beach party, the beach balls were the party favor. They got to make memories with them AT the party and then take it home, so easy and so fun! (Plus, beach balls are only $0.99/each! Links at the bottom of this post.) I also love the idea of their favor being something they can make. At my daughters flower party, the girls got to make their own flower headbands, wear them at the party and then take them home. Win, win, win!
When in doubt, make it edible - I'd rather have my kid come home with a single lollipop than a bag full of plastic trinkets. It's easier for the party-thrower and this is definitely my preference. We don't want more toys on the floor to step on or pick up or throw away when they inevitably break the first day. Nor do we want to listen to the cries when it does break.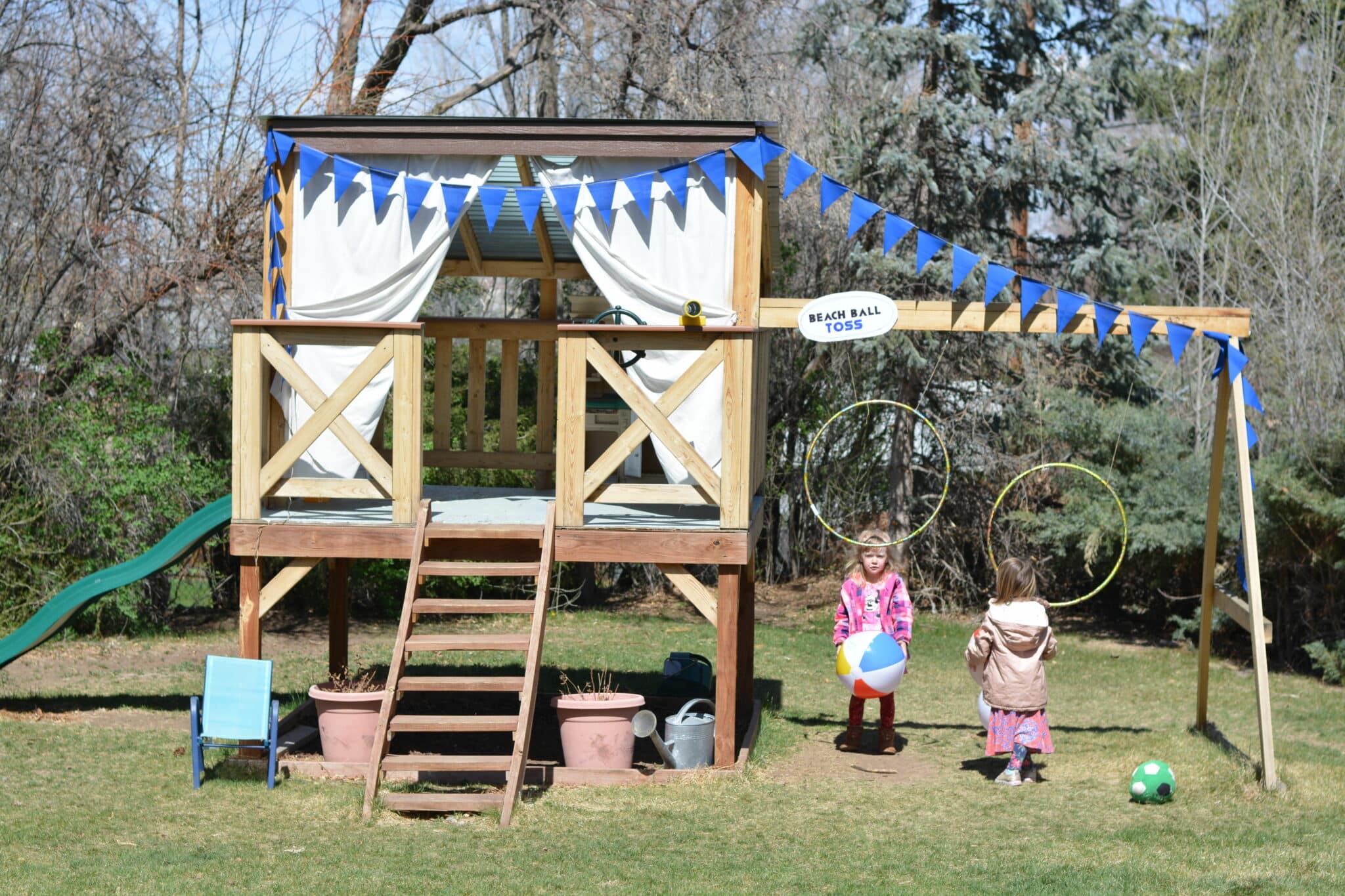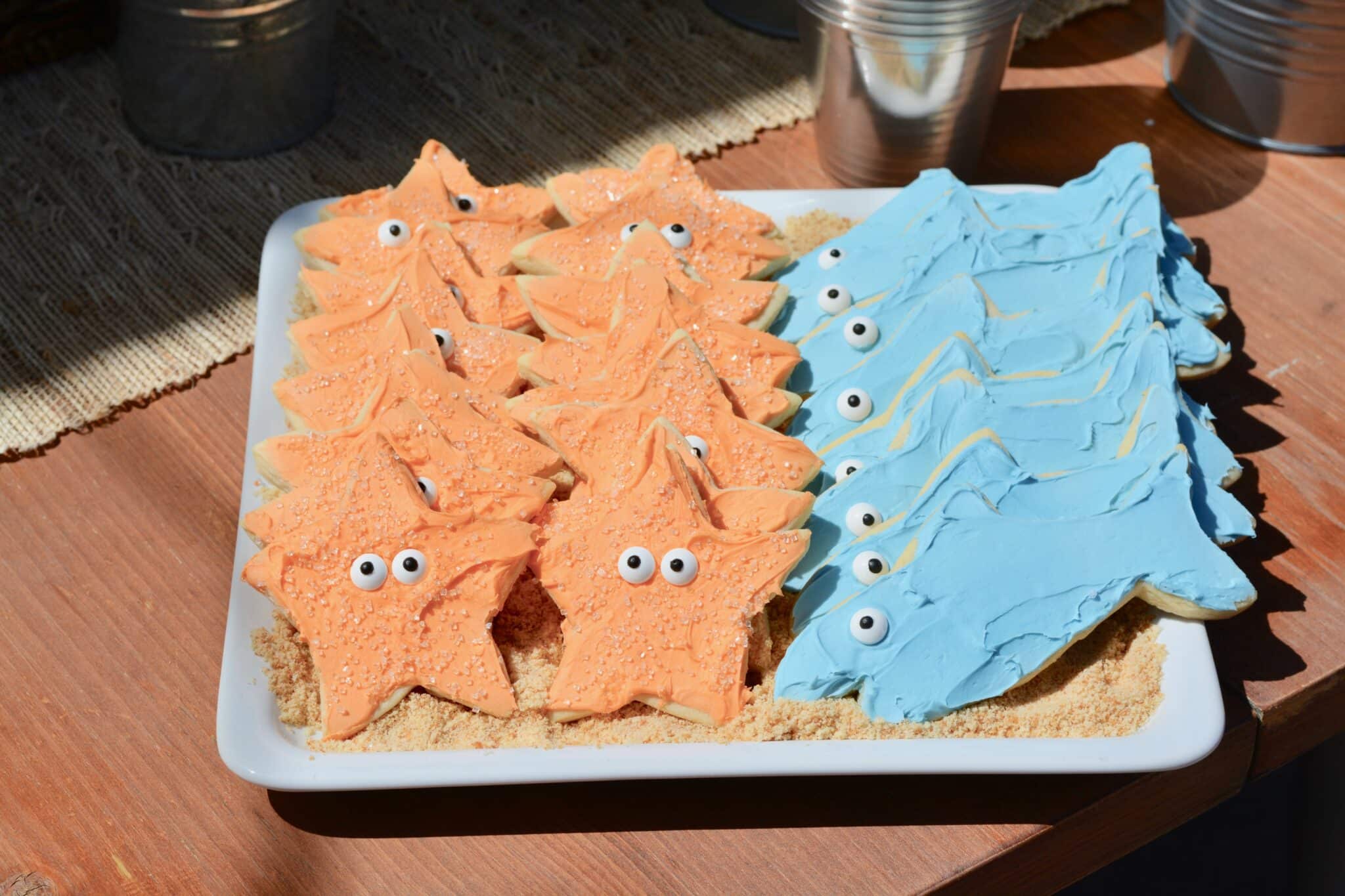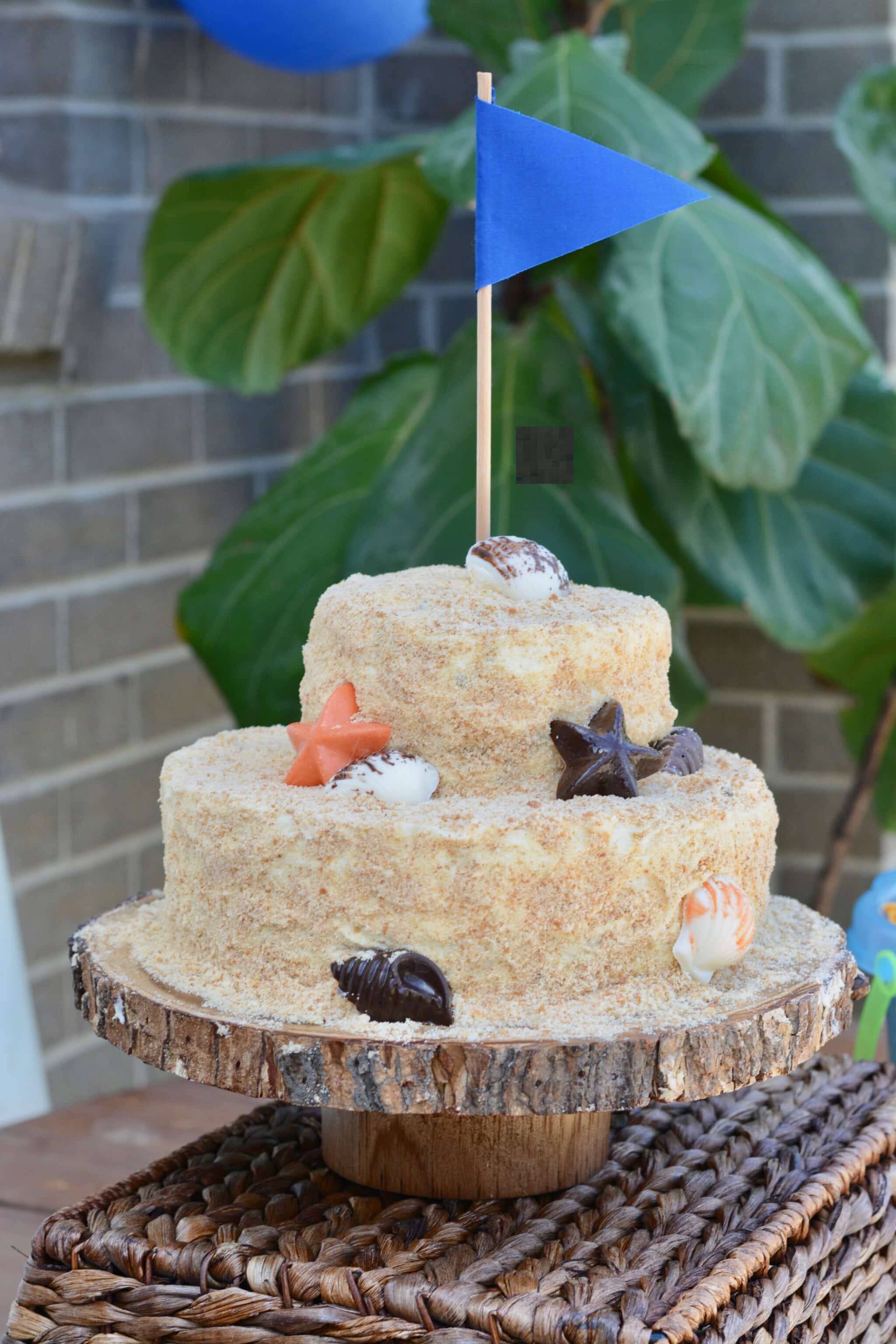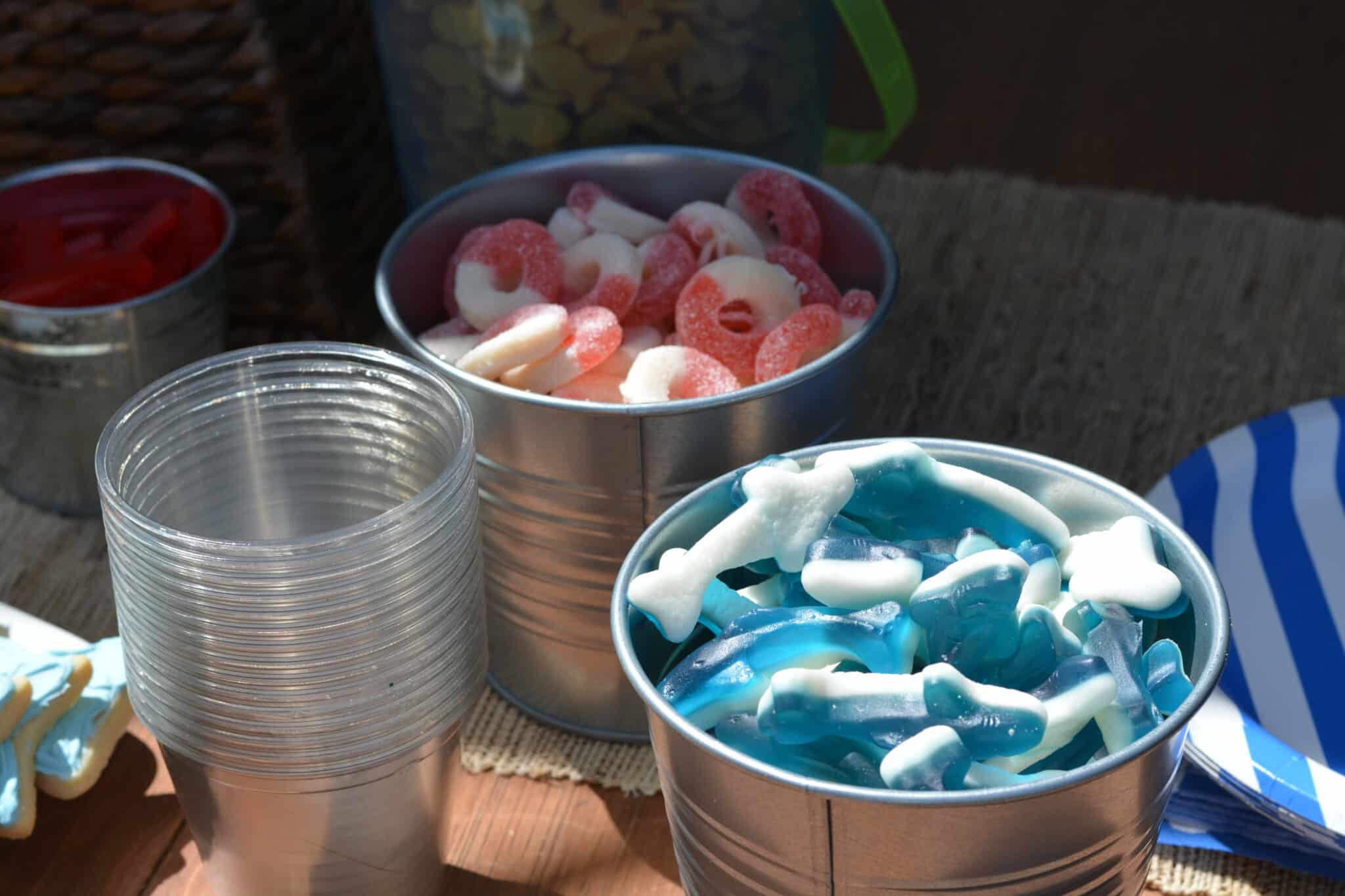 Party Decoration Ideas that are Easy and Inexpensive!
I'm a big fan of bunting banners. They always take a party up a notch and are super easy to make and tailor for each event. They can be hung inside or outside, really anywhere! I make one for every party and then hang on to it to use for other smaller holidays.
I like to buy a square of fabric for the table, rather than plastic tablecloths. I know those plastic tablecloths make clean-up easy, but they're not pretty and you can get fabric in ANY color or design to go with your theme.
Quick Party Supply Links (these are all affiliate links)
Beach buckets for serving snacks (I used similar one's Target had in the dollar section in the spring)
Candy Melts (You can get these on sale at JoAnn or Michaels for the best price)
Animal Cookie Cutter Set (I love this set! I use it for everything!)
Lollipop Sticks (for the Rice Krispie favors)
I hope these ideas helped a little bit! If you have any questions about the specifics of this party, feel free to reach out to me. Or if I can help you brainstorm ideas for your next party, I'd love to help!