Preventing UTI's with salad dressing? Sounds weird, I know. But I have suffered through at least a hundred UTI's over the past 10 years. And that's not an exaggeration. Because of this, I entered a special group of women who have something called "chronic UTI's". So the more you get, the more you get. It's a cycle that was really hard to break. I spent most of the past 10 years on antibiotics, until I finally got it under control with a combination of supplements and food choices.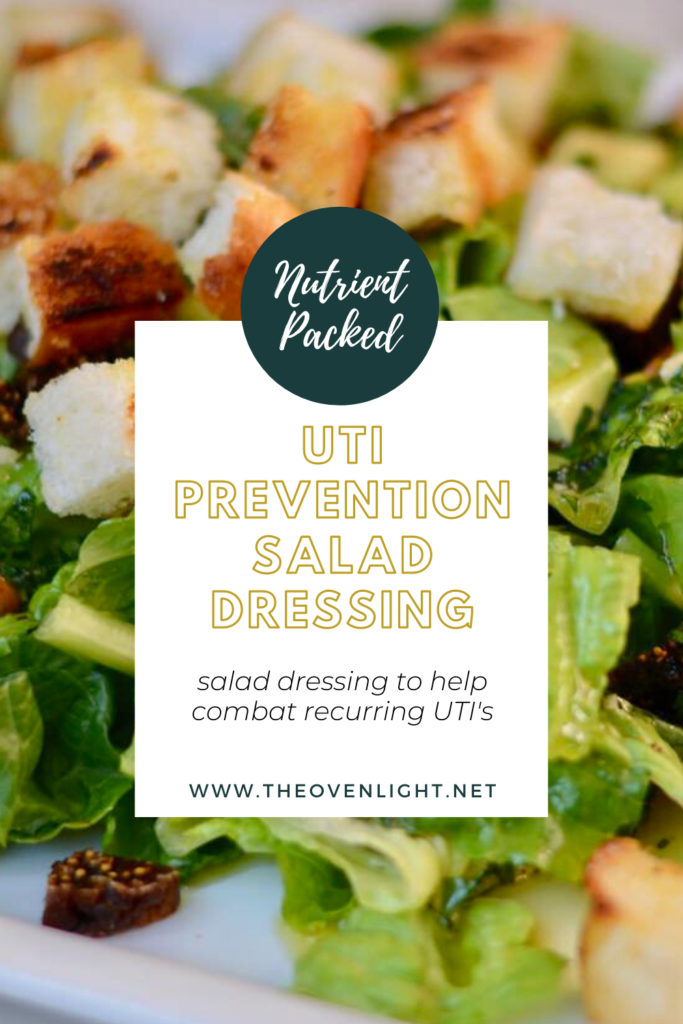 I make a salad almost every day for lunch, so this salad dressing was my opportunity to pack in as many UTI prevention ingredients in a way that's super tasty, healthy and easy.
Garlic
Let's talk ingredients. First off, GARLIC. It's the wonder food that is like nature's antibiotic. Allicin is found in raw garlic, which is anti-bacterial and anti-fungal.
For a while I'd eat a raw clove of garlic in a spoonful of raw honey every morning (obviously, I was getting desperate)....until my husband told me I had to please stop. I couldn't get the smell out of my mouth all day. Apparently, he didn't like it. But if you (and those you're close to) can stand it, it can be an effective way to flush that bad bacteria.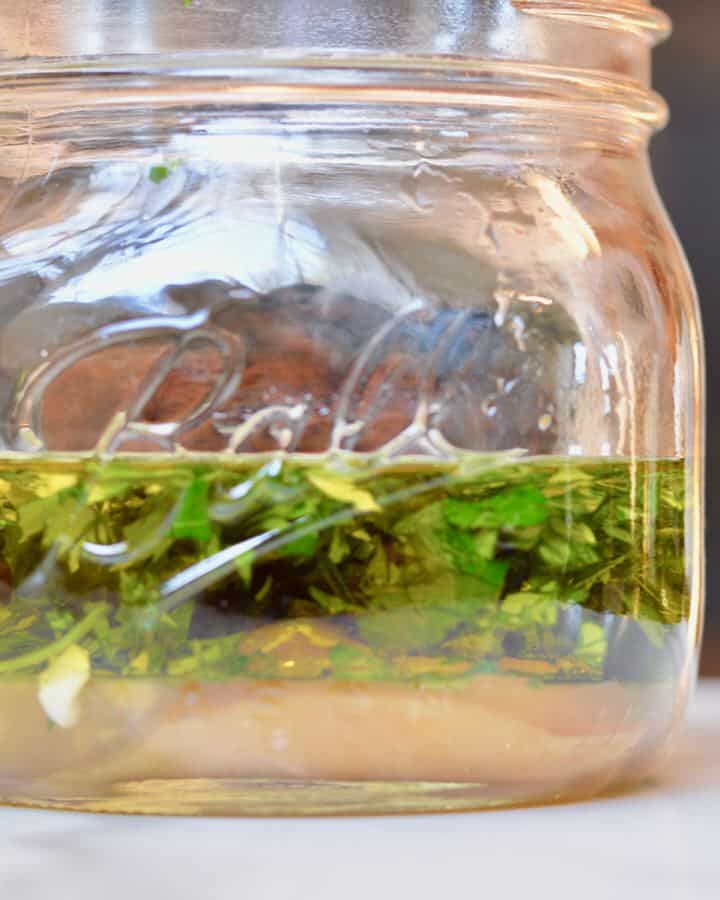 Parsley
Next we have PARSLEY. This salad dressing has a lot of chopped Italian parsley which has anti-inflammatory properties that can help flush your kidneys and urinary tract. It's also a pre-biotic and is packed with tons of vitamins. Adding parsley to a salad dressing is an easy way to get down lots of this good stuff.
Apple Cider Vinegar
APPLE CIDER VINEGAR is a really hot health ingredient these days. But for a UTI, ACV really helps flush bacteria from the body. Make sure you buy it "with the mother" to get all the good stuff in it. I like this ACV. (Amazon's price is really good, too!)
Again, these ingredients are really to help PREVENT a UTI. If you have a UTI, or think you may, definitely see a doctor. If you think you might be getting recurring UTI's, see a Urologist. I found that my Doctor didn't refer me for way too long. Be your own advocate! My urologist never recommended any supplements, I had to do all my own research. And here is a list of the supplements I have found to be the most effective: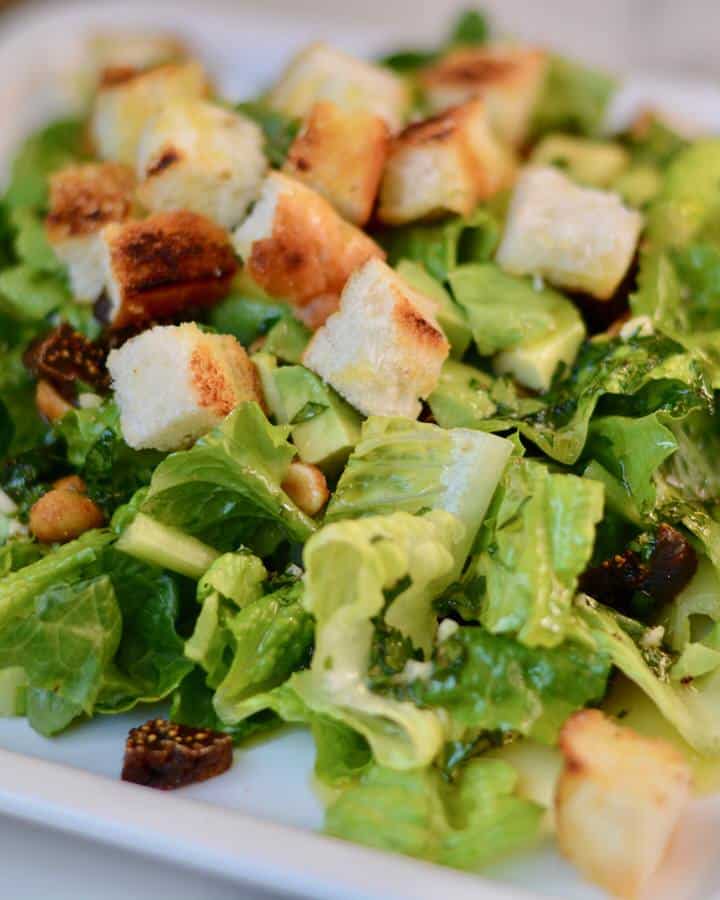 Supplements for UTI prevention:
This supplement is the unsung hero of those who fight UTI's. You have to take quite a bit. It's actually a sugar (does not affect your glucose levels) found in fruits that makes the inside of your urinary tract slick so that bacteria can't stick to it and multiply. I've linked to the one I use.

This is my most recent addition to my routine and it has been VERY effective. It's a probiotic specifically targeting your urinary tract system. Linked to the one I've been using and really like.
This is a newer product. It's a powdered drink mix that has a mega dose of vitamin C, D-Mannose and Vitamin B6. I drink this every time I engage in any activity that can lead to a UTI (travel, sex and exercise). It's worked really well for me so far, and it's certainly more convenient than taking 17 different vitamins at once.
Take lots of vitamin C. It boosts your immune system and gives your body your best chance of fighting any bacteria that has hung on. Use good quality stuff. Linked the brand I prefer.
This blog post has been such a wealth of information. Her advice has been reviewed by a medical professional, so I find it informative and very helpful.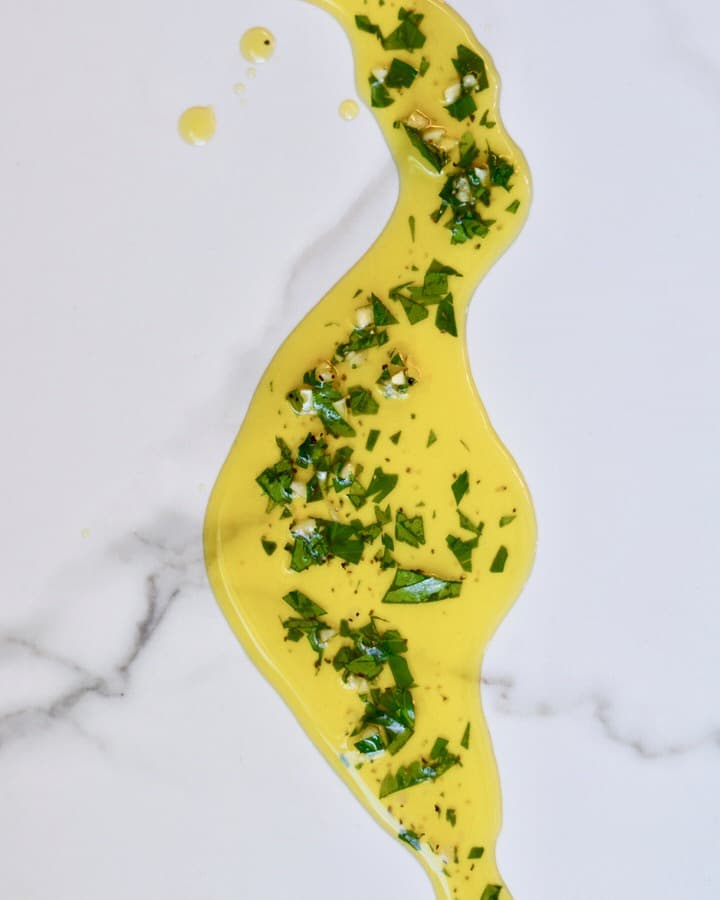 Habits for UTI Prevention:
I use tea tree oil to cleanse my lady parts after sex, working out, or spending the day in the sun and sweating. This is a natural way to kill any bacteria hanging out on your skin. It is for external use only. I put a few drops on a warm, wet washcloth and cleanse the area. It's refreshing and doesn't affect the Ph balance of my skin. I've linked the one I like, and has the best price.
Water
My urologist kept telling me to drink lots of water, and I thought I was drinking a ton, until I finally bought myself a reusable water cup and filled it up constantly. This really helped me drink more. You should be drinking at least 8 FULL glasses per day, more is better. Which means you should be peeing A LOT. This is the absolute best way to flush all your bacteria. This is the one I use and really like it, especially the price!
Sugar
Cutting back on sugar helped me break the cycle of UTI's that just wouldn't go away. Bacteria feeds on sugar, it LOVES sugar. So when you eat a lot of sugar (especially refined sugar), bacteria has a little replicating party and starts growing really fast. So cut back or cut out. It's not easy, but it's definitely what helped me break that terrible cycle of recurring UTI's.
I've created a few recipes that feel indulgent, but cut out most or all refined sugar. These are a great way to start cutting back on that bacteria-loving refined sugar. Check them out here:
I really hope this salad dressing recipe and my list of supplements and habits has helped you! I know the pain and fear of the UTI very well. If you ever have any other questions or ideas, please comment and share. I'd love to hear about what works for you!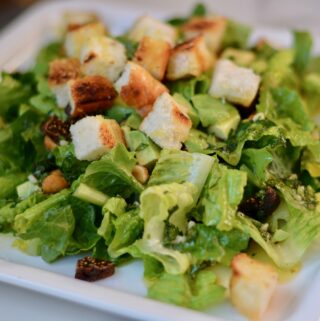 UTI Prevention Salad Dressing
These healthy ingredients help keep your urinary tract clear of bacteria.
Print
Pin
Rate
Ingredients
¾

C

olive oil

½

C

loose packed Italian parsley

finely chopped

4

cloves

garlic

finely chopped

2

tablespoon

apple cider vinegar

with the "mother"

1

tablespoon

honey

1

teaspoon

kosher salt

¼

teaspoon

pepper

more to taste
Instructions
Mix all ingredients in a jar or plastic container with a tight fitting lid and shake vigorously. Can be made ahead and stored in the fridge for a week.