If you're familiar with Lebanese food (lucky you!), then you've probably had this Chicken Tawook Pita Sandwich or similar. The marinade and sauce is a perfectly spiced yogurt sauce. It's seriously delicious. The flavor is difficult to define, but it's creamy, tangy, perfectly spiced (not spicy) and is only made better when the chicken is grilled and combined with garlic sauce, pickles and tomatoes all wrapped in a warm pita.
Sign up for our FREE 7 Day Simple Meal Plan!

Tawook sauce and marinade
One of my favorite shortcuts is to make a sauce one time and use it as a marinade and later as a dip or sauce. Because, why not, right? And in this case, it perfectly spices and infuses the chicken with moisture while marinating, and I can't get enough of it later when I pour it on my pita sandwich.
Complete your meal with these other amazing Lebanese recipes
How to build the perfect Chicken Tawook Pita Sandwich
Start with the best Greek yogurt
I've made this marinade/sauce with a few different brands of yogurt, and it really does make a difference. Chobani plain Greek yogurt creates the most perfect consistency and flavor. But other plain greek yogurts can be use as well. I would avoid the soupy regular yogurt. Go for the really thick and creamy yogurt to get the best flavor and consistency.
Add Garlic Spread (Toum)
The official name for this thick garlic spread is Toum. It's basically vegetable oil, lemon juice and garlic whipped into a frenzy until it's thick and seriously delicious. But I found a great ready-made garlic spread at Trader Joe's (in the refrigerated sauces section), but I've seen it at the grocery store as well. Or here's an awesome blog post about making it yourself. I made mine one time and while it was very good, I didn't feel like the flavor justified the time, when I can just pick it up for a few bucks.
Lebanese Pickles
So I've been on the hunt for the authentic Lebanese pickles and I've come up empty-handed. However, simple American Bread and Butter pickle spears give a similar taste and texture and still tastes great! If you know how to find authentic Lebanese pickles, please tell me!!!
Use White Pita Bread
I prefer pita bread to a pita pocket because the bread has more moisture and flavor. I find pita pockets to be a little bland and dry. However, you can use whichever you prefer. If prepping right before eating, I like to drizzle a little olive oil on the pita breads and then wrap them all up together in some foil and put them in the oven so they get warm and then they don't crack when folded.
Chicken – cube, marinate, skewer and grill
For this recipe, I've tried cooking the chicken every which way from Sunday, and the absolute best flavor is when you cube the raw chicken, marinate it, skewer and grill it up. This way you get plenty of flavor on each piece of chicken and the pieces are ready to go into the sandwich straight from the grill. I cube and marinate in the morning, skewer and grill before dinner. Or see below for the ultimate make ahead option.
Prep this chicken tawook ahead to make dinner time a breeze
If you've been around this blog much, you'll know that I abhor spending hours in the kitchen in the evening while my family is all together enjoying each other. So I prep dinner ahead of time whenever possible. This meal is a simple marinade and sauce, and then light prep before dinner. OR, go all the way and put the sandwiches together completely, wrap in foil and then heat in the oven for 15-20 minutes before you eat. Literally the easiest dinner ever.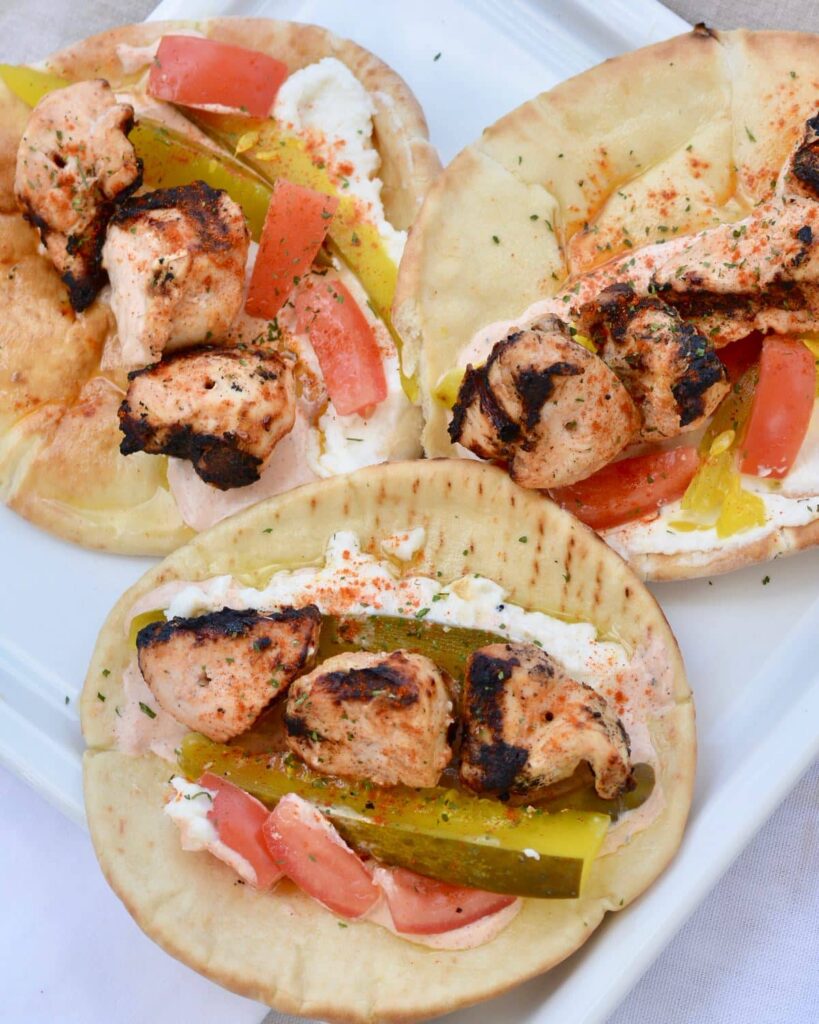 Love this Chicken Tawook Pita Recipe? Try these other awesome chicken recipes!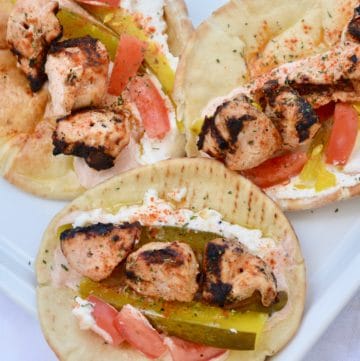 Chicken Tawook Pita Sandwich and Marinade
No matter what you call it, this chicken is so flavorful and different! You'll love it on the grill this summer.
Ingredients
Marinade/Sauce
1

C

plain greek yogurt

Chobani works best for this recipe

3

cloves

garlic

minced

4

Tbsp

olive oil

3

Tbsp

lemon juice

about 1 lemon

1

Tbsp

tomato paste

1

tsp

kosher salt

1/4

tsp

freshly ground black pepper

1/2

tsp

allspice

1/2

tsp

paprika

2-2.5

lbs

chicken breasts

cut into large pieces for skewers
Sandwich Ingredients
1

package

white pita bread

8

Tbsp

garlic spread

Toum

4

bread and butter pickle spears

thinly sliced

2

roma tomatoes

sliced
Instructions
Cut chicken breasts into large 1 1/2″ squares and place into a zip-top bag or medium baking dish.

In a medium bowl, combine all marinade ingredients and mix well.

Add 1/2 of the marinade ingredients to the bag of chicken and move chicken around until well coated. Reserve the rest of the marinade to use as a sauce.

Marinade chicken for 1 hour or up to overnight.

Turn on grill to medium high heat and allow to reach 350°. Skewer the chicken onto metal or wood skewers (that have been soaked in water). Grill until cooked through, about 10 minutes, flipping once half-way through.

Serve wrapped in pita bread with toum garlic sauce, a generous helping of the Tawook sauce, and thinly sliced pickles and fresh tomato.
Notes
I like to use this chicken to make pita sandwiches, but you can also just serve alongside a salad or on a plate with hummus, olives, garlic sauce and pita triangles. 
Nutrition