I tried out this Espresso Dark Chocolate Chip Cookies recipe 4 times before landing on this perfect combination that creates a chewy center and lightly crisp outer edge. I love the espresso flavor with the dark chocolate. It's like a mocha you can chew. Prepare your tastebuds for a truly delightful treat!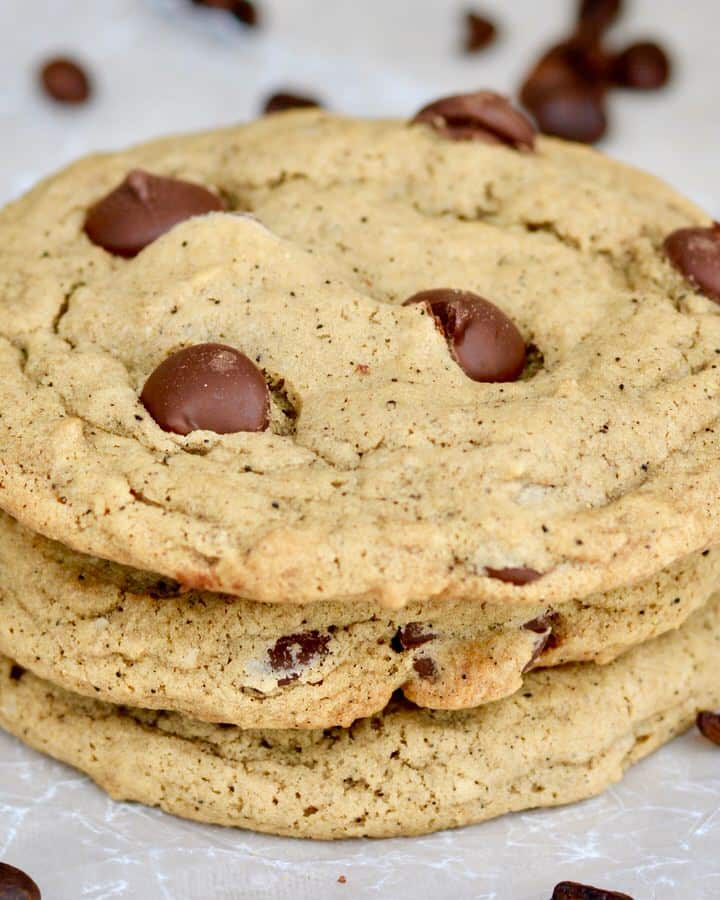 Why I use ground espresso beans
I have a tiny kitchen, so I do not have room for superfluous baking and cooking ingredients. So when I wanted a coffee cookie, I wanted to avoid expensive espresso powder. I really like to bake with what I already have on hand, and I try to keep my pantry from becoming jam-packed with ingredients I rarely, if ever, use. The flavor you get from finely ground espresso beans is heavenly and easy to achieve.
Attaining Espresso Cookie texture perfection
Now, I know everyone likes a different texture for their cookies. But I must say that these espresso cookies achieve my favorite cookie texture. Chewy in the center (not gooey), and just a little bit of crisp around the edges. Ahhhh, cookie heaven. The dark brown sugar adds a richness to the flavor and chewiness to the texture. I love to mix it up with different cookie ingredients!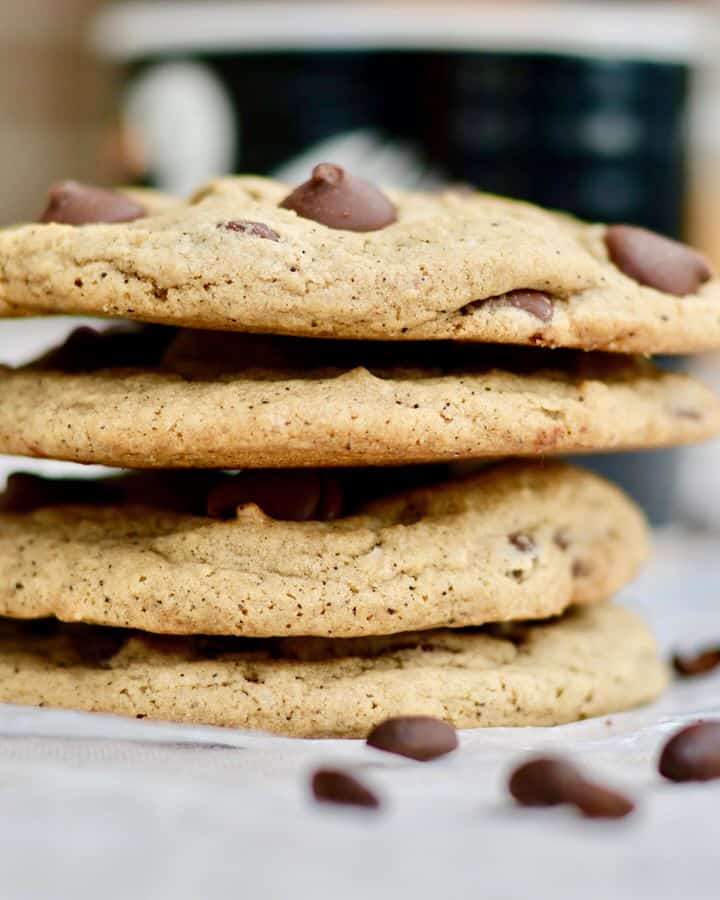 Using great cookie supplies makes a big difference!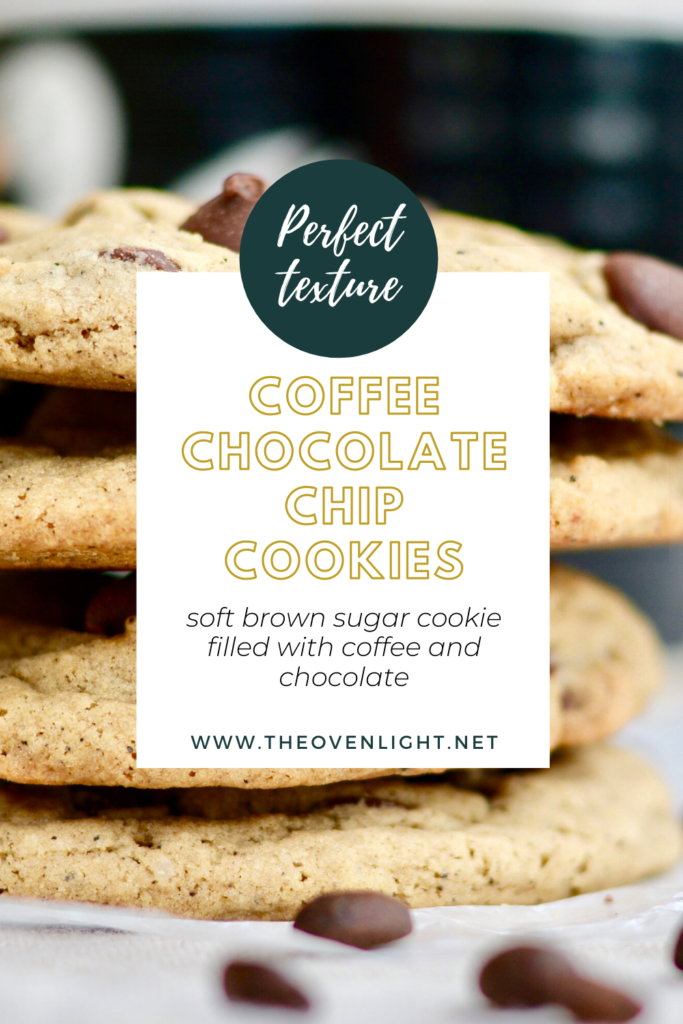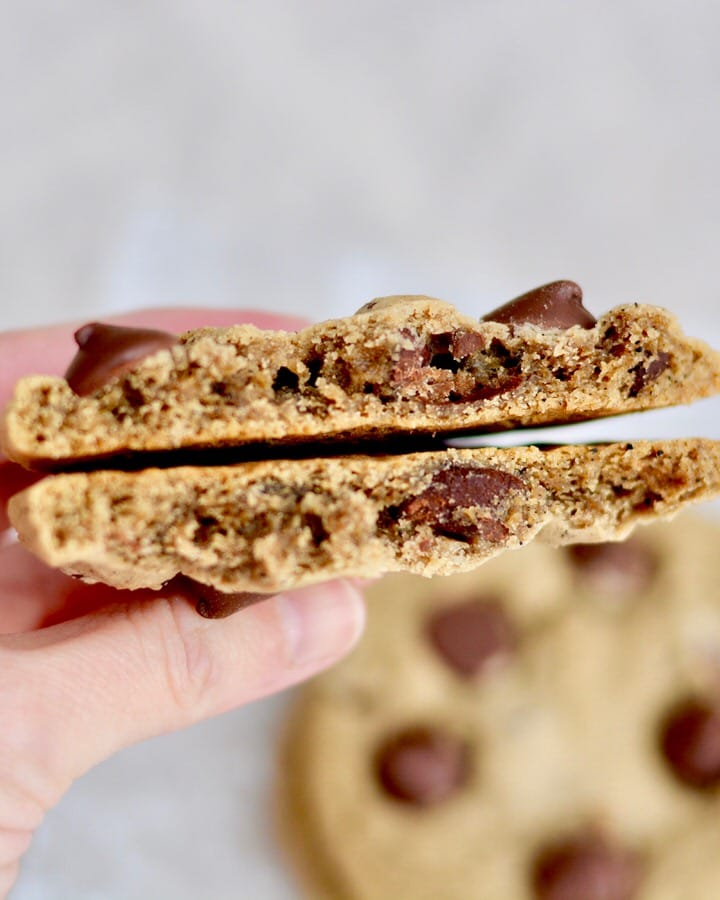 How to make perfect Espresso Dark Chocolate Chip Cookies
Grinding the coffee beans
Grind down your espresso beans on the "fine" setting on your coffee bean grinder, if you have it and grind for the full time your grinder allows until it's almost a powder. Measure after you grind them down
Unsalted vs. salted butter
I always use unsalted butter when I'm baking so I can have full control over the saltiness, but you can use salted butter, just remove ¼ teaspoon of salt per stick of butter
Why I use dark brown sugar
Dark brown sugar has more molasses and gives the cookie a richer flavor and chewier texture. It adds more depth of flavor that offsets the sugar to balance the overall taste.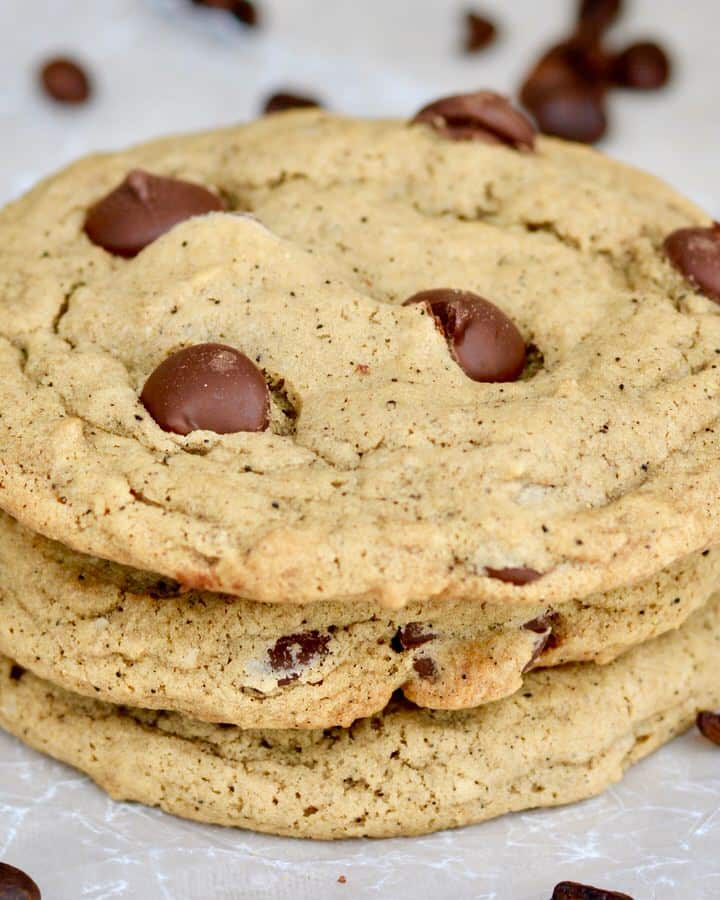 Getting eggs and butter to room temp without the wait
The quickest way to get your eggs to room temperature is to put them in a cup or bowl and cover them with the hottest water from your faucet. Let them sit for about 5 minutes. This will warm them without cooking!
Room temperature butter is sometimes the worst 3 words when you want cookies NOW, right!?! Here's the solution: grab 2 large glasses and put the hottest water from your faucet in them. Fill it up to the top. Let it sit for about 3-4 minutes. Empty and fill it again. You want to get the cups hot. Next, empty the water, turn the cups upside down with a stick of butter under each cup (still in the wrapper). Let them hang out in there for about 5-10 minutes. It will soften the butter without melting it!
Kosher salt vs fine sea salt
This is a preference, really. I like the saltiness from kosher salt when I bake, but fine sea salt will distribute more evenly, so it's up to you! Also, I just always have kosher salt already out on my counter, so it's a quick grab!
Dark(er) Chocolate Chips
Technically, regular semi-sweet chocolate chips are a lightweight dark chocolate. However, the flavor of real dark chocolate chips take these cookies to the next level and pair really well with the coffee flavor. My favorite are Ghirardelli Dark Chocolate Chips.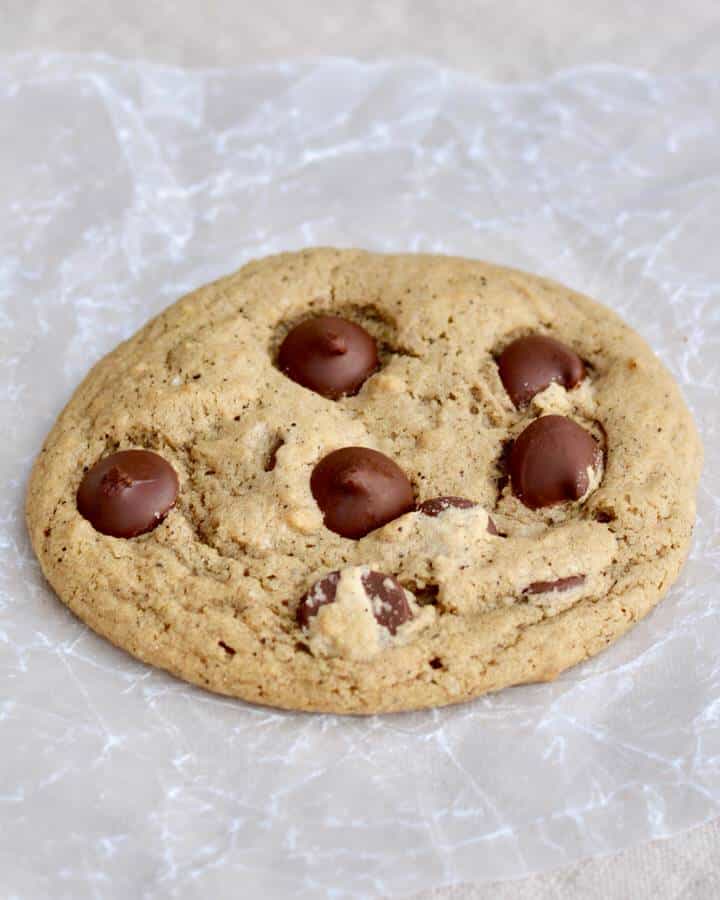 Bakery Size Cookies
I love a large bakery-style cookie because it gives you a the perfect range of texture with a slightly crisp outer edge and a chewy soft center. I always use OXO's 3 tablespoon Large Cookie Scoop. If you want to make smaller cookies, portion the dough to about 1 ½ tablespoon and reduce baking time by 2 minutes.
Make Ahead
Feel free to make this dough ahead of time. It will keep in the fridge for up to 3 days when covered and sealed in an airtight bag or container. Although, my favorite way to keep cookies is by freezing them! I just scoop out balls of dough and freeze individually, then transfer to a zip-top bag. Then I can pull out a few cookies whenever I feel like a warm, fresh cookie. Check out this awesome guide to freezing cookie dough from Handle the Heat.

Love this Espresso Dark Chocolate Chip Cookie recipe? Try these other amazing cookie recipes!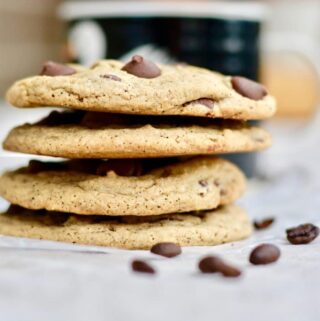 Espresso Dark Chocolate Chip Cookies
Amazing texture, coffee flavored cookies!
Print
Pin
Rate
Servings:
24
large cookies
Ingredients
1

C

unsalted butter

room temperature

⅓

C

granulated sugar

1

C

dark brown sugar

packed

2

tablespoon

finely ground espresso

measure after grinding

2

eggs

room temperature

2

teaspoon

vanilla

2 ¾

C

all-purpose flour

1 ½

teaspoon

baking soda

1 ½

teaspoon

kosher salt

2

C

dark chocolate chips or chunks
Instructions
Preheat oven to 375°F. Cover cookie sheet with parchment paper and set aside.

In the bowl of a stand mixer fitted with the paddle attachment, mix butter, sugar, brown sugar and ground espresso until fluffy (about 2 minutes).

Add eggs one at a time, mixing well after each addition. Add vanilla and mix.

In a separate bowl, combine flour, baking soda and salt.

Add flour mixture to the butter mixture and mix until fully combined, scraping the bowl at least once.

Using a wooden spoon, mix in the chocolate chips/chunks.

Scoop dough and place on parchment lined baking sheet. Bake for 8-10 minutes until just done. Remember, the dough is dark, so the color doesn't change much when they're done. Don't overbake!
Notes
This recipe will yield about 48 smaller cookies if you prefer. Just use about 1 ½ tablespoon of dough and reduce cook time by 2 minutes. These taste amazing with iced coffee in the summer or hot coffee when it's cold! 
Nutrition