Have you ever looked longingly at those Rx bars with the $2 or $3 price tag? Such a healthy and filling snack, perfect for virtually any diet. Well, now you can have these Copycat Rx Bars at home any time and for a fraction of the price! This chocolate version is super delicious, filling and healthy.
Never Miss a Recipe! Sign up for my Newsletter to see new recipes first!
What makes these Bars so healthy?
So, Rx bars have just a few simple ingredients, no preservatives, no sugar, and still pretty dang good. In our recipe, we had to use some coconut oil to help hold the bars together, and I have to say, I think ours taste even better because of it! Plus, coconut oil has a myriad of health benefits as we've all been hearing for the past few years.
Rx Bars Simple Ingredients
Egg white powder was the only tricky ingredient to find at a reasonable price and quantity. However, I lucked out on Amazon and found it at a great price, quality and quantity. The great thing about egg white powder is it can be added to smoothies, snuck into your kids food, or even used to create cookie icing! I know, right?!

Nuts. This copycat Rx bars recipe calls for Almonds and Cashews, but you can use whichever combination of nuts you prefer. I buy large bags of nuts at Sam's Club or Costco. I've never found a price anywhere else that can beat em'.

I also buy my dates at Sam's Club. They sell a giant tub of them for under $10. I can make multiple recipes with one tub! I love the natural sweetness from the dates and the sticky texture is so great for bars, energy bites and granola bars, etc. Great ingredient to have on-hand.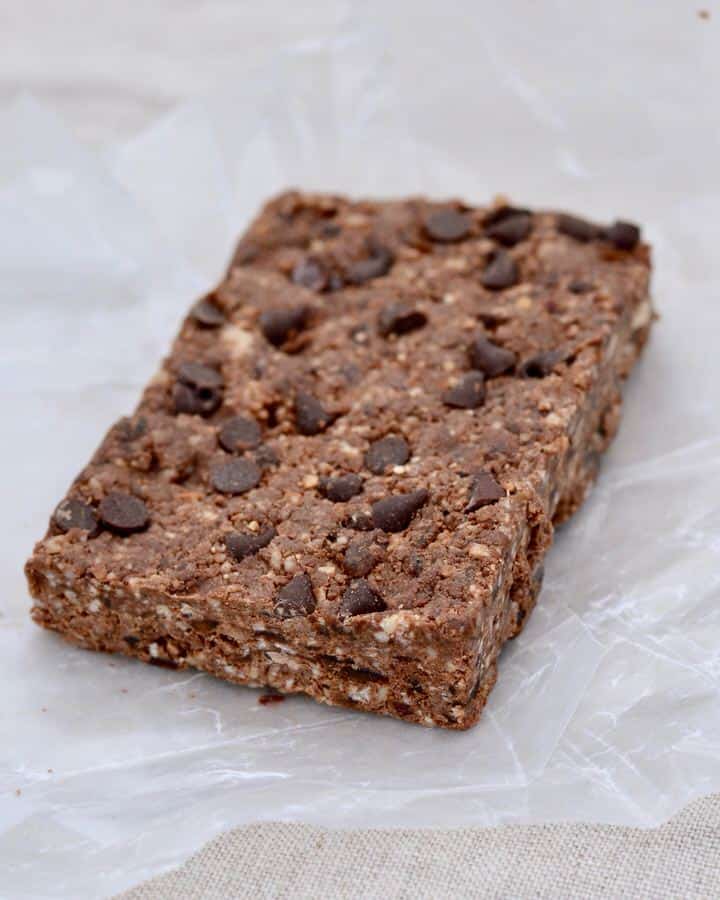 How to make these Rx Bars
Blend the heck out of the first 5 ingredients until it's a fine crumble. Then add the coconut oil and stir until it forms a ball in your fist. If it's too dry, feel free to slowly add coconut oil a little at a time until you get the consistency you like. I always add some mini chocolate chips on top in order to be sure the kids will eat them. They'll eat anything that looks or smells like chocolate. Of course I don't blame them. I'm the exact same.

Now, no baking necessary! Just refrigerate these copycat Rx bars until firm (at least 1 hour). Slice into 2×4 inch bars. I like to wrap them up individually in a bit of wax paper so I can just grab and go as needed. I add t
Love these copycat Rx bars? Try these other healthy & delicious recipes!
If you decide to give this recipe a try, be sure to snap a photo to share, tagging @theovenlight and #theovenlight on Instagram or Facebook!
Print Recipe
Copycat RX Bars
Delicious healthy bars you can have any time!
Ingredients
1

C

Almonds

1

C

Cashews

1 1/4

C

Egg white protein powder

1/2

C

Cocoa powder

.75lbs Dates pitted and cut in half

about 45 Halawi dates

1/4

C

coconut oil melted

1/2

t

salt*

1/3

C

chocolate chips

optional
Instructions
Line 13×9 pan with parchment

Put nuts in food processor and process until fine about 1-2 minutes

Pulse in egg white protein and cocoa until combined

While continuously processing add dates a few at a time

If omitting oil your consistency here should have no dry crumbly spots and form into firm balls without falling apart

If using oil, pour mixture into a large mixing bowl and pour oil over using a rubber spatula until combined

Add chocolate chips if desired

Evenly distribute mixture into pan and firmly press down so no loose clumps remain

Sprinkle with sea salt

Chill in refrigerator for 1 hour

Remove and cut into bars
Notes
Store in a airtight container
Will last 2 weeks in refrigerator or 3 months in freezer