Do you make homemade hot chocolate? Does it seem like too much work? Is it overly sweet for you? Let me tell you friends, THIS Raspberry Hot Chocolate is the only way to drink hot chocolate. Elevate your hot cuppa to a rich, creamy, delicious specialty drink you'll start to crave every day. Best part? It's dairy free and almost completely sugar free, but still completely amazing!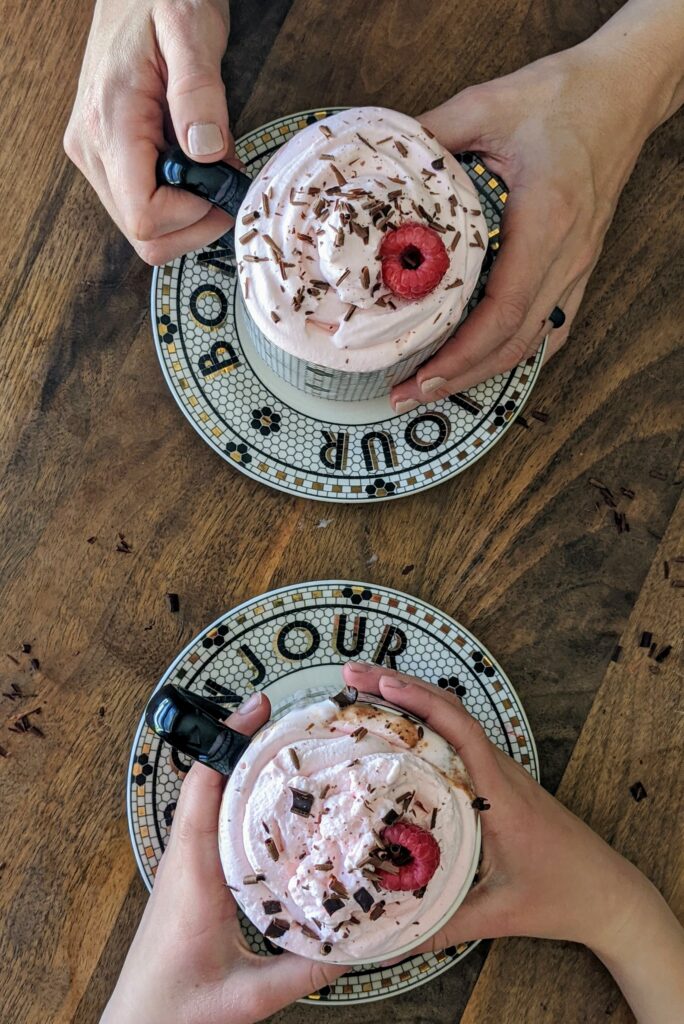 Sign up for our FREE 7 Day Simple Meal Plan!
Elevate your hot chocolate with homemade raspberry whipped cream
We elevated this recipe by adding raspberry syrup to our whip cream. Um, yeah, game changer. I like to use coconut whipped cream in a can, but if you're not anti-dairy, add a bit of the raspberry syrup to heavy whipping cream and whip it good, my friend. It gets slightly pink and gloriously creamy with a hint of raspberry.
Hygge (another term for cold weather and hot drinks)
The weather turns frigid here in the mountains of Denver (obviously) for about 6 weeks every winter. The rest of our winter is thankfully fairly mild. But for those 6 weeks, I can only dream of my future self barefoot outside sitting in the sun sipping lemonade. Ahhhh, it's kind of like weather torture.
So instead of sitting around depressed in my robe and slippers, I sit around drinking an amazingly creamy and rich hot chocolate (in my robe and slippers). Adding that bit of raspberry syrup gives my daily dose of warmth and comfort a splash of sunshine and a hint of warm days to come.
How to make amazing homemade raspberry hot chocolate
First, pour a can of full-fat coconut milk into a small saucepan over medium heat. Add almond milk (or alternative milk of your choice).
Next, add your chopped chocolate. I like dark chocolate (70% – 80% is ideal) so there's no milk in it. My favorite are the giant baking chocolate bars from Trader Joe's. Tastes great and really good price point. And they last forever.
Next, add your sweetener of choice. Just 2 tablespoons will do. I prefer stevia because it has healthy qualities and no aftertaste. However, you can use maple syrup, monkfruit sweetener or just plain white sugar. Add the 2 Tbsp of unsweetened cocoa powder and salt.
Last, but definitely not least, add 2 tablespoons of raspberry syrup. The best part is that this raspberry syrup is also available in sugar free. I'm going to tell you the truth, I use the regular syrup since there's hardly any other sugar in this recipe.
Top it off with your choice of dairy free whip cream, fresh raspberries and chocolate shavings. I just use my vegetable peeler along the edge of the chocolate bar to get beautiful shavings.
How to make raspberry whip cream
If you're not lactose intolerant and you don't mind a bit of heavy cream, you can pour 1 Cup of heavy whipping cream into the bowl of a stand mixer fitted with the whisk attachment. Whisk on high for 1 to 2 minutes until peaks form. Add 1 to 2 Tbsp raspberry syrup and mix in. It's seriously delicious. For those who can handle the dairy, it makes for an extra-special topping!
Raspberry and chocolate…the best combo. True story.
You might be wondering, why raspberry? Because chocolate and raspberry is the all-time best dessert combination. I order raspberry hot chocolate or a raspberry mocha at Starbucks all the time. Seriously amazing! It's the ultimate in sweet, tart, chocolatey goodness. If you also love this combination, check out our healthy-ish Flourless Chocolate Cake recipe. I've been playing with chocolate raspberry cookies and brownies too! It's always a great combo, no matter how you make it.
Love this dairy free raspberry hot chocolate? Try these other great dairy free recipes!
If you decide to give this recipe a try, be sure to snap a photo to share, tagging @theovenlight and #theovenlight on Instagram or Facebook!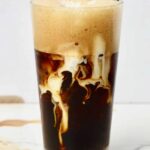 Print Recipe
Espresso Double Shot Over Ice—Starbucks Copycat
Skip the line, make this simple recipe at home!
Ingredients
Tall Measurements
2

Tbsp

Simple Syrup

2

shots

espresso

about 3 ounces

2

Tbsp

heavy cream

or milk of choice
Grande Measurements
3

Tbsp

Simple Syrup

3

shots

espresso

about 4 1/2 ounces

3

Tbsp

heavy cream

or milk of choice
Venti Measurements
5

Tbsp

Simple Syrup

5

shots

espresso

about 6 ounces

5

Tbsp

heavy cream

or milk of choice
Instructions
In a martini shaker or reusable cup with lid place ice up to the rim.

Pour simple syrup and espresso over ice.

Place lid on container and shake vigorously (the longer you shake the more foam you will get).

Pour into glass and top with milk.
Notes
The trick with this recipe is that it calls for less syrup and more espresso than a standard 16 oz beverage, which makes it a little sweeter and foam-ier for maximum espresso mmmm-ing.