Making this Apple Upside Down Cake was so much fun! I don't know about you, but staying "safe at home" with my 2 small children for 6 months completely depleted my baking energy. But this past week, BOTH of my kids were finally in school! So for the first time in ages, I had time to shop, think, test and bake to my little hearts content.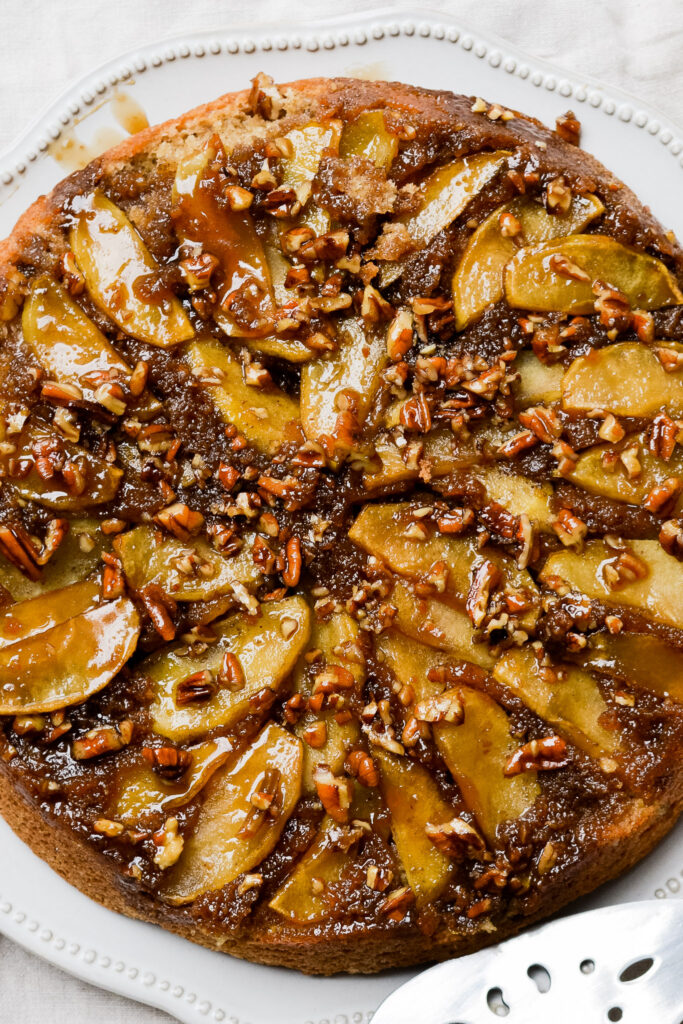 My favorite thing about this recipe is the gooey sugar topping. It gets a little crisp on the edge and completely melt-in-your-mouth delicious in the center. A total treat!
This Cake is The ultimate flavor of fall
When the leaves start changing and the weather finally cools off, I am desperate for the flavors of fall. And this recipe is kind of like biting into a cup of apple cider. It warms your insides and makes you want to throw on a big sweater and stare out a rainy window. And it pairs perfectly with a hot coffee or PSL.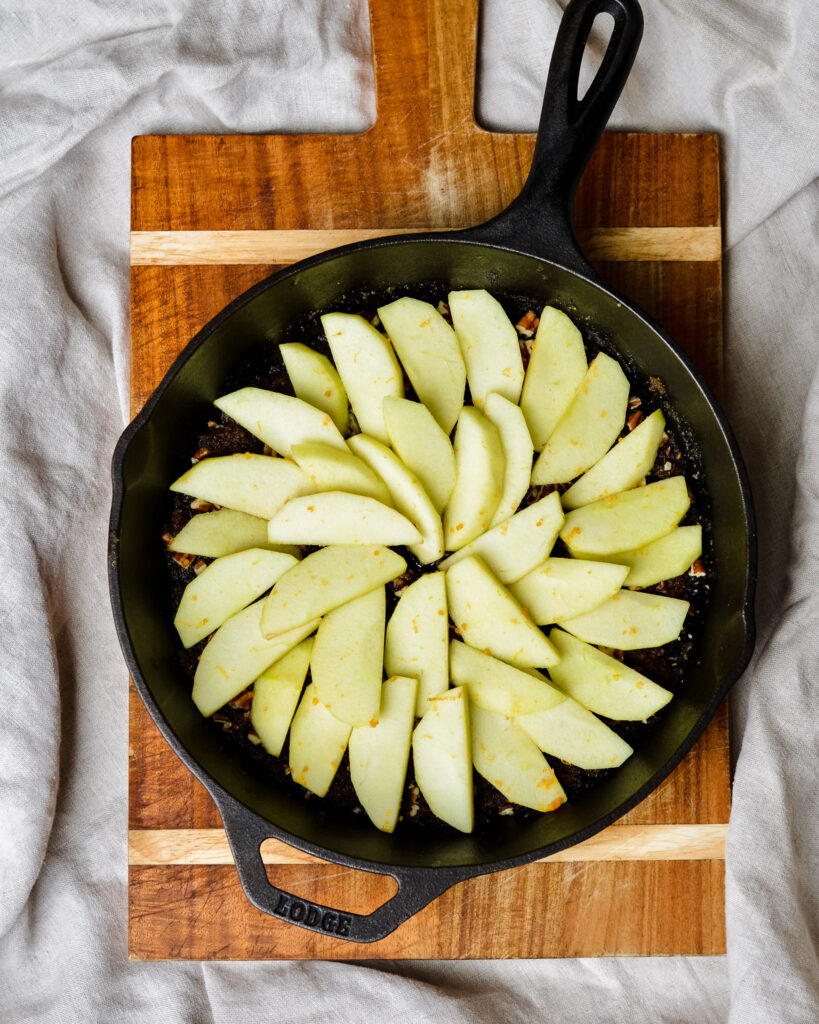 Ingredients for the best apple upside down cake
Granny Smith Apples - I prefer to bake with Granny Smith since they're hardy enough to keep their shape and flavor after baking. However, you can use whatever apple is your favorite.
Orange - The zest and juice of an orange lifts the flavor of the apple and keeps it fresh and bright. It's a small thing that makes a big difference in this recipe.
Butter - I made this recipe both with regular butter and with plant butter. Regular cow's milk butter gives a richer flavor, but the plant butter did just fine if you're vegan or lactose intolerant.
Dark Brown Sugar - I almost never see the point of light brown sugar. Dark brown has a higher content of molasses, giving recipes a chewier, richer flavor. And for this recipe, it really fits perfectly and makes the topping just mouth-watering delicious.
Chopped Pecans - I made this cake both with and without the pecans. I feel like the pecans REALLY make a difference in the mouth-feel and flavor. However, if you really dislike nuts, you can omit. (But I'll think you're crazy, for sure.)
Vanilla Extract - Vanilla extract in sweet baked recipes does what salt does for savory recipes. Without vanilla, the flavor of sweet baked goods tends to fall flat and be bland. My mom recently made me some homemade vanilla extract and it's super amazing! If you're wondering how to make your own, check out this great post from Sally's Baking Addiction. Spoiler alert: you only need 2 ingredients!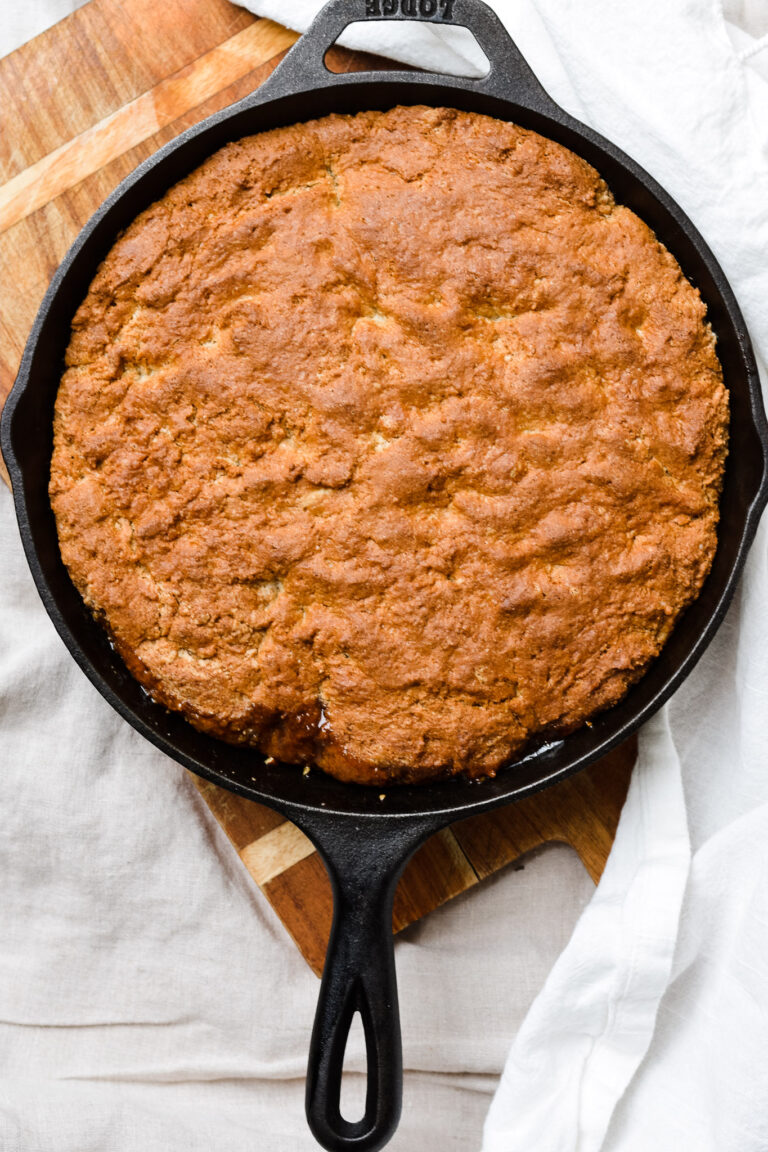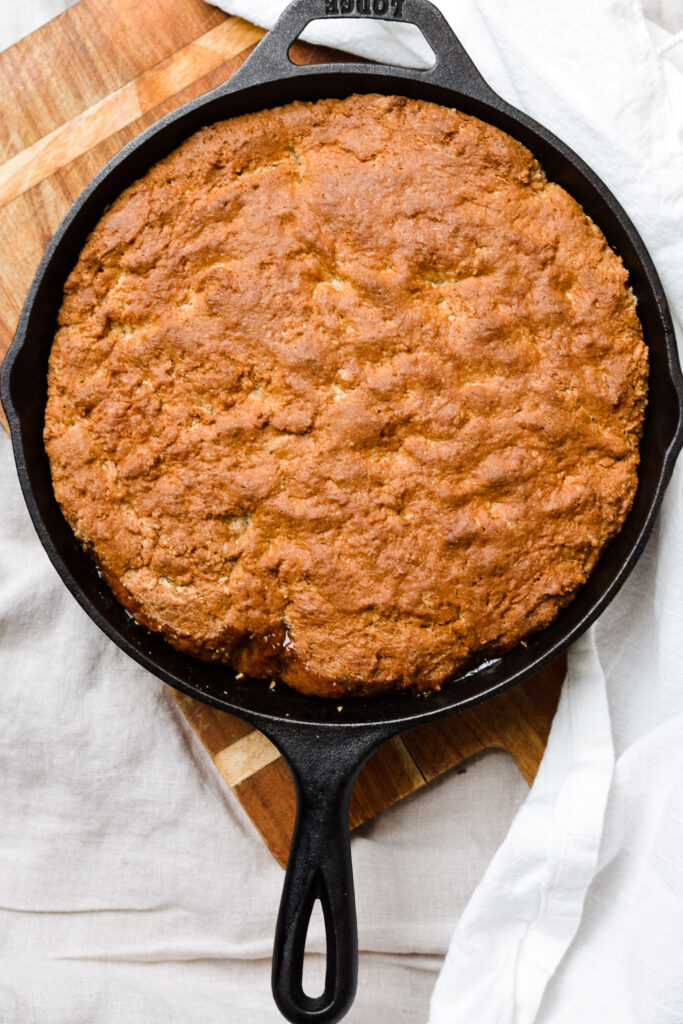 Cake Ingredients, cont'd...
Now that you've made the topping, let's make the cake! I love the use of the food processor to speed up this recipe and make it come together in less time than it takes my toddler to properly sing her favorite Frozen II song.
Almond Flour - Or Almond Meal. This is flour literally made from finely ground almonds, that's it. So not only does it lend this recipe great flavor and texture, but it's good for you too! It's my go-to flour for gluten free cake recipes, since it blends really well.
Gluten Free Flour Blend - My favorite is King Arthur Flour Measure for Measure. Check out this post for my comparison of 3 popular flour blends and why I choose King Arthur.
Ground Cinnamon - The cinnamon in this cake really lifts the flavor and brings that fall flavor into the cake itself. It also makes it taste a little like a breakfast coffee cake, meaning you can eat this baby for dessert AND breakfast. I love that.
Buttermilk - I don't know about you, but I can almost never justify the cost of a pint of buttermilk, especially for just one recipe. So, I just make a buttermilk substitute using my daughters 2% milk and a teaspoon of lemon juice. I let it sit for 5 minutes, and voila, homemade buttermilk!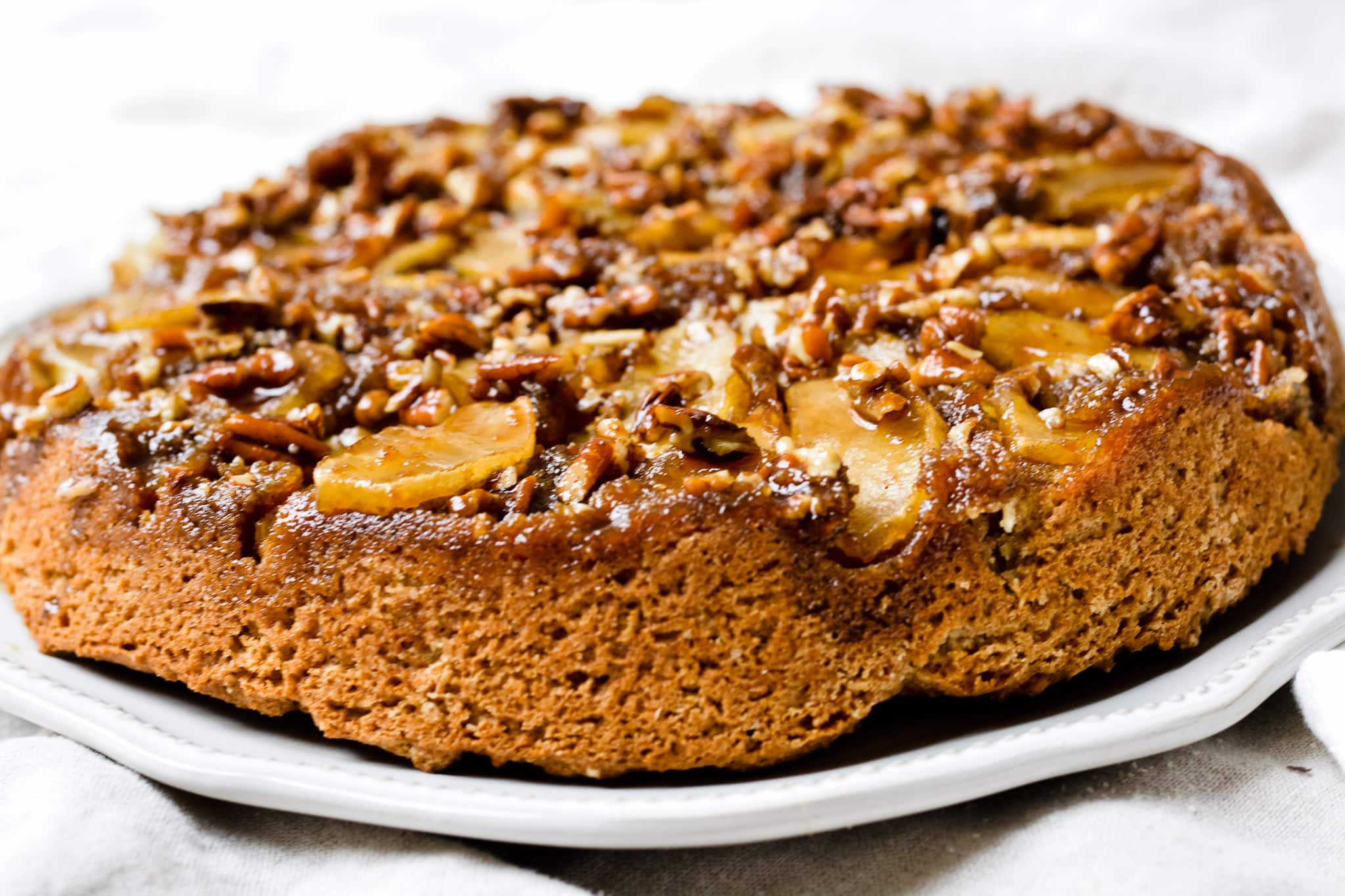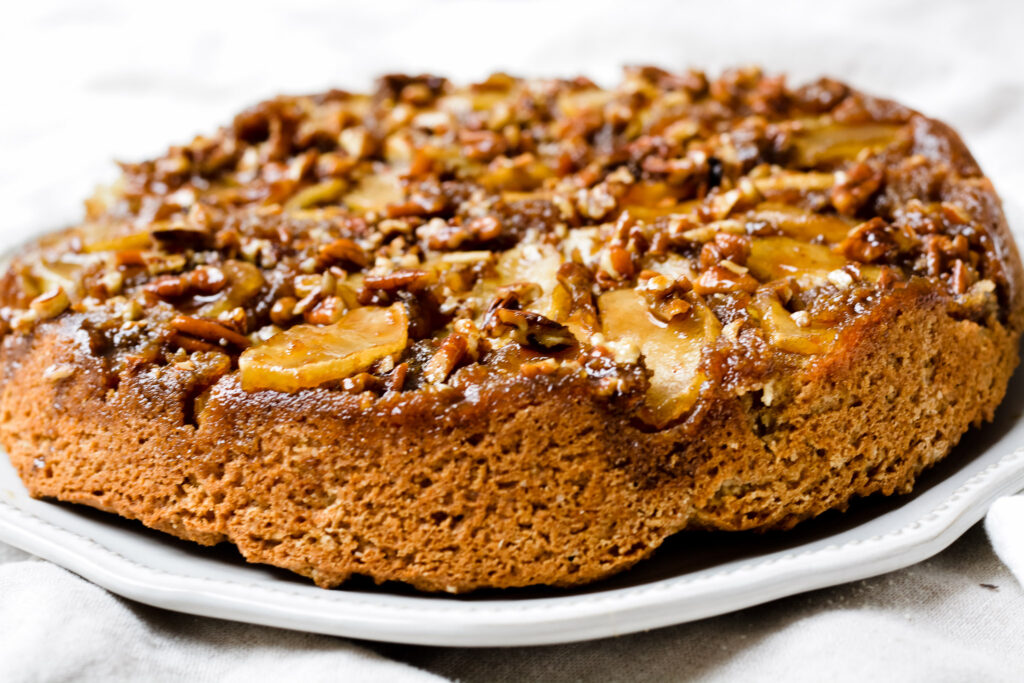 To make this Apple Upside Down Cake simply...
Preheat oven to 375°F.
FIRST, peel, core and thinly slice the apples. Place in a large bowl and add orange zest and juice. Toss to coat the apples. Set aside.
NEXT, we're going to make that beautiful, dark brown sugar topping. Start by melting ¼ C butter in a cast iron skillet and add your brown sugar (and salt, if butter is unsalted). If you don't have a cast iron skillet (it's an amazing tool, maybe it's time to pick one up) you can use any non-stick skillet and then bake then transfer the topping to a pie plate. Allow to heat until sugar has started melting. Mixture will be THICK, but that's ok. It'll all melt and get gooey in the oven.
NEXT, sprinkle chopped pecans over sugar mixture and remove from heat. If using the cast iron to bake, just leave the sugar there. If you're using a pie plate, transfer mixture and spread across bottom.
SPREAD apples evenly over sugar mixture. You can make a pretty design, or just pour them on. No judgment either way. Set aside.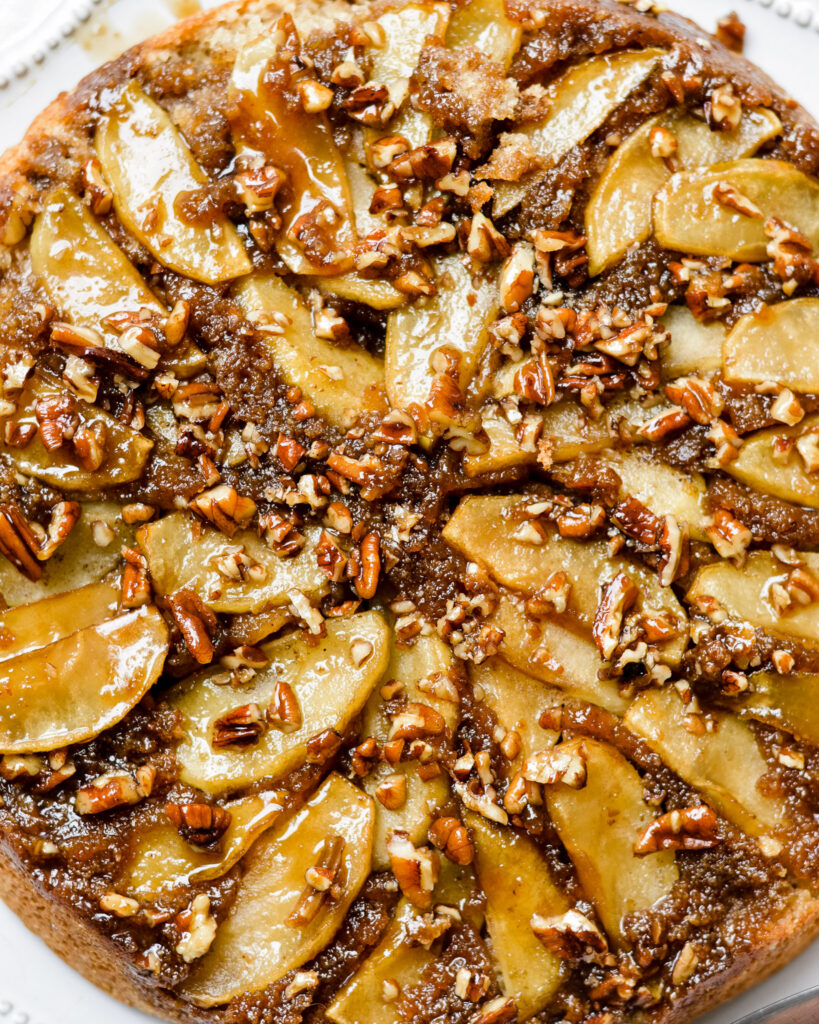 Now it's time to mix up the cake! Grab your food processor and BLEND the almond flour, GF flour blend, sugar, salt, baking soda, baking powder and cinnamon (about 10 seconds).
ADD cold butter and blend until mixture appears like sand. Another 10 seconds).
Pour flour mixture into a large bowl and make a well in the center. To the well ADD buttermilk, eggs and vanilla. Stir by hand until no flour streaks remain. Do not over mix.
SPOON batter over the apples. With wet hands, spread the batter evenly all the way to the edge.
BAKE on center rack for 25-30 minutes until the center springs back when touched. The cake gets dark, but do not dismay! It is spongy and soft inside and when you flip it over, that top is now the bottom!
Allow to COOL in pan (or pie plate) for 5 minutes ONLY. Then FLIP onto a serving plate. Serve immediately. I like it best when it's warm, but then I had it cooled for breakfast in the morning and YUM! So good!
Cover and refrigerate for up to 3 days, but it definitely tastes best when eaten same day. ENJOY!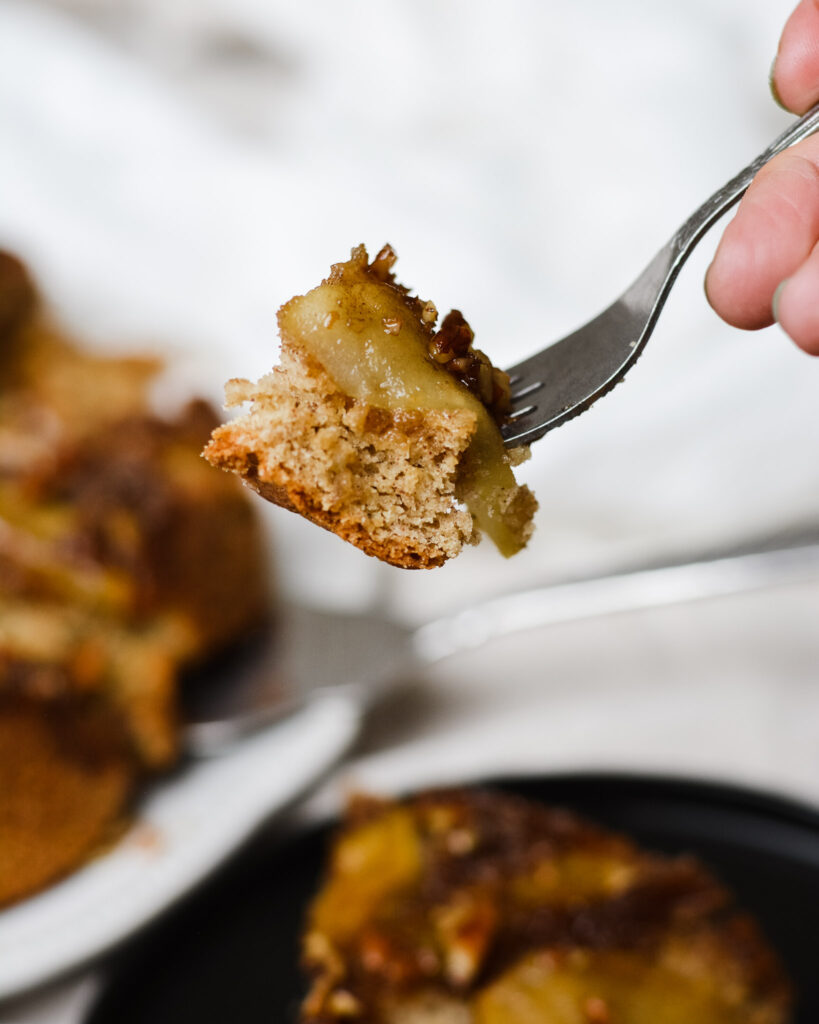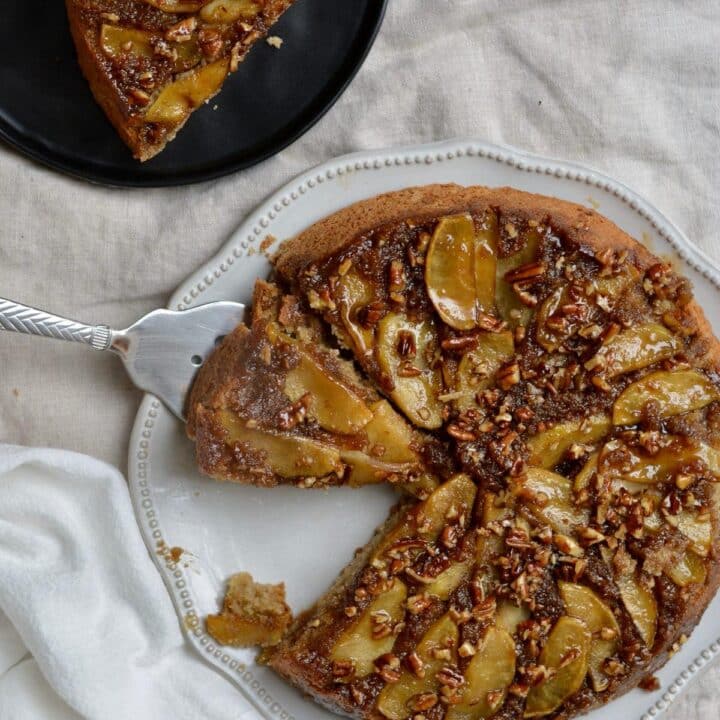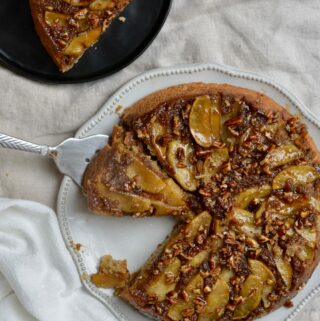 Upside Down Apple Cake | Gluten Free
PRINT RECIPE
PIN RECIPE
Ingredients
For the Topping
2

Granny Smith apples

peeled, cored, thinly sliced

zest of an orange

2

tablespoon

orange juice

¼

C

unsalted butter

or if salted, omit ¼ teaspoon salt

¼

teaspoon

salt

¾

C

dark brown sugar

⅓

C

chopped pecans

2

teaspoon

vanilla extract
For the Cake
1

C

almond flour

1 ¼

C

gluten free flour blend

such as King Arthur Measure for Measure

½

C

granulated white sugar

1

teaspoon

salt

2

teaspoon

baking powder

½

teaspoon

baking soda

1

tsp

ground cinnamon

6

tablespoon

unsalted butter

cold

½

C

buttermilk

or regular milk with 1 teaspoon lemon juice

2

large eggs

room temp

1

teaspoon

vanilla extract
Instructions
Topping
In a medium bowl, combine sliced apples, orange zest and orange juice. Toss to combine. Set aside.

In a 10" or 12" cast iron skillet, melt ¼ C butter. Once melted, add brown sugar, salt and pecans. Stir for about 3 minutes until sugar slightly melts. (Topping will be thick, that's ok! It'll melt fully in the oven.)

Remove from heat. Add apples. Pour 2 teaspoon vanilla over apples. I like to make a design like the one in the pictures, but I've also made it where I just throw the apples in and spread them evenly, it still looks amazing! So no pressure to do anything fancy. Set aside.
For the Cake
In a food processor, add almond flour, gluten free flour blend, sugar, salt, baking powder, baking soda and cinnamon. Blend quickly until combined.

Cut butter into chunks and add to food processor. Blend until mixture resembles sand (about 10 seconds).

Pour flour mixture into a large bowl. Add buttermilk, eggs and vanilla. Stir gently until fully combined.

Scoop batter over apple mixture. It will be thick, that's ok! Wet your fingers and spread mixture evenly until it covers apples completely and touches sides.

Place on the middle rack of the oven and bake for 25-30 minutes, until center of cake springs back when lightly touched. (It will be pretty dark, that doesn't mean it's burned, just baked!)

Remove and allow to cool for 5 minutes. Run knife around edge of cake and flip onto a serving tray. Don't wait more than 5 minutes! You want to flip while it's hot so the topping is still gooey and warm.

Serve immediately. I like this cake by itself, but it's also delicious with some whipped cream.

This cake tastes great warm or cold. I like it cold for breakfast, warm for dessert. Both with a hot cup of coffee.
Notes
I am in love with this recipe. I made it a zillion times to perfect it, but I ate almost every slice! I hope you love it as much as I do!
Nutrition
Calories:
477
kcal
|
Carbohydrates:
58
g
|
Protein:
7
g
|
Fat:
26
g
|
Saturated Fat:
10
g
|
Trans Fat:
1
g
|
Cholesterol:
80
mg
|
Sodium:
570
mg
|
Potassium:
137
mg
|
Fiber:
5
g
|
Sugar:
39
g
|
Vitamin A:
548
IU
|
Vitamin C:
4
mg
|
Calcium:
146
mg
|
Iron:
2
mg