These deliciously soft and chocolatey Marble Cookies might be the easiest cookie you'll make all year. With an easy shortcut, these cookies come together just in time for company or that cookie exchange you forgot about.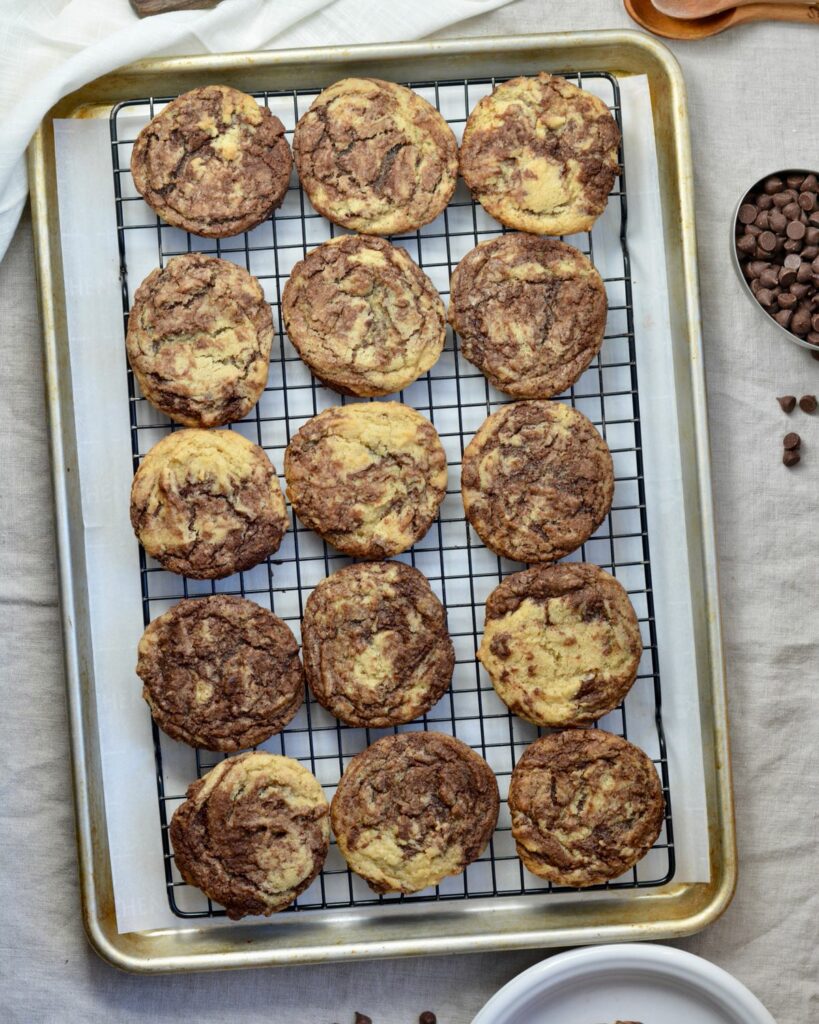 Tell me about these Marble Cookies
Texture—Chewy and soft with the perfect cookie crumb.

Ease—I'd say these are beginner level. The only trick is stirring just the right amount to get that perfect swirl.

Baking—Scoop with a 1 tablespoon cookie scoop and place on a parchment lined cookie sheet. Bake at 375°F (190°C) for 10-11 minutes. Leave 2 inches between cookies so they can spread.
Prep Time—Once your butter and eggs are at room temp, these cookies can come together in less than 5 minutes.

Bake Time—These bake up quick in just 10-11 minutes on the center rack of the oven.
The simplest way to make marble cookies
Rather than making 2 doughs and mixing together, we just melted chocolate and gently mixed it in to one delicious basic cookie dough. This is such a simple hack to get a fancy cookie in a flash.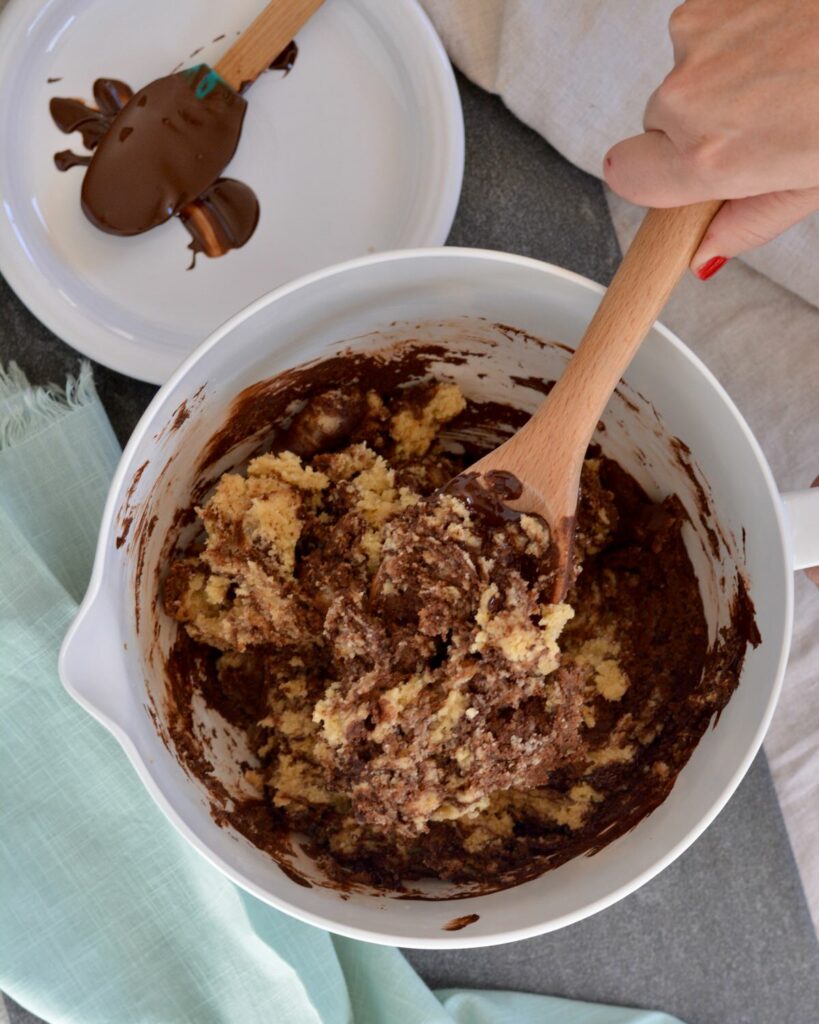 10 Ingredients needed to make these marble cookies
All-Purpose Flour—The cookies pictured are made with regular all-purpose flour, but they'd be just as great with a Gluten Free flour substitute. I always use King Arthur Measure for Measure Gluten Free flour blend. You can read why here.

Baking Soda & Salt—Giving you rise and flavor enhancement.
Unsalted Butter—Using unsalted butter gives you more control over the saltiness of a baked recipe. Always use a room temperature butter (assuming your home isn't 100°F).

Dark Brown Sugar—You can use light or dark, we always prefer dark brown because we love the slight flavor of molasses, but use whichever you prefer.
Granulated White Sugar—This sugar is what gives you the slightly crisp outside and also helps brown the cookies so you know when they're done. And obviously it makes these perfectly sweet.

Eggs—Eggs add texture, structure and softness to recipes. Always be sure your eggs are at room temperature. When eggs are added cold, it causes a "split" in the dough, as the butter seizes.

Vanilla Extract—Always adding flavor.
Chocolate Chips—This is what we melt and add right in to make the beautiful marble and add plenty of chocolate flavor.

Coconut Oil—Just a dab makes the chocolate mixture smooth and just runny enough to blend and marbleize the dough.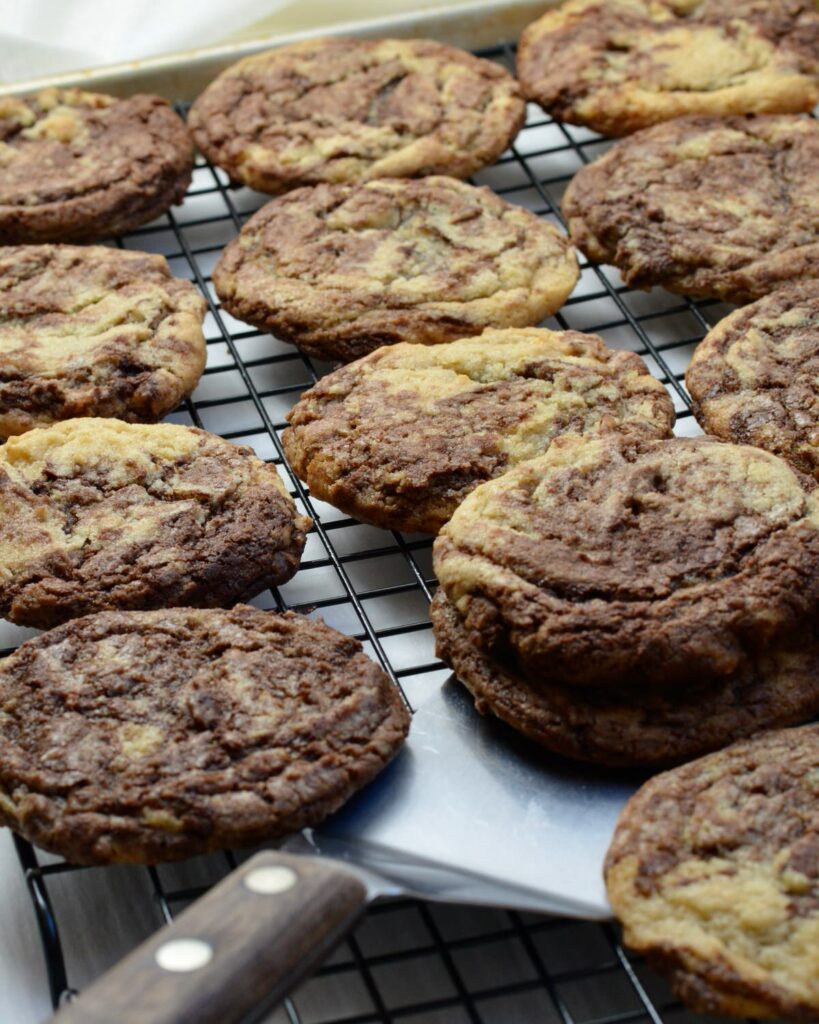 Need to make substitutes?
Gluten Free—Swap out the all-purpose flour for any Gluten Free Flour Blend, like Cup4Cup, Bob's Red Mill 1:1 or King Arthur Flour Measure for Measure. Just be sure the mix has xantham gum included.
Dairy Free—Swap the butter for a dairy free butter in these marble cookies, such as Country Crock Plant Butter, my personal favorite. Be sure to use dairy free chocolate chips, such as Guittard semi-sweet or dark chocolate chips.
Sugar Free—Cookies will never be as delicious without sugar, but there are plenty of low-glycemic sugar substitutes. I like monkfruit sweetener the best, but there's also Swerve and coconut sugar.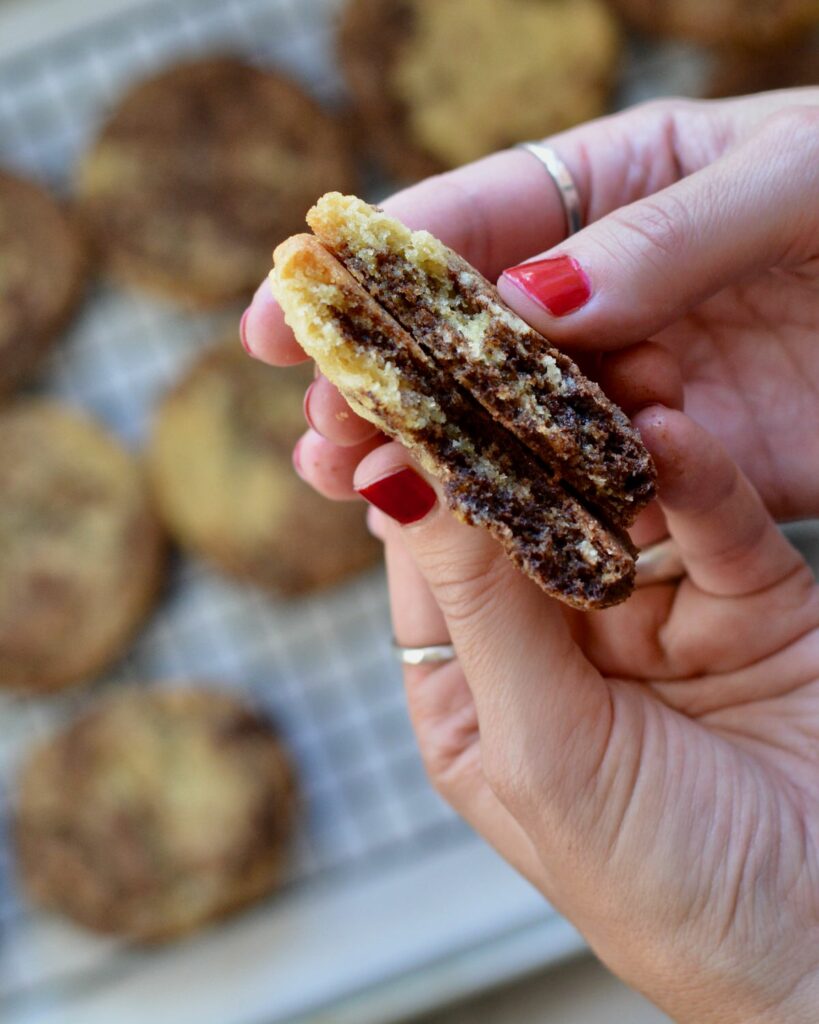 How to store these cookies
Freeze Dough in Balls—Make dough fully, but scoop and freeze on a cookie sheet for about 10 minutes (this keeps them from sticking together). Remove from cookie sheet and put all dough balls into a zip-top bag. Freeze up to 6 months. To bake, preheat oven and bake for 14-15 minutes or until set.
Room Temp—These cookies will stay fresh when stored in an air-tight container at room temperature for up to a week, or in the refrigerator for up to 10 days.