This post was originally published on Feb. 7, 2019 and updated Jan. 24 2021.
Have you ever tried a breakfast strata? It's similar to a french toast bake, although this one is full of savory and sweet flavors, making it the ultimate breakfast treat! It all comes together the night before too, so it's a major time saver. That means breakfast is ready and delicious in a jif.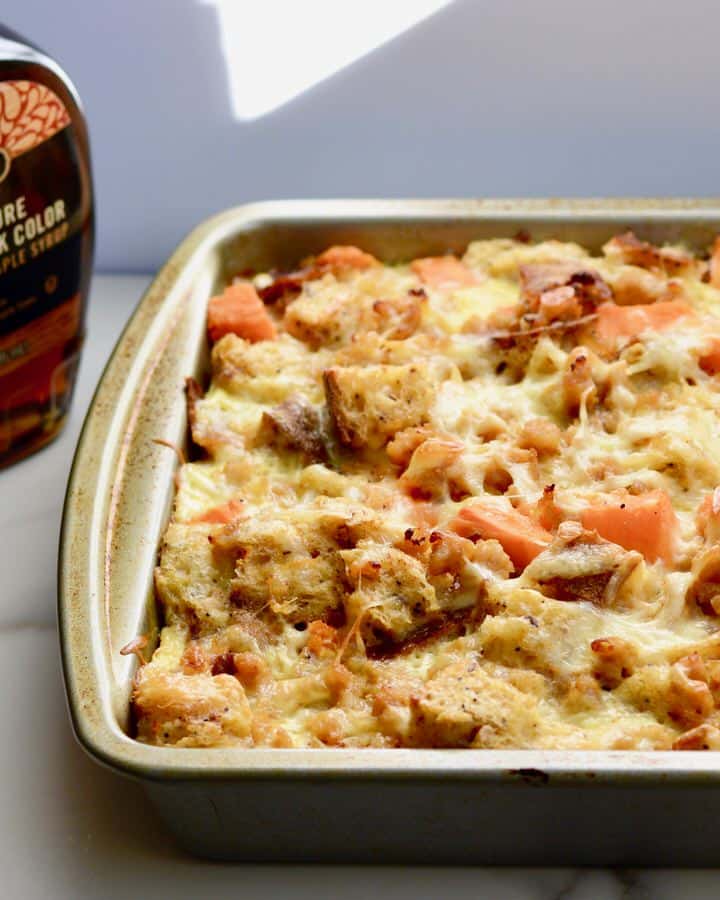 Multigrain Bread makes this breakfast strata healthier
Using multigrain bread for this recipe adds in some of that good stuff your body needs to give you continuous energy throughout the day. You can use any bread you prefer, but I recommend something hearty and dense to really hold you over until lunch.
Can This Recipe be Gluten Free?
If you have dietary restrictions or just prefer to eat gluten free, you can definitely make this with gluten free bread. However, I do not recommend letting it sit overnight. Since GF bread does not have the same chewy interior and crusty exterior of a hearty bread, it will lose all shape and become mushy. So just put together right before baking and you should be good to go!
Need to Make this Strata Dairy Free?
Easy peasy! My preference is to replace the milk with Oat Milk as it has a creamier texture and the flavor does not become overwhelming when heated (like Almond milk tends to do). For the Monterey Jack cheese, you can replace with a cheese substitute (although this is never my favorite option as it does not melt very well) or go for a goat cheese if you can handle goat (I can't do cow cheese, but I love goat or sheep cheeses!).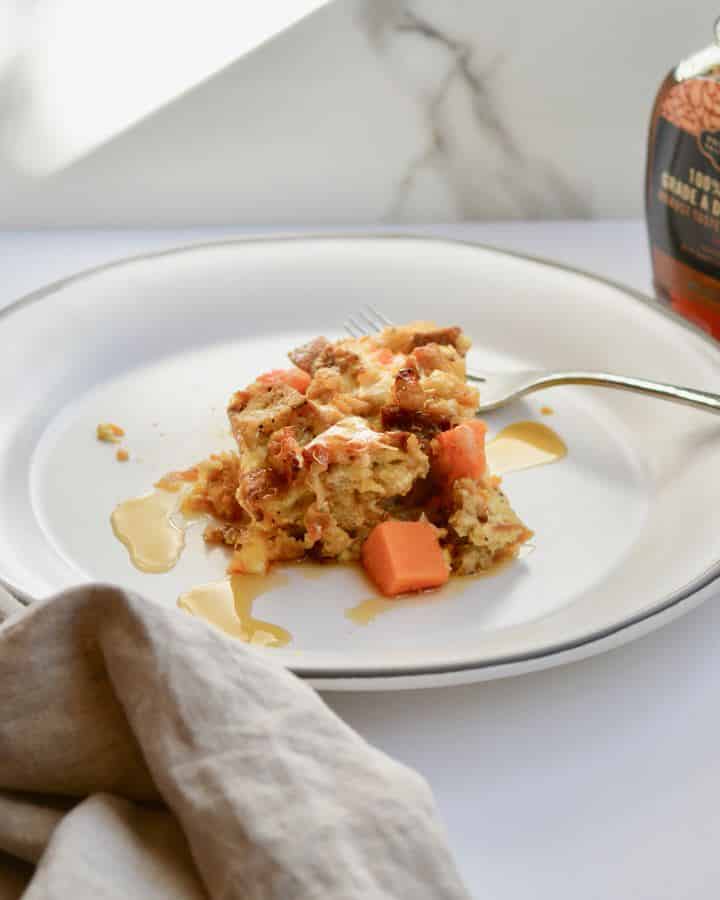 Sign up for our FREE 7 Day Simple Meal Plan!
Sweet and Savory Breakfast for the win!
I always prefer a sweet and salty breakfast to just one or the other. How about you? My husband loves all the sweet breakfast stuff. But this strata keeps everyone happy. The sweet potato and syrup drizzled on top gives it just the right amount of sweet. And the eggy mixture, cheese and chicken sausage keeps it savory and full of flavor—creating the ultimate breakfast combination in one simple dish.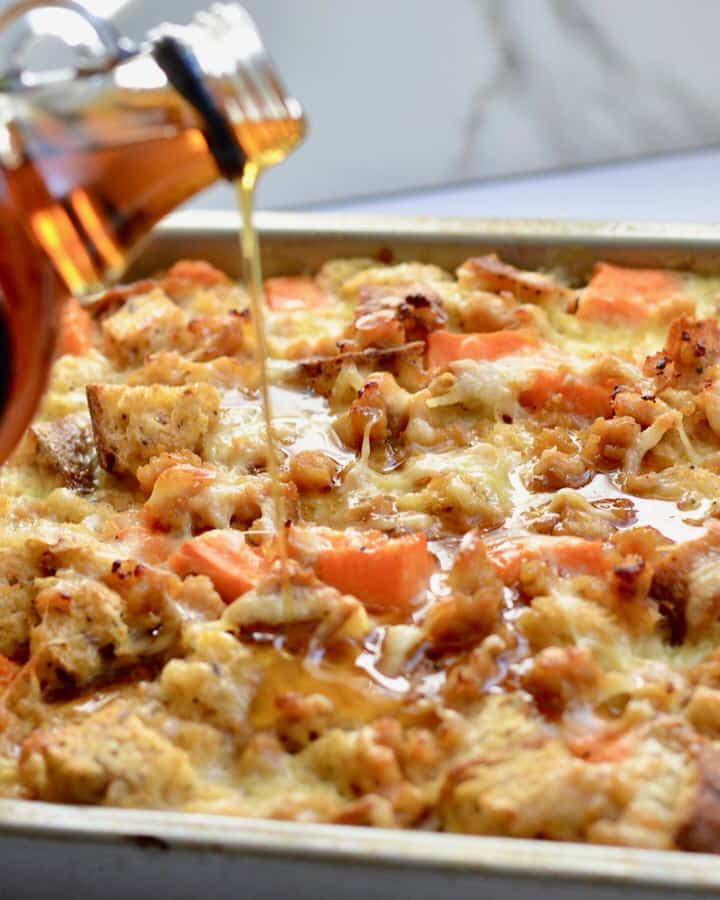 Looking for more make ahead breakfast recipes? Try these!
Make this breakfast strata the night before
It doesn't take really long to make this breakfast strata, but I still recommend putting it together the night before. Therefore, you can wake up and just throw it in the oven with no effort. Because no one wants to labor in the kitchen in the morning, and I absolutely love it when I set my future-self up for success. This is also a perfect breakfast for company. You can easily double the recipe and bake in a 9×13 pan to feed a crowd.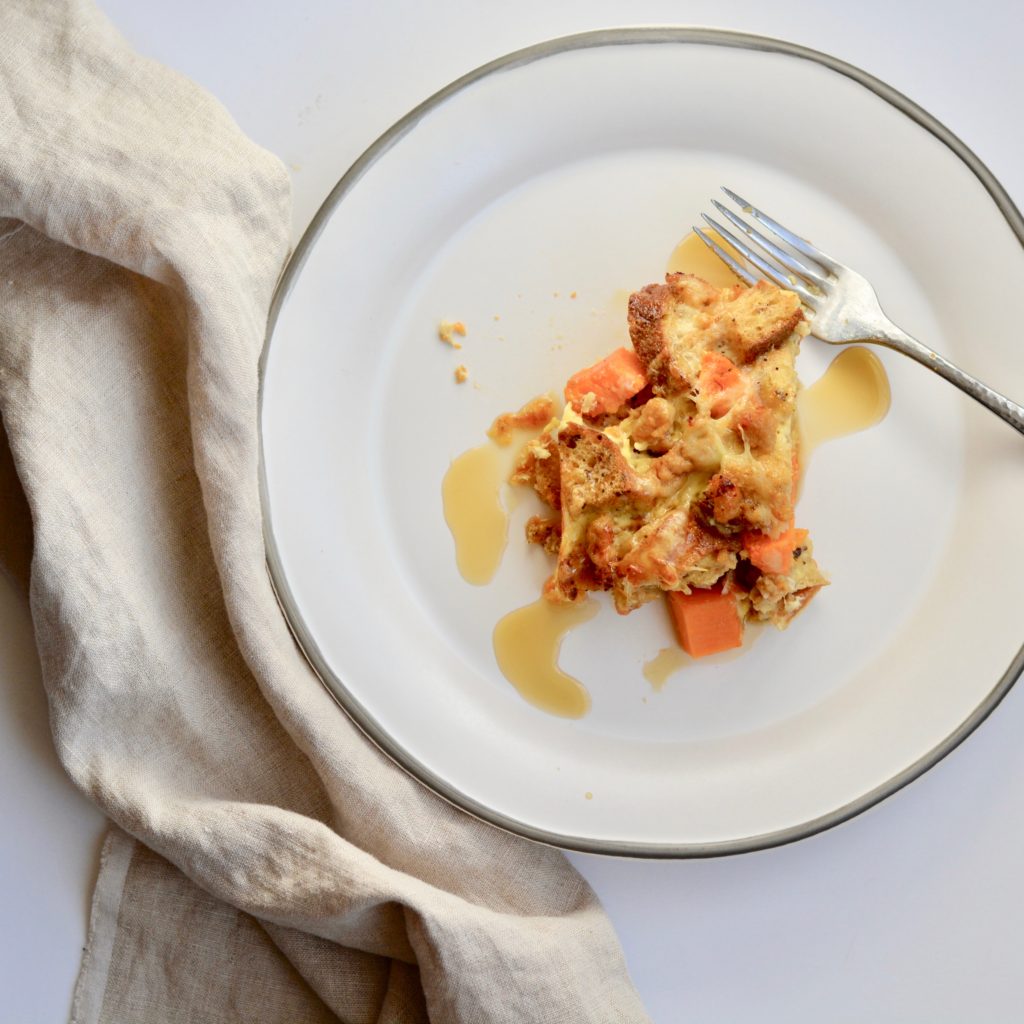 Loving this Sweet & Savory Fall Breakfast Strata? Try these other delicious & Healthy breakfasts!
If you decide to give this recipe a try, be sure to snap a photo to share, tagging @theovenlight and #theovenlight on Instagram or Facebook!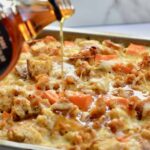 Print Recipe
Breakfast Strata
Perfect sweet and savory combination!
Ingredients
6

oz

good multigrain bread

cut into 1″ cubes

1

Tbsp

olive oil

12

oz

chicken sausage

1 1/2

C

monterey jack cheese

1

large

sweet potato

2

C

milk

or milk substitute

5

eggs

1/2

tsp

cinnamon

1/4

tsp

nutmeg

1/4

tsp

pepper
Instructions
Poke the sweet potato all over with a fork and put in the microwave on a paper towel on HIGH for 8 minutes or until completely cooked through. Let rest for 5 minutes. Peel the outside and dice into 1/2″ cubes. Set aside.

Preheat the oven to 350°F. Dice the bread into 1″ cubes. Place on a baking sheet and bake for 20 minutes, stirring once. Remove and set aside.

Add olive oil to skillet over medium heat. Add chicken sausage and stir and crumble until fully cooked. Set aside.

In a medium sized bowl, combine milk and following 4 ingredients. Mix well. Set aside.

In a large bowl, combine bread, sweet potato, half the sausage and half the cheese. Pour milk and egg mixture over bread mixture and let sit for 20 minutes.

Spoon the soaked bread mixture into an 8×8 pan sprayed with non-stick cooking spray.

Top with the remaining sausage and cheese.

Cover with foil sprayed with cooking spray to keep it from sticking to the top.

(OPTIONAL MAKE-AHEAD) If making the night before, place in the refrigerator at this point.

Bake at 350° for 30 minutes. Remove foil and bake for an additional 20 minutes or until fully cooked.

Slice and serve with syrup drizzled on top!
Notes
Perfect for mornings with company or a special brunch dish to share! You can double the recipe and put in a 9×13 dish as well. Just be sure to add a little baking time so the center is fully cooked.
This recipe was adapted by a recipe from Cooking Light December 2016.