Light, fluffy layers of easy lemon sponge cake sandwiched with sweet lemon buttercream frosting and a touch of lemon curd makes this cake the ultimate summer indulgence. The cake pictured is also gluten free. Gotta love that. It can be made either way, but even my pickiest tasters LOVED this cake made with a gluten free flour blend. You'll love the short list of ingredients needed to make this layered cake and you'll love the outstanding flavor even more!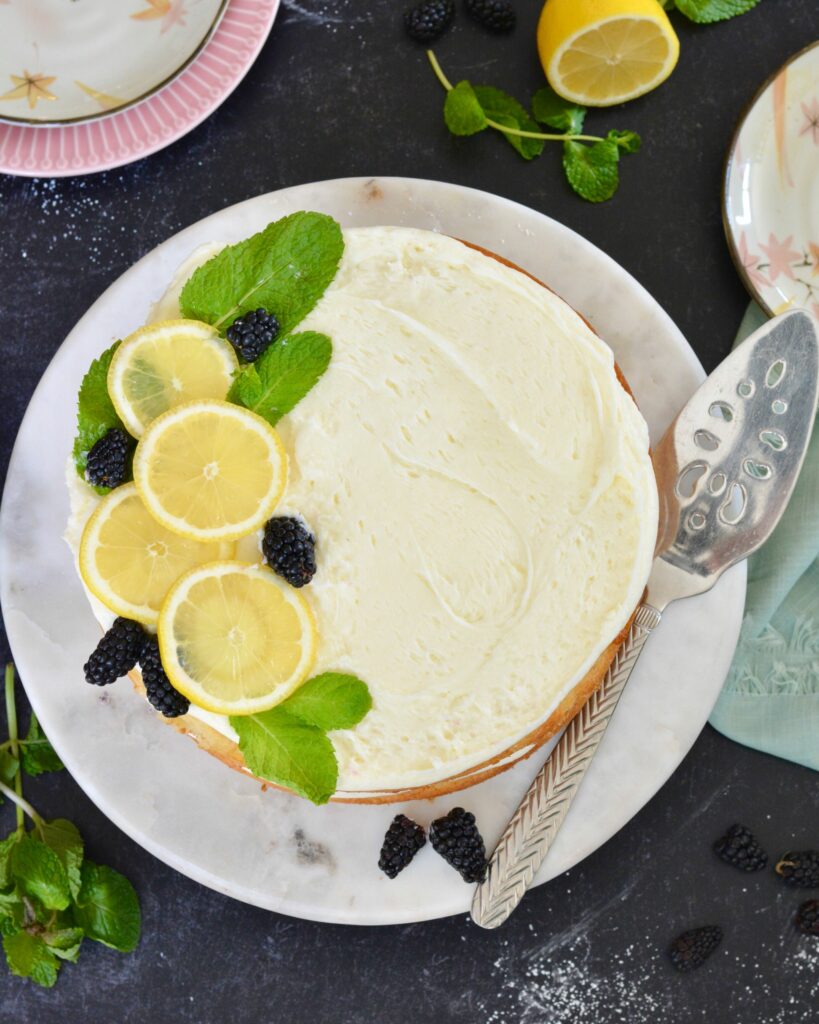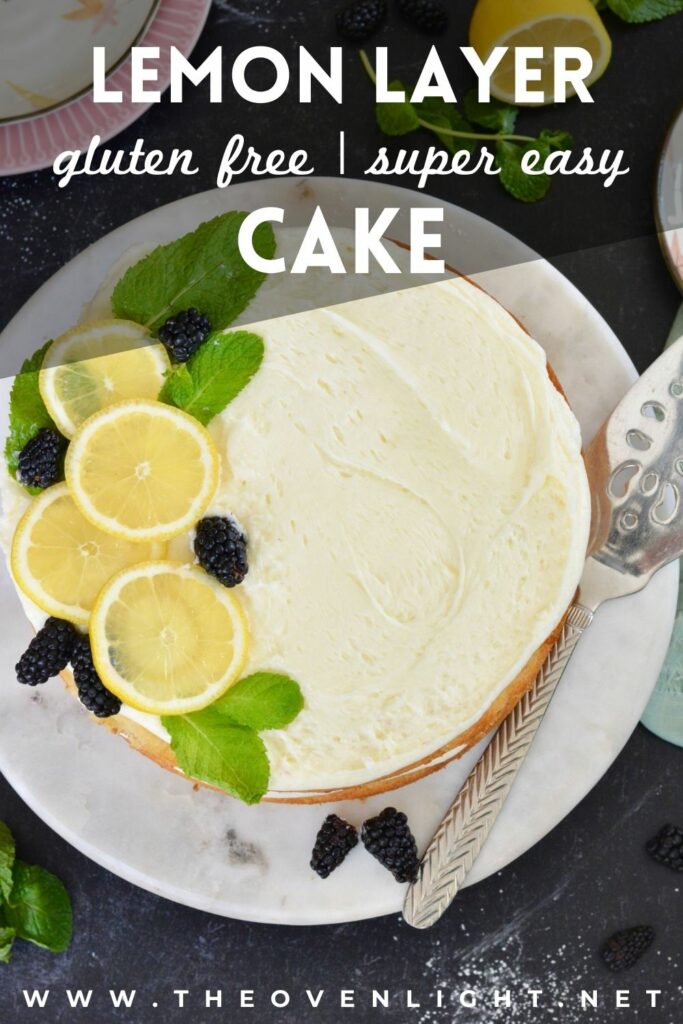 Tell me all about this lemon layer cake
Flavor – If you're a lover of lemon desserts, then this cake is a dream come true! Moist, sweet, buttery and full of deliciously sweet lemon flavor. The pop of lemon in the buttercream and the smooth spread of lemon curd in the center really put this cake over the top.
Texture – Moist and fluffy at the same time. Total cake perfection. While all-purpose or cake flour will lend itself to a little more natural fluffiness, the gluten free flour blend stands up very well and makes a great substitute for those who cannot tolerate it, like me.
Time – 45 minutes start to finish. Pretty quick for a 2 layer cake!
Difficulty – Totally simple! There are no tricks or special equipment needed to achieve exactly what you see in the photos.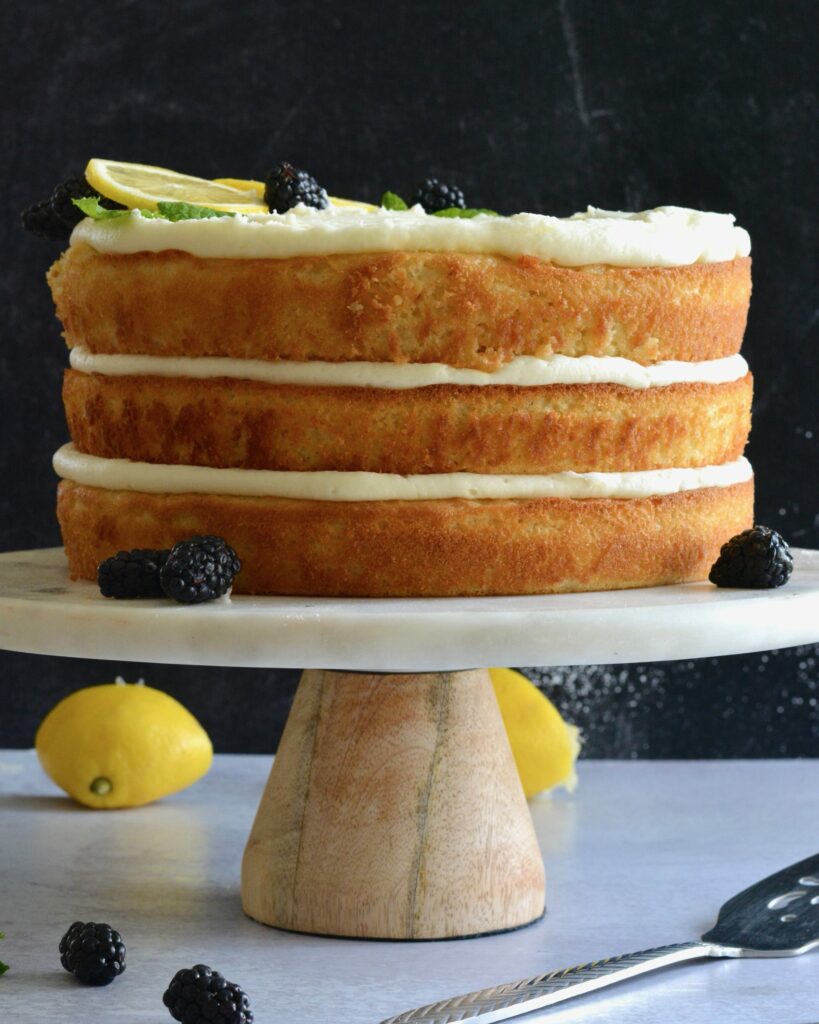 Can I make this cake in a 9x13 or other size?
Using 8" cake pans - No changes need to be made to the recipe. Your layers will be slightly thicker than a 9" round cake pan.
Using a 9x13 dish - No changes need to be made to the cake recipe, however the frosting will be a little different. Since there won't be a layer for the lemon curd, I suggest spreading a thin layer across the top of the cake, chilling for an hour and then piping and gently spreading frosting on top. That way you still get the punch of lemon from the curd without the trouble of layers.
Using 6" cake pans - If you love a tall thin cake, you can substitute three 6 inch cake pans without any adjustments to the cake recipe. You can do another layer of frosting and keep it a single layer of lemon curd.
Can I make these into lemon Cupcakes?
You bet! To make this lemon layer cake into cupcakes, you'll keep the cake recipe the same, but scoop batter into greased or lined cupcake tins and bake for 15-20 minutes until the center springs back when lightly touched. To add lemon curd, spoon curd into small zip top bag and snip a corner about ¼". Using a straw or chopstick, poke a hole into the top of the cupcake and then squeeze curd into the center. Frost the top using a piping bag or gently spreading lemon frosting. YUM!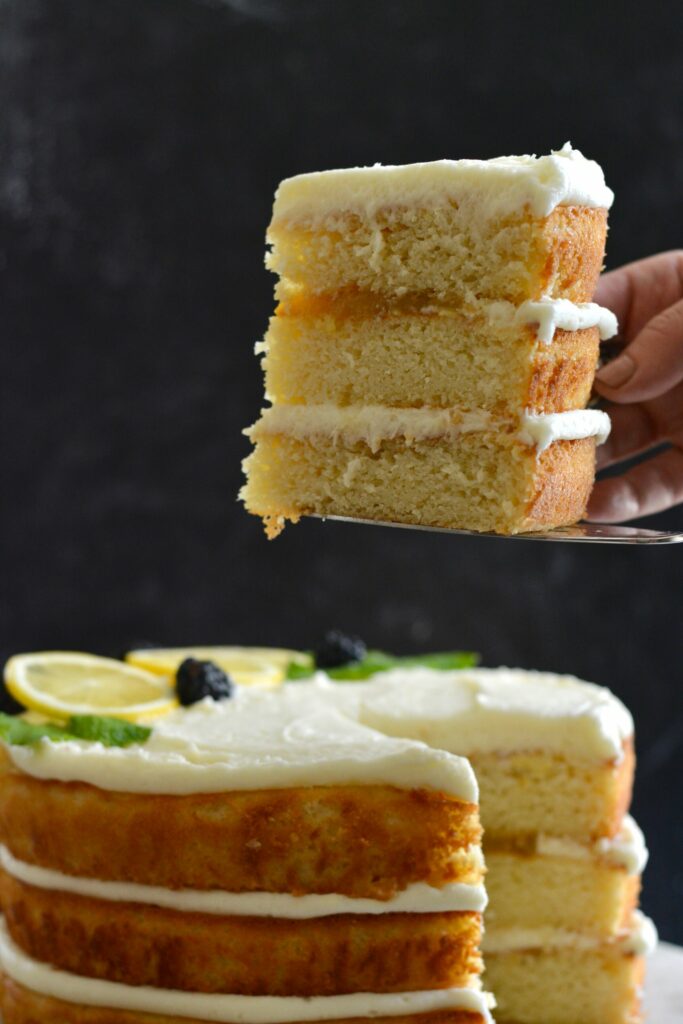 Quick tips to easily spread frosting
To keep the lemon curd from squeezing out the side while cutting the cake, create a "dam" of frosting around the outer edge, as you can see in the picture below. So simple, but keeps the cake nice and neat.
If you're like me and you can't stand spreading frosting on tender cakes (hello cake crumbs in your frosting), simply put your frosting in a gallon sized zip top bag and snip the corner about ½". Then you can easily pipe the frosting and give it a quick spread, no special cake tools necessary. And you get an even layer of frosting without any frustration.
Got any other summer dessert recipes? You bet! Here's some of our readers favorites.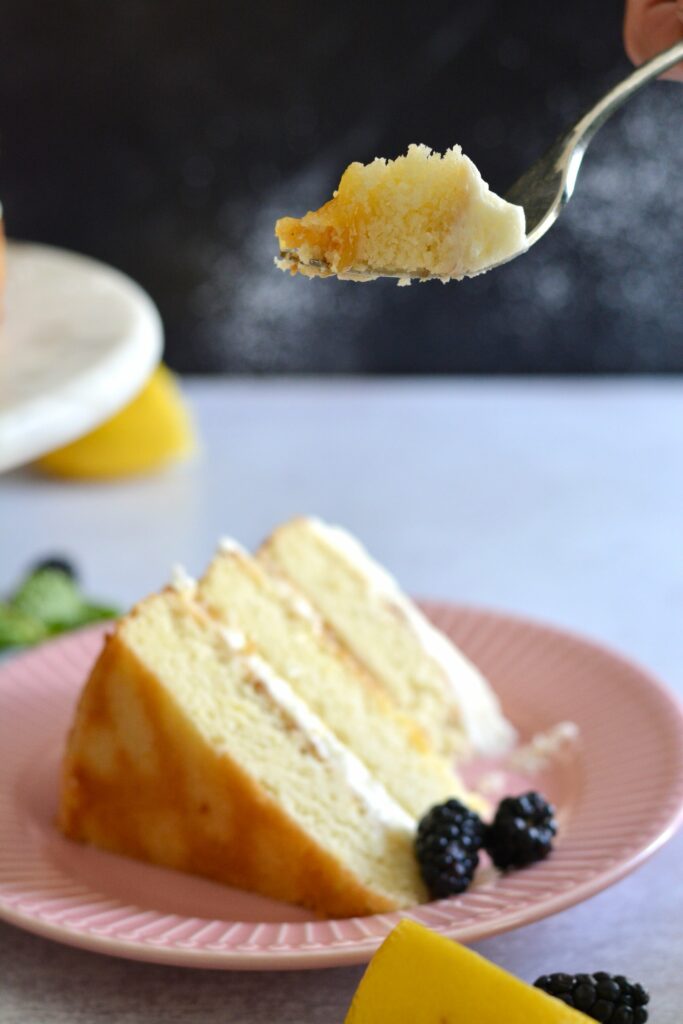 Love this Lemon Layer Cake recipe? Try these other delicious lemon Dessert recipes!