I make this Focaccia bread often. It's cheap and quick to make (really those are my priorities in life), and it goes great with every kind of meal—Italian, Greek, American or in can take your sandwich up to the next level. It's ahhhhhmazing dipped in olive oil and vinegar as an easy appetizer too!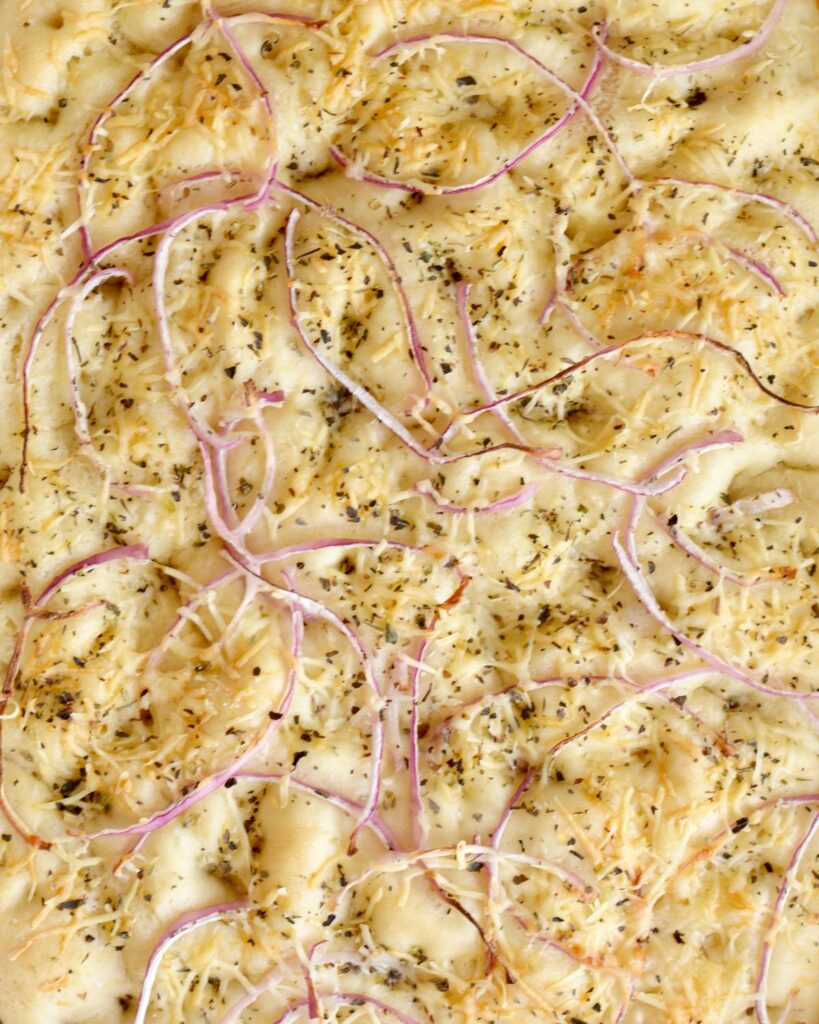 Sign up for our FREE 7 Day Simple Meal Plan!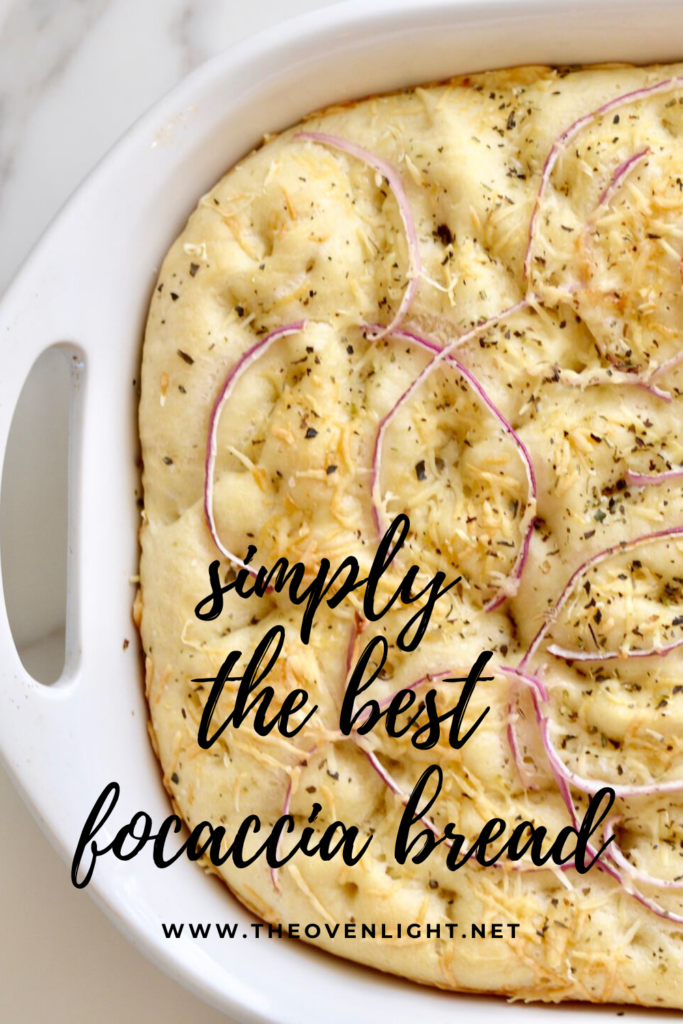 Completely no-fail recipe
I went through a season of life when I first moved to Denver, where I made this bread every day, seriously. It goes with every meal and I even liked to just snack on it with some olive oil and balsamic vinegar.
If you're intimidated by making bread, this is the perfect one to start with. It's truly easy and hard to mess up. Plus, you can top it with whatever you want. Even just olive oil and salt is still super delicious.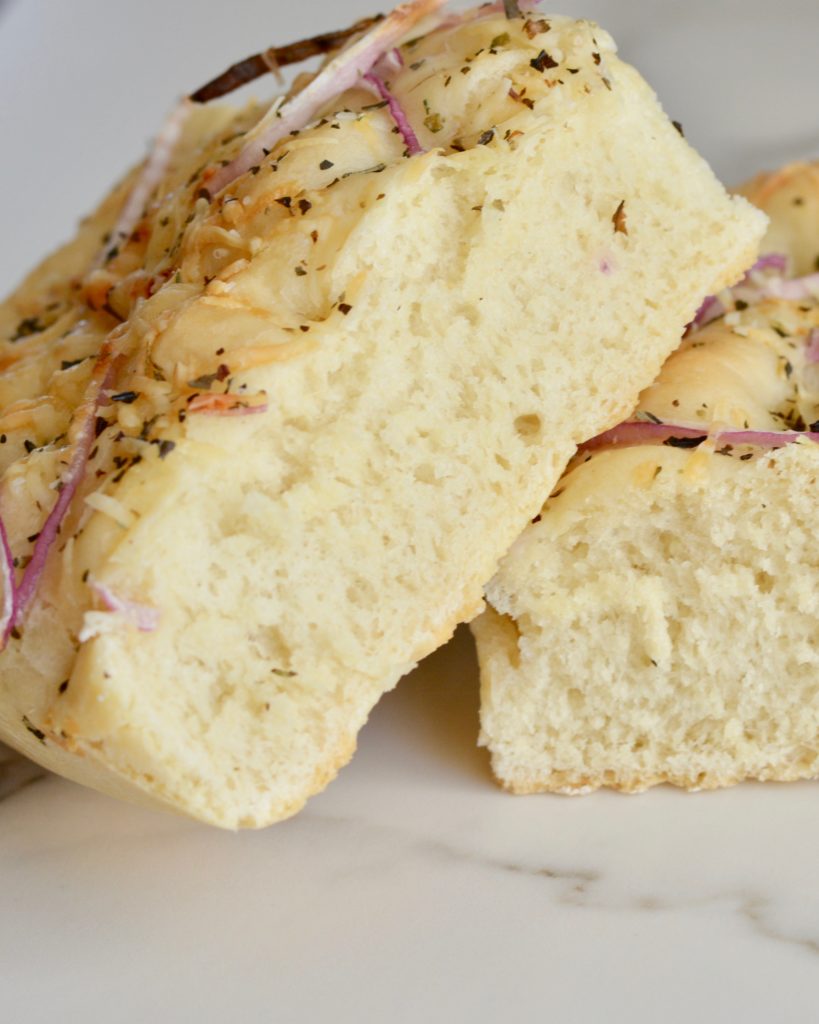 This Focaccia Bread makes the absolute best sandwiches
My favorite thing to do with this bread, is to use it for sandwiches. It takes lunch to a whole new level. Grilled veggie, Italian meat, or just a simple turkey and cheese, no matter what you put on it, focaccia makes everything better!

When you're making dinner plans this week, you should just make this recipe to go along with every meal. One batch of this bread will go along with pasta for dinner, and makes great sandwiches the next day and then it's still good a few days later for dipping as an appetizer along with olives and cheese! Seriously, so simple and crazy good.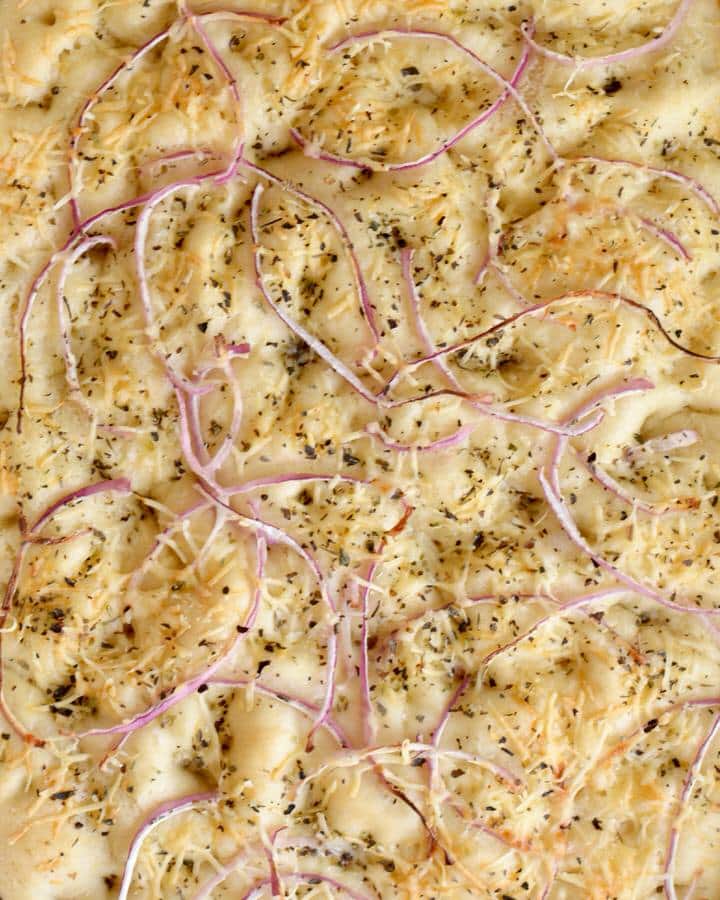 Loving this focaccia bread recipe? Try these other amazing bread-y recipes!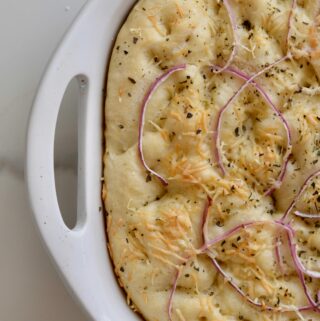 Easy Focaccia Bread
Simple enough to make for any meal
Ingredients
1 1/2

C

warm water

about 110 degrees

1

package

instant yeast

1

Tbsp

sugar

1

tsp

kosher salt

3 1/2

C

all purpose flour

1/4

C

olive oil
Topping
1

small

red onion

2

Tbsp

olive oil

1/2

C

grated parmesan cheese

1

tsp

kosher salt
Instructions
In the bowl of a stand mixer fitted with the dough hook, pour water and sugar. Sprinkle yeast on top of water and give it a quick mix. Let stand for 5-10 minutes until yeast starts to foam.

With the mixer on low, slowly add flour, salt and olive oil. Mix dough for about 5 minutes until dough is smooth and pulls away from the side. If the dough is still sticky, add 1/4 C more flour.

Place dough in a large bowl coated with nonstick spray or olive oil. Cover with a damp towel and set in a warm place until doubled in size, 45-60 minutes. (If it's a cold day, I turn my oven on to 150 degrees F, then turn off once it reaches temp and place the bowl in the oven.)

Preheat oven to 400 degrees F. Turn out dough onto a lightly floured surface. Roll out dough into circle or rectangle until about 1/2″ thick. Cover with damp towel and allow to rise for another 20 minutes.

While dough is rising, thinly slice red onion and shred the parmesan cheese.

Transfer dough to a large baking sheet or baking dish with sides. Using your fingers, poke deep holes all over dough.

Now it's time for toppings! Start by drizzling 1-2 Tbsp olive oil evenly on top. Evenly place sliced red onions on top. Sprinkle parmesan and salt all over.

Bake for 25 minutes or until slightly golden.
Notes
This is such an easy and delicious focaccia bread to go with anything!