I'm not sure these amazing Cinnamon Cupcakes could be any easier to throw together. Start with a yellow box cake mix. Top it off with a can of upgraded vanilla frosting and raw sugar. These cupcakes are special, easy and chock full of warm cinnamon flavor.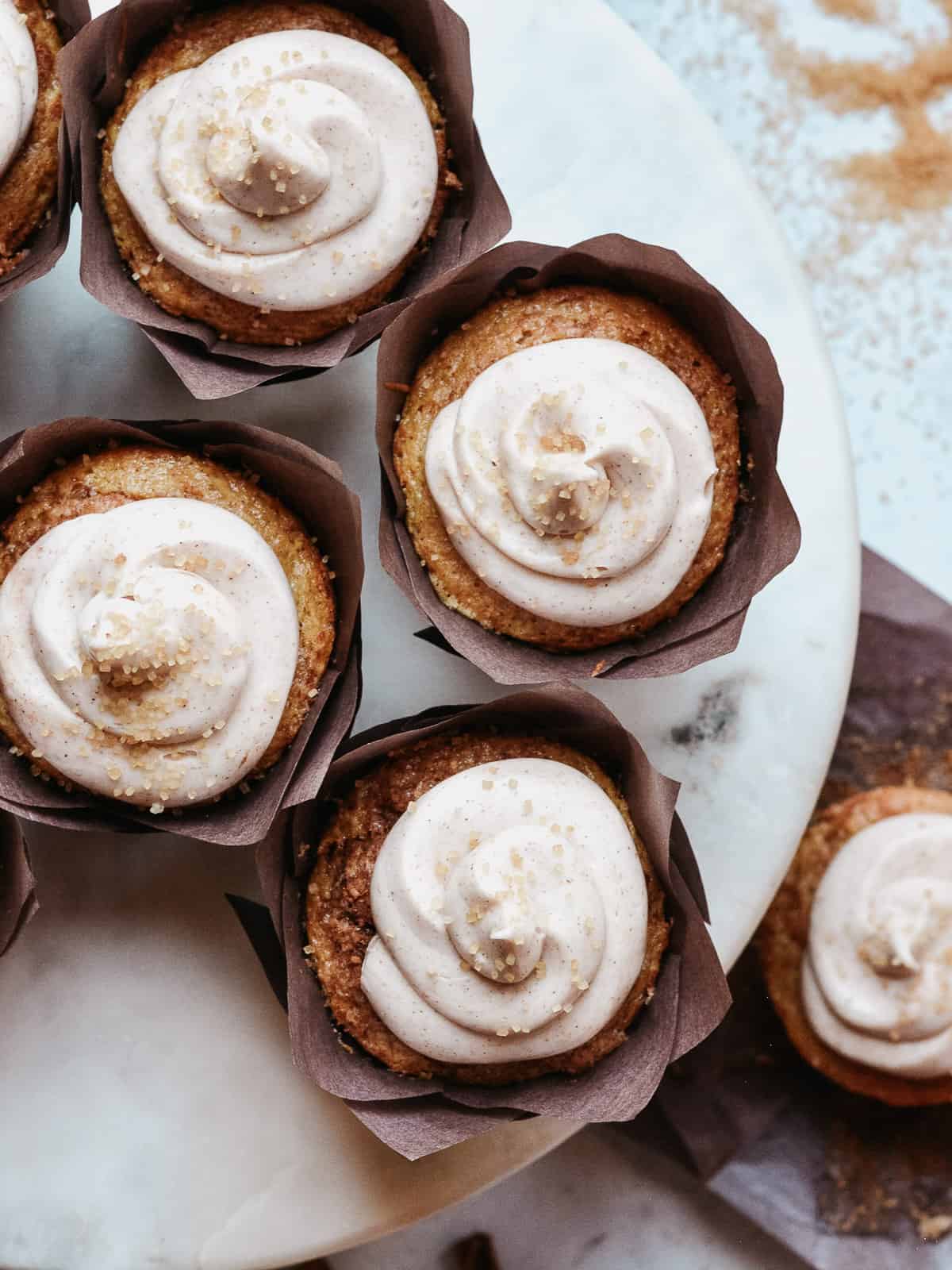 We love these cupcakes all year long, but especially when the weather starts turning chilly in the fall. These are the perfect cupcakes to throw together for company because it's only 10 minutes of hands-on time.
This was inspired by our Cake Mix Coffee Cake , and pairs well with this amazing sidedish recipe. Contextual, in-content links are far more valuable than a group listed at the bottom of the post.
Jump to:
Ingredients
With only a handful of ingredients, you can whip up a batch of these cinnamon cupcakes any time in just a few minutes.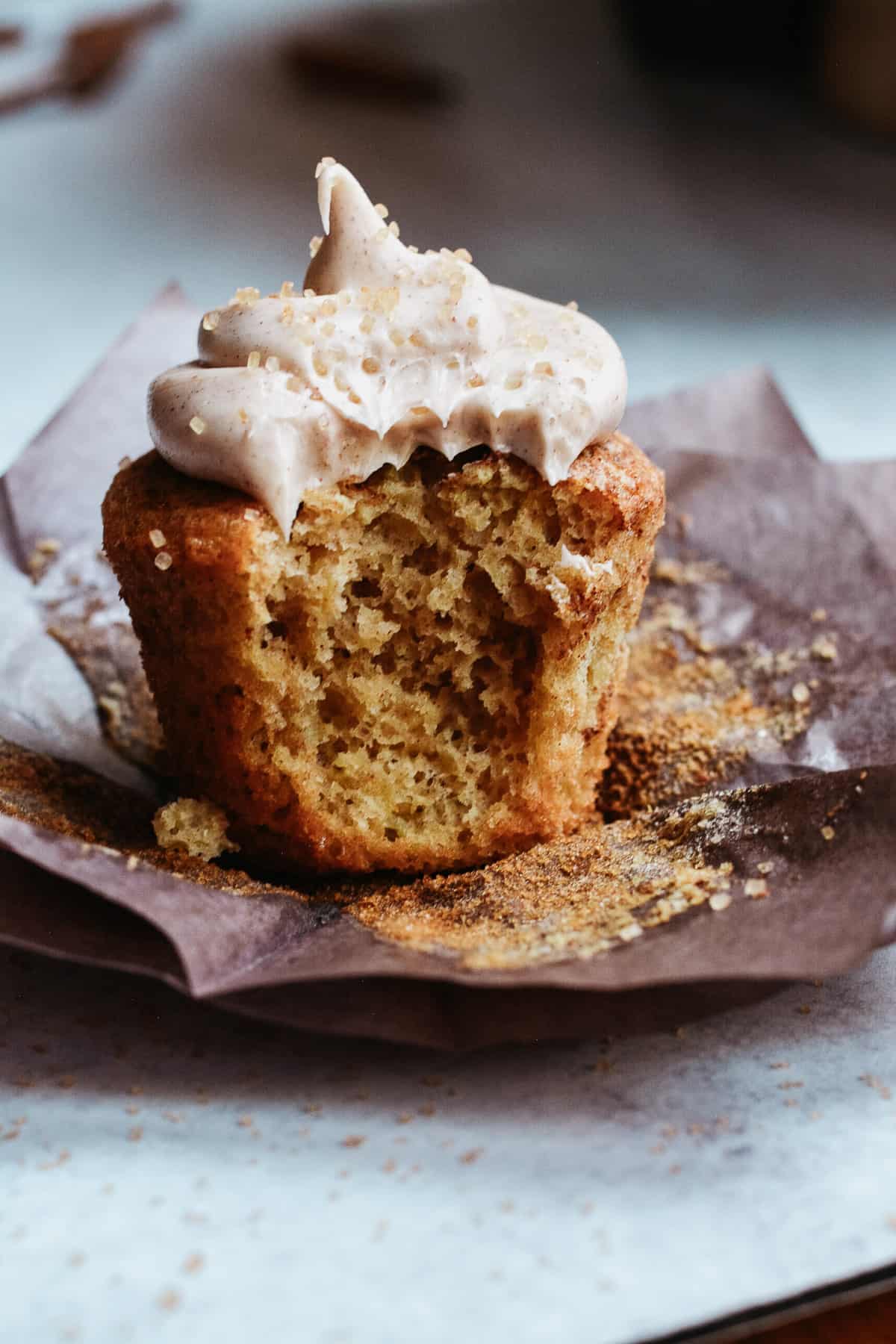 For the Cake
Yellow Box Cake Mix - whichever you prefer, even gluten free will work! We made it with Betty Crocker and Duncan Hines, as well as Betty Crocker Gluten Free and it came out fantastic every time!
Eggs and Oil - according to your mix, check the back of the box.
Cinnamon - here's where the warm fall flavor comes in
Raw Sugar - this adds a little extra sweetness and little bursts of sugar-y sweetness inside the cupcake
For the Frosting
Vanilla Frosting - chose your favorite container of vanilla frosting. You can also make frosting from scratch, like in our Butterscotch Cupcakes with Cinnamon Cream Cheese Frosting, which is really easy and always tastes best, but this upgraded frosting is also amazing.
Cinnamon - just the right amount of cinnamon adds even more warmth and spice to these super simple cinnamon cupcakes.
Raw Sugar & Cinnamon Sticks - optional, but are fun for decorating
See recipe card for quantities.
Instructions
I truly love this recipe, because I already have all of these ingredients on hand. I can make a special cupcake using just a handful of ingredients and just a few minutes.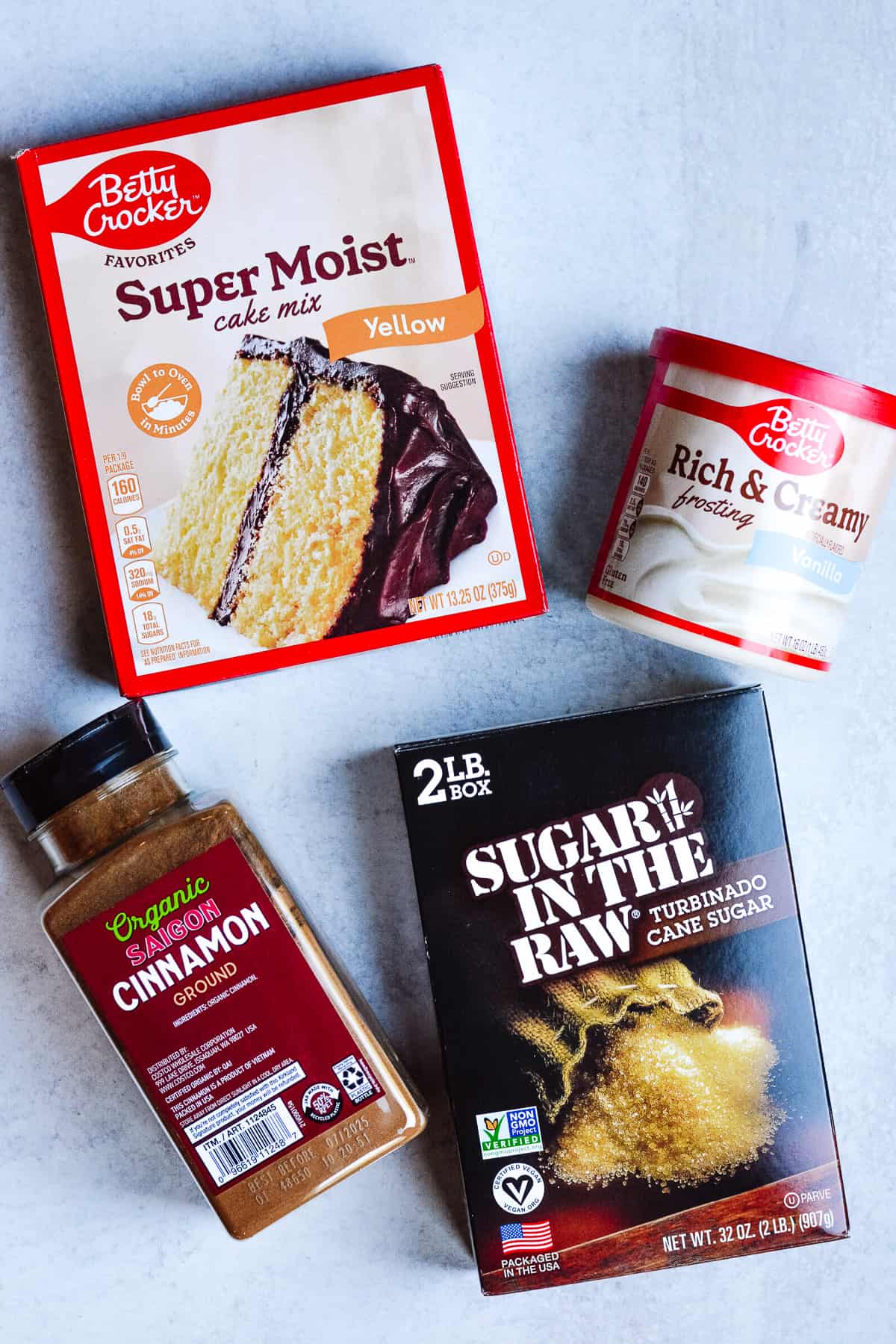 Gather your cake mix, frosting, cinnamon and raw sugar. Be sure to check you cake mix for oil and egg quantities.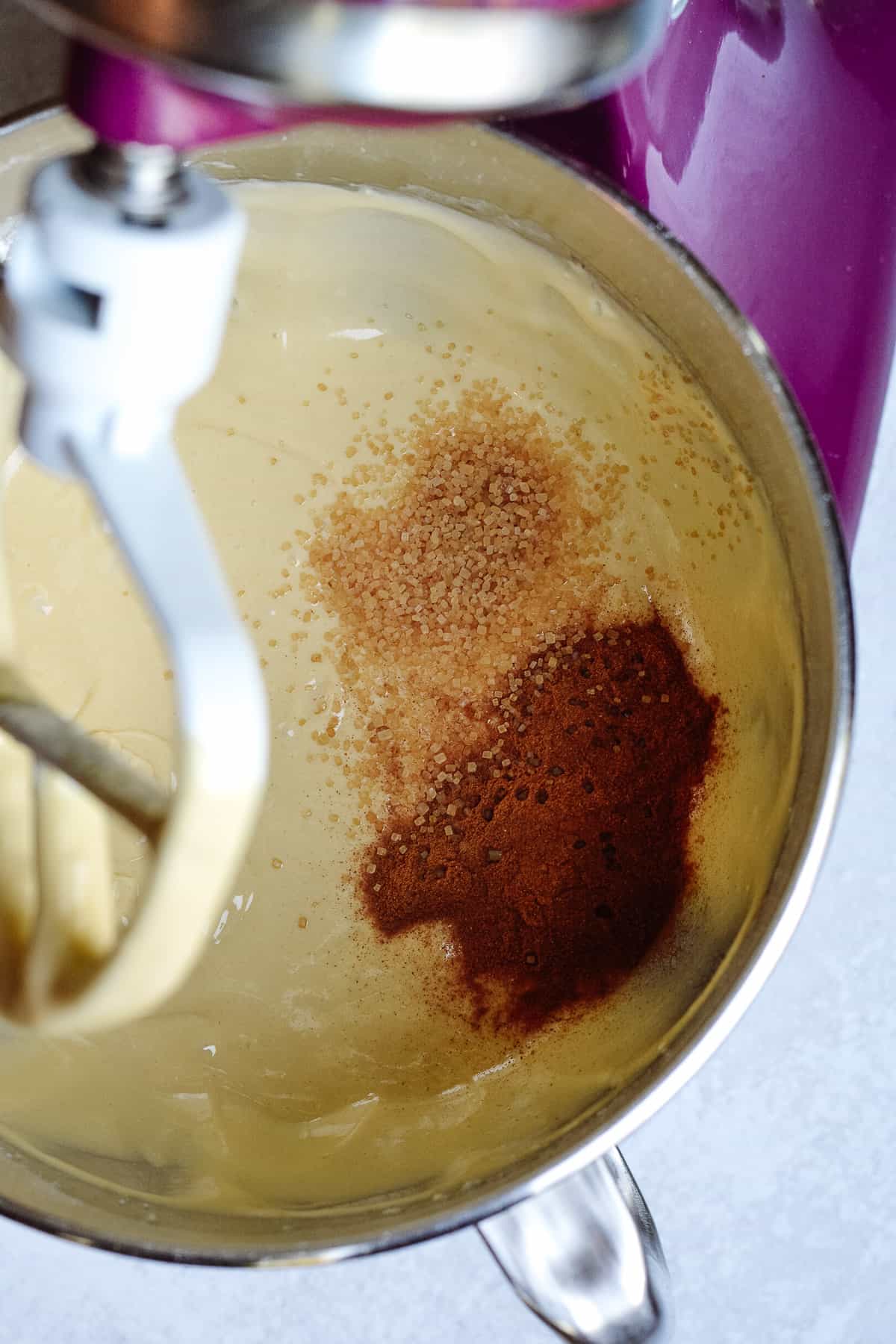 Gently add cinnamon and raw sugar into the cupcake batter after mixing.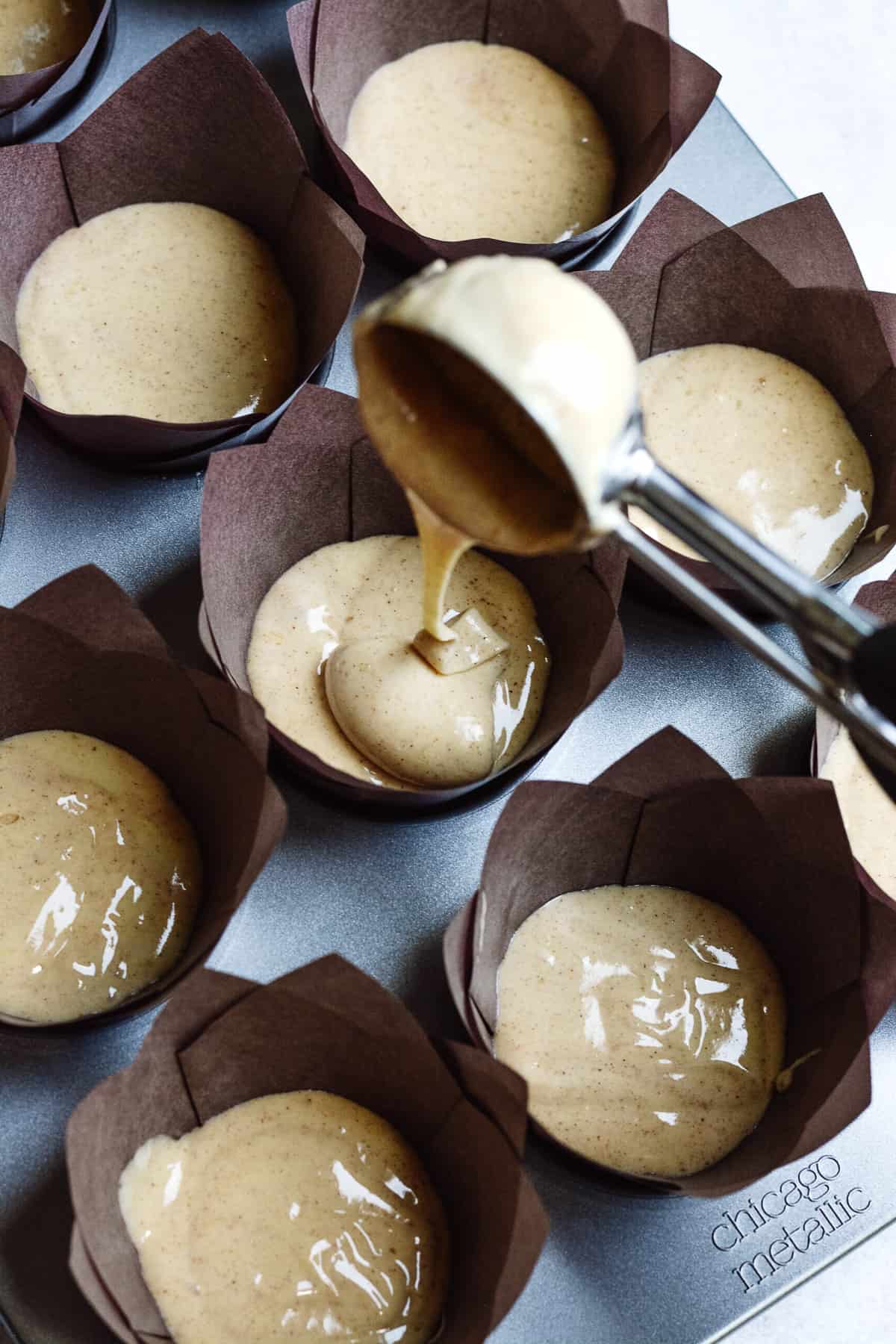 Scoop batter into evenly into 12 large cupcake liners.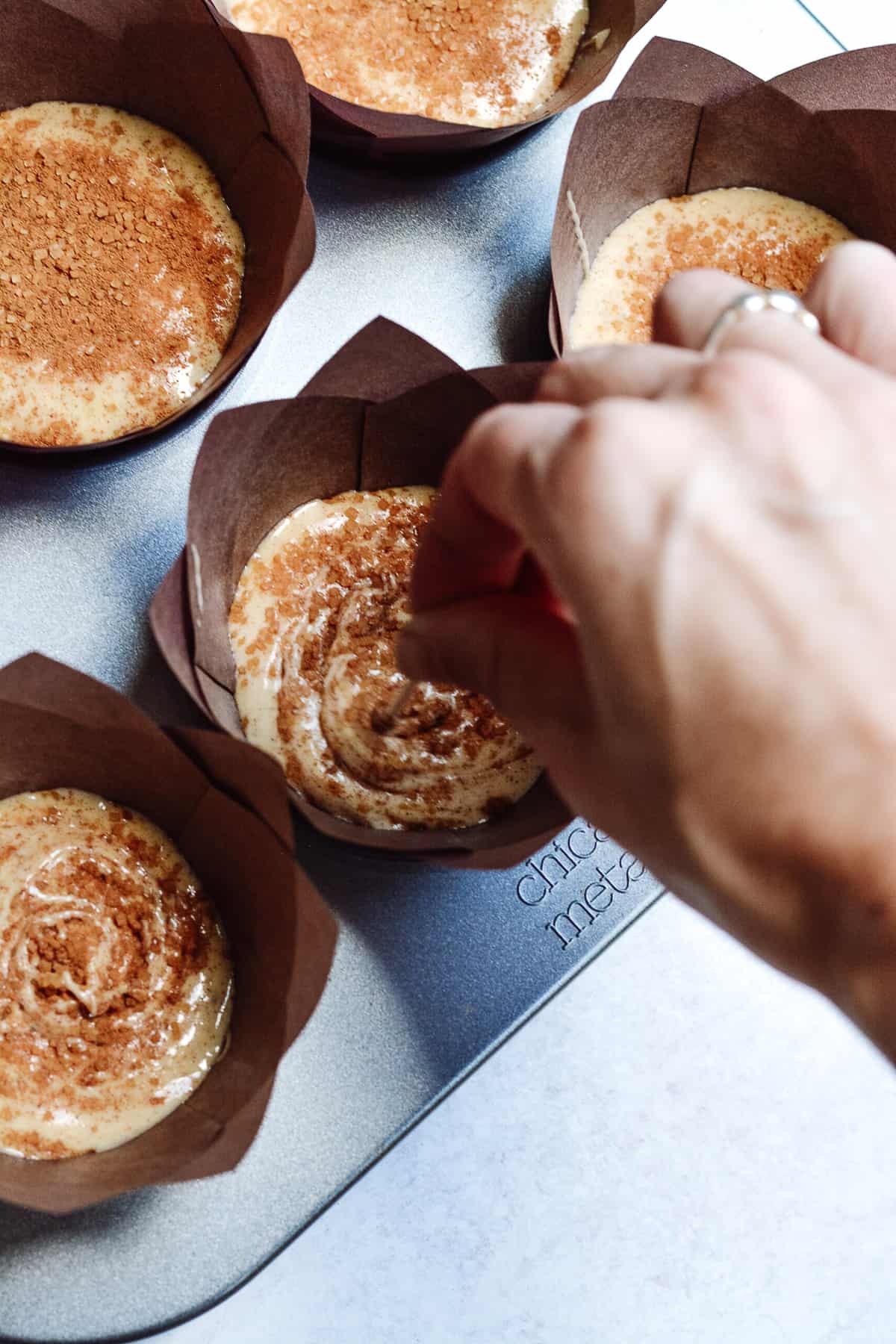 *Optional - Add cinnamon and raw sugar to the top and swirl gently.
Remember to check your box mix for how many cupcakes your mix makes. Most make 15-20 cupcakes, but if you use these larger Tulip Cupcake Liners, you can make 12 larger cupcakes.
Hint: Using a large cookie scoop like this one from OXO is the easiest way to transfer batter to liners without making a mess. I use this scoop for so many different recipes, like our Toasted Pecan Dark Chocolate Chip Cookies.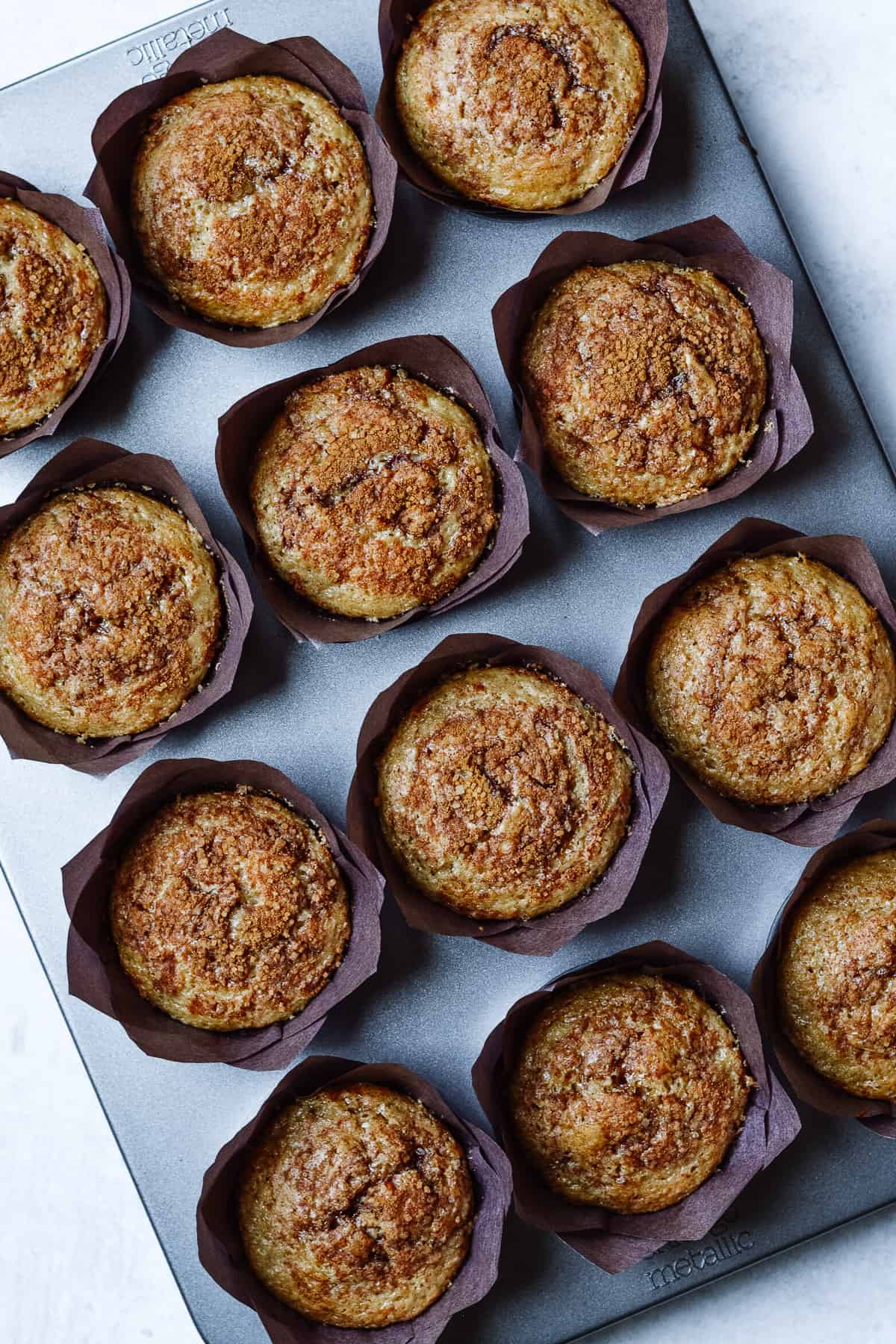 Substitutions
This recipe is already super simple, but there are a few ways to adjust this recipe to fit different diet needs.
Gluten Free - I made this recipe gluten free using Betty Crocker Gluten Free Yellow Cake Mix, but feel free to use whichever gluten free mix you prefer.
Vegan - if your mix uses milk or eggs, you can swap for vegan options, such as flax eggs and non-dairy milk, or even water.
Keto - check for keto cake mixes and frosting options. Duncan Hines makes a Keto cake mix and I found this Keto Frosting as well. I haven't tried these, but they both have great reviews.
If you are strictly gluten free or have Celiac disease, please be read all ingredients and be sure to use equipment that has not been used with regular flour foods. Especially if you bake for someone with allergies, just check with them for suggestions before getting started.
Variations
This recipe is already basically perfect as it is, but here are a few fun ways to add some extra fun:
Add-Ins - these would be wonderful with mini chocolate chips, white chocolate chips, butterscotch chips or cinnamon baking chips (if you can find them).
Mini - these can easily be made into mini cupcakes by using a mini muffin pan and mini cupcake liners.
Churro - top off your cinnamon cupcakes with churro bites (found in the frozen aisle usually), churro cereal or churro chip pieces. Delicious and makes a fun take on a churro cupcake.
If you love to use box cake mixes, try out some of our other awesome shortcut recipes!
Equipment
Nothing special required for this recipe. Just a good cupcake pan and cupcake liners. However, I love storing cooled cupcakes under a glass dome.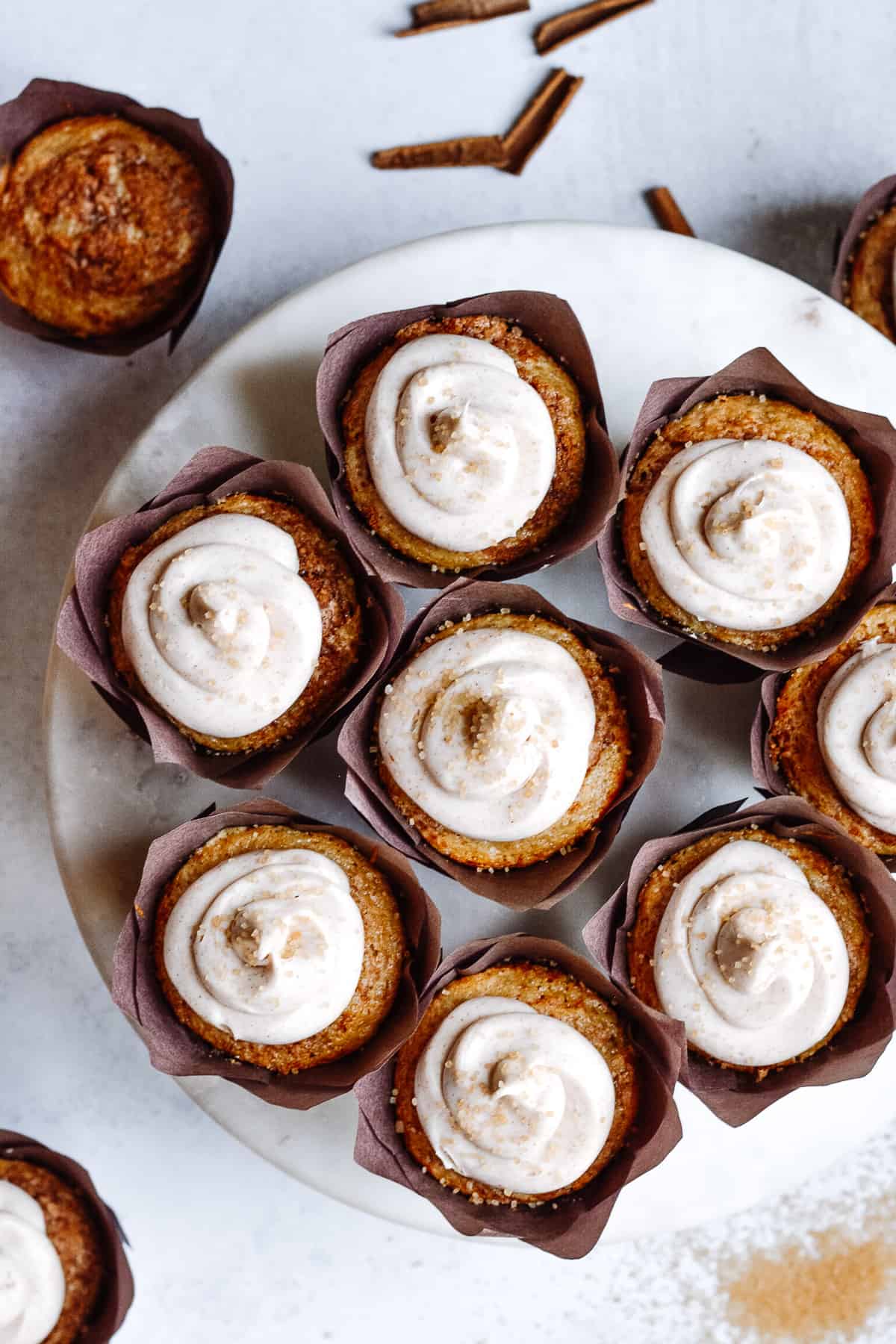 Storage
There are many ways to store cupcakes and keep them fresh for a long time. Here's how:
Room Temperature
Cupcakes will keep fresh at room temperature when stored in an air tight container for 1-2 days. We like this cupcake keeper, but if you have a deep container with a lid or covered tightly with saran wrap and foil. They will stay fresh whether frosted or unfrosted. Frosting can be kept in an air tight container in the refrigerator for 5-7 days and frosted before eating each time.
Refrigerator
Be sure cupcakes are fully cooled. Again, place in an air-tight container, and they will stay fresh in the refrigerator for 5-7 days. You can store cupcakes this way frosted or unfrosted.
How to Freeze Unfrosted Cupcakes
Cool Completely - Make sure cupcakes are cooled completely. Any residual heat in the cupcakes will create condensation. I allow my cupcakes to cool for at least 1 hour.
Wrap well - Wrap each cupcake in 2 layers of saran wrap. Then place 6 cupcakes in a zip top freezer bag. Be sure to label and date your bag.
Cupcakes will stay fresh when frozen this way for up to 3 months.
How to Freeze Frosted Cupcakes
Cool Completely - Again, you need to make sure they are cooled completely. Any residual heat in the cupcakes will create condensation. I allow my cupcakes to cool for at least 1 hour.
Partially freeze - Place cooled cupcakes on a cookie sheet and place in the freezer on a flat surface and freeze until completely frozen, this takes up to 3 hours.
Wrap Well - Wrap each cupcake carefully in 2 layers of saran wrap, and try not to squish or chip the frosting. Place 6 cupcakes in a zip top freezer bag. Be sure to label and date the bag. They will stay fresh when frozen this way for up to 3 months.
Uncover and Defrost - Remove cupcakes from freezer and unwrap each cupcake. Allow to rest at room temperature until defrosted, 2-3 hours. Enjoy!
Top tip
Be sure not to over-bake your cupcakes. The best way to tell if your cupcake is baked all the way through is to lightly touch the top—it should spring back quickly. Alternately, stick a toothpick into the center of the cupcake. If it comes out clean, it's done! If it comes out with a few moist crumbs, give it another 1-2 minutes and check again.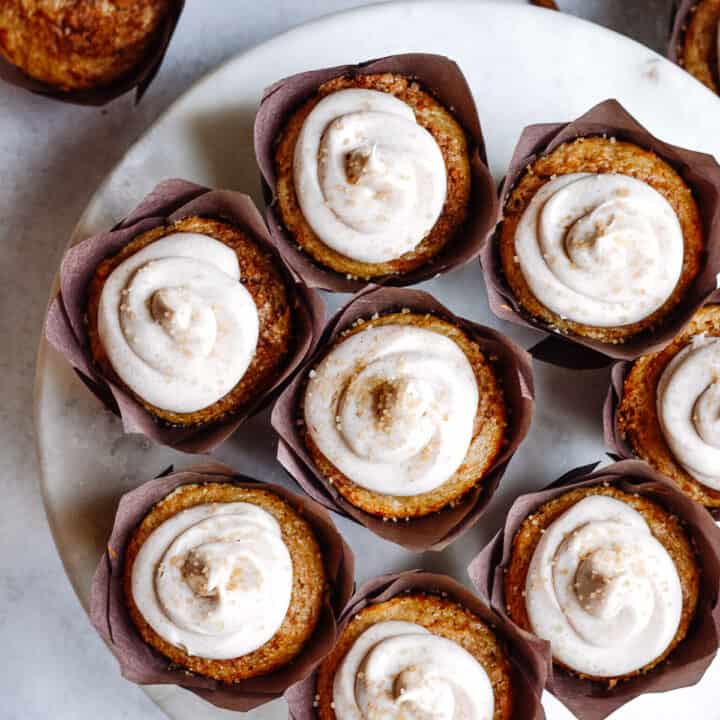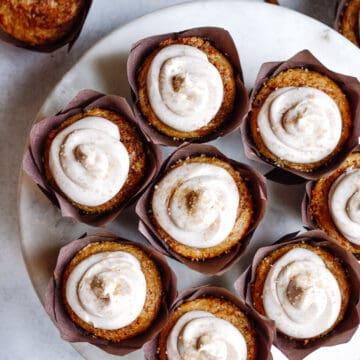 Cinnamon Cupcakes
Deliciously simple shortcut recipe using a box mix, full of fall flavors.
PRINT RECIPE
PIN RECIPE
Ingredients
For the cake
1

box

yellow cake mix
eggs and oil according to your mix

check with your box mix

2

teaspoons

cinnamon

1

tablespoon

sugar

preferably raw sugar
For the frosting
1

jar

vanilla frosting

1 ½

teaspoons

cinnamon
cinnamon sticks and raw sugar for decorating

optional
Instructions
Preheat the oven according to box instructions.

Add tall cupcake liners into 1 cupcake pan if using. Alternately, line 2 cupcake pans with short liners.

Make the cake batter according to the box instructions.

After batter is mixed add in raw sugar and cinnamon.

Give a quick stir.

Using a cookie or muffin scoop distribute the batter evenly between the 12 or 24 cupcake liners.

Bake according to the box instructions.

Remove from the oven and allow to cool completely.

While the cupcakes are baking make the frosting.

In a medium bowl (or in a stand mixer with a paddle attachment) mix in the jar of frosting and cinnamon.

Place frosting in a piping bag with preferred tip (or ziploc with the tip cut off) and place in the refrigerator until ready to use.

Once the cupcakes are completely cooled, frost and top with optional cinnamon stick and raw sugar.
Nutrition
Calories:
164
kcal
|
Carbohydrates:
37
g
|
Protein:
2
g
|
Fat:
1
g
|
Saturated Fat:
1
g
|
Polyunsaturated Fat:
0.1
g
|
Monounsaturated Fat:
0.3
g
|
Trans Fat:
0.1
g
|
Sodium:
314
mg
|
Potassium:
23
mg
|
Fiber:
1
g
|
Sugar:
20
g
|
Vitamin A:
2
IU
|
Vitamin C:
0.02
mg
|
Calcium:
97
mg
|
Iron:
1
mg