3 ingredients and 15 minutes for this amazing Tuna Pesto Pasta. If you love tuna and pesto, this recipe combines them in the most delicious and simple way! Not only that, but a large portion is less than 600 calories! So, it's delicious, nutritious and super quick? Yep! Let's get started!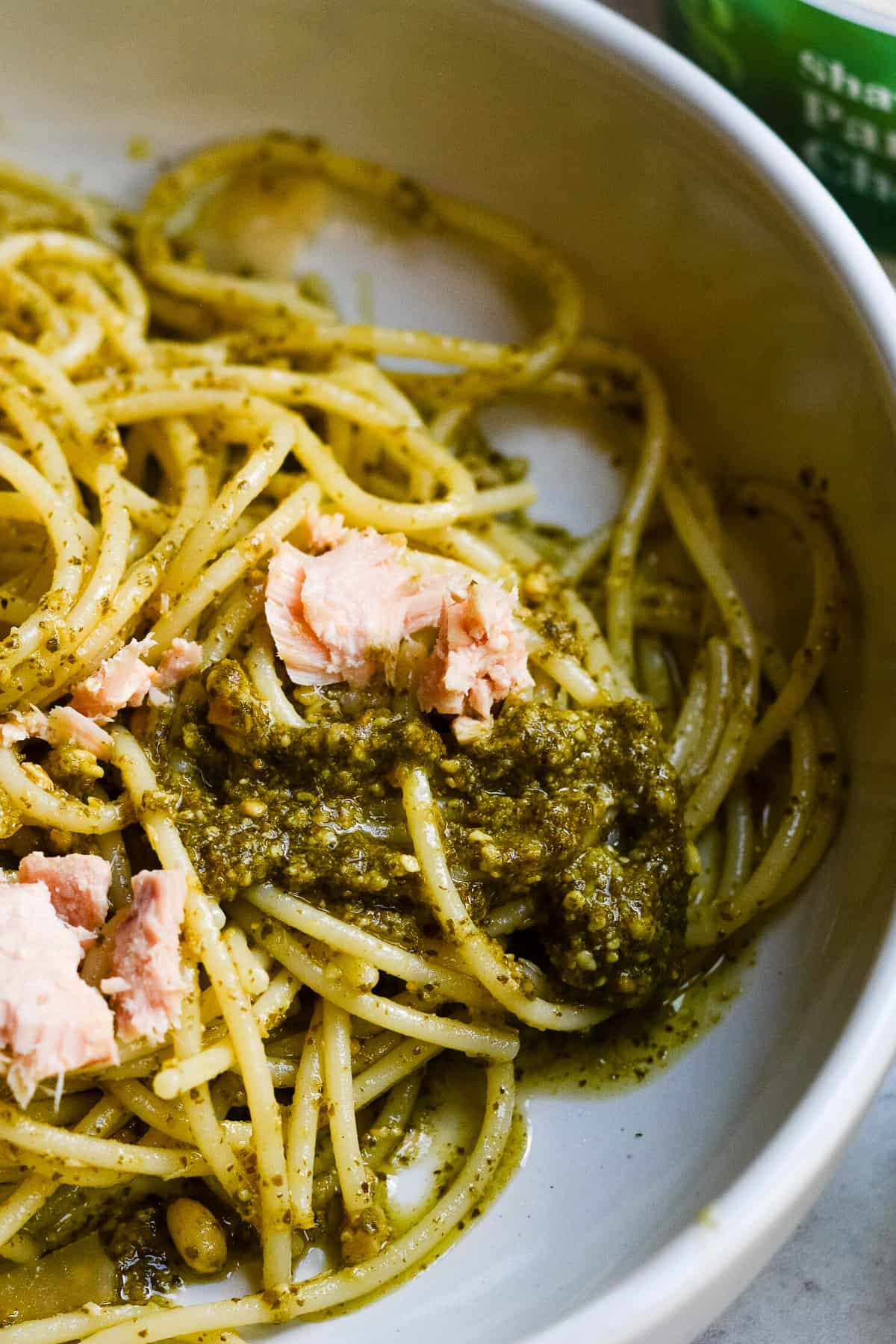 I love pesto any time of year, but this recipe is the ultimate back-pocket recipe to serve unexpected company or when you're too tired to actually cook.
This pesto pasta was inspired by my our Super Greens Pesto recipe, and pairs well with our amazing Garlic Herb Breadsticks, using our no-rise pizza dough recipe.
Jump to:
Ingredients
This is the best part of this recipe. Not only is this recipe only 3 ingredients, but you've probably got most of these ingredients in your pantry right now.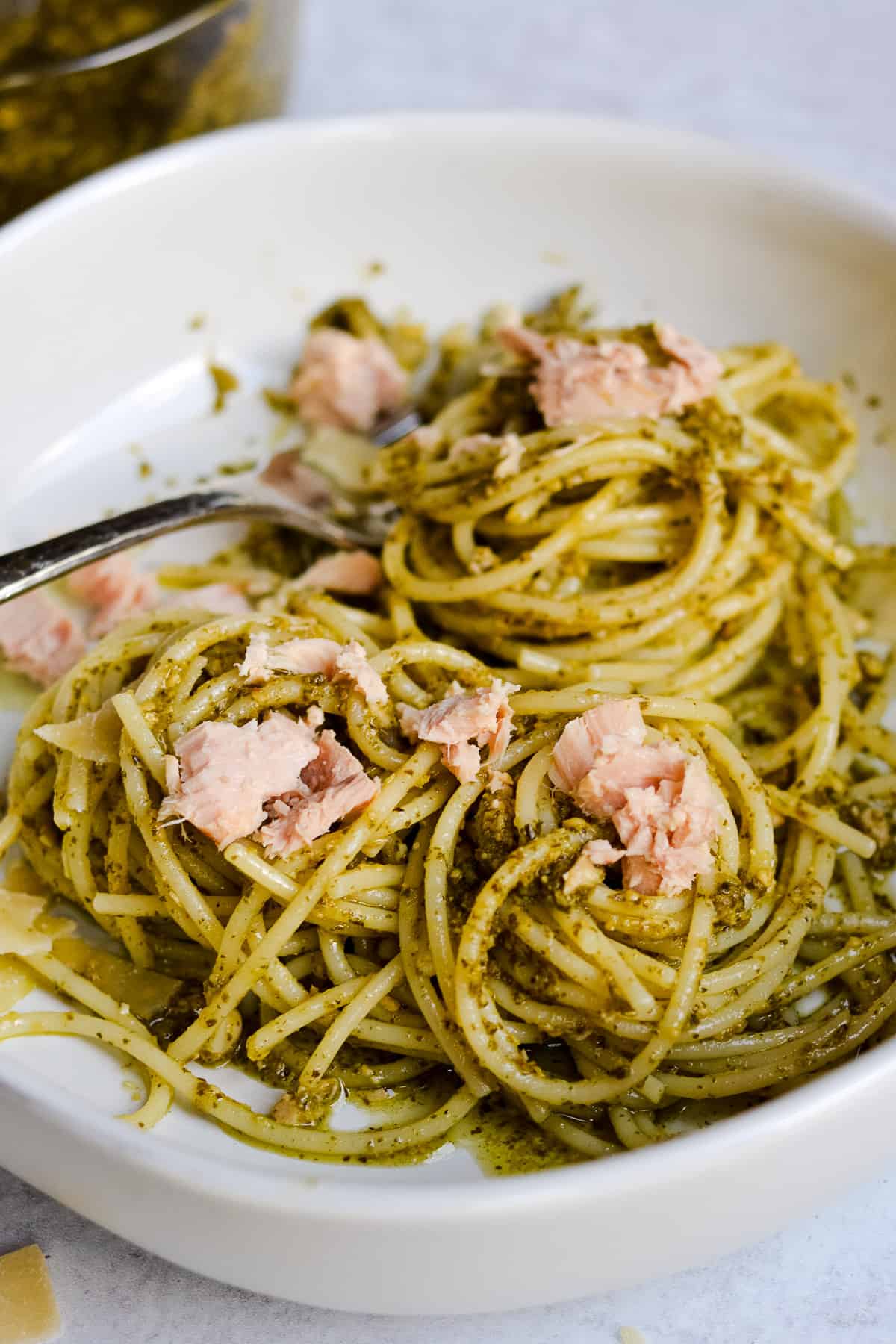 Noodles - you can use regular or gluten free noodles, and feel free to use bow-tie, spiral, penne, whatever you have!
Pesto Sauce - store bought pesto is really just OK. I haven't found one that's really great yet. But our homemade Super Greens Pesto is phenomenal and so packed full of healthy ingredients like kale, spinach and basil.
High Quality Tuna - since this part is ⅓ of the recipe, I recommend picking up a can of really good tuna here. Just 1 can is enough, but feel free to add more or less to your taste.
See recipe card for quantities.
Instructions
In just 15 minutes, this tuna pesto pasta comes together. As you can imagine, the cooking process is quite short, so let's dive in.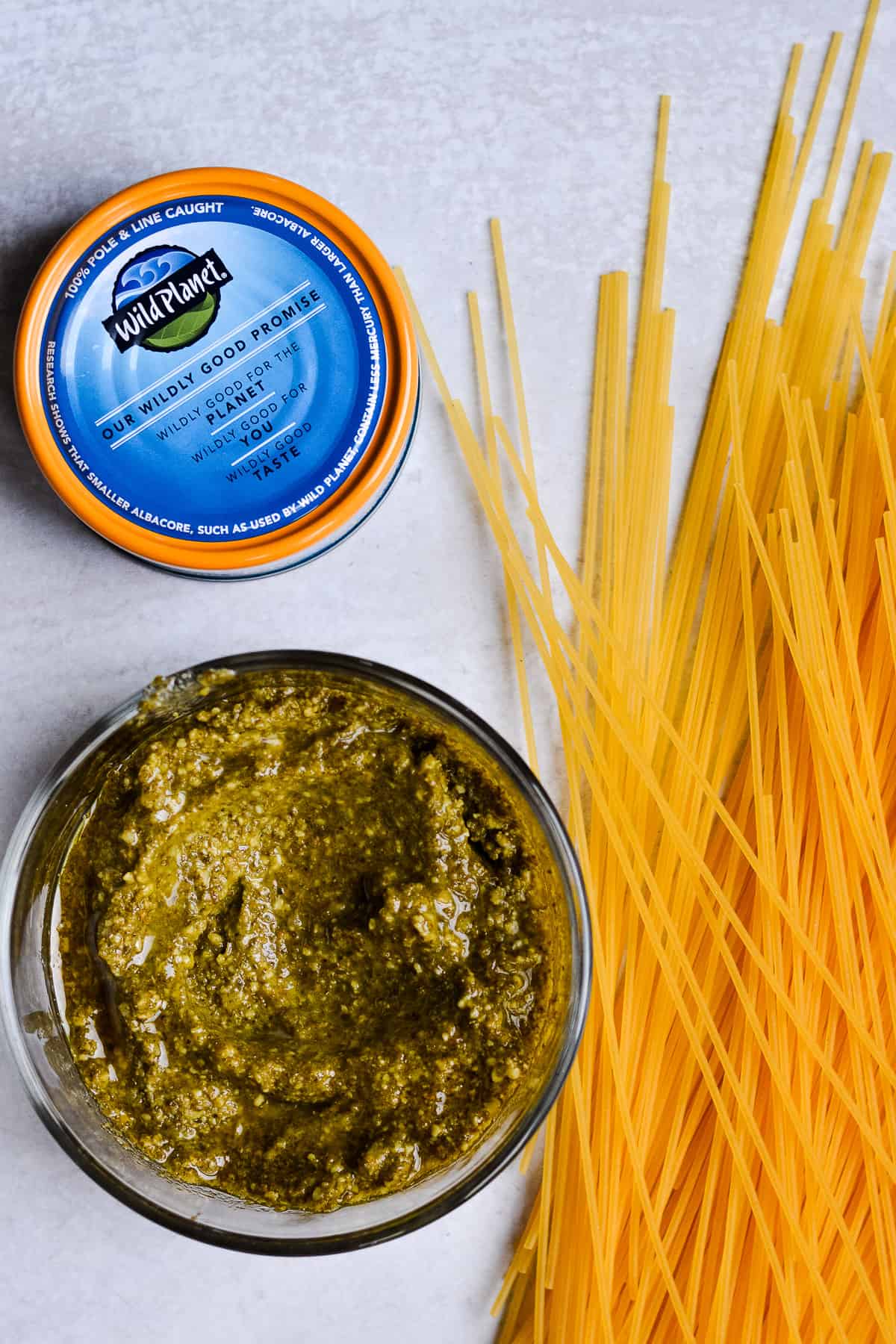 I did not take pictures of the process of making this pasta, mostly because it's so incredibly easy. Even beginner cooks should be able to understand how this recipe comes together.
If you're making our Super Greens Pesto, make that ahead of time and set aside.
Grab a large pot and fill with water and bring to a rolling boil. Cook pasta noodles according to package instructions.
While pasta is cooking, open can of tuna and use a fork to "flake" the tuna into smaller pieces. Set aside.
Drain pasta, reserving 1 cup pasta water. The pasta water is used to help the pesto move around on the noodles better and keep the noodles from drying out.
Combine pasta with pesto sauce, more or less to taste, and tuna. Add pasta water as needed.
Top with parmesan, red pepper flakes, capers, or whatever you like!
Hint: pasta water helps to bind and thicken the sauce. Use just a few tablespoons or up to 1 cup, depending on how thick your pesto is. I used about ½ cup.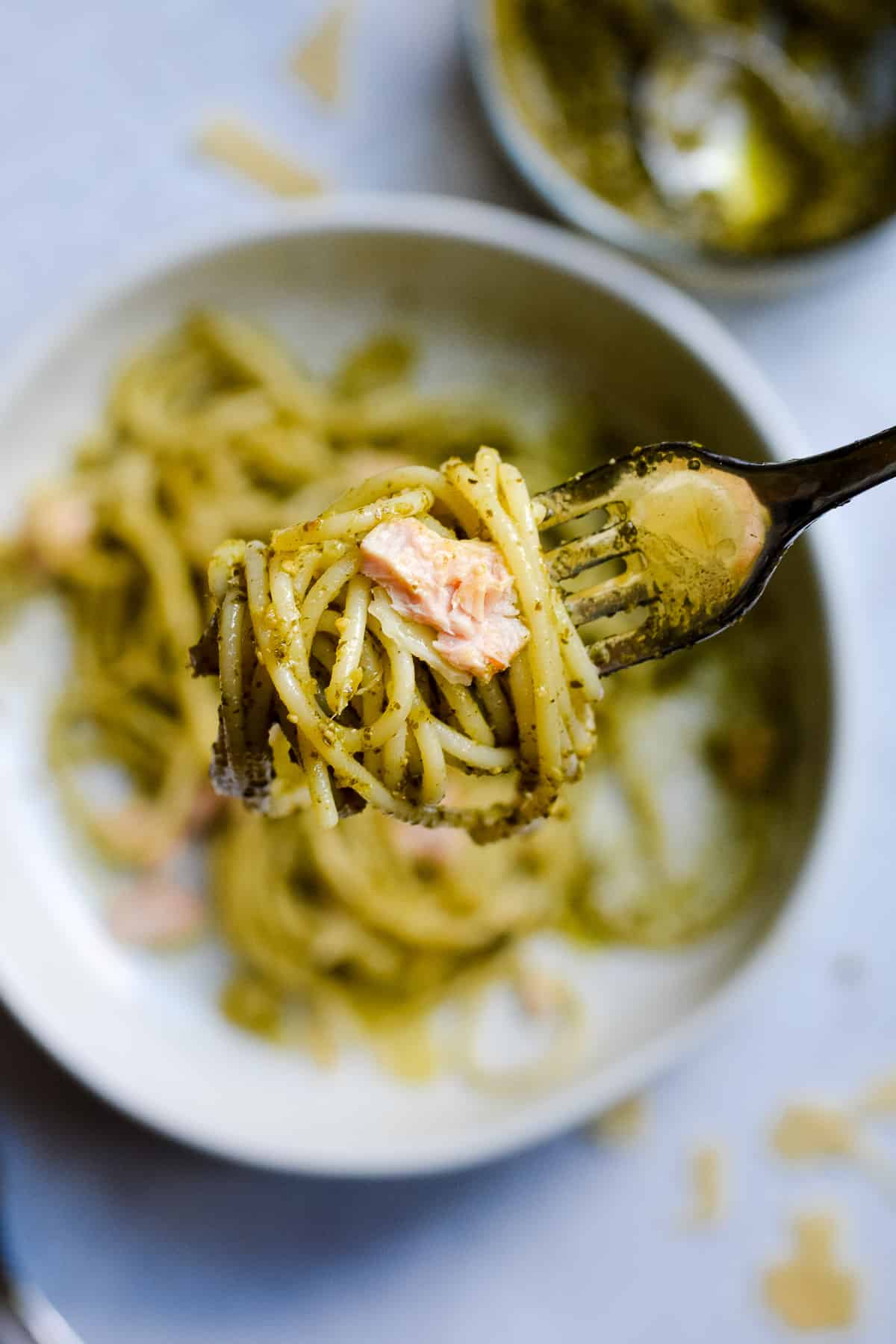 Substitutions
This recipe is so incredibly simple and it's easy to make it go along with your diet too. See our suggestions below.
Gluten Free - this is the easiest swap! Simply use your favorite gluten free noodles instead of regular. Pesto and tuna should be naturally gluten free, but always check labels to be sure.
Tuna - it's really easy to change up the protein in this recipe. Feel free to use canned (or cooked at home) chicken, canned salmon or your favorite easy protein.
Vegan - skip the tuna and the parmesan to make this recipe vegan. You can replace those with your favorite vegan substitute, such as white beans or tofu, and pickup a vegan cheese if you like.
Variations
This is a great base recipe and we've got some fun ways to kick things up and make some changes.
Baked - baking pasta after cooking it can add a whole new level of yummy-ness. Simply cook pasta, add pesto and tun and then spread into a 9"x13" baking dish. Top it off with mozzarella and parmesan. Bake at 350° for 10-15 minutes, or until the cheese is melted and bubbly. Dish and enjoy!
Spicy - add a little kick to pesto by sprinkling red pepper flakes on top, or include some in your homemade pesto recipe. Or serve lemon alongside for a zing!
Kid Friendly - kids have a hard time eating anything green, I totally get it. Pesto is inherently green, so to make this more kid friendly, pull some noodles out before adding the pesto and topping with butter or oil and then add the tuna. And let them sprinkle parmesan themselves. Serve some pesto on the side for dipping and see if they'll give it a shot!
Here is our Super Greens Pesto recipe for your reference.
Equipment
Nothing special needed here. If you cook pasta a lot, consider this awesome pasta pot with a built-in strainer. You'll need a stovetop and pot. That's it!
If you're whipping up a batch of pesto yourself, we love using a food processor to make this job super easy. Although if you have a mortar and pestle, you can make pesto like they do in Italy.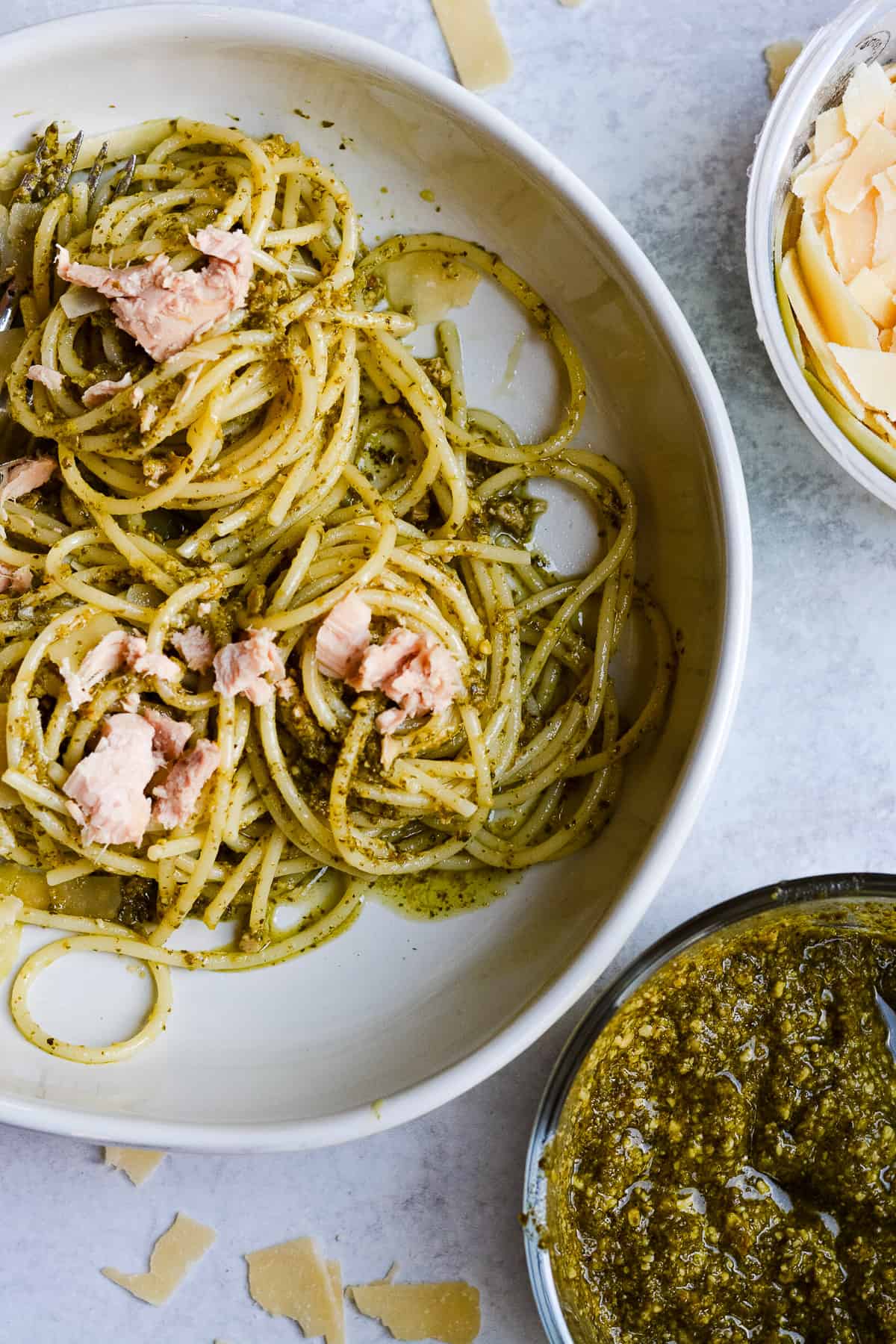 Storage
Fresh pesto will keep fresh for up to 7 days when stored covered in the refrigerator. To save leftovers, simply pile it into a storage container and pop it in the fridge.
To reheat pasta, you can microwave it in a covered microwave-safe dish, or if you're like me, place a plate over the pasta to keep it moist while it heats. Add a drizzle of olive oil or a touch of water to reconstitute the sauce as well. However you make it, I hope you love it!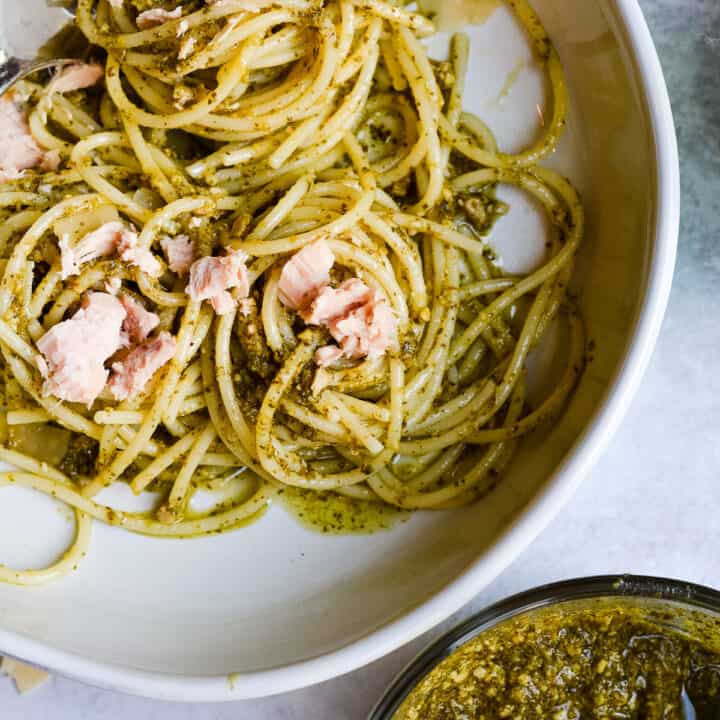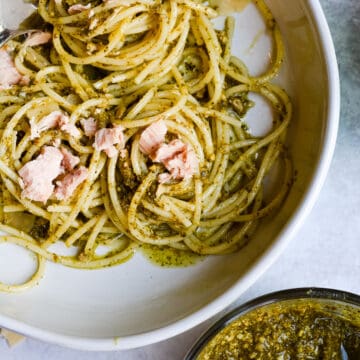 Tuna Pesto Pasta
Delicious and easy 3 ingredient healthy recipe perfect for weeknights.
PRINT RECIPE
PIN RECIPE
Ingredients
12

ounces

noodles

regular or gluten free

1

cup

pesto sauce store bought or homemade

1

can

high quality tuna

such as Wild Planet
Instructions
Boil water and cook pasta according to package instructions.

Drain pasta, reserving 1 cup pasta water.

Open can of tun and use a fork to "flake" the tuna into smaller pieces.

Combine pasta with pesto sauce, more or less to taste, and tuna.

Top with parmesan, red pepper flakes, capers, or whatever you like!
Nutrition
Calories:
594
kcal
|
Carbohydrates:
69
g
|
Protein:
22
g
|
Fat:
25
g
|
Saturated Fat:
4
g
|
Polyunsaturated Fat:
1
g
|
Monounsaturated Fat:
0.2
g
|
Cholesterol:
20
mg
|
Sodium:
678
mg
|
Potassium:
264
mg
|
Fiber:
4
g
|
Sugar:
4
g
|
Vitamin A:
1274
IU
|
Calcium:
125
mg
|
Iron:
2
mg