Perfectly sweet and moist, this Caramel Apple Cake comes with a crisp crumble topping and is drizzled with smooth caramel sauce. This easy cake recipe is made in a spring-form pan and is the ultimate fall cake recipe!
This cake can be enjoyed all year long, but there's something about the caramel apple season of fall that makes me crave this deliciously moist and flavorful cake!
This was inspired by our Blueberry Muffin Cake, and pairs well with any of our coffee drinks, but especially our White Chocolate Mocha, or Oat Milk Hot Chocolate.
Jump to:
Ingredients
Simple, easy to find ingredients that are wholesome and come together in this utterly satisfying caramel apple cake.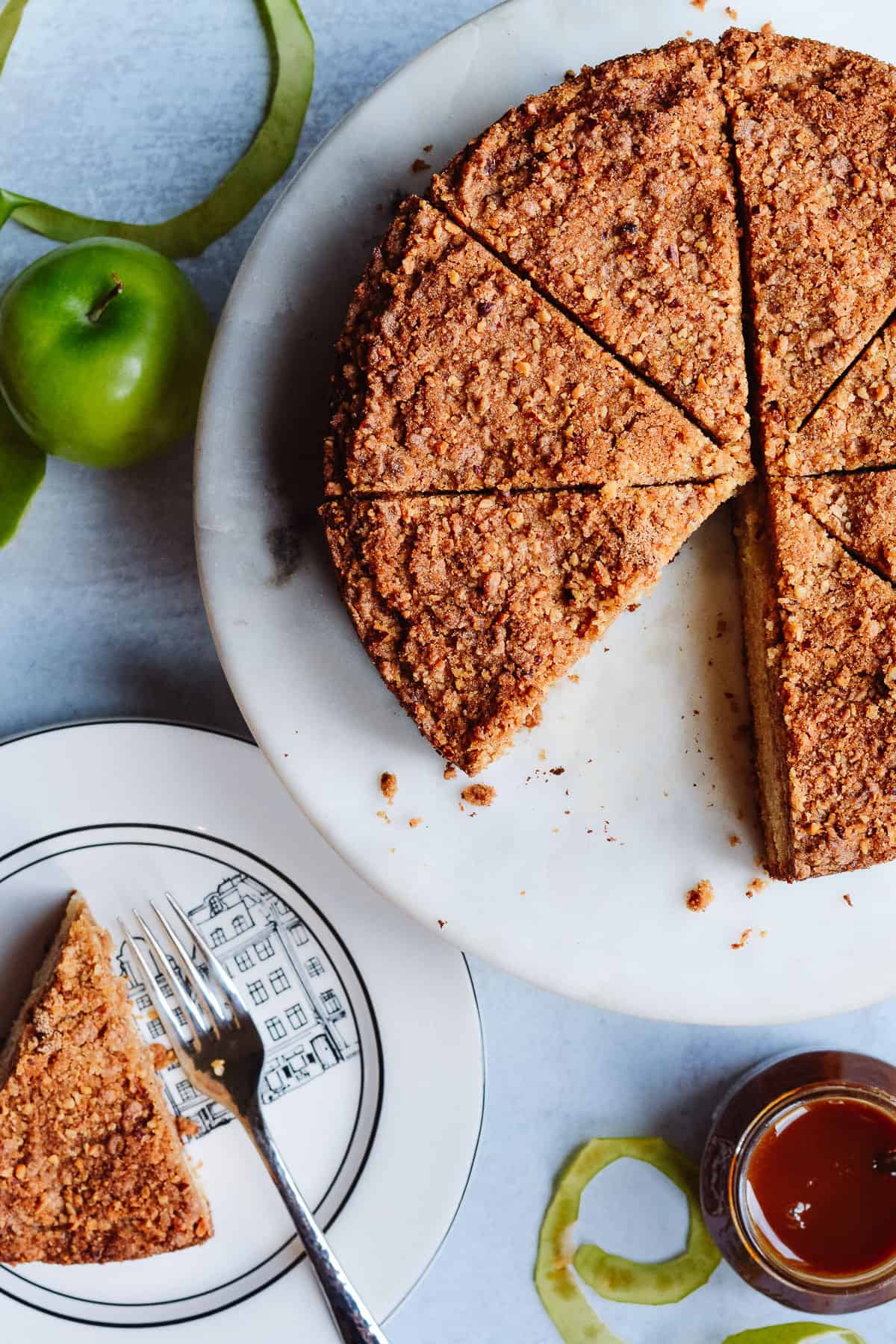 For the Cake
Gluten-Free Flour Blend - use your favorite gluten free flour blend (that has xanthan gum), or our favorite, King Arthur Measure for Measure.
Almond Flour - the almond flour is what gives this cake the perfect rise, despite the absence of gluten. I've started adding a bit of this miracle flour to all my cakes and it makes all the difference!
Baking Powder - getting lots of rise to counteract the heavy apples.
Baking Soda - a little more rising agent.
Kosher Salt - just the right amount to enhance the sweet flavors
Ground Cinnamon, Ground Cloves & Ground Nutmeg - bring on all the fall flavors
Granulated White Sugar - plenty of sweetness to go along with the apples
Peeled and Chopped Apples - my preference is Granny Smith, but feel free to use any firm apple you like.
Large Eggs - lots of moisture and texture comes from eggs.
Whole Milk - or use whatever milk you have on hand, or even dairy free milk.
Unsalted Butter - melted and cooled.
Plain Greek Yogurt - full fat or fat free, use whatever you like.
Crumb Topping
Gluten Free Flour Blend - again, be sure your blend has xanthan gum.
Light Brown Sugar - just the right amount of sweetness for the crumb topping.
Pecans - the pecans are optional, but they add a delicious crunch and fall flavor to the deliciously crisp crumb topping.
Cinnamon - more fall seasoning.
Unsalted Butter - salted is ok too, just be sure to keep it cold
Caramel Sauce - use your favorite caramel sauce, but I like Smuckers natural.
See recipe card for quantities.
Instructions
This cake is simple to throw together and can even be made ahead of time and placed in the freezer to bring out at the holidays when you have company.
Place topping ingredients in a food processor and blitz until large crumbs.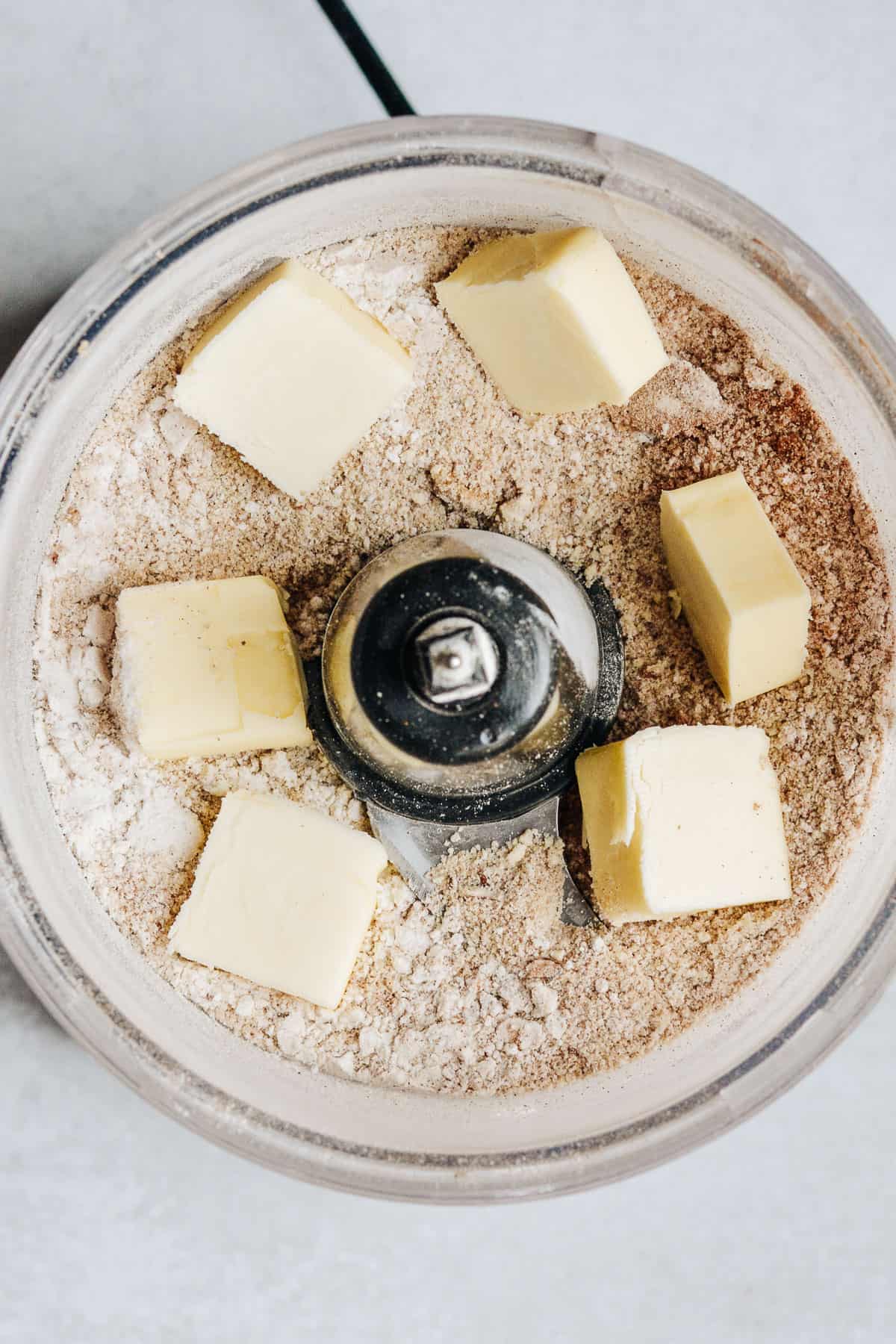 Add butter and blitz until crumbs the size of peas. Place in the refrigerator until ready to use.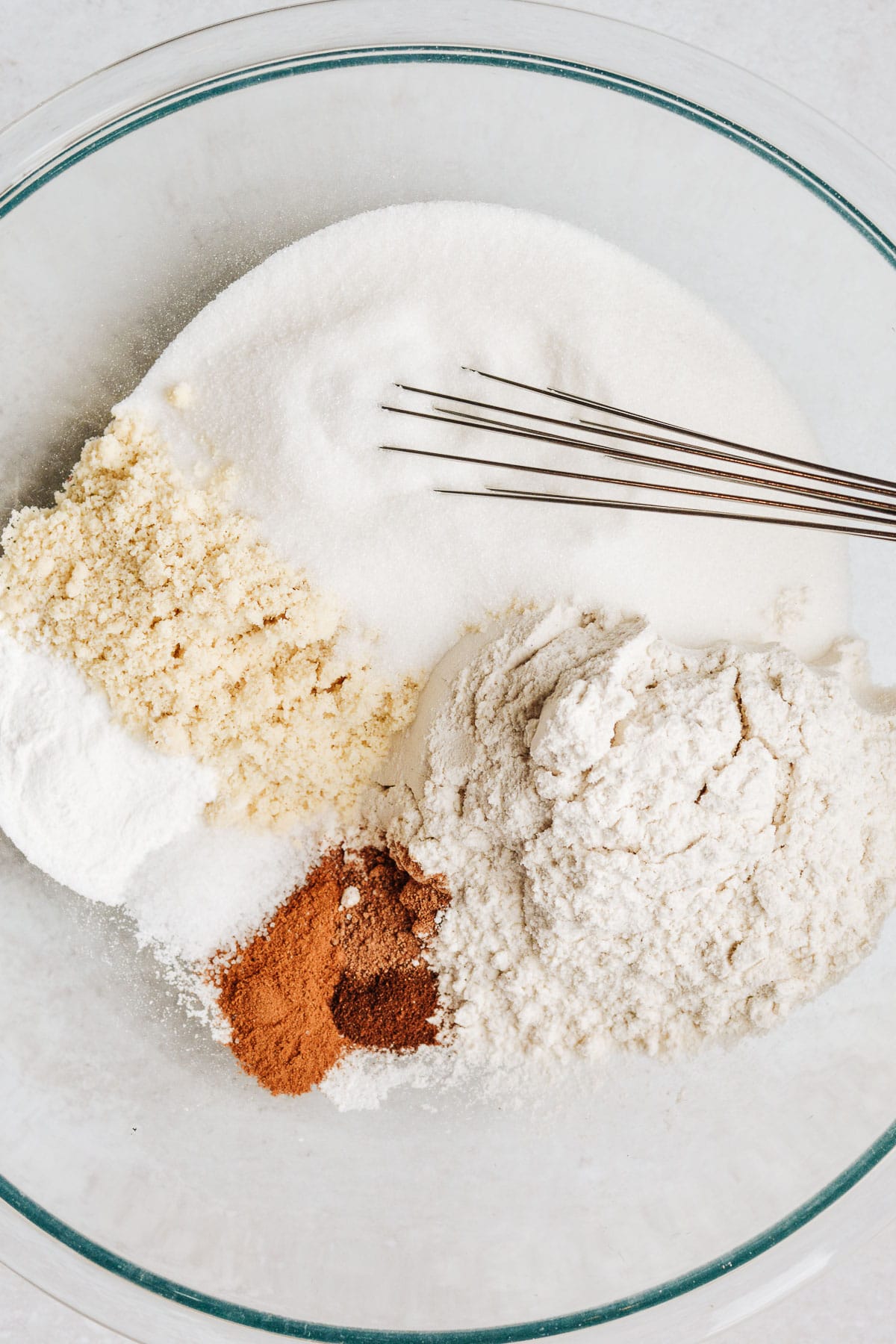 Combine dry ingredients for the cake and whisk until combined.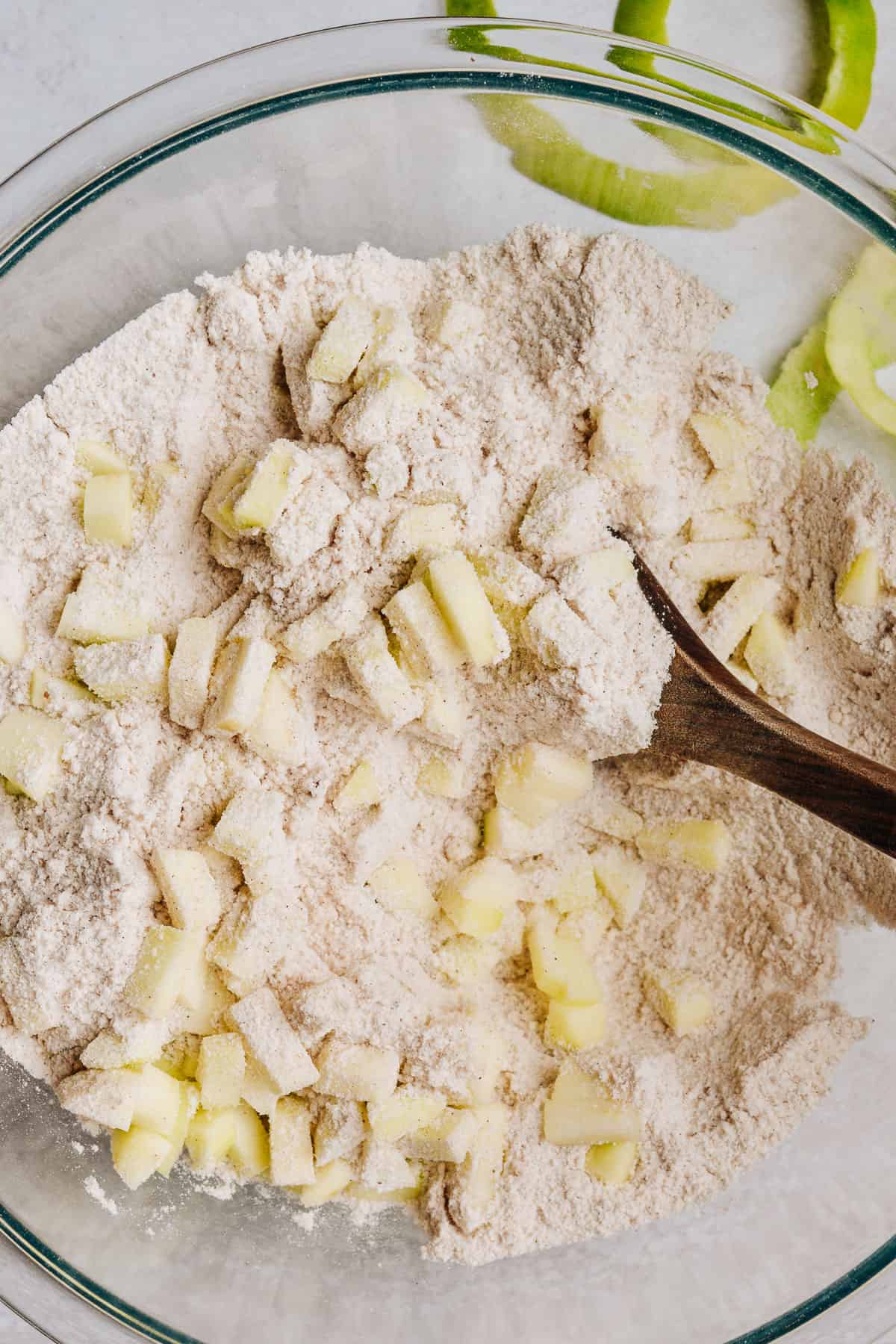 Add chopped apples to dry mixture - this keeps the apples from sinking to the bottom of the cake.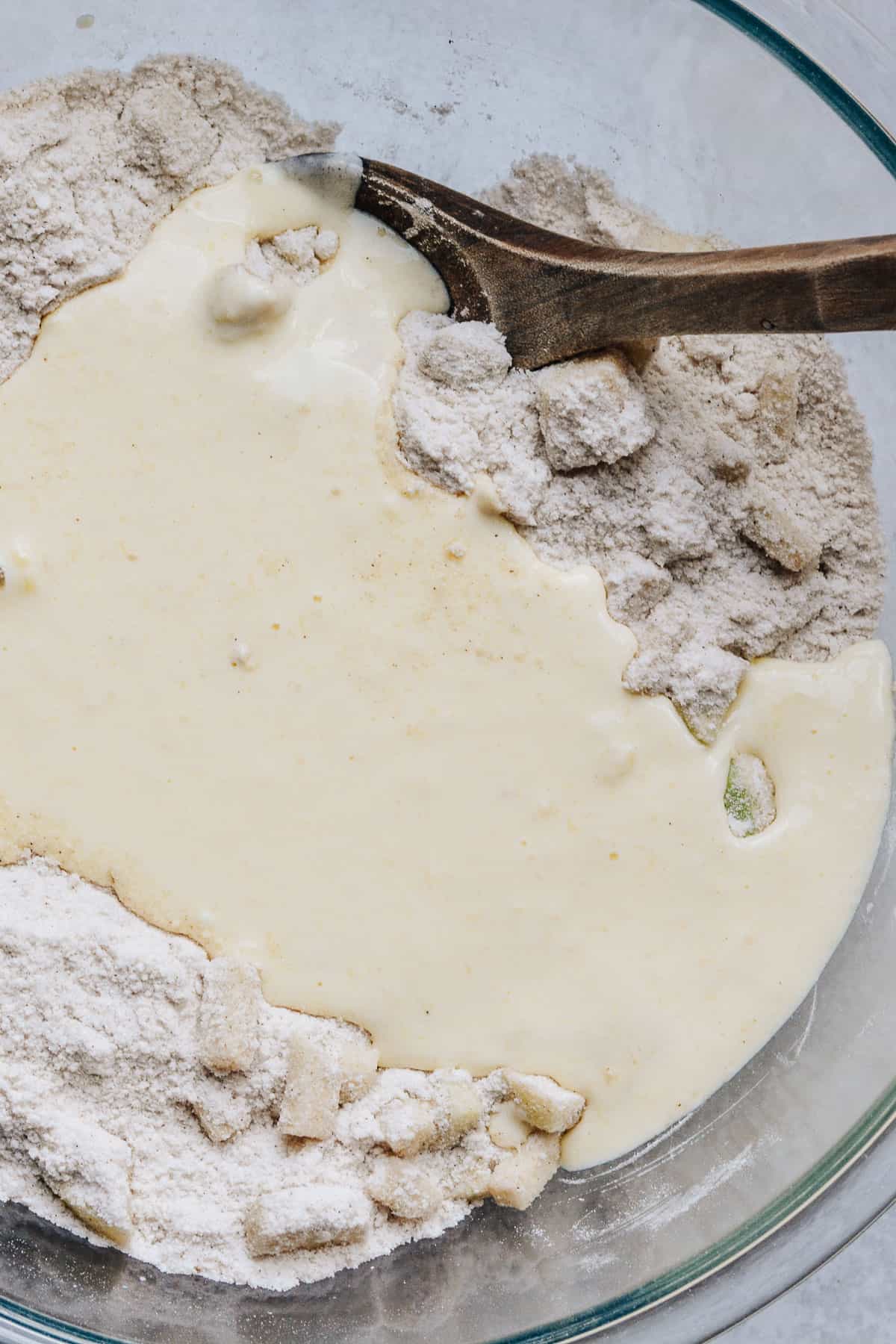 Add wet cake ingredients and stir gently to combine.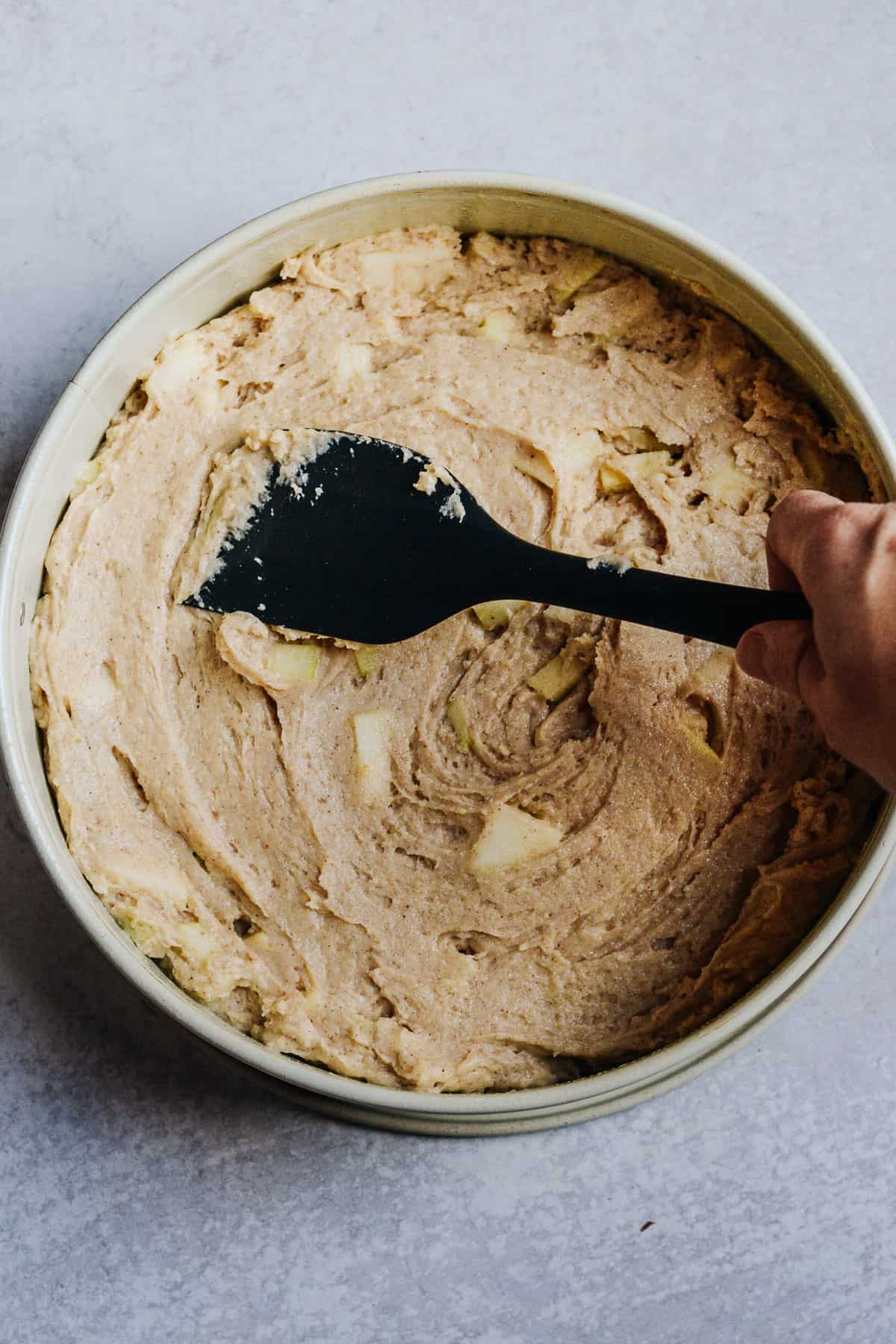 Spoon dough into a 9" or 10" greased springform pan and smooth the top.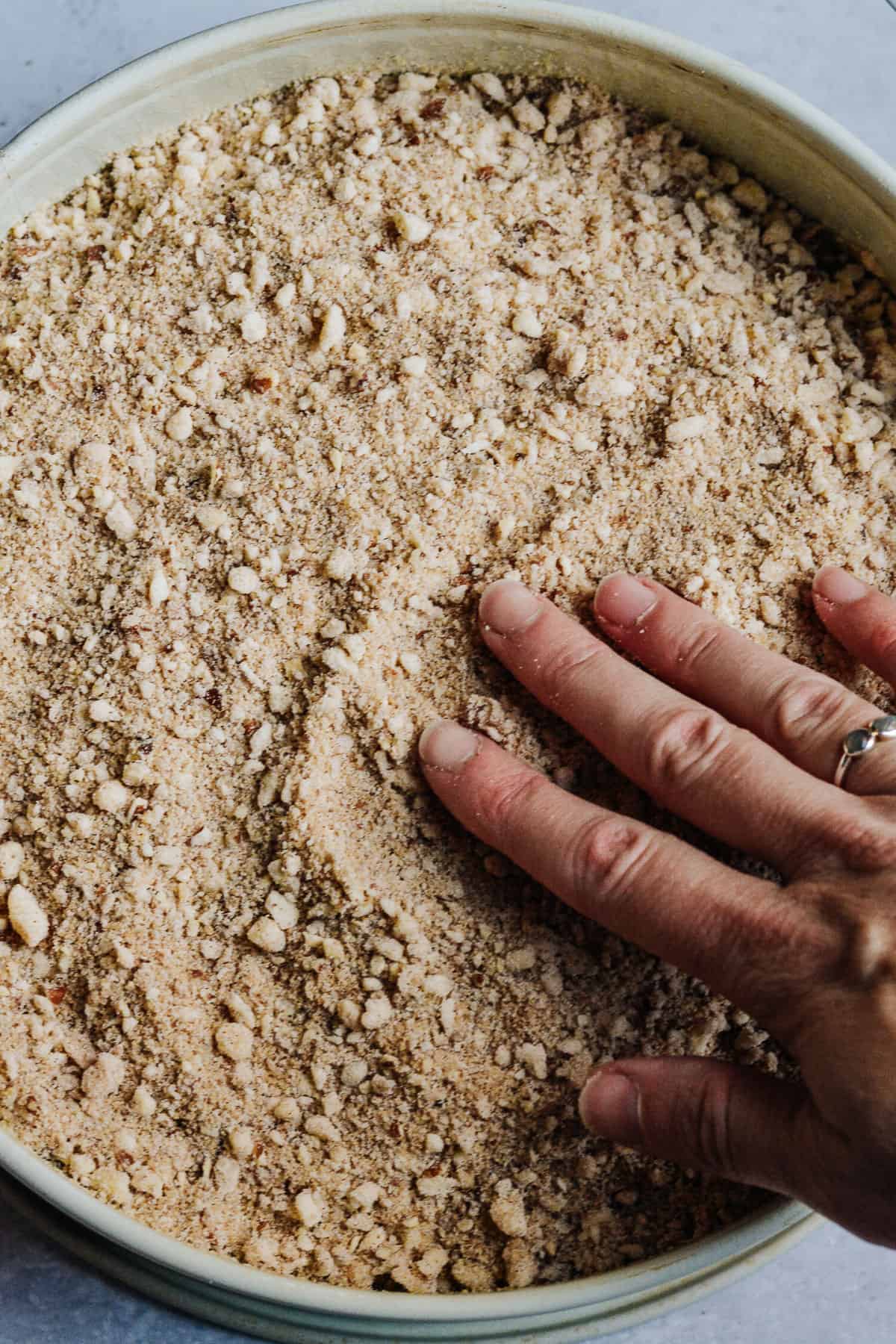 Pour crumb topping over the top of the cake and even it out with your hands.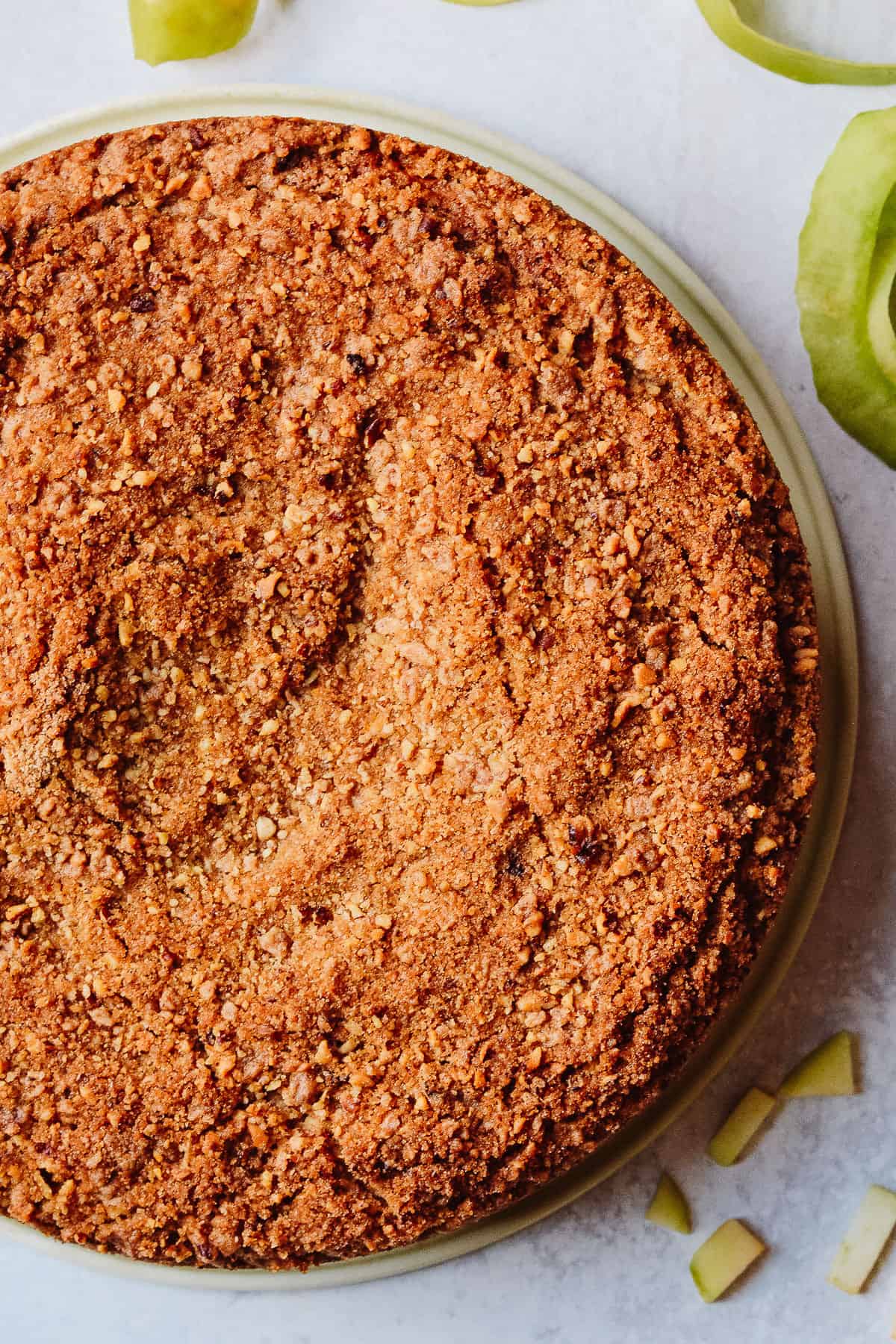 Bake cake on the center rack for 45-55 minutes until a toothpick inserted in the center comes out clean.
Once the cake is finished, allow to cool in the pan and then spoon caramel sauce over the whole cake (if serving the whole cake) or cut into 8 pieces and spoon caramel sauce over each piece when serving. It stores best without the caramel sauce on top.
Hint: Don't over bake! I've practiced the recipe many times and for my oven, the cake is perfect at 50 minutes. 55 minutes is just a bit too long and the cake gets a little dry.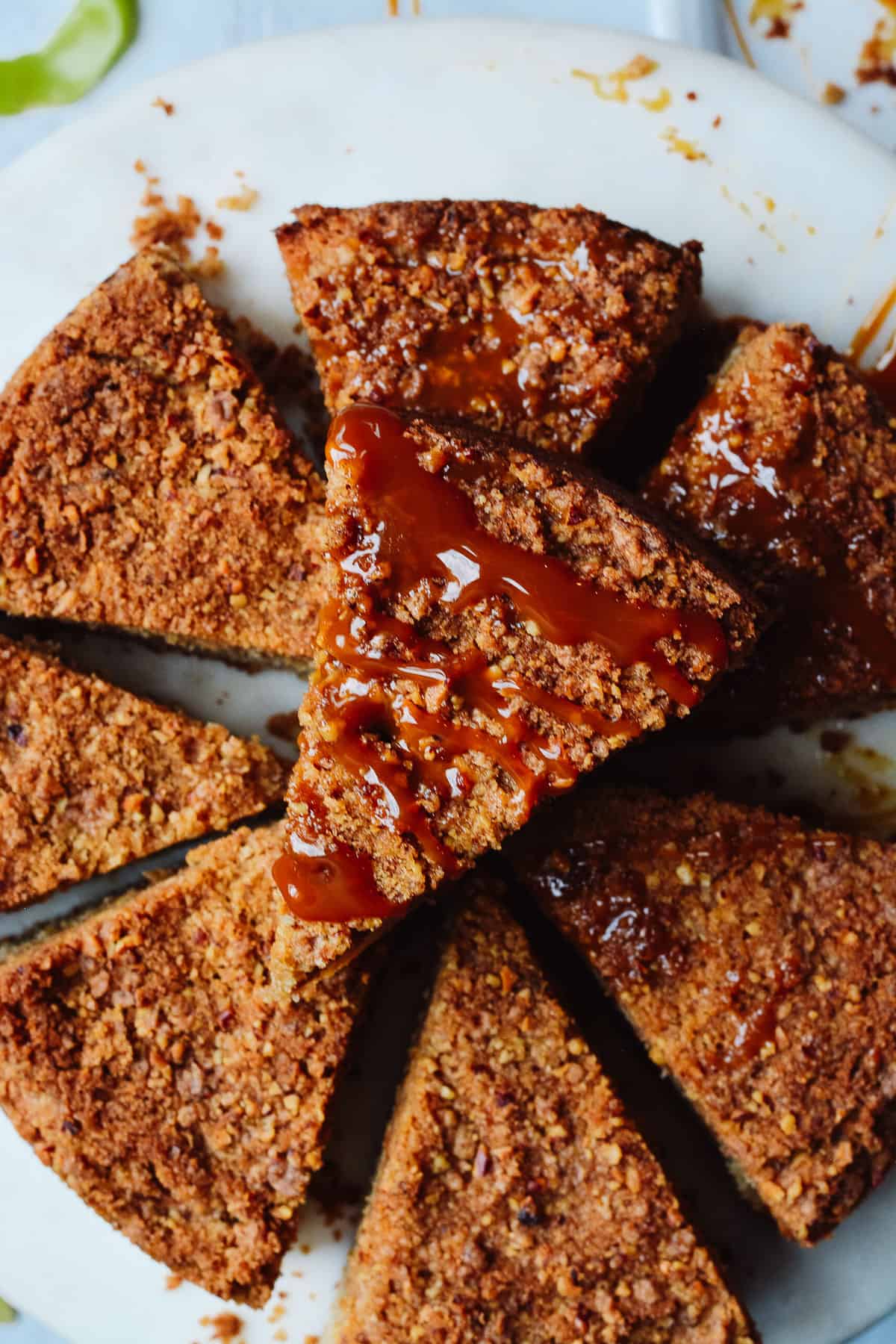 Substitutions
This recipe is already amazing, but here are a few ways to change it up to fit your preferences.
Dairy Free - to make this recipe dairy free, there are a few easy substitutions. For the whole milk, use your favorite plant based milk. For the yogurt, use a coconut based yogurt, or plant based sour cream. And for the butter, swap for coconut oil or plant based butter. For the caramel sauce, use a vegan caramel, or make your own!

Vegan - To make this recipe vegan, make the changes listed above and then replace the eggs with an egg substitute, such as a flax egg (my favorite), like in our Vegan Vanilla Baked Donut recipe.
If you are strictly gluten free or have Celiac disease, please be sure to read labels on all ingredients and be sure to use equipment that has not been used with regular flour foods. Especially if you bake for someone with allergies, just check with them for suggestions before getting started.
Variations
This fall cake recipe is amazing just like it is, but here are a few ways to change things up if you'd like.
Fruit - apples are amazing in this cake, but it would also taste fantastic with chopped pears, just like our Pear Muffins, or even try it with your favorite berries, like in our Blueberry Muffin Cake.

More Add-Ins - If you love to mix apples with other flavors, try adding caramel chips, white chocolate chips, or more chopped pecans right into the cake with the apples. Delicious! Don't add more than ¾ cup of other add-ins, otherwise, the cake will become too heavy and won't rise correctly.

Breakfast - Turn this caramel apple cake into a breakfast coffee cake by spreading half the batter, then half the crumb topping, then add the rest of the batter and the rest of the crumb on top. That way, there's a deliciously sweet layer of sugar-y topping right in the middle. YUM!
Check out our very popular Yellow Cake Mix Coffee Cake recipe for another delicious breakfast cake.
Equipment
This caramel apple cake is made in a 9" springform pan. I love this cake pan, but this cake can also be baked in a deep 9"x9" baking dish or spread a little thinner in a 9"x13" baking dish.
This recipe does not require any other special equipment!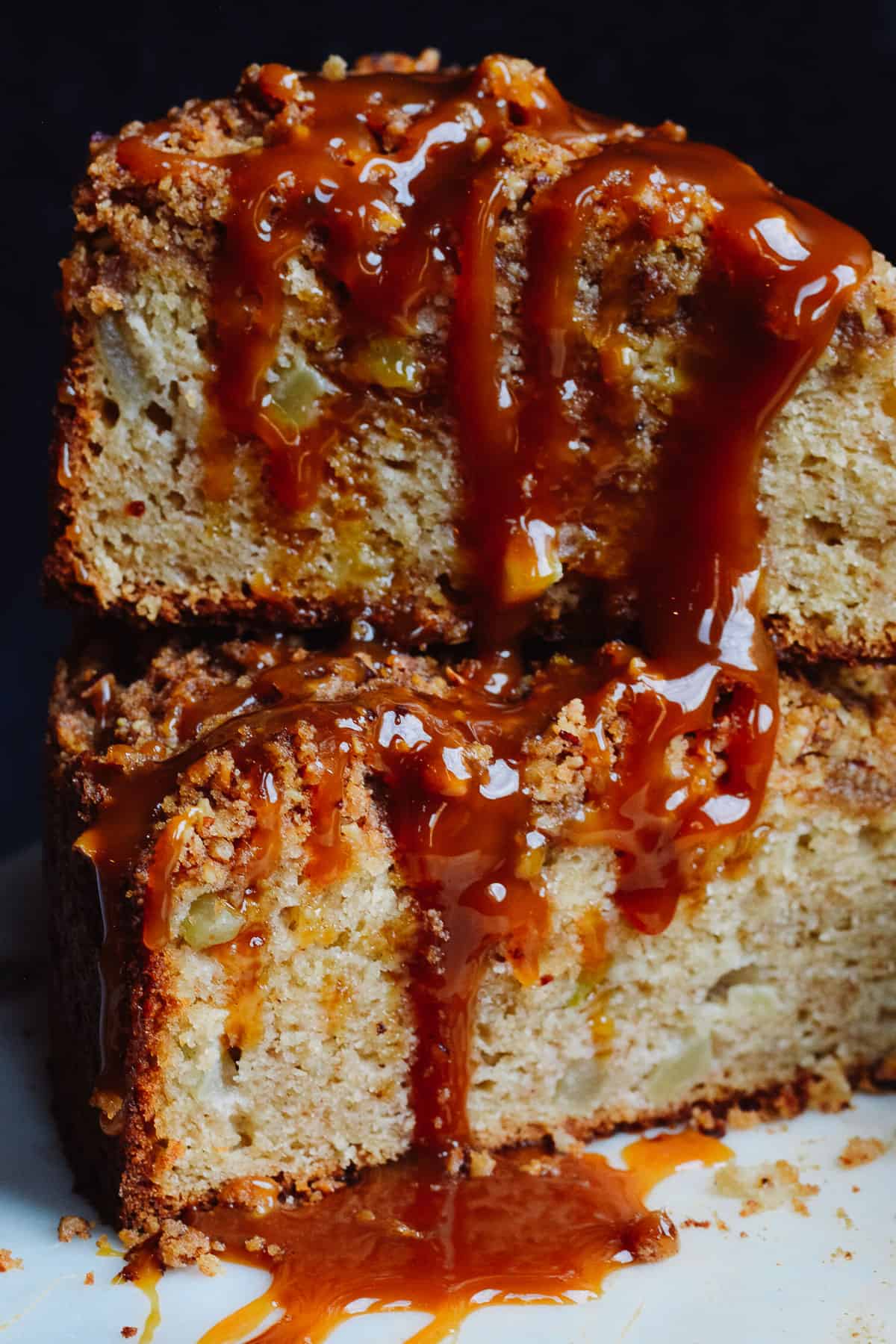 Storage
Room Temperature
To store this cake at room temperature, it works best to slice the cake as you go, rather than slicing the whole cake ahead of time. Cover the cake tightly with plastic wrap and foil. The cake will stay fresh for 2-3 days when stored covered at room temperature.
Refrigerator
Caramel Apple Cake can be stored in the refrigerator too. Simply wrap the entire cake with plastic wrap and one layer of foil (or wrap each piece individually). Allow cake to come to room temperature before enjoying, or simply warm in the microwave for 15-30 seconds. Cake will stay fresh refrigerated for 5-7 days.
Freezer
It's really great to make cakes and treats ahead of time and store in the freezer. To freeze this caramel apple cake, simply bake and allow to cool completely (2-3 hours). Once cooled, wrap the cake with multiple layers of plastic wrap and a layer of foil (or place in a zip-top bag). Be sure to label and date the cake. It will stay fresh when frozen for up to 3 months.
Bring cake to room temperature by setting it out the night before you intend to eat it. Add the caramel drizzle until just before serving.
Top tip
Typically, we don't want to over mix batters, for fear of developing gluten and causing baked goods to become rubbery and dry. However, gluten free flour blends can be mixed in batters longer than traditional all-purpose flour, since there is no gluten to worry about. Giving it a few extra stirs can help ensure all the flour is well-incorporated.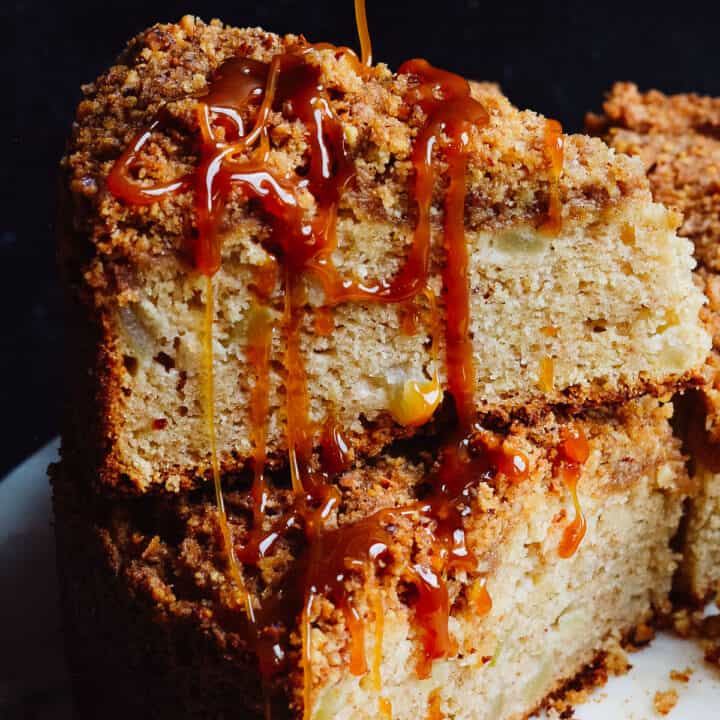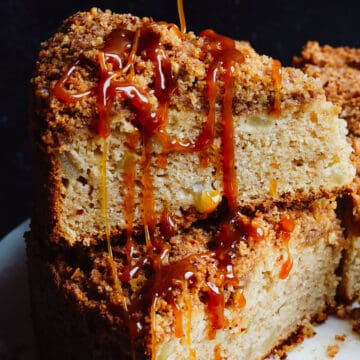 Gluten Free Caramel Apple Cake
PRINT RECIPE
PIN RECIPE
Ingredients
1 ¾

cups

gluten-free flour blend

½

cup

almond flour

1

tablespoon

baking powder

½

teaspoon

baking soda

½

teaspoon

kosher salt

1

teaspoon

ground cinnamon

¼

teaspoon

ground cloves

¼

teaspoon

ground nutmeg

1

cup

granulated white sugar

1 ½

cups

peeled and chopped apples

granny smith or similar

2

large eggs

⅓

cup

whole milk

or dairy free substitute

¼

cup

unsalted butter

melted and cooled

1

cup

plain greek yogurt

8 ounces
Crumb Topping
½

cup

gluten free flour blend

or all-purpose flour

½

cup

light brown sugar

½

cup

chopped pecans

optional

1

teaspoon

cinnamon

6

tablespoon

unsalted butter

salted is ok too

1

jar

caramel sauce

any is ok
Instructions
In a small bowl, combine all crumb topping ingredients, except butter; mix well. Cut in butter until mixture resembles coarse crumbs. Put in fridge to stay cool until ready to use.

Heat oven to 375°F. Grease and flour 10 inch springform pan or 9"x13" baking dish; set aside.

In a large bowl, combine flour, almond flour, sugar, baking powder, baking soda, salt and cinnamon; mix well. Stir in chopped apples.

Beat eggs in a medium bowl. Stir in melted butter, yogurt and orange peel.

Add wet to dry ingredients and stir just until dry ingredients are moistened. Spoon batter into greased spring form pan (or 9x13 baking dish); sprinkle with crumb topping.

Bake at 375°F for 45-55 minutes or until toothpick inserted in center comes out clean. Cool 10 minutes; remove sides of pan (if using springform). Serve warm or cooled.
Nutrition
Calories:
526
kcal
|
Carbohydrates:
71
g
|
Protein:
10
g
|
Fat:
25
g
|
Saturated Fat:
10
g
|
Polyunsaturated Fat:
2
g
|
Monounsaturated Fat:
7
g
|
Trans Fat:
1
g
|
Cholesterol:
81
mg
|
Sodium:
408
mg
|
Potassium:
145
mg
|
Fiber:
6
g
|
Sugar:
44
g
|
Vitamin A:
535
IU
|
Vitamin C:
1
mg
|
Calcium:
199
mg
|
Iron:
2
mg