These Pear Muffins are a delicious go-to breakfast or snack recipe. Especially in the summer and fall when pears are a-plenty at the grocery store. Read on to see what pears work best and how to make these muffins perfect every time!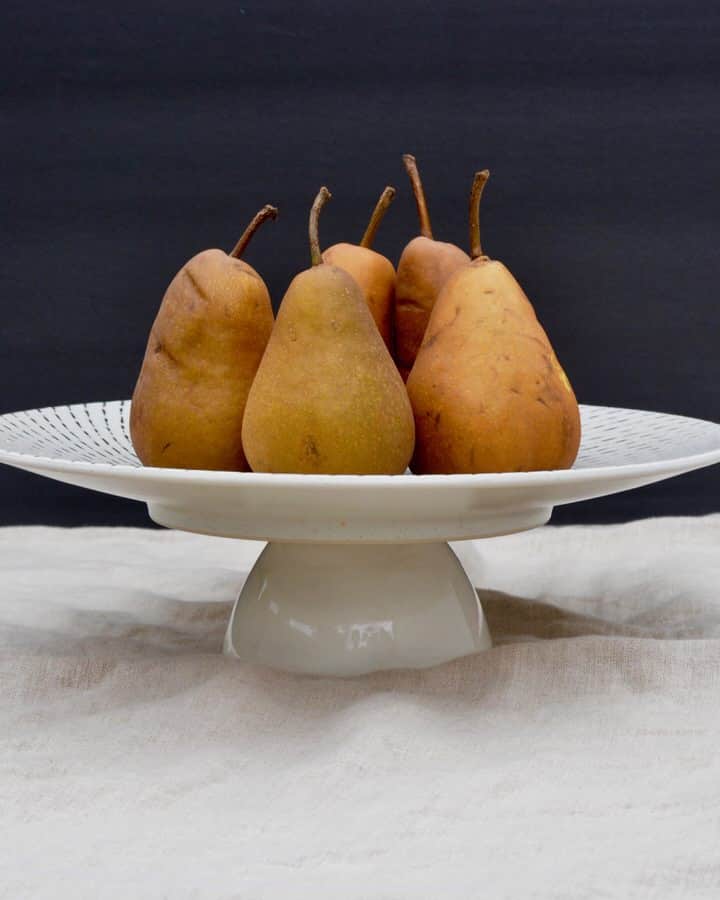 What kind of pears work best for baking?
According to Good Housekeeping Anjou and Bosc pears work best for baking. They hold their shape well and are easier to peel (although we feel that peeling is unnecessary for this recipe). We like to use Anjou pears in these pear muffins because they're readily available and go on sale at the beginning of summer, plus they taste fantastic fresh or baked!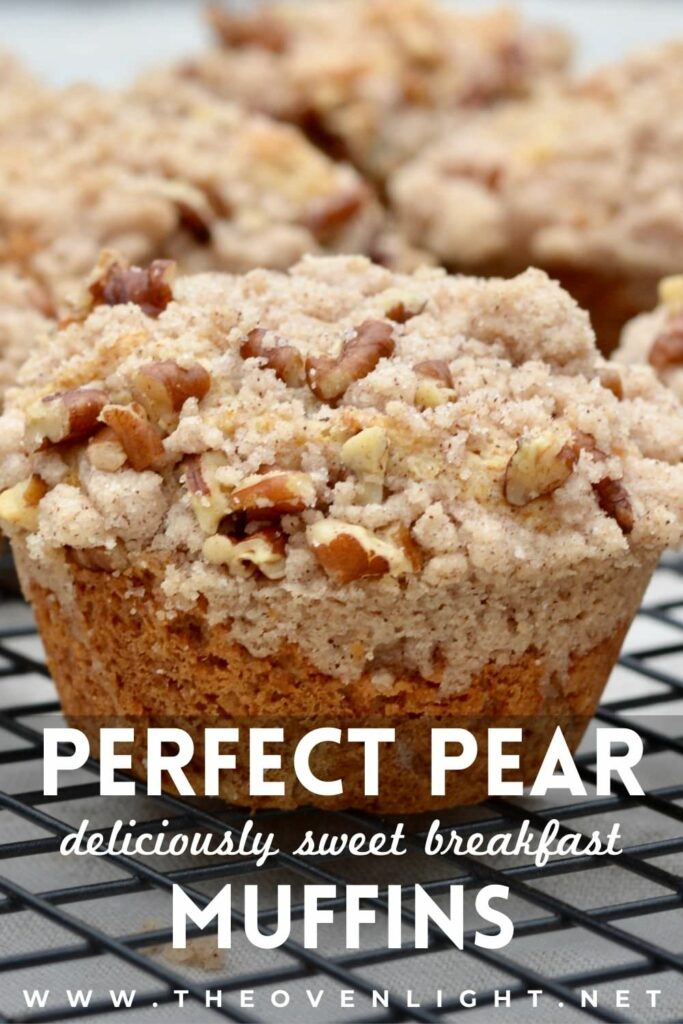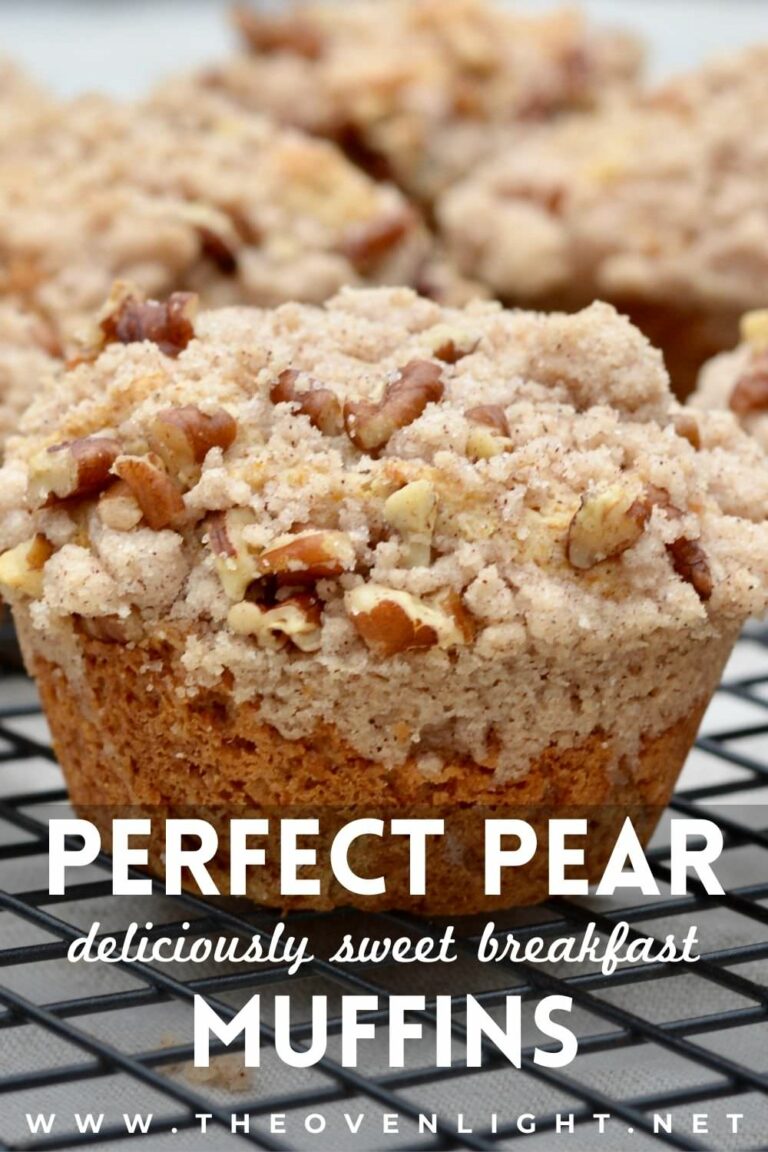 Dietary Restrictions? Try these easy recipe adjustments!
Gluten Free
If you're gluten free or making these for someone gluten sensitive, try replacing the flour with Cup4Cup (Amazon's price is usually the best) for a simple and still delicious gluten free pear muffin. My other favorite is King Arthur Flour's Measure for Measure. You can read here about why Measure for Measure is my favorite.
Egg Free
Easily replace the eggs with my favorite flax seed and water substitute. 1 Tbsp flax seed mixed with 3 Tbsp of water for each egg. Whisk until the texture becomes "egg-like". See the egg replacement chart here at my Vegan Vanilla Baked Donut recipe.
Vegan Option
Replace the eggs with the flax seed mix mentioned above. The yogurt helps these pear muffins retain moisture and can easily be replaced with a nut-based yogurt. There are so many options available now. If you can only find flavored vegan yogurt, get vanilla, it will barely adjust the flavor.
The honey can be replaced with maple syrup or even just granulated sugar (make sure to get vegan granulated sugar though). The butter in the crumb topping can be replaced with any vegan butter substitute or chilled coconut oil.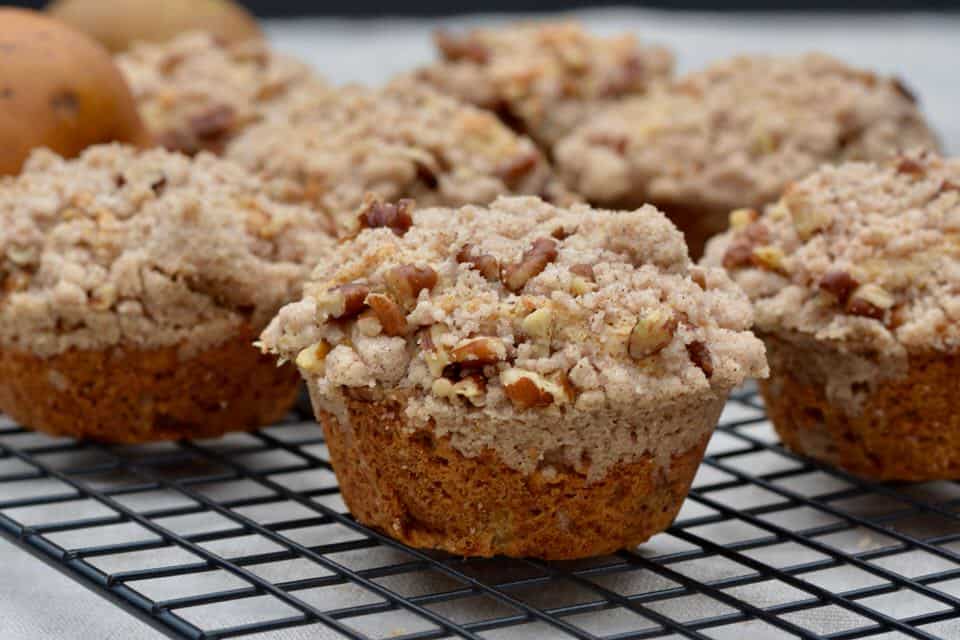 Sign up for our FREE 7 Day Simple Meal Plan!
Tips for making perfect muffins
Starting your muffins at 425°F and then reducing to 375°F will give you an optimal rise along the sides of your muffins and gets you that elusive and delicious muffin top (I mean, who doesn't love a good muffin top?). 

Do not over mix! Mixing quick breads and muffins as little as possible ensures a tender crumb. If you over mix, it develops the gluten in the flour, making your muffin "breadier" and tough. Basically, you want to mix until there are no more streaks of flour to be seen, using as little stirring motion as possible. I like to use the old "around the outside and through the middle" technique of going around the outside of the bowl and then one pass through the middle. 

Wondering the best way to add fruit or chips so they don't sink to the bottom? Mix them up with a tablespoon of flour and add them in last. This helps suspend the heavier add-ins in the batter and keeps them from starting a party on the floor of your muffin. This is especially true when adding in chunks of fruit, like apples, pears, or cranberries. But I still do it for chocolate chips too.

There are so many amazing muffin toppings to choose from; There are streusels, sugar, nuts, chips, fruit and more. When deciding which topping goes best with your muffin, think about how much sugar is already in the muffin. If there is a lot of sweet fruit, like pear go plain or with a simple sprinkling of sugar. For less sweet muffins, like pumpkin, I like to add a streusel.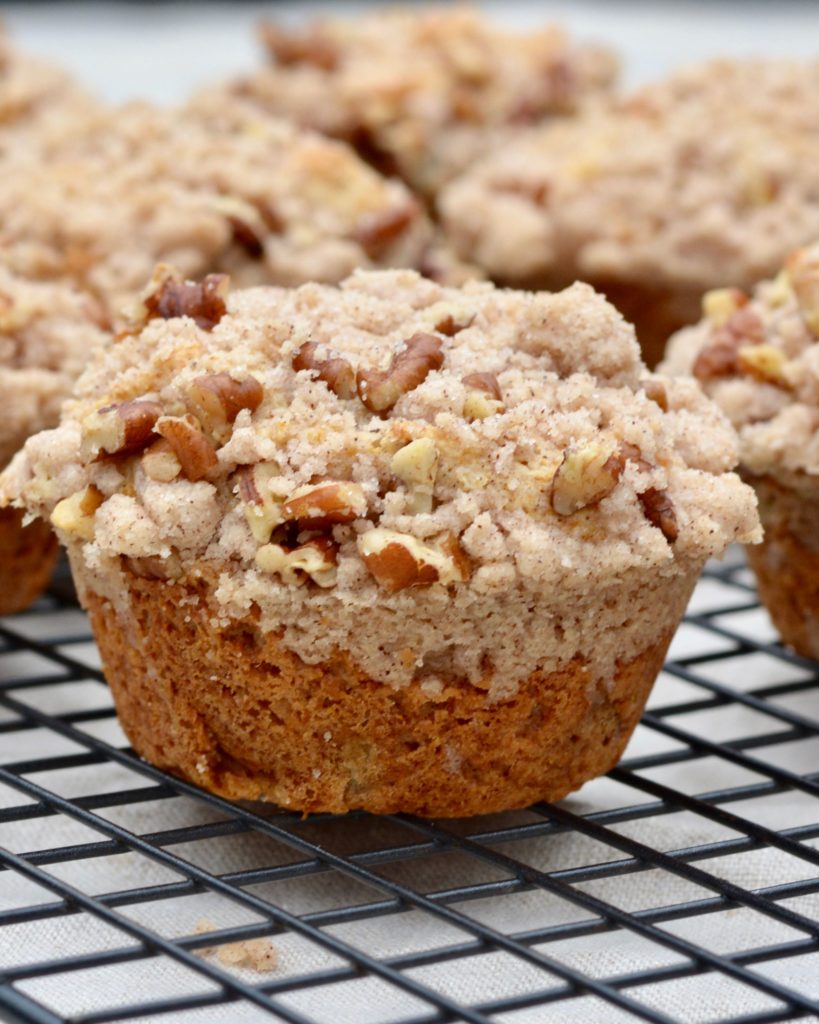 Tips for How to make perfect Pear Muffins
First, chop those pears up nice and small. The perfect size is about 1/4″ square. Any larger and they start to weigh down the muffin and it has trouble rising.
Mix your chopped pears in with your flour mixture to keep them from sinking to the bottom.
Always gently fold dry ingredients into wet to keep your muffin texture soft. Over mixing will cause dry, tough muffins.
Bake at 425°F for 5 minutes. This is key to a great rise. This causes these pear muffins to shoot upward. Then lower your temp to 350°F to fully bake the center.
Topping – Almost every muffin tastes better with a crunchy, sugary topping, and these pear muffins are no exception. It's optional, but really is better with it on top.
Love these pear muffins? Try these other awesome muffin recipes!
If you decide to give this recipe a try, be sure to snap a photo to share, tagging @theovenlight and #theovenlight on Instagram or Facebook!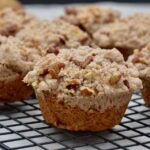 Print Recipe
Delicious and Easy Pear Muffins
Moist and flavorful muffins for Summer or Fall.
Ingredients
2

C

flour

2

tsp

cinnamon

pinch

nutmeg

2

tsp

baking powder

1/2

tsp

baking soda

1/2

tsp

salt

2

eggs

room temperature

1/2

C

honey

1/2

C

coconut oil

melted and cooled

2/3

C

plain yogurt

2

tsp

vanilla extract

2

C

chopped pears

smaller chunks is better
Optional Topping
1/2

C

all purpose flour

1/3

C

brown sugar

or coconut sugar

1

tsp

cinnamon

5

Tbsp

cold butter

chopped

1/2

C

chopped pecans
Instructions
Preheat oven to 425°F. Grease a muffin tin and set aside.

Combine flour, cinnamon, nutmeg, baking powder, baking soda, and salt. Add chopped pears to dry ingredients and toss to coat. Set aside.

In a separate bowl combine eggs, honey, coconut oil, yogurt, and vanilla.

Pour dry ingredients in with wet and stir until just combined.

Evenly divide into medium sized muffin tin. Should fill each cavity to the top.

For the crumb topping: combine flour, sugar and cinnamon. Add cold butter and combine until fine crumbs. Add pecans.

Evenly divide crumb topping between muffins, if using.

Bake at 425° for 5 minutes.

Turn oven down to 350°F and continue baking for 11 minutes.

Muffins should be slightly browned and toothpick comes out clean.

Let cool in pan 5 minutes before removing to a cooling rack.
Nutrition
Calories:
413
kcal
|
Carbohydrates:
60
g
|
Protein:
5
g
|
Fat:
19
g
|
Saturated Fat:
10
g
|
Polyunsaturated Fat:
3
g
|
Monounsaturated Fat:
5
g
|
Trans Fat:
1
g
|
Cholesterol:
29
mg
|
Sodium:
290
mg
|
Potassium:
259
mg
|
Fiber:
4
g
|
Sugar:
37
g
|
Vitamin A:
267
IU
|
Vitamin C:
2
mg
|
Calcium:
90
mg
|
Iron:
2
mg