These Healthy Blueberry Banana Muffins came from the sugar free recipe of this popular Banana Muffin recipe. These muffins are moist, tender and sweetened only with bananas, honey and blueberries, keeping them surprisingly light and healthy for the whole family to enjoy. These muffins pictured are made simply gluten free with King Arthur Measure for Measure Gluten Free flour blend.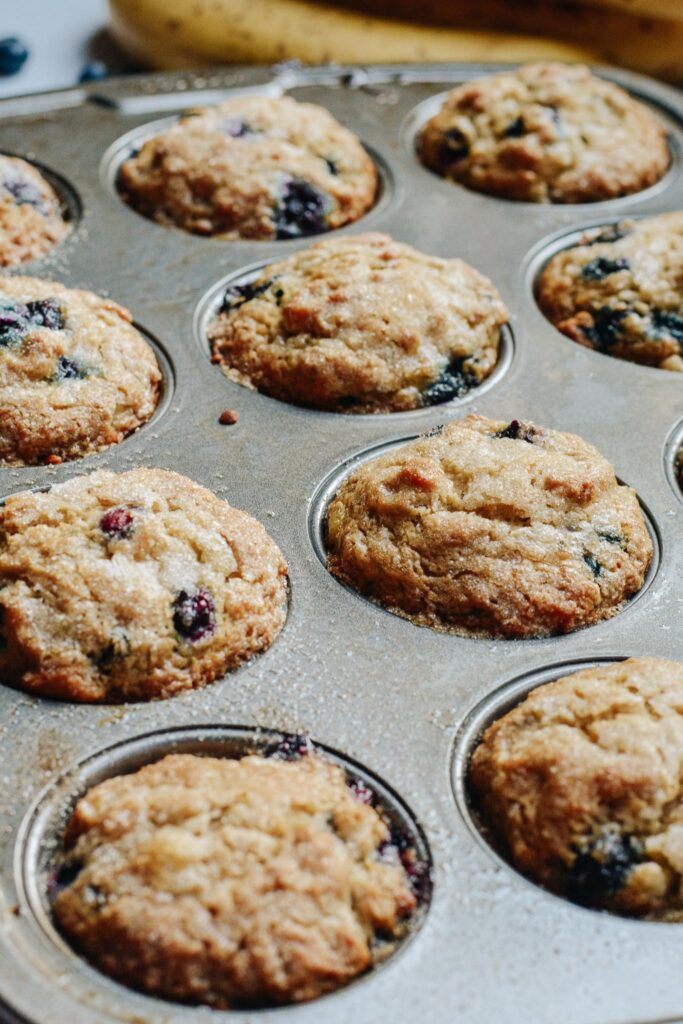 What makes these muffins healthy?
NO REFINED SUGAR — I love to sweeten naturally whenever possible and when you're baking with bananas, its really easy! I've added a bit of honey (or agave) to add a little more sweetness to the bananas, but that's all it needs!
FULL OF HEALTHY FRUIT — Made with three bananas and a cup of blueberries, there's lots of vitamins and benefits from these delicious fruits!
EASY ADDITIVES — These blueberry banana muffins can easily be modified by adding a tablespoon of flaxseed or protein powder to increase the health benefits. It's my favorite way to boost my kids intake of healthy foods (to offset the junk they seem to crave all day).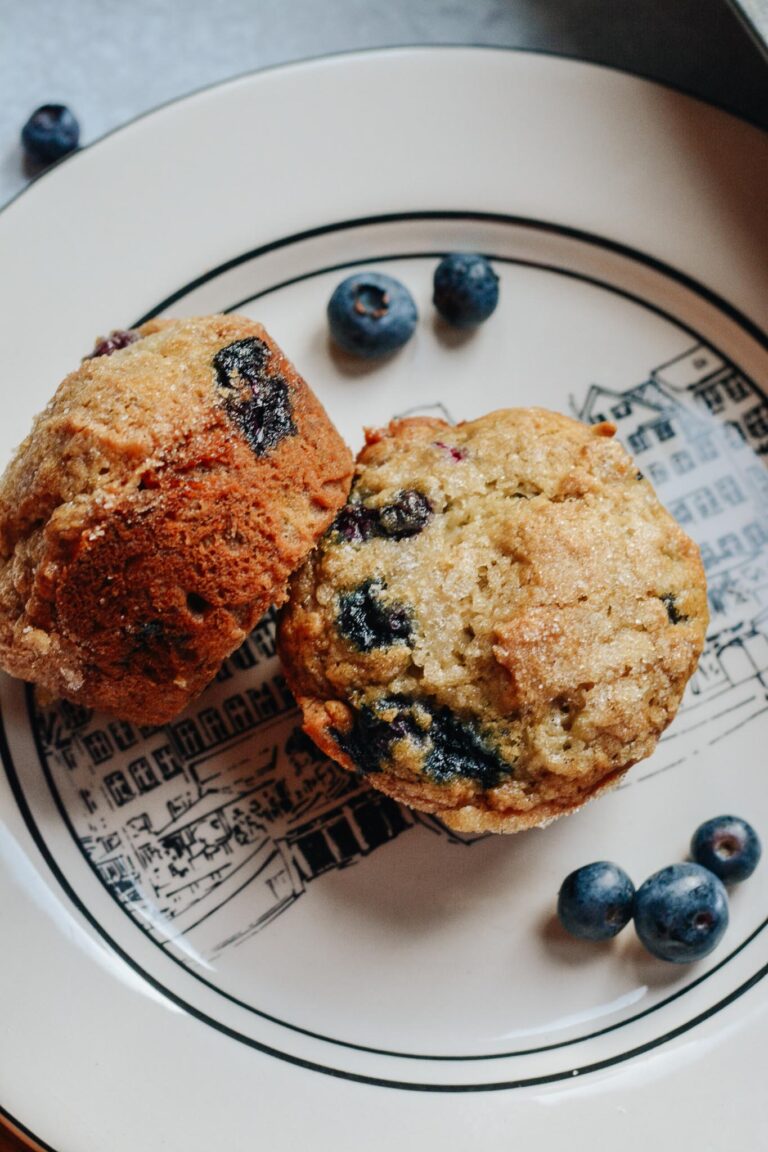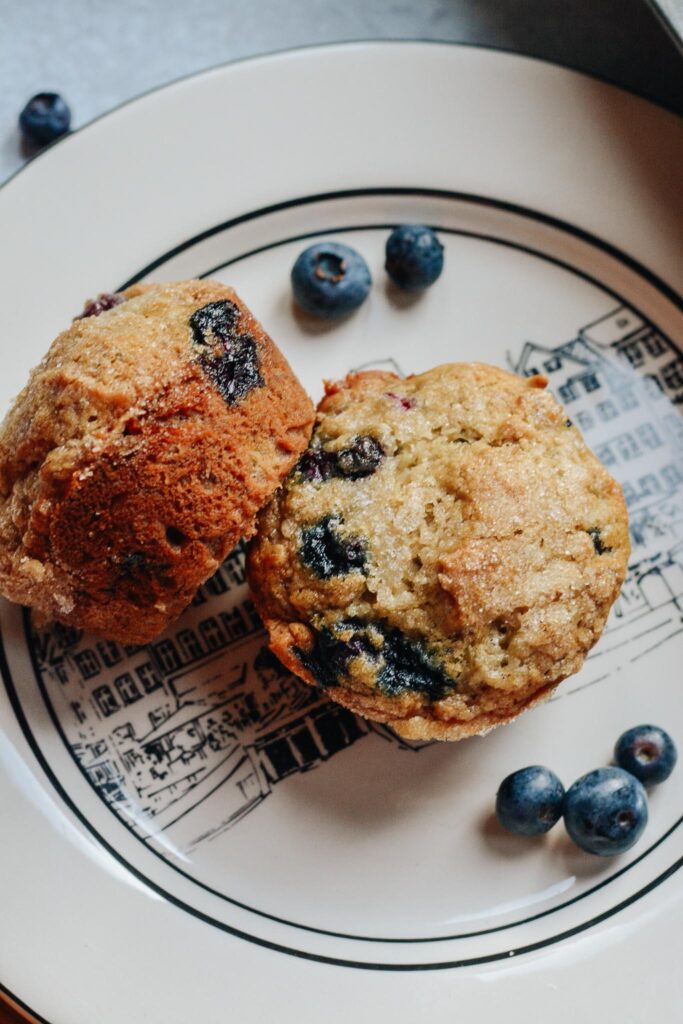 How to adjust this muffin recipe for any diet
Gluten Free
These muffins are already gluten free, but if you're making these for someone that's gluten sensitive, try replacing the flour with King Arthur Flour's Measure for Measure. You can read here about why Measure for Measure is my favorite. All other ingredients are naturally gluten free. However, if you're making these muffins for someone with Celiac disease, there are other things you'll have to do to ensure there is zero cross contamination.
Here's a great article that outlines how to bake for someone with Celiac.
Egg Free
Easily replace the eggs with my favorite flaxseed and water substitute. 1 tablespoon ground flaxseed mixed with 3 tablespoon of water for each egg. Whisk until the texture becomes "egg-like" or about a minute. See a handy egg replacement chart here at my Vegan Vanilla Baked Donut for other egg replacement options.
Vegan Option
Replace the eggs with the flaxseed mix mentioned above.
The honey can be replaced with maple syrup or even just granulated sugar (make sure to get vegan granulated sugar though) or agave syrup.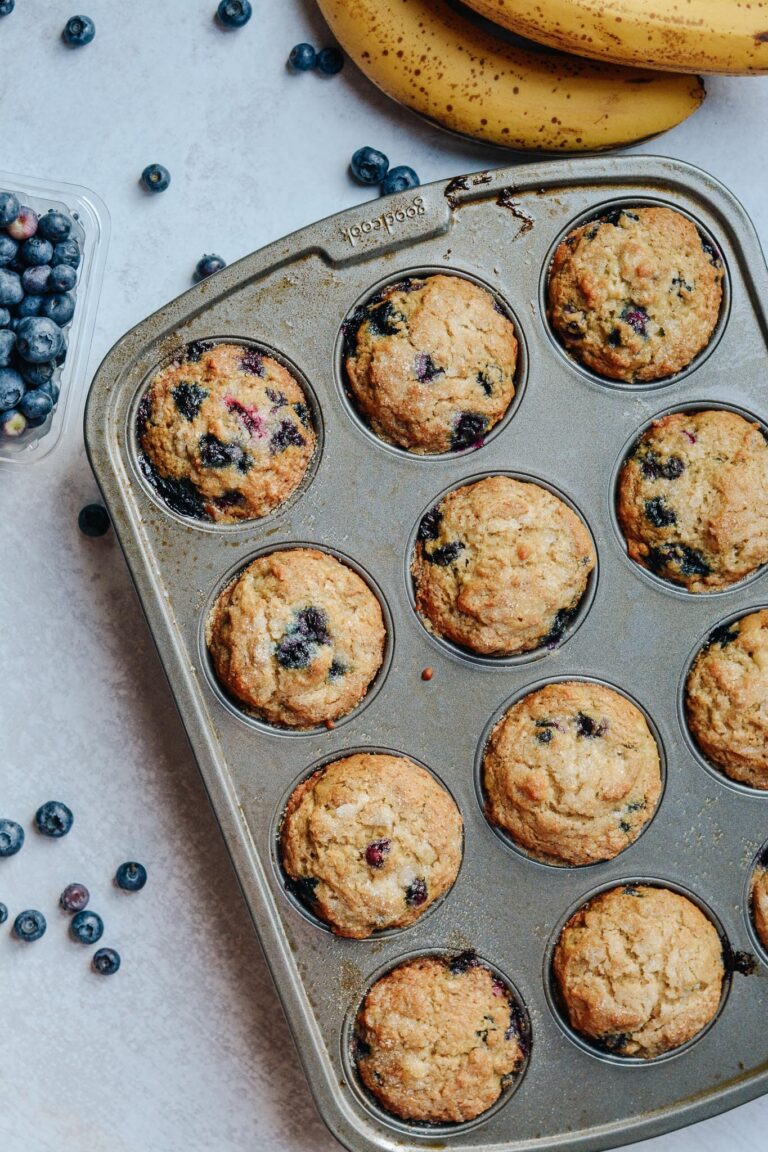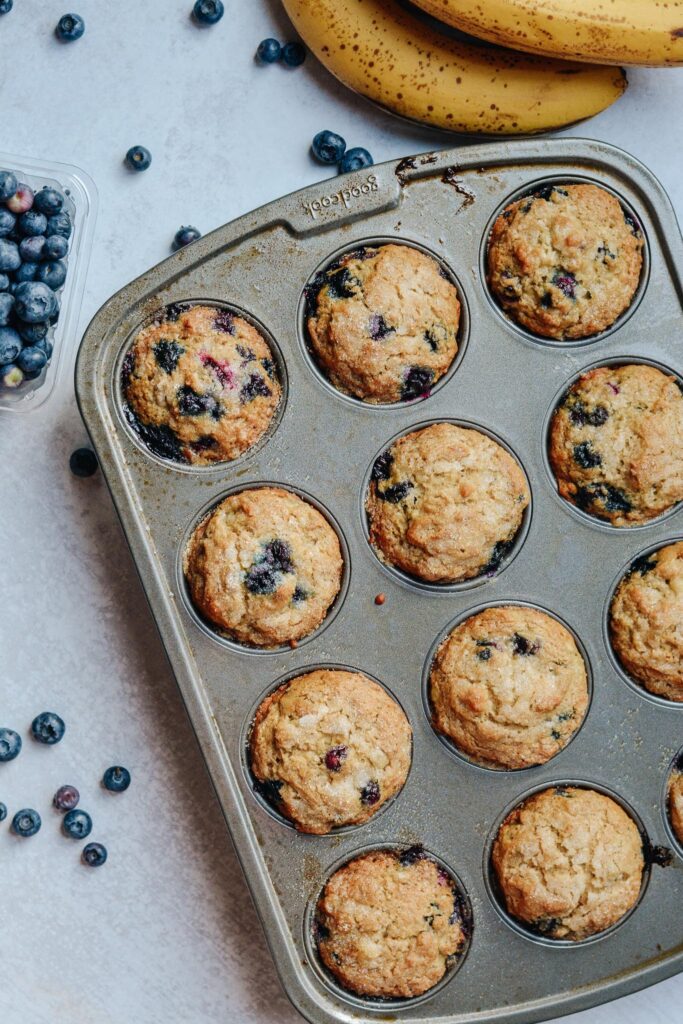 To make these blueberry banana muffins, simply...
Preheat your oven to 350°F. Spray your muffin tin and set aside. Be sure to get around each muffin cavity to be sure they don't stick.
In a large bowl, using a fork, mash up your bananas until relatively smooth. It will be a little lumps and that's ok.
Add in the melted and cooled coconut oil, honey (or agave), room temperature egg and vanilla extract.
how to get room temperature ingredients — fast!
Eggs — speed up the process of getting eggs to room temperature by dropping them gently into a bowl or cup full of hot water (not boiling) and let sit 5 minutes. Done!

Yogurt or Milk — To get yogurt to room temperature quickly, simple place in a microwave safe bowl and microwave at 50% power in 15 second intervals, stirring each time.

Butter — the best way to soften butter to room temperature is to get a tall glass and fill with hot water. Let it sit for 2-3 minutes until the glass is hot. Empty the water and turn the glass upside down over the wrapped butter. Allow to sit for 5 minutes. this will gently warm the butter through to the center.
Add the all-purpose gluten-free blend (or all-purpose flour for those who can tolerate it), baking soda, baking powder and salt.
Gently fold in dry ingredients until no more flour streaks remain. Over mixing will result in tough, dry muffins. So keep it gentle.
Gently add blueberries and stir just a few times until evenly distributed.
Scoop batter evenly between your 12 muffin tins. Using this OXO scoop makes perfectly even muffins every time! Add a few extra blueberries on top to make them beautiful and even more tempting.
Make these as soon as you can! I usually buy an extra-large bunch of bananas in order to ensure I'll have a few leftover to turn black and gooey, perfect for baking!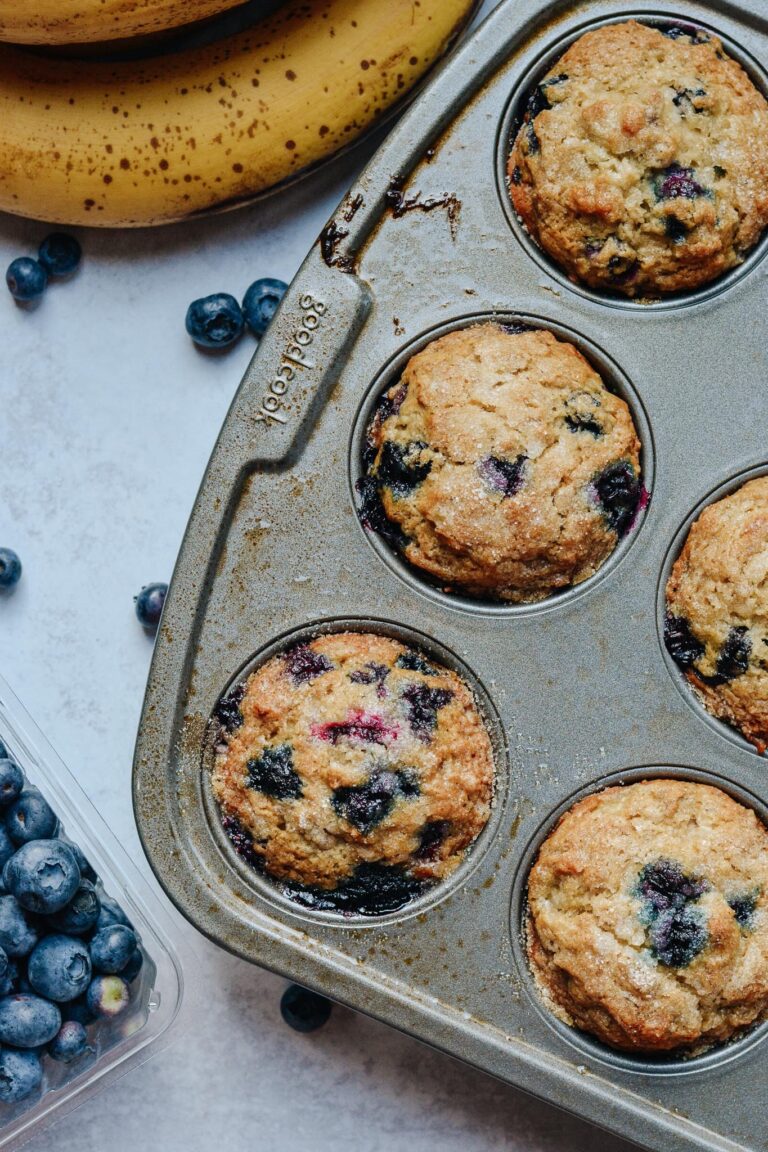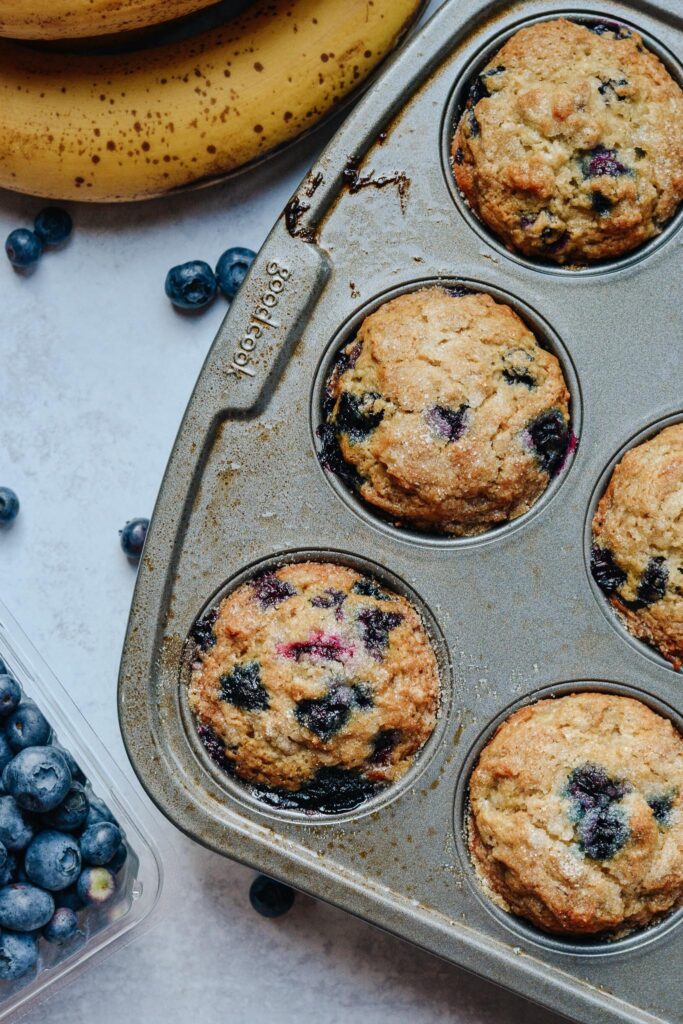 How to Make Extra Large Bakery-Style Muffins
It's really easy to make these muffins like the ones you get at a bakery — big enough for a filling breakfast. Try using these 6 cup muffin pans and scoop batter evenly between all 6 cups. Increase the bake time to 425°F for 8 minutes and then reduce heat to 350°F for 15 minutes, checking center for doneness with a toothpick or fork.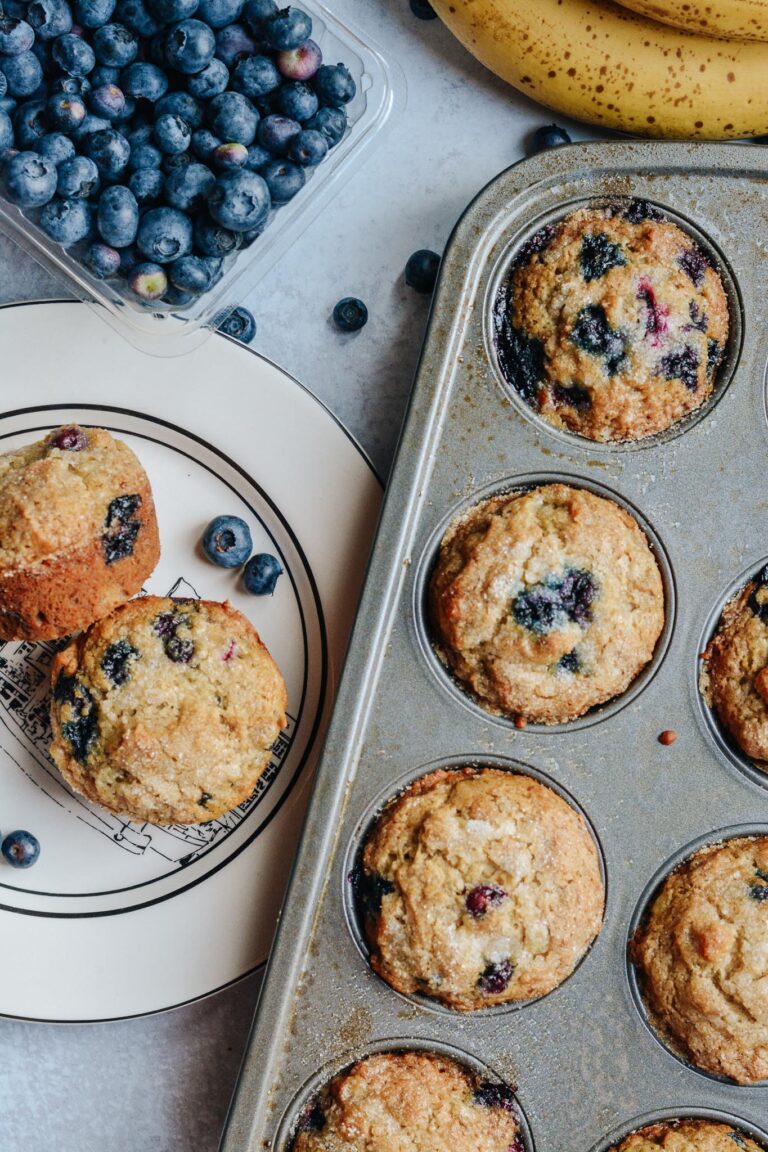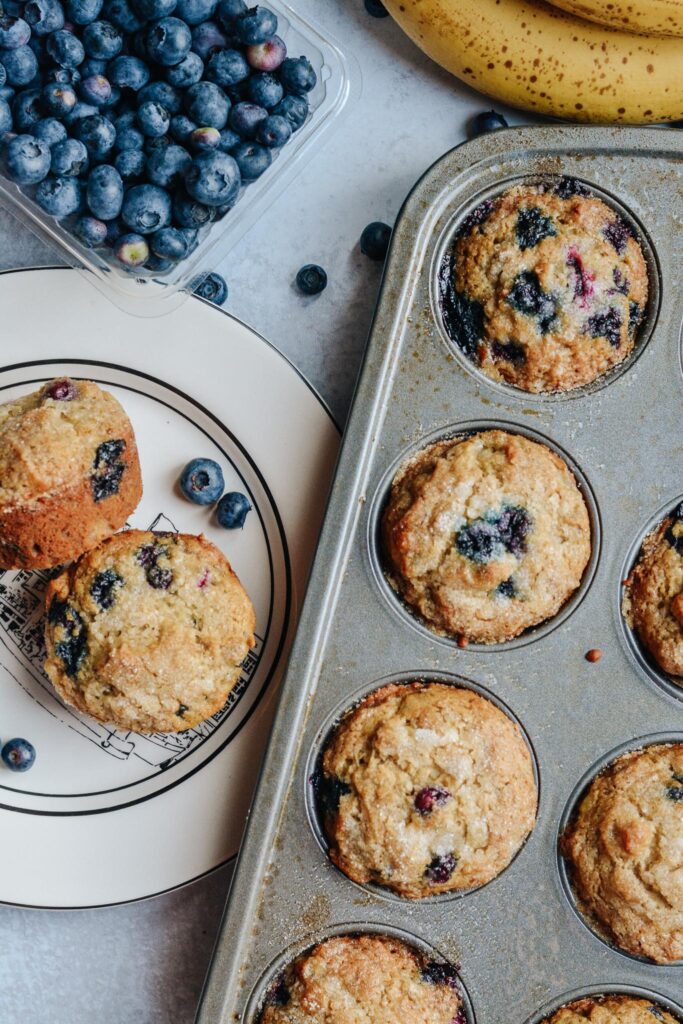 Blueberry Banana Muffins make a great grab-and-go-breakfast
My husband once found an article about how our brains crave sugar in the morning to help us jump-start our day with clarity. I'm pretty sure you can find any article to support your desire for donuts in the morning. Personally, I prefer a little natural sugar in the morning along with some protein. But on those days we're running out of the house and need a quick bite, these muffins are the best!
Banana muffins with no refined sugar is the ultimate grab-and-go breakfast for me and the kids because it's healthy, doesn't make a giant mess in the car and is filling enough to last a few hours in their bottomless bellies.
King Arthur Measure for Measure is always my go-to GF flour blend (read here about my GF flour comparisons). I also only use 1 bowl and 1 spoon and about 20 minutes from start to finish on these super moist and delicious muffins. Eat them warm with a little butter for an extra-special treat.
Amazing ways to top off Blueberry Banana Muffins
To take these banana muffins to the next level, add a crumble like the one on these Everyday Pumpkin Muffins, Apple Cinnamon Muffins or our very popular Pear Muffins. Feel free to make the crumble with or without nuts.
Another way to top them off is to add extra blueberries to make the tops extra pretty.
One of my all-time favorite ways to top off these blueberry banana muffins is with a slice of still yellow banana on top. It gets kind of caramel-y and extra sweet with the heat and creates a lovely creamy topper. Also, still super healthy!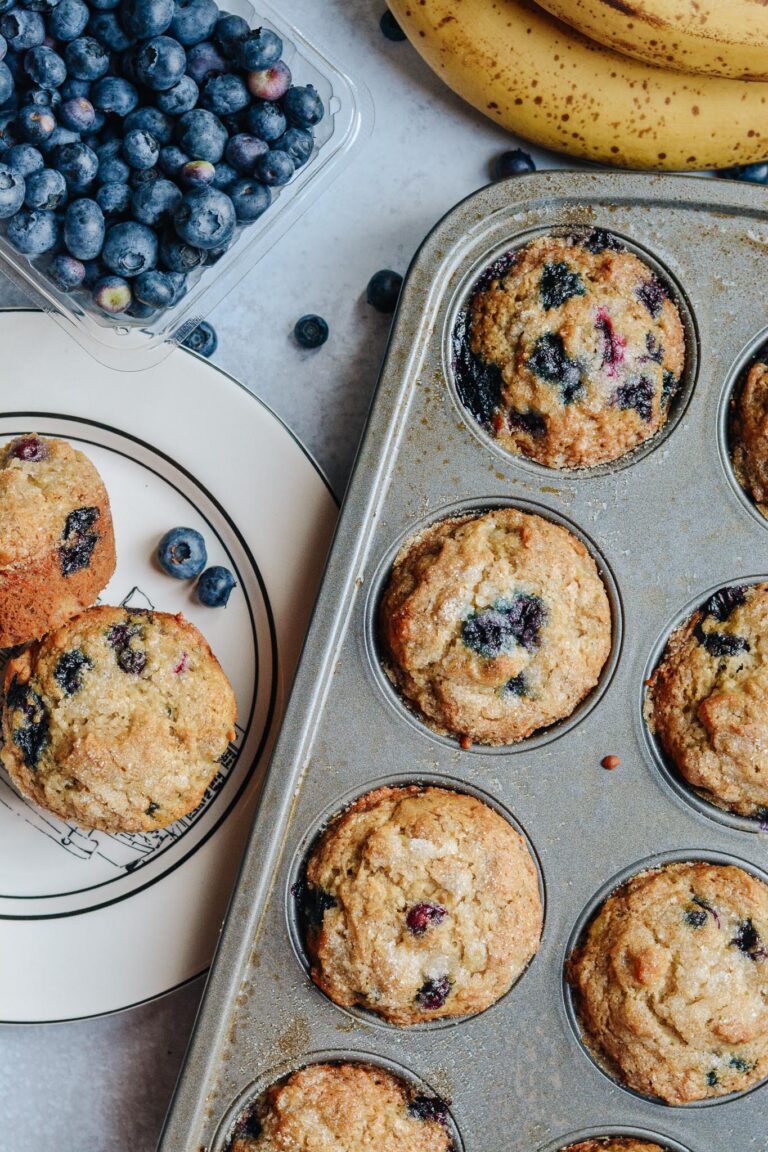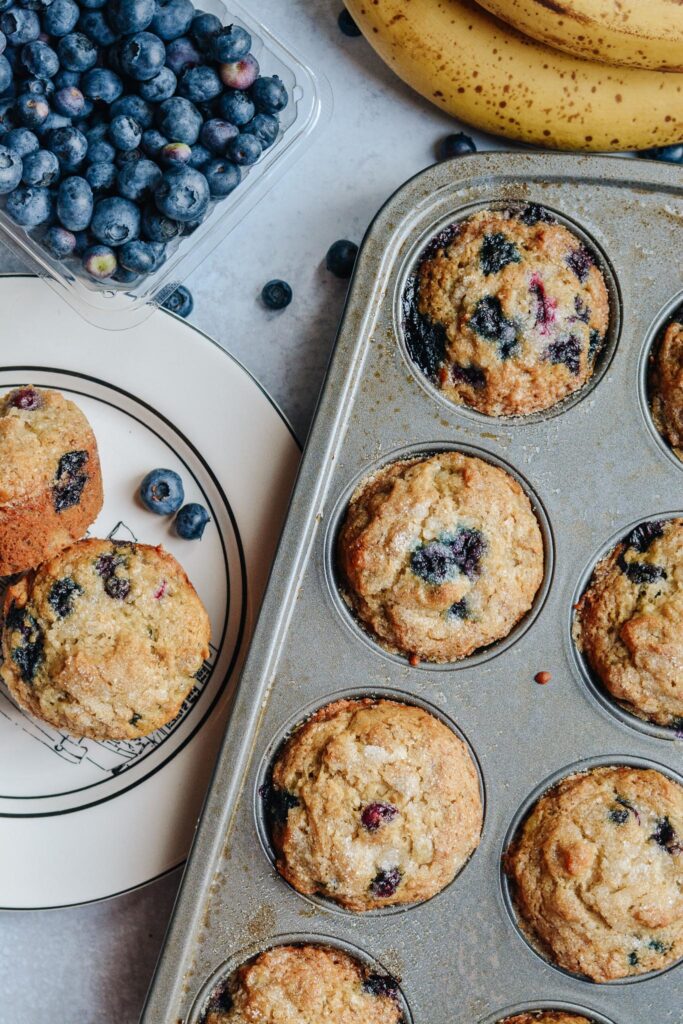 The Best Way to Store Muffins
The best way to store muffins is in a zip top bag lined with a paper towel. The paper towel will soak up any extra moisture and keep the muffins from "sweating" and getting sticky. They'll keep at room temperature for up to 5 days or in the refrigerator for 7-10 days.
Can I Freeze Muffins?
Yes! Once muffins have cooled completely, place on a baking sheet, (if you used muffin liners, they can be left on) being sure they're not touching each other, and freeze for 30 minutes — this will make it easy to grab just one muffin at a time.
Once frozen, place in a zip top bag and then another zip top bag to keep muffins from freezer burn.
To reheat frozen muffins, pop one or two muffins in the microwave for about 15 seconds or until the center is warmed through. Top with butter and enjoy any time of day!
MORE QUICK AND SIMPLE MUFFIN RECIPES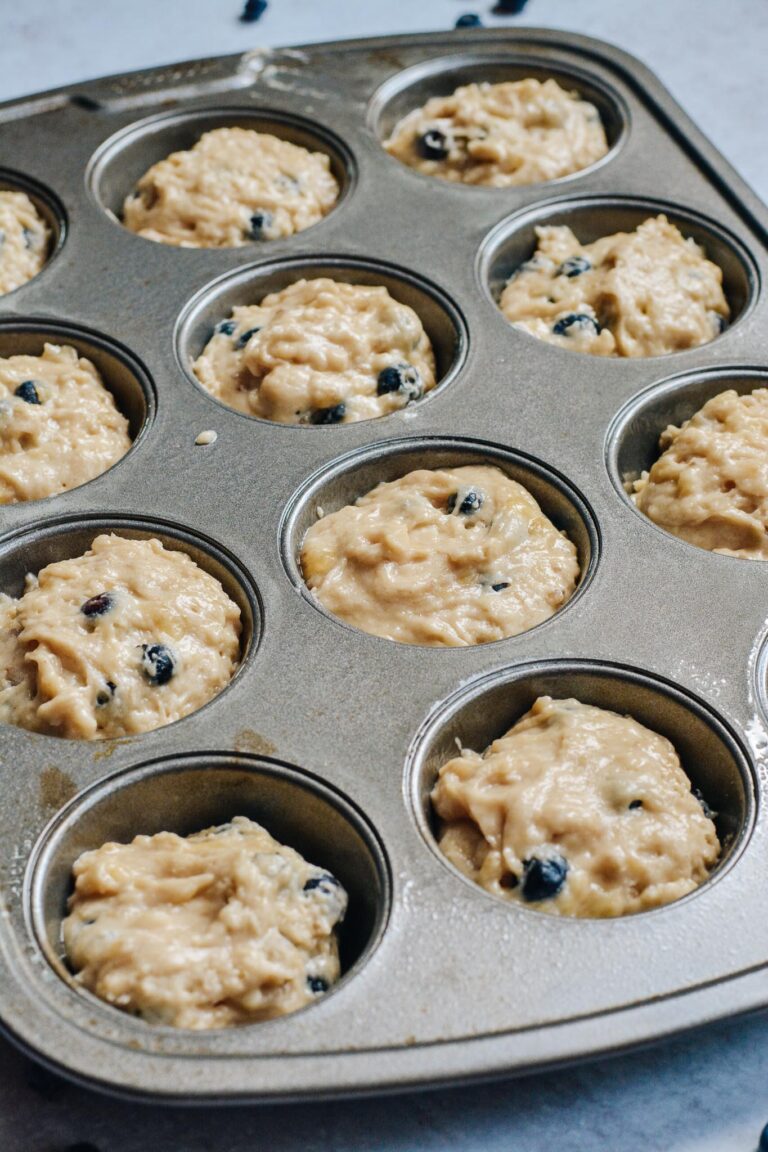 Muffin Recipe Variations
These muffins are delicious just as they are, but there are a few fun ways to mix it up with these easy additions!
If you love almond extract this is a great time to use it! Simply add one teaspoon of almond extract to the wet ingredients and mix as usual. The almond gives it a unique flavor and is a delightful way to change things up!

Add some extra zing with lemon zest! Just the zest of one lemon will lift the flavor of the muffin and make it just right for spring or summer. Simply add the zest along with the blueberries in the flour mixture. Also mix a little lemon zest with some sugar for sprinkling on top. Yum!

Chocolate chips and blueberries may seem like an odd combination, but my son introduced it to me and turns out, it's delicious! I even bought a chocolate bar with blueberries from Ikea last week. Surprisingly delicious! Simply reduce the blueberries to ½ cup and add ½ cup chocolate chips to the flour mixture and mix and bake per the recipe. Of course, you can also skip the blueberries entirely and just do chocolate chips (which is most requested by my kiddos).
If you love muffins (as if anyone doesn't), then try our delicious Old Fashioned Blueberry Muffins, Fluffy Orange Chocolate Chip Muffins or Chocolate Chip Banana Bread (all easily made with gluten free flour too!).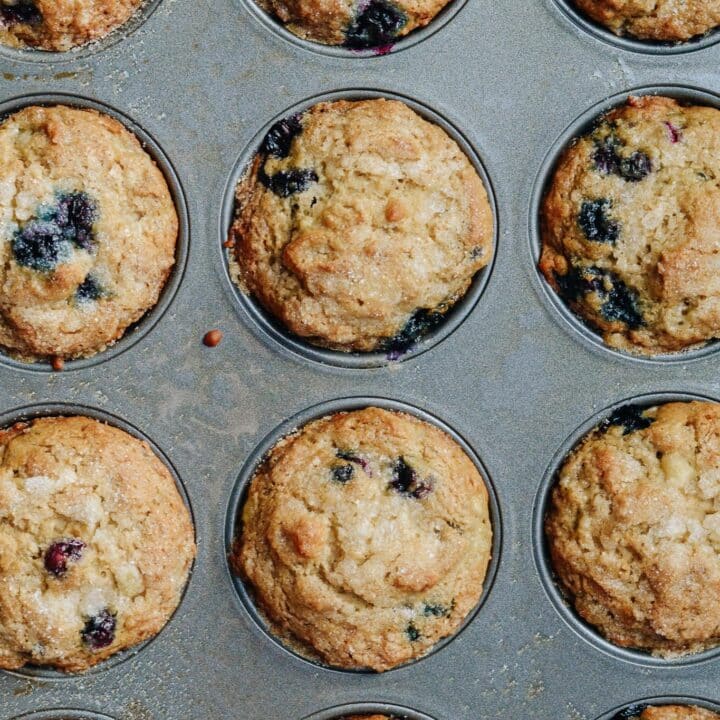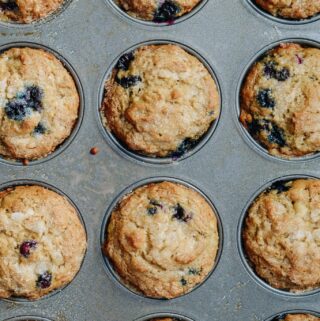 Healthy Blueberry Banana Muffins
Perfect banana muffins made with no refined sugar and lots of antioxidant-rich blueberries. Healthy and easy breakfast for you and the kids!
PRINT RECIPE
PIN RECIPE
Ingredients
3

Ripe Bananas

¼

cup

Coconut Oil

melted

¼

cup

Honey or Agave Syrup

1

Large Egg

room temp is best

1

teaspoon

Vanilla Extract

1 ½

cup

All Purpose Flour (regular or gf is fine)

1

teaspoon

Baking Soda

1

teaspoon

Baking Powder

½

teaspoon

Kosher Salt

1

cup

Fresh Blueberries

or frozen
Instructions
Preheat oven to 350°F. Lightly oil a 12 muffin tin with non stick cooking spray. Set aside.

In a large bowl, mash the bananas with a fork until only small lumps remain.

To the bananas, add the oil, honey (or agave), egg and vanilla. Mix well.

Add dry ingredients to the wet ingredients and gently combine. Careful not to over mix. (Over mixing will give you tough muffins.)

Gently stir in blueberries.

Fill muffin tins about ⅔ full, which should perfectly use all the batter. Bake for 12-15 minutes until the tops bounce back when touched.
Notes
I love that this recipe makes exactly 12 muffins, since I just have 1 muffin tin, but feel free to double it to make a larger batch of 24 muffins!
Nutrition
Serving:
0
g
|
Calories:
156
kcal
|
Carbohydrates:
26
g
|
Protein:
3
g
|
Fat:
5
g
|
Saturated Fat:
4
g
|
Polyunsaturated Fat:
0.3
g
|
Monounsaturated Fat:
0.4
g
|
Trans Fat:
0.002
g
|
Cholesterol:
14
mg
|
Sodium:
230
mg
|
Potassium:
141
mg
|
Fiber:
1
g
|
Sugar:
11
g
|
Vitamin A:
45
IU
|
Vitamin C:
4
mg
|
Calcium:
27
mg
|
Iron:
1
mg