Don't you love a good muffin in the morning? Especially with a cup of coffee? Or in the car driving kids to school, like I do almost every morning. I'm always so thankful I made these pumpkin muffins without the extra sugar when I'm making the mad rush out the door and my stomach is growling at me. (Yes, it growls AT me.)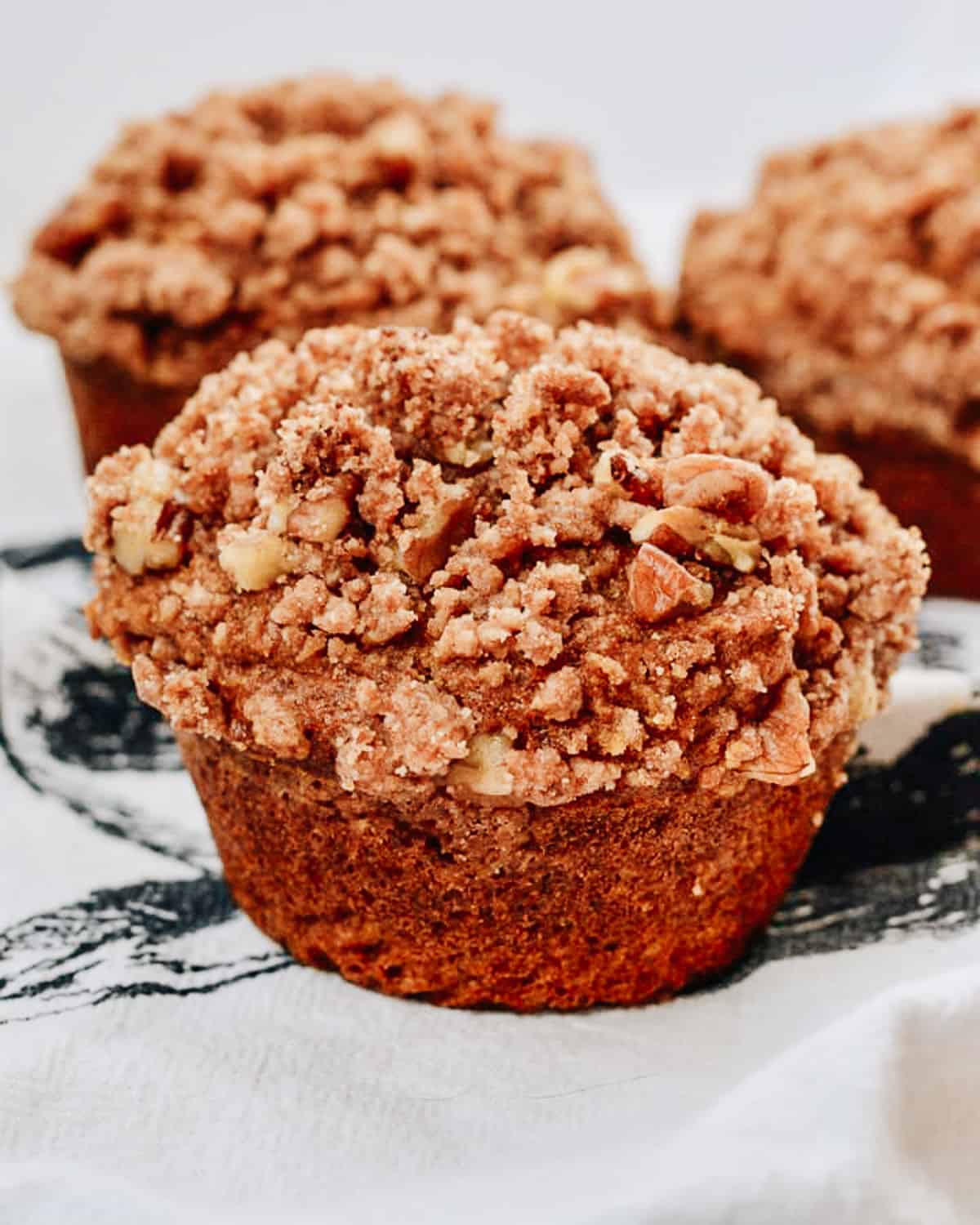 Sugar Substitutes
I really enjoy finding sugar substitutes in my baking. I am unwilling to give up baked goods entirely, even when I realized how insane my kids get when they have sugar. So I started researching and made almost a complete switch in all our sweet baked goods to alternative sugars.
I prefer the natural ones (as opposed to processed sugar substitutes like Equal). Coconut sugar, honey and maple syrup are my three go-to substitutes. And let me tell you, after reducing our refined sugar I no longer prefer overly sweet desserts. My kids are just as insane, but I feel better knowing they're getting less of the gunky stuff.
Gluten Free Muffin Option
If you'd like to try making your pumpkin muffins gluten free, use Cup 4 Cup. It tastes the most similar to regular ol' gluten full flour. And Amazon (link above) has a really good price. I keep this on hand all the time for myself and for my gluten free family and friends.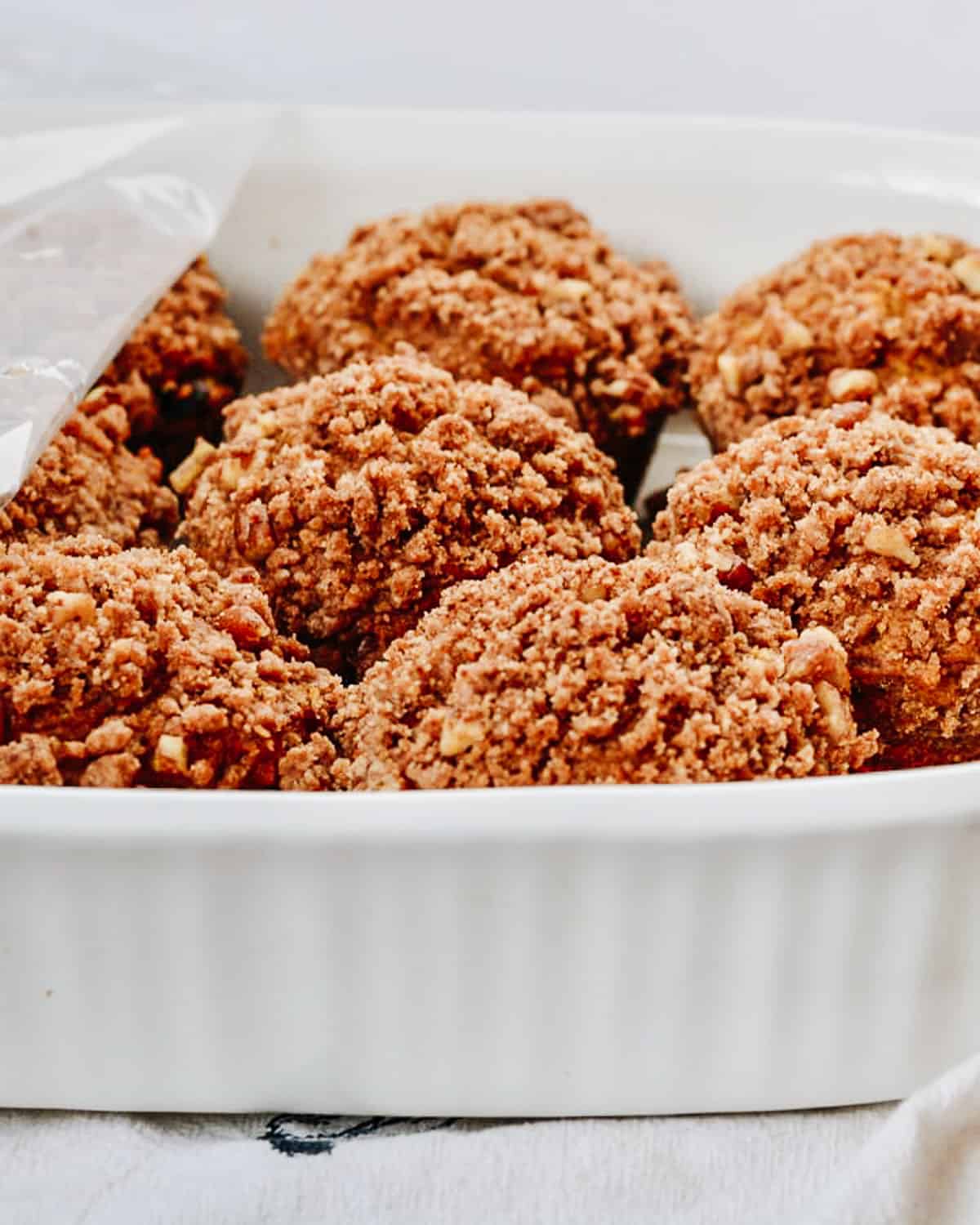 Alternative Sugars Explained (a little)
Coconut Sugar has a low glycemic index, and is not processed like white sugar. Your body absorbs it similar to fruit sugars. No sugar spike and crash, which I love! It's my go-to for baking, since it can be replaced 1:1 for white sugar or brown sugar.
So you get a very close consistency end product with just as much sweetness, but no refined sugar. My favorite is this one found at Target. I like it because it has the best price and convenience.
Honey and Maple Syrup can be a little harder to substitute in recipes, but it can be done with a little experimenting. I like to match the flavor to what I'm baking, too. Pumpkin muffins and maple syrup just go together.
Just like my banana muffins and honey go well together. In some recipes, I combine one of these natural sweeteners with others, like applesauce or bananas. Give it a try! You'll find you don't even miss the refined sugar anymore!
How to Make Extra Large Bakery-Style Muffins
It's really easy to make these muffins like the ones you get at a bakery — big enough for a filling breakfast. Try using these 6 cup muffin pans and scoop batter evenly between all 6 cups. Increase the bake time to 425°F for 8 minutes and then reduce heat to 350°F for 15 minutes, checking center for doneness with a toothpick or fork.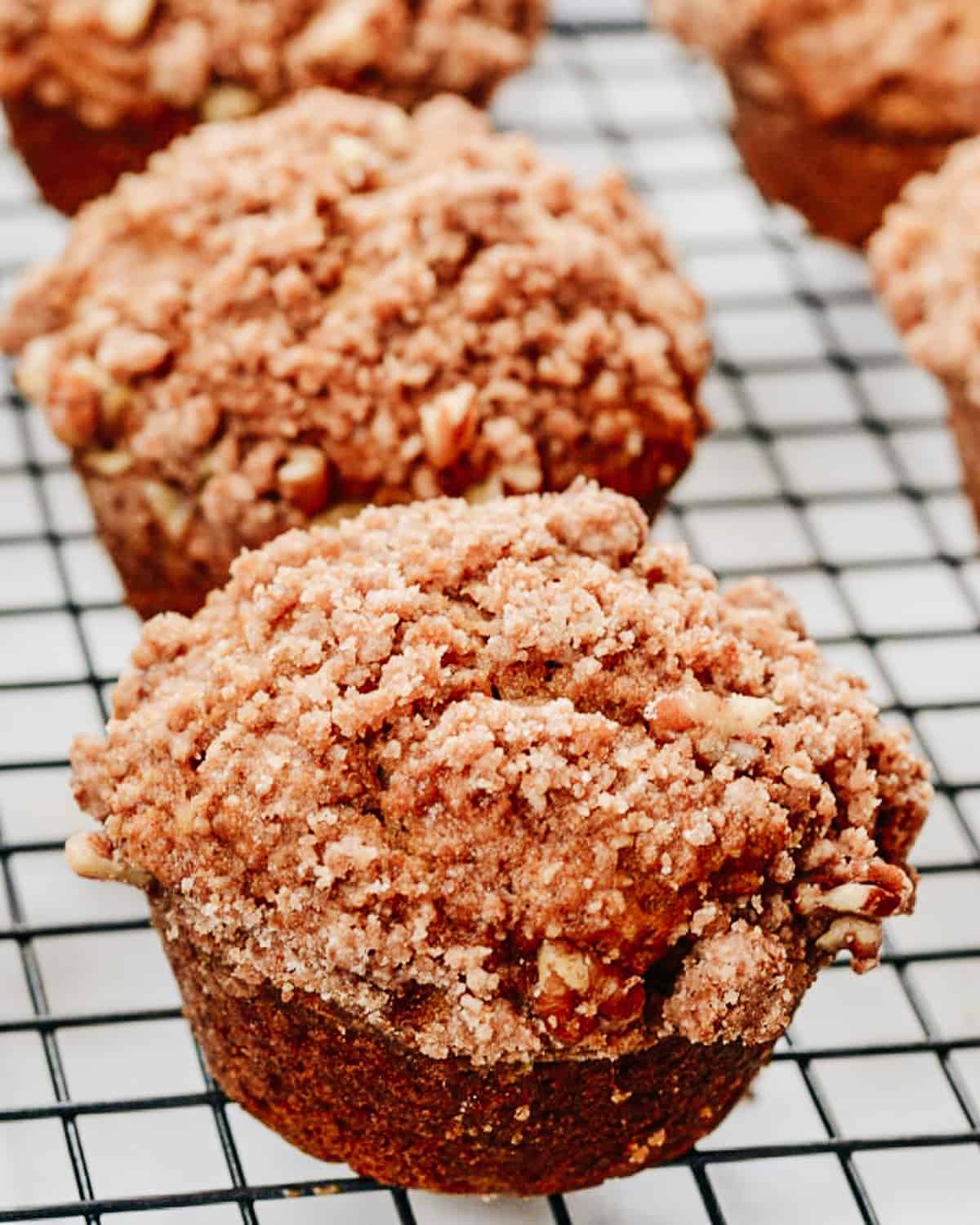 How to make perfect pumpkin muffins
Preheat the oven to 425°F. Spray muffin tin with non stick spray and set aside.
Combine the wet ingredients in a large bowl (pumpkin purée, maple syrup, coconut oil and egg) and mix well.
Next, add coconut sugar and mix again. If you don't have coconut sugar, feel free to use regular sugar or just omit altogether to keep it healthier.
In a separate bowl, mix together the all purpose flour (or gluten free substitute), baking soda, baking powder, salt and pumpkin pie spice.
Gently fold the dry ingredients into the wet. Once there are no more flour streaks, scoop the batter into a muffin tin using a large cookie scoop (its the perfect size for muffins or cupcakes).
Mix up the streusel by combining the dry ingredients, then add the cold butter and mix together with your fingers until it is small crumbs. Evenly sprinkle the streusel on top of the muffins before baking.
Bake at 425°F for 5 minutes, then reduce the heat to 375°F and bake for an additional 15-18 minutes until completely set. The initial high temperature will give you muffins a great rise and those pretty domes tops.
How to store muffins
The Best Way to Store Muffins
The best way to store muffins is in a zip top bag lined with a paper towel. The paper towel will soak up any extra moisture and keep the muffins from "sweating" and getting sticky. They'll keep at room temperature for up to 5 days or in the refrigerator for 7-10 days.
Can I Freeze Muffins?
Yes! Once muffins have cooled completely, place on a baking sheet, (if you used muffin liners, they can be left on) being sure they're not touching each other, and freeze for 30 minutes — this will make it easy to grab just one muffin at a time.
Once frozen, place in a zip top bag and then another zip top bag to keep muffins from freezer burn.
To reheat frozen muffins, pop one or two muffins in the microwave for about 15 seconds or until the center is warmed through. Top with butter and enjoy any time of day!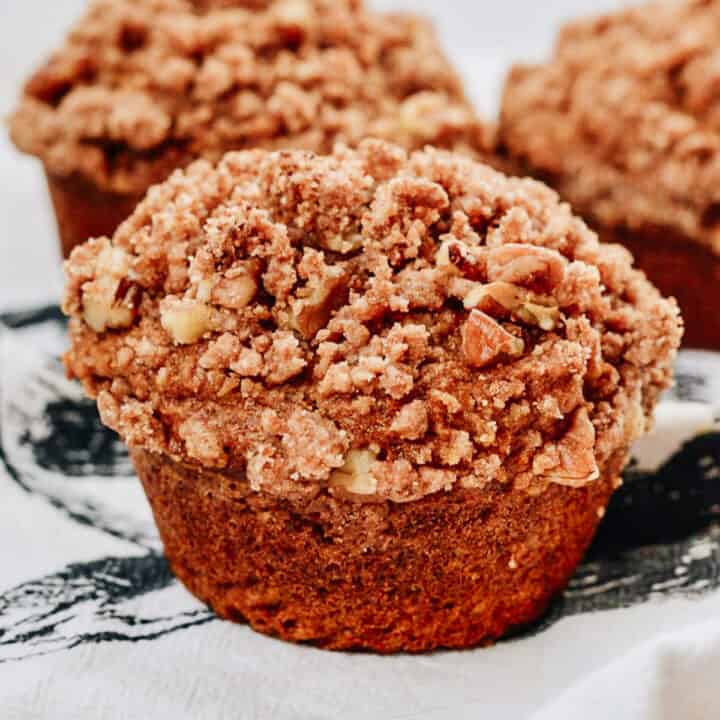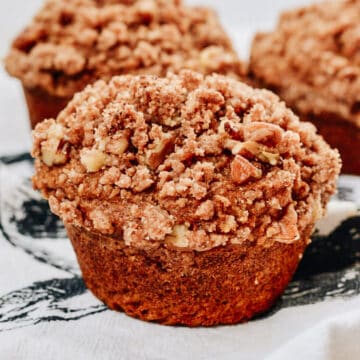 Everyday Pumpkin Muffins - No Refined Sugar
Using coconut sugar and maple syrup instead of refined sugar makes these the perfect grab-and-go breakfast for you and the kids!
PRINT RECIPE
PIN RECIPE
Ingredients
1

15 oz

can of pumpkin purée

not pumpkin pie purée

⅓

cup

maple syrup

⅓

cup

coconut oil

melted

1

teaspoon

vanilla extract

1

large egg

room temp

¾

cup

coconut sugar

2

cups

all-purpose flour

or gluten free flour blend

1

teaspoon

baking soda

2

teaspoons

baking powder

1

teaspoon

salt

2

teaspoons

pumpkin pie spice
Streusel Topping
½

cup

all-purpose flour

or gluten free substitute

⅓

cup

coconut sugar

1

teaspoon

cinnamon

5

tablespoons

butter

cold

½

cup

chopped pecans

optional
If you don't have pumpkin pie spice substitute with:
1

teaspoon

cinnamon

½

teaspoon

ground ginger

¼

teaspoon

ground cloves

¼

teaspoon

nutmeg
Instructions
Preheat oven to 425°. Spray 12 cup muffin tin with nonstick spray, set aside.

In a large mixing bowl, combine pumpkin, maple syrup, melted coconut oil, and egg. Once fully combined, mix in coconut sugar.

In a separate bowl, fully mix dry ingredients. Add dry ingredients to wet and mix just until combined, do not over mix.

To make the streusel, combine dry ingredients, then add butter in small pads. Using your fingers mix the butter into the dry ingredients until it resembles coarse meal. Add pecans, if using.

Spoon batter into prepared muffin tins until about ¾ full. It should use the entire recipe to make 12.

Evenly spoon streusel on top of muffins.

Place on center rack of oven. Bake at 425° for 5 minutes. Then reduce the heat to 375° and bake for another 15-20 minutes until muffins are fully baked and tops spring back when touched.
Nutrition
Serving:
0
g
|
Calories:
263
kcal
|
Carbohydrates:
40
g
|
Protein:
4
g
|
Fat:
10
g
|
Saturated Fat:
6
g
|
Polyunsaturated Fat:
1
g
|
Monounsaturated Fat:
2
g
|
Trans Fat:
1
g
|
Cholesterol:
14
mg
|
Sodium:
397
mg
|
Potassium:
86
mg
|
Fiber:
1
g
|
Sugar:
15
g
|
Vitamin A:
48
IU
|
Vitamin C:
1
mg
|
Calcium:
71
mg
|
Iron:
2
mg