These amazing Korean BBQ Tacos have become a staple in our house. They're completely make-ahead friendly, have an awesome depth of flavor with only a handful of ingredients, and you can prepare everything the day before or even a few days before and then just heat and serve. That makes it a total dinner time win. So now go and spice up your taco night this week!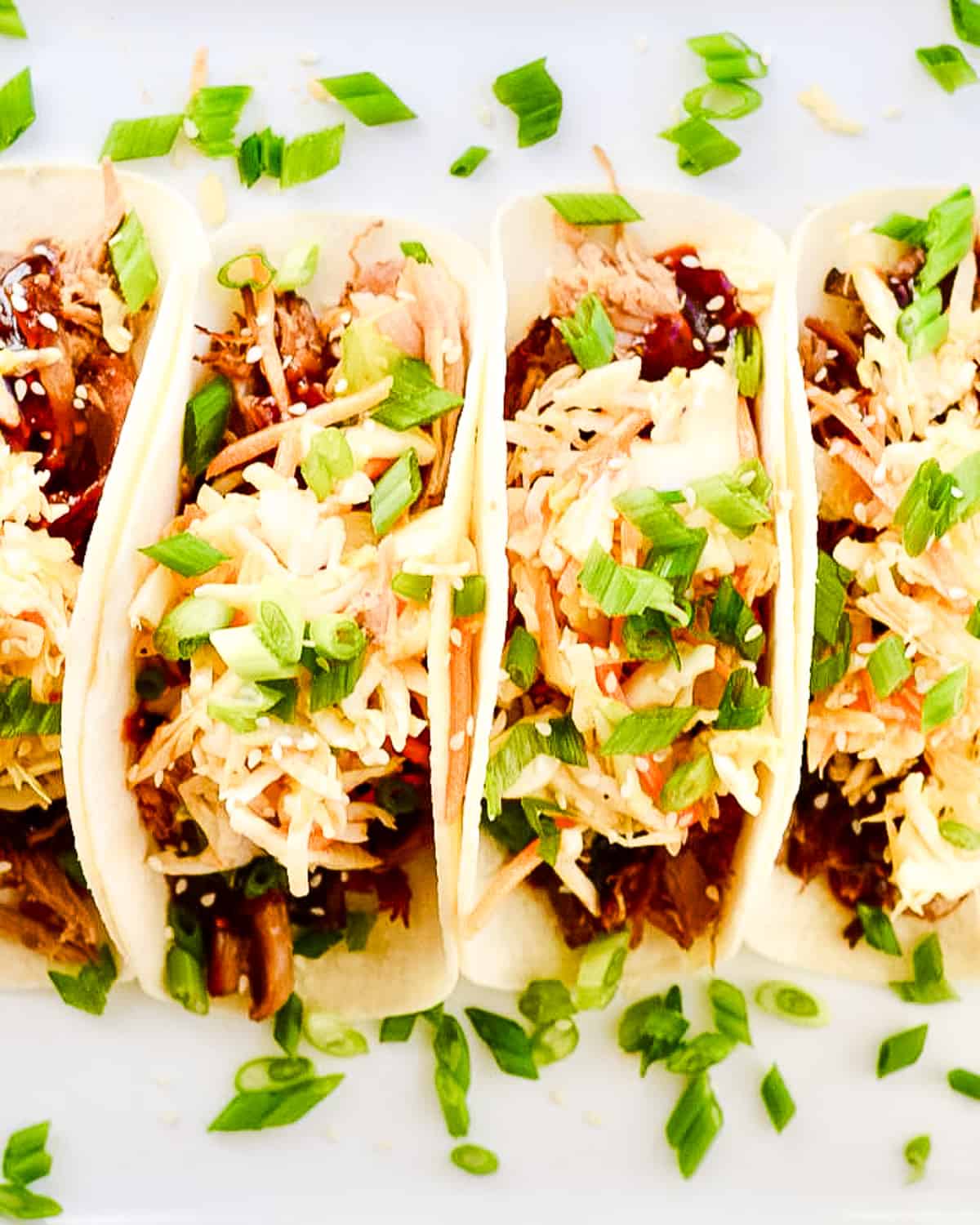 Keep it simple with the crockpot
Putting a lot of flavor into your pork butt while it cooks is essential to getting it started in the right direction. In order to get the Korean BBQ flavor to really come through, start with the few simple ingredients put in the crock pot with the pork.
Another way to intensify the flavors in pork is to broil the pork after it's been shredded. Place it on a dark baking sheet under a broiler on high for about 5-10 minutes, stirring once.
Adding this simple step will give you those delicious "burnt" ends and slightly crunchy bits along with the soft parts of the pork. It really adds so much texture and flavor to these Korean BBQ Tacos.
Can I make this in an Instant Pot?
Sure thing! I haven't tried it yet, but cooking a pork shoulder for pulled pork in the InstaPot is fairly simple. There is just one added step of cutting the pork into large chunks before placing in the Instant Pot.
Cook with the same amount of liquid on high pressure for 60 minutes and then pressure release naturally for 20 minutes. (We haven't tried it this way yet, but it should work. We'll update when we know for sure the best way to cook this in the InstaPot.)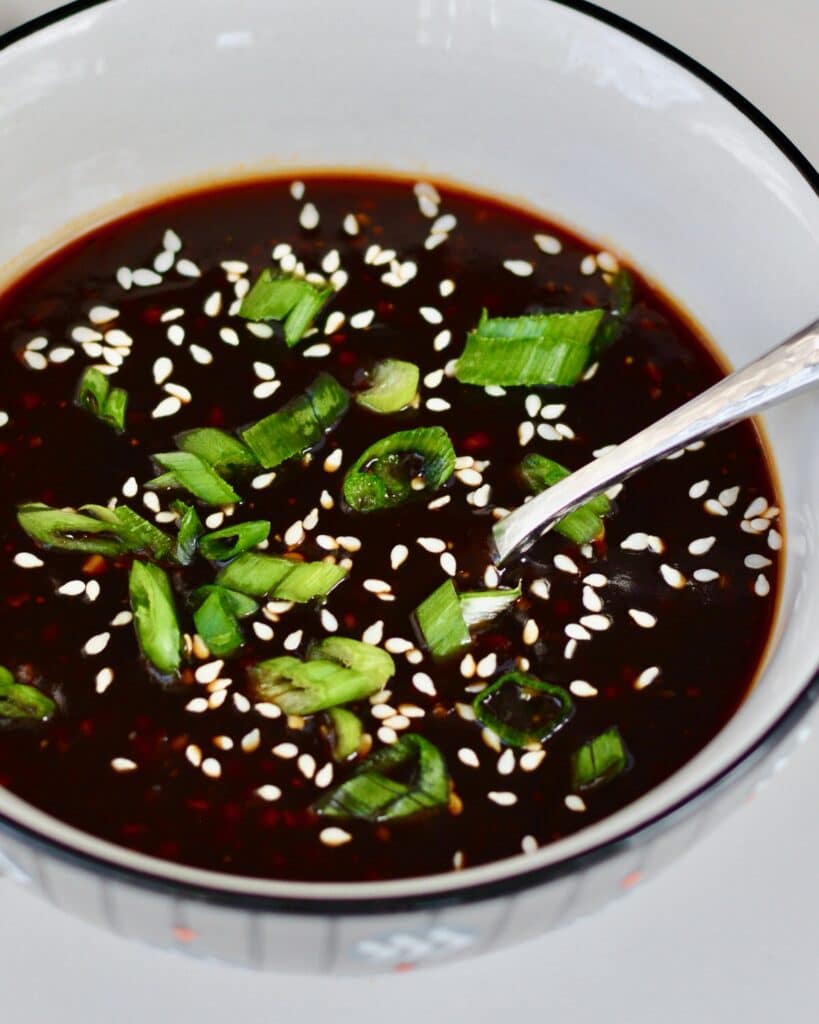 Making Korean BBQ Taco Sauce
Let's talk BBQ sauce. I love sauce. Like, love love. So when I set out to make Korean tacos, I knew it was going to need a dynamite sauce to go along. This BBQ sauce recipe once again combines my favorite Korean flavors all in a sweet, smooth sauce.
I make this ahead of time and keep it on hand to dip everything into. So now I'm working on a Korean style chicken tender and this will definitely be my dipping sauce. But on these Korean BBQ Tacos, it really takes it to the next level!
Can I Make These Tacos Gluten Free?
Absolutely! Since I became gluten intolerant I was still able to make this recipe using Tamari sauce instead of soy sauce. Gluten free soy sauce is my favorite, but I've only been able to find that at our specialty Asian store. Also, La Choy brand soy sauce is naturally gluten free!
Tamari and Coconut Aminos are widely available and are great substitutions too. Be aware that some of these are NOT low in sodium, so you'll want to water it down by half or omit any additional salt. Every brand is a bit different, so be sure to taste and adjust as needed.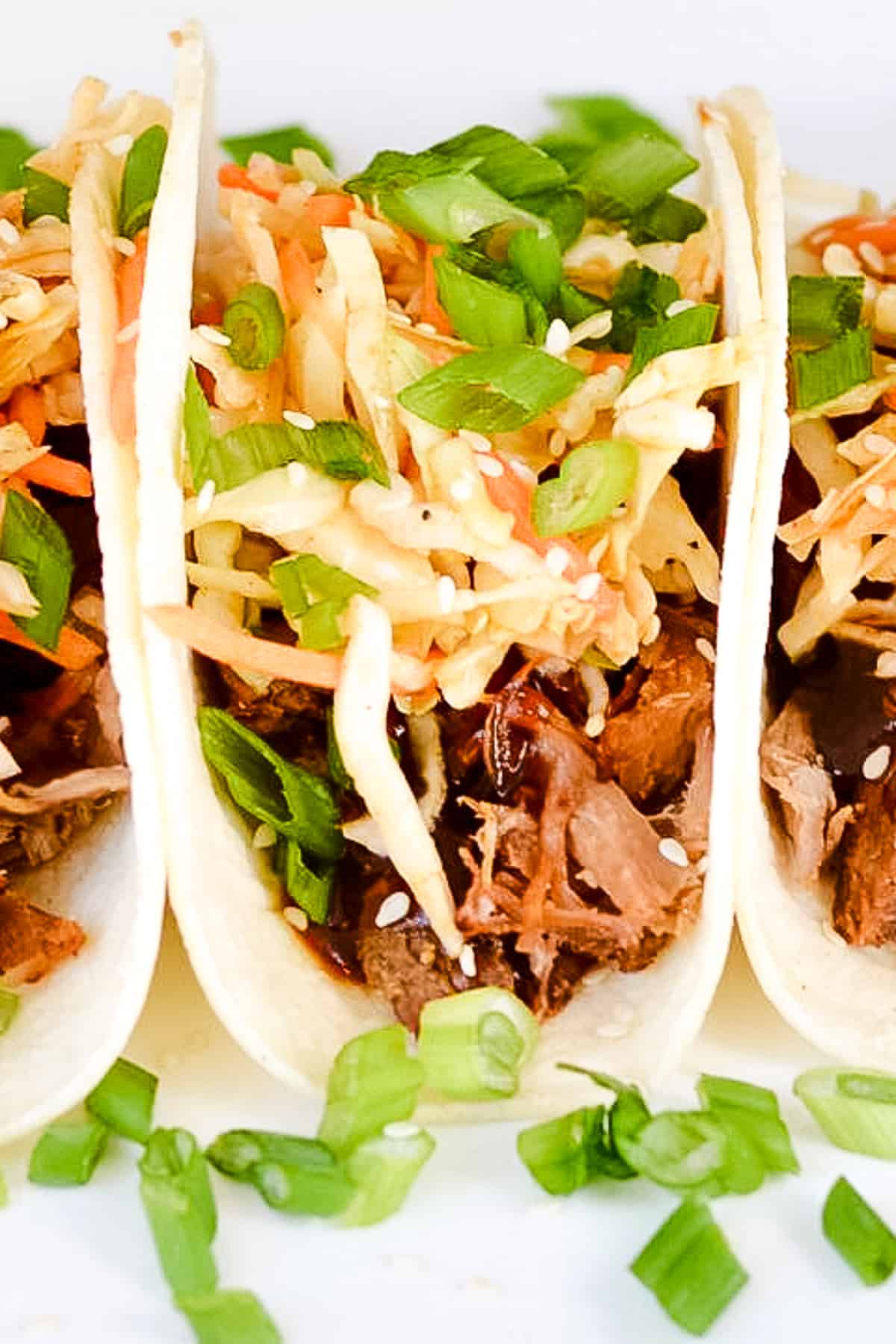 Making Quick Kimchi
I absolutely love this quick kimchi. I originally created this recipe to go with my Korean BBQ Sliders recipe. And I didn't change it at all for these tacos. It tastes great 5 minutes after you make it, and is still delicious 2 days later. Just throw it in the fridge and let the rice vinegar soften it and make it more and more "kimchi-like" as it softens and intensifies in flavor.
If you want to take these to the next level, make these homemade tortillas to go with these tacos. Outstanding!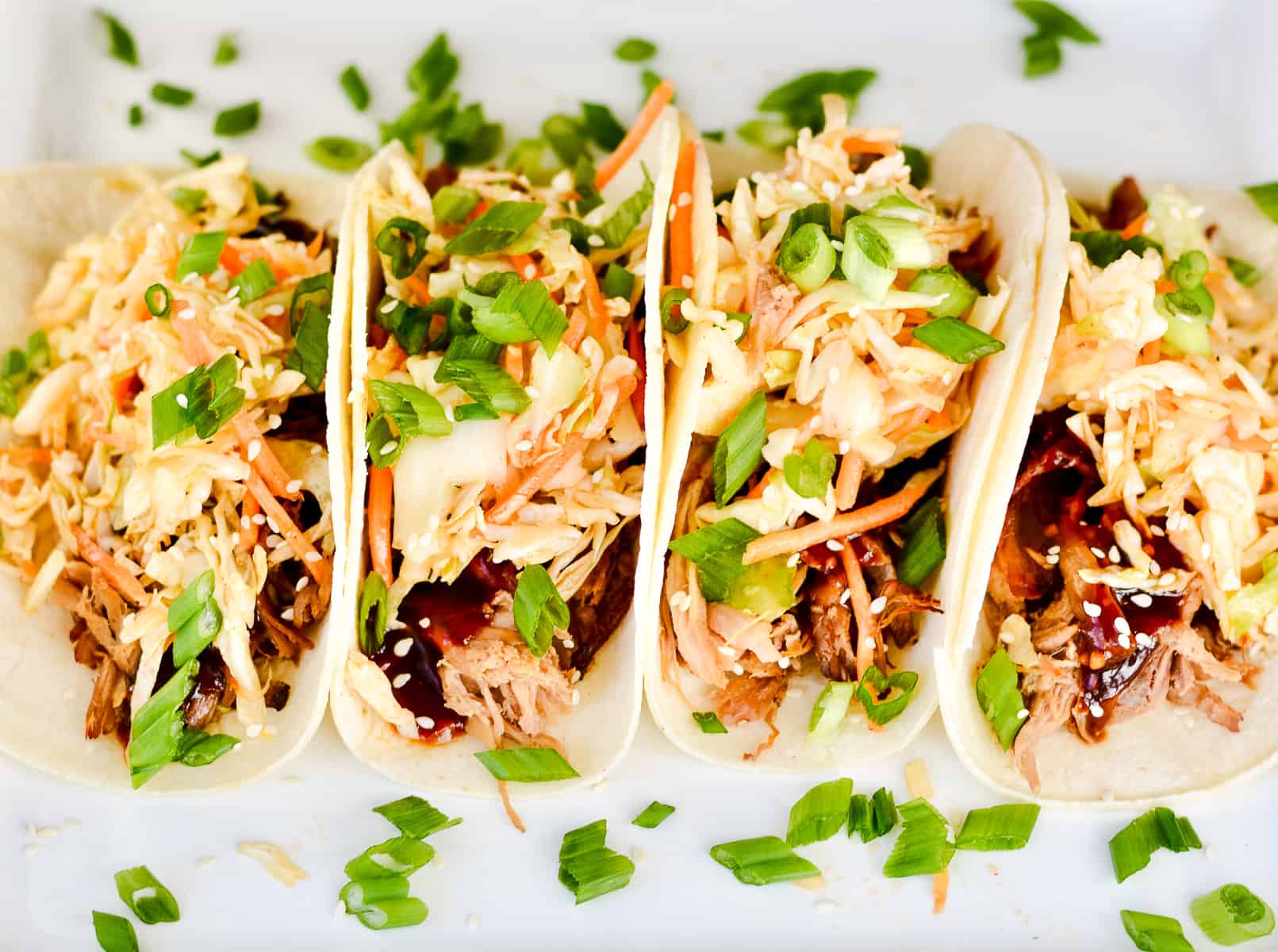 Can I make these tacos for a crowd?
Absolutely! That's what I love about using pork shoulder, it makes a TON of meat. I usually cook a 3-4 pound piece and then shred and freeze half for another meal.
A 4 pound piece of pork shoulder yields about 8 cups of shredded meat. This will allow you to make about 32 tacos (at ¼ cup of meat per taco) and feed about 10-15 people.
This can easily be multiplied by making your pork shoulder ahead of time and cooking as many as you need. Then simply reheating before serving. This would make a GREAT dinner for a big party, served with some simple appetizers, and easy desserts and refreshing drinks.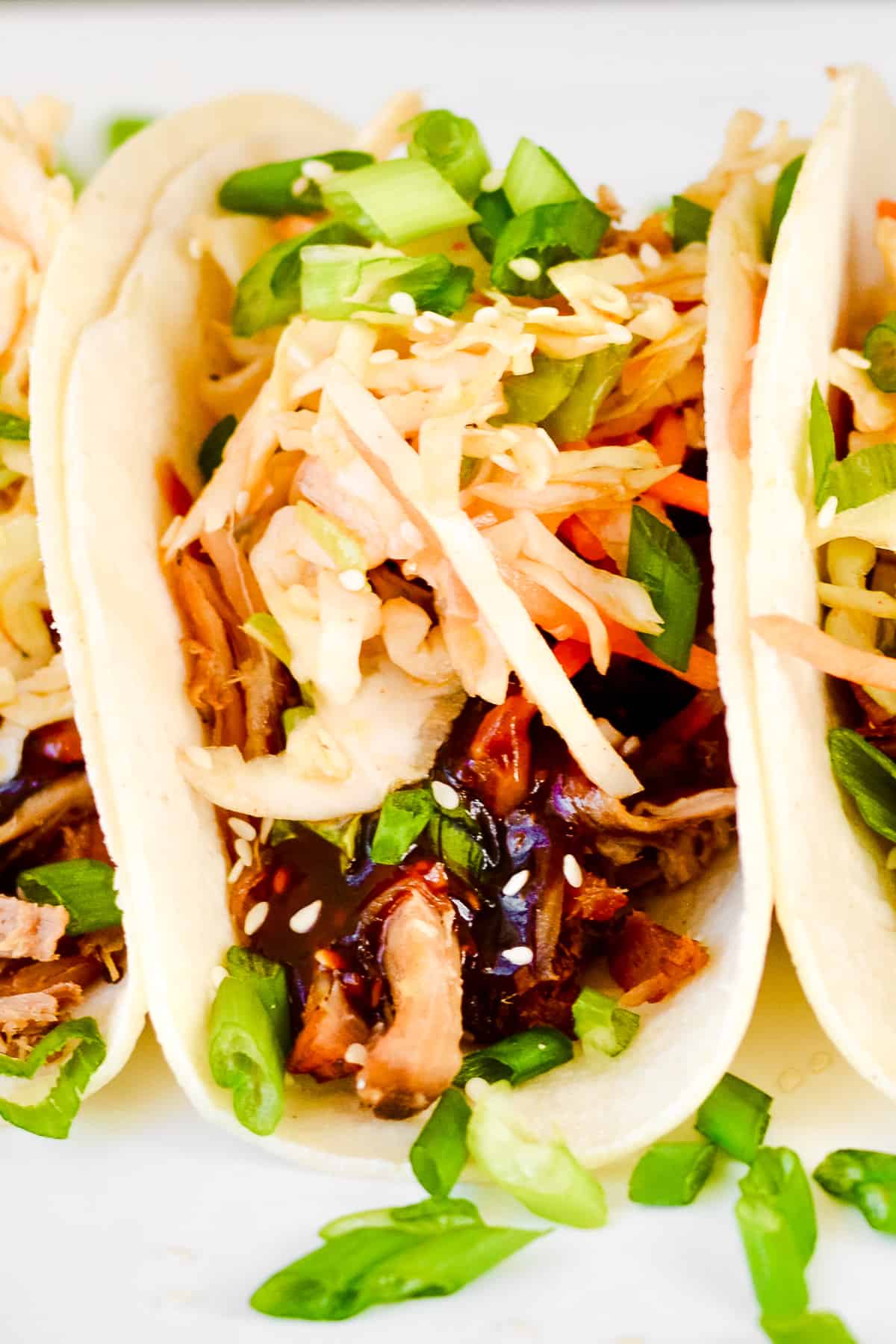 How to store leftover pork shoulder
Once the pork butt/shoulder has been cooked, shredded and cooled, store leftovers in an air tight container (these linked are my favorite storage dishes). This will keep in the refrigerator for up 5 days.
To freeze pork, place leftovers in a ziploc bag and then in a bag again to prevent freezer burn. This will keep fresh in the freezer for up to 3 months. Be sure to date your bag before storing.
Allow pork to thaw in the refrigerator overnight before reheating with your preferred method. It reheats wonderfully in the microwave, oven or stovetop.
More Taco Topping Ideas
Green Onions and Sesame Seeds — I've added these toppings in the tacos pictures. They are not necessary but add just a bit of flavor and lots of beautiful color.
Sesame Mayonnaise — I mixed up sesame mayonnaise for these Korean BBQ Sliders and it would taste great drizzled on top of these tacos as well.
Pickled Red Onions — I make pickled red onions and use them of just about everything. They're seriously so amazing. Slightly sweet with lots of vinegar-y tang. I love this super simple recipe from Gimme Some Oven.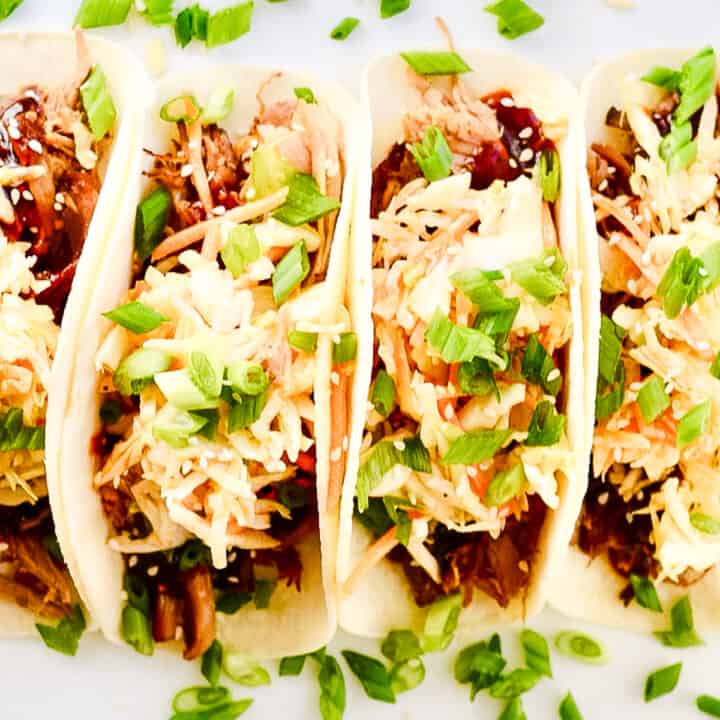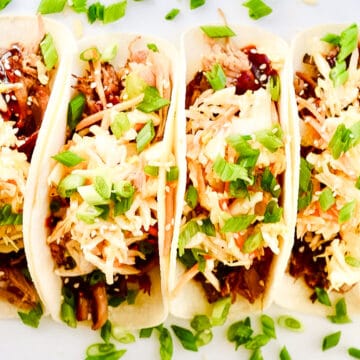 Korean BBQ Tacos with Quick Kimchi
Make elements ahead for an easy weeknight meal! I like to cook the pork overnight and shred in the morning so it's ready to go at dinner time.
Print
Pin
Rate
Ingredients
For the Pulled Pork
2-3

pounds

pork shoulder/butt

½

cup

reduced sodium soy sauce

½

cup

water

1

teaspoon

sesame oil

1

tablespoon

rice vinegar

3

cloves

garlic

-

minced

½

teaspoon

ground ginger

½

teaspoon

pepper
For the Korean BBQ Sauce
¼

cup

low sodium soy sauce

¼

cup

water

¼

cup

brown sugar

1

garlic clove

-

minced

1

tablespoon

rice vinegar

1

teaspoon

sesame oil

½

teaspoon

ground ginger

¼

teaspoon

pepper

2

teaspoons

chili paste such as Sambal Oelek

-

more or less to taste

1

tablespoon

cornstarch

2

tablespoons

water
For the Quick Kimchi
6

cups

shredded cabbage

-

16 oz bag of store-bought works great!

3

tablespoons

canola oil

6

tablespoons

rice vinegar

2

teaspoons

chili paste such as Sambal Oelek

-

more or less to taste

½

teaspoon

ground ginger

-

fresh or powdered

3

tablespoons

granulated sugar

1 ½

teaspoons

sesame oil

½

teaspoon

each salt & pepper

-

more to taste
For Serving
1

package

corn tortillas

1

cup

Mexican shredded cheese

-

store bought

½

cup

diced green onions

-

green part only

sesame seeds to sprinkle on top
Instructions
For the Pulled Pork
Place the pork butt/shoulder in a slow cooker. In a separate bowl stir together the remaining ingredients. Pour over pork, cover and cook for 8 hours on low or 4 hours on high—until it falls off the bone. 

Once meat is cooked through and falls apart easily, shred with a fork and discard bones. Return meat to slow cooker to soak up the sauce. 

Turn broiler on to high and let heat for a few minutes. On a dark baking sheet, lay out a single layer of shredded pork, draining some of the sauce when you transfer to the cooking sheet.

Place on the top rack of the oven and let meat get some slightly crisp areas. This takes about 5-10 minutes, stirring once. Check it often so you don't burn it. This step adds flavor intensity and texture variation.

Once meat has been broiled, transfer to a bowl to store for later or serve now. 
For the BBQ Sauce
Add all ingredients, except for 2 tablespoon water and cornstarch, to a skillet over medium heat. Bring to a boil. In a separate bowl, combine water and cornstarch until cornstarch is completely dissolved. Add cornstarch mixture to sauce and continue to boil until sauce thickens (about 2 minutes). Remove from heat and set aside to serve. (If you like sauce, then double this recipe, it's amazing and you'll want a lot of it!)
For the Quick Kimchi
Place cabbage in a large bowl. Set aside. In a small bowl, combine the rest of the ingredients. Pour over cabbage and mix well. Set aside for serving right away, or store in an airtight container until ready.
Assemble
Wrap corn tortillas in a wet paper towel and place on a microwave-safe dish. Microwave on high for 2 minutes or until tortillas are very hot. This step helps your tortillas stay together while you're eating!

Add meat, sauce, cheese and kimchi to each taco. Top with green onions and sesame seeds. ENJOY!
Notes
I make all of these elements ahead of time and then toss the meat with some sauce in a skillet to heat before serving. But you can also just drizzle the sauce on top.
Nutrition
Calories:
249
kcal
|
Carbohydrates:
23
g
|
Protein:
14
g
|
Fat:
11
g
|
Saturated Fat:
3
g
|
Trans Fat:
1
g
|
Cholesterol:
40
mg
|
Sodium:
651
mg
|
Potassium:
319
mg
|
Fiber:
3
g
|
Sugar:
9
g
|
Vitamin A:
103
IU
|
Vitamin C:
14
mg
|
Calcium:
112
mg
|
Iron:
2
mg