I'm not saying that making these Korean BBQ Sliders will make you a better person, but they totally will. Your friends will certainly like you more. I'm preparing these little beauties for our Superbowl party this year. Because whenever there's a game on in my house (which is pretty often), I deserve a real treat.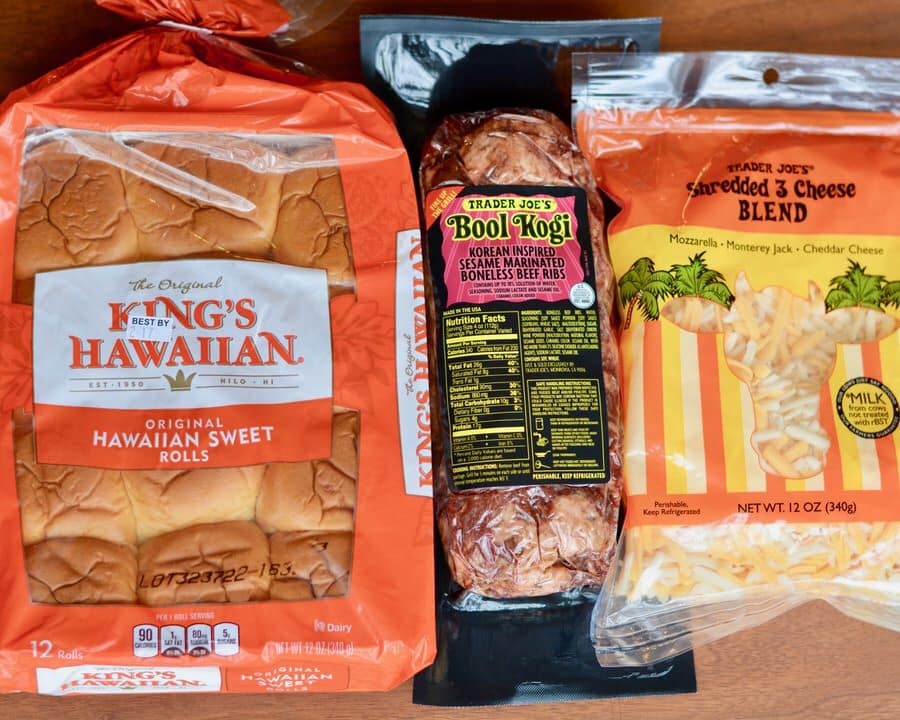 Sign up for our FREE 7 Day Simple Meal Plan!
Kogi BBQ Truck is my inspiration
These sliders were born out of our Kogi BBQ withdrawal since we moved to Denver. If you don't know Kogi BBQ, it's because you don't live in the Los Angeles area. My chef crush, Roy Choi, created the most heavenly Korean/Mexican fusion food and regularly brings it to my neighborhood in a truck! I will always love him for that. This recipe was inspired by our favorite Kogi short rib sliders. The mix of the sweet roll, sesame mayonnaise and slightly spicy meat is just heavenly.

When we first started eating from the Kogi truck, we would wait in line for over 2 hours and then wait another 30 minutes for our food! We were young and didn't have kids, or anything else to do apparently. Truth be told, I would still wait in that line for their food. Luckily, lines are rarely over 10 minutes now.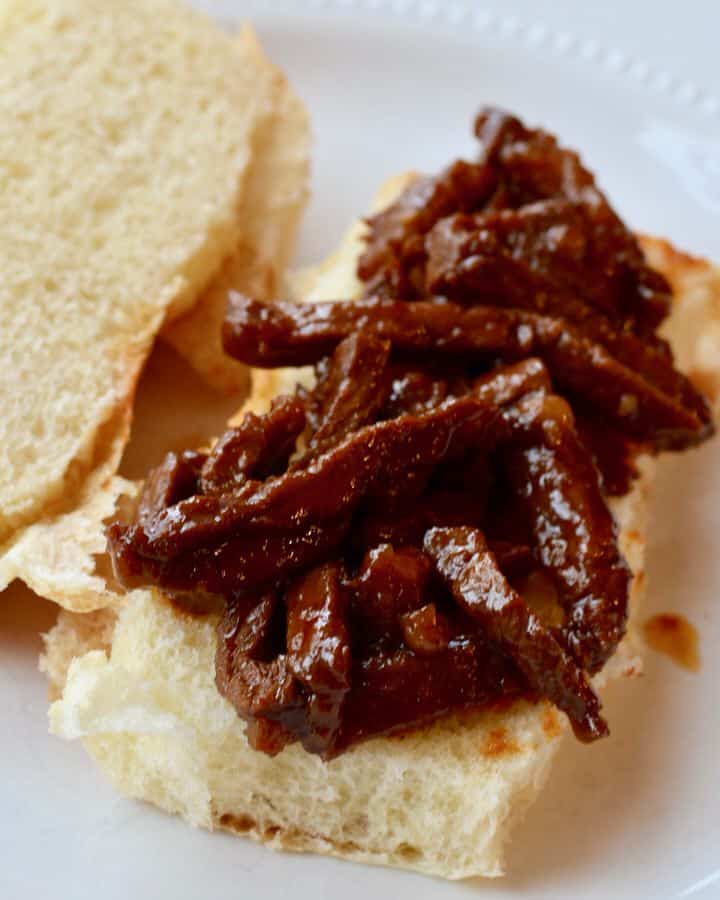 Korean BBQ Sliders are a Make Ahead Friendly Recipe
Ok, enough about food trucks, let's talk about this Korean BBQ Sliders recipe. My favorite thing about this recipe is that you can make all of the elements ahead of time and then assemble and heat up when you're ready to serve! Since they're little, they make perfect Game Day snacks or a heavy appetizer. Although, I often turn them into dinner for just me and the hubs.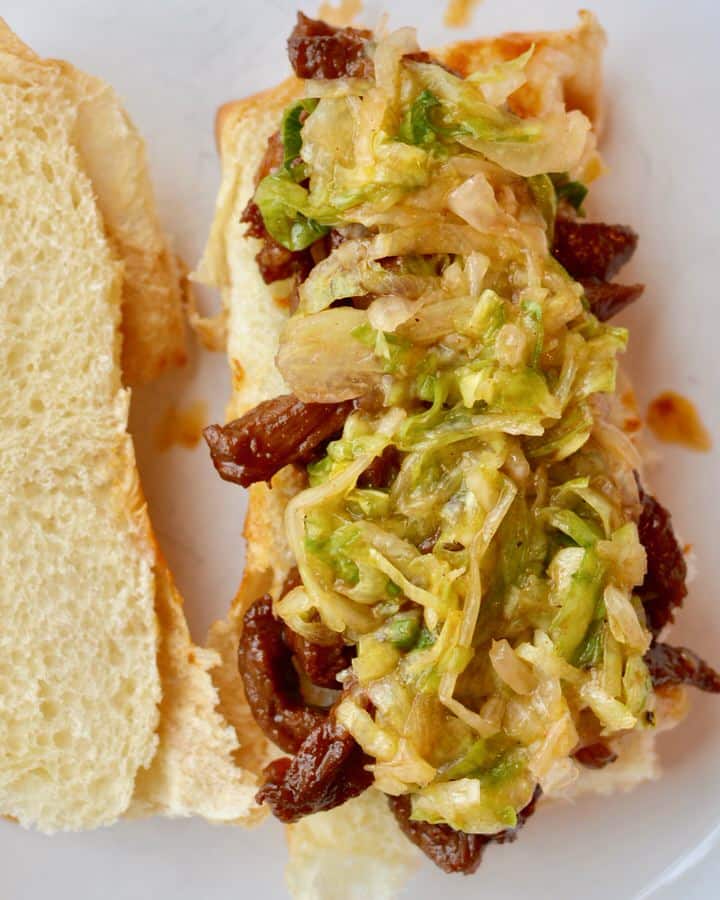 Easy Make Ahead Kimchi
Please don't be afraid of the "kimchi" on these little guys. I have completely Americanized it, and it's ready much quicker than traditional kimchi. Although, if you've got the time and energy to make kimchi from scratch, then please do! It's amazing stuff.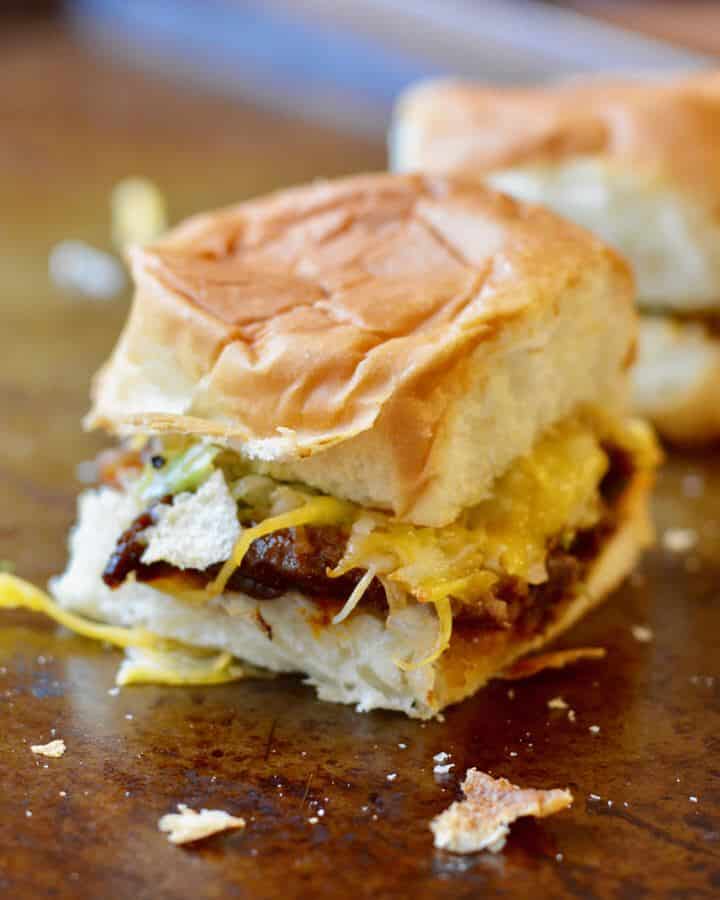 Gochu Jang or Sambal Oelek
Creating this recipe is what made me discover everyone's new secret spice, Gochu Jang. It really encompasses all the Korean flavor in one awesome paste. It doesn't take much of this added to the kimchi and the meat to give it that really authentic flavor, but with much less work. I found this cute little box of Gochu Jang in the "asian" aisle at my grocery store.
Since writing this, it's become harder to find regular paste and instead they're selling gochu jang ketchup (not great). I've found Sambal Oelek and it's a great substitute.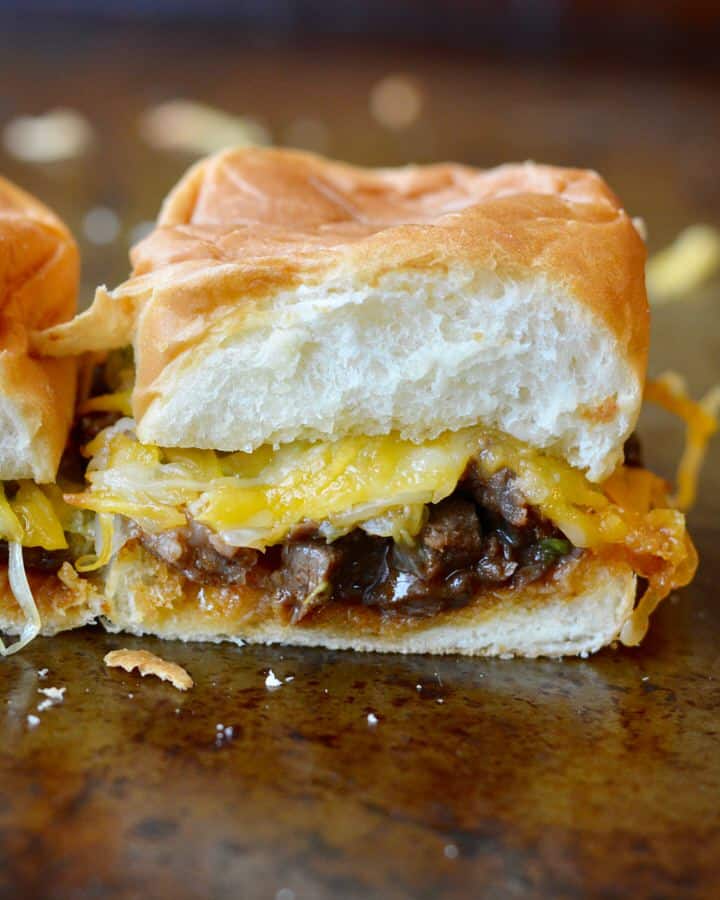 Look at these little Korean BBQ Slider buddies! Aren't they adorable? When you order sliders from the Kogi truck, they're served in pairs, which I think is the perfect amount (even though I usually get a few tacos and a quesadilla too, don't judge).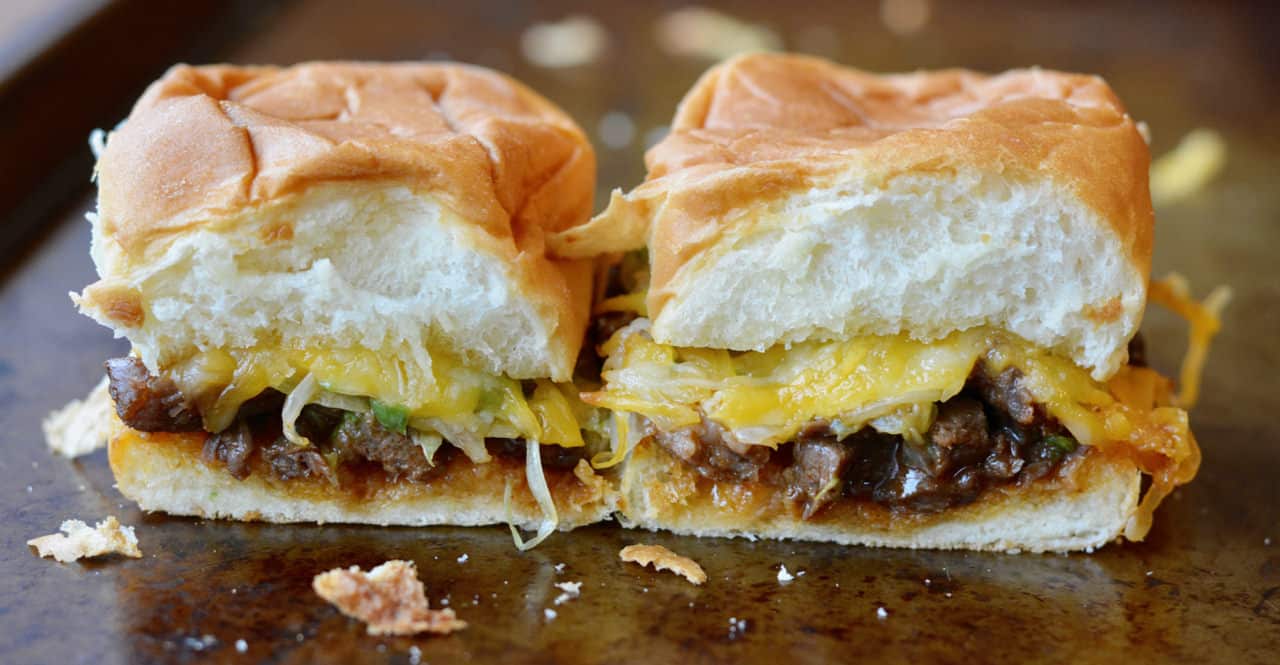 Love these Korean BBQ Sliders? Try these other amazing Asian recipes!
If you decide to give this recipe a try, be sure to snap a photo to share, tagging @theovenlight and #theovenlight on Instagram or Facebook!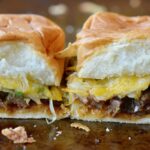 Print Recipe
Korean BBQ Sliders
Do your friends and family a favor and bring these babies to the next gathering. You'll be covered in kisses of appreciation!
Ingredients
1

package (1.5 lbs)

Bool Kogi Boneless Beef Ribs

From Trader Joe's or similar from your store

18

Hawaiian rolls

or stretch it to 24 so you can use 2 packs

1

small bag

Shredded Mexican cheese blend
Korean BBQ Sauce
2

Tbsp

Gochu Jang

3

Tbsp

Sugar

2

Tbsp

Soy sauce

1

tsp

Rice wine vinegar

2

tsp

Sesame Oil
Kimchi
2

C

Shredded green cabbage

I used a bag of store-bought

1

Tbsp

Olive Oil

2

Tbsp

Rice wine vinegar

1

tsp

Gochu Jang

1/8

tsp

Ginger

Powdered is fine

1

Tbsp

Sugar

1/2

tsp

Sesame oil

Salt and Pepper to taste
Sesame Mayonnaise
1/2

C

Mayonnaise

regular works best

3/4

tsp

Sesame oil
Instructions
Combine all the ingredients of the BBQ sauce. Set aside.

Combine "kimchi" ingredients and toss cabbage well. Set aside.

Combine sesame oil and mayonnaise and stir well. Set aside.

If you buy the Trader Joe's beef ribs, they'll be in large, thin pieces. Spread them out in a pan over medium heat and cook through, turning once or twice for even cooking.

Once cooked, remove and slice into long, thin pieces, and place pieces back in pan to soak up juices.

Now add about 1/2 of the BBQ sauce to the pan and simmer for 2-3 minutes until sauce is incorporated. Taste. If you want more heat, add more of the BBQ sauce.
Assembly
Preheat oven to 350 degrees F.

Once your elements are prepared, slice all the Hawaiian rolls in half.

Generously spread mayo on both sids of buns.

Place meat on bottom part of buns. Spread evenly between 18-24 sliders. Be generous with the pan sauce, it's ok if the buns get a little soggy.

Spread kimchi evenly on top of meat.

Sprinkle cheese liberally on top of kimchi.

Place bottoms of buns (with meat, kimchi and cheese) on a sheet pan and put on top rack in oven.

Only leave in oven until cheese is melted. About 3-5 minutes.

Remove sliders from oven and put their tops on. Slice as desired and serve! YUM!!
Notes
The Korean BBQ sauce would be delicious used with shredded chicken or really any kind of meat that you fancy.