Making this Blueberry Muffin Cake is quick and simple! Soft and fluffy with just a hint of orange and bursting with blueberries, this cake is perfect for spring or summer. I love it with coffee in the evening and the kids love it with some orange juice in the morning. It'll become one of your go-to recipes, trust me!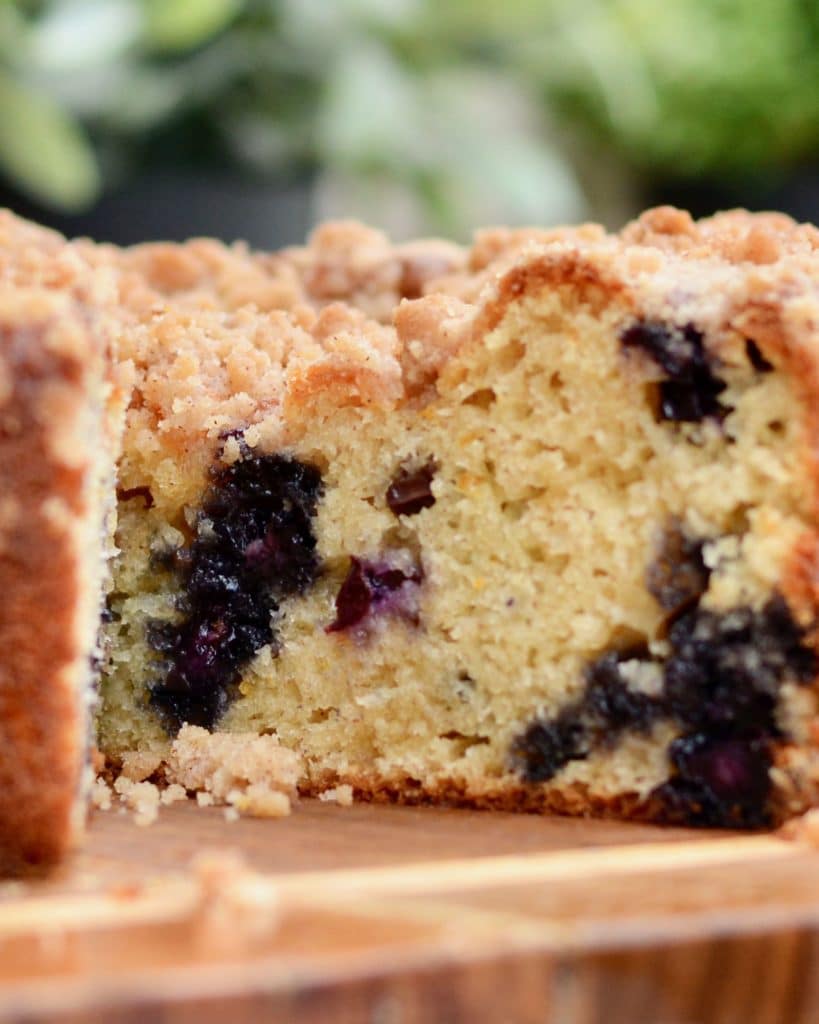 Blueberry Muffin Cake makes an amazing dessert or breakfast!
The best part of this Blueberry Muffin Cake recipe is that it can be enjoyed after dinner with a cup of decaf, or in the morning with a fully-charged mug of hot coffee. I love that. I often serve this at the church group that meets at my house. Since adults and kids love it, and it's big enough to feed everyone.
Muffin cake variations
Don't have a spring form pan? No problem. Just make it in a 9x13 baking dish and reduce time by 10-15 minutes, making sure to check the center for doneness. It should spring back when touched, and a toothpick should come out clean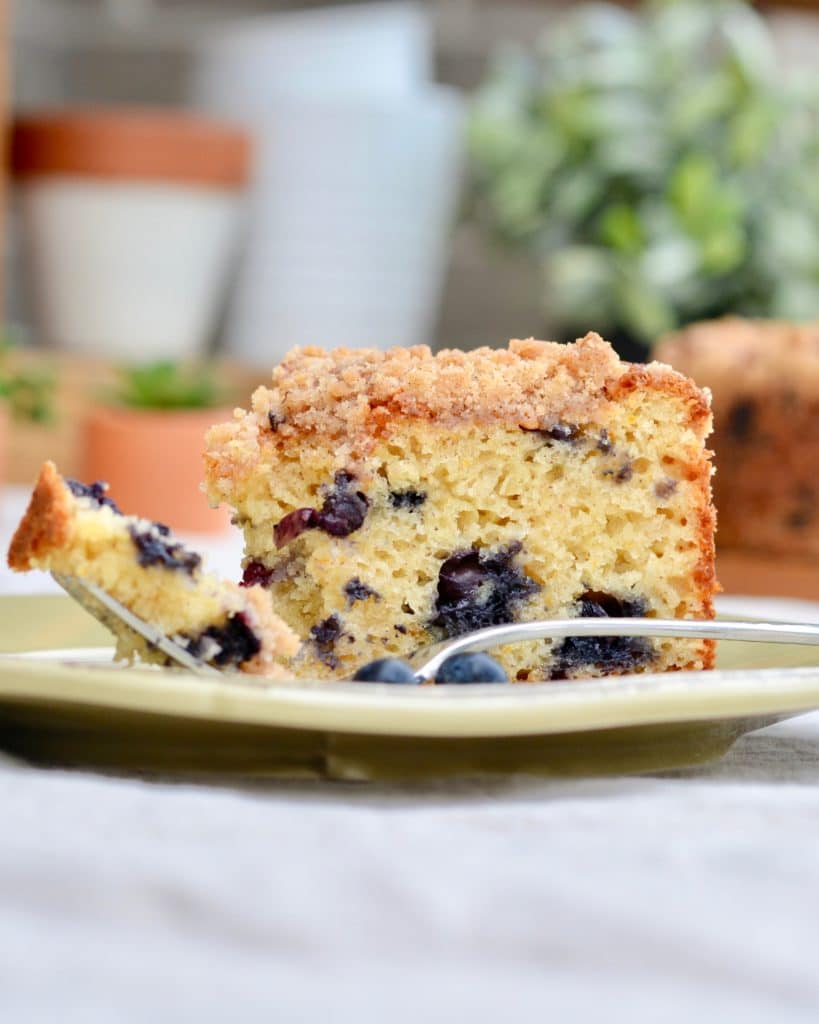 Blueberries not in season? Try replacing blueberries with raspberries or gently chopped strawberries. Or, you can always use frozen berries, too!
Need a muffin cake that's gluten free? My favorite (and easiest) way to make any recipe gluten free is to replace all-purpose flour with King Arthur Flour Measure for Measure. Read here about why this is my gluten free flour blend of choice.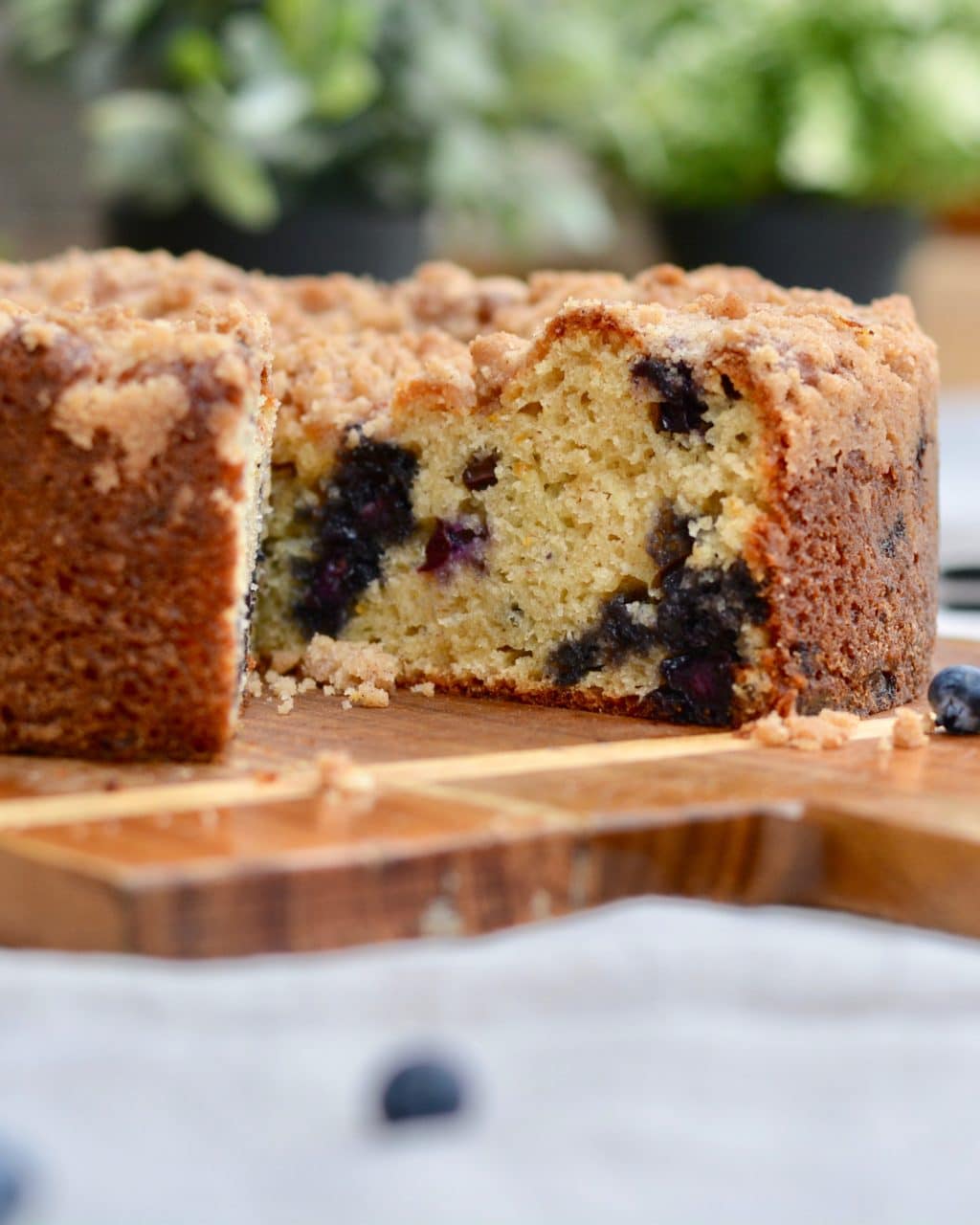 How to make Blueberry Muffin Cake
Why use both baking powder & baking soda
This recipe is full of moisture, which is what gives it great texture. But whenever a recipe calls for lots of heavy moisture (like yogurt and eggs) you need to make sure you're giving it enough "lift". That's where the baking powder and baking soda comes in. Double-acting baking powder will react and create gas bubbles twice: once when added to liquid, and again when exposed to heat. The baking soda will react once: when exposed to heat.
The combination in this recipe creates the perfect balance of lift to give your blueberry muffin cake plenty of lift without tasting your rising agents.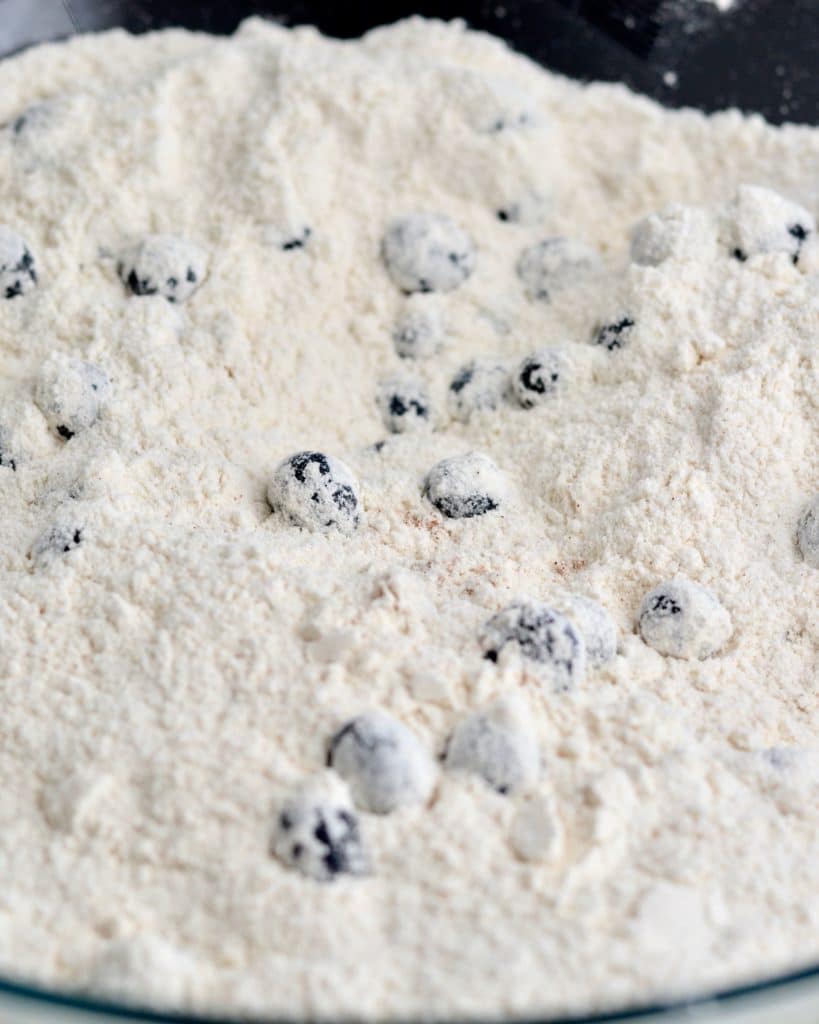 Always toss your blueberries in flour first
Whenever you're baking a cake with pieces of fruit, you'll always want to coat your fruit in flour first. Doing this will keep your fruit from sinking to the bottom. The flour helps to "float" the blueberries in this recipe so they're evenly distributed!
Never overmix your muffin batter
I am often confused that certain recipes call for very gentle mixing (muffins and sweet breads) and others call for mixing for a long time (crusty breads and light cakes). For this recipe, you want to very gently "fold" the dry ingredients into your wet ingredients until just barely combined and no streaks of flour are visible. This helps to avoid crushing the air bubbles and ruining the fluffy texture.
A Crumb topping makes everything better
I like to add a crumb to all my muffin and cake recipes! It immediately elevates a recipe to the next level. And the add-ins are endless: pecans, cinnamon, brown sugar, orange zest, you get the idea. I made this recipe a few times before settling on this amount of crumb topping. I basically doubled it and then doubled it again! If you make your crumb topping before you make the cake, throw it in the fridge until ready to use. This will keep the butter cold and will give you a "crumbier" texture and keep the butter from melting right into the top of the cake.
Why I use a spring form pan
I know a spring form might feel like an unnecessary space hog in your kitchen cupboards, but I love the different option it gives me when making cakes. And my favorite part is the crusty texture I get on this Blueberry Muffin Cake all the way around the outside. So every piece gets great texture variation. This is the Spring Form Pan I love to use!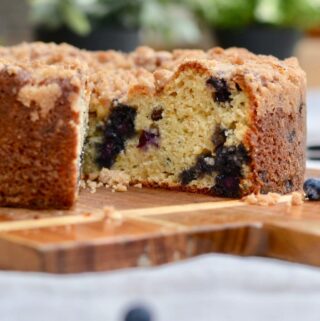 Blueberry Muffin Cake
Completely delicious cake for breakfast or dessert!
Print
Pin
Rate
Ingredients
Cake
2

C

flour

1

tablespoon

baking powder

½

teaspoon

baking soda

½

teaspoon

salt

½

teaspoon

cinnamon

1

C

sugar

1

C

fresh or frozen blueberries

2

large

eggs

⅓

C

orange juice

¼

C

butter

melted and cooled

8

oz

plain greek yogurt

1

teaspoon

orange peel
Crumb Topping
½

C

flour

½

C

sugar

1

teaspoon

cinnamon

6

tablespoon

butter
Instructions
In a small bowl, combine all crumb topping ingredients, except butter; mix well. Cut in butter until mixture resembles coarse crumbs. Put in fridge to stay cool until ready to use.

Heat oven to 375°F. Grease and flour 10 inch springform pan or 9"x13" baking dish; set aside.

In a large bowl, combine flour, sugar, baking powder, baking soda, salt and cinnamon; mix well. Stir in blueberries.

Beat eggs in a medium bowl. Stir in orange juice, melted butter, yogurt and orange peel.

Add wet to dry ingredients and stir just until dry ingredients are moistened. Spoon batter into greased spring form pan (or 9x13 baking dish); sprinkle with crumb topping.

Bake at 375°F for 35-40 minutes or until toothpick inserted in center comes out clean. Cool 10 minutes; remove sides of pan (if using springform). Serve warm or cooled.
Notes
I use this as a lighter dessert option for company, and then eat leftovers for breakfast the next morning!