Sweet buttermilk muffins lightly topped with sugar and filled with raspberry preserves will have you reaching for seconds (and thirds—no judgment). After practicing this recipe over the past couple weeks, I've adjusted and tweaked over and over until they have finally reached muffin perfection. These little muffins actually remind me of a filled baked donut.
This post has been updated in July 2022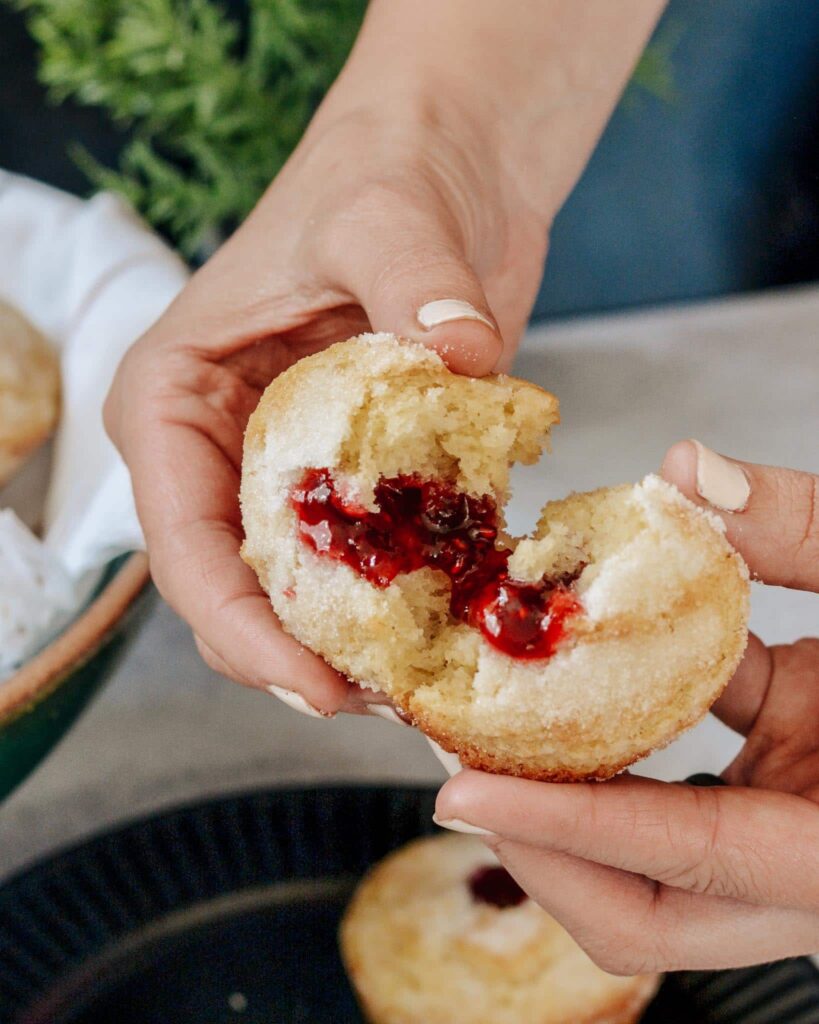 This is a Great One Bowl Muffin Recipe
I love that this recipe uses only one bowl and one spoon (I prefer wooden)! Grab a 12 cup muffin pan and lightly grease with non-stick spray. Only a bowl, a spoon and the muffin pan to clean up. Easy! This recipe makes exactly 12 muffins, which I also love.
Ingredients for Awesome Gluten Free Buttermilk Muffins
Gluten Free Flour Blend - Since I am gluten intolerant, I have to bake everything with gluten free flour. (Yes, I'm a little sad every day.) Thankfully, King Arthur Flour makes my absolute favorite blend of GF flour (you can read about WHY it's my favorite here), and predictably it works great in this recipe! In fact, my flavor-discerning husband couldn't even tell!

Buttermilk - The addition of buttermilk is what makes these muffins so tender and yet lends enough structure to hold the jam. It also adds moisture without the fat (as opposed to butter).

Nutmeg - This delicious spice packs a lot of flavor in such a tiny amount, and it is a great complement to a basic vanilla flavor.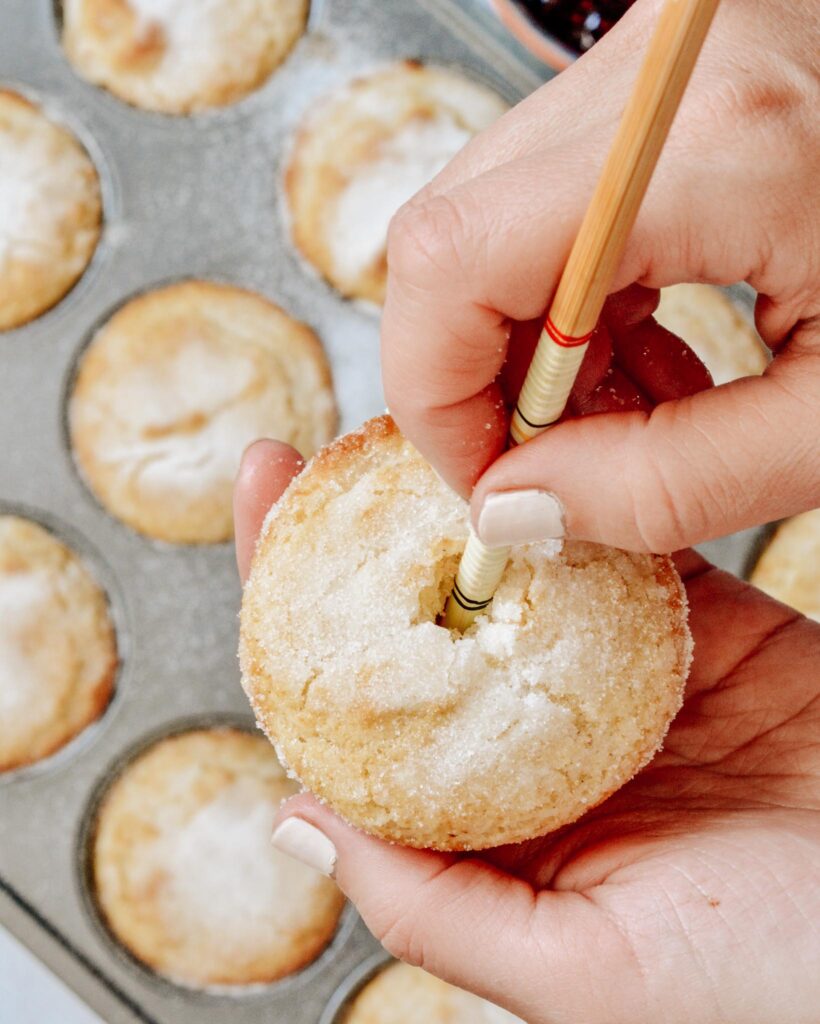 Tell me all about these buttermilk raspberry muffins
Texture - These muffins are tender and sweet, kind of between a biscuit and a muffin in texture and flavor.

Flavor - Lightly sweetened, but feel free to add extra (extra!) sugar on top to add more sweetness. Fill with your favorite jam (or cream or Nutella) to make it your own! The nutmeg lends just the perfect touch of spice and depth of flavor.

Difficulty - These muffins fall between easy and moderate, only because they need to be poked with a chopstick and filled with jam. It's a simple step, but adds a bit more than a basic muffin. See pictures for a visualization of this step.

Time - Mixing up the batter for these muffins requires one bowl, one spoon and just a few minutes. It's a simple "combine dry, add wet" situation. My favorite. Bake time was exactly 15 minutes for my oven every time. But every oven is different and it may take up to 18 minutes.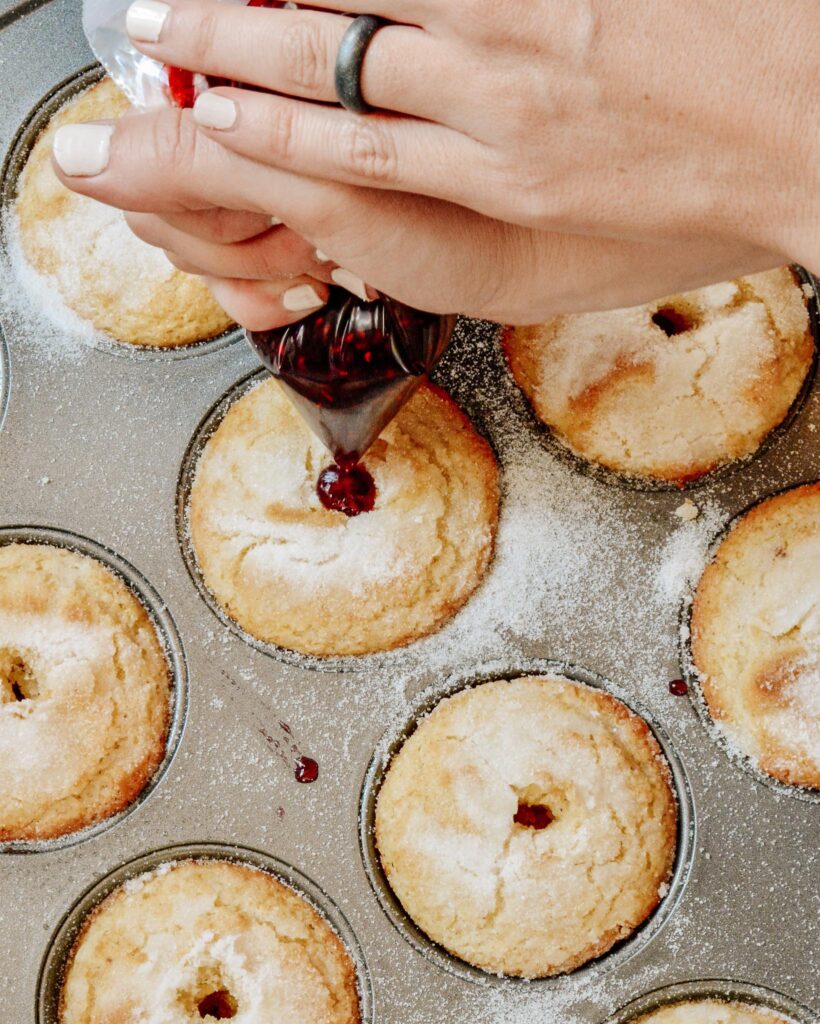 Can I adjust this recipe for dietary restrictions?
Sure thing! See below for recipe adjustment suggestions.
To Make Dairy free Muffins
The only dairy in this recipe comes from buttermilk. You can substitute a vegan sour cream, yogurt or a mixture of 1 teaspoon lemon juice with ¾ cup plant-based milk, such as oat milk. Sometimes there is dairy in gluten free flour blends, so if you need to keep it completely dairy free, be sure to grab one like King Arthur Measure for Measure with no dairy.
To Make Vegan Muffins
Substituting the egg (and dairy, above) is really simple! I love the chart on this recipe with all the substitution options. My favorite is the flax egg. It's healthy and has a texture really close to an egg. Be sure to grab vegan white sugar too.
To Make Sugar Free Muffins
If you want to lower or completely remove the sugar in this recipe, try substituting with monk fruit granulated sweetener or a brand like Swerve. I also love baking with coconut sugar. Each of these substitutes can be added cup for cup from the old recipe. These all add a lot of sweetness, but are not a refined sugar.
How to store gluten free muffins
Storing muffins can always be a challenge because of their shape. I've found that the best way to store these muffins is in a large ziploc bag lined with a paper towel. The paper towel will soak up the excess moisture and keep the muffins from getting sticky and staying fresh longer. They will keep for up to one week at room temperature when stored this way.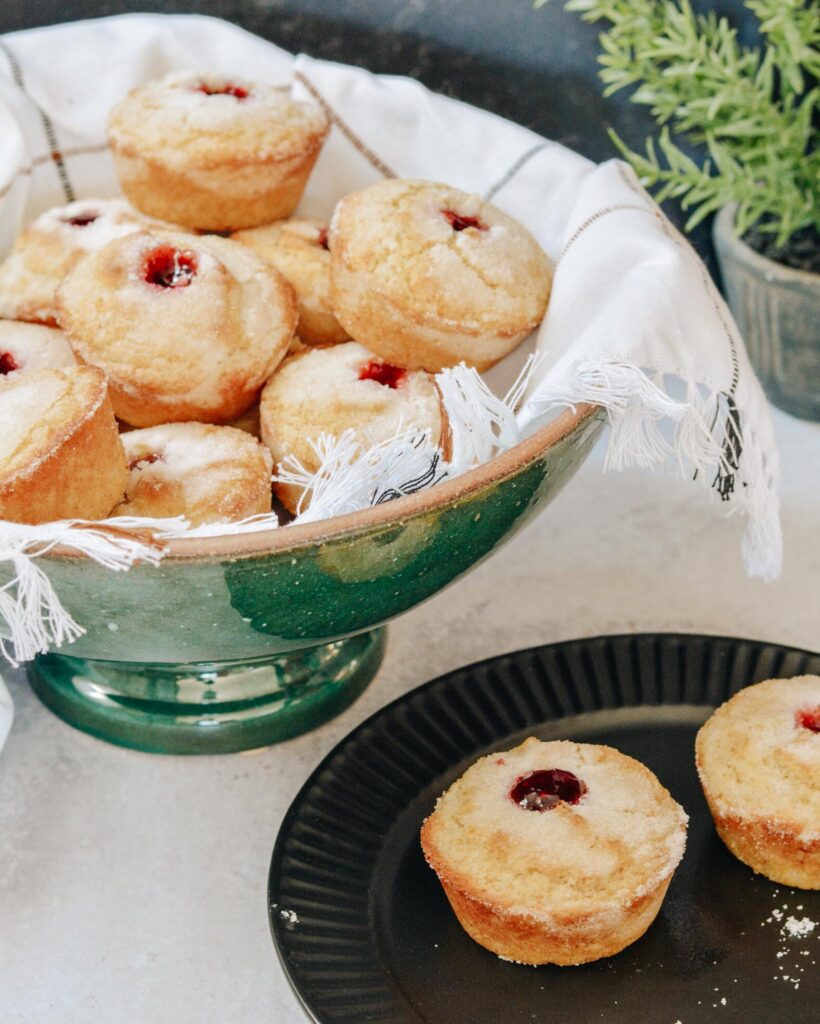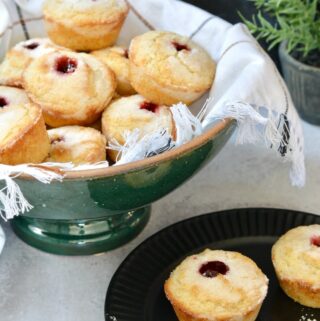 Buttermilk Raspberry Muffins
Sweet buttermilk muffins filled with jam and topped with sugar for the perfect donut muffin mash-up!
Print
Pin
Rate
Ingredients
1 ½

C

gluten free flour blend

-

or all-purpose flour (for a gluten-FULL version)

2

teaspoon

baking powder

¼

teaspoon

salt

¼

teaspoon

nutmeg

¾

C

granulated white sugar

1

egg

-

room temperature

¾

C

buttermilk

-

or homemade buttermilk substitute

1

teaspoon

vanilla extract

½

C

canola oil
Top and Fill
½

C

granulated white sugar

¼

C

raspberry jam

-

or your favorite jam
Instructions
Preheat oven to 375°F. Grease a muffin tin and set aside.

In a large bowl combine flour, baking powder, salt, nutmeg and sugar.

Make a well in the center of the dry ingredients, and add egg, buttermilk, vanilla and oil.

Gently combine until no more flour streaks remain.

Fill each muffin tin about ¾ full, using all the batter.

Top with a spoonful of granulated white sugar.

Bake on center rack for 15-16 minutes or until set and the center springs back.

Allow muffins to cool in the tin about 5 minutes. Remove and place on cooling rack.

Using the end of a chopstick or other small kitchen tool, poke a hole in the center of each muffin, making room for the jam.

Place jam in a small zip-top bag and cut a ¼" hole in one lower corner. Fill each muffin center with jam. You can fill as much or as little as you like. If the jam jams up (haha), use the chopstick to gently push the jam down further to make room for more.
Notes
To store these muffin, place in a zip top bag or in an enclosed container. These will keep really well for up to a week at room temperature or two weeks in the refrigerator.  These will not freeze well after filled with jam. If you want to make ahead, freeze before poking a hole and place in a zip-top bag. When ready to eat, allow muffins to come to room temperature or heat in the microwave for 20-30 seconds and then poke the hole and fill with jam.
Nutrition
Calories:
249
kcal
|
Carbohydrates:
38
g
|
Protein:
3
g
|
Fat:
11
g
|
Saturated Fat:
1
g
|
Trans Fat:
1
g
|
Cholesterol:
15
mg
|
Sodium:
143
mg
|
Potassium:
32
mg
|
Fiber:
2
g
|
Sugar:
26
g
|
Vitamin A:
45
IU
|
Vitamin C:
1
mg
|
Calcium:
70
mg
|
Iron:
1
mg