These Orange Chocolate Chip Muffins are lightly sweetened with honey, perfectly moistened with milk and still have a light and sponge-y texture. Also, my kids have really been enjoying me figuring out the perfect combo for these muffins, since I've made them (no joke) 9 times in the past week. I cannot explain it, but I made them 3 times and accidentally left a crucial ingredient out! I'll chalk it up to busyness—clearly not insanity or old age, thank you very much.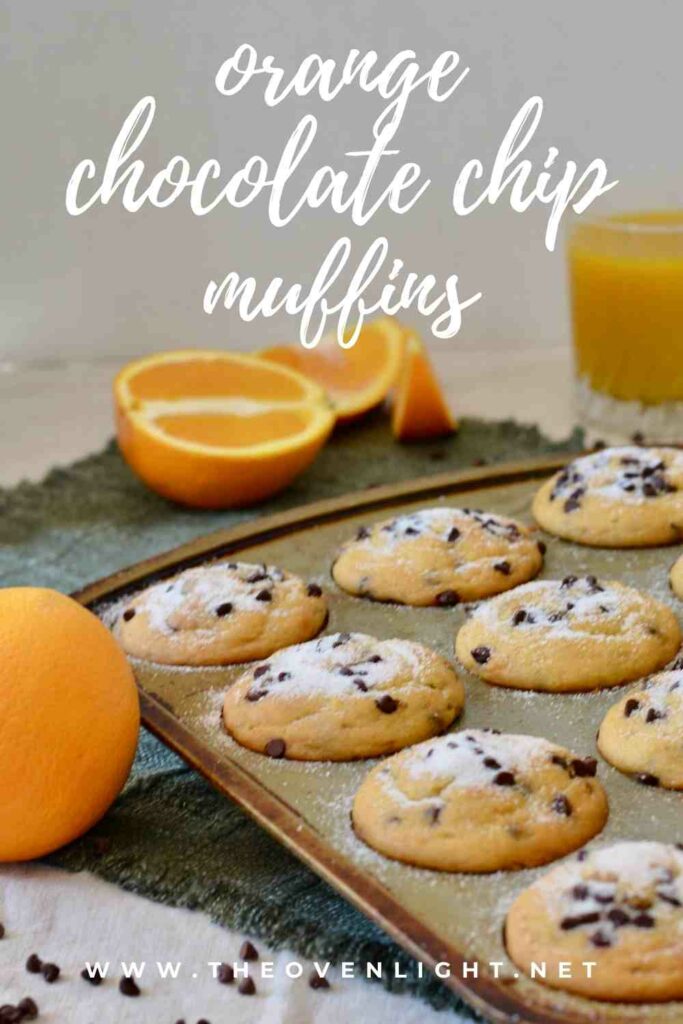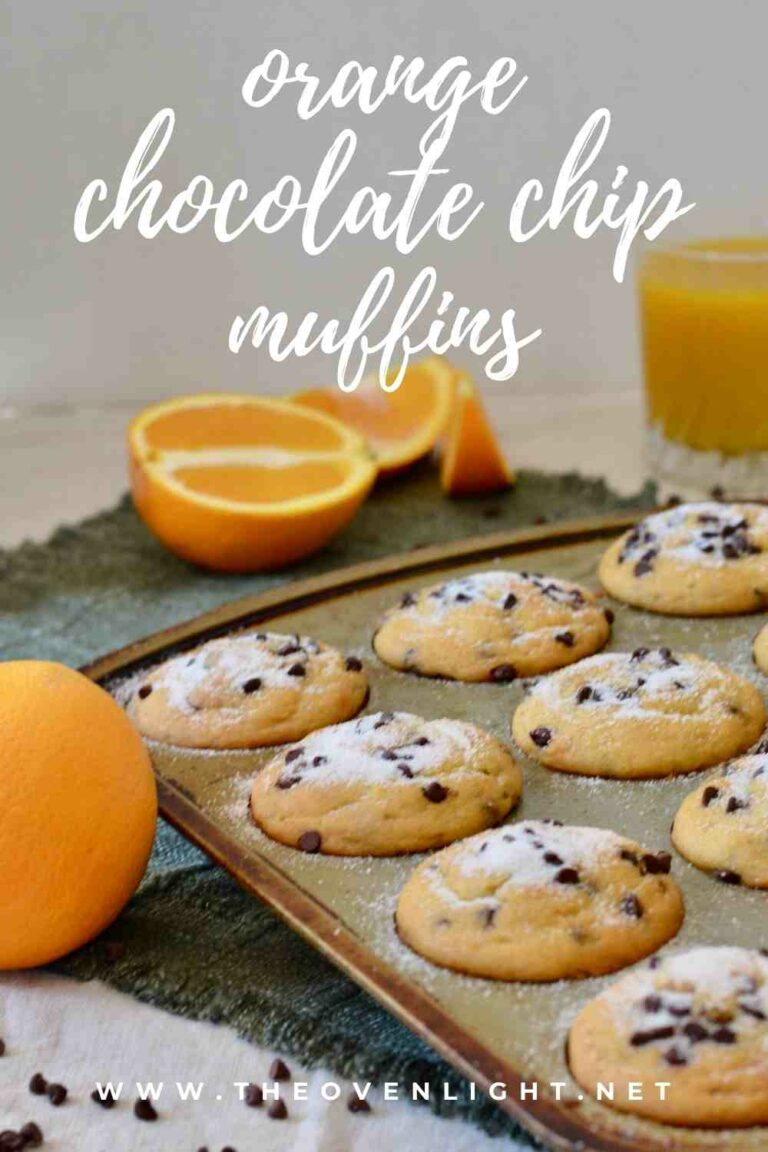 Easy Muffin prep and Clean Up
I love that this recipe uses minimal measuring cups/spoons and only 2 bowls! Grab a 12 cup muffin pan, a large bowl and a medium bowl. You'll need 1 large spoon (I prefer wooden), and 1 whisk (or fork, if you're like me and too lazy to wash your whisk).
Orange Chocolate Chip Muffin Ingredients
Oil - I made this recipe with coconut oil a few times, but the problem is that it is winter and my house is cold. So after a few minutes, my wet mixture would seize and I've have lots fo oil "chunks". Blech. So a quick switch over to canola oil and problem solved. I know, I'm brilliant.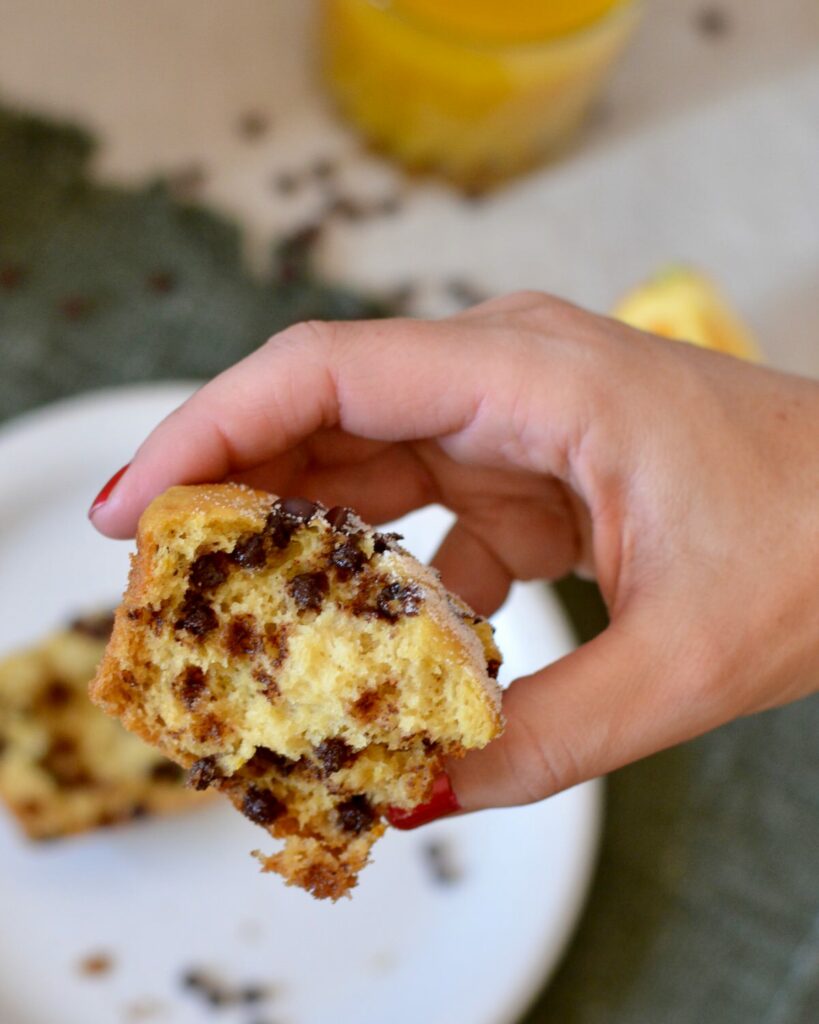 Honey - Honey has become a favorite sweetener of mine for muffins. Just like in our very popular Banana Muffins, all these need is a touch of honey to make them perfectly sweet.
Milk - I made this recipe a couple times before deciding to add milk. It needed that extra bit of moisture and tenderness, and the milk is the perfect addition. I have used both 2% and almond milk—both worked great.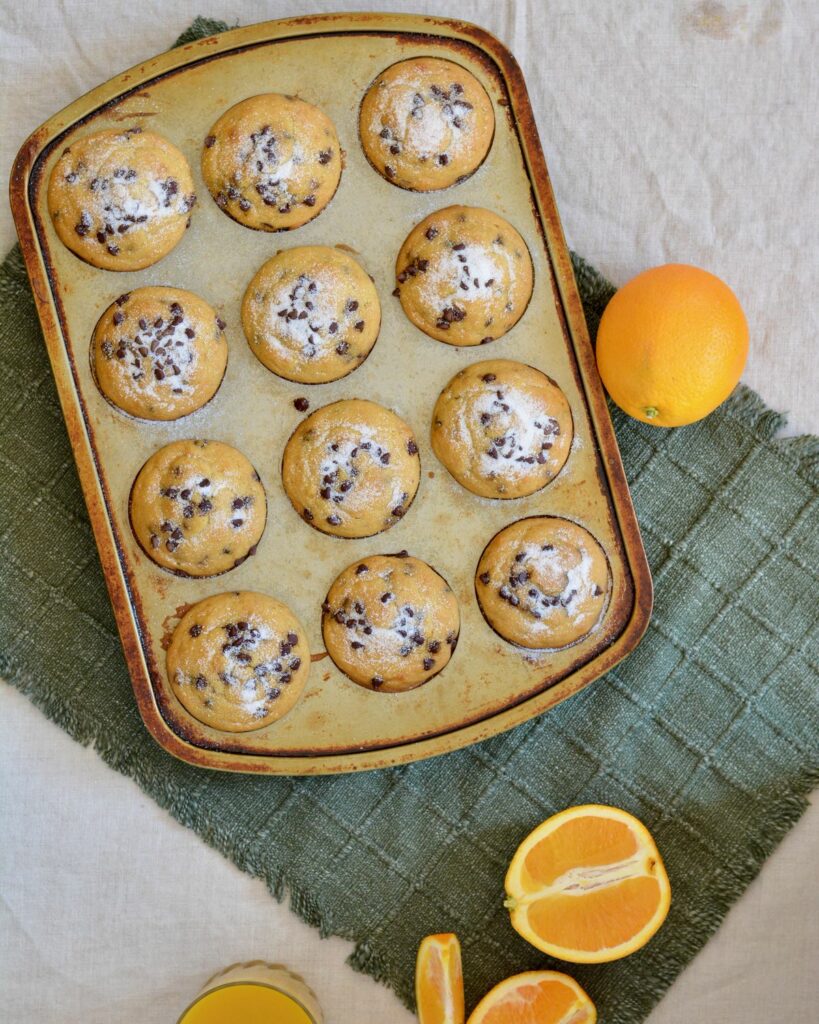 Orange Zest & Juice - The orange flavor in this muffin recipe comes from the zest and the juice of a single orange. Score! Zest lifts the flavor of just about any recipe and also lends some extra orange-yness (it's a word).
Flour - Since I am gluten intolerant, I have to bake everything with gluten free flour. (Yes, I'm a little sad every day.) Thankfully, King Arthur Flour makes my absolute favorite blend of GF flour (you can read about WHY it's my favorite here), and predictably it works great in this recipe! But regular all-purpose flour is wonderful as well.
Nutmeg - I love nutmeg, don't you? It's like cinnamon's super hot older brother. It only takes a little bit to seriously spice up a party, I mean recipe. And it goes perfectly with the citrusy flavor of orange.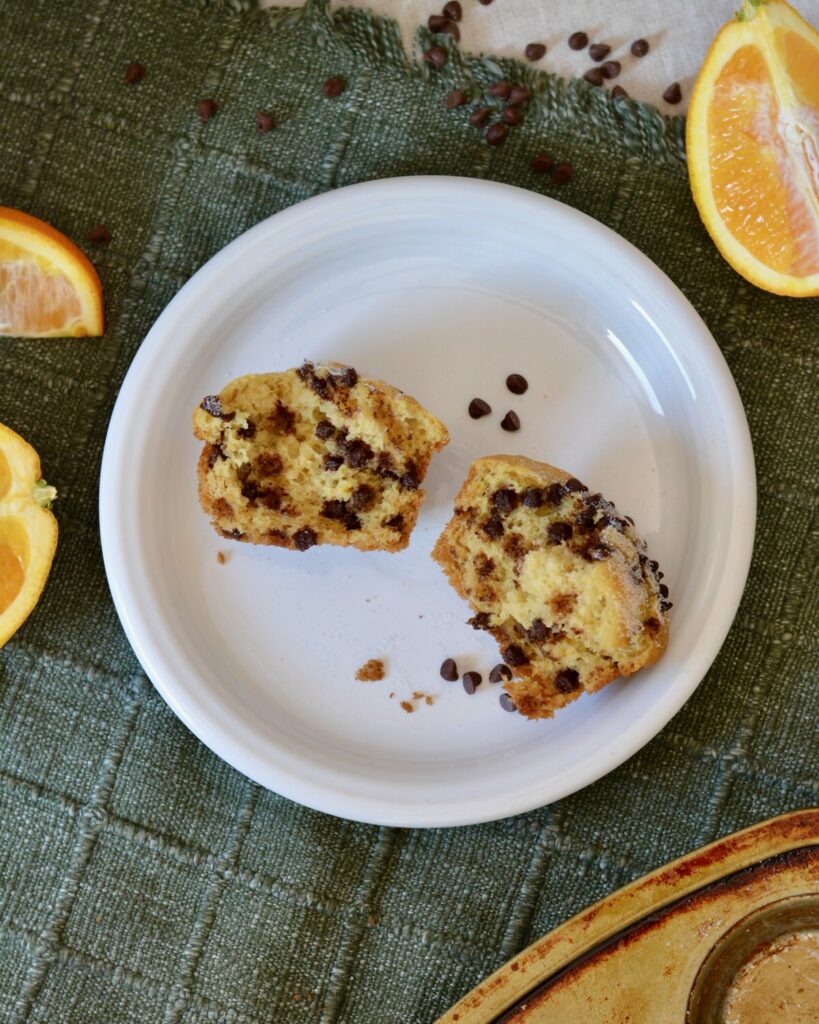 How to make orange chocolate chip muffins (in only 30 minutes!)
FIRST, spray your 12 cup muffin pan with non-stick spray and set aside. Turn up the heat on the oven to 350°F.
Grab a big bowl and combine all your wet ingredients—oil, honey, eggs, orange zest and juice, vanilla extract and the milk of your choice. Give it a nice STIR until well combined.
NEXT, grab your medium bowl and combine the dry ingredients—flour, baking soda, baking powder, salt and nutmeg.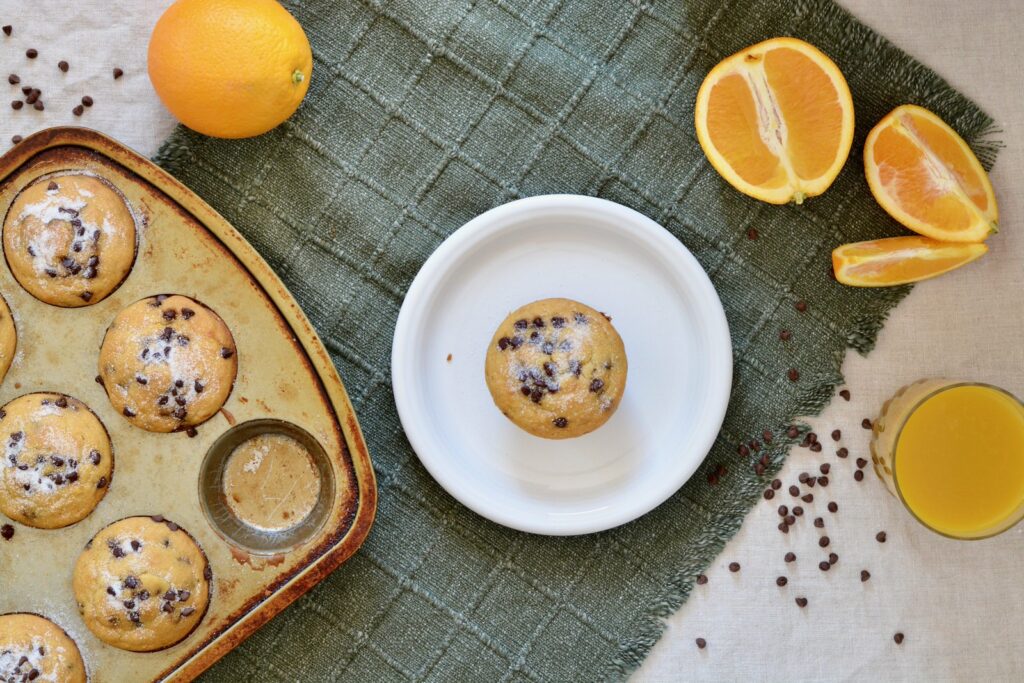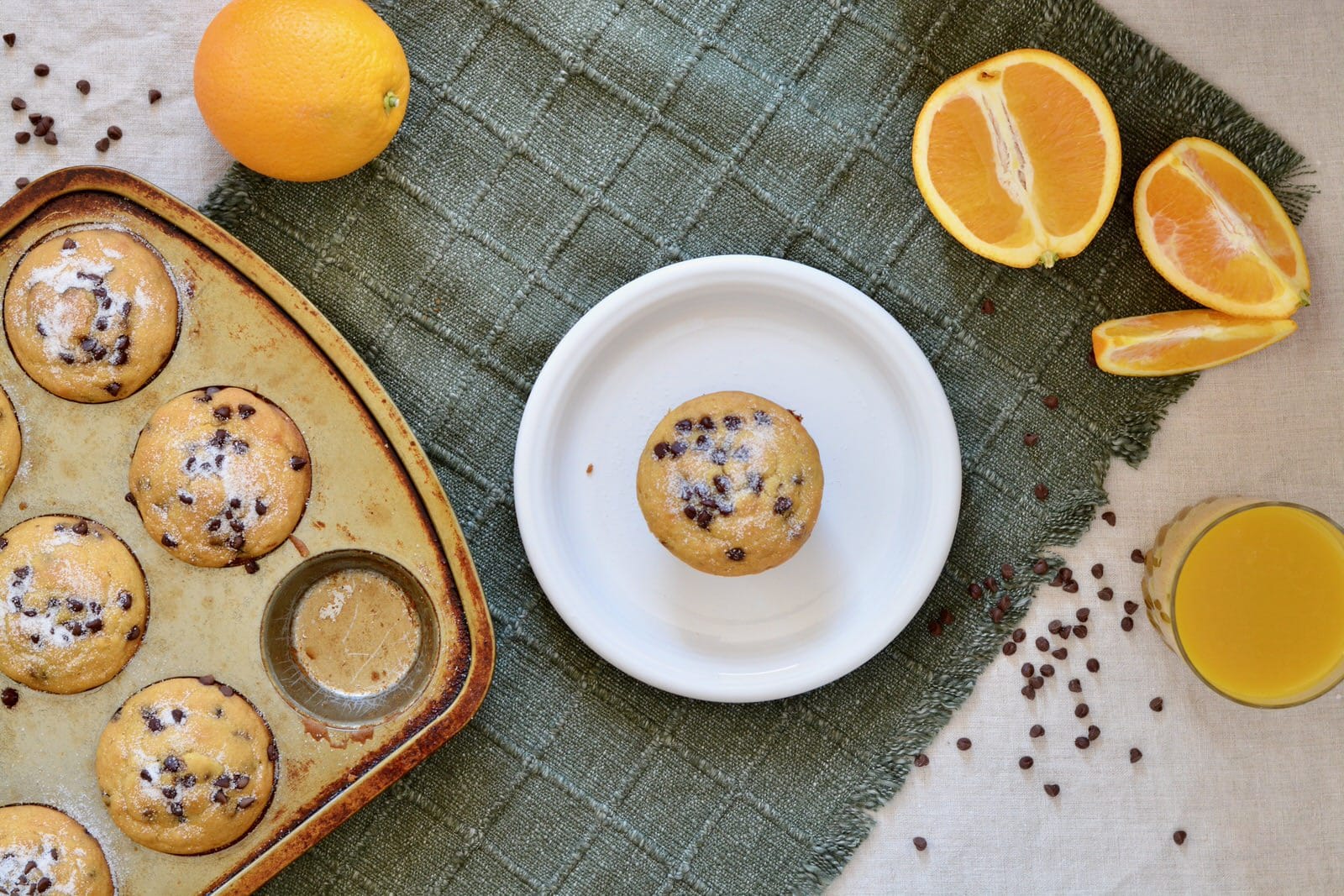 ADD the dry ingredients right on top of the wet and stir gently to combine. Be sure not to over mix, as this will make for tough muffins.
LAST, add the mini chocolate chips and stir gently until evenly distributed. Now your muffin batter is all ready! Wasn't that easy?
I like to use this scoop to keep my muffins even and make for neat and even scooping. Plus, it cuts down on the mess. No more wiping down the middle parts of the muffin pan. Fill each cup to about ¾ full. They'll get nice and tall and give you that little lip over the edge for a little muffin top (just like me in my jeans).
Tips to make perfect muffins every time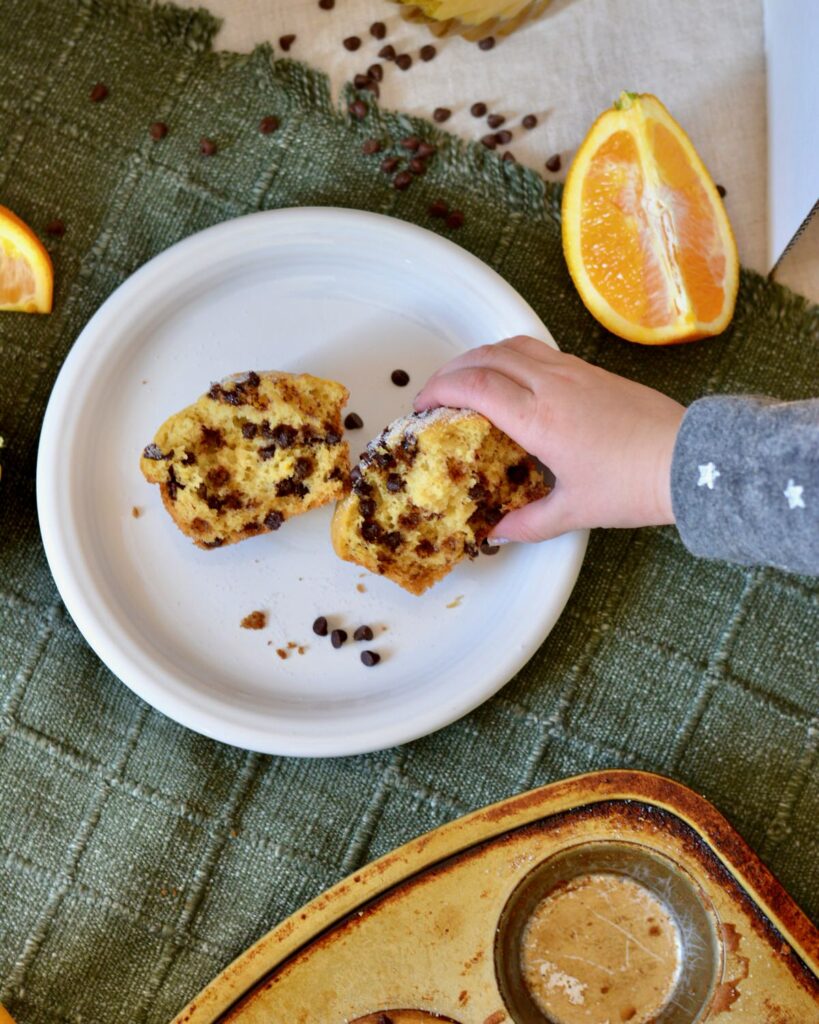 Common Muffin Recipe Substitutions
It's easy to make substitutions with these orange chocolate chip muffins. See below for some great options.
Need to make Dairy Free Muffins?
Simply swap out the 2% milk with your favorite milk substitute, like almond or oat milk. I've made these with almond milk and the muffins came out great!
The trick is finding dairy free mini chocolate chips, which I have been unable to do. So swap out the mini chips for regular sized Guittard semi-sweet (which are naturally dairy free) or any all natural chocolate chip you like. Since they're bigger, I'd increase the quantity to ¾ cup to ensure they are still distributed evenly throughout each muffin.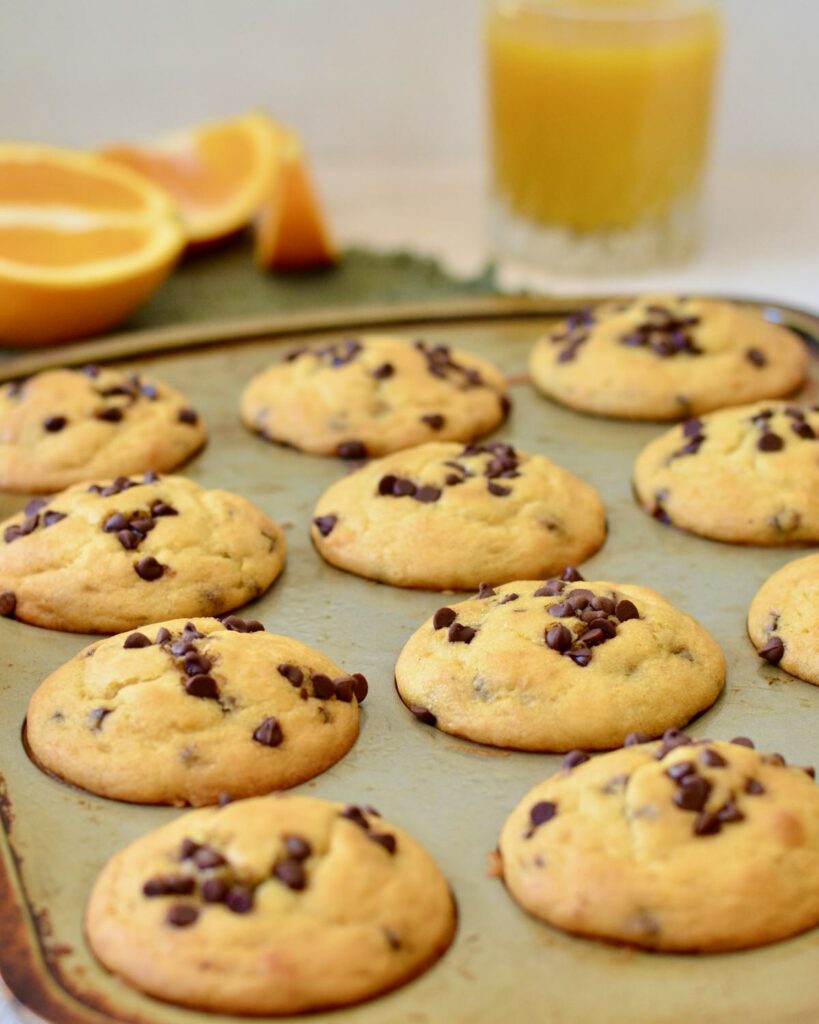 Make these muffins Vegan
Making these vegan is a cinch! Swap out the eggs for my favorite substitute —flax eggs, or any substitute you prefer. See the easy egg swap chart in our Vegan Vanilla Baked Donut recipe.
Also swap out the regular milk for a milk substitute. If you're making these gluten free AND vegan, be sure to use a flour blend that does not include powdered milk. That's another reason I love the King Arthur Flour Measure for Measure—it's dairy free!
To swap out the honey, grab a vegan granulated sugar or agave syrup. Either will still taste great!
And finally, be sure you use dairy free chocolate chips, such as Guittard semi-sweet or an all-natural chocolate chip. Just be sure to read the back for the full list of ingredients.
Can I make these Muffins Sugar Free?
You bet! The only sugar in this recipe is found in the honey and the chocolate chips. The muffins still need some sort of sweetness, but feel free to swap the honey for your favorite sweetener, such as maple syrup, agave nectar, coconut sugar, or granulated monkfruit. The chocolate chips can be substituted for dried cranberries (total YUM), nuts (these would be amazing with pecans) or whatever your favorite sugar-free add-in may be. And obviously skip the extra sprinkle on top if you're avoiding sugar.
The best way to store muffins
Storing muffins can always be a challenge because of their shape. I've found that the best way to store these muffins is on a plate wrapped in foil so they breathe a little bit and don't get sticky. They'll last on the counter for up to 3 days and in the refrigerator for up to a week.
Can I freeze Muffins? Yes, here's how!
To freeze muffins, simply bake, cool completely and the either place them in individual freezer bags or wrap with freezer paper to keep them from sticking to one another. Muffins will last in the freezer for up to three months. To enjoy after freezing, either allow to come to room temperature (about 1 hour), or place in the microwave for 20-30 seconds until warmed through.
Love this orange chocolate chip muffin recipe? Try these other amazing low sugar muffin recipes!