Filled with kale, spinach and basil, this Super Greens Pesto is rich in flavor and high in healthy vitamins and minerals. Use what you have on hand, and add your favorite nuts, garlic and olive oil for that classically delicious pesto. Top it on pasta or spread on toasted bread.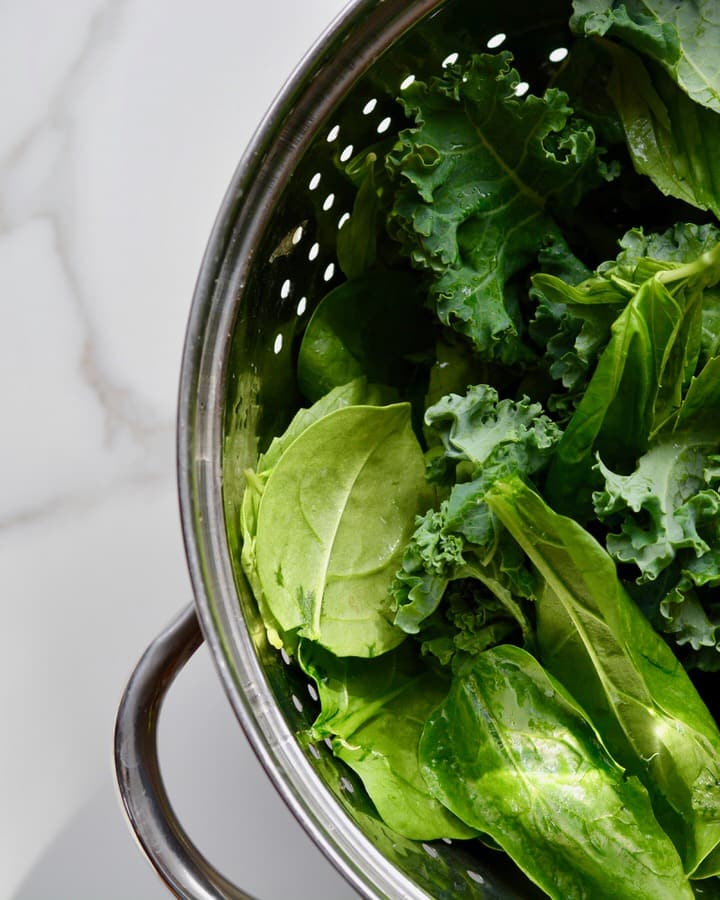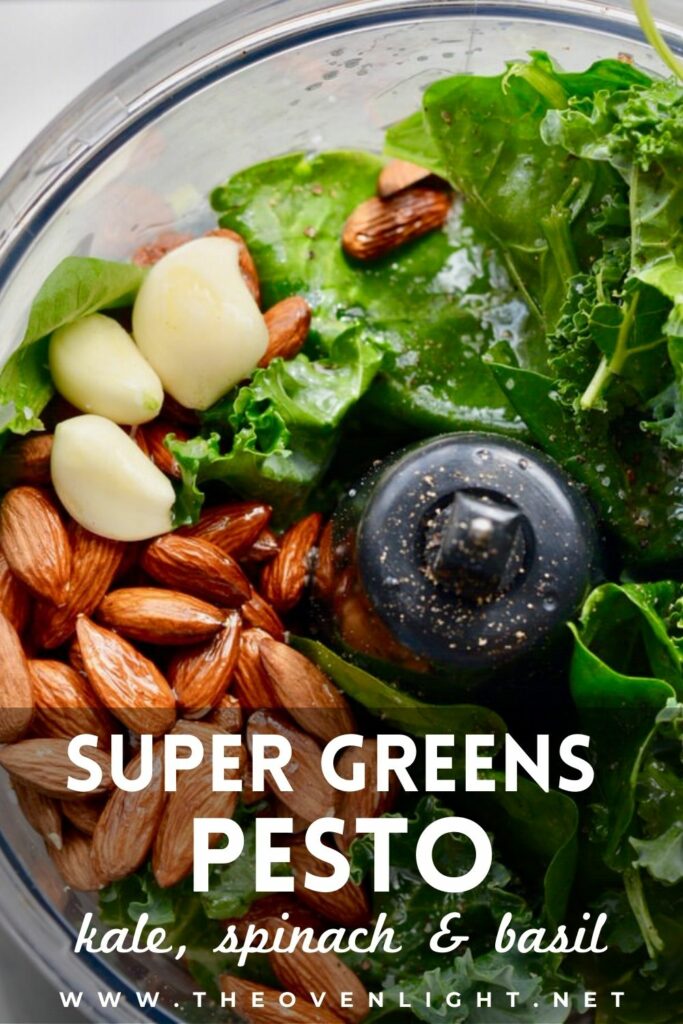 Ingredients for super greens pesto
Spinach, Kale and Basil
It sneaks in those super green veggies! Getting kids to eat veggies is an eternal struggle and if we can make it a little easier on ourselves and sneak it in, even if it's one meal a week, then let's do it.
Almonds (or your favorite nuts)
Those nuts just don't add a pleasant flavor they have the healthy fats that a body needs. Not to mention that you can use any nut you have on hand because those pine nuts can be $$$. I prefer almonds but I have used walnuts and pecans and all tasted great.
Olive Oil
I love olive oil. Like, I could happily drink it by itself. I typically keep 2 kinds of olive oil on hand. A large inexpensive bottle to use in recipes where the flavor is not as important. And then a smaller bottle of really good stuff to use when the flavor is prominent. I use the good olive oil for this super greens pesto, but feel free to use what you have!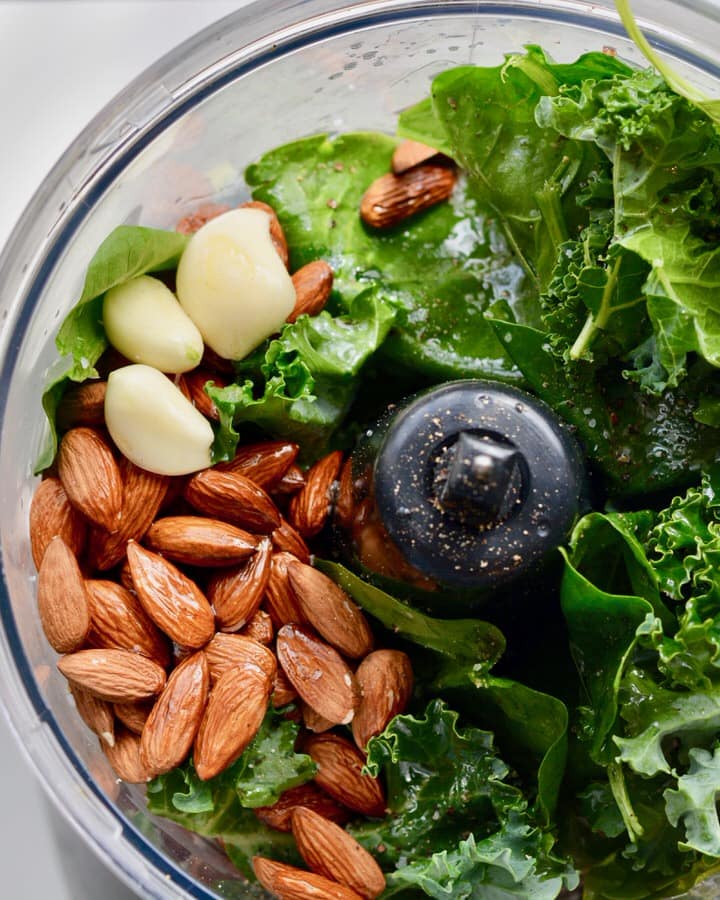 How to make this healthy pesto
My favorite part of this recipe (other than the health benefits) is that it all goes into one bowl of the food processor.
Whatever nuts you've chosen to use, toast them in a pan over medium heat until lightly toasted and fragrant. Just 3-5 minutes should be enough.
Blitz nuts, spinach kale, basil, garlic, lemon juice, salt and pepper until smooth. Slowly stream in the olive oil with the blade running until mixture is smooth and fine.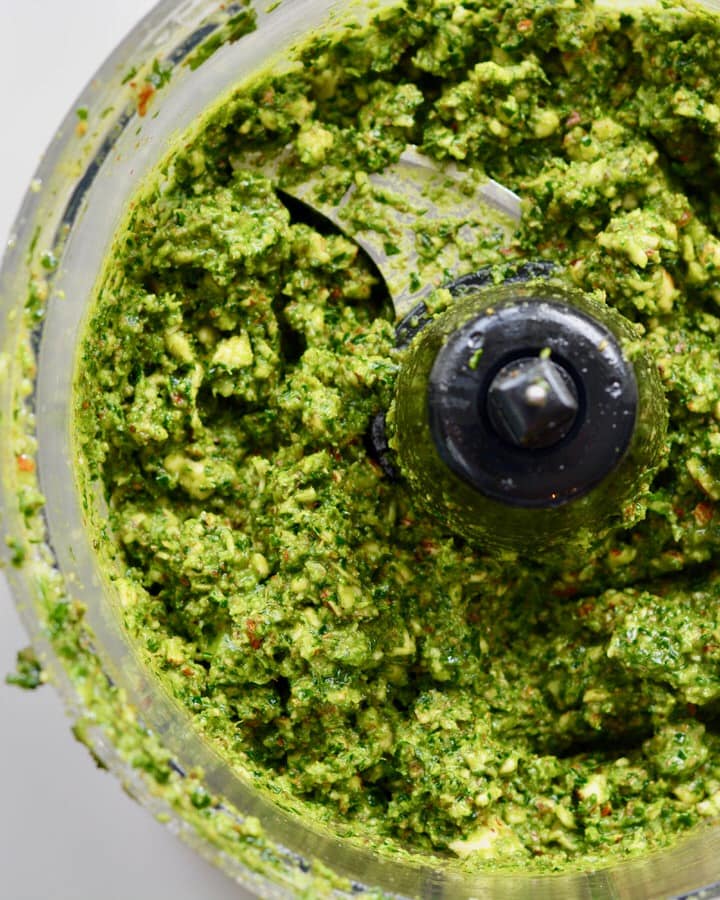 5 Fun ways to use super greens pesto
Add it to a toasted chicken sandwich with tomato and mozzarella.

Spread on pizza, using our no rise time pizza dough, and top it off with your favorite ingredients. I like chicken and red onion.

Use on a cold pasta salad. Use your favorite small pasta, add cherry tomatoes, pearl mozzarella balls, chopped red onion and lots of pesto.

Drizzle over macaroni and cheese, bread dough, mashed potatoes, cornbread, soup or even steamed veggies.

Add a little extra olive oil and use it as a salad dressing.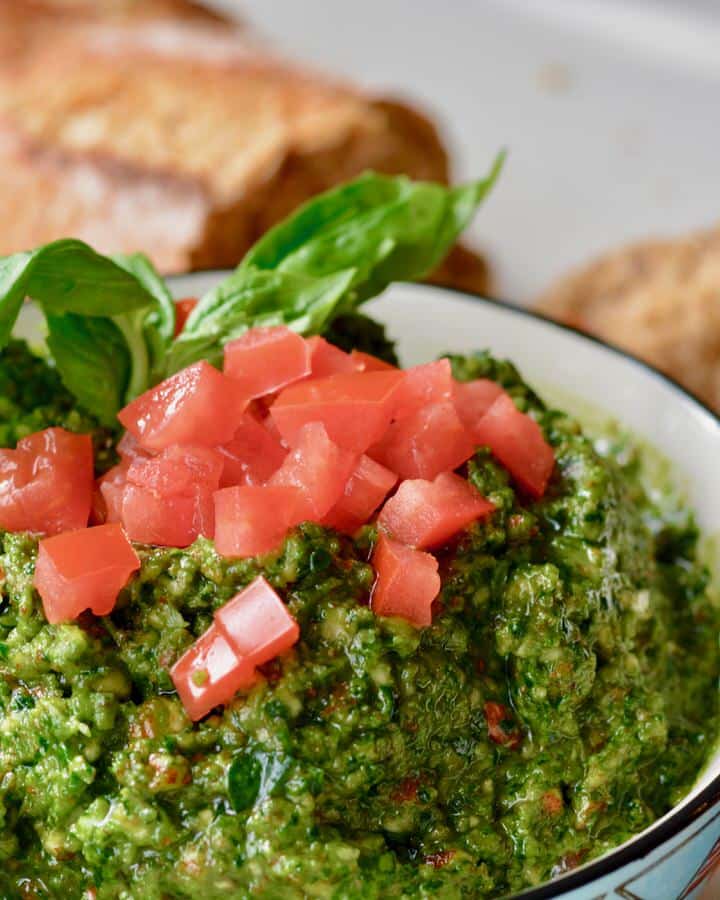 Quick Clean Up
If you don't have a food processor, you're missing out on so many time-saving ways to make dinner! Making this super greens pesto is seriously quick in my trusty Hamilton Beach Food Processor. AND I only have to clean the processor, and I'm done! I've had this guy for about 5 years now (the link is to their updated version), and it still works great! And I use this processor at least a few times a week.
Love this Super Greens Pesto? Try these other healthy dinners!