These light and buttery homemade Garlic and Herb Breadsticks are taken from our extremely popular No Rise Time Pizza Dough recipe. No rise time means you can be eating these in a flash! Perfect for dipping in marinara, pesto or alongside your favorite Italian meal!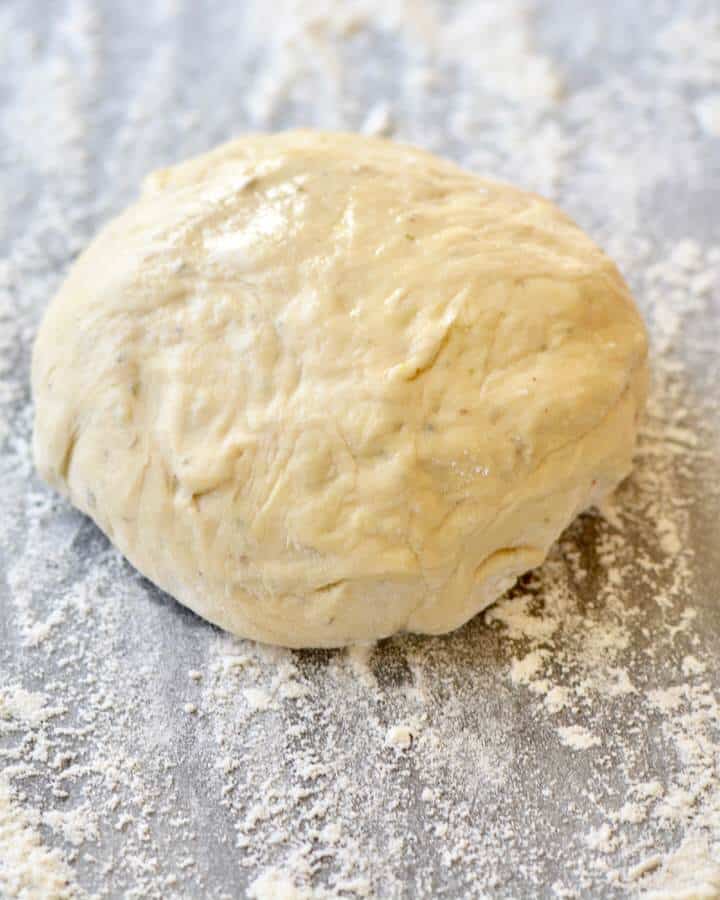 Ingredients for no rise breadsticks
Warm Water — The ideal temperature of the water should be between 105 and 115 degrees F to help the yeast "bloom". If the yeast is not cooperating, it could be that the yeast has gone bad or that the water is not the right temperature. Try using an instant read thermometer (I have the one linked and I love it!) to check the water temp before adding the yeast.
Granulated White Sugar — Adding sugar to the warm water and yeast mixture will help the yeast speed up the process of becoming bubbly and ready to use.
Rapid Rise Yeast — Sometimes called instant rise yeast. One packet of yeast is 2 ¼ teaspoons, so use two for this recipe (it will still be a teaspoon short of the 2 tablespoons called for, but it will still work.) But we prefer to use a larger jar of yeast and store in the refrigerator to keep fresh for 4 to 6 months after it has been opened.
All-Purpose Flour — For bread recipes we recommend using a high quality flour, such as King Arthur All-Purpose. Bread flour is not necessary for this recipe, but it will work just fine as well.
Optional Seasonings — This pizza dough recipe calls for ½ teaspoon each of salt, garlic powder, and mixed Italian seasoning. However, feel free to use more or less of these for your tastes, or omit the garlic and Italian seasoning if you prefer. However, the salt is important to the overall flavor of the crust.
No Rise Time Fresh Baked Bread
There is no better smell than the freshly baked bread, but who has the time for that?? That is one of the best things about this recipe, NO RISE TIME! Meaning by the time your pasta is ready or salad has been assembled these will be ready too.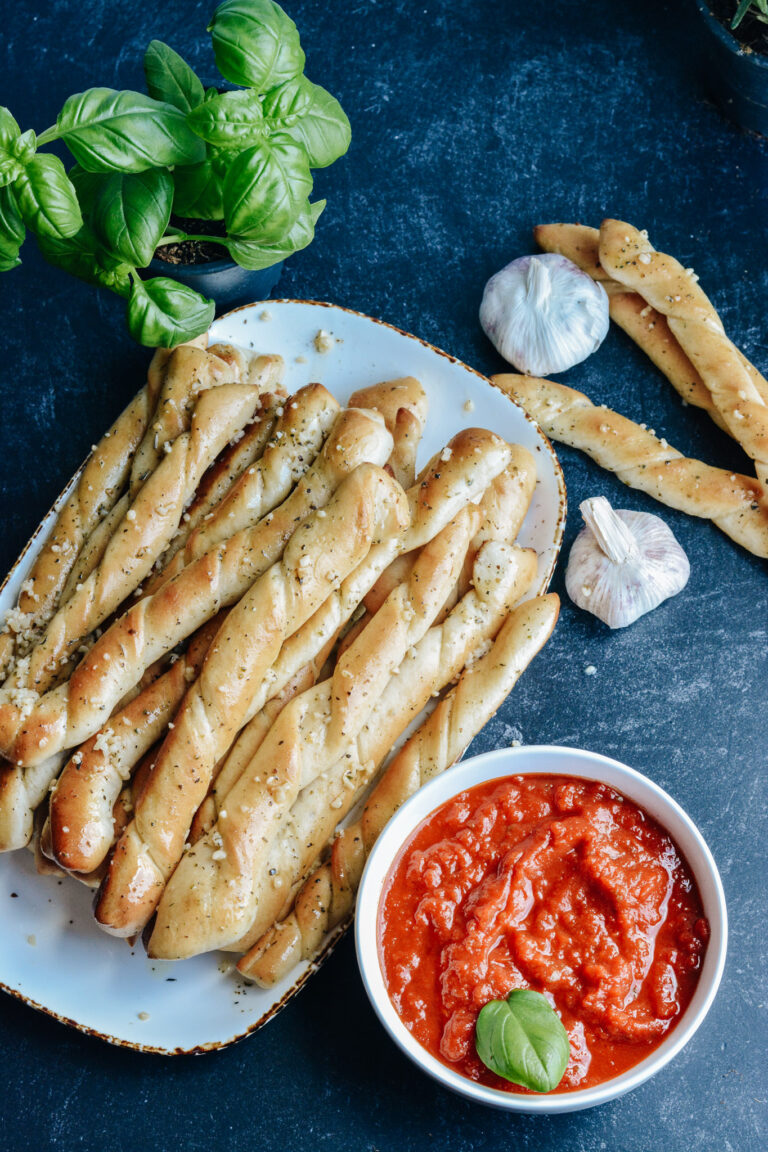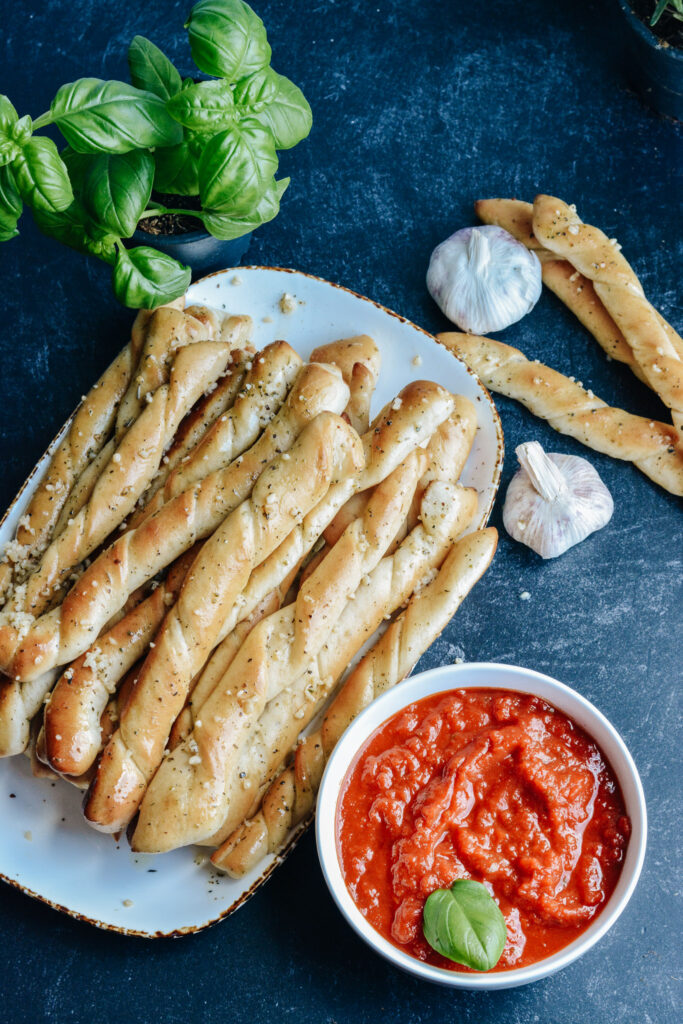 Breadsticks in minutes
I've made a lot of dough (bread dough, not money) in my life, but this is my favorite, most versatile recipe. It's simple, flavorful, and my favorite part is I don't have to wait for any rising.
That means I can whip up breadsticks with homemade dough in just a matter of minutes. There's no tricky rising, punching, covering and waiting for more rising, guessing when the dough is ready, etc. It's seriously the best.
That's why its so easy to make pizza from scratch, even on a weeknight. My favorite is Pesto Chicken Pizza made with Super Greens Pesto or Buffalo Chicken Pizza.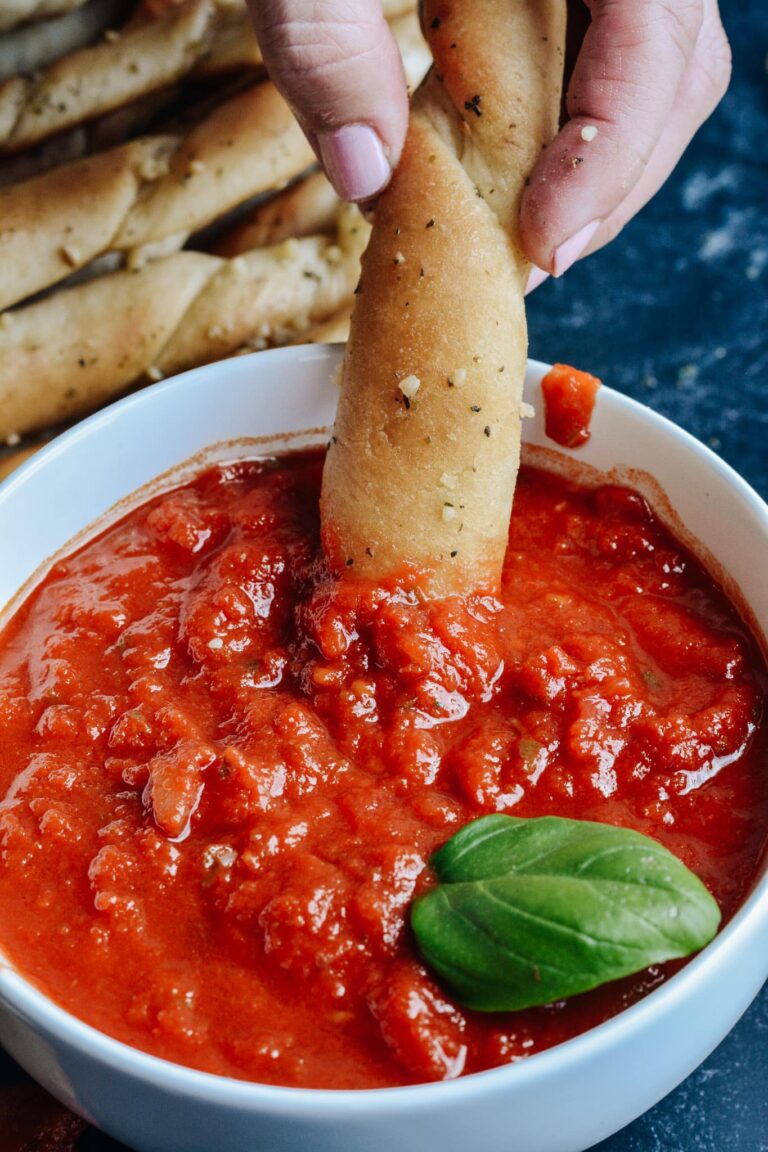 How to make garlic and herb breadsticks
First, preheat the oven to 450°F.

In the bowl of a stand mixer, add warm water, yeast and sugar in a mixing bowl and allow it to sit for 5 minutes, until the yeast is foamy and smells well... yeasty!
To the yeast mixture, add salt, flour, and spices. Mix with a dough hook and knead until combined and dough starts to pull away from edges. About 3 minutes. If you don't have a stand mixer, this can be done by hand.

Once kneaded divide dough into two equal parts so it is easier to roll out.
Next, lightly flour a cutting board and using a rolling pin, roll out dough into a 12" - 14" square.

Using a sharp knife or pizza cutter, cut the dough into strips 1-2" wide. Gently twist each strip of dough.

Place the dough strips onto a greased or parchment lined baking sheet and brush with garlic butter and top with fresh (or dried) herbs.
Place in the oven on center rack and bake for 10-12 minutes or until golden brown. No need to flip breadsticks or turn the baking sheet.

Enjoy these fresh out of the oven or cool and place in an air tight container to enjoy later (see below for storage instructions).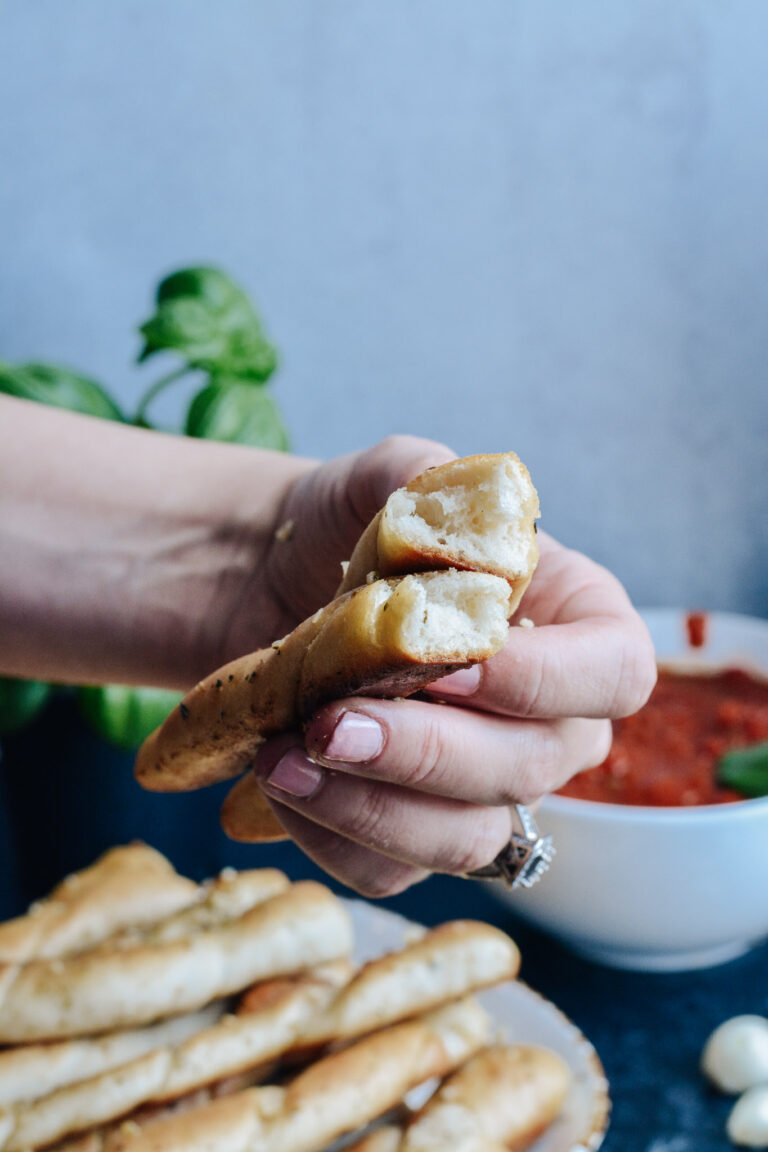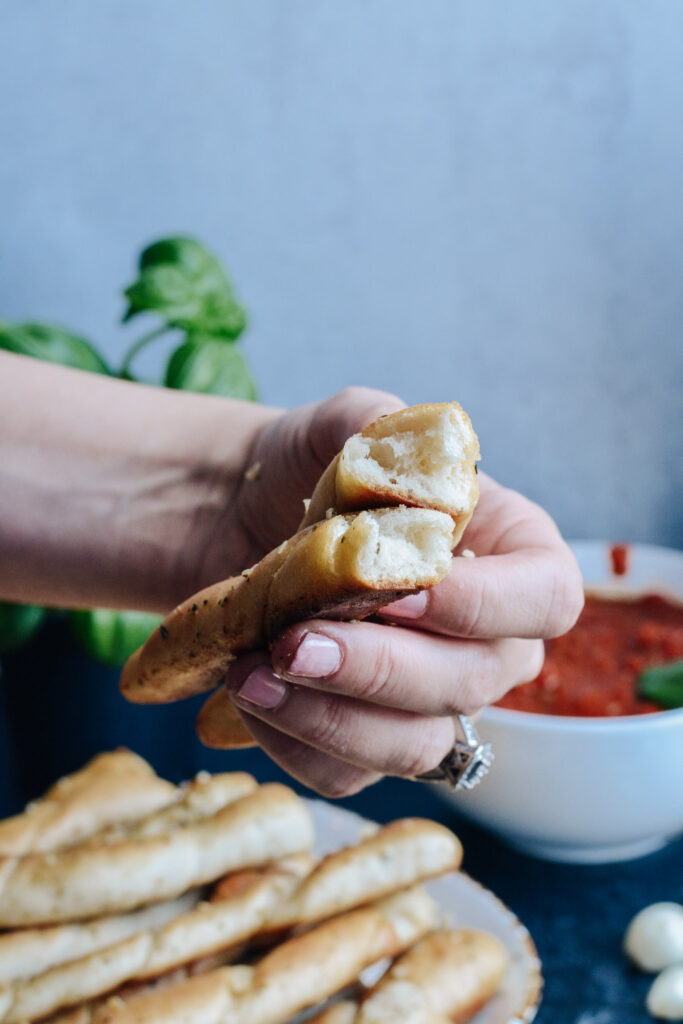 More ways to use quick breadstick dough
The great thing about this no rise dough is that it is so easily transformed into other delicious recipes.
This recipe works great to make a dessert breadsticks or try these dessert pizza recipes from Brit + Co.
Pizza Pinwheels are another fun way to use pizza dough and create an appetizer with your favorite fillings.
Dip in your favorite sauce, or try our Italian Meat Sauce for a hearty appetizer or small meal. Or try dipping in Super Greens Pesto for a healthier snack.
Need some Italian cuisine inspiration? Try these popular recipes!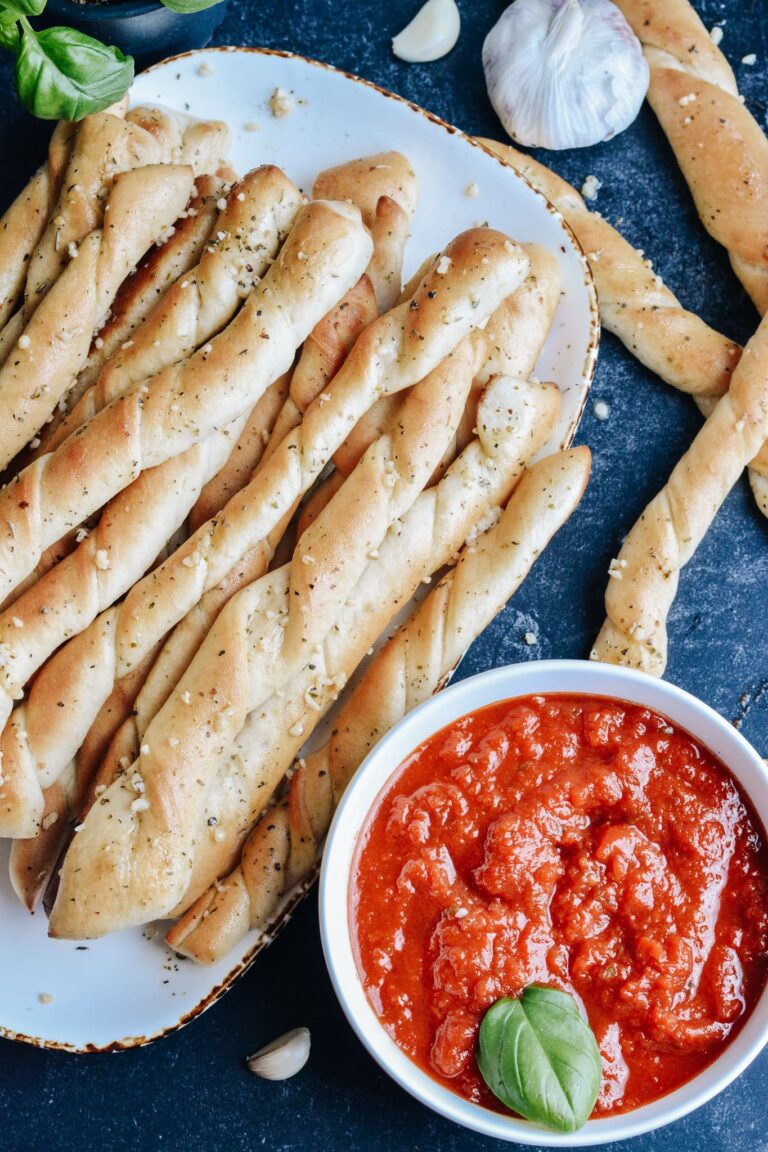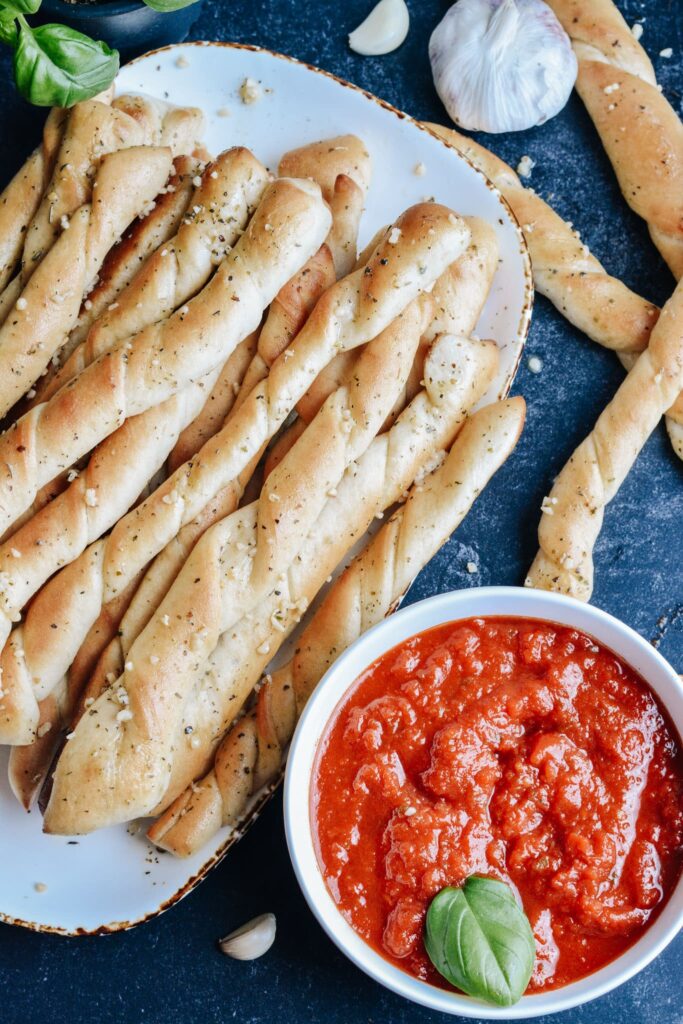 How to store breadsticks
Storing breadsticks is very easy. Simply place in a ziploc bag or air tight container. Keep at room temperature for up to 5 days or in the refrigerator for up to 7 days.
How to freeze breadstick dough
Make dough as instructed. Divide dough into 2 large balls. Coat the outside of the dough with olive oil and slide each ball into a freezer safe ziploc bag. Place in freezer and store up to 3 months. Be sure to add a date to the bag!
How to thaw frozen breadstick dough
There are a few methods to thaw frozen dough, but my favorite is to remove the dough from the freezer bags and place each ball in a large bowl to allow room for rising. The dough should be ready to use in 2 hours and to roll and continue to use as stated in the recipe below.
The dough still does not need to rise, but it may expand a bit while coming to room temperature and that's ok.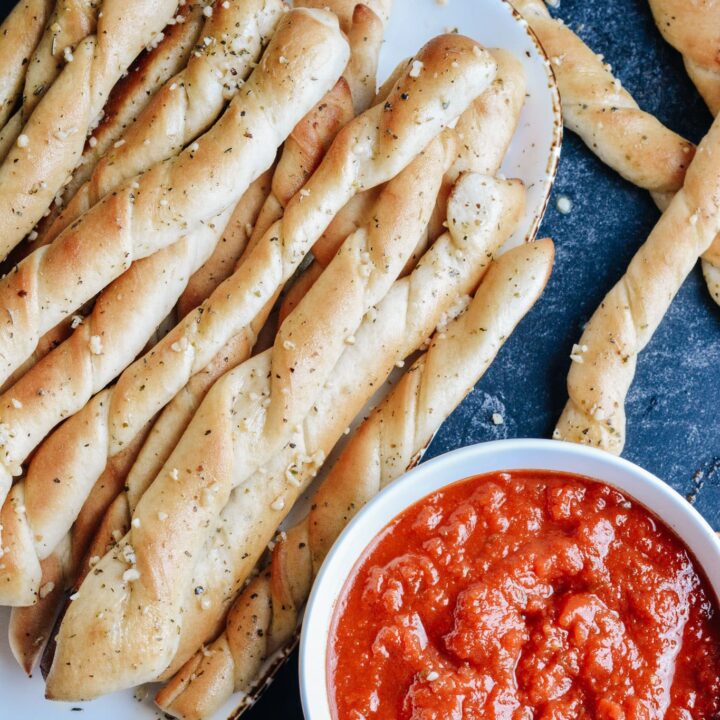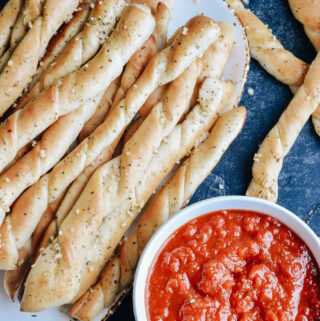 Quick Garlic Herb Breadsticks
No rise time, ready in 10 minutes! Perfect for dipping in marinara or alongside your favorite dish.
Print
Pin
Rate
Ingredients
1 ½

cups

warm water

-

Should be warm but not hot

2

tablespoons

sugar

1

tablespoon

rapid rise yeast

-

or "instant yeast"

3 ½

cups

all-purpose flour

½

teaspoon

each salt, garlic powder, and Italian seasoning

1

tablespoons

minced garlic

2

tablespoons

butter

-

melted

2

tablespoons

fresh herbs

-

such as parsley, sage, thyme, etc
Instructions
Preheat oven to 450 degrees F.

Mix warm water, yeast and sugar in a mixing bowl and let sit for 5 minutes.

While yeast is blooming microwave butter and garlic for 20 seconds or until melted and set aside.

Add salt, flour, and spices into a stand mixer with a dough hook and knead until combined. About 3 minutes.

If you don't have a stand mixer, this can be done by hand.

Once kneaded divide dough into two equal parts.

Flour a cutting board and using a rolling pin, roll out dough into a square or rectangle.

Using a pizza cutter or sharp knife cut into 1-2" strips and place on a greased or parchment lined baking sheet.

Brush with garlic butter and sprinkle fresh herbs.

Bake for 10 minutes or until golden brown.

Remove from the oven and enjoy warm or place in a airtight container for later.
Notes
We split the dough into 3 parts and use two while freezing the third for later use.
Nutrition
Calories:
289
kcal
|
Carbohydrates:
61
g
|
Protein:
8
g
|
Fat:
1
g
|
Saturated Fat:
1
g
|
Polyunsaturated Fat:
1
g
|
Monounsaturated Fat:
1
g
|
Cholesterol:
1
mg
|
Sodium:
8
mg
|
Potassium:
108
mg
|
Fiber:
2
g
|
Sugar:
4
g
|
Vitamin A:
121
IU
|
Vitamin C:
2
mg
|
Calcium:
20
mg
|
Iron:
4
mg