Creating the perfect Italian Meat Sauce is no easy task. Except this one was. I try my recipes at least 3 times before I declare it perfect, but this one was perfect the first time! The right mix of delicious Italian spices, mixed with 2 flavorful meats and just the right amount of tomato immediately made this a success! I'm confident you'll agree.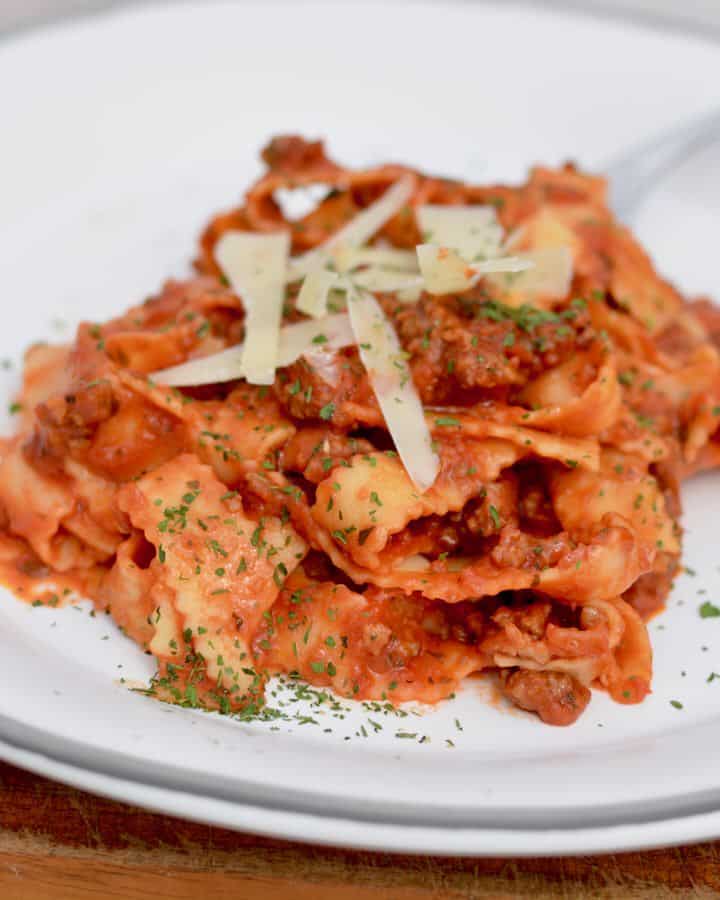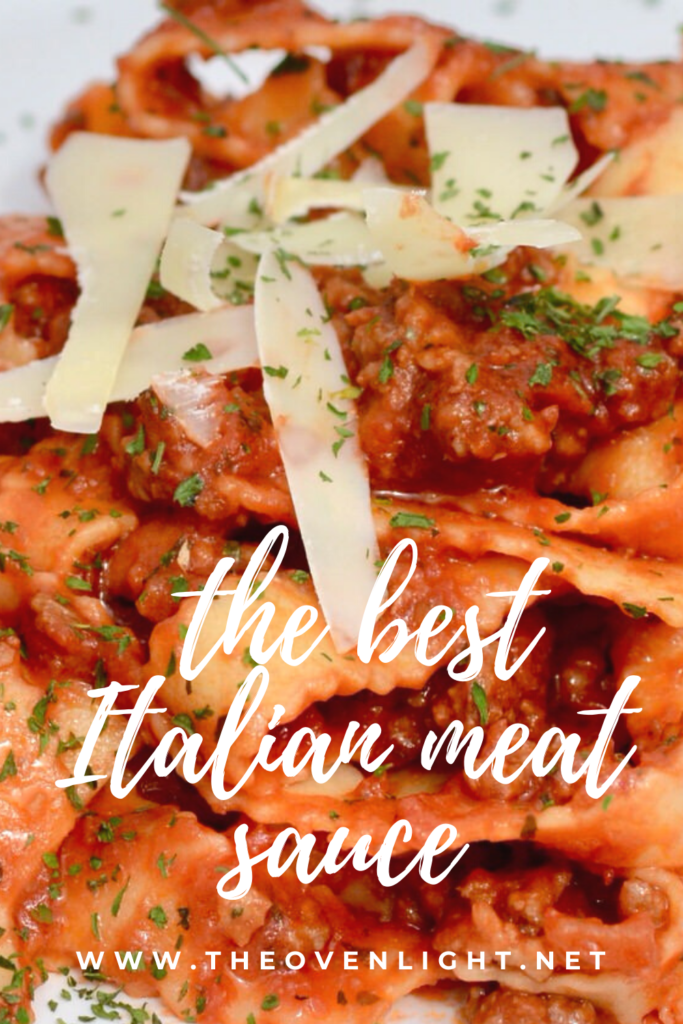 Ragu vs Bolognese vs Meat Sauce
I had to do some research while I was creating this recipe because I kept calling it a bolognese. Turns out that both ragu and bolognese have cream and start with a soffrito mix. (Soffritto is a mixture of onions, carrots and celery that are the base of many Italian sauces.) So to keep this sauce honest, we're calling it an Italian Meat Sauce. It has a full pound of meat, so it seems appropriate.
Parmesan Rind will Instantly Kick up the Flavor
If you use fresh parmesan (which is really so much better than the stuff in the plastic bottle), then always save your rinds! Throwing them into your Italian Meat Sauce will mellow the tomato and add a creamy flavor without the actual cream. Some people claim it adds that elusive "umami" flavor to Italian sauces. Either way, you'll be so glad you saved it! It really makes a difference.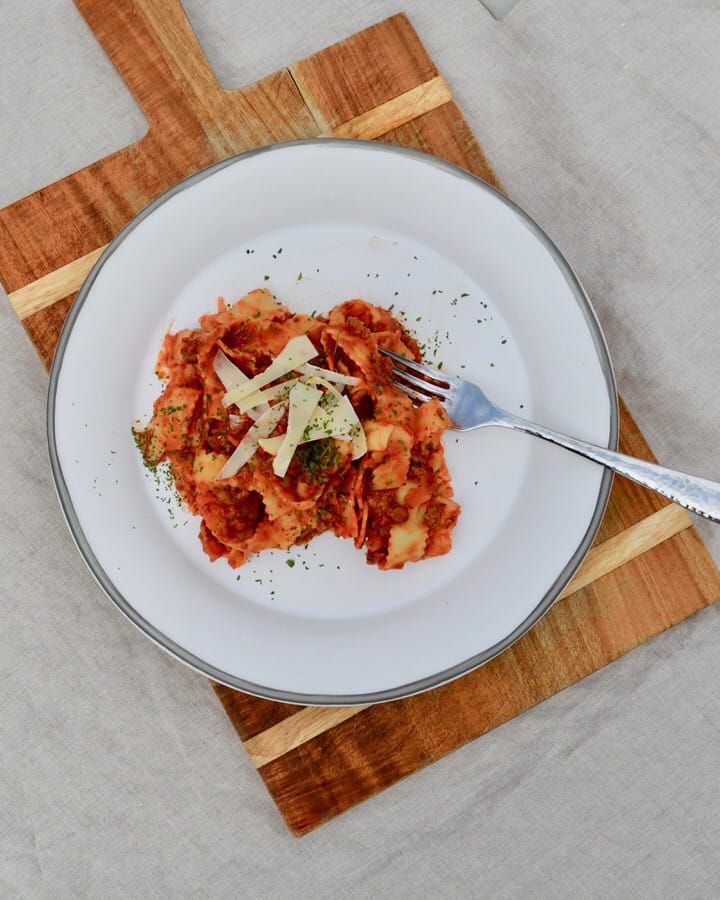 Using "Bronze Cut" Pasta makes a BIG difference!
So there are a million pastas to choose from and really, in the end, they're all tasting basically the same right? That is often true, except for Bronze Cut pastas. I recently tried these and boy does it make a difference!
Bronze cut pastas are cut by bronze dyes, rather than teflon. This creates a courser, more porous noodle that your Italian Meat Sauce will really cling to! Check out the photo above. No slippery pasta there, the sauce clings to every inch and makes for a more even coating and more delicious pasta experience. The pasta in the picture is by Hemisfares. It's their Reginelle Egg Noodle Nests. I found this in my regular ol' pasta aisle. (I didn't link this because the Amazon price is insane. It was around $4 at my local grocery store.)
Choosing Italian Sausage
There are so many choices at the stores now for sausages. Mild, sweet, hot, ground, in the casing and more! My preference for this recipe is mild Italian sausage. If you like some spice to your meal, go for the hot, but each brand's level of "hot" can be different.
My favorite place to get sausage for this meal is Sprouts, because they have fresh sausages in the meat case. One house made sausage is exactly half a pound. This way you get amazing flavor, without annoying leftovers, and the price is usually really good.
Loving this Italian Meat Pasta Sauce Recipe? Try these other great Italian recipes!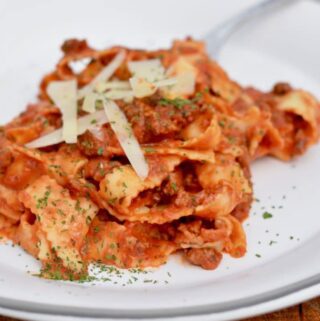 Ingredients
⅓

C

olive oil

1

small yellow onion or large shallot

finely chopped

½

lb

italian sausage

I like mild, but you can go spicy if you want!

½

lb

ground beef

28

oz

can of crushed tomatoes

or 2 15 oz cans

6

oz

tomato paste

½

teaspoon

Italian seasoning blend

1

tablespoon

dried parsley

1

teaspoon

garlic powder

1

tablespoon

worchestershire

1

tablespoon

sugar

1

teaspoon

kosher salt

more to taste

2

tablespoon

butter

1

parmesan rind
For serving
2

lb

pasta of your choice

I like bronze cut

½

C

freshly grated parmesan cheese

fresh parsley for sprinkling on top
Instructions
In a large stock pot, heat the olive oil, then add the chopped onion. Cook until onion is translucent. Add sausage and ground beef and cook, stirring frequently, until browned and cooked through.

Add crushed tomatoes, tomato paste and all seasonings.

Turn down to a simmer for 30 minutes, stirring occasionally. Add parmesan rind and butter and continue simmering for another 15 minutes.

Cook pasta according to package directions. Reserve some of the pasta cooking water.

Taste sauce, add salt if needed. If sauce is too thick, add ½ C of pasta cooking water as many times as needed. I usually just add this once, but it depends on your preference.

Serve pasta with sauce on top or mix together. Top it off with plenty of parmesan and parsley. Delizioso!!!
Notes
Using bronze cut pasta will help sauce stick the noodles. Trust me, it makes a big difference in both flavor and texture. It costs a bit more, but when you're making such special sauce, you want to be sure your pasta is on point!