Do you spell it blue or bleu? I guess if you're feeling French it would be chicken cordon bleu. Or technically it would be Cordon Bleu au poulet. Huh huh huh. (That's my French impression.) But this Chicken Cordon Bleu is made with even better filling than the classical way. Brie cheese and prosciutto with added Italian seasoning are a major upgrade from ordinary ham and Swiss.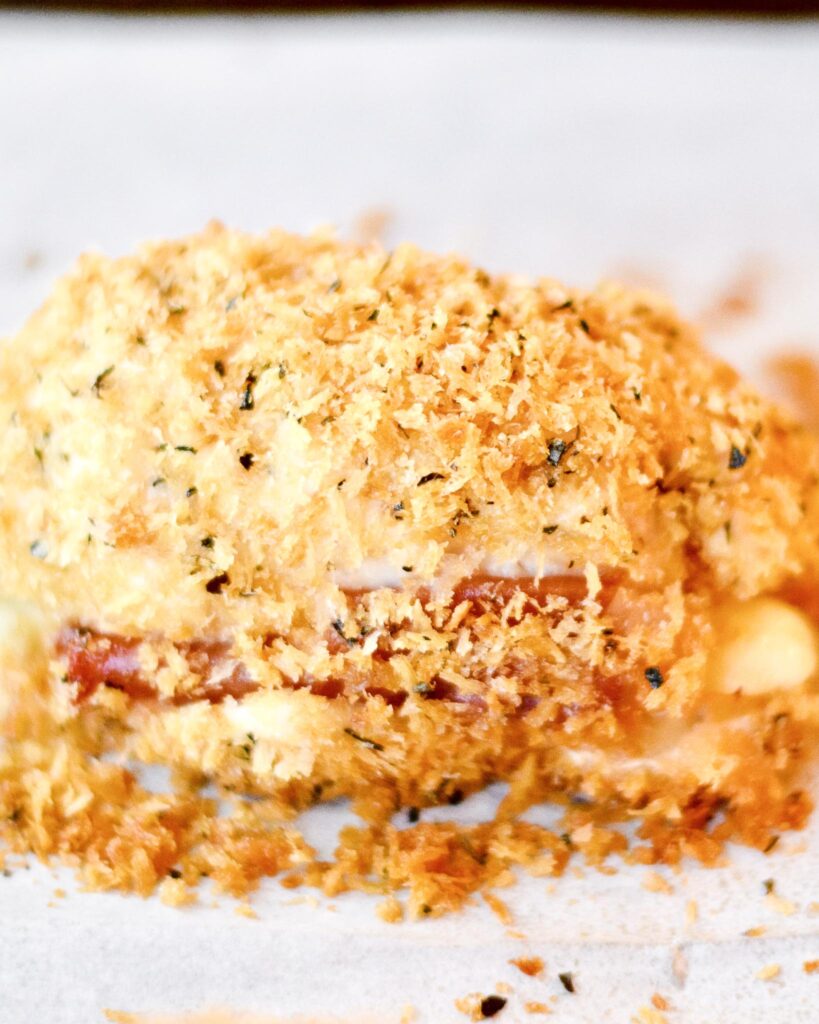 Ingredients for amazing chicken cordon blue...
Chicken - I ask the butcher to pound out the breasts so they're thin. Not paper-thin, just thinner, since chicken breasts can often get really thick. You can also pound them at home between two sheets of wax paper, using a meat mallet or rolling pin.
Brie Cheese - I like to use the goat cheese brie found at Trader Joe's since I'm sensitive to cow's milk. But a good double cream brie is a good go-to for this recipe since it'll melt very nicely and the flavor is subtle.
Prosciutto - I've become a bit of a prosciutto snob since going to Italy. I've tried many brands/varieties here. If you want the good stuff, make sure it's imported from Italy. It'll cost a couple extra bucks, but it's tender and melts in your mouth like butter. Yes! So good!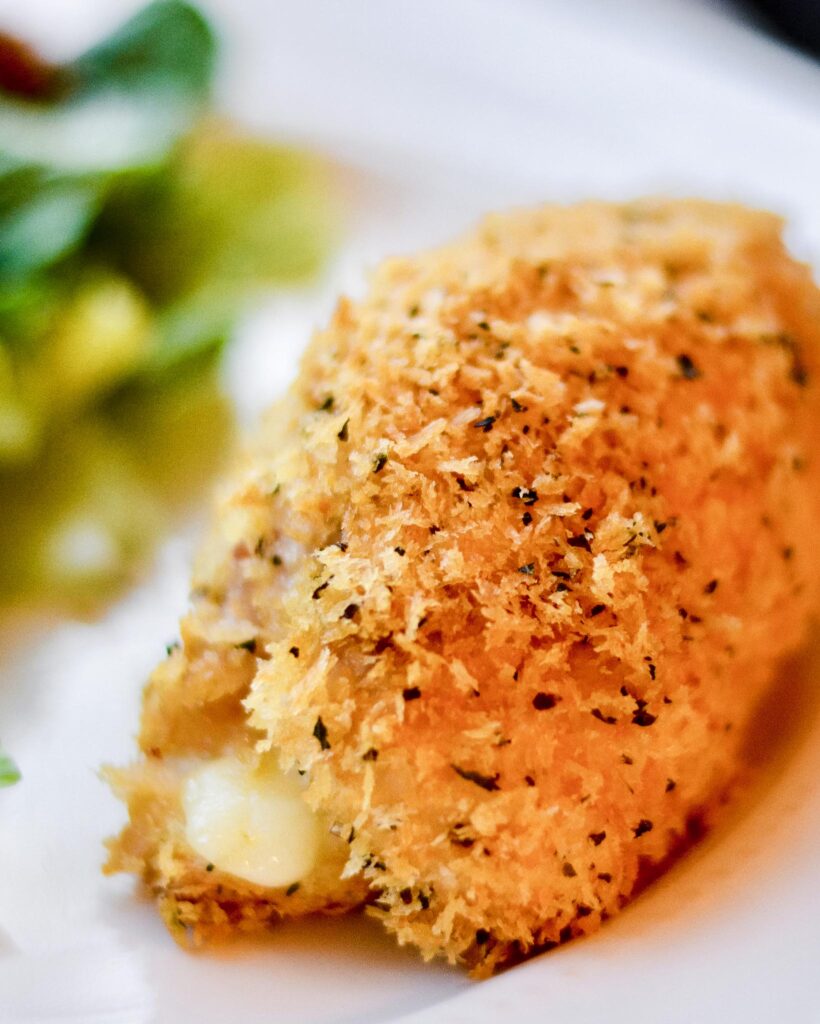 Panko Bread Crumbs - You can also use Italian seasoned regular bread crumbs. I used to make it that way. I just really like the crunch from the Panko and then I can control the seasoning as well.
Feel free to swap the regular panko for gluten free panko breadcrumbs.
Basil - I like to keep it simple and just add the dried basil and salt to my breadcrumbs, however, I've also used an Italian seasoning blend that's delicious! It just depends how complex you want the flavor. (Hint: quality seasonings means using less and the flavor lasting longer. I always find it's worth the few extra bucks.)
Butter - Oh butter, how I love thee.... I use an entire stick of butter . This creates the perfect added flavor for the panko crumbs to stick to the chicken cordon bleu. I like to use salted butter for cooking (unsalted for baking). But you can use whatever you have on-hand.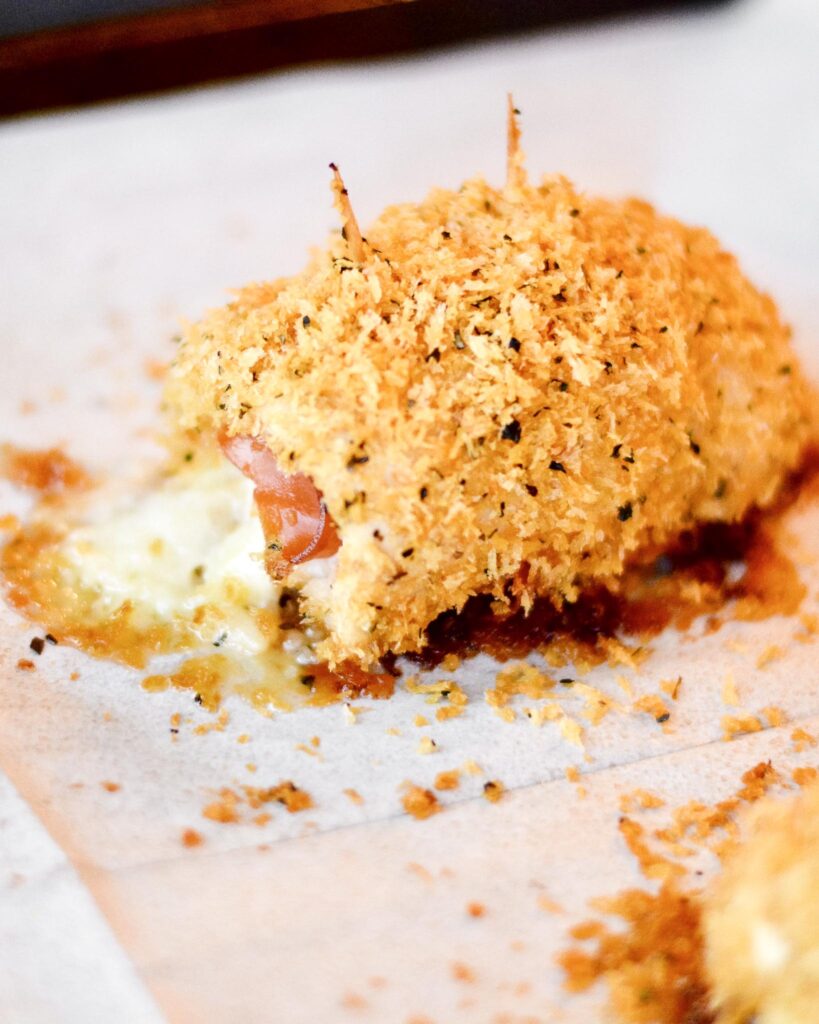 How to Make Cordon Bleu
Prepare your breasts by pounding them thin or get them pounded at the butcher so they're easy to roll. Don't let this process scare you, it's quite simple. If you've never done it, just get 2 large pieces of wax paper, place a single breast between and start pounding away with your rolling pin. I find it usually takes 10-15 good whacks until it's nice and thin. Don't worry, you won't hurt the chicken, if anything it will tenderize it.
Cut up your brie and get your prosciutto ready. I make sure to get all my elements ready so I don't touch unused ingredients with chicken-y hands.
Melt butter in a medium bowl.
Mix seasoning into breadcrumbs and place in a shallow dish or on a plate.
Assemble! Place 1-2 slices of brie cheese on top of each chicken breast, followed by 1 slice of prosciutto.
Roll it up starting at the thick end. Use 2 toothpicks along the edge to keep breasts from unrolling.
Dip each breast into butter, then into panko mixture, ensuring you get all sides covered.
Place on a greased (or parchment-lined) baking sheet.
Bake at 350° for 35-45 minutes or until an instant-read thermometer reads 165° in more than once place. Remember, the filling will heat at a different temp than then chicken, so it's always good to check in more than one spot.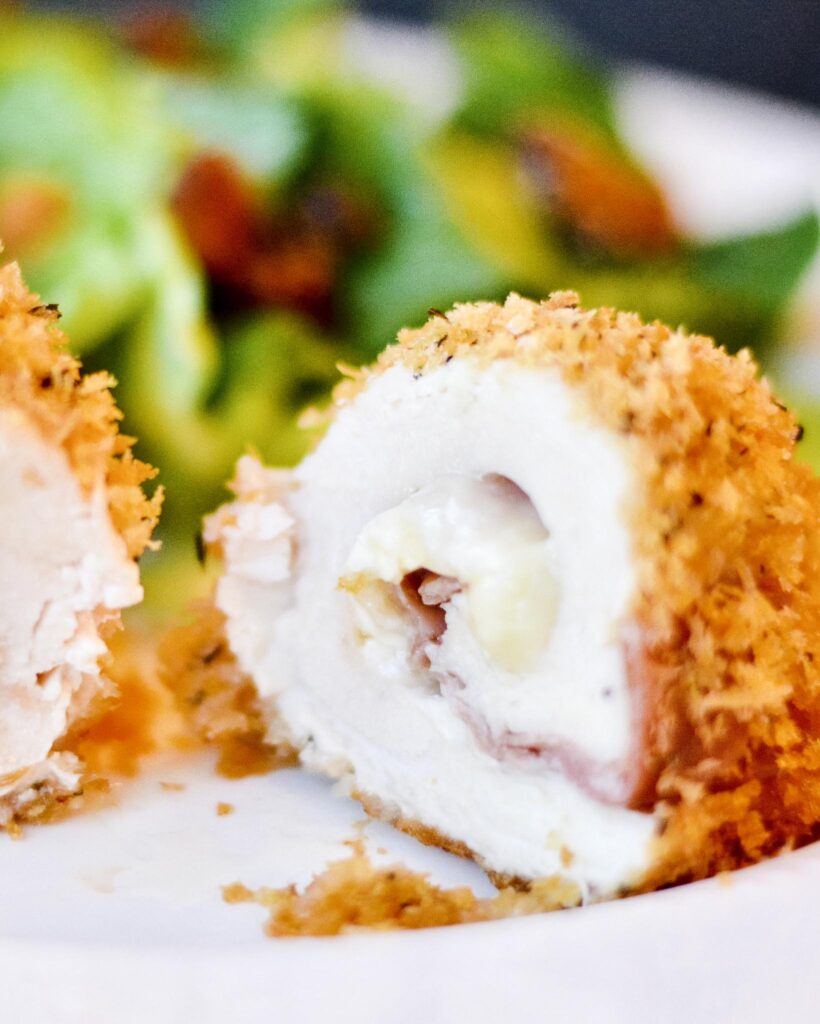 Can I Make Cordon Bleu Ahead of Time?
Yes! Simply prepare the breasts through rolling and securing with toothpicks. Cover and refrigerate up to 12 hours. That makes this recipe great for hosting a party. I've made this for parties many times, and I always prep in the morning and dip and bake in the evening.
You can also complete the recipe and then freeze each individually in a freezer-safe bag up to 4 months for best quality. Thaw overnight in the refrigerator and then reheat in the oven or microwave until heated through. (325° in the oven for 15-20 minutes, 1 ½-2 minutes in the microwave.)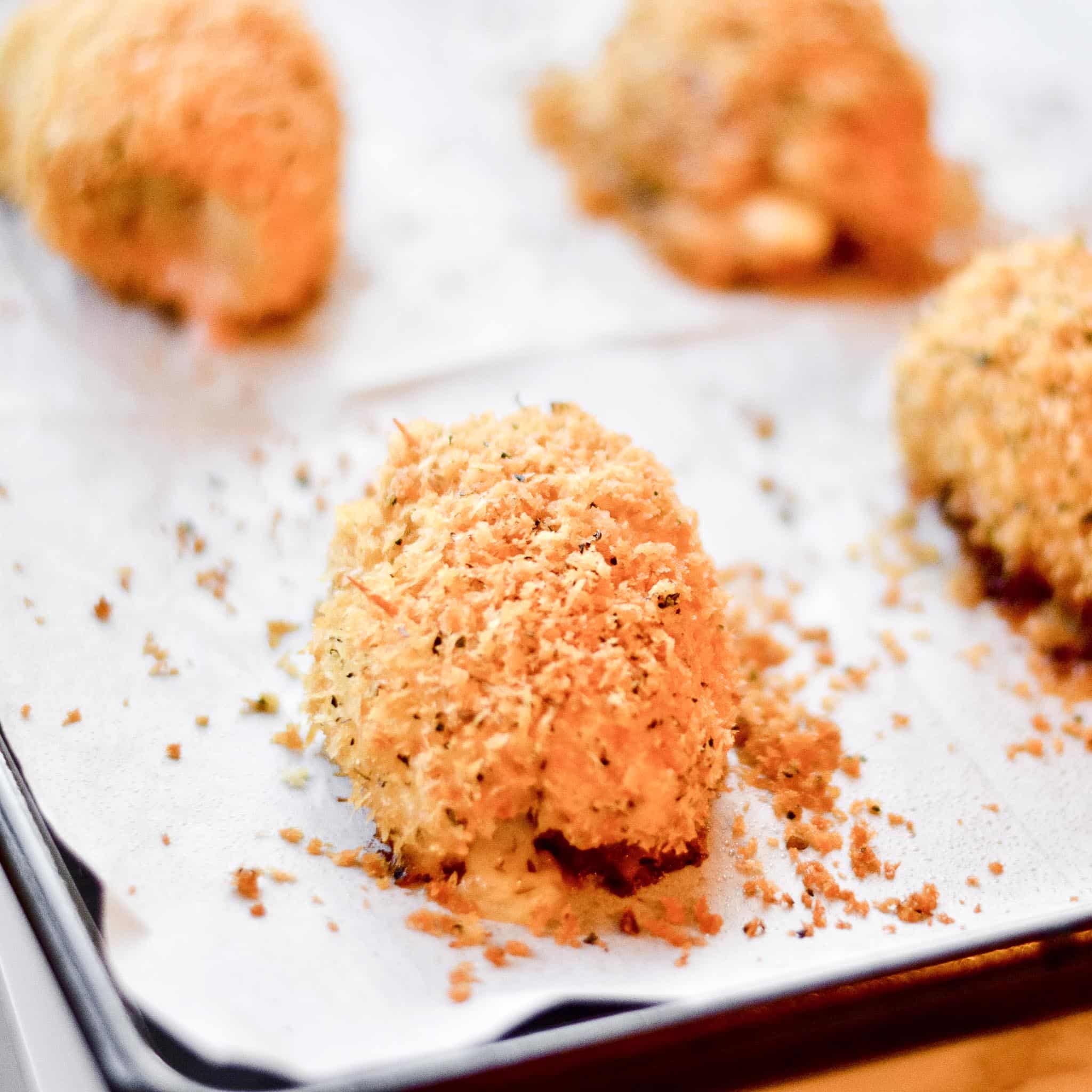 Storage
Storing leftovers is really simple. Place cooked chicken into zip top bags and freeze for up to 4 months. Be sure to label and date the bags before storing.
To thaw chicken, place in the refrigerator overnight and then to reheat, place the chicken in a baking dish and cover with foil. Bake at 350°F for 15 minutes. Remove the foil and bake for 5-10 more minutes until center is warmed through.
What to Serve With Cordon Bleu
There are so many amazing ways to complete your meal along with Cordon Bleu. From a simple Italian Salad to Parmesan Smashed Potatoes. And you can always start off the meal with Garlic Herb Breadsticks. Check out all of our side dishes for more ideas.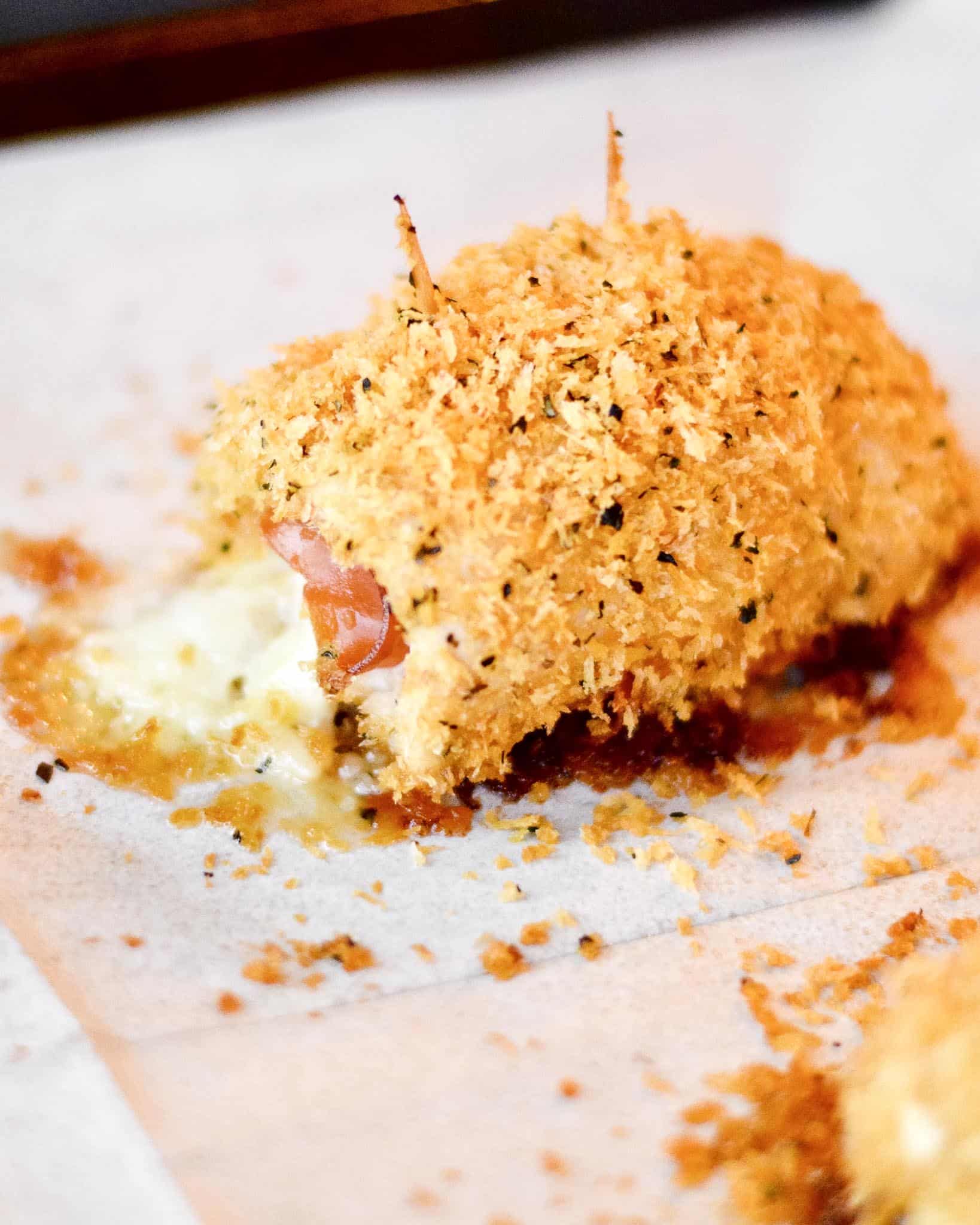 Chicken Cordon Bleu
Amazingly moist chicken rolled up with brie and prosciutto for a flavor kick you'll love!
Print
Pin
Rate
Ingredients
4

thin cut chicken breasts

1

wedge brie cheese -

cut into 8 slices

4

slices

prosciutto

½

cup

butter

1

cup

panko bread crumbs

1 ½

teaspoons

dried basil

½

teaspoon

kosher salt
toothpicks
cooking oil spray
Instructions
Preheat oven to 350°F (180°C). Line a baking sheet with parchment paper or spray with cooking oil. Set aside. 

On another rimmed baking sheet, combine bread crumbs and basil and spread out evenly. Lightly spray crumbs with cooking oil. Place it in the oven and bake until crumbs turn light brown, About 5-7 minutes, but keep an eye on them so they don't burn. Remove and place in medium bowl. Set aside.

If your butcher didn't pound your chicken breasts for you, place between 2 sheets of wax paper and lightly pound with a rolling pin until thin enough to roll. About ½" at the thickest part.

Remove top layer of wax paper and lightly salt each breast.

Place 2 slices of brie cheese on top of each breast, then a slice of prosciutto on top of the cheese. Roll up breast from the short side. Put 1 or 2 toothpicks into the rolled breast to hold together. Lightly salt each rolled breast. Set aside

Melt butter in a medium size bowl. Place crumbs in another bowl.

Dip each rolled breast into the butter and then into the bread crumbs. Roll around in the crumbs until they stick all the way around. Place each breast on prepared baking sheet.

Bake Cordon Bleu in the oven for 35-45 minutes until an instant read thermometer inserted into the center of the roll reads 165°. I like to check 2 places in each breast since the filling heats at a different speed than the chicken.

Remove breasts when done and serve hot! 
Notes
These are super easy to make ahead! Prepare breasts all the way through step 7, then place in the refrigerator until ready to bake. These can also be frozen the same way. Just thaw in the fridge the night before and bake the next day.
Nutrition
Calories:
558
kcal
|
Carbohydrates:
13
g
|
Protein:
64
g
|
Fat:
26
g
|
Saturated Fat:
13
g
|
Polyunsaturated Fat:
2
g
|
Monounsaturated Fat:
8
g
|
Trans Fat:
0.04
g
|
Cholesterol:
210
mg
|
Sodium:
1103
mg
|
Potassium:
1018
mg
|
Fiber:
1
g
|
Sugar:
3
g
|
Vitamin A:
458
IU
|
Vitamin C:
3
mg
|
Calcium:
186
mg
|
Iron:
2
mg