I'm obsessed with appetizers. I find that I usually prefer apps to a main meal. And this Italian White Bean Feta Dip is a new staple in my house. No more hummus, this dip is so much better and so quick to whip up! I hope you love it as much as I do!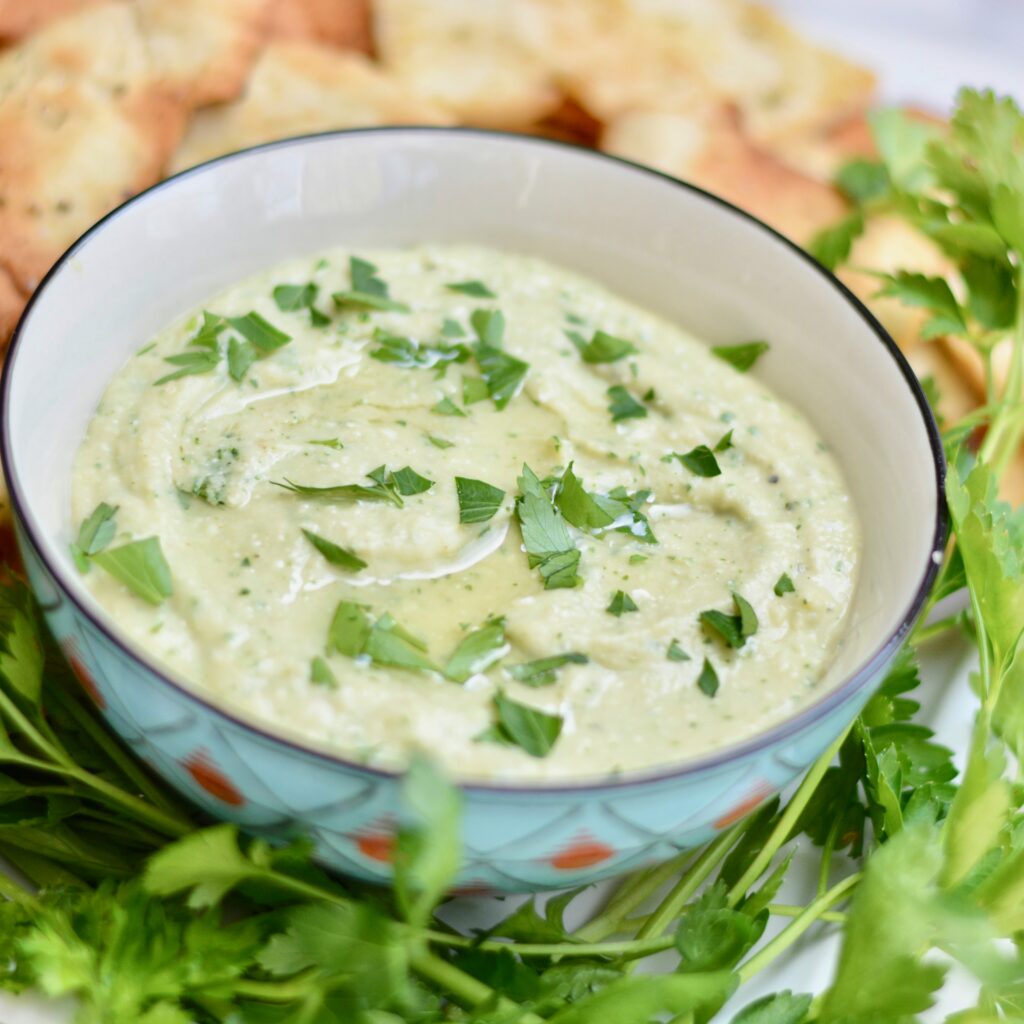 Sign up for our FREE 7 Day Simple Meal Plan!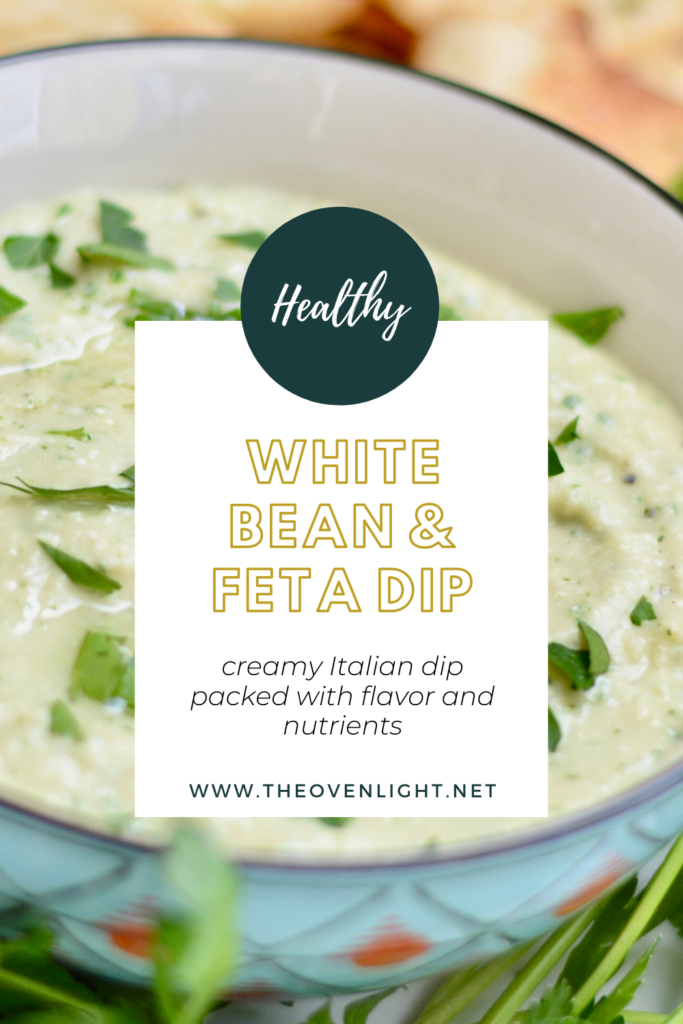 White Bean Dip – Packed with the healthy stuff
Did you know that Cannellini (white) beans are full of protein and B vitamins? Go white beans! And packed with fresh parsley, this recipe does wonders for your kidneys. So this dip is not just delicious, it's also good for you! I make a batch of these baked pita chips and this dip and snack on it all week long!
Parsley is a magical herb!
Let's talk about parsley. I was never a fan of the stuff until recently. I've started adding it to marinades and on top of baked fries, and suddenly I can't get enough of it.
My other favorite thing about my new love of parsley is it's awesome health benefits! Did you know parsley can help keep you from getting UTI's? I'll eat or drink anything to keep me from getting another one of those guys. They're the absolute worst. This is such a delicious way to keep my kidneys clean and flush some of that bad bacteria.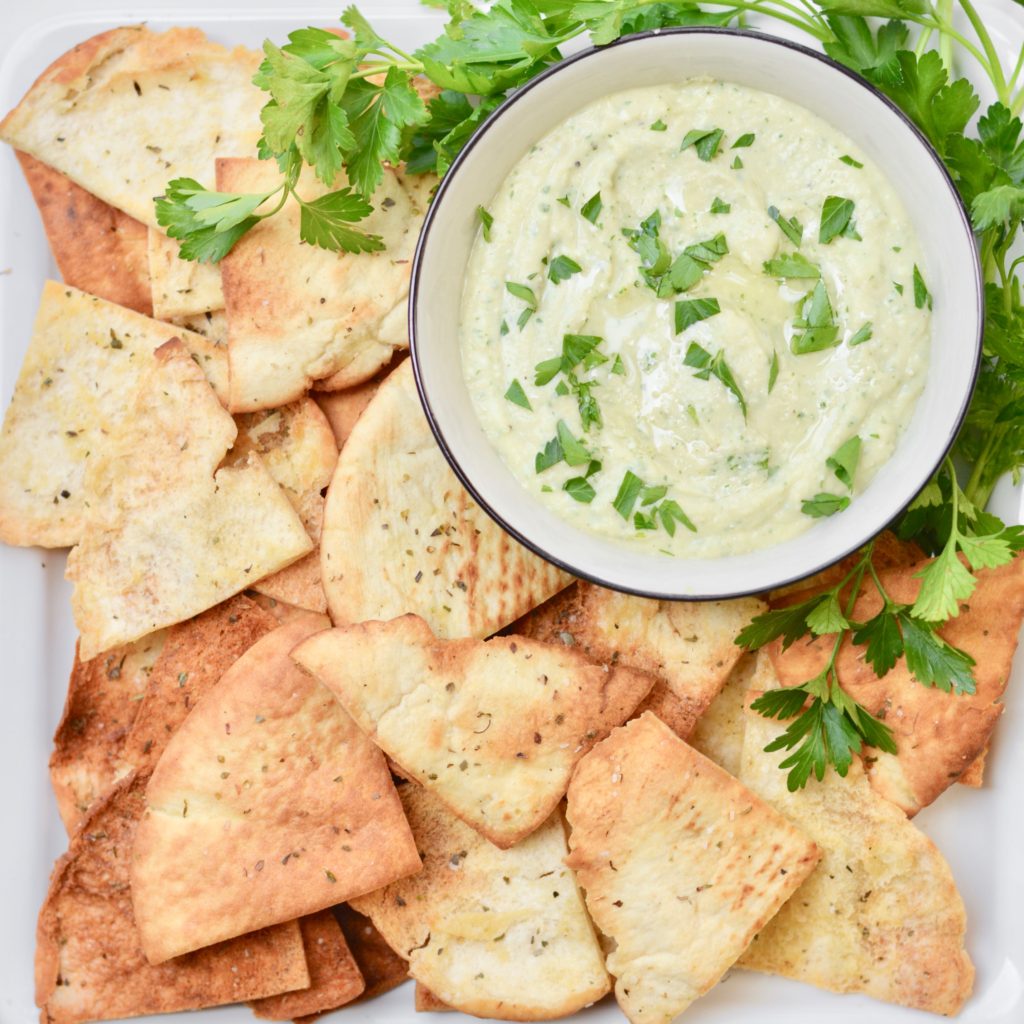 Everyday Italian Cookbook
Originally, I adapted this recipe from a Giada de Laurentis cookbook called Everyday Italian (affiliate link). I love this cookbook! She does a great job making some awesome Italian recipes really accessible for everyday. You should definitely check it out!
As a side note, I love to check out cookbooks at the library. If you miss looking at recipes in print rather than your computer, the library is the best way to get access to all the newest cookbooks! And you gotta love free! And if I fall in love with a cookbook, then I'll buy it after testing it out.
Make Baked Pita Chips to go with this white bean dip
Homemade pita chips are a game changer. You can check out my full recipe here. These are heads and shoulders above store-bought pita chips. Because the store-bought are so hard they hurt my teeth! These are light and crispy, with a touch of olive oil, salt,  and so herb-y and oh my goodness, now I want one.
Making a BIG batch of pita chips only costs $3! Whereas, the bagged stuff is $5 for fewer, teeth-hurting crunchy chips. So this is an easy choice. Especially since these babies take about 10 minutes to throw together and will last in a zip-top bag for a week.
Try these out as an easy appetizer or week-long snack and make healthy and homemade look easy!
Love this White Bean Dip? Try these other easy appetizers!
Don't forget the homemade pita chips!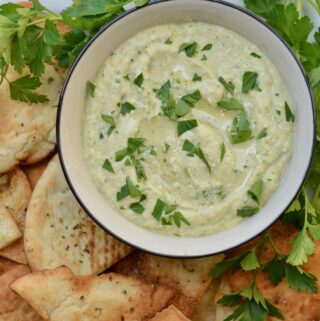 Italian White Bean Feta Dip
Healthy, filling and oh so yummy!
Ingredients
1

15oz

can cannellini beans

drained and rinsed

2

cloves

garlic

3

Tbsp

lemon juice

1/2

tsp

salt

more to taste

1/4

tsp

pepper

more to taste

1/4

C

chopped fresh parsley

1/4

C

crumbled feta

1/2

C

olive oil
Instructions
In a food processor, add beans, garlic, lemon juice, salt and pepper and process until combined. Add parsley and feta. With the processor running, slowly pour in olive oil until smooth (about a minute).

Done! Scoop it up and enjoy!