Ah! I can't get enough of these baked pita chips! So quick and easy to crisp up and ten times better than the too-hard stuff at the store.
Mediterranean Cuisine in Bali
This is really my favorite appetizer and snack. Since I absolutely love Greek/Mediterranean flavors. When my husband and I went to Bali (our pre-baby trip), every restaurant claims to be Mediterranean, no matter what they make. It could be traditional Balinese food, sign on the door: Mediterranean Cuisine. Why? I haven't a clue. BUT, my absolute favorite café there was a place called Kafé. Original, I know. (Sidenote: their menu has a whole section called "bread food". Love it!) At the time, their menu was actually Mediterranean and my favorite meal was the mezze plate. Mezze plate is essentially a small plate of Mediterranean appetizers. I was on cloud 9. I couldn't get enough of it.
The other awesome thing about this café was the paper lantern shop across the street. My husband and I would sit on their porch and look at all the beautiful lanterns. I wish I could have brought one home with me. Ah, I'm dying to go back. So, if you ever have the chance, go! Maybe we should have moved there instead of having kids . . . too late now, I guess . . .
Ok, I found this picture of us sitting on the front porch at Kafe! We're so young and adorable! (I still wear those sunglasses!)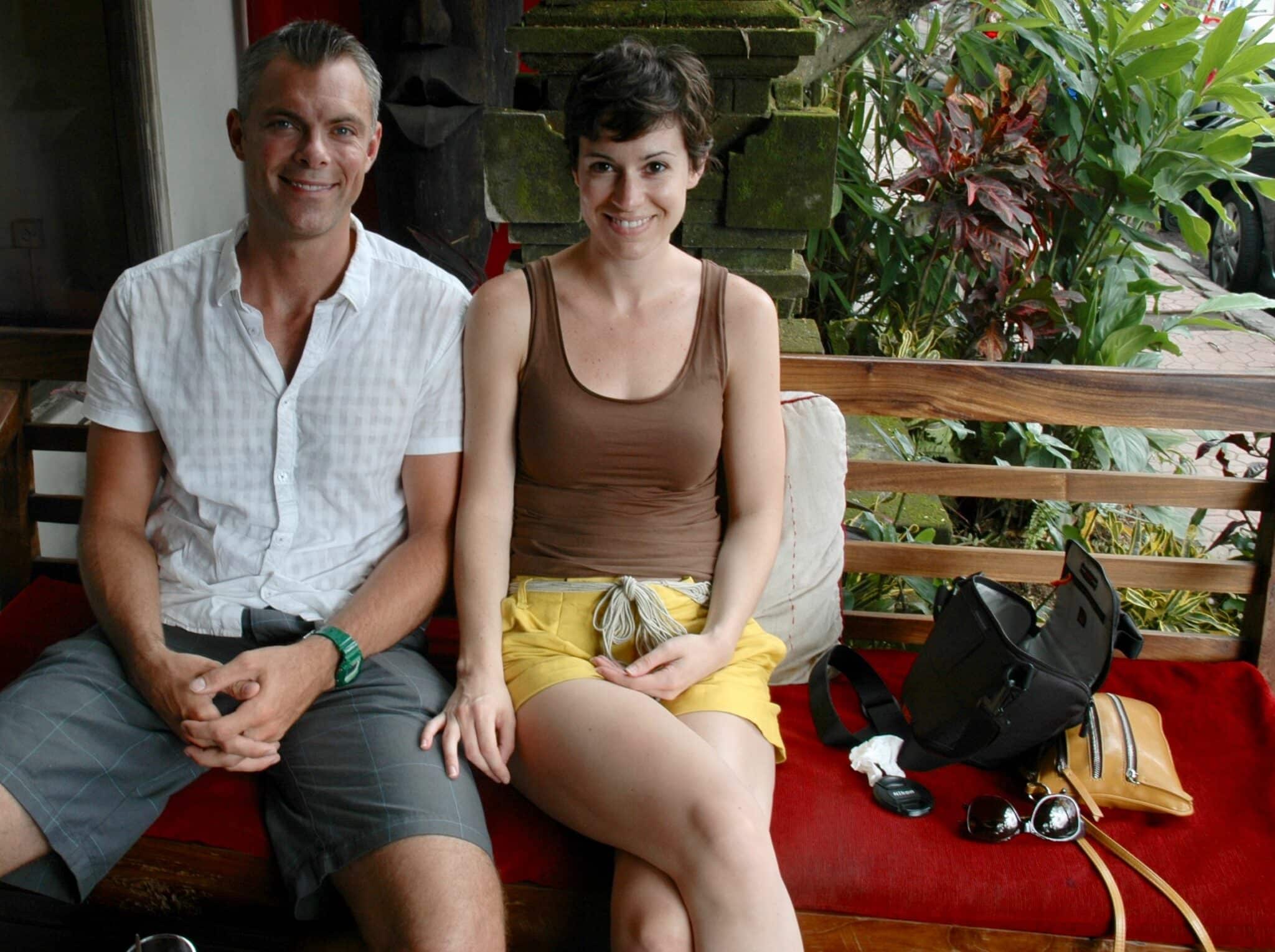 Making Baked Pita Chips
Now, moving right along. Where was I? Pita chips! You should make these. Because once you do, I bet you'll never want to buy the store stuff again. These are so light and crisp, but strong enough to dip or scoop your favorite hummus, feta, or dip! Just brush each side of pita bread with olive oil and sprinkle with seasoning. And then in just minutes they crisp up to perfection in the oven.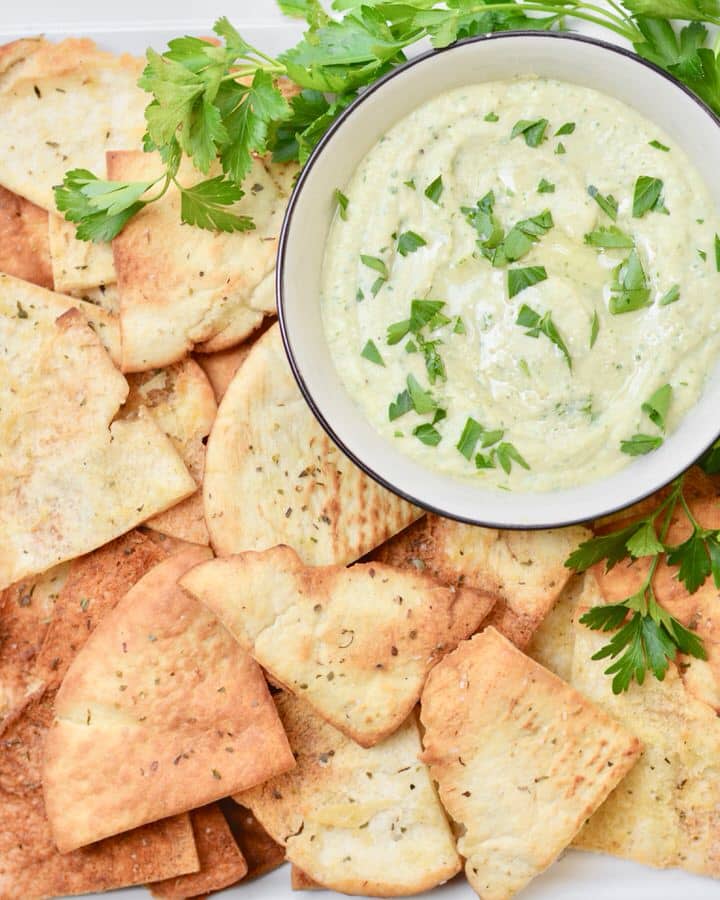 Dip 'em
This recipe is killer when you dip these into my Feta White Bean Dip, Baked Feta or my crazy healthy Pesto Dip. The perfect combination. And makes a great appetizer or snack for yourself! Or, maybe I need to work on recreating that Mezze plate from Kafe . . .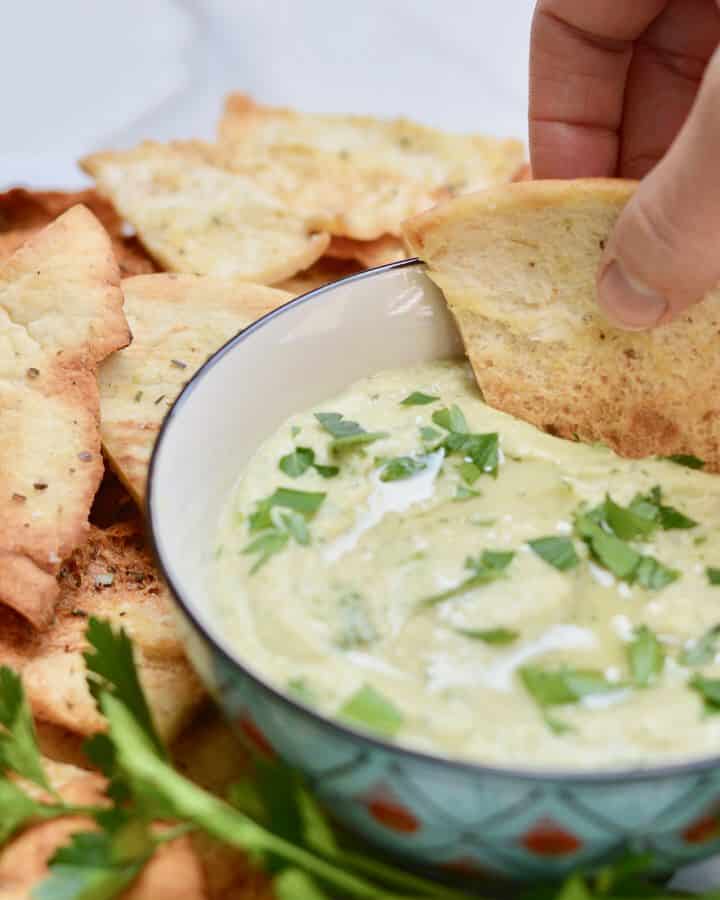 Love these baked pita chips? Try these other simple appetizer recipes!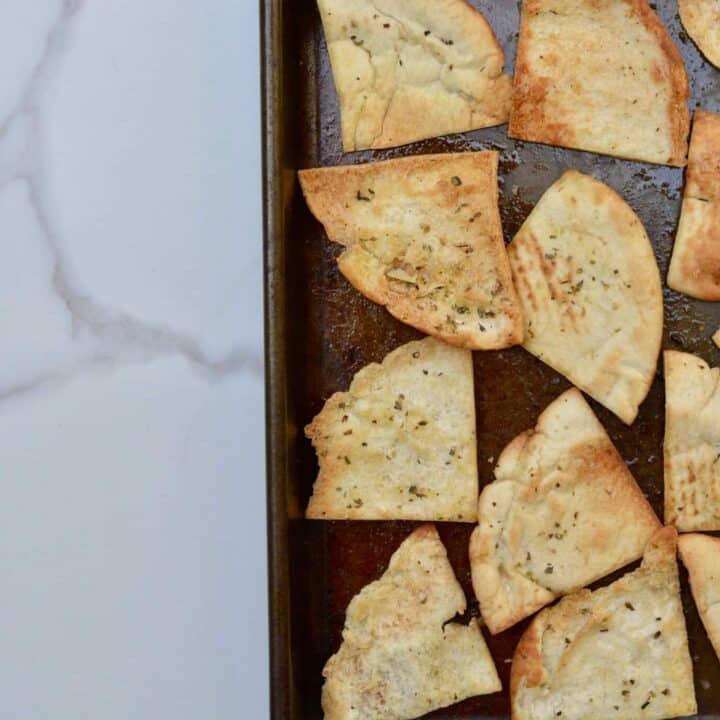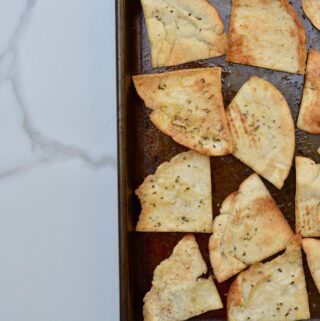 Baked Pita Chips
Sooo delicious, and oh so quick!
PRINT RECIPE
PIN RECIPE
Ingredients
6

pita breads

3

tablespoon

olive oil

1

teaspoon

oregano

1

teaspoon

kosher salt

1

teaspoon

freshly ground black pepper
Instructions
Cut your pita's horizontally in half. So you should get 2 rounds out of each bread.

Next, brush one round with olive oil. Stack the next round on top and brush it with olive oil (the oil from the bottom one will rub off on the bottom of the next, thus, oiling both sides for you in a flash).

Brush and stack each round. Next, slice in half and then in half again, so you have quarters.

Arrange the pieces evenly on large baking sheets (it takes at least 2). Try not to overlap.

Sprinkle with oregano, salt and pepper.

Bake for 6-8 minutes, then flip.

Bake the other side for another 6-8 minutes until crisp and lightly browned. They'll crisp up more when they cool.
Nutrition
Serving:
0
g
|
Carbohydrates:
0
g
|
Protein:
0
g
|
Fat:
0
g
|
Saturated Fat:
0
g
|
Polyunsaturated Fat:
0
g
|
Monounsaturated Fat:
0
g
|
Trans Fat:
0
g
|
Cholesterol:
0
mg
|
Sodium:
0
mg
|
Potassium:
0
mg
|
Fiber:
0
g
|
Sugar:
0
g
|
Vitamin A:
0
IU
|
Vitamin C:
0
mg
|
Calcium:
0
mg
|
Iron:
0
mg