Today I'm taking a departure from my usual recipe creation to tell you all about our recent experience of renting out our home on Airbnb while we went on a family vacation. In a nutshell, it was a LOT of work, but financially totally worth it. Below, I've outlined the process to setup your listing and prepare your home for guests. It's a long post, but if you're thinking of trying this out, this will give you a good, honest picture of what it looks like.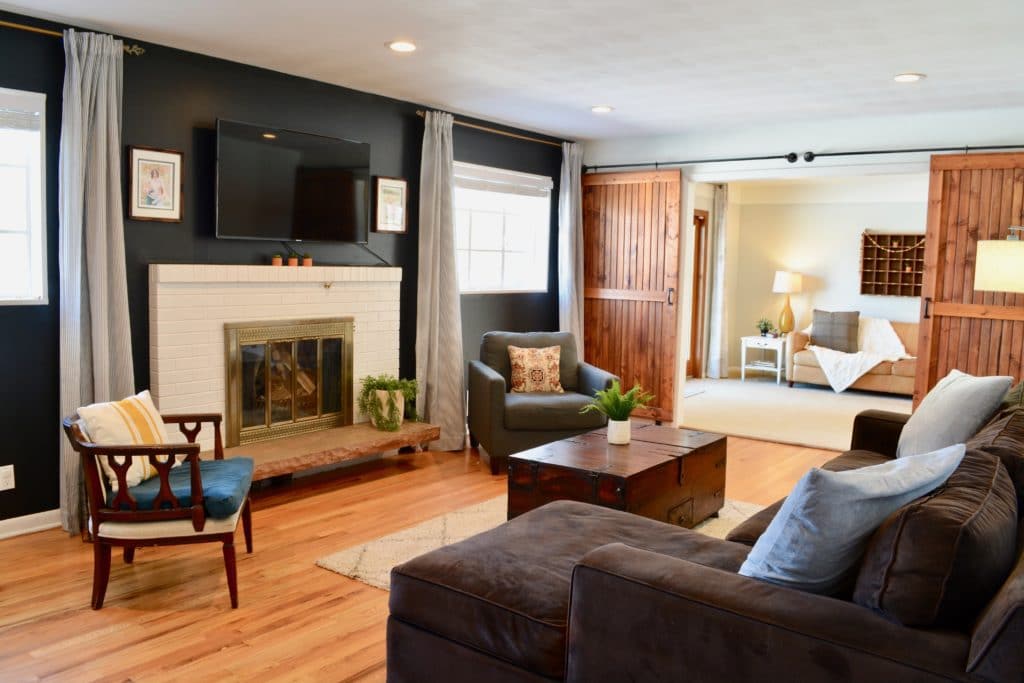 Check your local laws before you do anything
It's super easy to check on local laws regarding Airbnb rentals. I just googled "Airbnb regulations Denver". Denver's city website has a whole section dedicated to helping me figure out how to handle renting my home on Airbnb.
For Denver, the rules are relaxed if you're renting out your primary residence on a very part-time basis. You need to fill out an application for $25 and then pay for a license every 2 years for $50. I have a friend in Long Beach, CA who rents our her home, and she said there's no fees involved. But be sure to look this up for your city before getting started.

There are also tax implications if you rent your home for more than 14 days in a year. Airbnb often collects city tax from the guest, but you'll need to check on local taxes yourself.
How to Become a Host on Airbnb (hint: it's super easy)
On the Airbnb home page, there is a link at the top that says Become a Host. Start there by adding all your home details, such as amount and type of beds and any offered amenities, location and other basic details. Don't worry, no one will be able to see your exact location or be able to book anything until you open up dates on your calendar.
One of the things I love about the Airbnb site is that they're really upfront with how much they think you can earn with your home in your area before you even fill out all your details. It's a great motivator!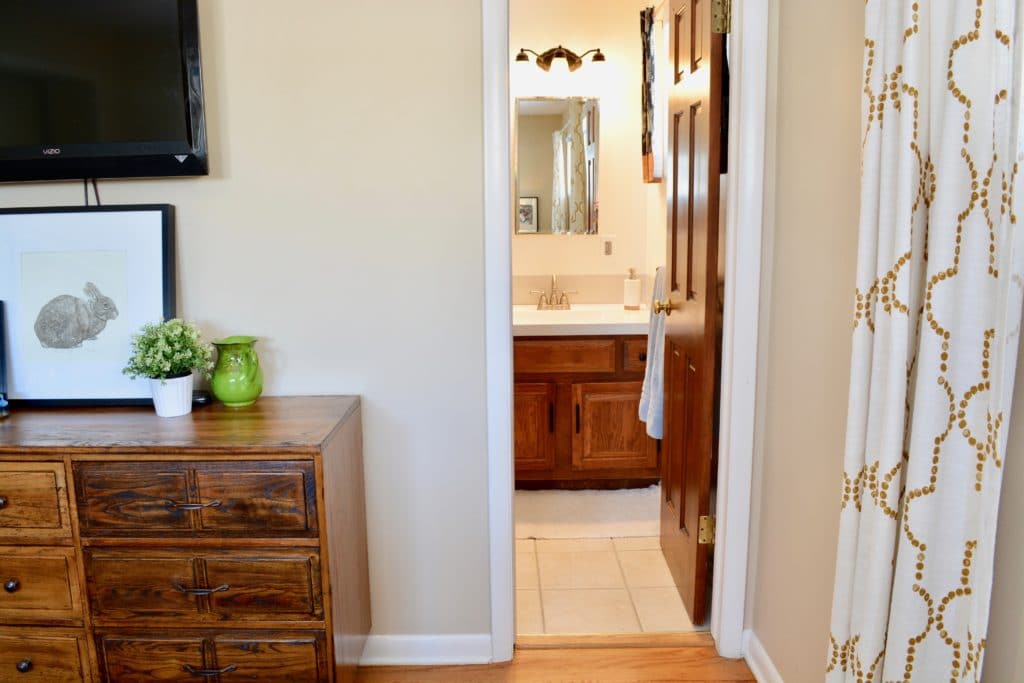 Prepare your home for high-quality photos
Once your hosting information is filled out, you'll need to upload photos. Now, before you even pull out your camera, you'll need to look at your home with a critical eye. Remove as much clutter and extra decór from your home as you can. You want people to feel like it's an open, friendly space without it feeling like they're intruding in your home.
Before taking photos, I would recommend taking down personal photos and removing anything out of rooms that did not directly enhance that room's beauty or functionality. (I forgot to take down some of our family photos, oops!)
then clean, clean some more, and then clean again
Before you take photos, deep clean each space. I did this one room at a time. I usually could only get to one room in a day, since I have small kids and I would never be able to get the whole house clean at one time.
Beyond the obvious cleaning of vacuuming, dusting, and picking up, I wiped down walls, the fronts of furniture and cabinets, washed and dried all pillow covers and rugs, wiped down and vacuumed upholstered furniture, dusted plants, straightened curtains and bed linens until they looked super crisp, and hid any electric cords. I also filled little holes in the wall, and washed windows inside and out. I even touched up the paint in spots I couldn't get clean.
You want your space to be inviting and warm, yet still feel as clean as a nice hotel room. It's a balance that many Airbnb hosts have done well. And if you've ever stayed at an Airbnb, you'll know the difference between a home that feels clean and comfortable and one where you're nervous to take your shoes off.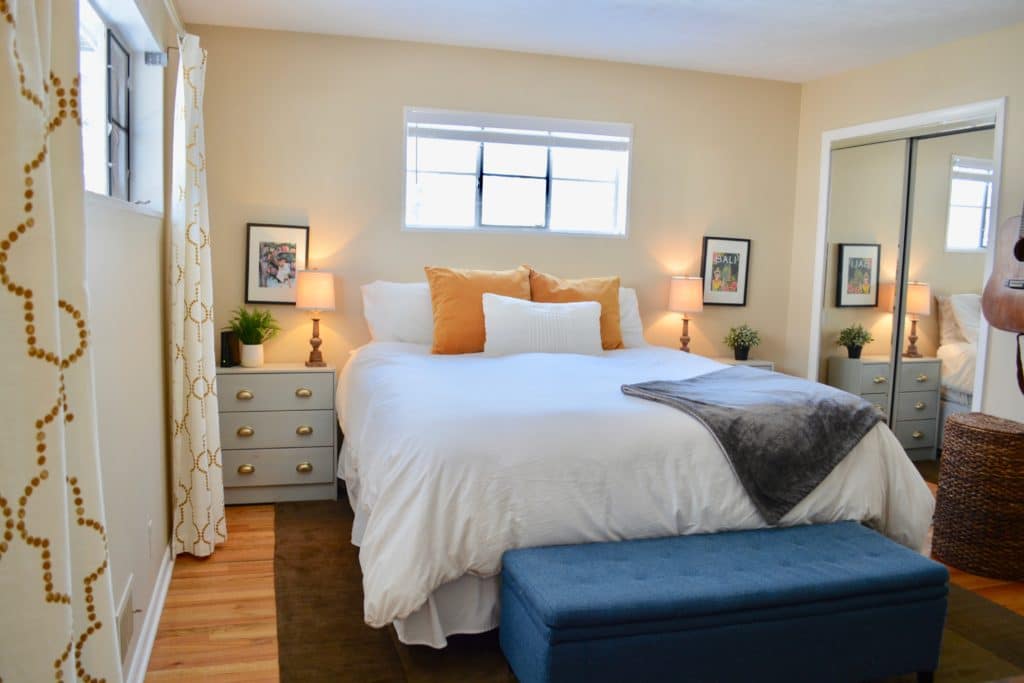 How to take great interior photos
Pictures of your home will make a big difference on getting it booked and getting the price you want. If you have a DSLR camera and a tripod, then set it to a wide angle and place it in the far corner of each clean room. There's never enough natural light to be able to just "snap" a photo.
I opened every window, curtains and blinds I could, but I still had to use a long exposure to get the lighting right. So a tripod is key. I use this inexpensive one from Amazon, it works great! I took photos from many different angles, because why not? People love to have a good idea of a space before booking.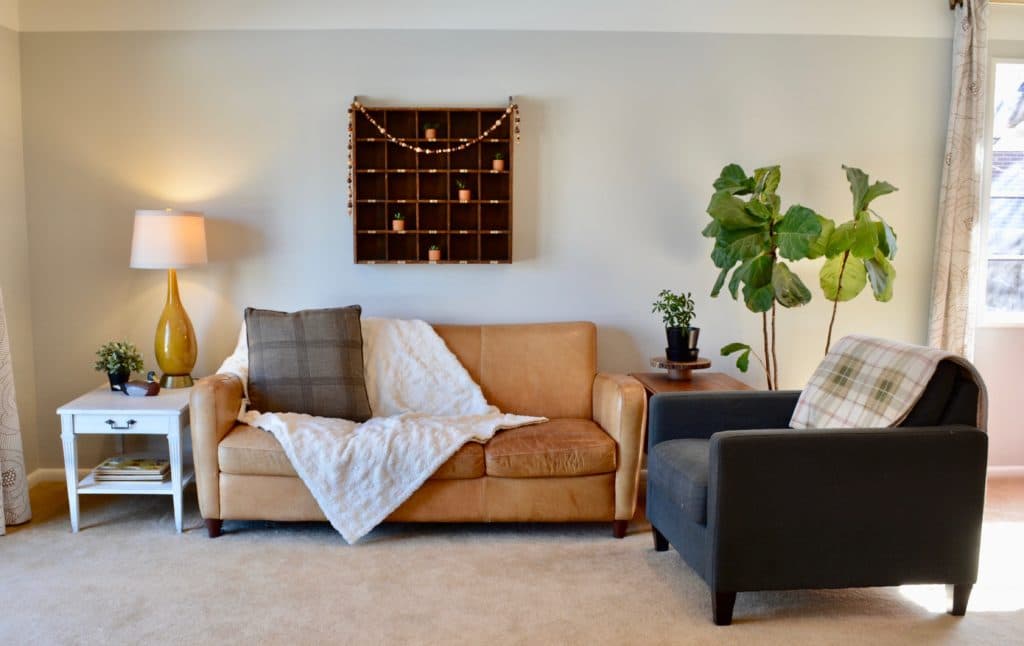 Highlight what sets your place apart from everyone else on AirBnb
Take some up-close photos of interesting objects or a comfortable reading nook, etc. This gives your home some character and showcases your style. I didn't include photos of every single space, just the main living spaces, bedrooms and backyard.
I think the more pictures, the better, but I simply didn't have the time to get every space, and the place was booked before I felt compelled to add any more. So start with your most beautiful and usable spaces to get the listing started, and then add later as you have time.
Airbnb offers a professional photographer option. However, it's not cheap. So I only felt it would be worth it if you're planning on renting out your home a LOT and you don't have the equipment to take quality photos yourself.
Open up dates on your calendar
Once you've added your amazing photos to your listing, take a look at the Airbnb hosting dashboard and go to the Calendar. This is where you'll open up dates and can set specific pricing.
Now pricing is a whole other beast in and of itself, but I basically picked a number that would make it worth it to me and was close to Airbnb's estimate for my home's value. I must have priced it well because we got 1 booking within the first few days and then another booking the day after that. So our home booked up for 8 out of 9 of the available nights I had opened on the calendar. Not bad!
Here's the math on our spring break Airbnb rental
We listed our home at $110 per night, plus a $60 cleaning fee
We had 2 different families stay for 4 nights each. (Adds up to $1,000!)
Airbnb charged me a $15 fee for each reservation (and that was it!)
So our total earnings was $970!
We spent about $300 on updates around the house, which gave us $670 to spend on a vacation.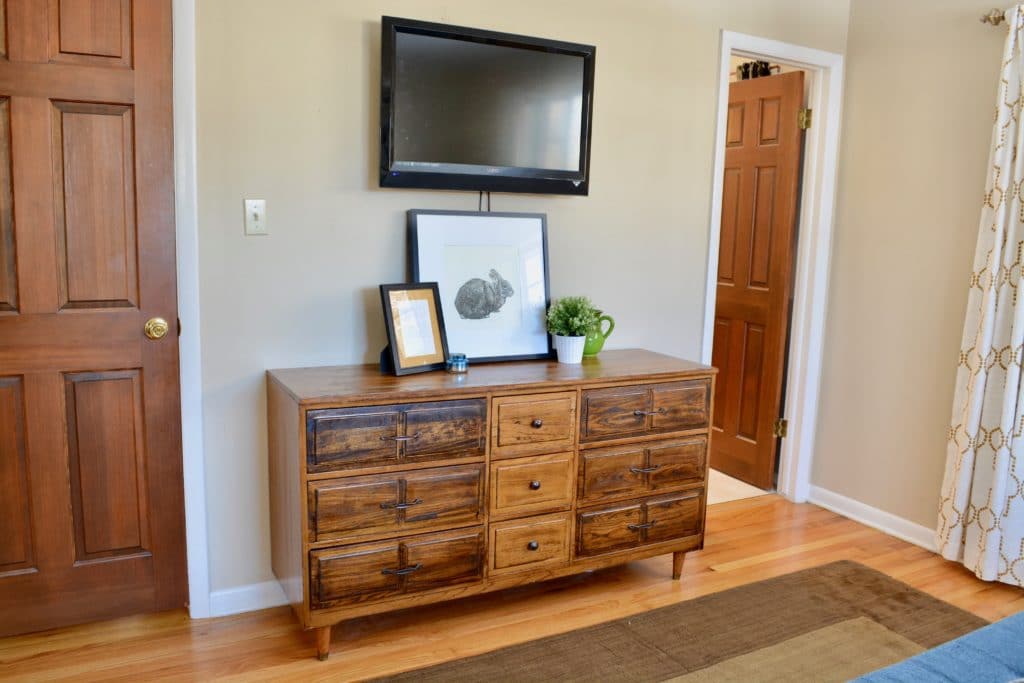 Getting your home ready for guests
Wait until someone books it before you buy anything
We did not update or fix anything around our house until we had a booking. Since this was our first one, we didn't want to purchase sheets and towels and little extras until we were certain we'd be reimbursed. But once we got those 2 bookings, it was super fun to be able to update things around our house at someone else's expense!
I got a new front door mat, kitchen comfort mats, shower head, storage bins for kids toys, a few fake plants, and some new pillows for the couch. So fun! And of course, we purchased guest sheets, pillows and towels, only to be used by Airbnb guests, not our personal guests.
Designate a place to put your personal items
Since this is your primary residence, you'll need a large space. A linen closet won't do. I felt that our solution to this was ingenious. We simply removed the handle off the interior door to our garage and switched it with the lock portion that's usually on the inside of the garage. Now you can only get into the garage from inside the house if you have the key!
It was so simple and it was totally free! So we had plenty of space to store all of our personal belongings in the garage while we were gone and our guests did not have access. We did hide a key to the garage in the house in case there was a problem with the power and they needed to get to the breaker box. But that's super rare and did not happen.

If you don't have a garage, perhaps you can use a mud room or bonus room, or storage shed where you can apply the same lock/handle switch that we did.
Fix whatever doesn't work
Those little wonky things you just live with will need to be taken care of. For us, that meant replacing a leaky shower head, using WD-40 on doors so they wouldn't squeak, replacing the interior hardware for one of our toilets, and replacing some of the kids toy boxes that were old and broken. I also finally finished up the decorating in our guest room with items I had on hand.

It was tempting to make every space look amazing and seems a perfect excuse to spend money. But remember, you want the renters to pay for your vacation, too!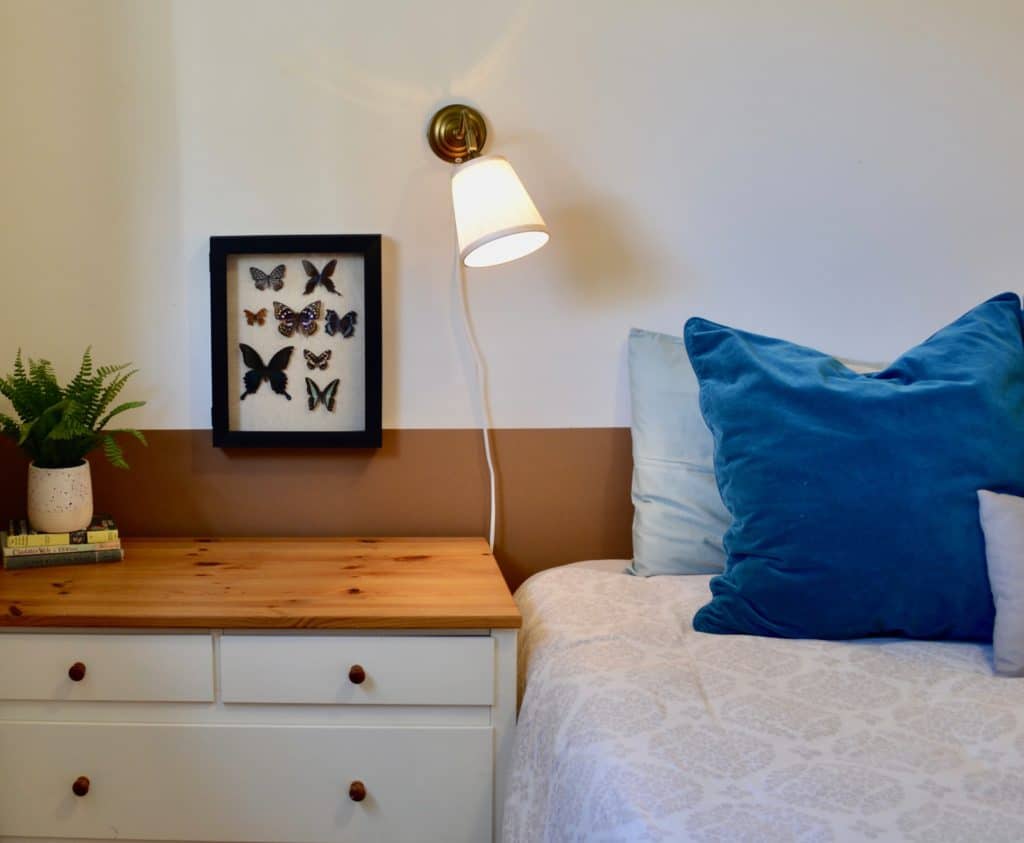 Buy waterproof mattress covers!!!
We purchased these waterproof mattress covers for every bed in the house. Without being gross, we felt like we should safeguard our mattresses against any possible spills or accidents from kiddos, etc. Replacing a mattress is just too expensive. So please, this is definitely an expense that's totally worth it.

We also purchased new sheets, pillows and a set of towels that we've designated to be just for our Airbnb guests. We didn't go super cheap on these items, but we definitely shopped for deals. The links here are the best quality deals we found.
Purchase a key lock for easy guest access
We purchased this coded key lock to hang on our front door. This way, we didn't have to meet our guests at the door to let them in and give them a key. This seems to be the preferred method for both the homeowner and the guests. I emailed our guests 2 days before their stay to let them know the code. It was super easy to setup and use and we had zero issues with it while we were away. And since the price is good, I'd definitely recommend this one!
Pull down all personal photos
Go around your house and remove personal photos off the wall and off bookshelves, until all that's left is professional artwork (your kid's art doesn't count). This was challenging for me, since I didn't want to leave empty spots on the wall.
I went through all my extra artwork and random extra picture frames until I found enough to fill in those spaces. Printing free artwork off online is a great way to fill these spots. Here is a link to Pinterest boards full of free artwork. Another place to look for cheap art is at the thrift store or Ikea. I didn't want to buy anything else I'd have to store, so I just went with what I could find around the house.
Clean out closets
Now I don't think it's necessary to completely empty every closet, however, we took everything out that was at eye level and the floor. So we kept a couple of storage boxes with out of season clothing and miscellany on the top level of our closets. But it was neat and tidy. The entire hanging bar and all the shoe area in every closet was cleaned out.
Empty dressers
How weird would it be to be staying at a rented place and you open a drawer to find all sorts of personal clothing items? Pretty weird. So, we used hampers and storage boxes to store all of our folded clothing that we weren't packing for our trip. We kept clothing separate for each of us so it was easy to unpack and just place back in drawers when we returned.
Create a welcome basket and a toiletries basket
Since both of my booked guests were coming with their families with lots of children, I put together a little welcome basket with bubbles, outdoor chalk, popcorn, goldfish and a box of macaroni and cheese. That way, they have a snack and an activity to keep the kiddos happy before they even unpack!

I also put together a little basket of travel-sized toiletries. Nothing extravagant, I found everything I needed in the travel section at Target. But then they had the same convenience as a hotel.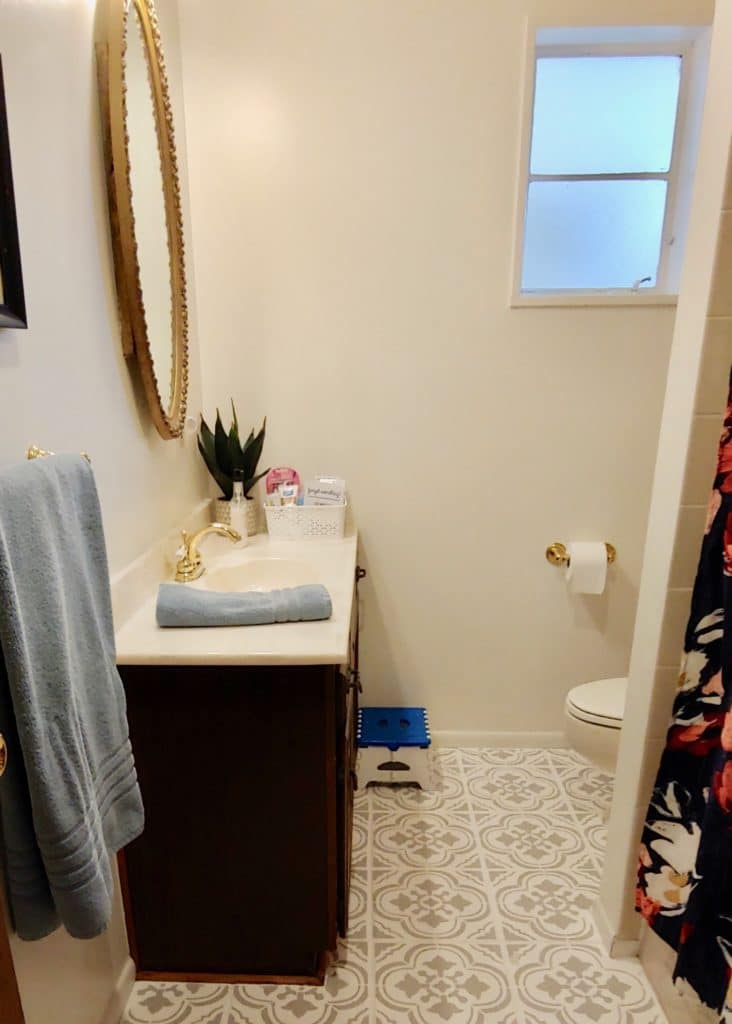 Create an AirBnb house manual - it's really easy!
I typed up a house manual in just a few minutes using Canva. Basically, I just wrote up a list of rules (pretty much just no smoking or parties) and wrote out some of our home's "quirks". I also created a check-out list, a warning sheet reminding people they're at high altitude, and a list of places to visit with kids. And we created a single sheet with TV instructions. Below are some FREE DOWNLOADS of the Wifi Information Sheet and the Check Out Instructions Sheet. Just click the links to download!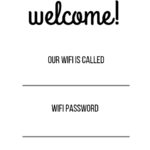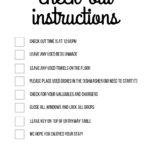 Now go get started! Have fun! And contact me if you have any questions.