Nestled among the creamy melted Monterey Jack cheese are delicious bits of sautéed red onion and jalapeño. My other favorite part? The bread crumb topping! Dipping tortilla chips into this Smoked Queso Recipe with Monterey Jack Cheese might be my new favorite hobby. Everyone needs a hobby, right? Queso is my hobby.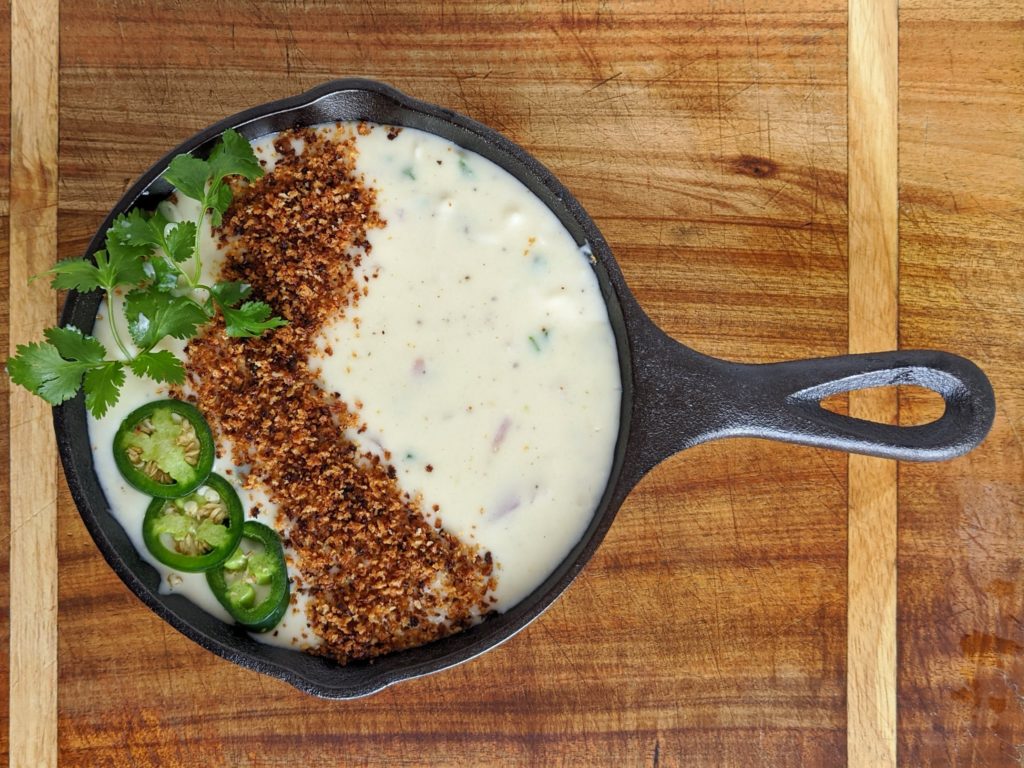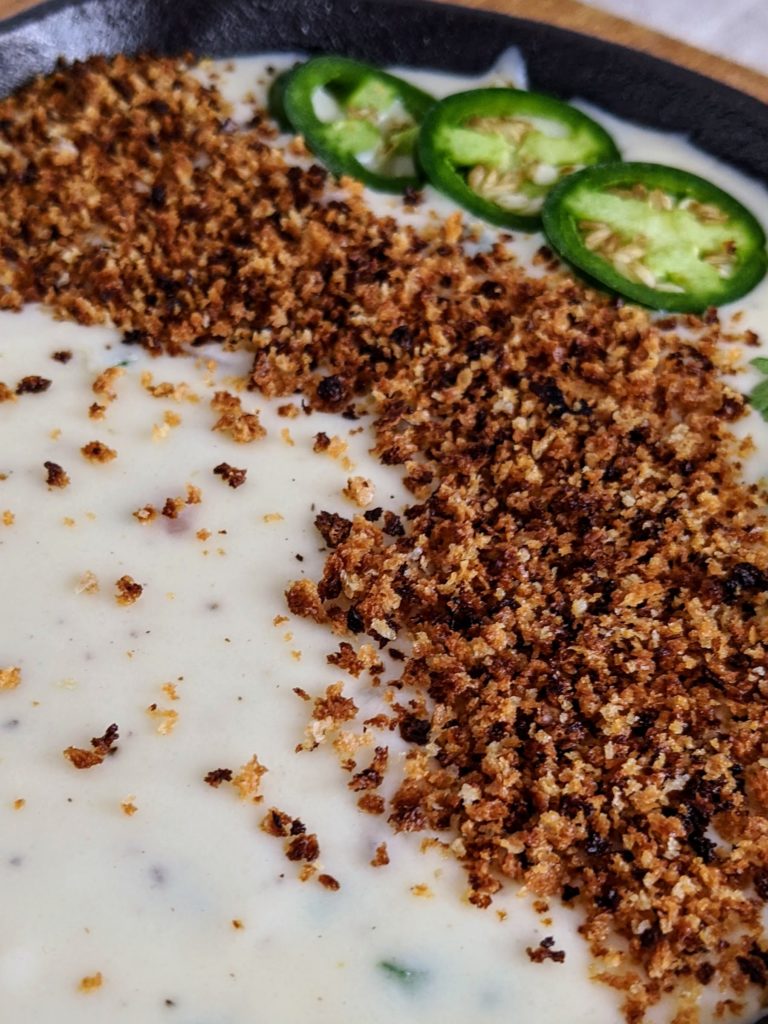 Need to make this for Dietary Restrictions?
Making this Monterey Jack Queso gluten free
So simple to keep this gluten free, simply substitute the bread crumbs for Rice crumbs (found at specialty stores and Trader Joe's) or skip it altogether. Although, it does make it realllllly good! There is no other gluten in the recipe.
Can I make this Monterey Jack queso Lactose free or Vegan?
Yes! Feel free to substitute the milk for your favorite milk alternative. We've made it with almond milk and could barely tell the difference! The more fat in the milk, the better!

For the cheese, you can substitute your favorite vegan cheese. We like a mix of Daiya cheddar and mozzarella cheese shreds. You can find those at Target or most grocery stores. The texture will be slightly different with vegan cheese, but the flavor will still be amazing! The real star of this recipe is the onion and jalapeño, and those flavors will still shine through!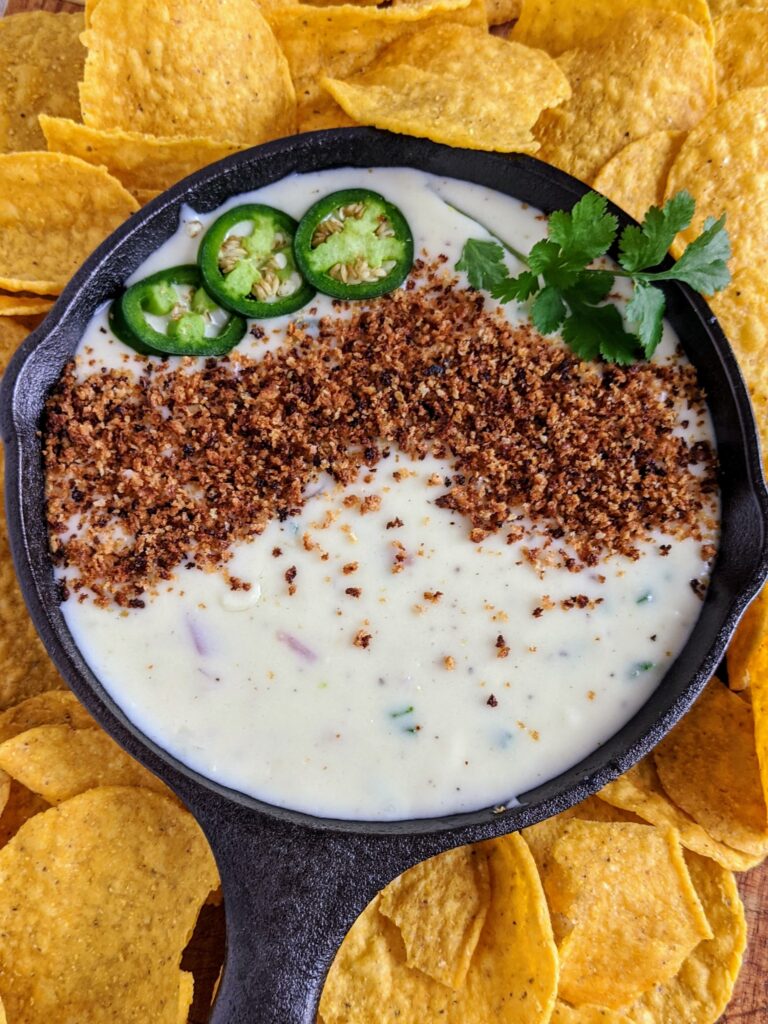 Simple Ingredients for Amazing Queso
Red Onion - ½ a large or a whole small onion, chopped into small pieces.

Jalapeños - Don't be afraid, just take the seeds and white part out of the center of your Jalapeño to keep the spiciness to a minimum. You can always add more if needed.

Monterey Jack Cheese - Good quality cheese will shine through in this recipe, so go for the good stuff at the store if you can!

Milk - We use 2%, but whole milk would also be amazing. 1% or nonfat would make it runny and less flavorful.

Bread Crumbs - Yes! Total game changer. Toasted panko bread crumbs make for a delicious little crunch and a pretty presentation.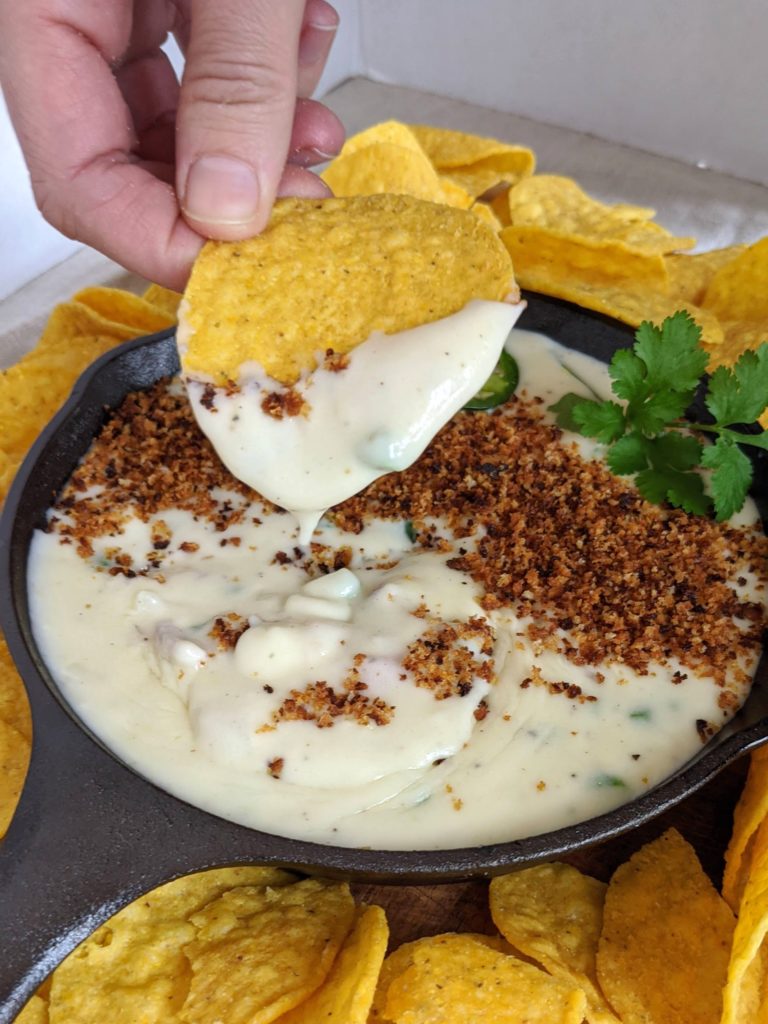 To make this Monterey Jack Queso Cheese dip, simply...
First, let's get those amazing bread crumbs ready! Simple add EVOO to a skillet along with the bread crumbs and toast on medium high heat until they're nice and brown and toasty. Set those aside.
In the same skillet, melt the butter and add the chopped red onion, garlic, jalapeño and a pinch of salt and pepper. Sauté until veggies are tender. About 8 minutes.
Once your veggies are smelling amazing, pour in the milk of your choice and bring to a low boil. In a small bowl, combine the cornstarch and water to create a slurry. Stir this into the milk and continue heating and stirring until thickened, about 2 minutes.
Remove the skillet from the heat and add the cheese. Stir in that Monterey jack cheese until fully melted and incorporated with the milk.
Pour the Monterey Jack Queso into a serving dish (or straight from the skillet!) and top with bread crumbs and cilantro.
Serve with tortilla chips, bread slices or veggies. OR, pour it on top of some nachos, a burrito, or tacos. YUM!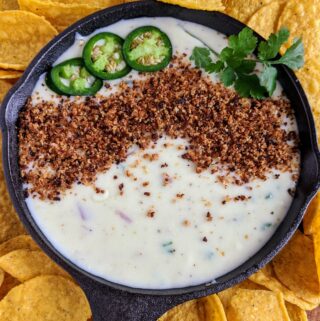 Ingredients
2

tablespoon

Butter

unsalted

2

tablespoon

EVOO

1

small red onion

finely chopped (½ a large)

1

Jalapeno

seeded, diced, plus slices for garnish

2

garlic cloves

minced

salt and pepper

1

tablespoon

cornstarch

1

tablespoon

water

1 ½

C

milk

whole or 2% works best

16

oz

monterey jack cheese

shredded (equivalent to 2 Cups)

cilantro for sprinkling

tortilla chips for serving
Crumb Topping
½

C

panko bread crumbs

gluten free

1

tablespoon

EVOO

Salt
Instructions
Make the crumbs
Add EVOO and crumbs to cast iron skillet over medium heat, stirring until crisp (about 5 minutes). Set aside to cool.
Make the Queso
In the same skillet, melt the butter over medium heat. Add the onion, jalapeño, garlic and a pinch of salt and pepper. Cook, stirring until veggies are tender. About 8-10 minutes.

Add 1 ½ C milk and bring to a low boil over medium high heat.

Create a slurry with cornstarch and water, add to the milk and simmer until thickened, about 3 minutes. Remove skillet from heat. Stir in the cheese until melted. Season with salt and pepper.

Scatter crumbs on top, then sprinkle with thinly sliced jalapenos and chopped cilantro. serve with tortilla chips.