Do you stand in front of your pantry every afternoon searching for the perfect snack? These Spiced Sugar Pecans has made that afternoon hankering so much simpler! Now that I have a canister full of these pecans, I don't have to pause and search or even prepare anything. I just grab a handful and I'm good to go. Sweet, spicy and full of all the healthy nutrition I need from a snack.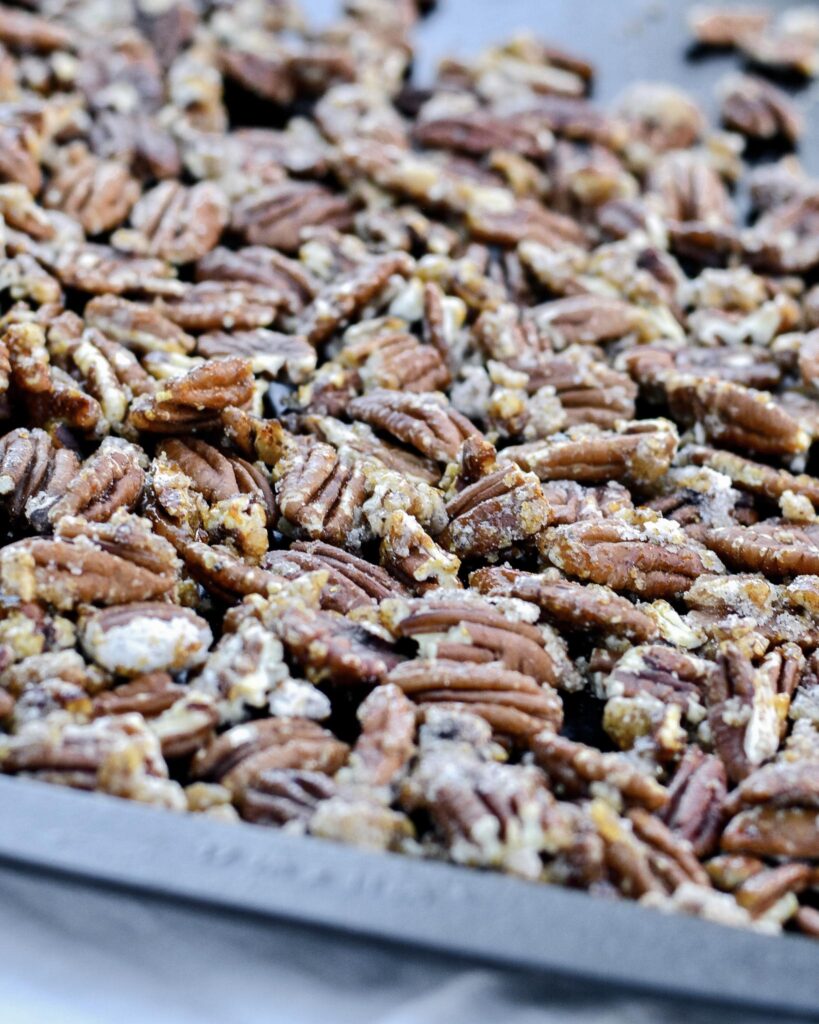 Simple, delicious ingredients for sugared pecans
Pecans—You could definitely use a different nut, however I've found pecans to be the best flavor. Plus, I love the way the sugar and spice gets trapped in all the nooks and crannies. I buy my pecans in bulk at Sam's Club, but Sprouts also has a great price in their bulk section.
Sugar—I've only made this recipe with regular ol' granulated white sugar. I'm not confident that sugar substitutes would melt and harden quite as pleasantly as white sugar.
Pepper—Here's where the spice comes into these Spiced Sugar Pecans. You can use anywhere from ¼ to a full teaspoon. I like it with just ¼ tsp, but if you like it spicy, feel free to add more. Warning: the longer it cooks, the spicier it gets.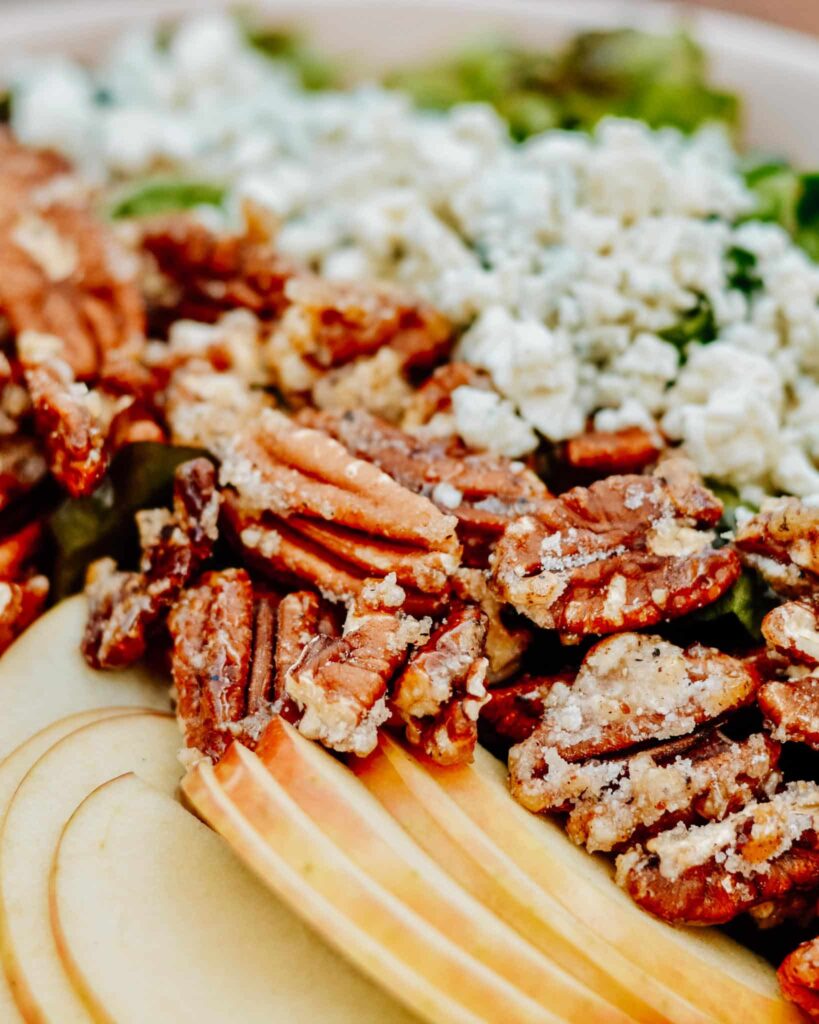 To make these sugar spiced pecans, simply...
FIRST, grab a large saucepan or cast iron skillet (my favorite!) and heat it up over medium high heat. Also grab a baking sheet and set it nearby. This is where we'll place the nuts to cool straight from the pan.
In a small bowl, ADD the sugar, salt and pepper. Just a warning, pepper gets spicier when heated, so try this recipe with just ¼-1/2 teaspoon first, then add more next time if it's not spicy enough. I was surprised how spicy they can get when a lot of pepper is added.
NEXT, add the pecans to the warm pan. Let's get toasty! You'll want to heat the nuts over medium high heat until just fragrant, or about 1-3 minutes. Be careful not to burn.
Once the nuts are smelling amazing, ADD about ½ of the sugar mixture and STIR constantly while the sugar melts. Once fully melted, add the other ½ of the sugar mixture. Continue heating and stirring until sugar is mostly melted and sticking to the pecans.
Be careful not to overheat. If the sugar is heated for too long it becomes hard and can break a tooth! Be sure to REMOVE the spiced sugar pecans from the heat as soon as the sugar is all sticking to the pecans, about 5 minutes total.
POUR out the pecans onto the baking sheet to cool.
Once cooled to the touch, BREAK UP the pecan clusters and start snacking!
FINALLY, your pecans are ready to top a salad, served alongside cheese and crackers, or just for snacking by the handful. These will stay fresh in an air tight container for up to 2 weeks. YUM!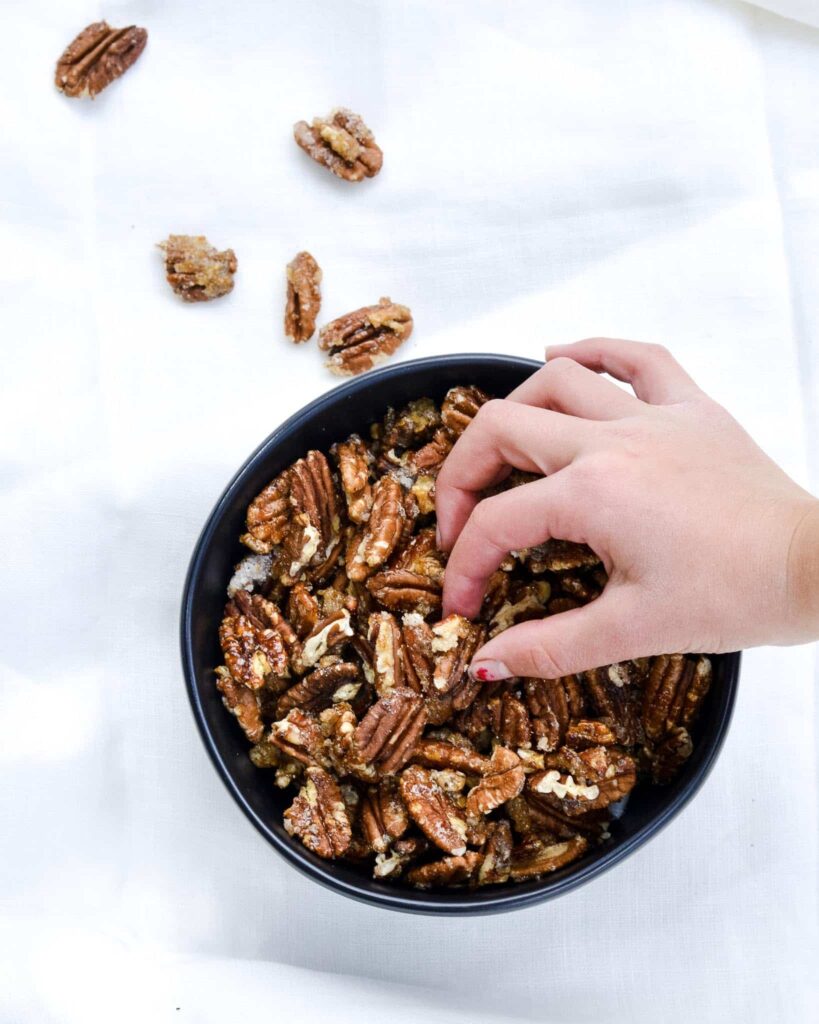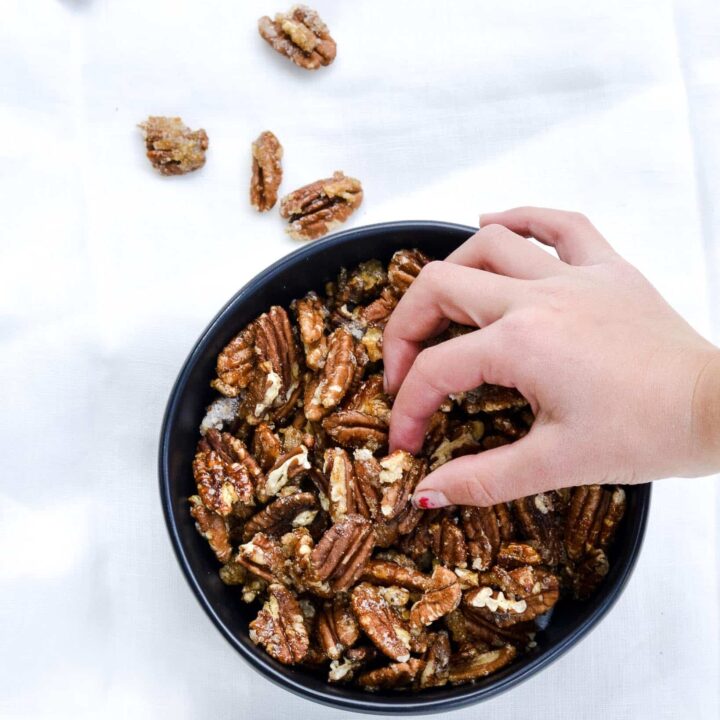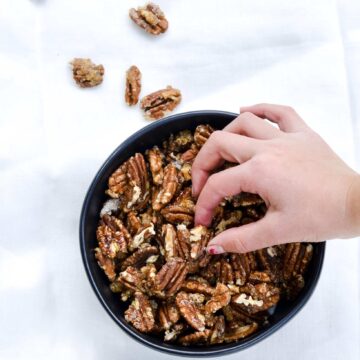 Ingredients
1 ¼

C

pecan halves

¼

C

granulated white sugar

1

teaspoon

kosher salt

¼

teaspoon

ground black pepper

-

more if you like it spicy
Instructions
Combine sugar, salt and pepper. Set aside.

Place a baking sheet nearby to transfer hot pecans when finished.

In a skillet, heat pecans for about 1 minute on medium-high heat, until fragrant.

Add half of the sugar mixture and mix until sugar melts and starts clinging to the pecans.

Add remaining sugar mixture and continue stirring until sugar melts. The longer you heat, the harder the sugar gets and the spicier the pepper is.

Immediately turn out onto a baking sheet.

Once cooled, break the pecans apart.

Store in an airtight container at room temperature. They'll keep fresh for up to 2 weeks.
Notes
Be careful not to heat for too long. The longer the sugar heats, the harder it gets. Save your teeth and remove as soon as the sugar is all melted.