No need to avoid your vegetarian friends anymore! This Mediterranean Vegetable Pot Pie recipe is super easy to make ahead and then throw in the oven when your veggie-friends arrive! It's also so beautiful!
Sign up for our FREE 7 Day Simple Meal Plan!

Love your vegetarian friends or start "Meatless Monday"
I have some friends that I just love. Except that they're vegetarians. I know, right? But I still love them. However, the way I show my love is through my cooking. How will they ever know how I feel if I can't adequately express myself through food?! Because every time they come over, I'm scouring ideas or even considering purchasing tofu. I know.
Enter stage right: this amazing Mediterranean Vegetable Pie.
Voila! After the first bite of this pie, I'm feeling the love around the table in both directions! Who knew vegetables could be so delicious? And with 2 kinds of cheese and plenty of herbs, this vegetable pie will have you going for seconds.
Everything should come wrapped in pie crust, right?
I mean, seriously, wouldn't everything be more delicious wrapped in pie crust? Isn't it just so pretty!? You almost don't want to cut into it…almost.
I had fun searching for easy ways to decorate your pie crust without needing any special cutters or stamps or spending forever braiding or lattice-ing. Plus, my simple fork method took about 20 seconds and really gave the crust that special touch.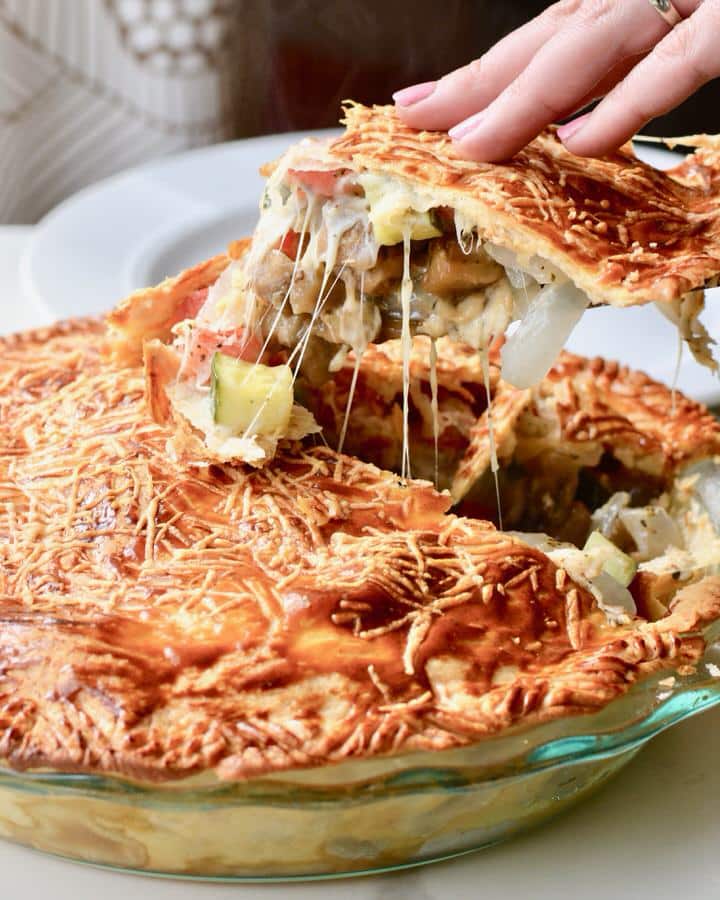 Need vegetarian AND gluten-free? Easy!
Of course, my vegetarian friends are now also gluten-free. Apparently everyone on the planet is now. However, you can easily make a gluten-free pie crust like this one here from Mama Gourmand. Her recipe is really easy and doesn't require purchasing 6 different weird flours in order to make it taste normal. I'm excited to try this recipe next time I make this pie! I love using a glass pie dish so I can easily see if the bottom is done.
If you're needing an outstanding gluten free dessert too, try our flourless chocolate cake! It's really amazing.
So don't be afraid of your vegetarian (or gluten-free) friends anymore! Now you can invite them over without apprehension and make them this vegetable pie. And they'll love you forever, even though you're a carnivore.
Love this vegetable pie? Try these other simple veggie-centered recipes!
If you decide to give this recipe a try, be sure to snap a photo to share, tagging @theovenlight and #theovenlight on Instagram or Facebook!