Let's talk about Asian food. It's all amazing. I could literally eat it every day. And my favorite way to begin any Asian meal is with these fried cream cheese wontons. So I finally decided to try my hand at frying. That's right, my previous frying experience is next to nil. But the temptation to eat fresh wontons in the comfort of my own home made me do it. I was helpless to resist. I bet you will be too once you see how crazy easy it is!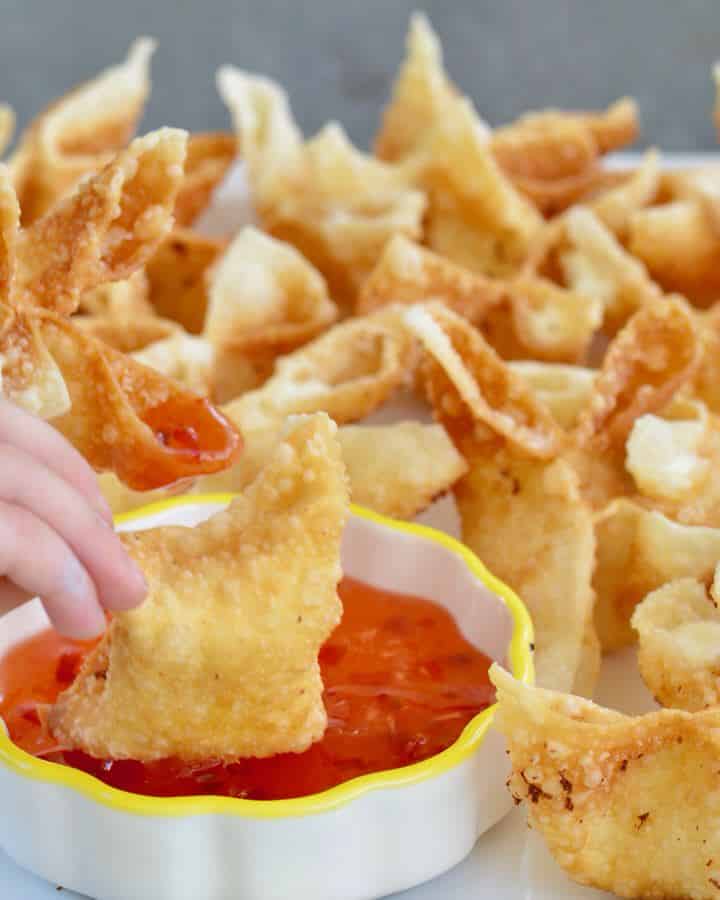 Sign up for our FREE 7 Day Simple Meal Plan!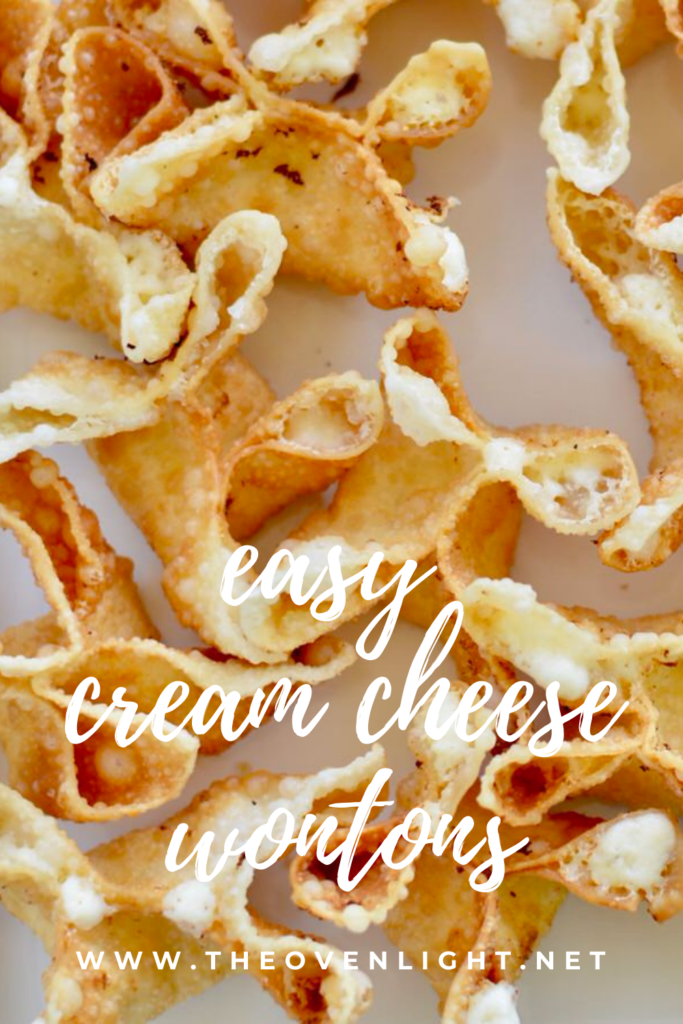 Wontons – Kids Love Them Too!
That's my 2 year old daughters hand dipping her wonton there. I had no clue the kids would like these so much, but they were all chowing down. So there's another reason to make these. AND they can be super cheap to make, too. AND it's easy to make a ton in no time at all, so they're perfect party food. That's like a million reasons right there. What more do you need?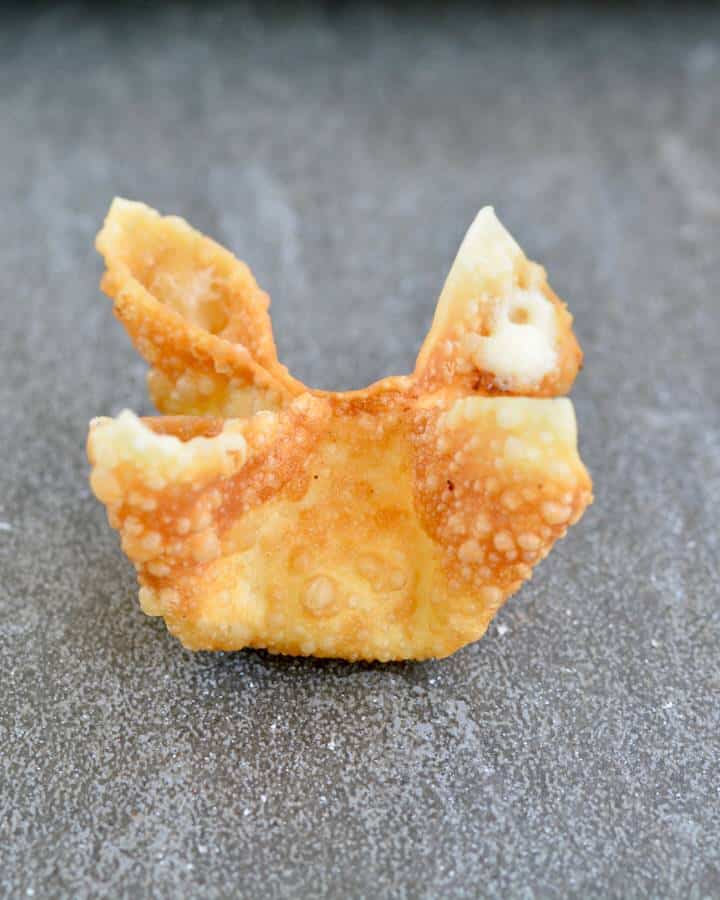 Wonton Ingredients
Cream Cheese – I prefer to stick with full fat, quality cream cheese here. The fat helps keep the cream cheese from getting watery and leaking out while frying. I haven't tried it yet, but there are some great dairy-free cream cheese options out there if you're dairy sensitive.
Shallots – I adore shallots. I replace onions with this sweeter little brother any time I can. They also have a low water content, which helps keep the filling thick.
Granulated White Sugar – It may seem a bit odd to add sugar, but this is the perfect complement to the tangy cream cheese. The sweetness brings out the flavor of the shallots too.
Wonton Wrappers – These are often found in the freezer aisle near frozen breads or Asian foods. Make sure to give yourself enough time to defrost the wrappers. They're thin, so they don't take too long.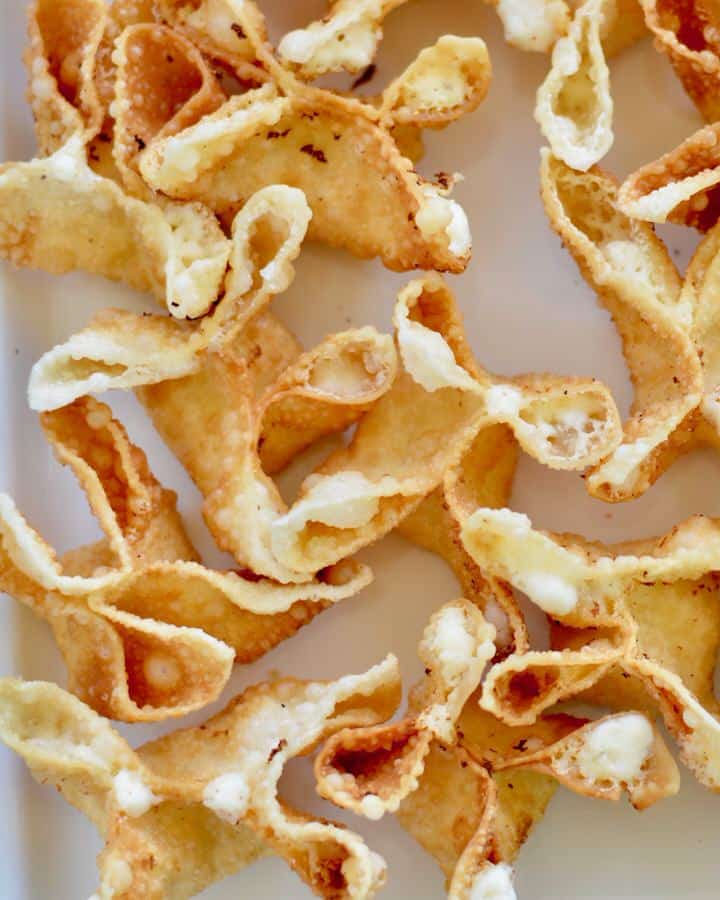 Frying is really simple
Look how cute and perfect they came out? This is with no previous experience. I've made them probably 3 times now, so I'm no expert, but they've come out perfect every time. So if you've never fried anything before, don't be intimidated, it's really quite simple.
Shallots in Wontons
Shallots are my favorite onion. They're so sweet and such a perfect size for smaller recipes. I use these more than any other kind of onion. I use them in my Balsamic Fig Sauce and my Quinoa Side Dish with Spinach and Bacon.
I finally found a great explanation why shallots are so amazing. They have an intensified sweet onion flavor but have a much lower water content, so they can be added without watering down your fillings or sauces.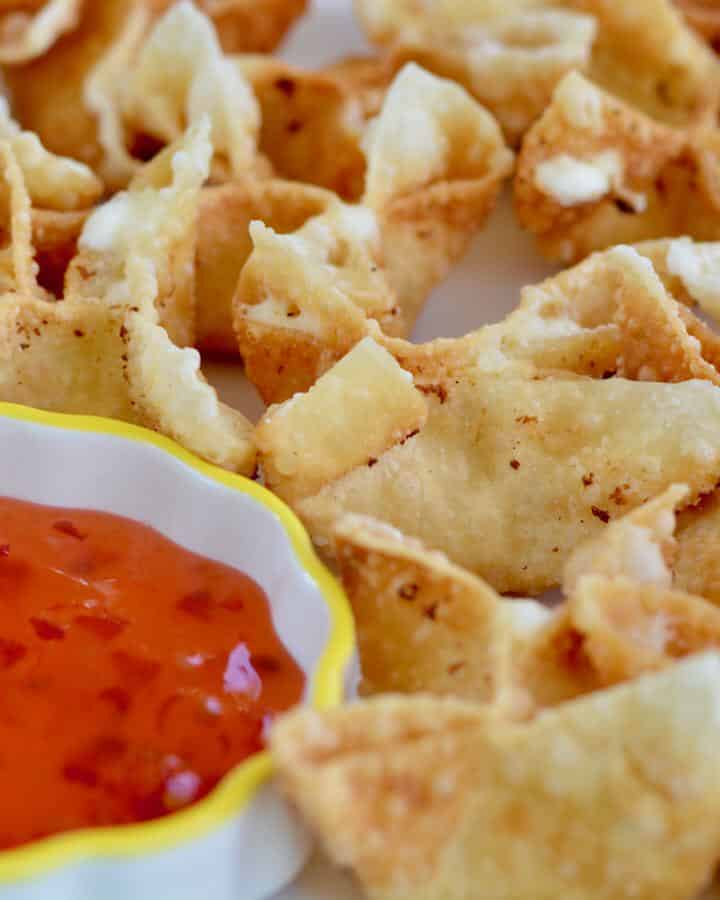 Yikes, those look amazing! Why don't we all eat Asian food all the stinkin' time? They seriously know what they're doing.
I used a pre-made dipping sauce from Trader Joe's called Sweet Chili Sauce. It did the job just fine, but my next mission is to make an amazing dipping sauce for these babies. I've created a Korean BBQ sauce that would be amazing with these!
Love these cream cheese wontons? Try these other awesome appetizers!
If you decide to give this recipe a try, be sure to snap a photo to share, tagging @theovenlight and #theovenlight on Instagram or Facebook!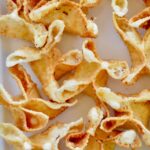 Print Recipe
Fried Cream Cheese Wontons
4 ingredients—super quick to prep and fry.
Ingredients
1

8oz

package cream cheese

1

medium shallot

diced

2

Tbsp

granulated sugar

1

package wonton wrappers

found in the freezer section of your grocery store

1

egg
Instructions
Defrost your wonton wrappers.

Mix together cream cheese, diced shallot and sugar until combined.

In a bowl, whisk up your egg with 1 Tbsp of water

Place about 2 tsp of cream cheese mixture in the middle of each wonton. Dip your finger in the egg mixture and dap a little onto the center part of each side. Press opposing sides together and pinch in the center to enclose the cream cheese.

Don't worry if they flop over a bit, they'll perk up when you fry them.

In a heavy-bottomed deep pan, place about 3 inches of vegetable oil (or frying oil of your choice). Heat until 350 degrees. Place 4-5 wontons in at a time and leave for about 1 minute until lightly browned.

Place wontons on a cooling rack with a cookie sheet or paper towels underneath to catch the dripping oil.

Fry them all up! Watch your temperature as you fry and adjust your heat as needed to keep it close to 350.