This oven roasted Pork Tenderloin with Balsamic Fig Sauce is such a scrumptious combination of sweet and savory. Sweet figs mixed in with the bursting flavor of balsamic vinegar poured on top of a tender flavorful pork loin is a total dinner win! This was the most flavorful and tender piece of pork I've ever prepared. It really came out so incredible. The pork was so moist and juicy, you'll want to make it again and again! Bonus: my kids both loved it!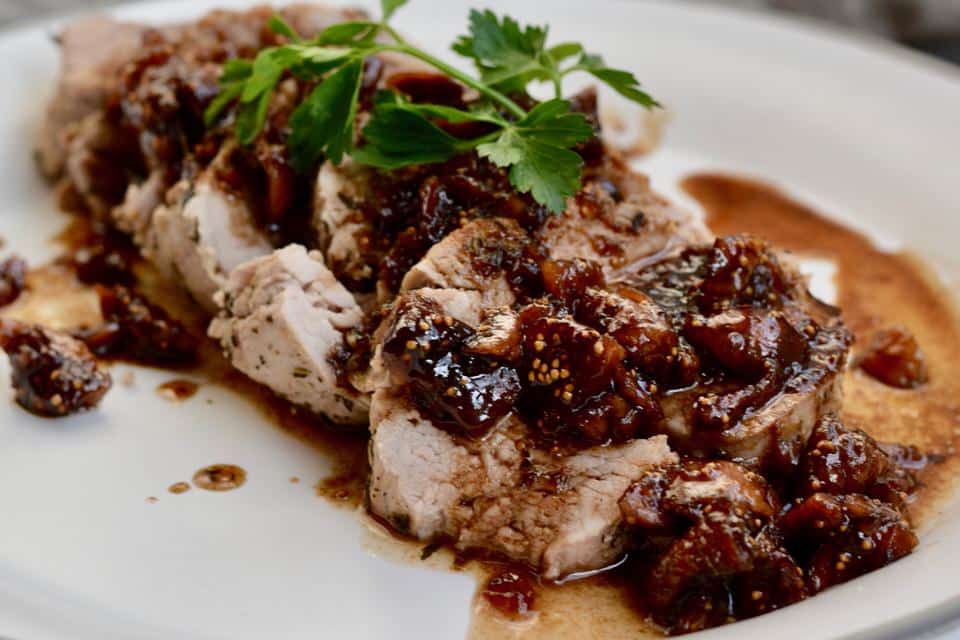 Sign up for our FREE 7 Day Simple Meal Plan!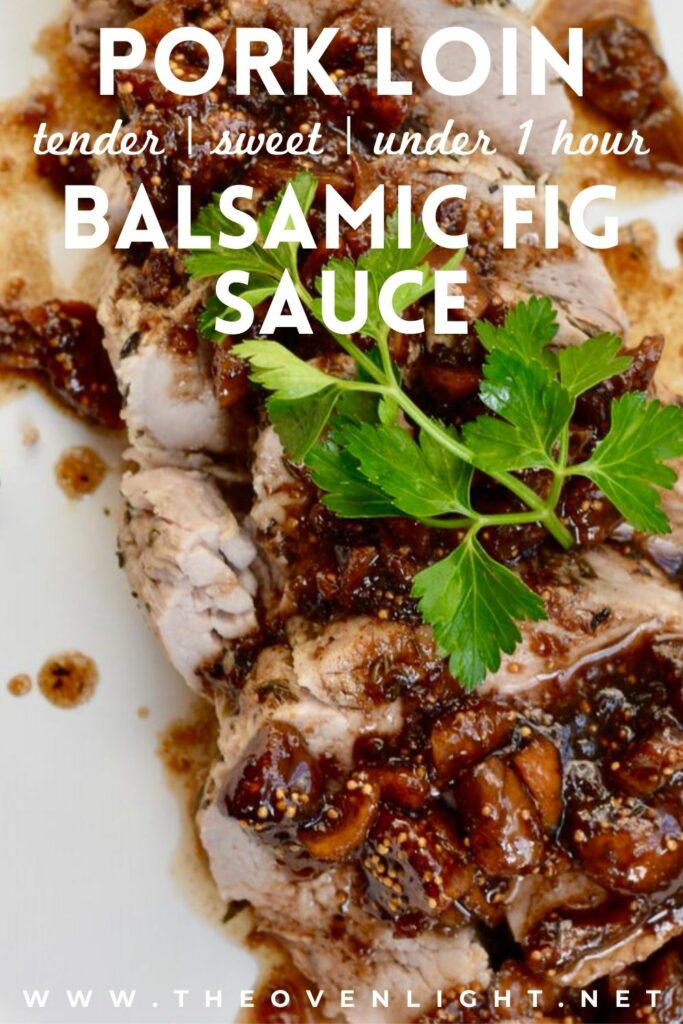 How to make perfect oven roasted pork tenderloin
1. Searing your pork really makes a difference
Get a nonstick or cast iron skillet really hot. Allow to heat for about 5 minutes on medium heat and add oil to pan. After seasoning with salt and pepper, use tongs to pick up tenderloin and place in skillet. Lightly brown each side of the pork, turning after about 3 minutes. Try to brown evenly all the way around, and stand it up on the ends, using the tongs and brown each end as well. This will truly lock in moisture and flavor.
2. Lots of seasoning = lots of flavor
Generous salt and pepper really enhances the natural flavors of pork and helps lock in the juices. Then the thyme adds an earthy, herby flavor to your tenderloin to take it to the next level.
3. Wrap tenderloin in foil and roast in the oven
Oven roasted pork tenderloin is a delicious and simple way to cook your pork. The best way to keep the juices and flavor is to wrap the tenderloin in foil with butter. It'll take about 30 minutes at 350°F. Roast until the center of the pork reads 150°F for medium well or 165°F for well done.
4. Rest, rest, rest
Always, always, always allow your meat to rest. This might be the most important step to keep your meat from drying out. Vent the foil and then rest for 5 minutes. Unwrap and move to a cutting board (be prepared for it to be very juicy). Slice into medallions about 1″ thick and arrange on a platter. Spoon sauce over the top and serve with more sauce on the side.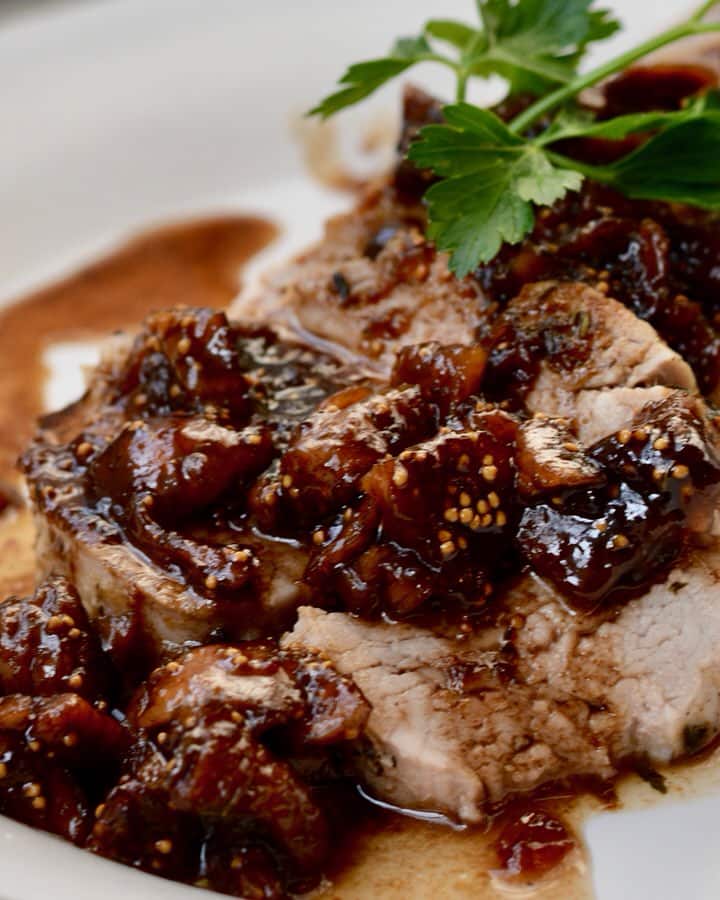 Figs make everything fancy – And dried figs are always in season!
And if you've been around my blog at all, you know I have an obsession with figs. This recipe uses chopped dried figs (which I always have on hand). They're not expensive and they really go with anything. I often eat them for lunch with a few slices of cheese and the combination is so sweet and sharp and full of flavor. And now combined with balsamic vinegar? Dynamite!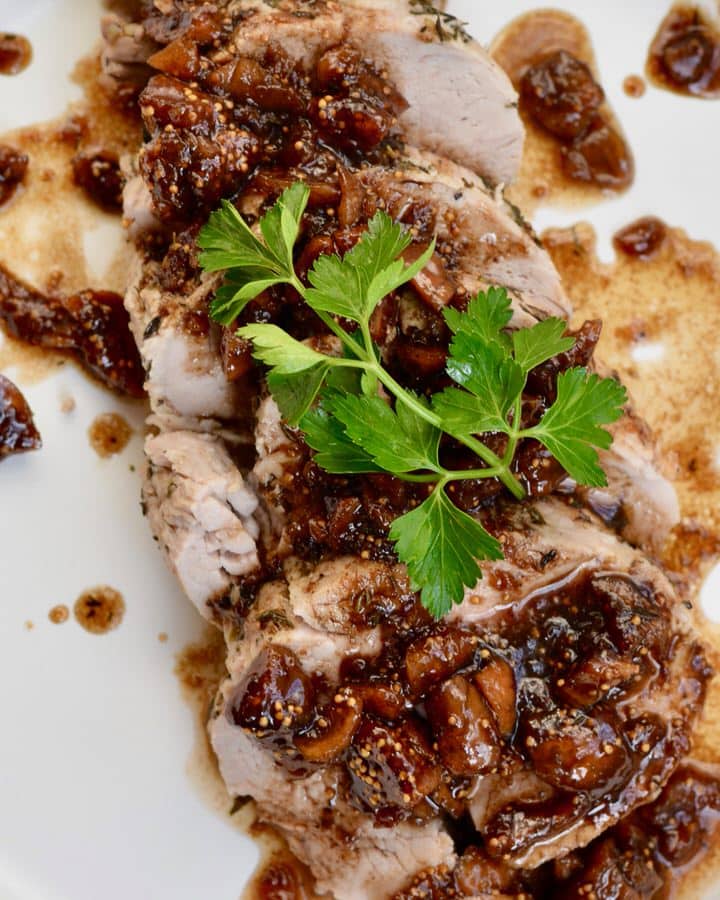 Perfect Pork Tenderloin Side Dishes: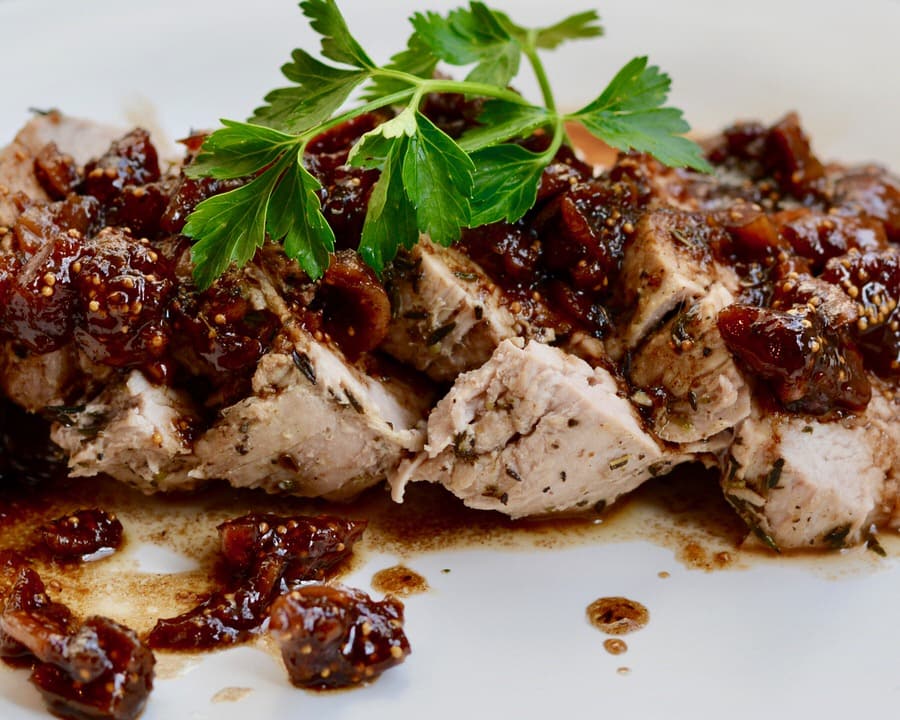 Balsamic Fig Sauce – No such thing as too much
The times I made this where my pork loin was larger (closer to 3 pounds) I wish I had doubled the sauce. Although there was still enough, I like everything drenched in sauce. And especially this one. So if you end up with a bigger tenderloin, double the sauce recipe. You won't be sorry. And if you need a great appetizer to go with this meal, try this Fig & Goat Cheese Crostini with Honey & Mint.
Love this balsamic fig pork tenderloin recipe? Try these other amazing dinners!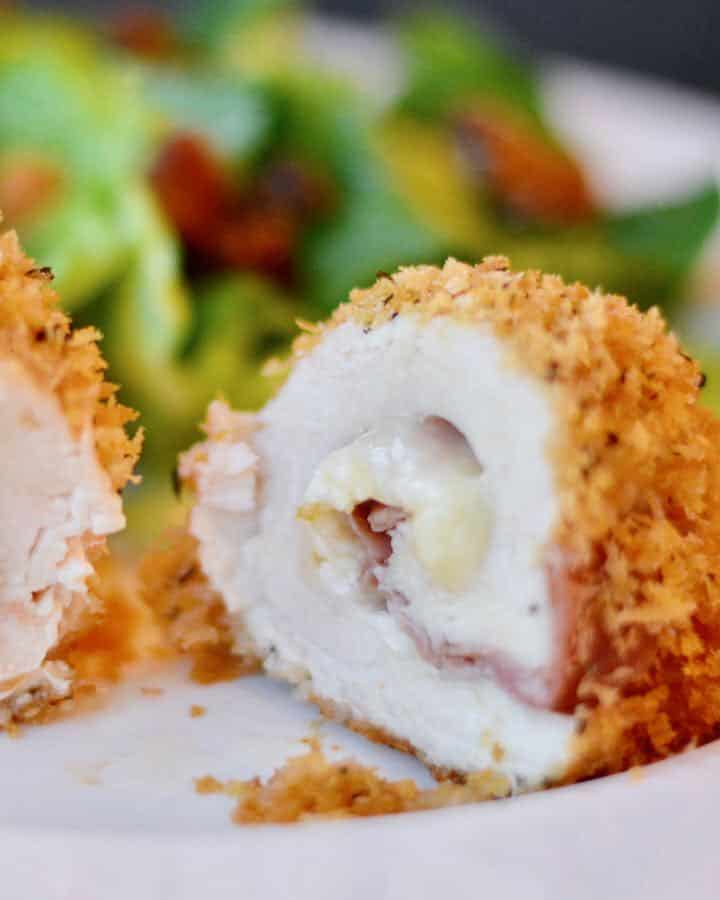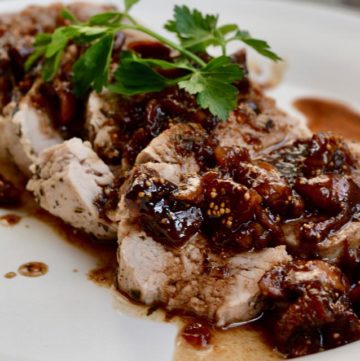 Pork Loin with Balsamic Fig Sauce
Perfect recipe to make for company!
Ingredients
For the Pork Loin
1

2 lb

pork tenderloin

2

Tbsp

olive oil

salt and pepper

generous

1

Tbsp

dried thyme

or 2Tbsp fresh

2

Tbsp

butter

cut into 4 pats
For the Balsamic Fig Sauce
1

Tbsp

butter

1

shallot

finely chopped

1/3

C

water

1/3

C

balsamic vinegar

1/4

C

chopped dried figs

1/2

tsp

dried thyme
Instructions
Preheat oven to 350° F. Line a baking pan with heavy duty aluminum foil.

Generously season pork with salt and pepper. 

In a large pan, heat olive oil until shimmery. Add tenderloin and cook on all sides until browned.

Place tenderloin on foil in the baking pan. Sprinkle with thyme on all sides. Place pats of butter on top of tenderloin. Wrap in another layer of foil.

Bake until an internal thermometer reads 150° at the thickest part of the meat. 25-35 minutes.

When pork is done, remove from oven and let rest at least 5 minutes to lock in the juices.

Slice against the grain and serve with balsamic fig sauce (recipe below). 
For the Sauce
While the pork is cooking, place a skillet over medium heat and melt butter. Add shallot and cook until translucent. Add water and balsamic vinegar. Heat uncovered until reduced by about half and it is noticeably thicker.*

Add chopped figs and thyme. Stir until fully combined and figs have softened slightly. About 3 minutes. 

Remove from heat and serve over pork.
Notes
*If you're using a thickened balsamic vinegar, no need to reduce for more than 5 minutes. This makes a great meal to serve company. It seems so fancy, but is really simple! The sauce can be made ahead of time and then re-heated to make dinner prep simple. 
Nutrition
Calories:
79
kcal
Carbohydrates:
8
g
Protein:
1
g
Fat:
5
g
Saturated Fat:
1
g
Cholesterol:
1
mg
Sodium:
14
mg
Potassium:
89
mg
Fiber:
1
g
Sugar:
6
g
Vitamin A:
42
IU
Vitamin C:
1
mg
Calcium:
39
mg
Iron:
1
mg