Call it what you want, I promise you'll love this Miso Stuffing recipe. Full of miso, caramelized onions and french bread, this will definitely be your new favorite side dish, stuffing, bread-cube thing. I serve it alongside pork loin, chicken breast or turkey on Thanksgiving. YUM!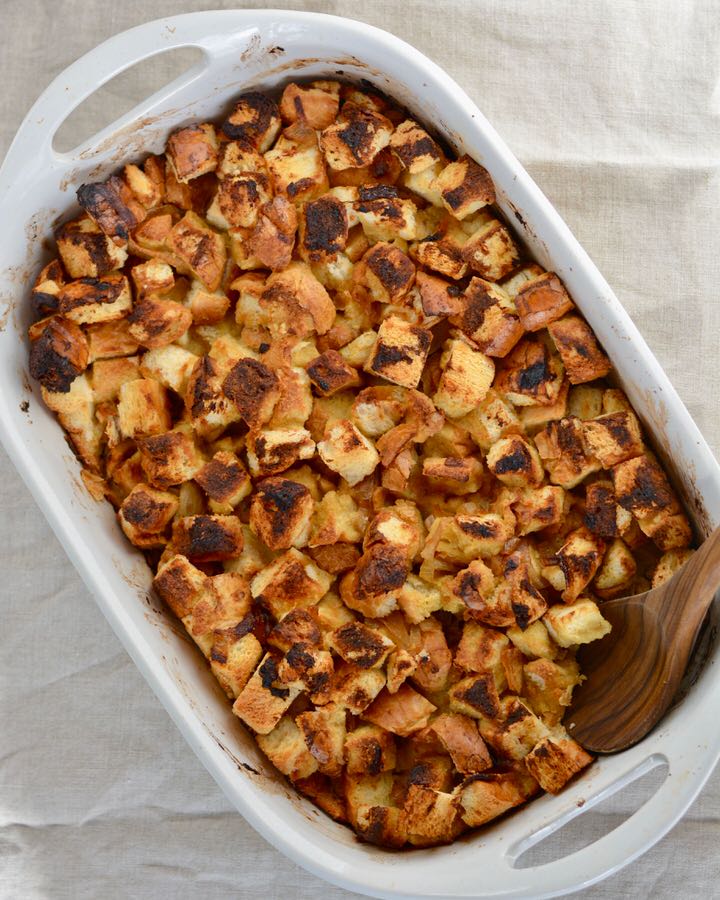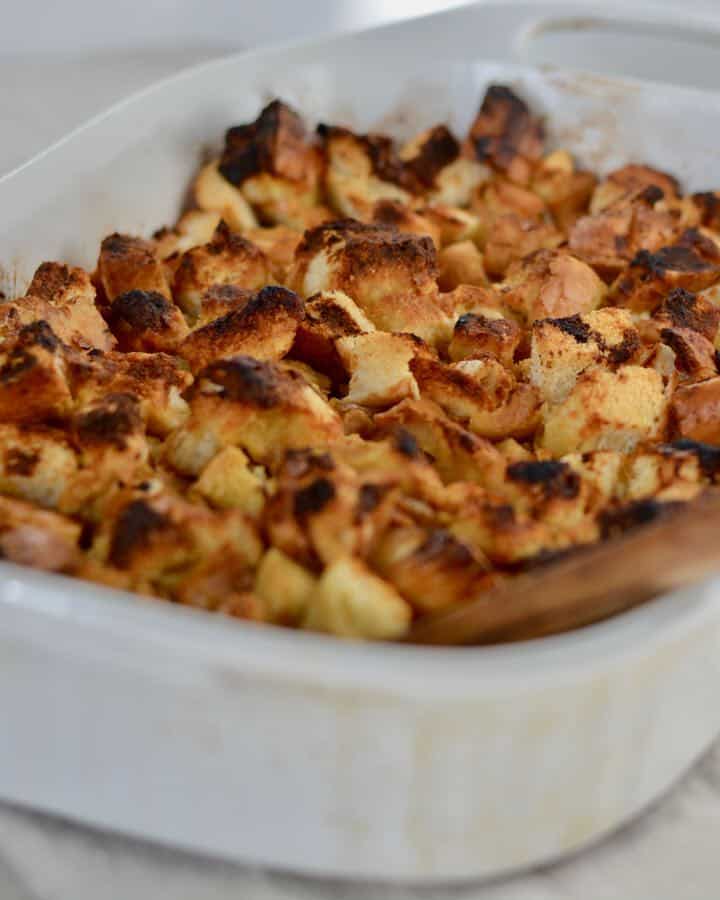 To make this Miso Stuffing, simply...
First, you'll want to make sure your bread cubes are dried out and stale. If your bread is fresh, cut it up into 1" cubes, put it on a baking sheet and put in a 300°F oven for about 10-15 minutes until dried out.

Next, melt ½ cup butter and pour over bread cubes in a very large bowl. Set aside.

Slice onion and shallots and caramelize in a large skillet with the 1 tablespoon butter. The easiest way to caramelize onions is to put a lid on them for 5 minutes to help them release their liquid. Then remove the lid and stir every 2-3 minutes. If onions start sticking, add a bit of the stock and keep stirring.

Once the onions are nice and dark, add to the bowl of bread cubes.

Deglaze the onion pan with 1 cup of the chicken stock. Pour stock into a medium sized bowl and add the rest of the stock and the miso. Once mixture has cooled a bit, add the eggs and mix well.

Pour miso mixture over bread cubes and gently stir a few times (don't over mix, so the bread cubes stay in their shape). Put entire mixture into a greased 9"x13" baking dish and bake at 375°F for 45 minutes, until the tops are dark and the bottom is not too soggy.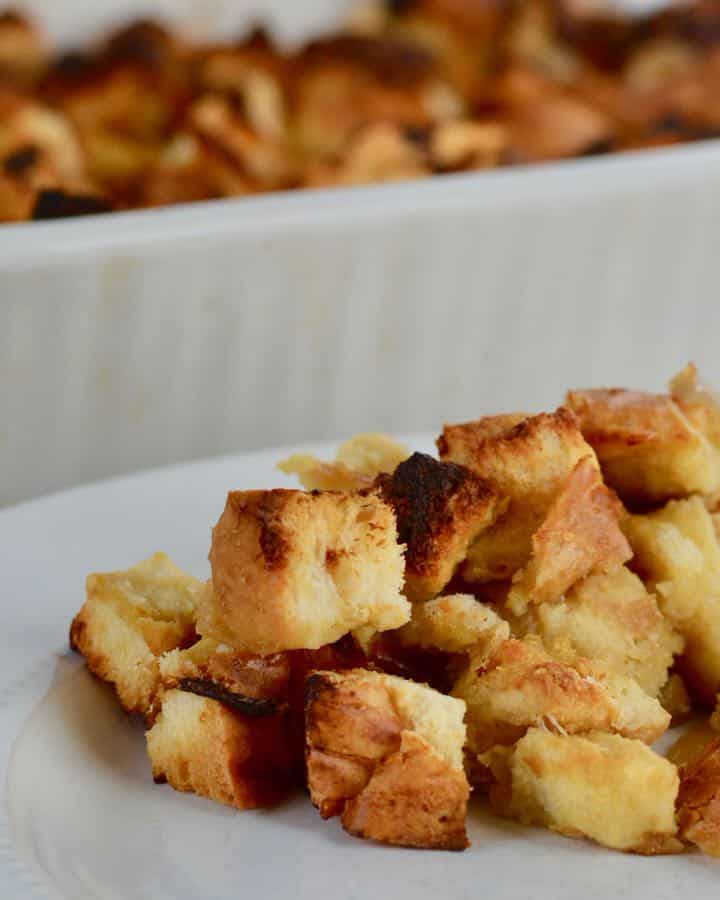 Recipe Inspiration
My husband, Hans has made this recipe at least 10 times since he discovered it 2 years ago in this Lifehacker article. Now we adjusted it to cut down on the butter, remove the mushrooms, change the type of miso paste and add the shallots. Hans and I have loved trying out this recipe and honing it to perfection. Now we can make it without looking at a recipe and it's SO delicious!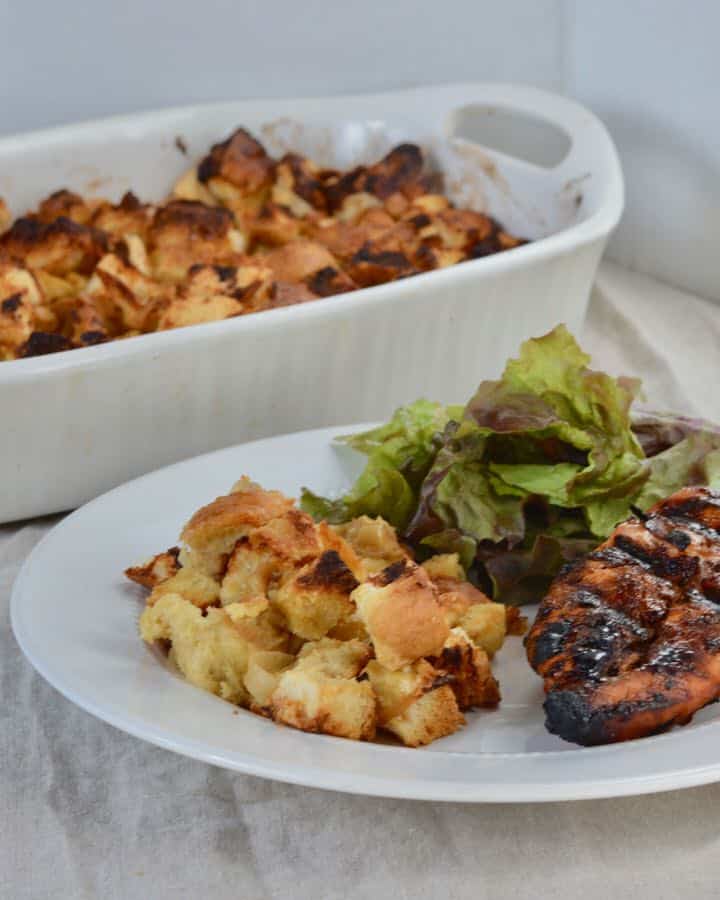 What goes best with Miso Stuffing
Personally, I love this recipe at Thanksgiving. I'm not a purist, so I love to mix things up even at Thanksgiving. However, we've also served this alongside pork loin, grilled chicken and especially over a whole roasted chicken. Here are a few recipes that go well with this side dish:
Pork Loin with Balsamic Fig Sauce
Olive and Artichoke Chicken
Perfect Roasted Turkey
Oven Roasted Chicken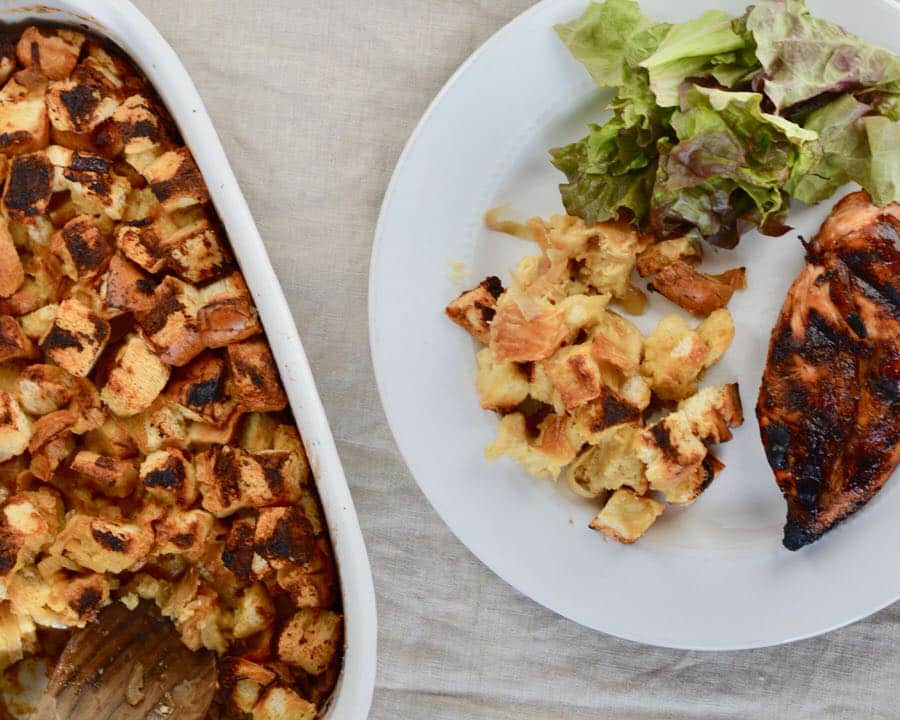 If you love this Miso Stuffing recipe, try these other amazing side dish recipes!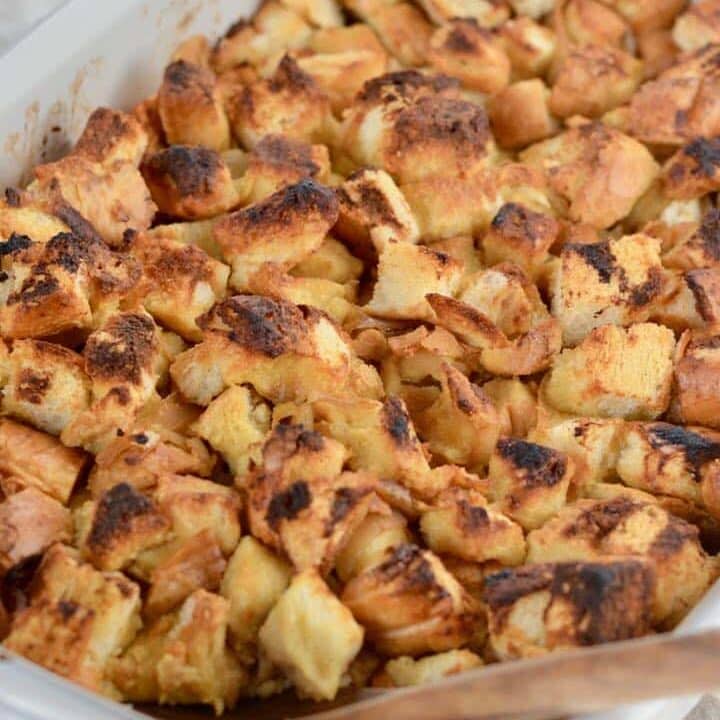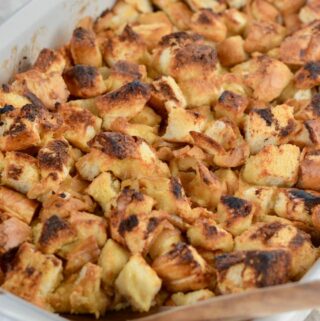 Miso Stuffing
Add that umami flavor to your stuffing, you'll love it!
PRINT RECIPE
PIN RECIPE
Ingredients
1

Pound

dried and cubed bread

1 loaf french bread

½

Cup

butter

1

tablespoon

butter

1

small yellow onion

sliced thin

1

large shallot

sliced thin

2

eggs

2

Cups

chicken or vegetable stock or broth

4

tablespoon

yellow mellow miso paste

Salt and pepper to taste
Instructions
Cut stale bread into 1" cubes. If not dried out, dry out overnight or place in a 300°F oven until dried out and crisp on the outside.

Melt ½ cup of butter, drizzle it on the bread, and toss to coat in a very large bowl.

Season the diced onion with a bit of salt and get it cooking in a large pan or skillet in the remaining tablespoon of butter over medium heat. Continue cooking over medium heat, add some of the stock if onions start to burn.

Once the onions are caramelized, transfer them to the bowl with the bread and give it a stir.

Deglaze the onion pan with a cup of stock, pour that stock into a bowl, and let it cool a bit.

Once the stock is no longer hot, beat in you eggs, the miso paste, and the remaining cup of stock.

Once you have a homogeneous mixture, pour it over the bread, toss everything together once more, and transfer it to a greased casserole dish.

Bake the whole thing at 375℉ until it's set and the top is golden and crispy, about 40-45 minutes.