Chicken no longer needs to be boring! This Olive and Artichoke Chicken is the most amped-up chicken recipe ever! Plus, 90% is done ahead of time, so it's a major time-saver. According to my mom, it makes an "elegant presentation". So if the queen is coming, this chicken is for her!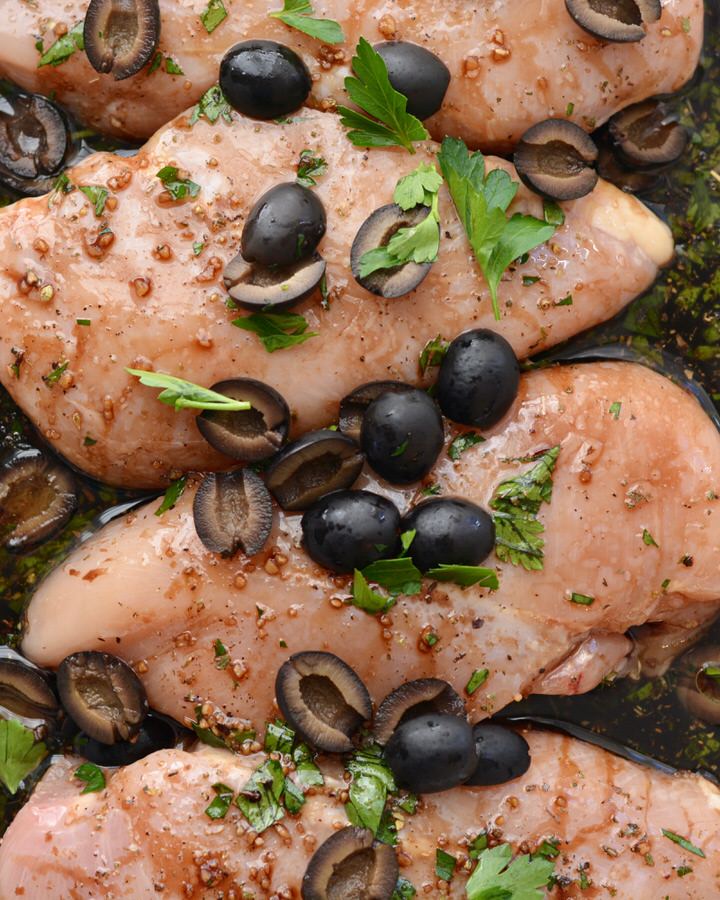 Using simple ingredients in the right combination
This is by far the most flavorful chicken you will ever make! I love the complexity of flavors you get by using simple on-hand ingredients! The marinade juice is a mixture of olive oil, balsamic vinegar and red wine. And you know I love cooking with wine, because it gives me the perfect excuse for a glass before noon...

Prepping dinner ahead of time is my favorite time saver!
Oh, that's right, you can prep Olive and Artichoke Chicken dish ahead of time! I love cooking ahead of time. My kids become crazy whiny after 4pm and my littlest clings to my legs the whole time I cook in the kitchen, making me like a gymnast with knives.
So, I like to prep as much as possible early in the day or even the day before. Since I started doing this, dinner has become a much more pleasant and enjoyable time. For me anyways, the rest of my family didn't seem to mind my crazy acrobatics in the kitchen.
The make-ahead part of this Olive and Artichoke Chicken makes it perfect for having people over too!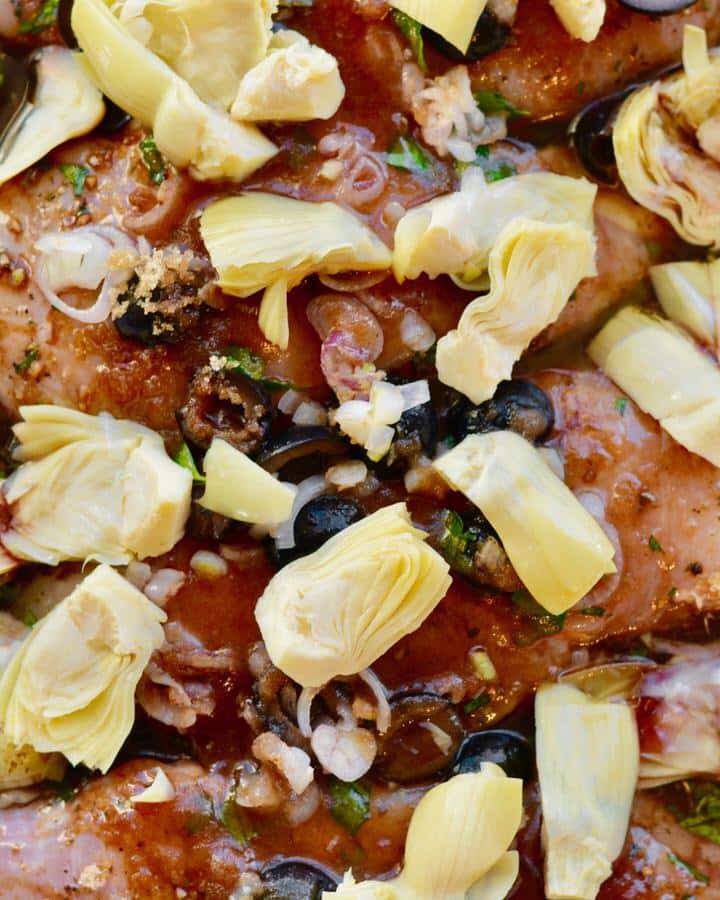 this chicken dinner recipe has been passed down for 3 generations
This Olive and Artichoke Chicken is in my family cookbook. Yes, my family printed a cookbook and distributed it to everyone, we're cool like that. In it, this recipe is called Aunt Judi's Chicken, but it turns out she stole it from an "Aunt Sadie", and we aren't sure who that is. I've updated the recipe to make it simpler, but every bit as delicious as the original.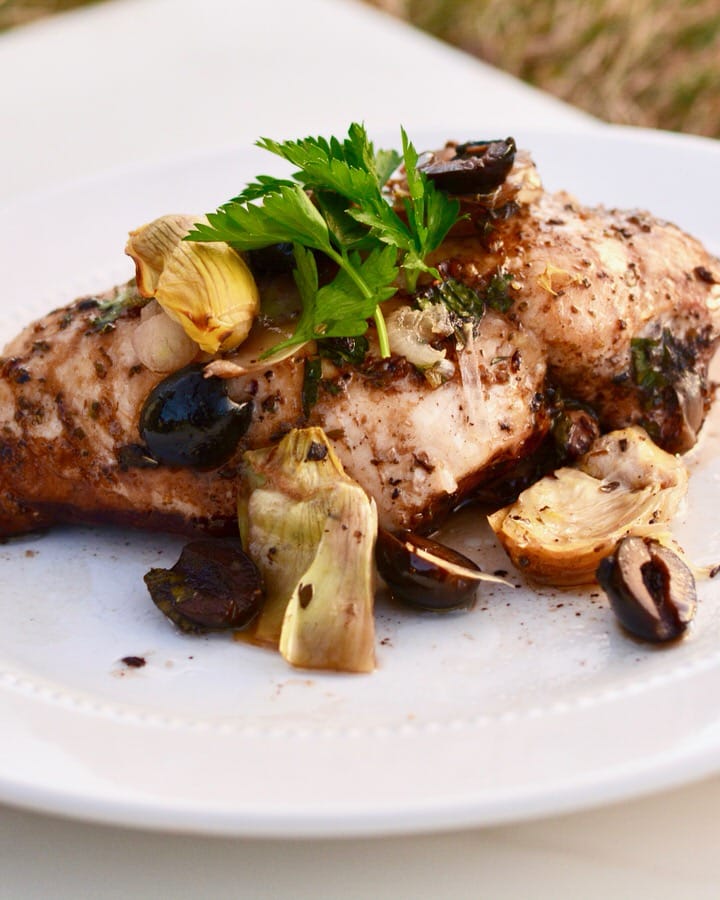 Prep tonight, enjoy tomorrow!
Seriously, throw this stuff in your fridge for dinner tonight or tomorrow and love your future self and eliminate the hassle of cooking while exhausted. I throw together a simple salad to go with this and you've got yourself a "beautiful presentation" and a truly delicious meal!
Love this Olive & Artichoke Chicken Recipe? Try these other simple weeknight meals!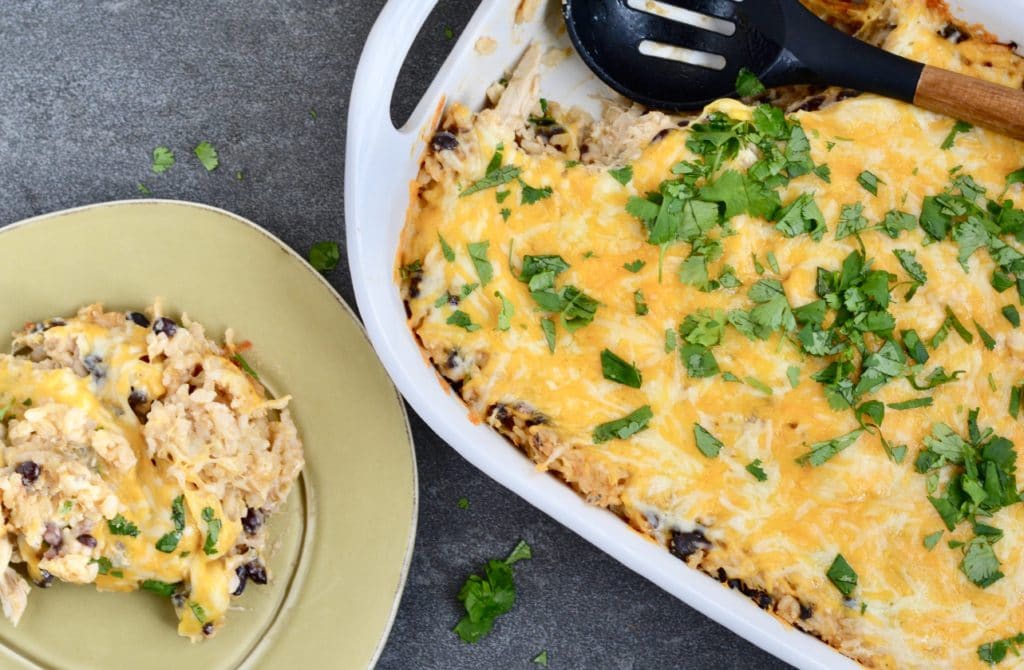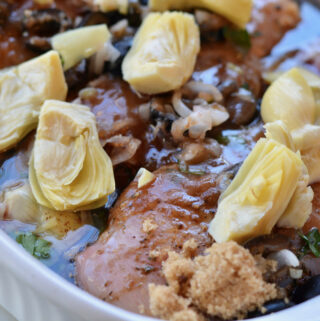 Ingredients
Marinade the day before or at least 8 hours ahead of time
½

C

olive oil

3

tablespoon

chopped parsley

½

C

balsamic vinegar

1

teaspoon

minced garlic

1

teaspoon

dried oregano

1

C

black olives

halved and pitted

salt and pepper to taste

6-8

boneless skinless chicken breast
Add before throwing in the oven
¾

C

brown sugar

1

C

red wine

1

16 oz

can artichoke hearts

drained and halved
Instructions
Combine marinade ingredients. Place chicken in large glass or ceramic baking dish. Sprinkle with salt and pepper on both sides and pour marinade on top.

Cover with plastic wrap and refrigerate overnight or about 8 hours.

Next day - preheat oven to 350 degrees F

Remove plastic wrap. Sprinkle brown sugar and artichoke hearts over the chicken.

Pour red wine over all of it.

Bake for approximately 1 hour, checking doneness at 45 minutes.
Notes
This is the tastiest chicken you'll ever eat! Makes a wonderful recipe for company and I like to pair it with a simple salad and rolls. It makes entertaining SO easy, but seems so fancy!