The great thing about Taquitos is they can be a snack, a lunch, an appetizer or a dinner. They're so versatile! The even greater thing about this recipe is that these are baked, so they're healthier, AND they're freezer friendly. So you can make these with whatever you have on hand and throw them in the freezer for heating whenever you want!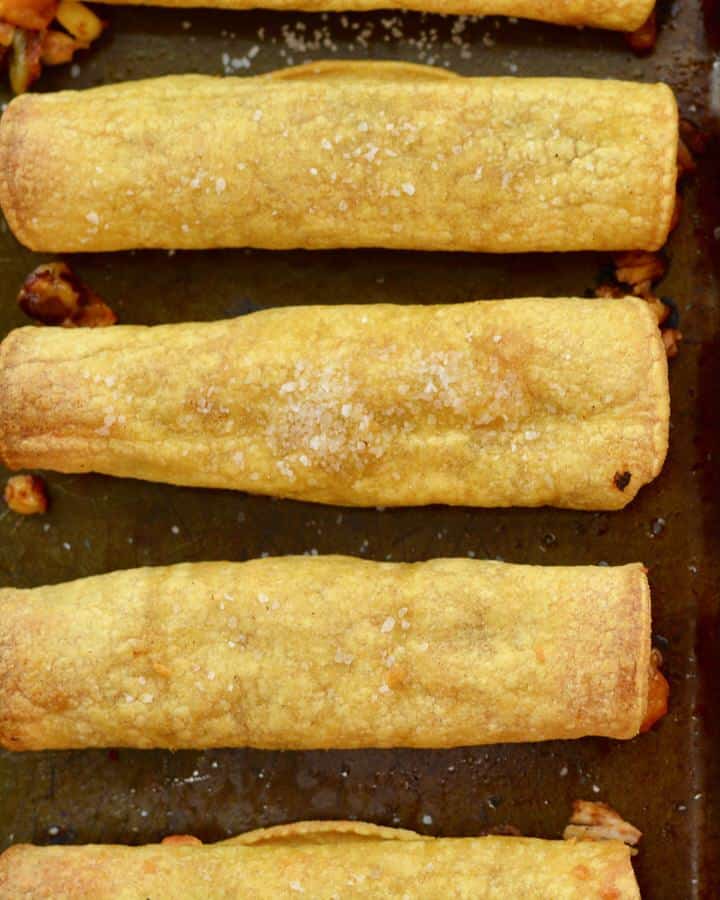 Sign up for our FREE 7 Day Simple Meal Plan!
Mexican food for the win!
If you could only have one type of food for the rest of your life what would you have? Mine, hands down, would be Mexican. Maybe it's because I grew up in southern California and that being the predominate food there, it reminds me of home.
When we first moved away, we went to the Pacific Northwest, and for all the amazing things they have (fish!), the Mexican food stinks.
Seriously, their idea of a "wet" burrito was a small drizzle of salsa (imagine my face with utter disappointment here). You need to drench that sucker in enchilada sauce, it should be swimming! This was when I decided to step up my own Mexican food game.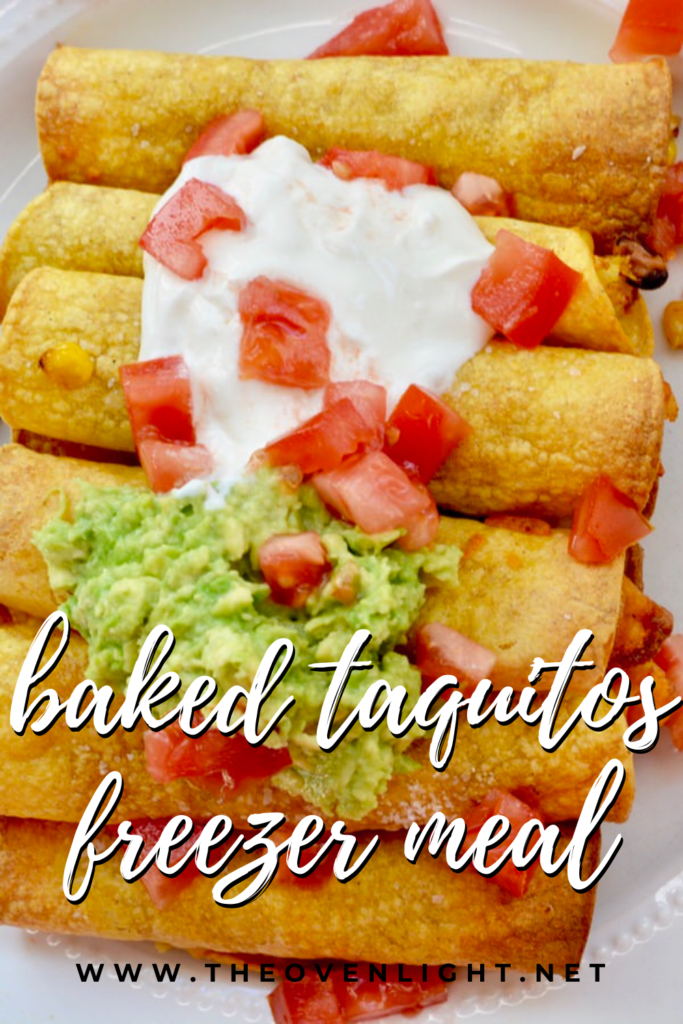 Taquitos are perfect for whatever you've got on hand
This recipe is all about what you already have in the pantry. That is one of the reasons these taquitos are fantastic. Use what you have on hand and simplify your dinner and your life!
This is my go-to recipe of meat, beans, corn and cheese, but really, it's hard to go wrong with your filling. Last week I filled these with red pepper, rice, onion and pinto beans, since I had leftovers that needed to be used up, (waste not, want not) and they were great!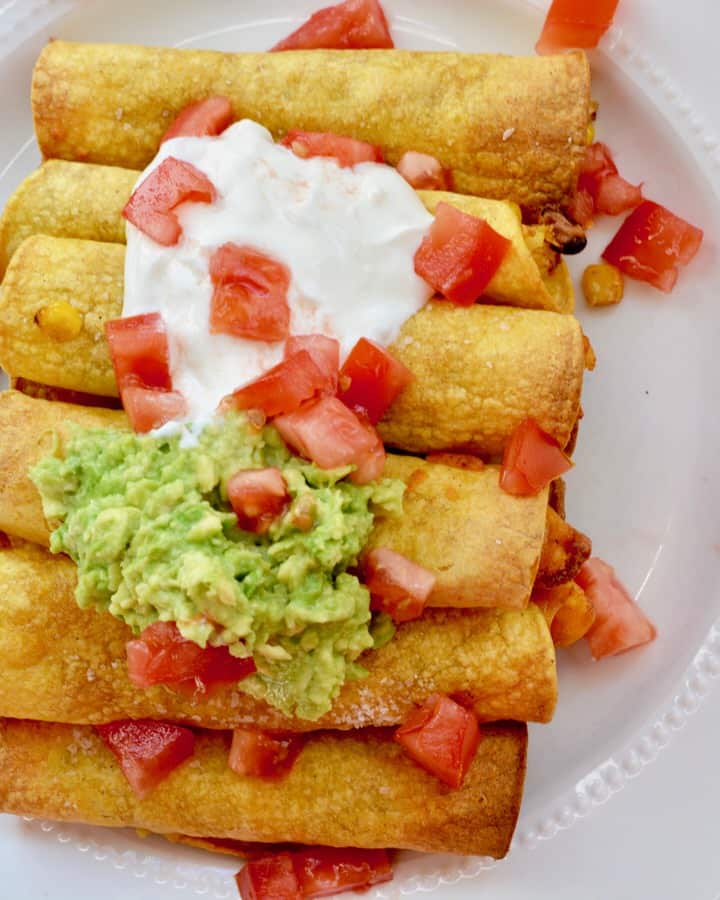 How to prep your taquitos
The key here is to microwave the tortillas in a wet paper towel to make them pliable (this is super important!). Otherwise they will be impossible to roll. Brushing with olive oil will give them that fried crunch, but with none of the oily fried fat. So, no need to worry about eating as many as your heart, or stomach, desires.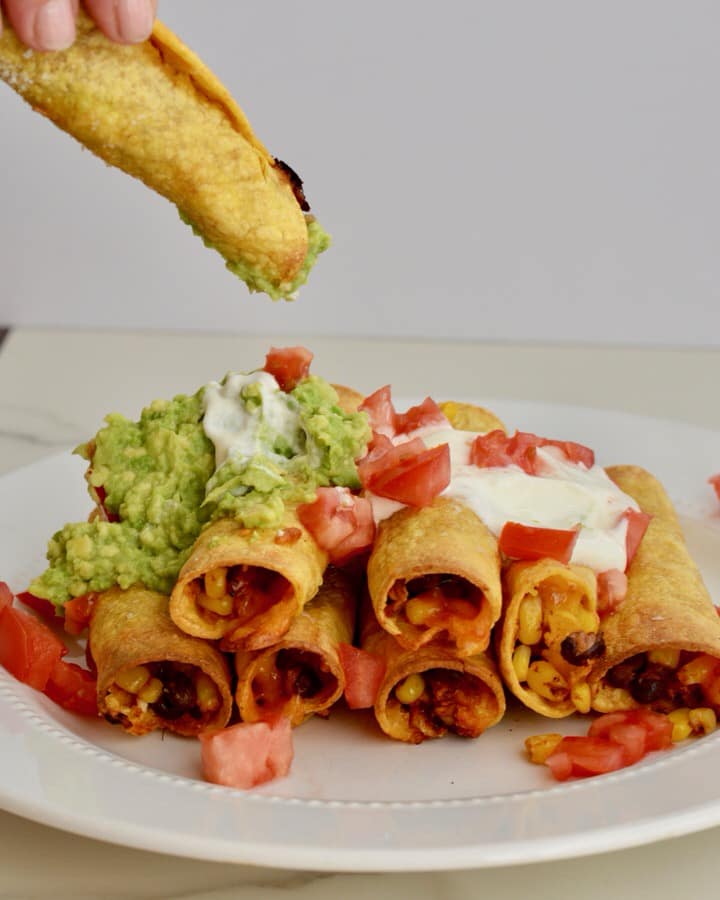 How to freeze and reheat your taquitos
Freezing your taquitos is very simple. You will need to bake them ahead of time. Bake 20 minutes in a 425° oven. This will make them awesome to eat right away and prep them for enjoying later.
To freeze, line a baking sheet with parchment paper to keep them from sticking. Place the taquitos on the baking sheet in the freezer for 1 hour, making sure they're not touching. Remove and place all taquitos in a Ziploc Freezer bag.
They will stay good in the freezer for up to 3 months if you use meat. If they're vegetarian, they can last for 6 months. Be sure to label your bag with the date!
To reheat your taquitos, preheat the oven to 425°F and lightly spray a baking sheet with non-stick cooking spray (this link is to my absolute favorite baking spray, but it is MUCH cheaper at Williams Sonoma). Place your taquitos on the baking sheet and bake on the middle rack for about 20 minutes or until hot to the middle. Enjoy!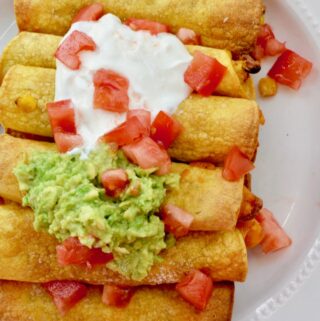 Make Ahead Baked Taquitos
Baked, not fried, taquitos. Super quick to assemble, then throw in the freezer until ready to bake.
Ingredients
20

corn tortillas

1

C

diced chicken

1

15oz

can black beans

drained

1

C

frozen corn kernels

1/2

C

salsa

any kind you fancy

1/2

C

shredded cheese

1

tsp

cumin

salt and pepper to taste
Instructions
Preheat oven to 425°F. Spray rimmed sheet pan with cooking spray 

In a medium bowl, combine chicken, black beans, corn, salsa and cheese.

Wrap 10 tortillas in wet paper towels and microwave on high for 2 minutes. This will make the tortillas easy to roll and will keep them from cracking. Repeat with next 10.

Scoop a heaping spoonful of the chicken mixture and place in a line on each tortilla. Roll tortilla around filling. Place on rimmed sheet pan seam side down leaving room around each taquito.

Brush taquitos with olive oil and sprinkle with kosher salt.

Bake on center rack for 20 minutes or until brown and crispy. See notes for instructions on freezing.
Notes
Chicken can be substituted for any meat you have on hand.  To freeze, place baked taquitos on parchment lined sheet pan and place pan in freezer. Once frozen, remove and place taquitos in freezer bag for storage. To reheat, bake from frozen for 20-25 minutes in a 425°F oven.