This Grilled Steak and Blue Cheese Salsa recipe is my absolute favorite dinner to kick off grilling season! The steak marinade is full of so much flavor, only made more perfect by the addition of the blue cheese salsa. AND, it can all be prepped ahead of time, so it's really great for company or busy weeknights! Total win!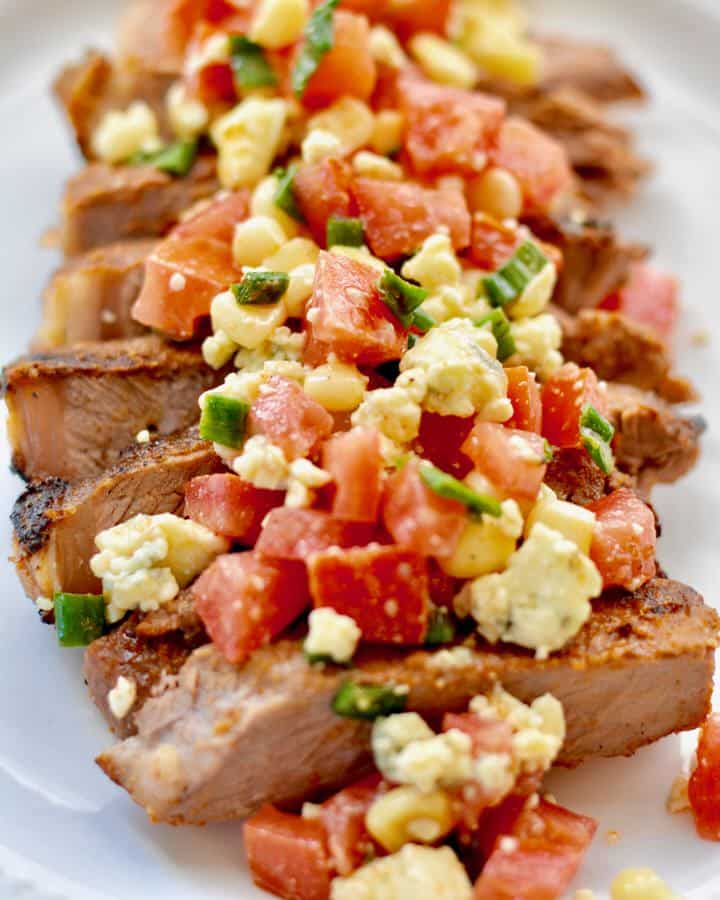 Sign up for our FREE 7 Day Simple Meal Plan!
To make this grilled steak and blue cheese salsa, simply…
First, prepare your steak by patting dry. Then rub the seasoning on both sides of the steak. Place on a plate and cover with plastic wrap. Refrigerate at least one hour or up to eight.
Next, prepare the salsa. In a medium bowl combine the chopped Roma tomatoes, corn, green onion, olive oil, hot sauce and salt & pepper. If you're making this ahead of time, wait to add the blue cheese.
When you're ready to cook, turn the grill on to medium high heat. Leave the steak out for 30 minutes to come to room temperature before grilling.
Grill the steak until desired doneness. For me, I like medium well, so I cook about 5 minutes on one side, then flip and cook another 3 minutes until just a bit pink the middle,
Remove steak, allow to rest for about 10 minutes. Cut steak against the grain into one inch thick slices.
Serve with the salsa spooned over the top. Summer steak perfection!

Fool-proof steak
Steak is not what I typically reach for at the grocery store, mostly because I'm intimidated by all the different cuts and usually the prices too. However, this steak recipe is fool-proof. Pick up any cut of steak that you fancy, and it will be delicious every time, guaranteed! I used a large rib-eye I found on sale and used it for date night for me and the hubs. Let's not waste the expensive meat on the kids, right? They don't appreciate it like we do.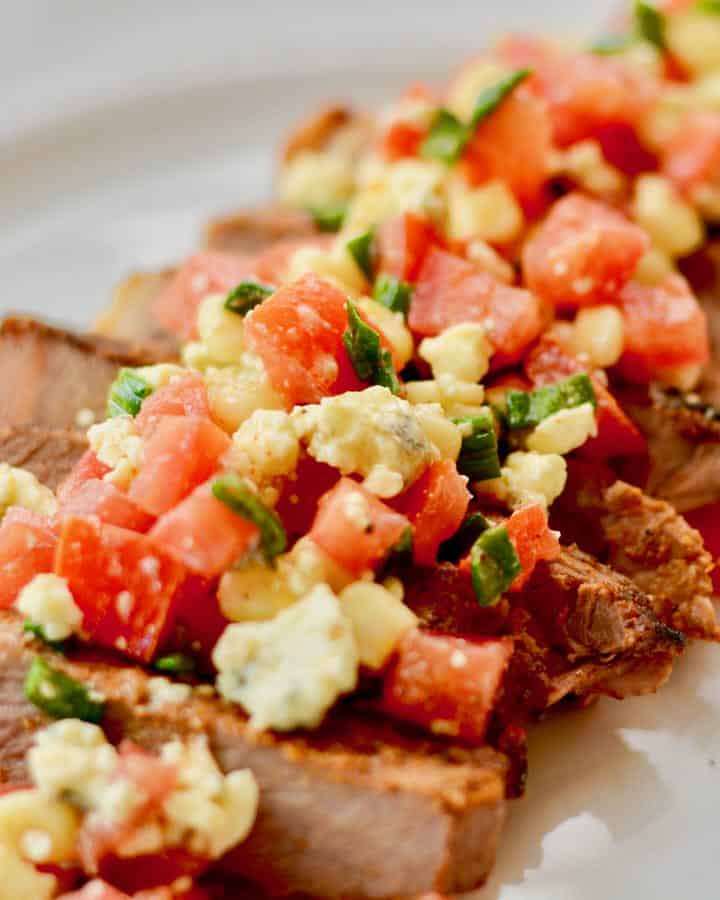 How to have steak success every time
Marinate, marinate, marinate – This step is particularly important if you're using a less-expensive cut that doesn't already have a lot of flavor. That's what makes this recipe awesome. No need to spend big bucks on fancy cuts, I usually grab whatever is on sale and just marinate it!
Add Fresh Flavor – The best way to complement a steak's heavy flavor is with a fresh and juicy salsa! Ripe tomatoes, crisp corn and tangy blue cheese make this salsa really special.
Don't Overcook – Seems obvious, but cooking a thinner steak for a few minutes on both sides is usually enough. I use a thermometer like this to get it to a perfect medium-well (my husband's preference).
Let it Rest – Allowing your steak to rest before slicing helps the juices remain inside the steak instead of pouring out and losing all your moisture and ending up with a dry steak.
Love this Grilled Steak Recipe? Try these other great summer recipes!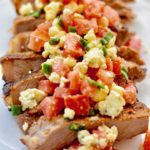 Print Recipe
Grilled Steak with Blue Cheese Salsa
This is the best way to make a steak even better! Perfect for a summer BBQ.
Ingredients
2

lbs

top sirloin steak

4 8oz pieces

1 1/2

Tbsp

Mexican seasoning

taco seasoning is perfect

1 1/2

C

Roma tomatoes

diced

1/2

C

frozen corn kernels

2

oz

crumbled blue cheese

1

Tbsp

green onion tops

thinly sliced

1 tsp

extra virgin olive oil

1/8

tsp

hot pepper sauce

like tapatio

salt and pepper to taste
Instructions
Rinse steak and pat dry. Rub seasoning into both sides of meat. Transfer to a plate, cover with plastic wrap and refrigerate for at least 1 hour.

In medium bowl, combine remaining ingredients except blue cheese. Cover and refrigerate for at least 30 minutes, but up to 8 hours.

Grill steak to desired tenderness, rest meat for 20 minutes.

Slice 1/2 inch slices across the grain and arrange on a platter.

Gently mix cheese into salsa and spoon over meat. Serve immediately!
Notes
This is the best summer steak recipe! And most of the prep is done ahead of time, so you can actually enjoy being outside.