Have you ever made blackened chicken? It's amazing! And so simple to whip up using spices you already have on hand. I love it with some wild rice and baked brussels sprouts. Makes for a quick and easy weeknight meal.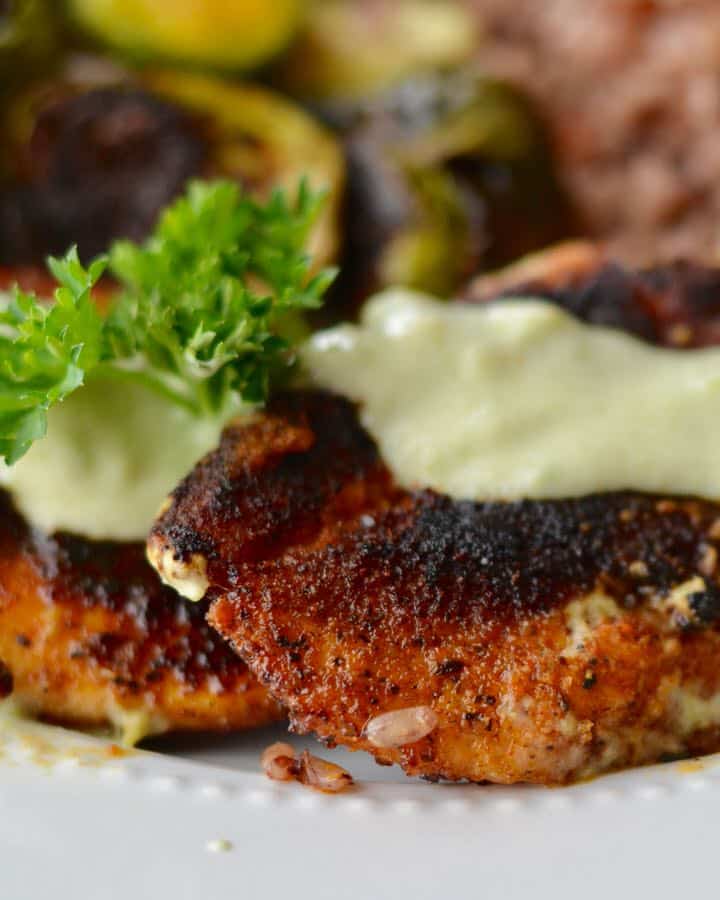 I, like so many others before me, used to be a server in college. When I got my first job serving I remember how I would bring the menu home to study. At the time it was such a daunting task to learn all those main courses and what sides went with it. But in reality, all the studying in the world just is not the same as the real deal. When I was serving real customers someone would ask what kind of oil the fries are fried in or what is the sodium content of your vegetable soup? And with a blank stare on my face, I'm thinking, "how in the world would I know?"
Baked or Blackened Chicken?
Some of our dishes had the option of baked or blackened chicken. Now I knew to ask the customer which they would like and I knew I preferred the blackened. But it never occurred to me to ask what the actual difference between them was. So when I first came across a recipe for blackened chicken it piqued my interest since I knew I liked it and thought why not learn how to do it myself? Turns out it is insanely easy.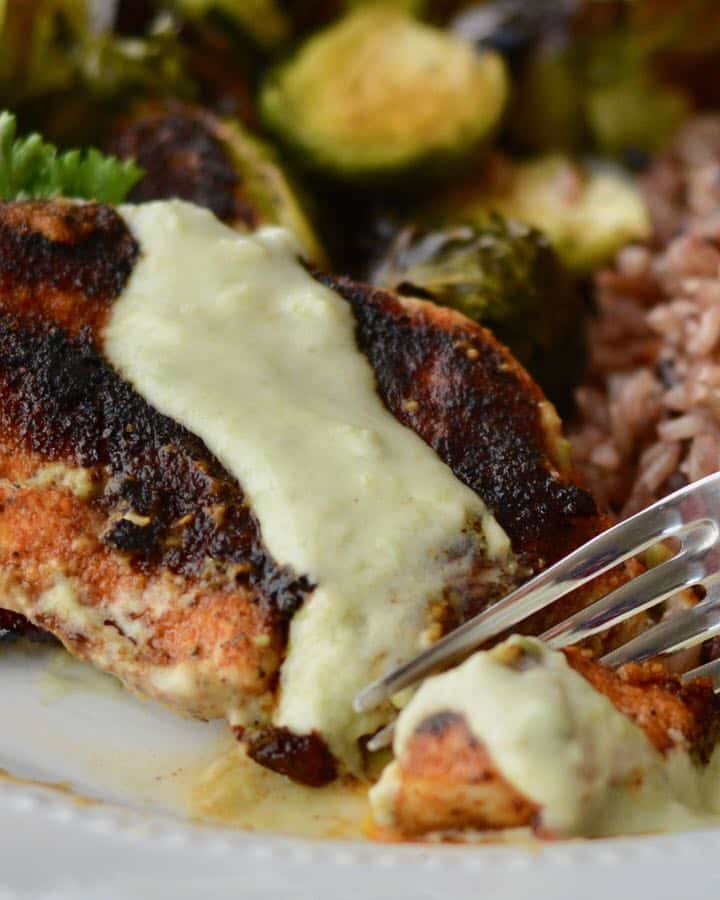 To make this blackened chicken, you'll need these main ingredients:
For the chicken...

Spice mix - paprika, cumin, onion powder, pepper, cayenne pepper and salt. I love this mix of spices! All the flavors are enhanced by the heat and oil.

Chicken - we like to butterfly the chicken for this recipe, so it cooks evenly without any areas drying out.

For the avocado crema...

Avocado - try to use a ripe avocado for more flavor.

Plain Yogurt - this gives the perfect "creamy" flavor in the crema.

Lemon juice - adds a bit of tart flavor and keeps the avocado from turning brown.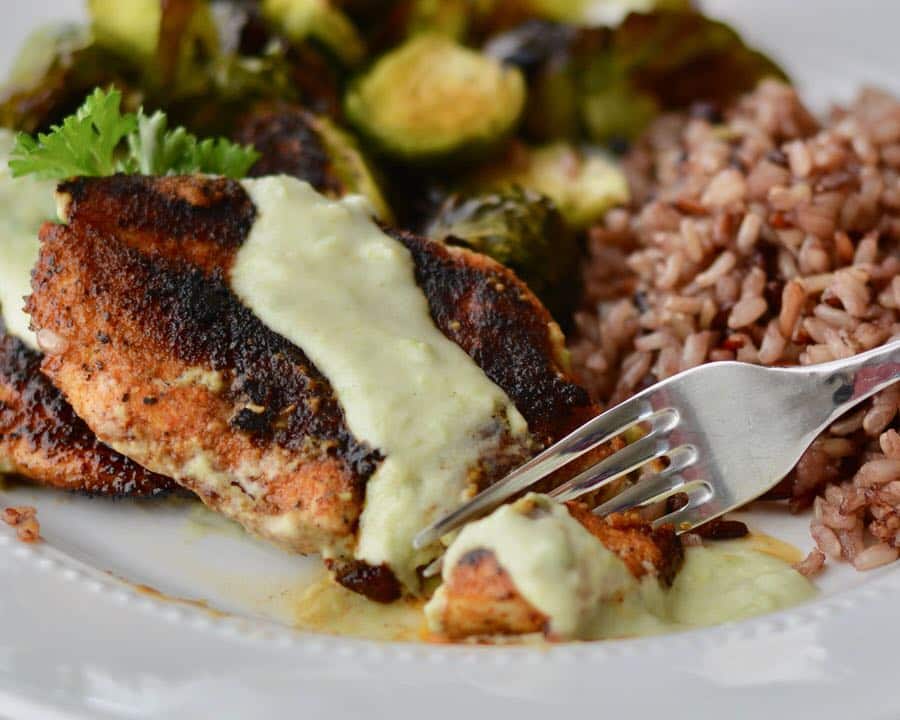 The best way to eat this easy weeknight meal
I love this recipe with a side of brown rice and baked brussels sprouts. BUT, this recipe is also amazing chopped up in a taco with a crunchy slaw and plenty of the avocado crema. Mmmmm. I've also enjoyed this same recipe with tilapia. Just as delicious!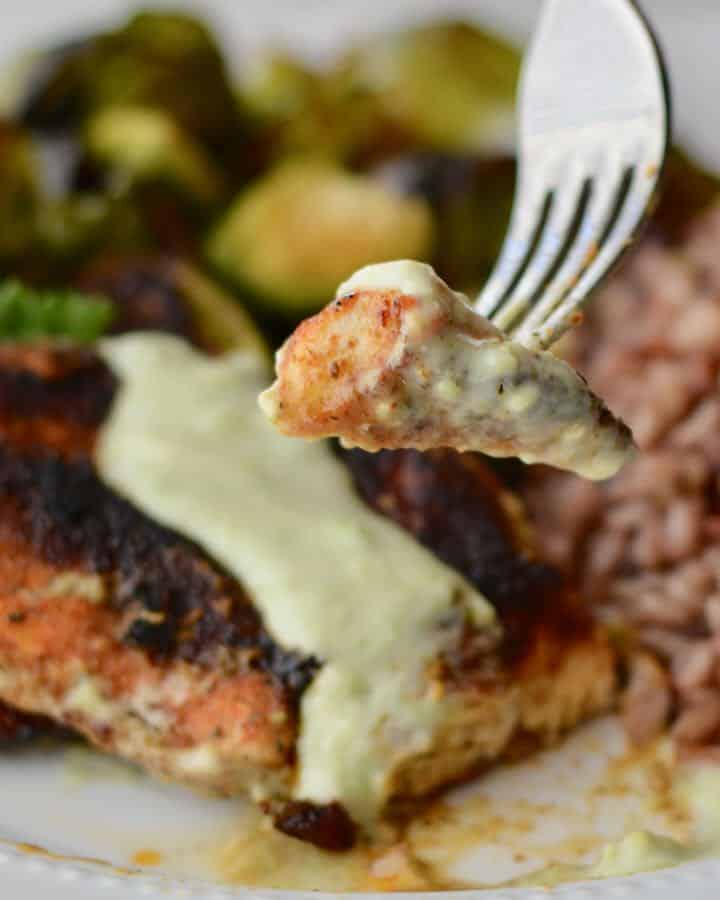 Love this blackened chicken? Try these other great chicken recipes!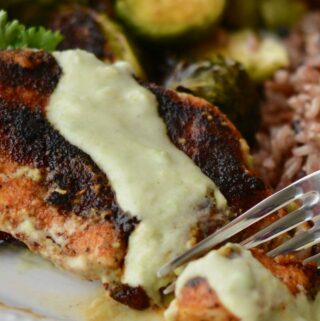 Ingredients
Chicken
1

teaspoon

paprika

1

teaspoon

cumin

1

teaspoon

onion powder

1

teaspoon

pepper

½

teaspoon

cayenne pepper

½

teaspoon

salt

2

chicken breasts

butterfly them so they're thin

2

tablespoon

olive oil
Avocado Crema
½

avocado

⅛

C

water

¼

C

plain yogurt

2

teaspoon

lemon juice

1

teaspoon

garlic powder

¼

teaspoon

salt
Instructions
For the Blackened Chicken
Mix spices together and pat onto both sides of chicken

Heat olive oil in skillet (that has a lid) on medium heat for 3-4 minutes until hot.

Add chicken to skillet and cook on both sides for 3-4 minutes. Be sure to cover with a lid to keep oil from splattering.

Remove chicken when cooked through to 165 degrees F. Done!
For the Avocado Crema
Put all ingredients in food processor and mix until smooth. Done!
Notes
Chicken is SPICY. Use less cayenne pepper and black pepper to make less spicy. OR, bake it in the oven (slower heat will keep it from getting too spicy).