These Easy Seasoned Fries are so deliciously packed with spices and fresh flavors. They make the absolute perfect summer side dish! Be sure to dip in the Blue Cheese Aioli to make it really special.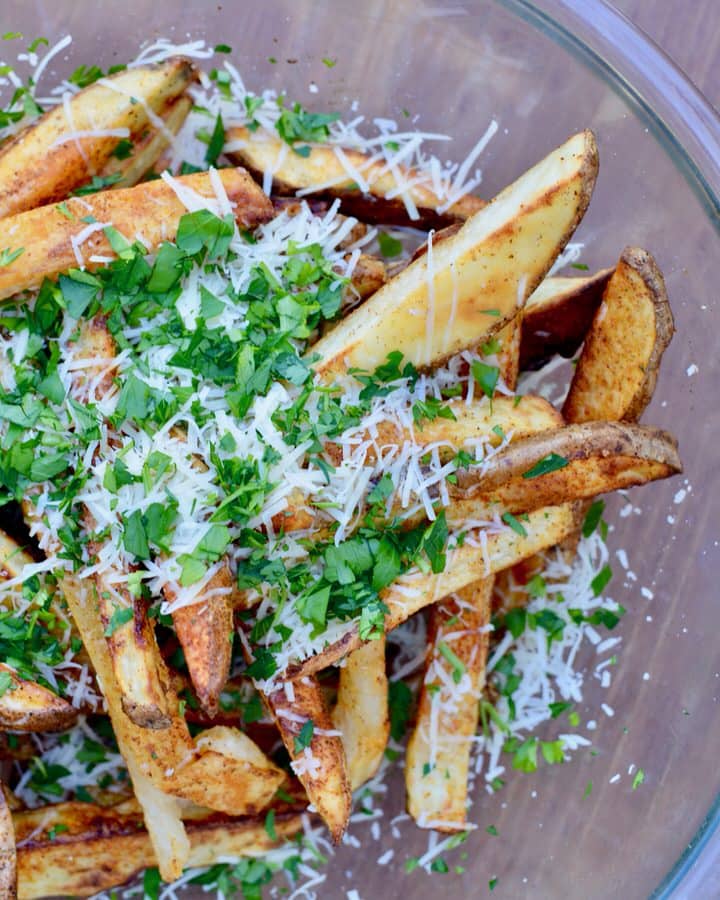 Sign up for our FREE 7 Day Simple Meal Plan!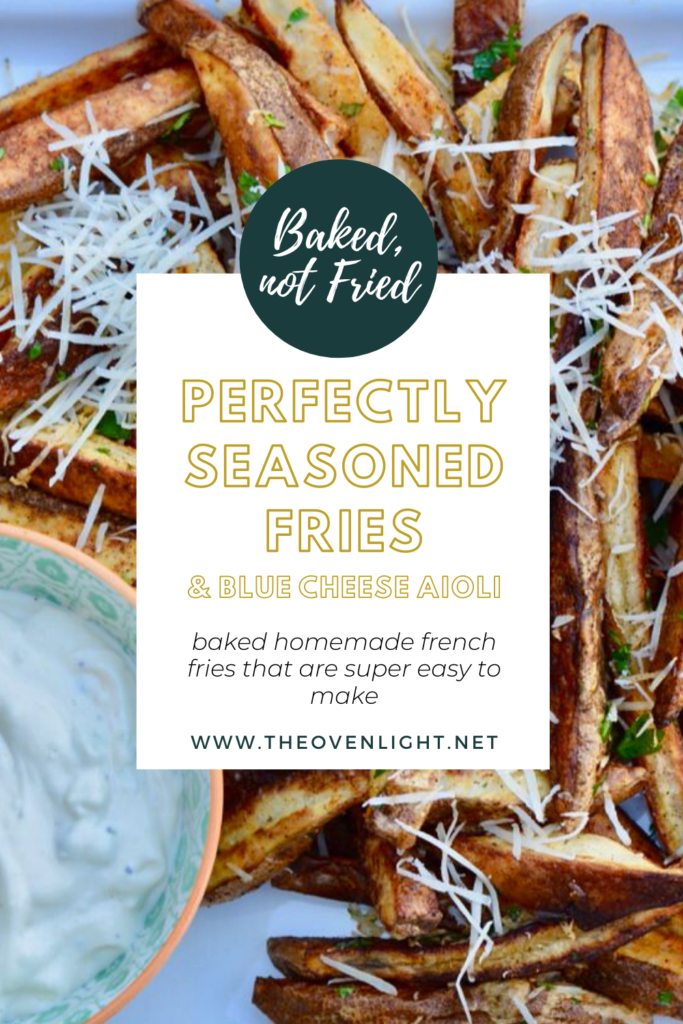 How to make perfectly seasoned fries
Start by slicing your potatoes until they're about the thickness of your pointer finger. Remember, they'll shrink a little bit in the oven. Spread them out on two baking sheets, being sure not to crowd or stack them, in order to ensure they bake evenly.
Next, mix your spices together in a small bowl. Drizzle your fries with olive oil and toss until they're evenly coated. Then sprinkle your seasoning mixture on top and toss again.
Bake for 20-25 minutes until they reached your desired crispness. Be sure to give them a toss/flip half way through to ensure all sides are getting baked.
Lastly, place your fries into a bowl and add the parmesan and parsley and mix it up. I like to reserve a little of both to sprinkle on top before serving.
***Let your kids help out by using their hands to spread the potatoes with the oil and seasoning. They'll love it!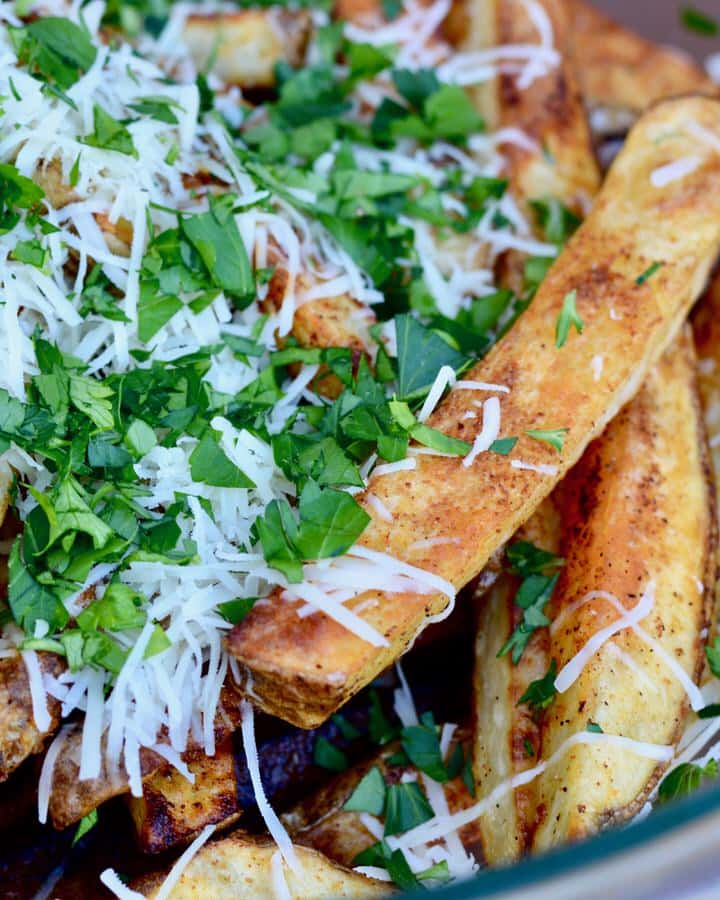 How to make amazing Blue cheese aioli
Dip makes all food better. But this blue cheese dip? It makes my life better.
The recipe is so simple. Just put all ingredients into a bowl and mix it up. Yep, probably didn't need special instructions, but I just wanted to show off how easy it really is. Plus, you can store in an airtight container for 3 days, so you can dip and dip and dip some more!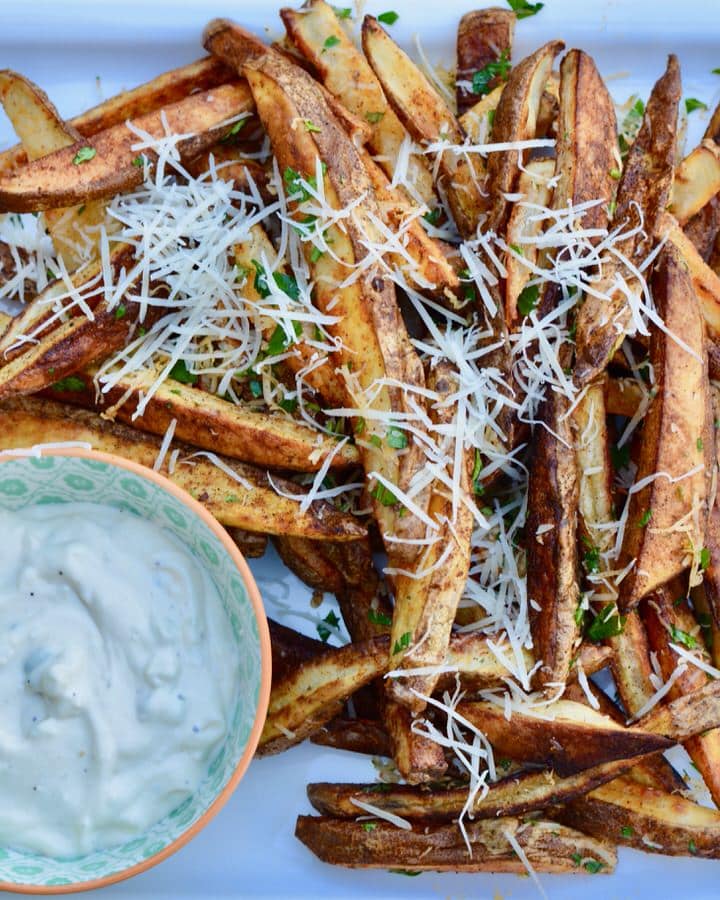 Love these seasoned fries? Try these other awesome summer sides!
Happy summer everyone! Make these amazing seasoned fries and go eat outside.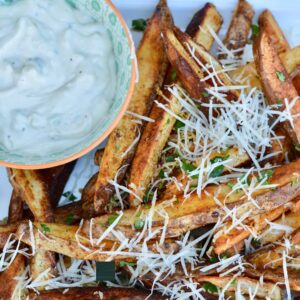 Easy Seasoned Fries
Perfectly seasoned baked fries, great for summer meals.
Ingredients
4

medium russet potatoes

washed, skins on

4

Tbsp

olive oil

2

tsp

paprika

2

tsp

garlic powder

2

tsp

salt

1/2

C

freshly grated parmesan

1/2

C

chopped parsley

loosely packed
Instructions
Wash your potatoes, but leave the skins on. Slice in half length-wise and then cut those in half again and keep slicing until you have cut the whole potato into long skinny logs. Set aside.

In a small bowl, combine the paprika, garlic powder and salt. Set aside.

Lay out your potatoes onto 2 baking sheets, being careful not to crowd or stack. Drizzle with olive oil. Toss to be evenly coated with the oil. Sprinkle seasoning over all the fries and toss again until evenly coated.

Bake for 20-25 minutes, flipping fries after 10 minutes.

Remove when they're fully cooked and mostly brown and crispy.

Put the fries in a large bowl and add the parmesan and parsley and give it a quick stir.
Notes
I love to serve these alongside hamburgers or as a stand alone appetizers. Either way, you and your guests will love it!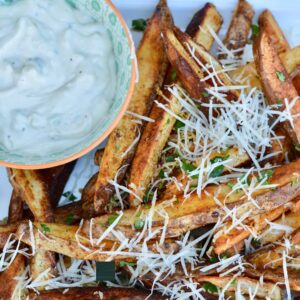 Blue Cheese Aioli
A great dip for fries, chips or your fingers!
Ingredients
3/4

C

mayonnaise

3

Tbsp

lemon juice

2

garlic cloves

1

tsp

salt

1/2

tsp

freshly ground black pepper

1/4

C

crumbled blue cheese
Instructions
Mix all ingredients and store in airtight container up to 3 days before serving. YUM!