When you need an easy appetizer, this Fig & Goat Cheese Crostini will wow your tastebuds. I absolutely love each of the flavors in this goat cheese crostini on their own, but when you put them together, it's stunning!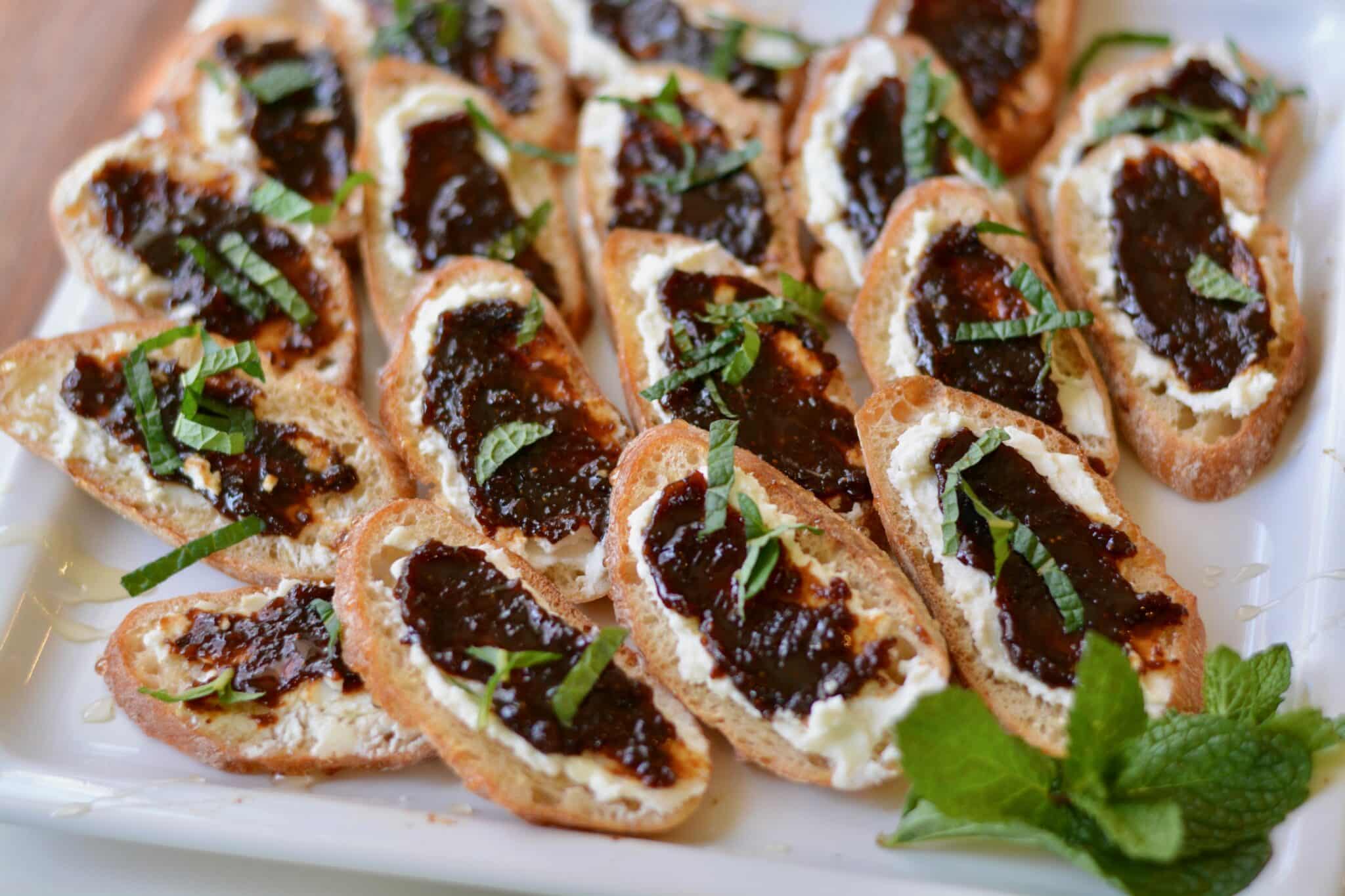 Fig story
One time, my business partner and I showed up to a wedding we were catering. Our first appetizer was a goat cheese stuffed fig wrapped with prosciutto (delicious, by the way). The bride mentioned that they have a fig tree and so they'll provide the figs. Great! Little did we know, when we showed up to cater, they pointed us toward the tree and said the figs are up there. They gave us a ladder and a basket. Hmmm. A bit strange to make the caterer pick the food, don't you think? But there I was, climbing a ladder and almost killed myself finding enough figs to feed a crowd.
Second funny story about that wedding: it was held in a historic, beautiful home in Los Angeles complete with a servants staircase. Servants staircase turns out is code for extremely narrow rounded staircase with about 47 steps from top to bottom. The kitchen is upstairs, the wedding is on the bottom-most part of the backyard. I've never been so exhausted in my life. But my calves looked great all summer.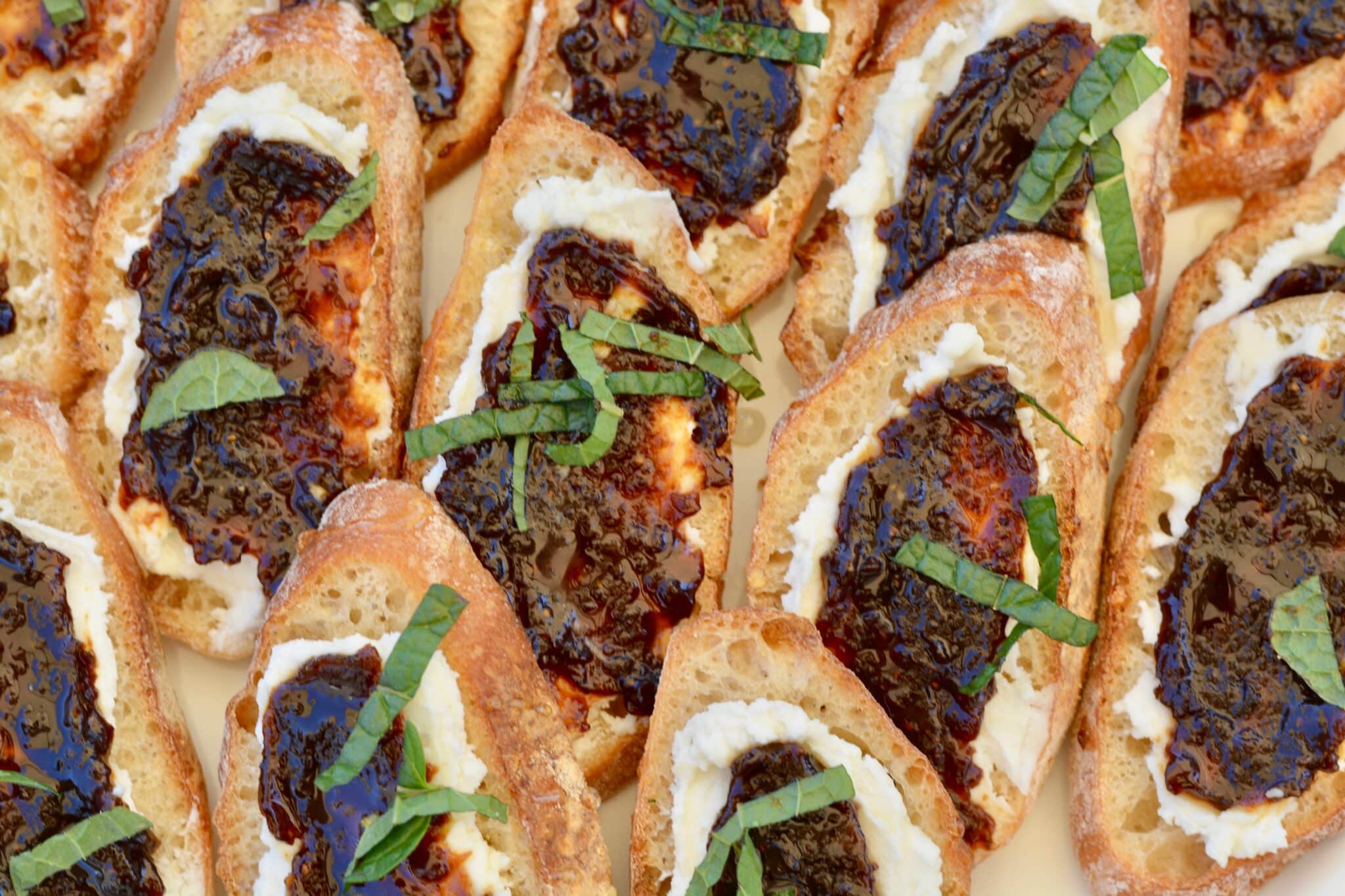 Fig jam makes these Goat Cheese Crostini so simple
This wedding appetizer was the inspiration for this crostini. Here is the MUCH simpler and vegetarian version. No ladder climbing, but just as delicious. Next time you see fig jam, pick up a jar, I promise you won't be sorry. I bought mine at Trader Joe's, but I've seen it other places.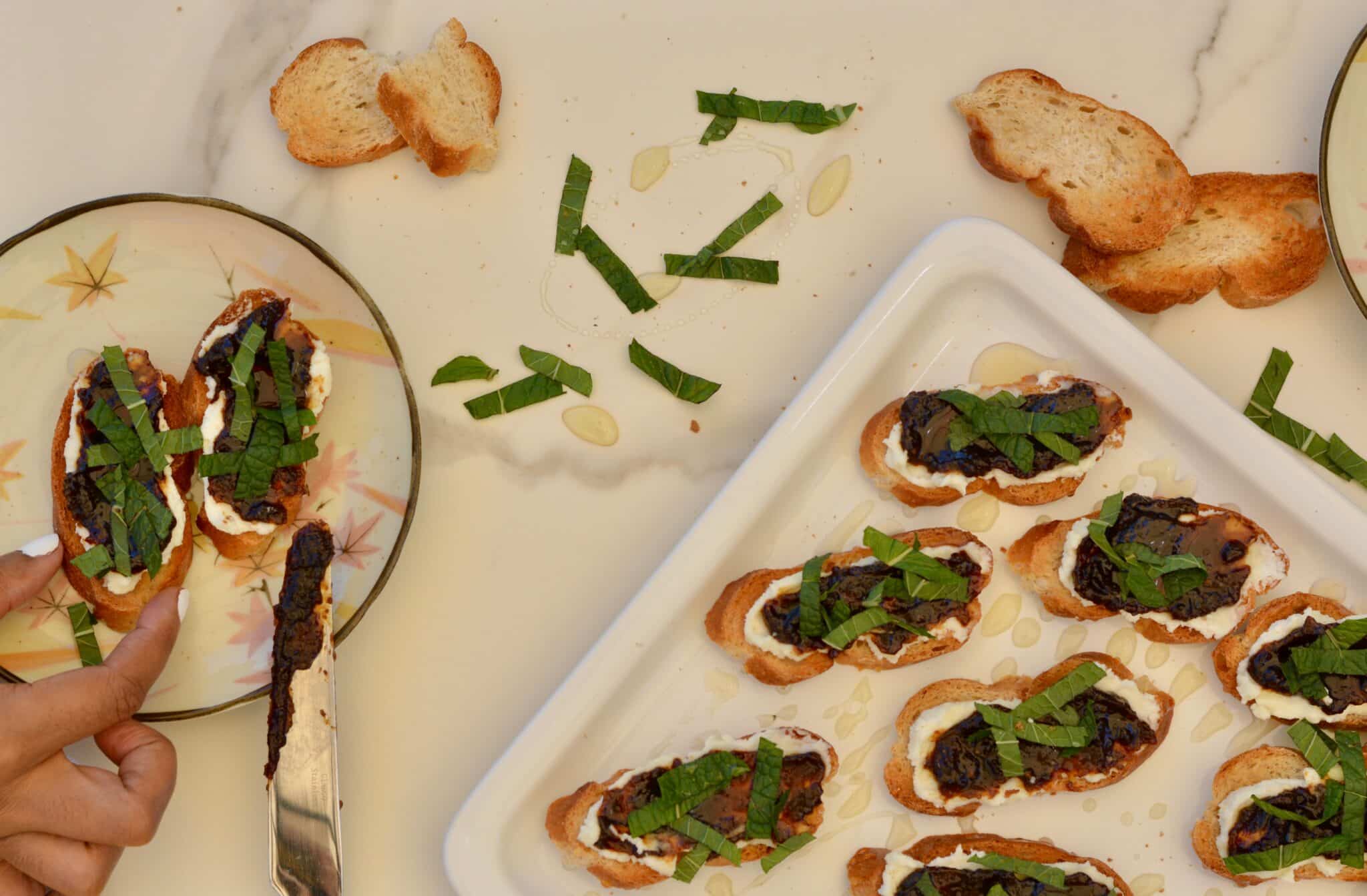 Fresh mint lifts the flavor
Also, fresh mint. Oh my goodness. Go plant mint in your garden right now. I keep trying to come up with recipes for fresh mint. Just plant it in a pot, because it spreads easily and can crowd your other herbs.
I ate an entire plate of these crostini's this evening, paired with a chilled white wine. MUCH more relaxing than catering a wedding and shlepping up a servants staircase.
Love these Fig and Goat Cheese Crostini? Try these other awesome appetizers!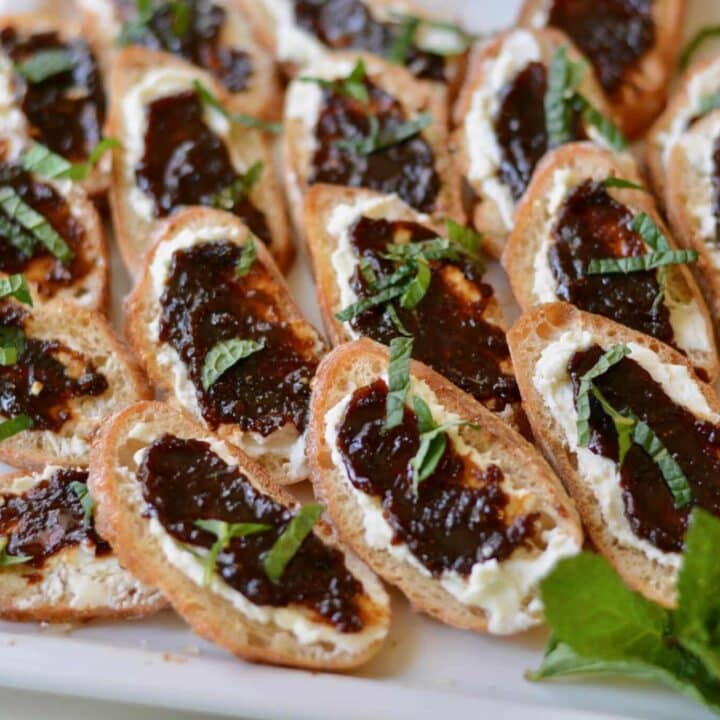 Ingredients
1

baguette

2

tablespoon

olive oil

1

5 oz

soft goat cheese

-

with honey already added, if you can find it

¼

C

fig butter or fig jam

2

tablespoon

honey

10

leaves

mint
Instructions
Preheat oven to 350°. Slice your baguette into ½" diagonal slices. Cutting on a diagonal will give you more space for toppings and looks better. Place baguette slices on a baking sheet and either drizzle or brush olive oil on top of each one, just one side.

Bake the baguette slices for 5-8 minutes, until the edges are slightly crisp and the center is still soft. They will get a light brown color.

Whipping your goat cheese will make it creamy and easy to spread, rather than crumbly. Place your cheese into the bowl of a stand mixer or use a hand mixer to whip until creamy. About 1 minute. If you can't find goat cheese with honey already added, add 2 tablespoon of honey and then mix.

Spread about 1 tablespoon of goat cheese onto each slice.

Spread about 1 tablespoon of fig jam on top of the goat cheese.

Place all your slices next to each other (in a square) and then drizzle honey all over. I like honey, so I used about 2 Tbsp, but you can use as much or as little as you like.

Slice your mint leaves into little long pieces and place evenly on top of your fig jam. Don't skip this step! The mint really sends this over the edge and gives this a fresh taste.