Wondering what to serve guests for a quick appetizer or afternoon snack? Look no further than this 2 ingredient "recipe"! I can barely call it a recipe, but it is truly one of my favorite afternoon snacks and appetizers to serve friends that I just had to include it here. Creamy goat cheese topped with a sweet and spicy red pepper jelly. Amazing flavor combination!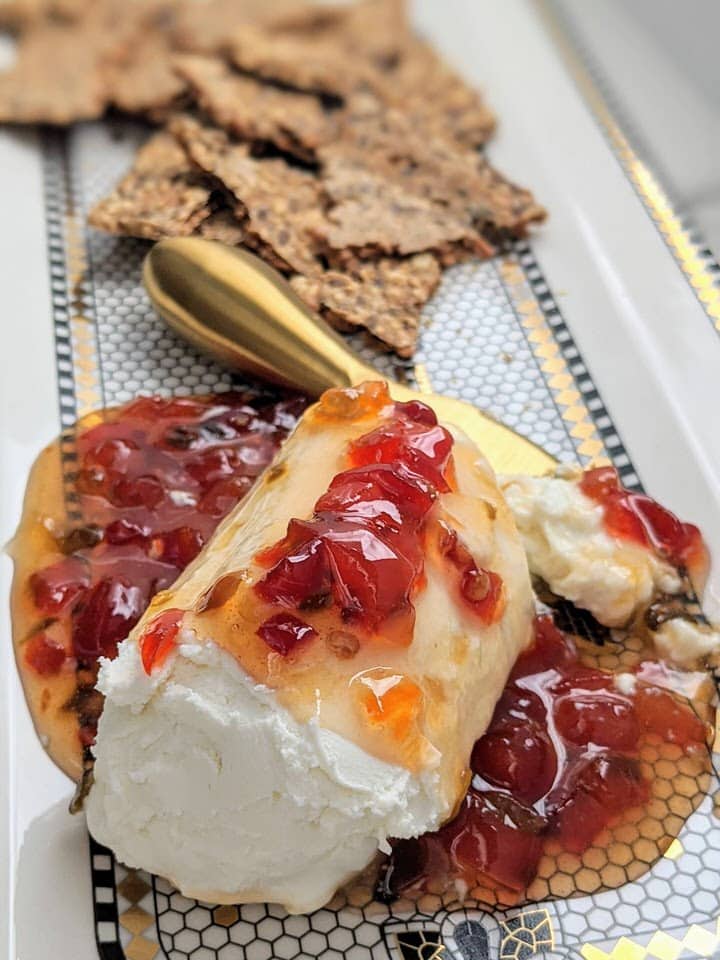 What to serve along with goat cheese and red pepper jelly
My favorite crackers to go along with this recipe are the Norwegian Crisp Bread from Trader Joe's (pictured here). Full of seeds, plenty of crisp, but completely gluten free. The rest of my family prefers to eat it with good old Wheat Thins. It's also completely delicious spread on warmed sourdough or whole wheat bread.
Take off the pressure of entertaining and enjoy the people!
One of my favorite ways to accomplish truly easy entertaining is by finding items like this Red Pepper Jelly and Goat Cheese appetizer combination that can be literally thrown together. Why spend hours in the kitchen making recipes when there's so many great options already out there? Now, don't get me wrong, there is a time and place for going the extra mile and creating a delicious and completely homemade treat, but for this busy mom, these simple recipes are a life saver! It's what makes me say "yes" more often to hosting events, or inviting friends over after church. Any time I can take unnecessary pressure off of myself, I'm doing it!
So if you find yourself overwhelmed by having people over to your home, take a load off yourself and keep recipes like this one handy. Plus, don't worry about a perfectly clean home! When I visit a friends house, I find myself more at ease when there are a few toys on the floor and a few dishes in the sink. Right?
Let's all remind ourselves that Martha Stewart and Instagram are not anyone's reality, and just embrace the mess of life and focus on the people in our lives and in our homes!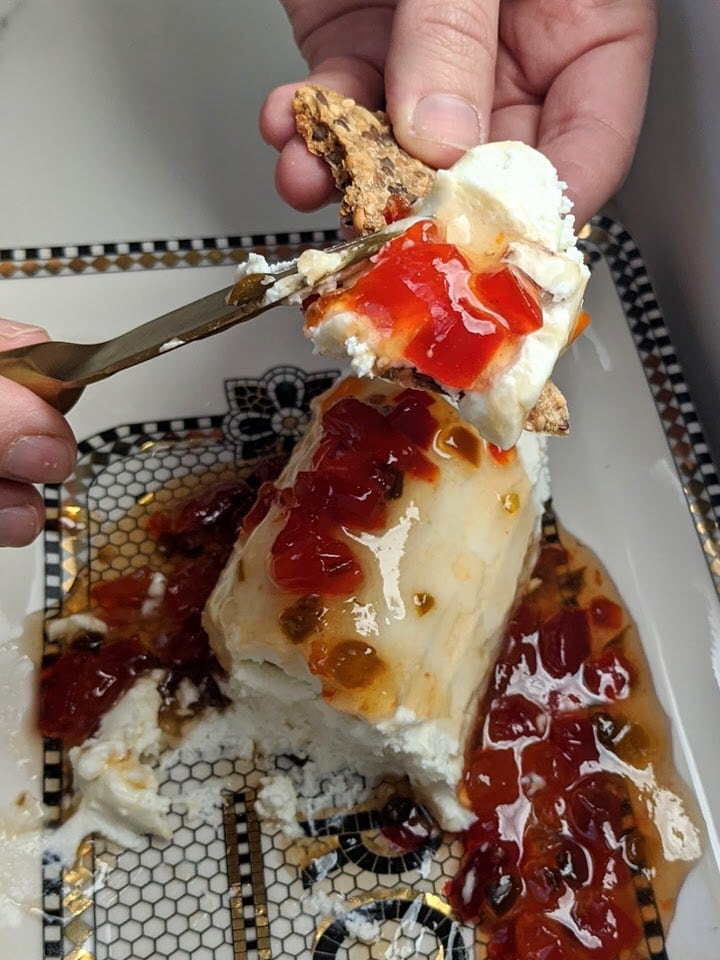 Customize to your tastes
Goat cheese and jams are probably my favorite combination. Since I'm lactose intolerant, I can eat goat milk cheese and this makes me happy and keeps me from lactose-intolerant despair. So, I keep soft goat cheese in my fridge at all times. Fig and raspberry jam are my other favorites.
Looking for other amazingly simple appetizer recipes? Try these!!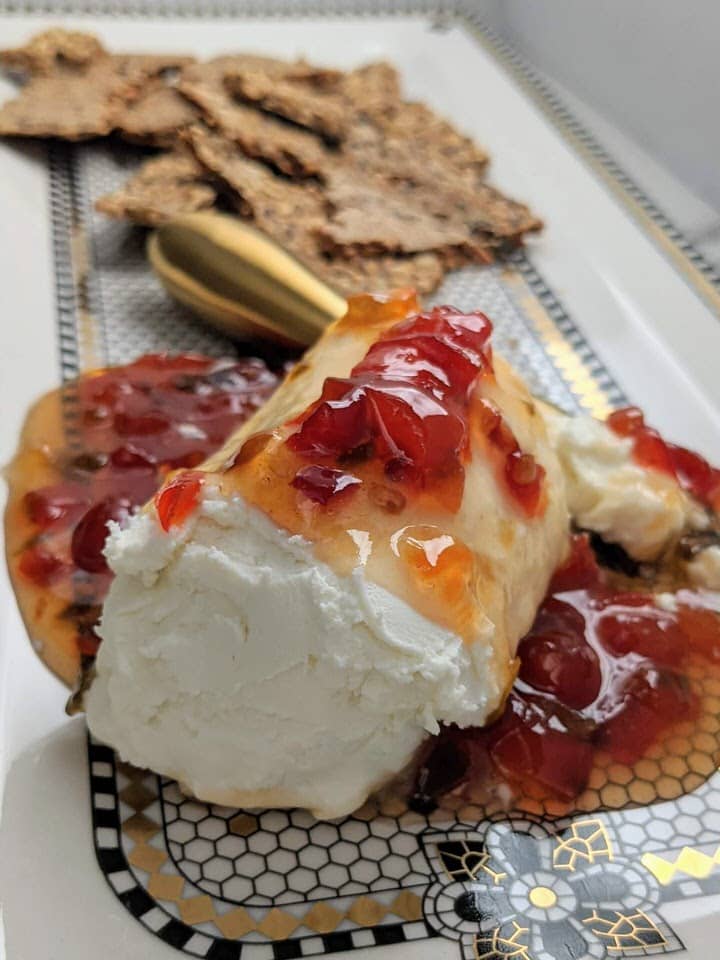 My favorite appetizer serveware
I keep very little serving dishes in my little home, so the one's I bother storing are all beautiful and special! The serving dish pictured here was a gift from my husband at Christmas and says "fromage" in the center. It comes from Anthropologie where they have a whole line of this Bistro serving ware and my favorite collection of unique items.
The gold cheese knife comes in a set from World Market and was also a Christmas gift (from my mom).
Gluten Free Appetizers
Baked Feta with Burst Tomatoes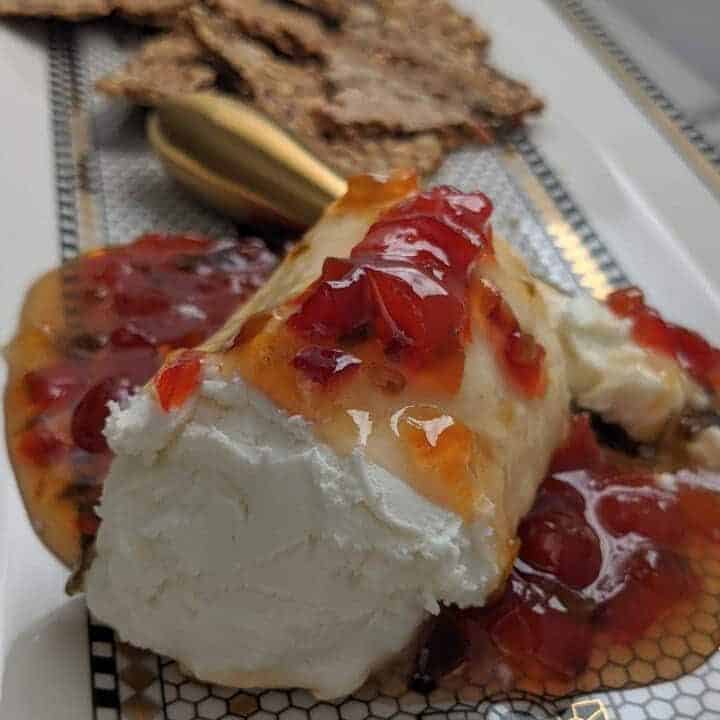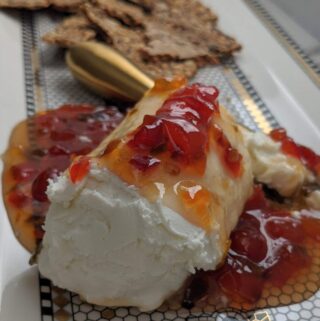 Goat Cheese & Red Pepper Jelly Appetizer
Creamy goat cheese covered in sweet and spicy red pepper jelly.
PRINT RECIPE
PIN RECIPE
Ingredients
1

log goat cheese

small or large

1

jar red pepper jelly
Instructions
Place goat cheese log on serving plate. Top with red pepper jelly. Serve with crackers or bread. Done!