I don't know why I didn't just make a double batch of this Chocolate Granola yesterday. Since that was the second time I've made it this week. And so far, I'm the only one in the house that knows it exists. I refuse to share it yet. And I made the most amazing discovery of putting this on top of raspberry yogurt. I am loving this twist on a classic combination of flavors!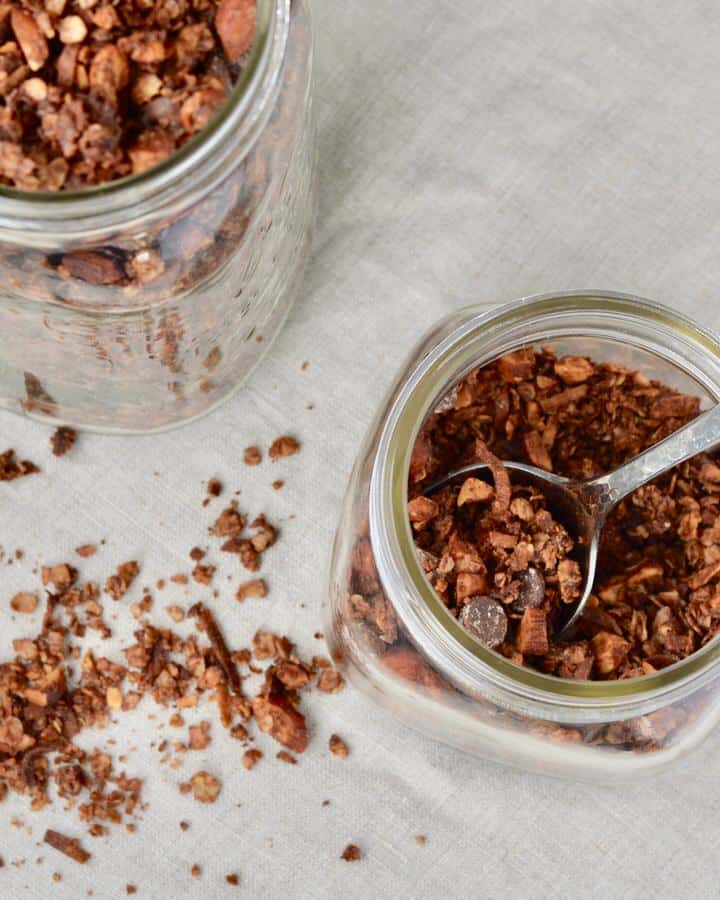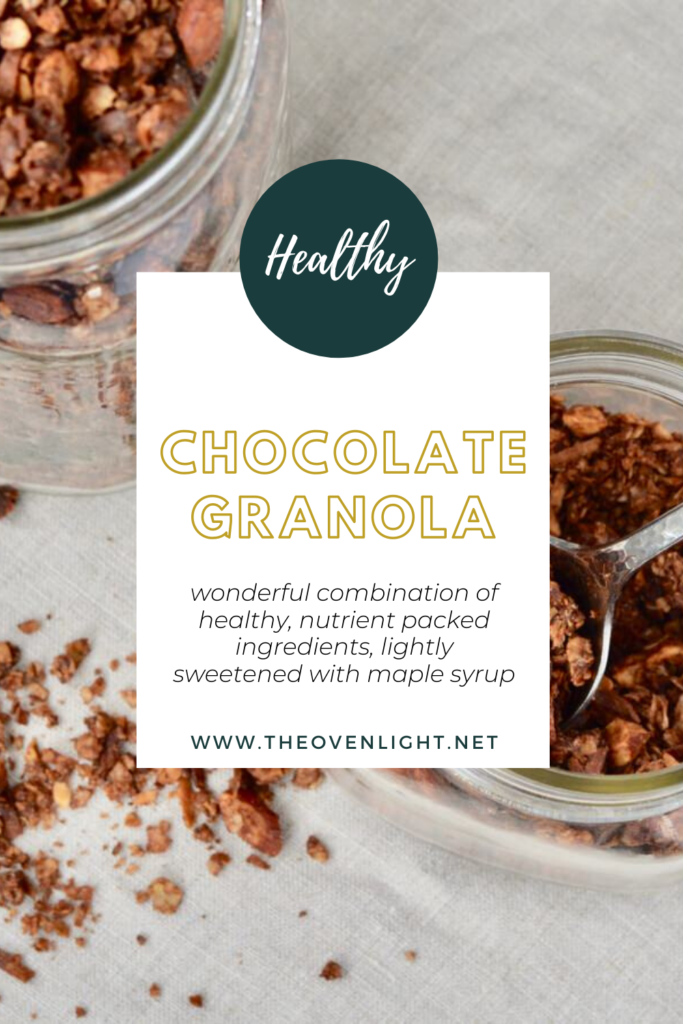 Simple Ingredients
Sometimes simple ingredients can come together in such a magical way. By adding a little bit of heat to these few pantry staples, it gives this chocolate granola a delightful crunch and magnifies the true chocolate flavors.
And even if you're not a lover of coconut, once you cover it in cocoa powder and maple syrup it really makes it crispy and subtle. And I always have nuts on-hand for snacking. I used roasted salted almonds, which let me tell you, makes all the difference to me.
I love that salty sweet combo and I feel so healthy eating those nuts along with oats and coconut. Of course, the chocolate chips make it a real treat, but I basically consider them a health food too. (That's what I tell myself so that I can eat them in copious amounts.)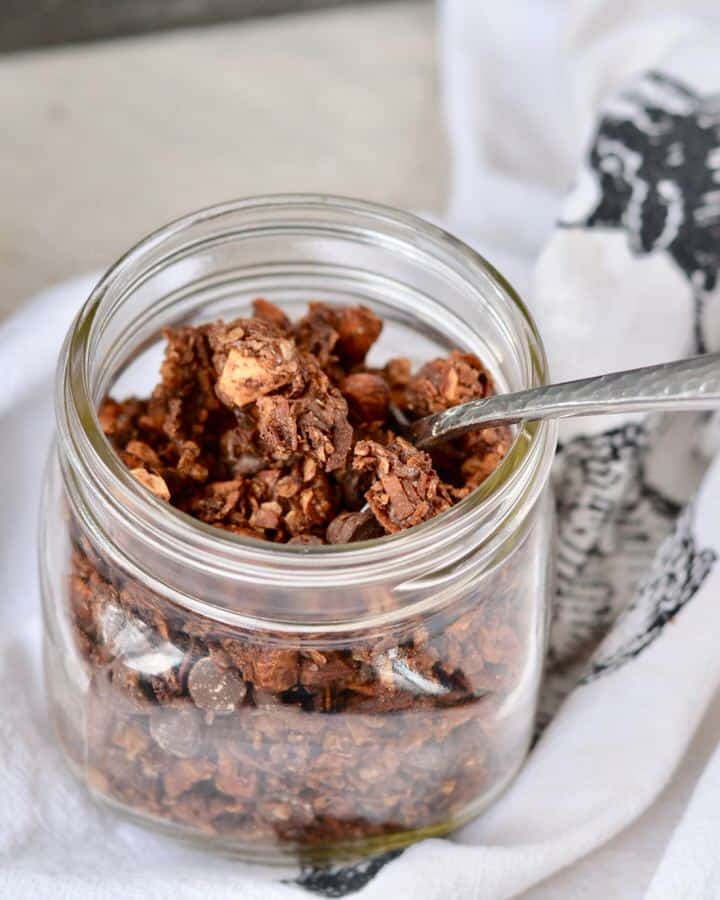 Use it for gifts
I'm planning on making a double batch next week for teacher's gifts for Valentine's Day! I mean, how cute, right? Put a little red heart tag and some ribbon and call it a day.
Plus, it's still chocolate, but not overly sweet, so you can eat it by the handful and feel great! It would also make a sweet gift for my neighbors or friends. I really like these jars and have used them many times for smaller gifts for friends or family.
Keep them on hand for that last-minute hostess gift or small event where you don't want to show up empty-handed! And I use this black and white bakers twine for literally everything. I bought a huge spool of it because it goes with every kind of gift wrap!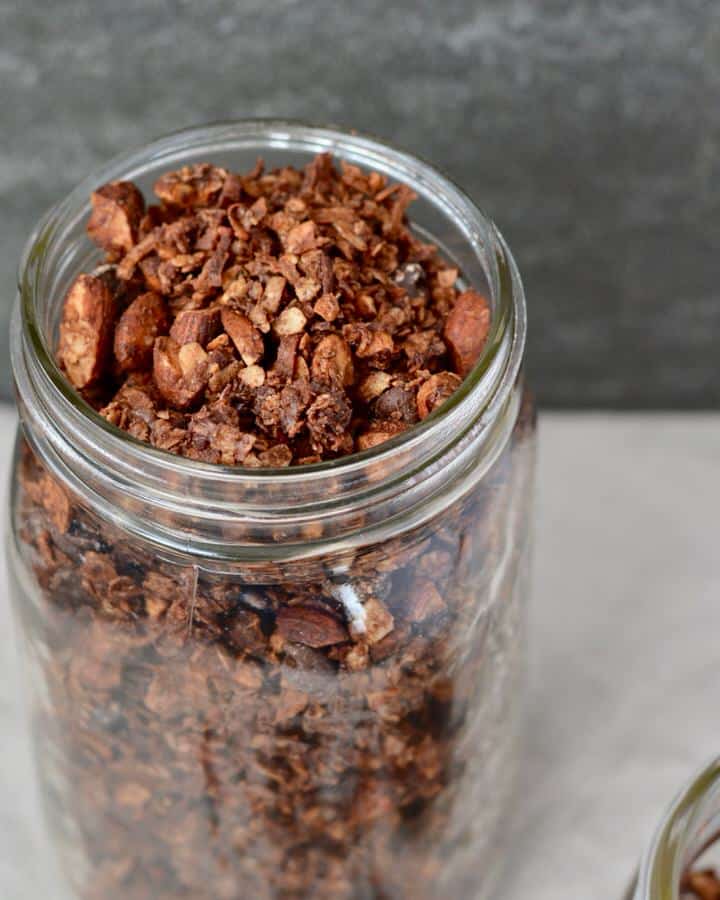 Loving this chocolate granola recipe? Try these other low sugar breakfast recipes!