Necessity is the mother of invention… and also great new recipes! I avoid taking my kids to the store with me like the plague (anyone else?), so over Christmas break, I threw together this healthy chicken and rice bake with what I could find in my freezer and cupboards. And oh my goodness, it came out so delicious! The whole family loved it, and I've already made it two more times! And the best part is that you probably already have the ingredients in your pantry too!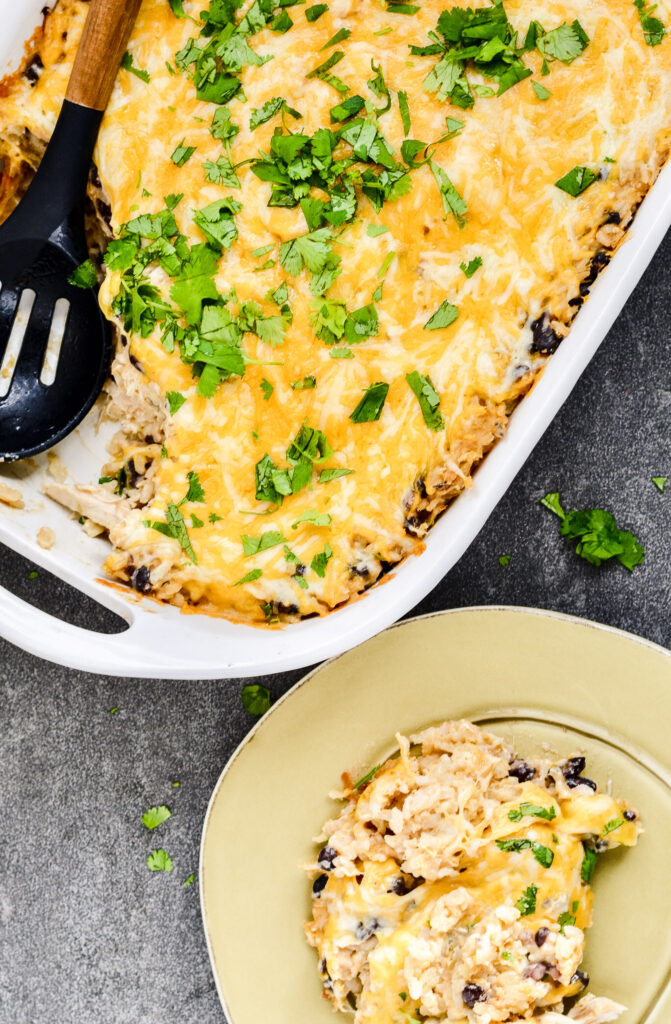 Sign up for our FREE 7 Day Simple Meal Plan!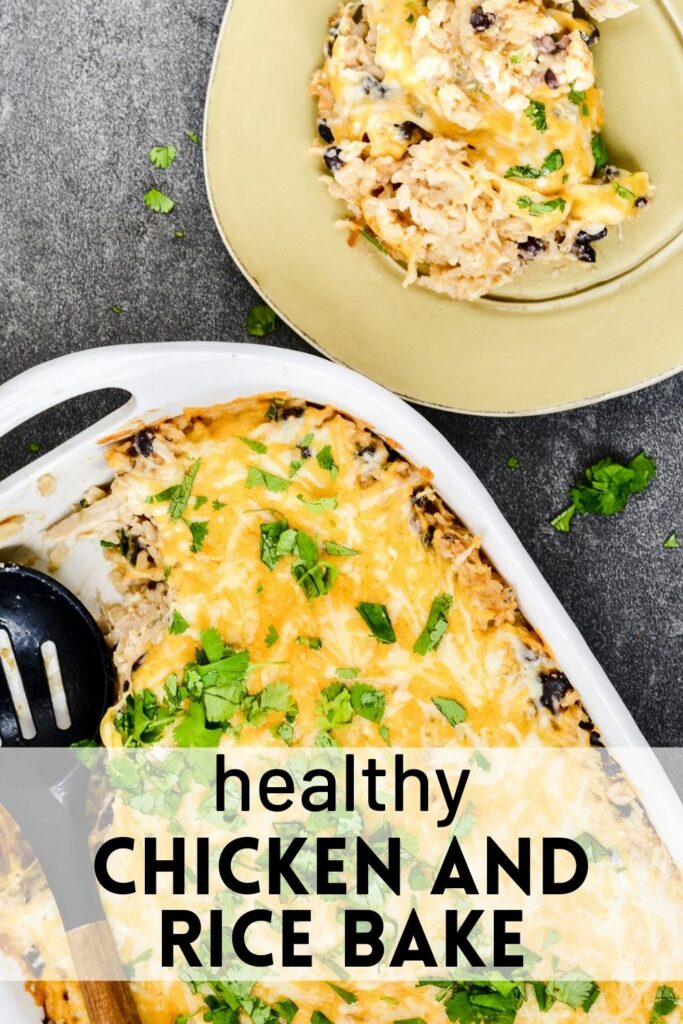 simplicity is king for weeknight dinner
I'm not typically a big fan of casseroles (which is why I cleverly call it a "bake"). But I willingly jump on board when it means I can make it ahead of time, it's really inexpensive, it tastes this good, it's healthy AND it's super easy!
That's the ultimate recipe for me. And who doesn't love chicken and rice? Especially with some salsa verde, YUM!

You can completely prepare this recipe the night before and just cover with foil and throw in the fridge. That way, when you get home from a long day at the office (or a long day taking care of the kids), this meal is ready to go after just a few minutes in the oven.
By far, this is the easiest way to prepare a delicious weeknight meal!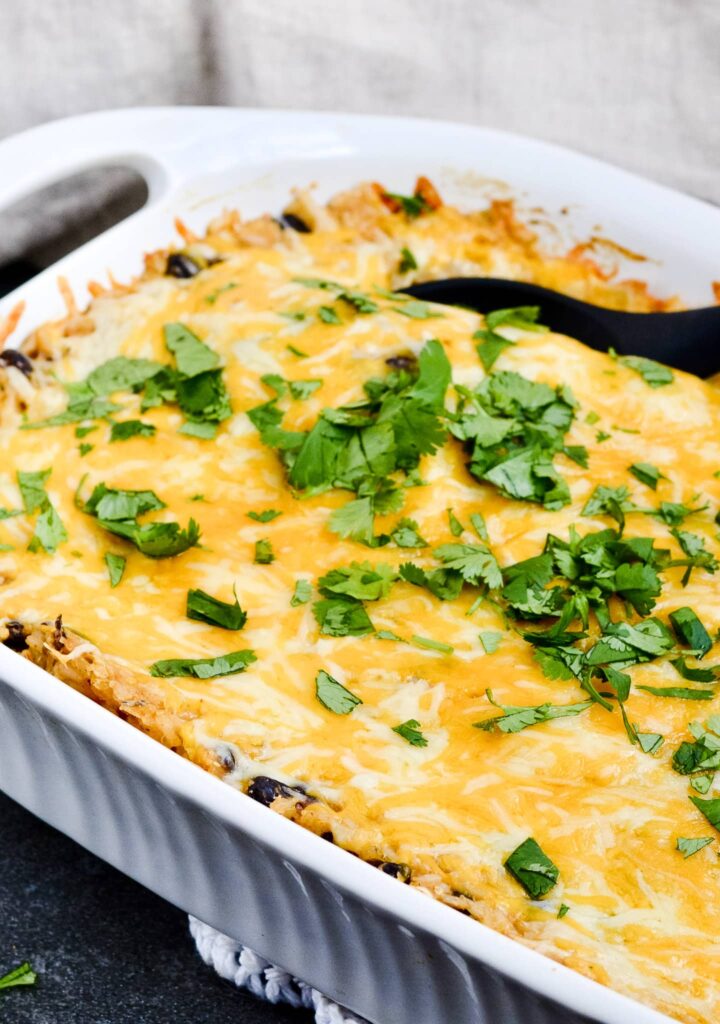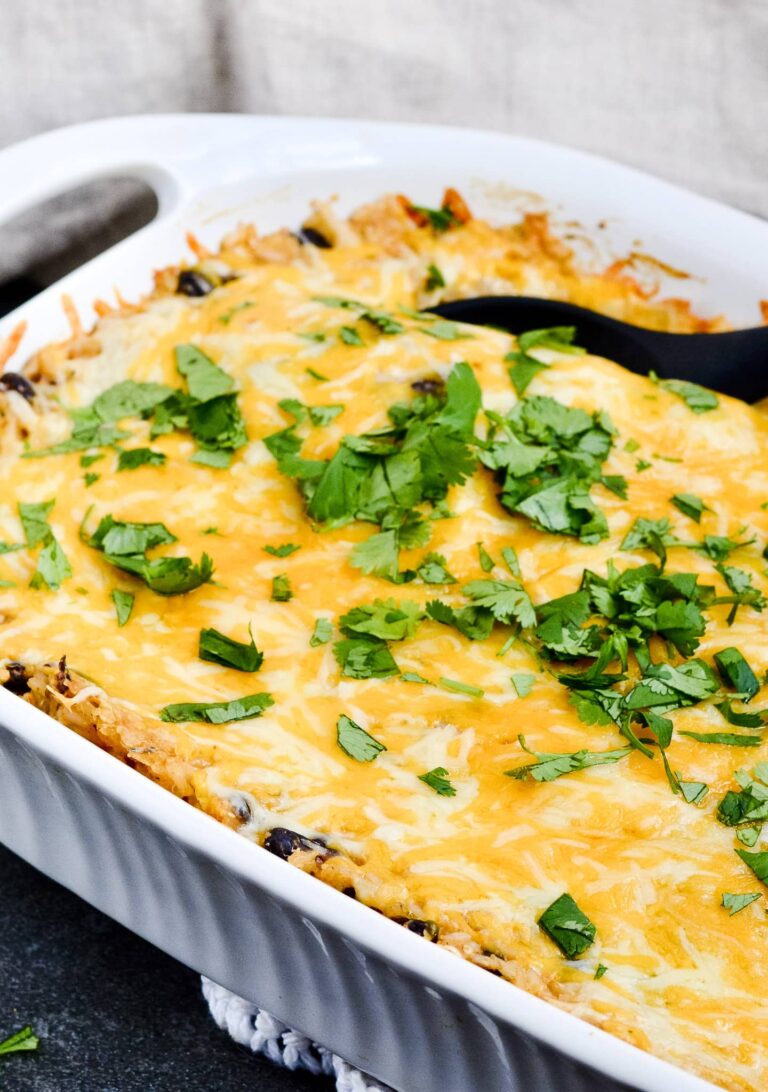 try this recipe with other add-ins & toppings
When you throw this recipe together, consider using a roast chicken to make it even quicker. And I think it would also be amazing with roasted vegetables or go the other way with a lean chopped steak. And serve it up with sour cream, avocados and salsa fresca. YUM!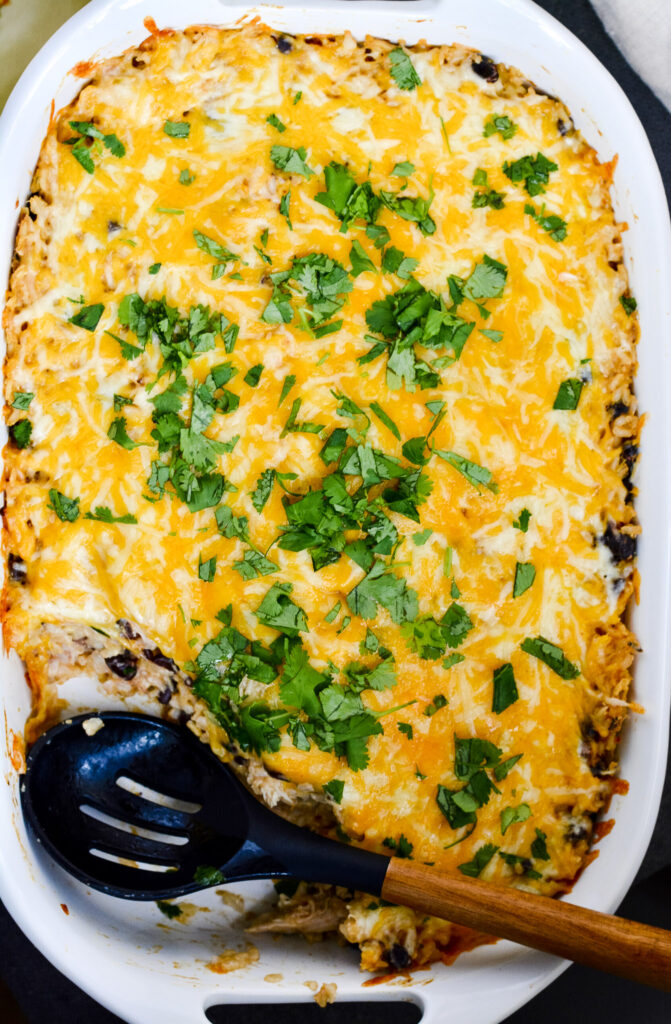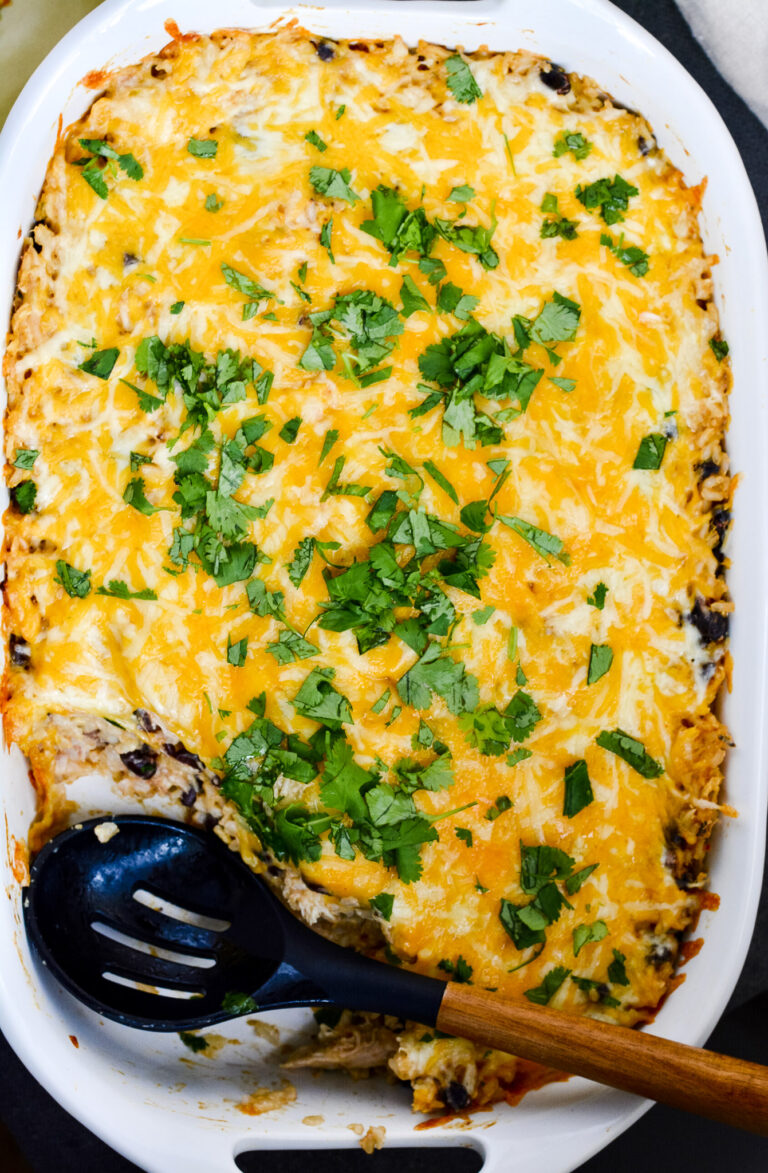 To make this salsa verde rice bake, simply…
Cook the brown rice according to package directions. Set aside.
If you're baking your own chicken, preheat oven to 350°F. Place breasts in baking dish and cover with 1/2 cup salsa verde.
Bake chicken until cooked through (165°F in the center). Remove and allow to rest for 10 minutes. Once cooled, shred the chicken with 2 forks.
Lightly spray a 9″x13″ baking dish with nonstick spray. Set aside.
To the rice, add 1/2 cup salsa verde, cream cheese, taco seasoning, black beans and shredded chicken. Taste and add salt and pepper if needed.
Pour mixture into baking dish and then generously cover with shredded cheese.
Bake for 20-25 minutes until heated through and cheese is fully melted.
Remove and add cilantro, avocado, sour cream or hot sauce if you'd like! I love lots of toppings on this recipe. So amazing and so simple!
The best part of this recipe is that you can make this entire recipe ahead of time and just cover with foil before baking.
Loving this healthy chicken and rice bake? Try these other make-ahead weeknight recipes!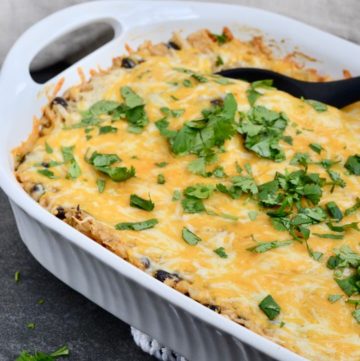 Salsa Verde Chicken and Rice Bake
Make this the night before and put it in the fridge for a super easy weeknight meal.
Ingredients
2-3

Chicken Breasts

2 1/2

C

uncooked brown rice

1

C

salsa verde

divided

4

oz

cream cheese or plain yogurt

2

Tbsp

taco seasoning

1

15 oz

can black beans

1

16 oz

bag of shredded Mexican cheese blend

salt and pepper to taste

garnish

with cilantro, avocado and more salsa verde
Instructions
Cook brown rice according to package instructions.

Preheat oven to 350°. Place chicken breasts in baking pan and pour 1/2 C of salsa verde over chicken

Bake chicken until center reads 165°, or about 25 minutes. Once done, remove chicken from oven and let rest 10 minutes. With 2 forks, shred the chicken then set aside. Leave oven on.

Lightly spray bottom and sides of a 9″x13″ casserole dish and set aside

To the rice add: 1/2 C salsa verde, cream cheese, taco seasoning, black beans and shredded chicken. Taste, add salt and pepper if needed.

Place rice mixture into greased casserole dish and evenly spread cheese over top.

Place in oven for 20 minutes or until cheese is fully melted and dish is heated through.
Make Ahead
If you want to make this ahead of time, prepare completely, just don't bake. Cover with foil and place in the fridge until ready to bake.

Preheat oven to 350°. Keep casserole covered in foil and bake 25 minutes. Remove foil and bake an additional 20 minutes until cheese is melted and dish is heated through.