French toast is already so decadent and amazing. But when you stuff it with a creamy, citrus-y, pecan-y filling, you've got yourself something really special. Now, if you can get someone to serve this to you in bed, you've got the start of a perfect day!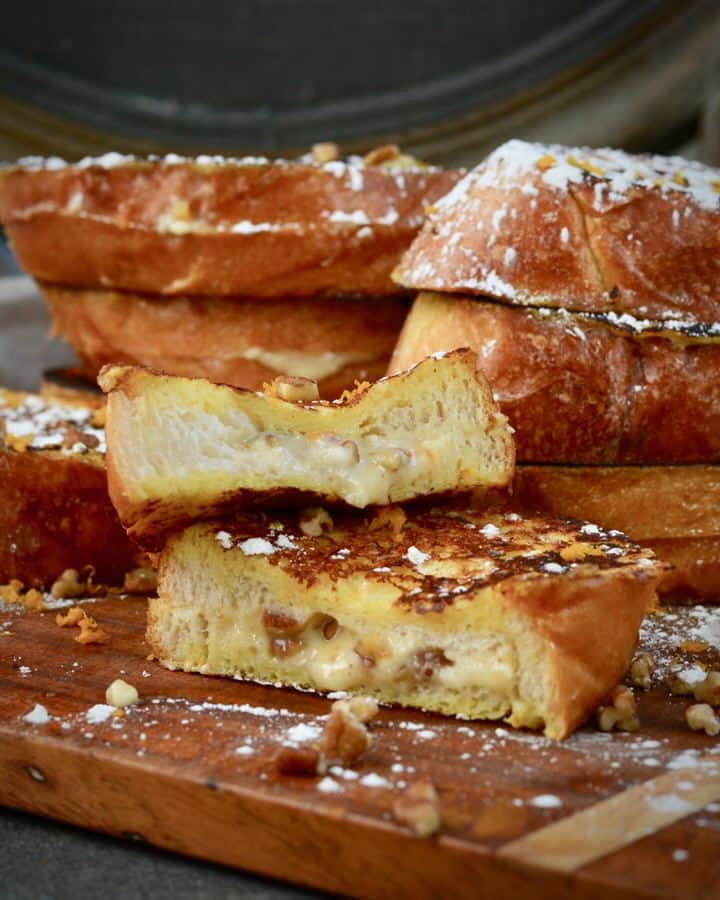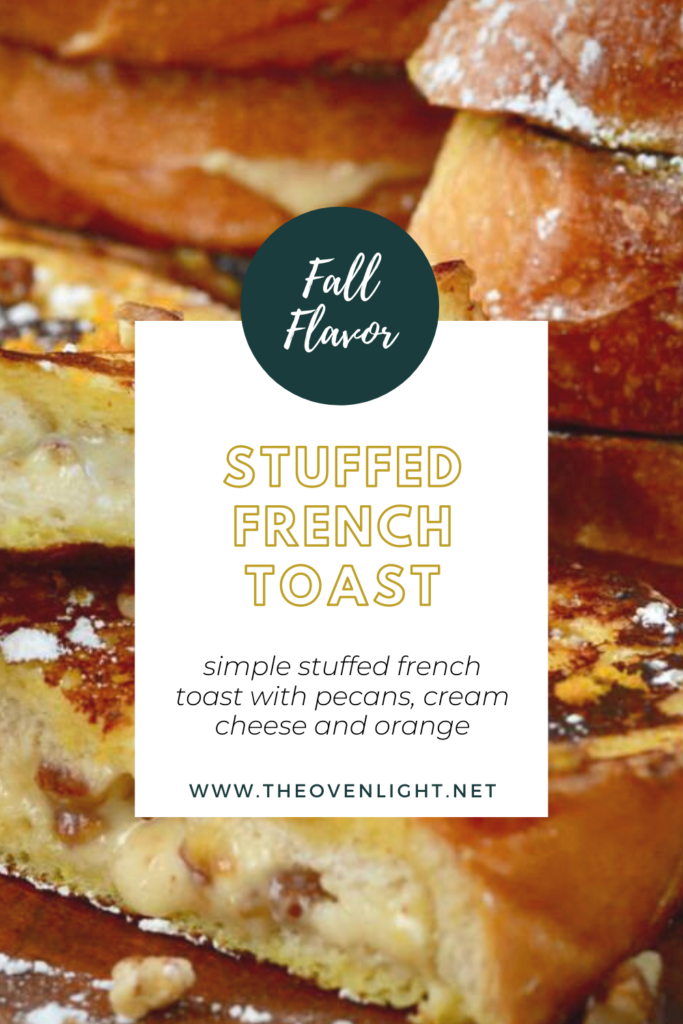 Simplify your recipes
I often think about what Mary Berry and Paul Hollywood would say about my recipes. I imagine them biting into it and Mary calling it "scrummy" while Paul hems and haws and makes me wait for a handshake. (In my fantasy, I always get a handshake, obviously.)
Now, I'd have to make the french bread from scratch for anyone of their caliber to be really impressed. Like I have time for that. Especially when my grocery store bakes it fresh everyday and sells it to me for a buck fifty. But I'm pretty sure the flavors and textures in this recipe would earn me a handshake and a "scrummy".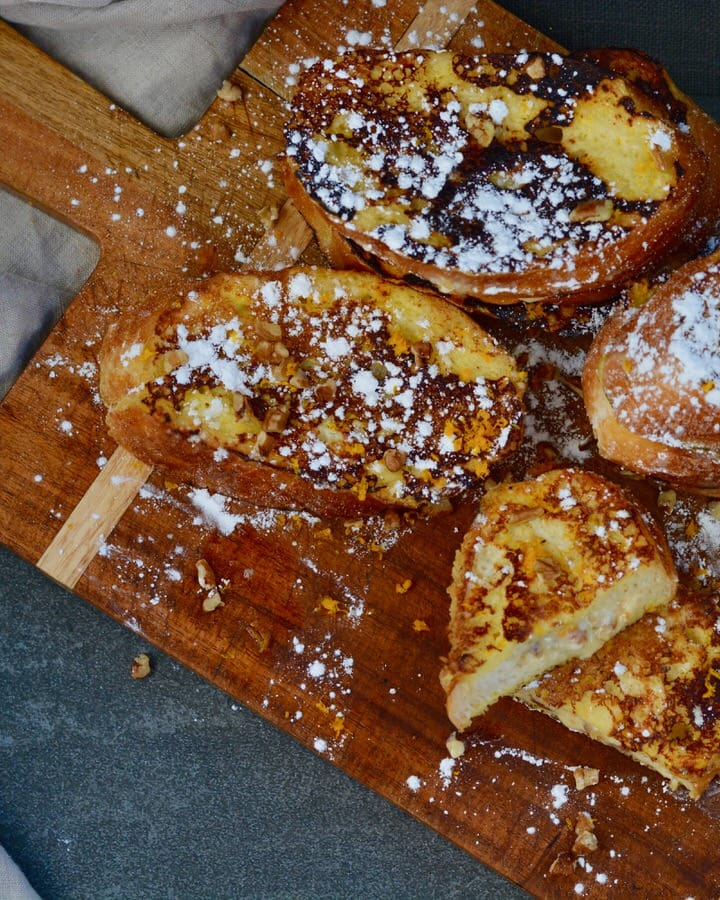 Making this french toast only requires a few extra minutes, and the creamy filling and orange flavor make it totally worth it.
How to make Orange Stuffed French Toast
First, we're going to toast the pecans. Toasting makes them fragrant and more flavorful and keeps their slight crunch instead of getting mushy. It's a step you don't want to skip!
Slice your loaf of french bread on a slight diagonal at 1" thick. Slicing on a diagonal gives each piece a little more of that sweet crust and gives each slice more visual interest.
Next, combine the cream cheese, pecans and marmalade. This filling is so simple and yet makes for a truly special Fall breakfast or brunch.
Fill each pocket of your french toast with about 1 tablespoon of filling.
Mix up the egg dip ingredients in a medium bowl. The orange juice and zest in the coating gives this french toast that perfect citrus punch to complement the warm, creamy insides.
Heat a skillet or griddle to 350°F (I have this one and it works great and won't break the bank!). Spread some butter or non stick spray on your griddle. Dip each piece of bread so both sides are covered and place on the griddle. Cook on each side until browned and slightly crisp, about 3 minutes per side.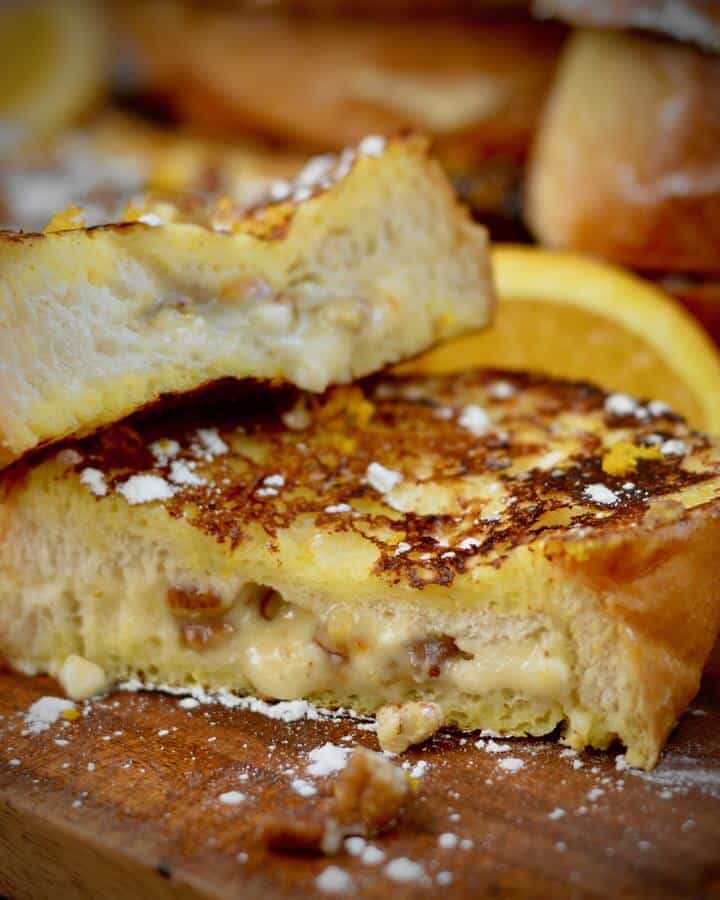 Love this Orange Stuffed French Toast? Try these other great breakfast recipes!