This German Chocolate Cake recipe is no joke. Perfectly dense, moist and rich. It'll make your knees weak and have you asking for seconds. I've included some unusual tips to getting this cake perfectly dense.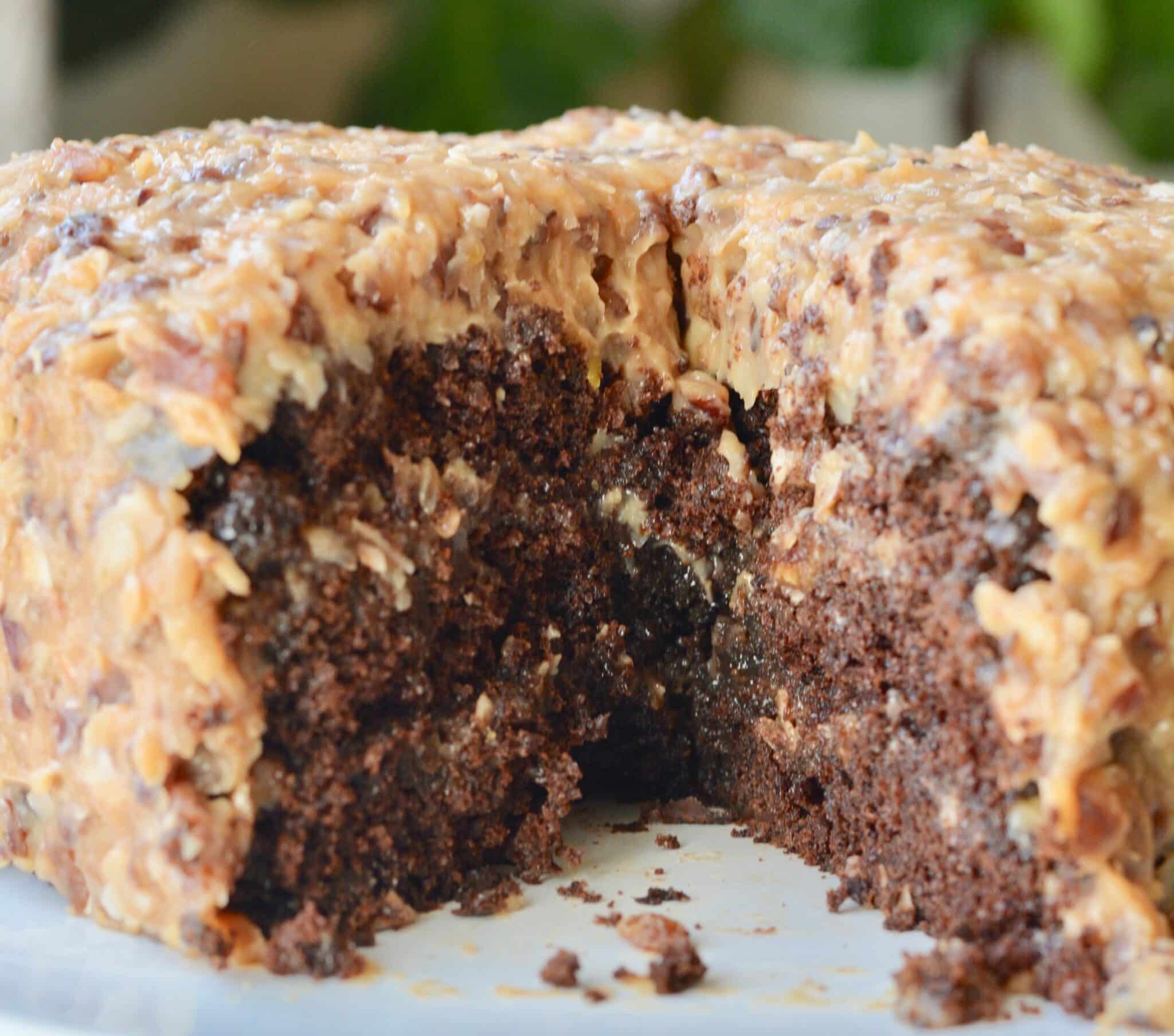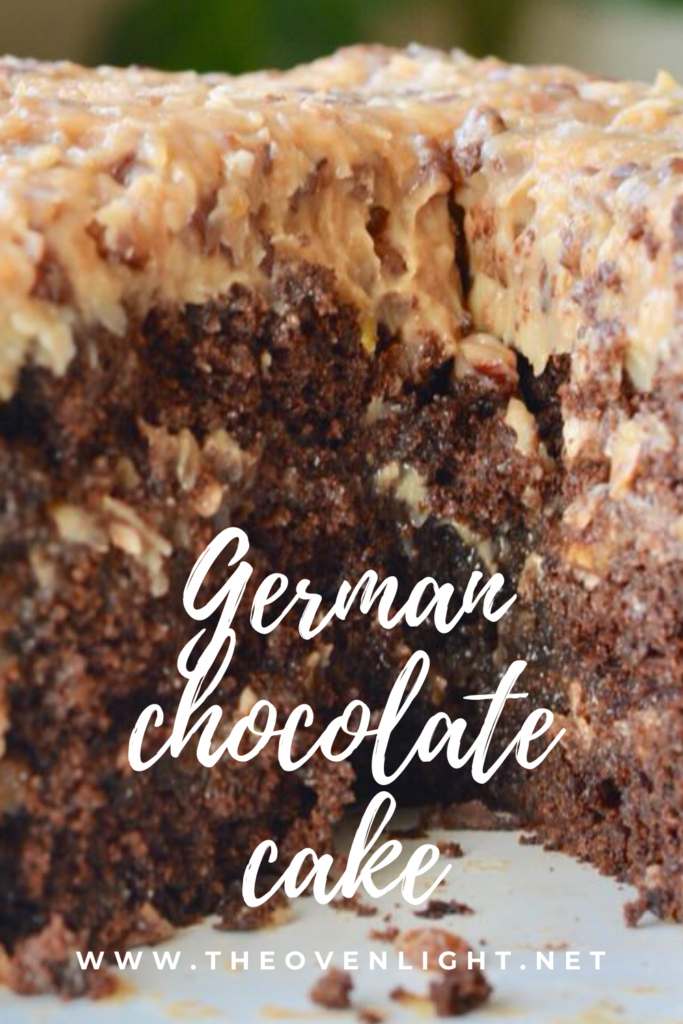 You're better than boxed cake mix
I was never really a fan of German Chocolate Cake until recently. It's my husbands favorite kind of cake, and every year on his birthday he asks for it. Originally I just bought the box mix and frosting and called it a day. It was always "meh".
Then one year, after being less than thrilled with the idea of making and eating yet another sub-par cake, I decided I could do better. Although my first homemade attempt was better than the box version, it still needed plenty of help.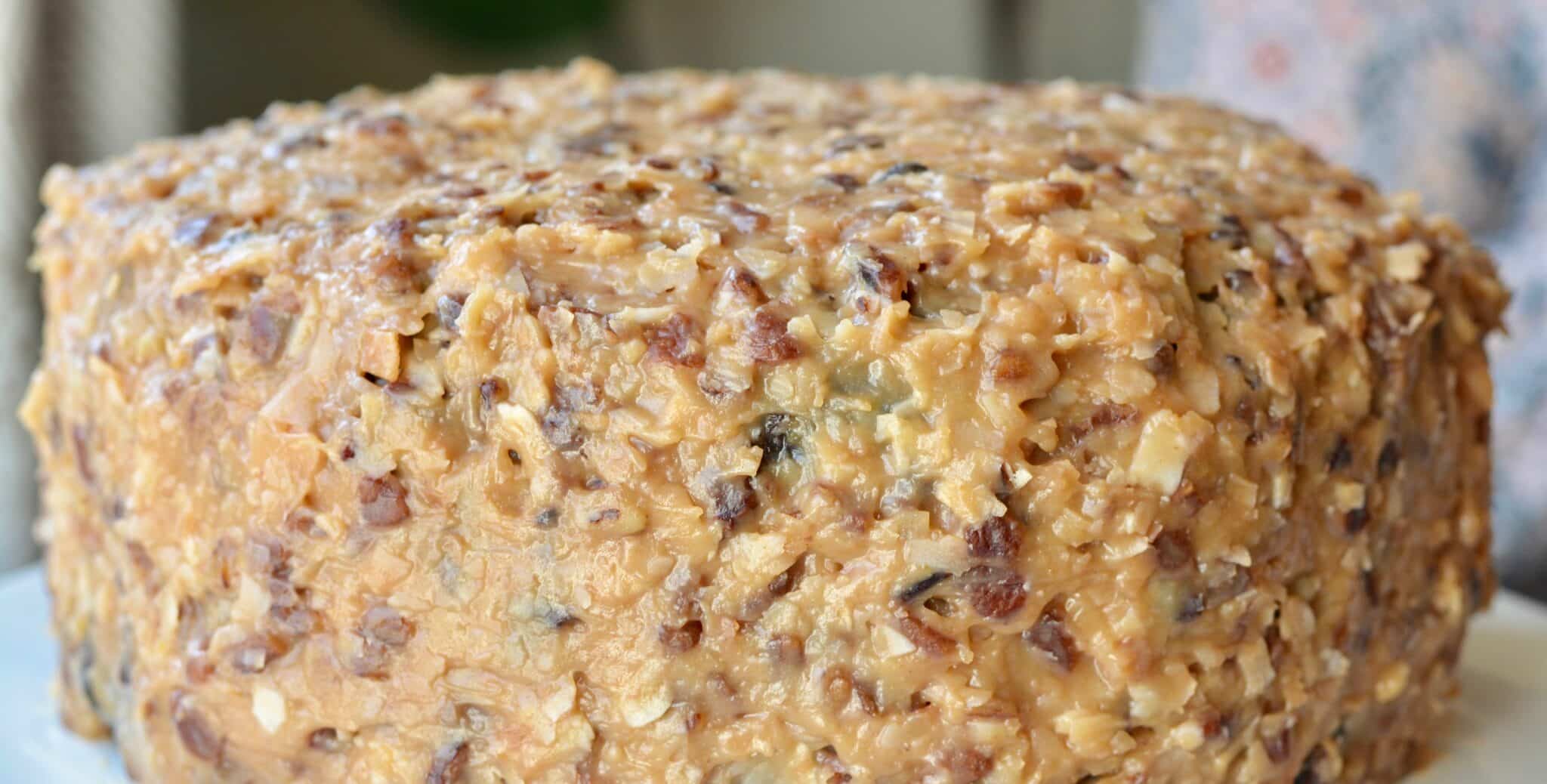 Achieving maximum density
My husbands requirements for cake is that it is delicious and DENSE. The man wants his slice of cake so heavy that you need to work out just to hold the plate up.
The only problem is, no matter how many alterations I made to various recipes, I could not get it anywhere close to dense enough. So this year I made four different variations of the same cake to see which one would work.
Turns out I needed to do ALL the things together to achieve my (his) desired result. So stick with me on this one I know it's quite a few steps but its not difficult, just takes some time.
I modified this recipe from Through Her Looking Glass. The original recipe is for a Bundt cake but I split it up and put it into 4 9-inch cake pans. Feel free to half the recipe to make a simple double layer cake but I think if I'm going to all the trouble to make a cake I want to have extra.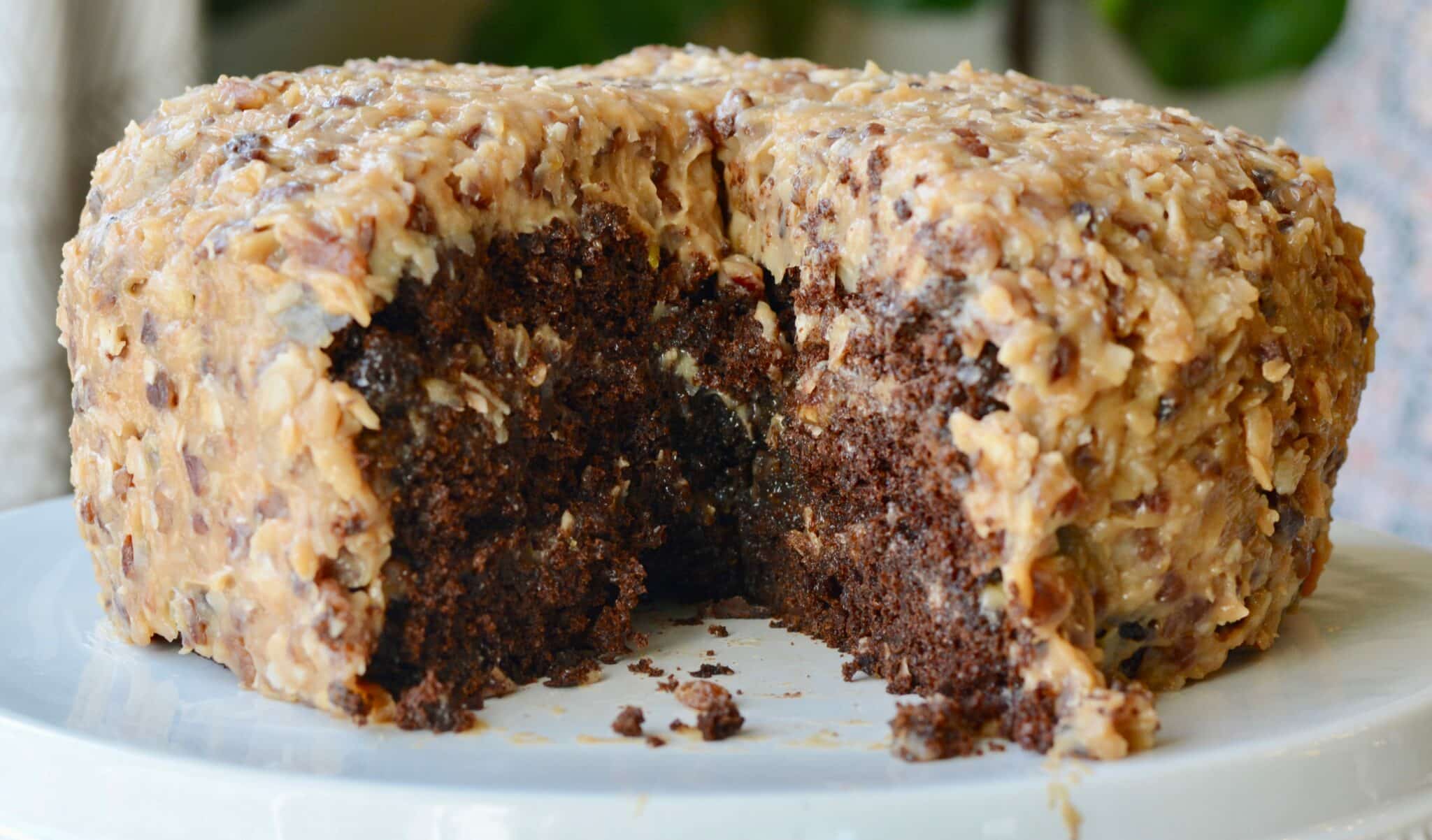 Also feel free to make any frosting that tickles your fancy, but don't skip the glaze, that is what sets this cake apart from any other version and gives it the fudgy denseness that will make your knees weak.
Loving this German Chocolate Cake? Need more decadent desserts? Try these!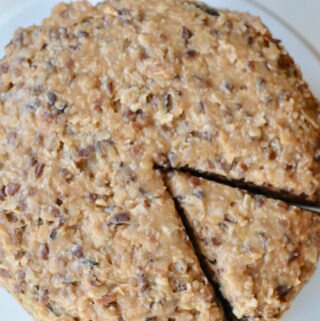 Dense German Chocolate Cake
Fluffy cake is for the birds. Indulge in a decadently dense cake. Be sure to read the whole recipe before starting.
Print
Pin
Rate
Ingredients
Cake
2

C

sugar

1

C

unsalted butter

room temp

1 ½

teaspoon

vanilla

6

eggs

room temperature

2 ½

C

cake flour

1

C

unsweetened cocoa powder

2

teaspoon

baking soda

½

teaspoon

salt

2

pkg

chocolate pudding mix

2 ¼

C

buttermilk

1

C

chocolate chips
Glaze
1

C

sugar

½

C

buttermilk

½

C

butter

1

tablespoon

light corn syrup

1

teaspoon

vanilla
Frosting
2

C

evaporated milk

room temp

2

tablespoon

corn starch

2

C

sugar

6

egg yolks (beaten)

room temp

1

C

butter

room temp

2

teaspoon

vanilla

2

C

chopped pecans

lightly toasted

2

C

toasted coconut
Instructions
Frosting
Start with the frosting, so it has time to cool.

Preheat oven to 350°. Place chopped pecans on a baking sheet and toast in the oven until fragrant. About 5-7 minutes. If you're coconut did not come toasted, place it on the same sheet and allow to toast for the same time.

Combine all other frosting ingredients (not nuts and coconut) in a large pot and bring to a slow boil. Once boiling, stir continuously for 10 minutes. Remove from heat and add nuts and coconut. Frosting will thicken as it cools.
Cake
Preheat oven to 350°. Grease and flour 4 cake pans. (Coconut oil or butter work best - just don't use non-stick spray, it doesn't work.)

In the bowl of a stand mixer, combine sugar, butter and vanilla. Add eggs, mixing after each one.

In a separate bowl, combine dry ingredients. Alternating between dry ingredients and buttermilk, add to the wet ingredients, mixing well after each addition.

Add chocolate chips and mix. Bake for 25-30 minutes until center bounces back when touched lightly.
Glaze
Make glaze while cakes are baking.

Bring all ingredients, except vanilla, to a boil over medium heat. Once boiling, stir for 4 minutes. Remove from heat and add vanilla.

Pour glaze over cakes in the pan right out of the oven. Allow cakes to rest and soak up the glaze for 10 minutes.

When you pop the cakes out of the pan, place between layers of wax paper. Place a cutting board (or other heavy, flat object) on top of cakes and smush them for 1 hour. This keeps the cakes extra dense!

Assemble the cake with frosting between each layer and all over top and sides. OR wrap each layer in plastic wrap and freeze until ready to use.
Notes
This is I bit time consuming so I made this 2 days ahead of time and stored the cake and frosting in the fridge. On the day of my husband's birthday, I took the frosting out in the morning so it could come to room temp. Then at party time I took the cake layers out of the fridge and frosted 3 layers for the perfect cake to frosting ratio. You can do a 4 layer cake and go a little lighter on the frosting or just keep it as a bonus cake. Enjoy!