Rocky Road Brownies have been on my mind for WEEKS people. I have no idea why. Perhaps I'm missing the fact that no one makes a lactose free rocky road ice cream yet. (First world problem? Yeah, I think so.) The thing I love about this recipe is that it's not overly sweet. They're chewy and chocolate-y, but not gulp your milk down kind of overly-sweet that some brownies can be. It's the perfect balance. Plus, who doesn't love a lightly crisp brownie top? I wouldn't care to know anyone that doesn't.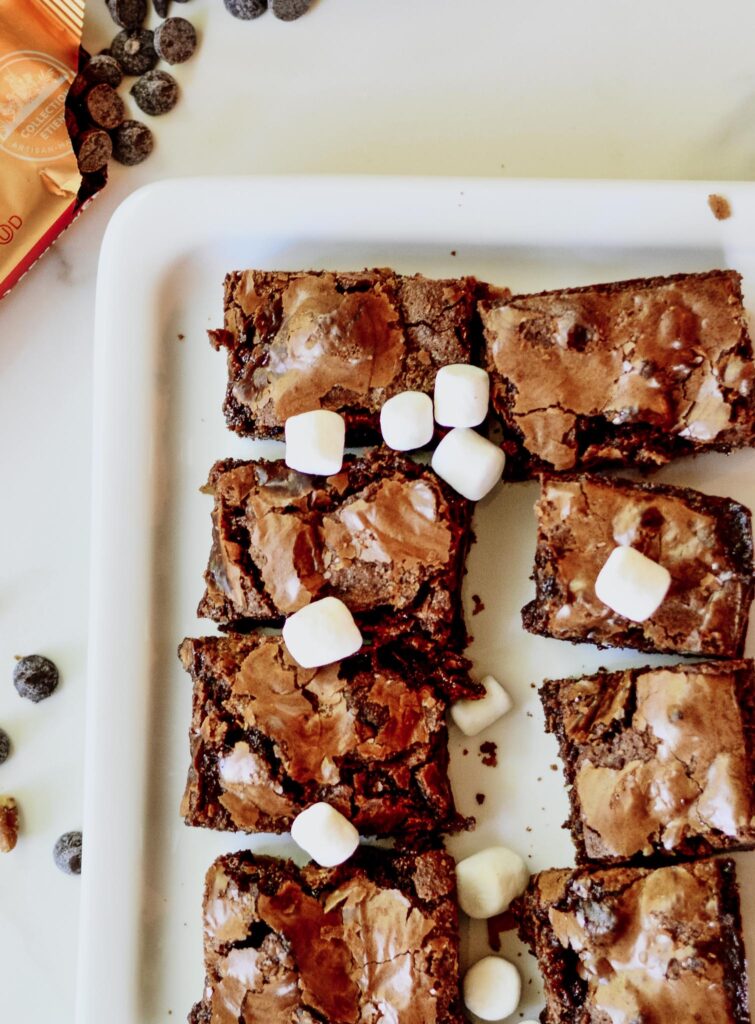 Creating perfect texture brownies
So, the great thing about the marshmallows in these brownies is that they melt and create little gooey pockets of marshmallow-y goodness. (After saying this sentence to my husband and we decided that "marshmallow pockets" might be the most delicious thing I've ever said.)
And I personally love the slight crunch from the pecans to give it some texture and interest. I'm a total pecan kind of girl. Any recipe that calls for nuts, I substitute pecans. They're just superior. What's crazy is how they say "pecans" in the south. Oh, you southerners are just a charm a minute.
How to make perfect Rocky Road Brownies
Making these deliciously soft and chewy brownies is as simple as...
Preheat the oven to 350°F. Spray an 8x8 or 9x9 cake pan with non-stick spray.
Melt butter and chocolate in a medium to large pan, stirring until fully melted.
Next, add all that sugar. I tried making this with a sugar substitute, but it did not look or taste good. So treat yourself and go with the regular ol' white sugar.
Add eggs and vanilla and stir very well, until smooth.
Add the flour, cocoa powder and salt and stir again until it's smooth and beautiful. Add nuts, marshmallows and chocolate chips and stir in.
Pour batter into the prepared pan and bake for 35-40 minutes until just set in the center and that lovely crispy top come out. Voila! You're done!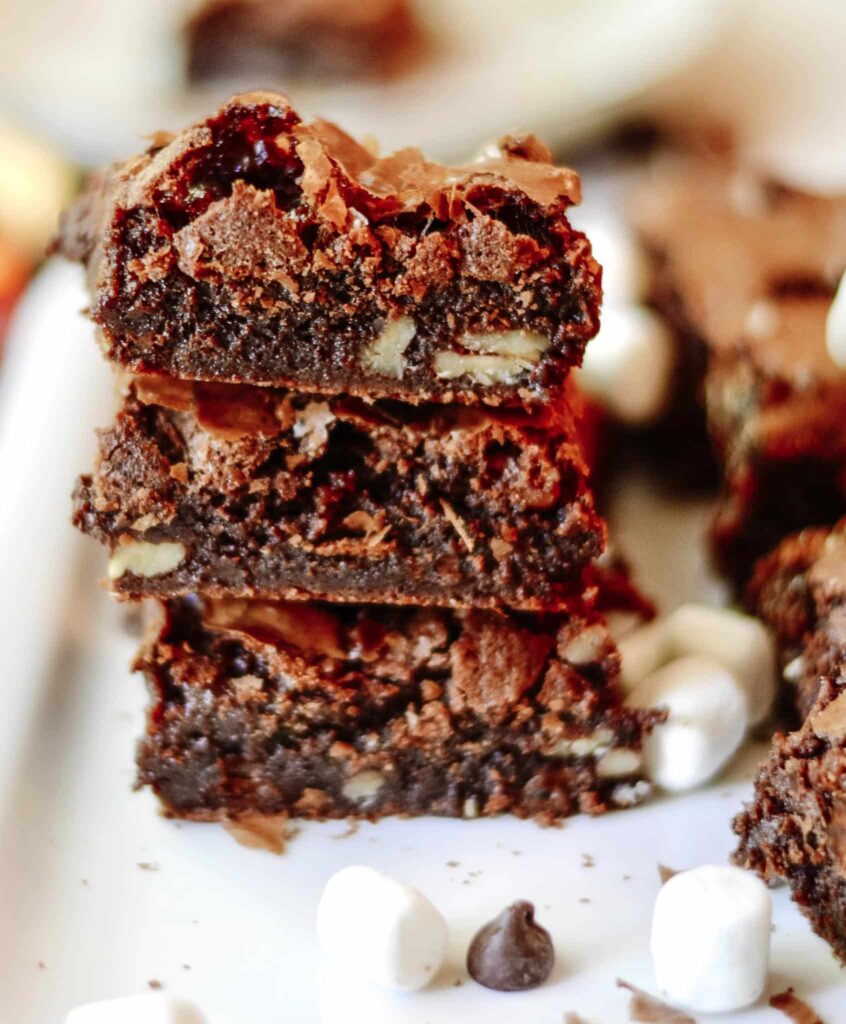 Ultimate Dessert — Rocky Road Brownies
Let's talk brownies with a scoop of ice cream in the summer. It's the ultimate dessert in my humble opinion, and becomes even more delicious on a warm summer night.
In the fall, I like to pair these brownies with a cup of hot tea in the afternoon while cuddled on the couch.
In the winter, my favorite is to pair these with a glass of wine or hot cocoa if I want something really sweet.
And in the spring, I like these with something fresh like iced tea or sparkling water. No matter what you pair these with, you will love them!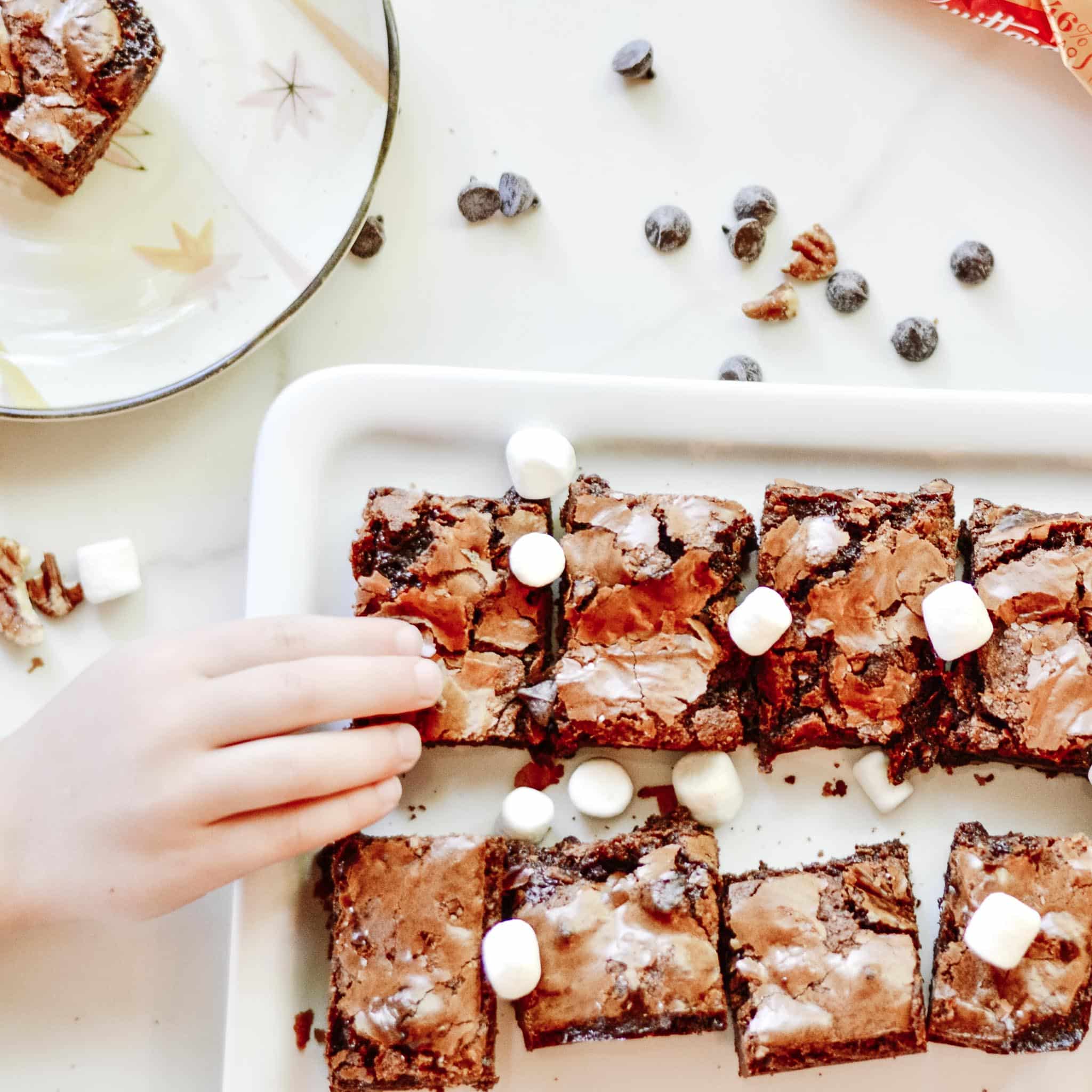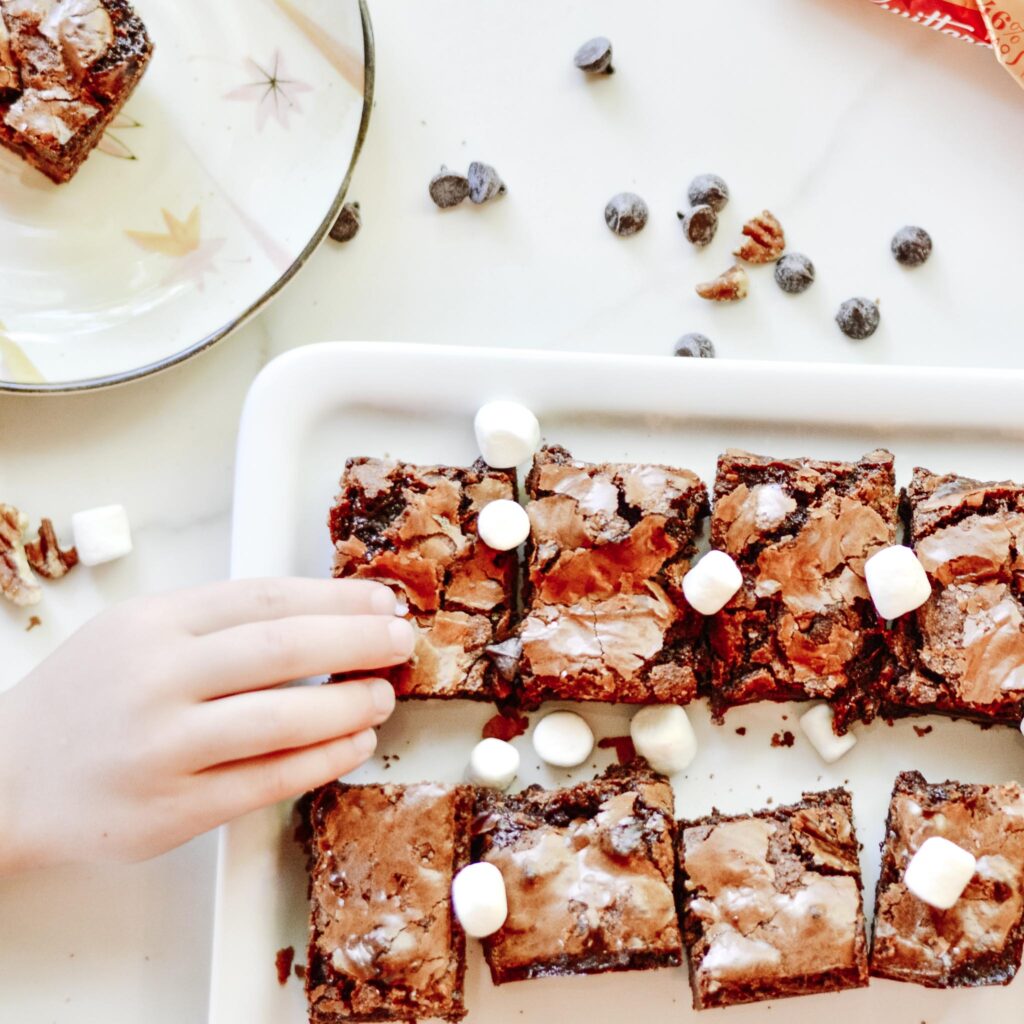 Simply make these brownies gluten free
I've made these with the King Arthur Flour Measure for Measure and they were still heavenly! Check out this post about why I choose this flour substitute over all the others.
How to make dairy free brownies
Replace the butter with ¾ cups of vegetable oil or use a dairy free butter substitute. I cannot make any promises to the outcome, but the oil should work just fine. But no need to heat it up, since it's already liquid. Also, be sure to buy dairy free chocolate chips.
Or check out our NEW decadent and simple Dairy Free Brownie Recipe! They're also gluten free and come together in minutes.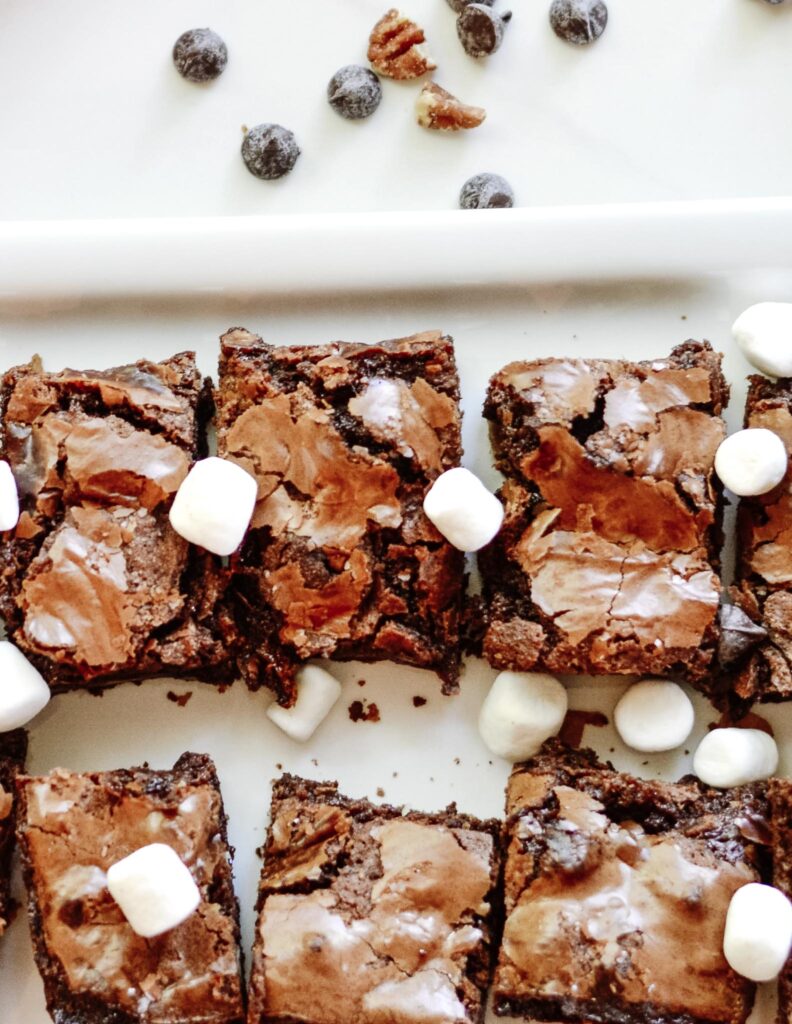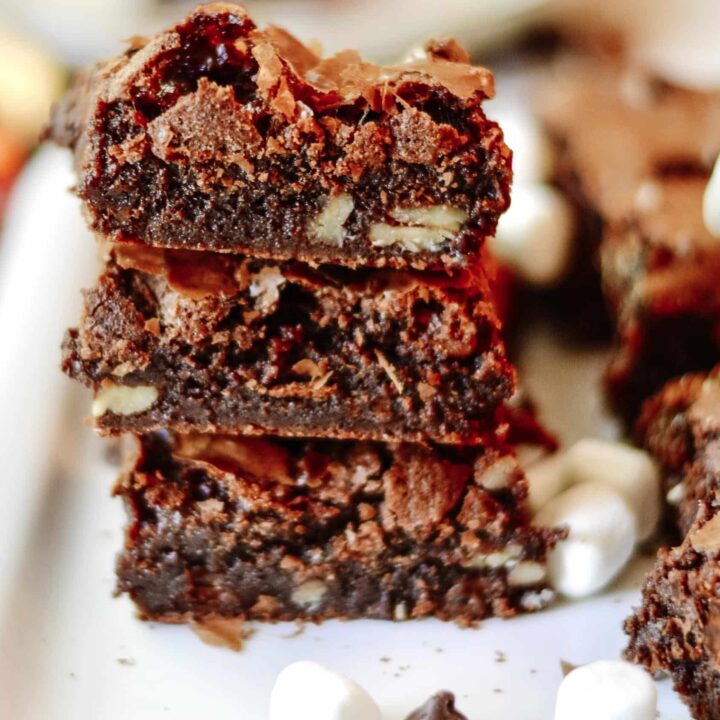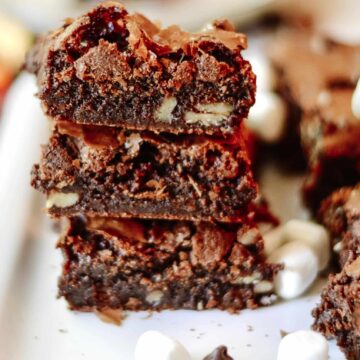 Ingredients
1

cup

salted butter

2

oz

unsweetened chocolate bar

-

(½ bakers bar)

2

cups

sugar

3

eggs

1

teaspoon

vanilla extract

1

cup

flour

¼

cup

unsweetened cocoa powder

½

teaspoon

salt

½

cup

chocolate chips

¾

cup

mini marshmallows

½

cup

chopped pecans
Instructions
Preheat oven to 350°. Grease an 8x8 or 9x9 baking pan. Removes the easiest by lining with parchment paper and sprayed with non-stick spray. Set aside.

In a large pot, melt the butter and chocolate over medium heat, stirring often.

Once melted, remove from heat and slowly add the sugar, stirring constantly.

Add eggs, one at a time, mixing well after each.

Add vanilla extract and stir.

Add in flour, cocoa powder and salt, stirring until combined. Add the chocolate chips, ½ C of marshmallows and the pecans. and stir to combine.

Top with the remaining ¼ C of marshmallows (or more, if you'd like) and bake in the oven for 35-40 minutes, or until the center springs back when touched lightly.

Cool in pan on cooling rack until cooled. Slice and serve!
Nutrition
Calories:
319
kcal
|
Carbohydrates:
39
g
|
Protein:
3
g
|
Fat:
19
g
|
Saturated Fat:
10
g
|
Polyunsaturated Fat:
1
g
|
Monounsaturated Fat:
5
g
|
Trans Fat:
0.5
g
|
Cholesterol:
61
mg
|
Sodium:
179
mg
|
Potassium:
104
mg
|
Fiber:
2
g
|
Sugar:
30
g
|
Vitamin A:
401
IU
|
Vitamin C:
0.04
mg
|
Calcium:
21
mg
|
Iron:
1
mg