A breakfast that's filling, delicious and healthy, PLUS the entire family loves it? I know it sounds like a dream, but these Peanut Butter and Jelly Oat Bars tick all my boxes for a great way to start the day. They fill us all up for hours, can be eaten in the car on the way to school AND they taste delicious. So what are you waiting for? Let's make 'em!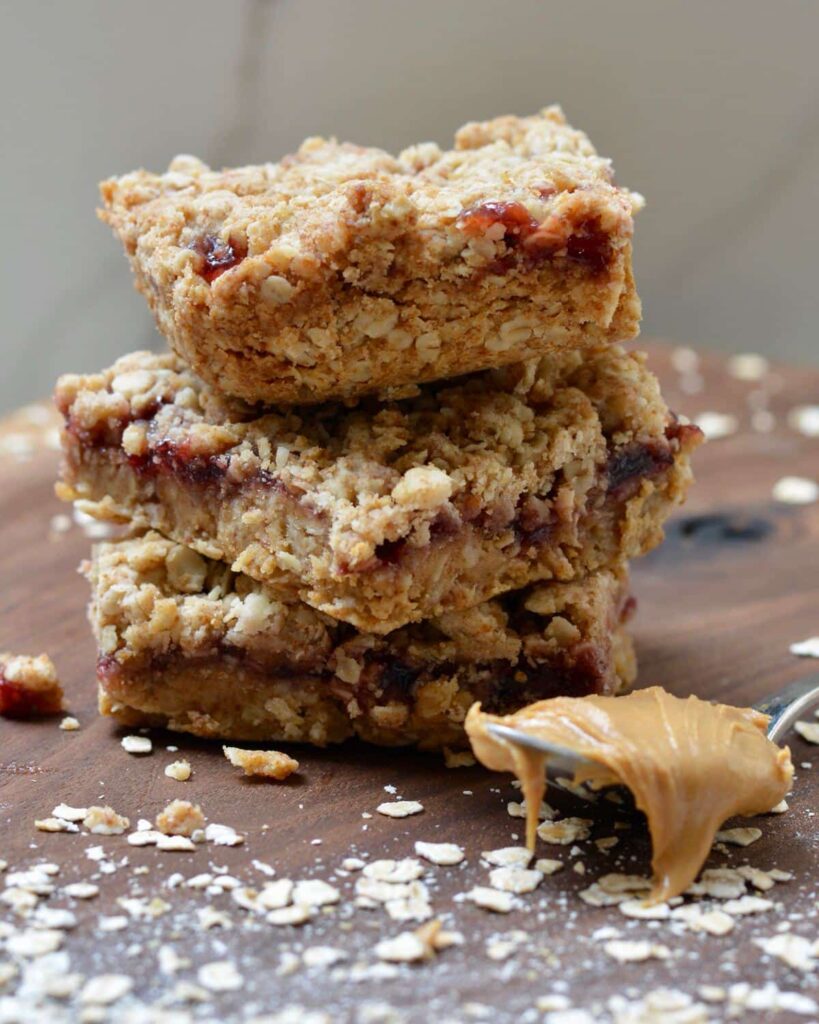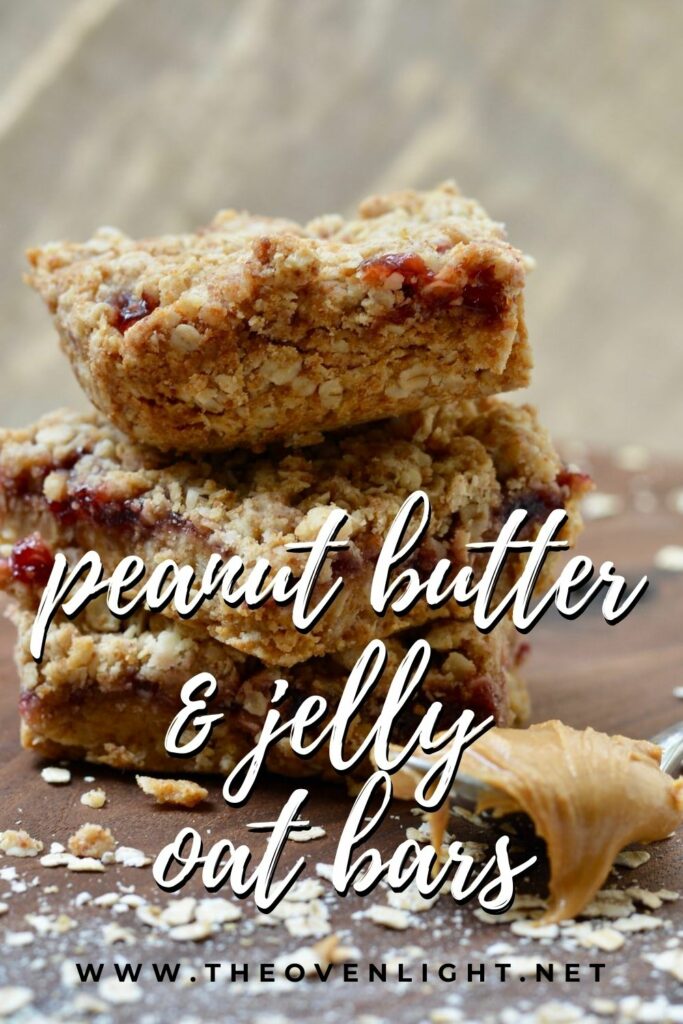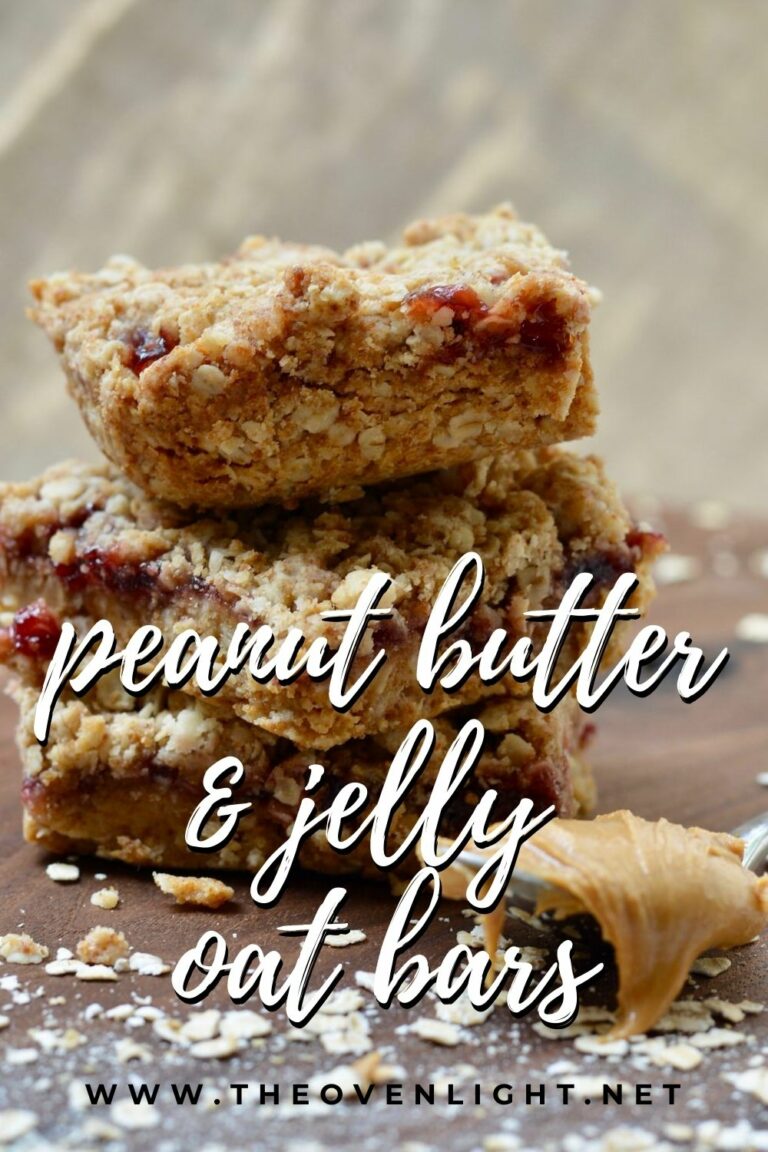 Ingredients for perfect PB & J Oat Bars
Coconut Oil - We're big fans of coconut oil, not because it's some sort of miracle oil, but simply because of the flavor, how it reacts in baked goods and when you get it on your hands, just rub it in!
All Purpose Flour - You may think that flour is all the same, but we love to use King Arthur Flour whenever possible. Not only is their flour a better flavor, but they are an American-sourced, socially responsible and employee-owned company. Plus, I love how much joy emanates from their recipes.
If you don't know this already, I use King Arthur Flour Measure for Measure for everything. Check out this post to find out why! It works like a charm in this recipe too, no surprise.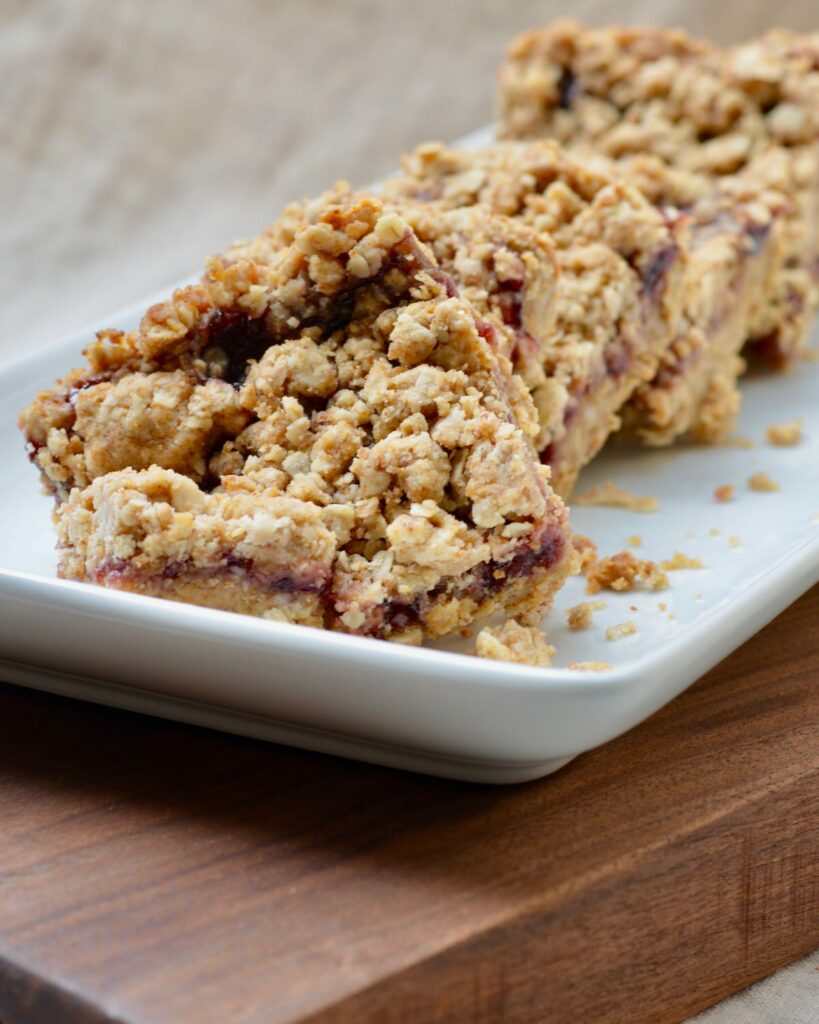 Oats - You can use quick oats or rolled oats for this recipe. Amy uses Trader Joe's Gluten Free Oats, and they work great.
Maple Syrup - I love love love using maple syrup as a sweetener. It's like natures nectar. I'm amazed sometimes at the foods that come straight from nature and taste so outrageously good.
Coconut Sugar - We like to use coconut sugar here to keep the glycemic count low, but you can use granulated white sugar as well, either works great.
Creamy Peanut Butter and Jelly - Any creamy peanut butter will do. We like this recipe best with raspberry preserves (Bonne Maman is our go-to and we think is truly the best the grocery store has to offer), but feel free to use whatever preserves or jam is your favorite flavor. If you really want to reduce the sugar, use preserves with no added sugar, like Smuckers Simply Fruit, that gets its sweetness from fruit juice only.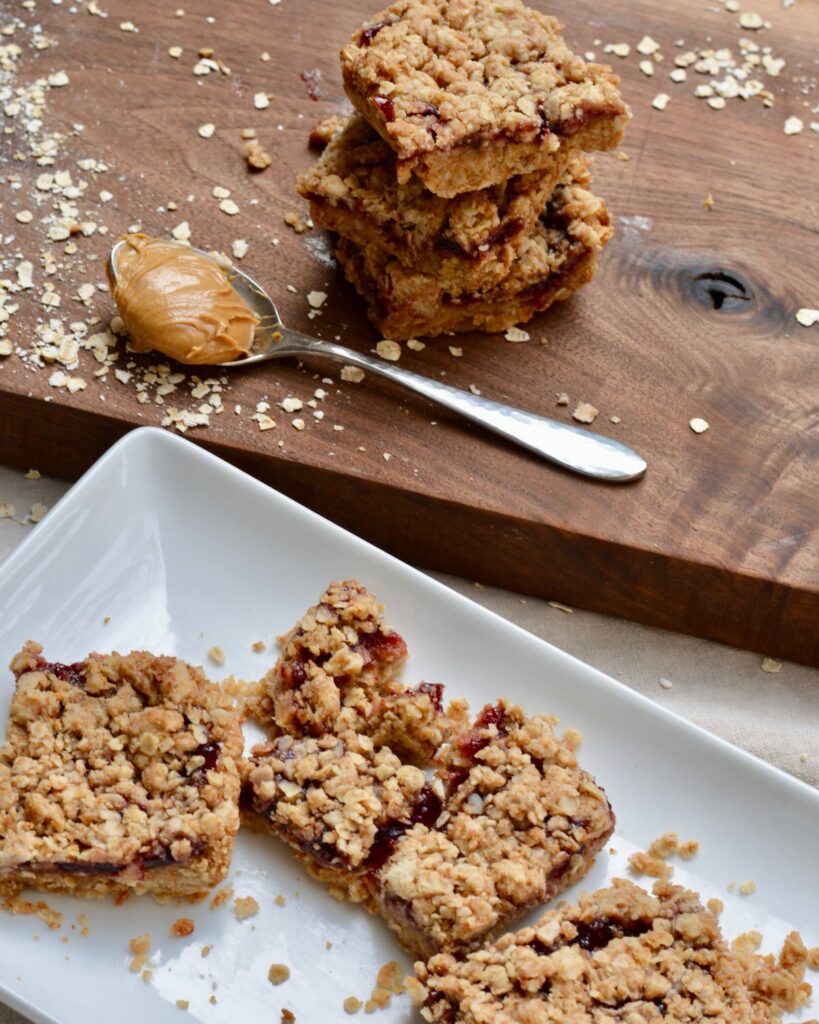 To make these peanut butter and jelly oat bars, simply...
The great thing about this recipe is that it only uses two bowls and one baking pan. Gotta love that quick clean up.
FIRST, grab a large mixing bowl and an 8"x8" baking pan. Spray the pan with nonstick spray. Set aside. PREHEAT the oven to 350°F.
In the large bowl, COMBINE the coconut oil, all purpose flour (or GF substitute), quick (or rolled) oats, maple syrup, coconut or granulated white sugar, baking powder and salt. Give it all a good stir until evenly mixed.
Remove ⅓ of the mixture into a smaller bowl. Set aside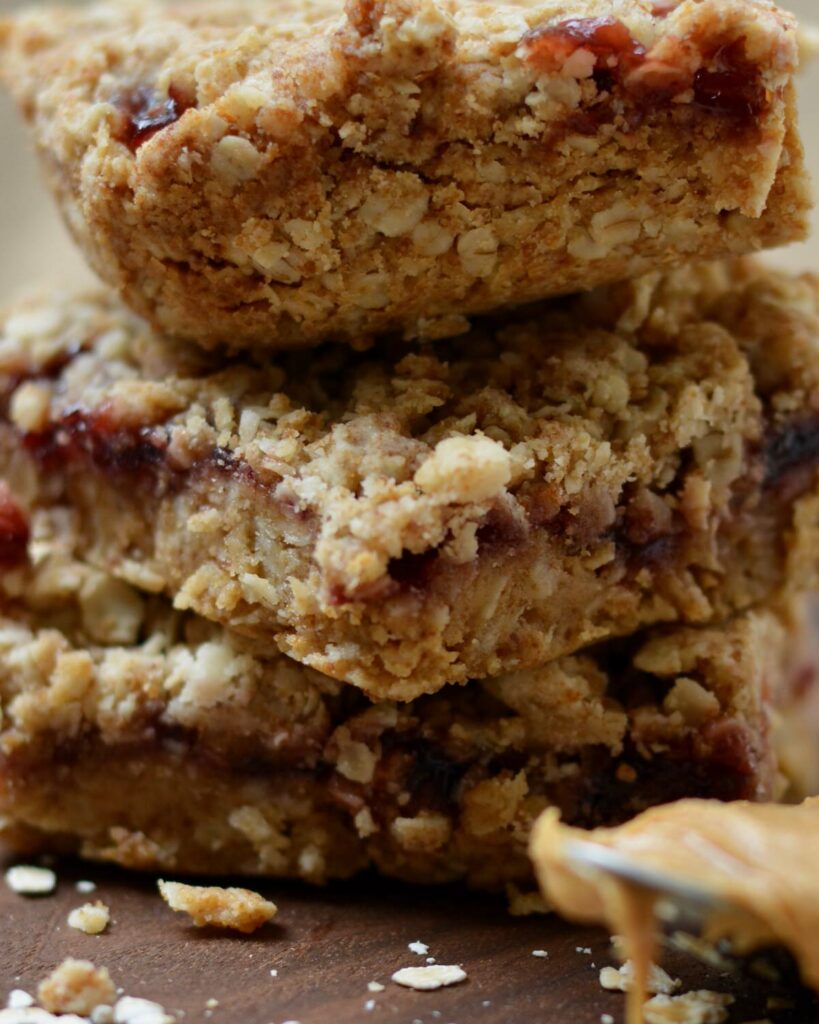 In the ⅔ mixture, ADD the creamy peanut butter and mix well until evenly combined.
Using your hands, PRESS the peanut butter mixture into the baking pan until spread evenly.
Next, SPREAD the preserves being sure not to go all the way to the edges. Leave about ½" all the way around, otherwise the preserves will burn.
Using your hands, CRUMBLE the remaining ⅓ of the dough over the top of the preserves.
BAKE on the center rack for 25-30 minutes until the top is lightly browned and it smells Heavenly.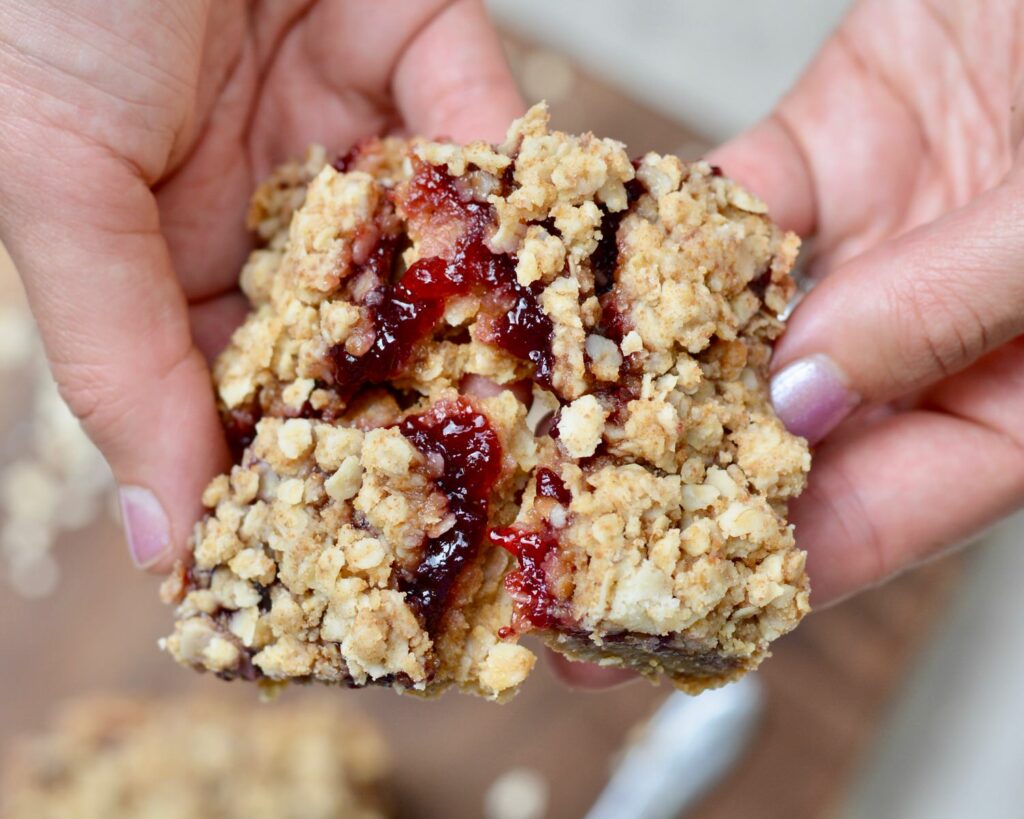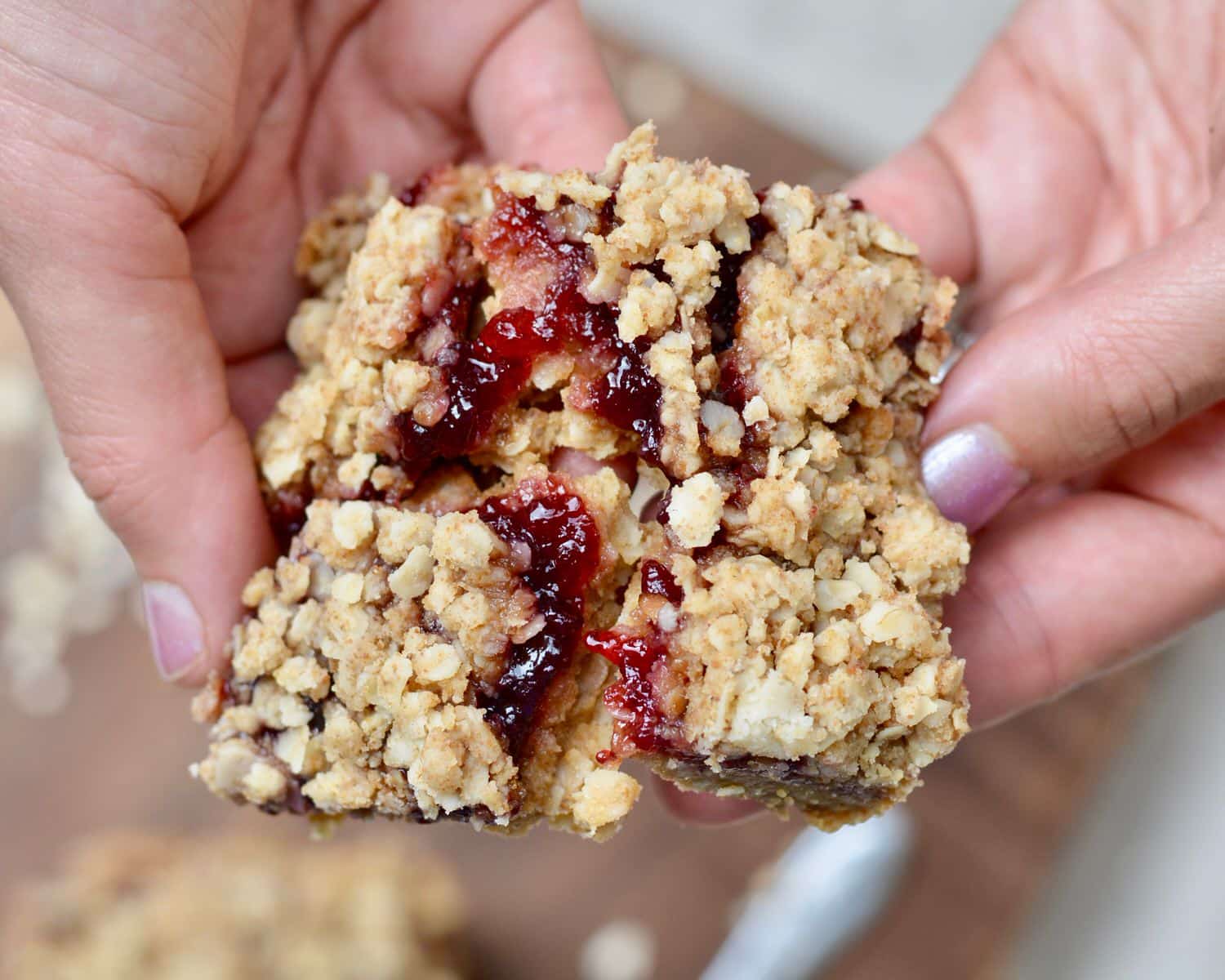 Love this peanut butter and jelly oat bar recipe? Try these other bar recipes!