Is there anything better than golden sweet homemade cornbread on a warm sunny day sitting on a plate next to some amazing barbecue? Maybe if there was also some honey butter to go along with it! We made this recipe so we can always be ready for just such an occasion.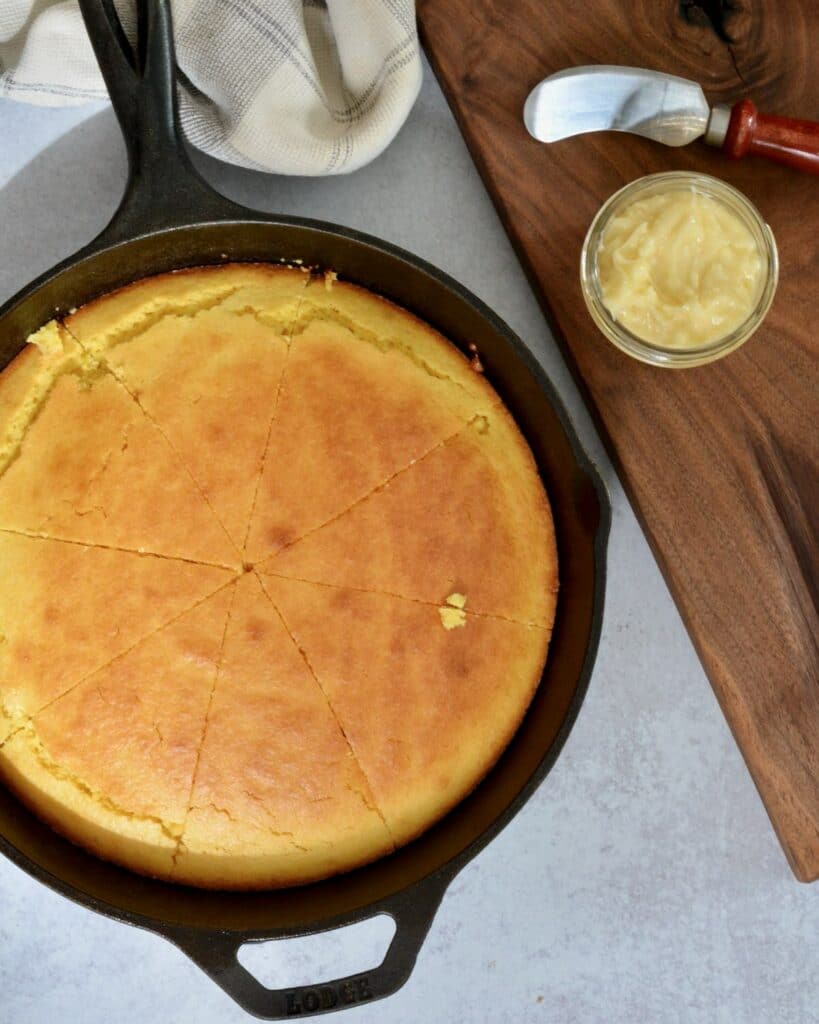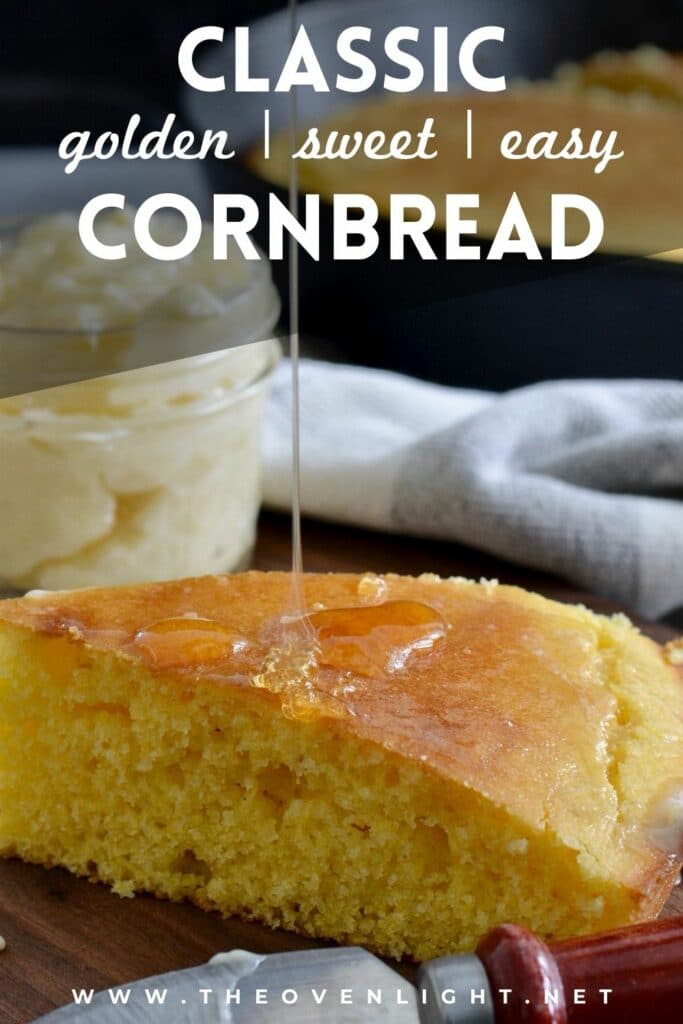 Tell me about this perfect golden cornbread
Flavor - Lightly sweetened and lots of that fresh and deliciously sweet corn flavor. Store mixes for cornbread could never compete with this homemade version, trust me.

Texture - Lightly crisp around the edges and a soft fluffy center. It holds up to a slice of generous butter and honey. Not grainy or dry at all like some of those store-bought box mixes.

Difficulty - Very simple! Just mix and bake.

Time - Only about 10 minutes to mix up and warm the oven. Then 20 minutes for a 9" baking dish. It'll be closer to 15 for muffins and closer to 30 for a double batch in a 9"x13" baking dish. Once baked, cool for about 5 minutes, then slice and serve!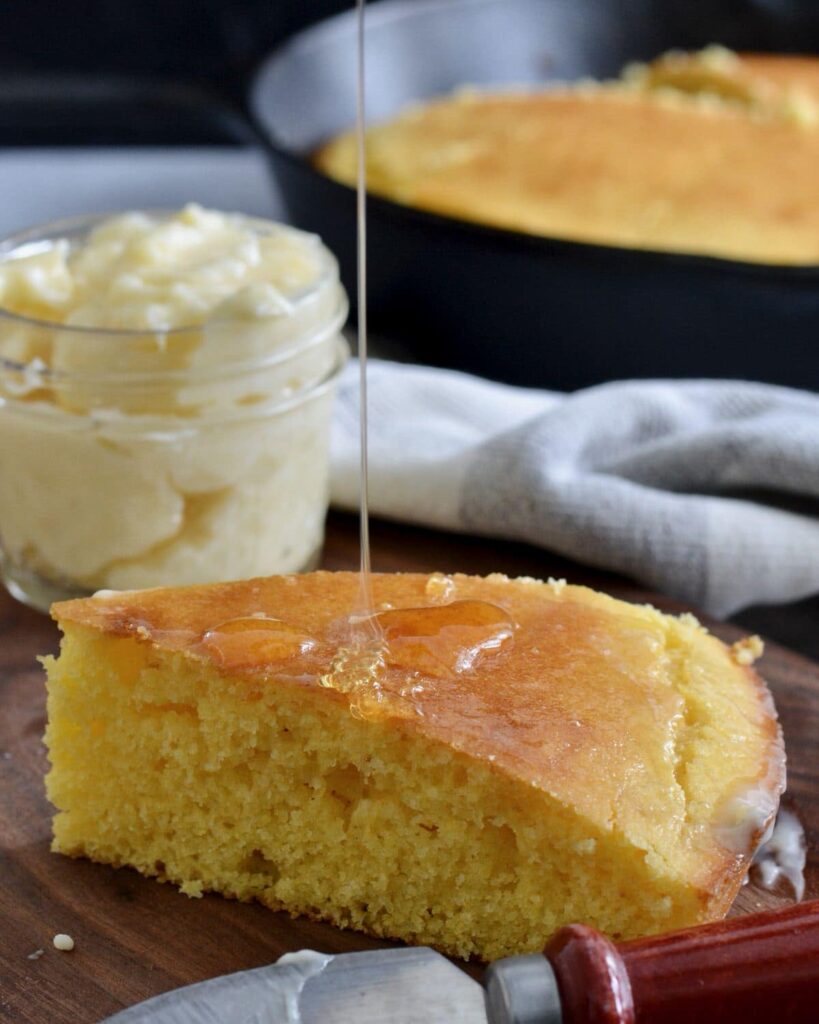 What kind of baking dish should I use?
We love to keep recipes simple and rustic in a 9" cast iron skillet. But a 9" round or square baking dish works just as well. Plus, you can double the recipe and bake in a 9"x13" dish too. OR, make 12 muffins. You'll need to adjust the time if you double the recipe or make them into muffins. Just be sure to keep an eye on them and remove once lightly brown around edges and the center springs back.
What should I serve with homemade cornbread?
A favorite classic is chili (stay tuned for our own recipe), but cornbread is also perfect to soak up liquid from Bourbon Baked Beans alongside your favorite BBQ dish.
We've included a recipe for honey butter to serve alongside as well. It really puts this recipe over the top.
Can I make this cornbread gluten free?
Of course! It's a simple swap for the flour to a gluten free flour blend. My favorite go-to blend is King Arthur Flour Measure for Measure. You can read why it's my favorite in my GF flour comparison post.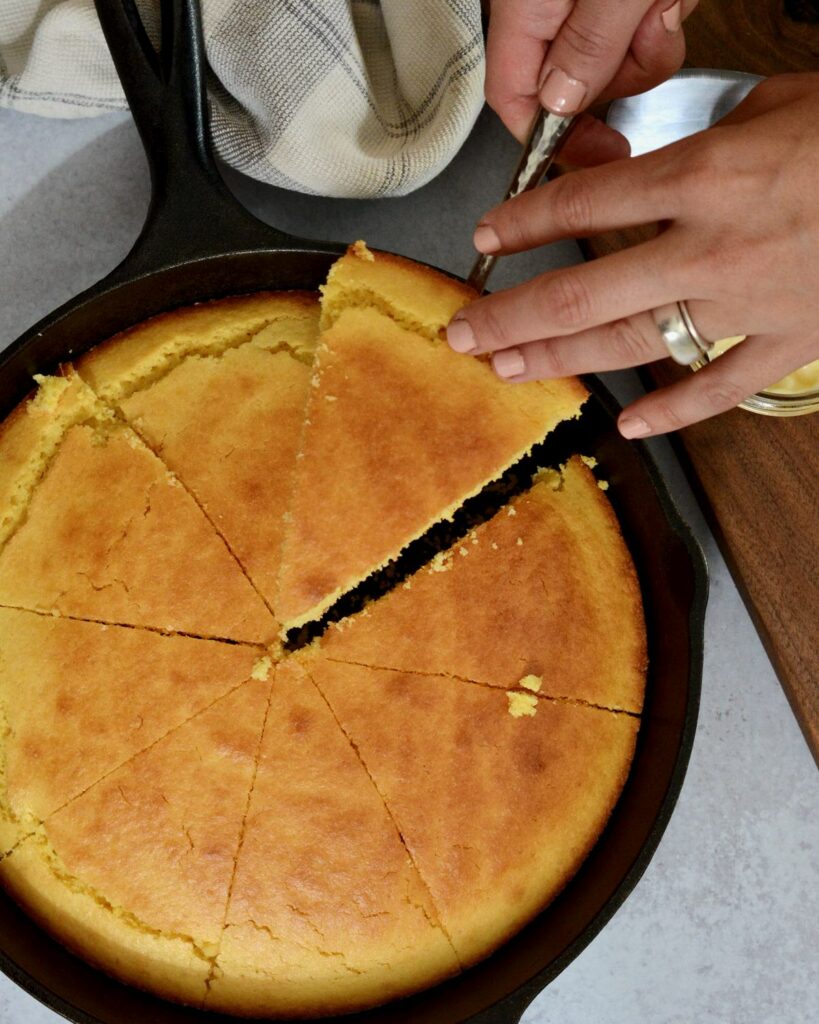 How should I store this cornbread?
Place in an airtight container and store in the refrigerator for up to 1 week. I like to warm it up in the microwave for about 20 seconds and add plenty of honey butter.
What toppings go well on top of cornbread?
Obviously honey butter (recipe below)
Maple butter
Jam or jelly (blackberry is my favorite)
Ham and cheese
Honey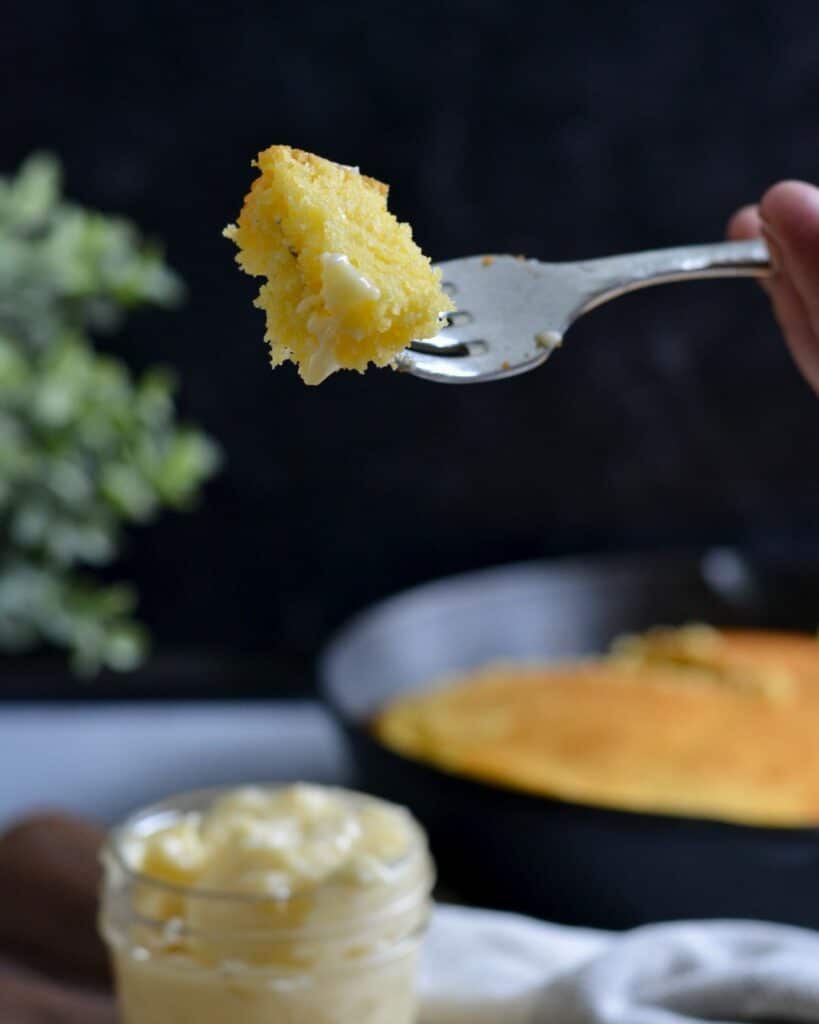 Love this delicious homemade cornbread? Try these other amazing bread recipes!