When I first made this Sausage Gnocchi Skillet Meal, I realized just how simple dinner can and should be every night. I'm not sacrificing flavor, but I'm saving time and money. Yes, please! And just a few ingredients means I keep everything on-hand so this becomes my weekly go-to recipe.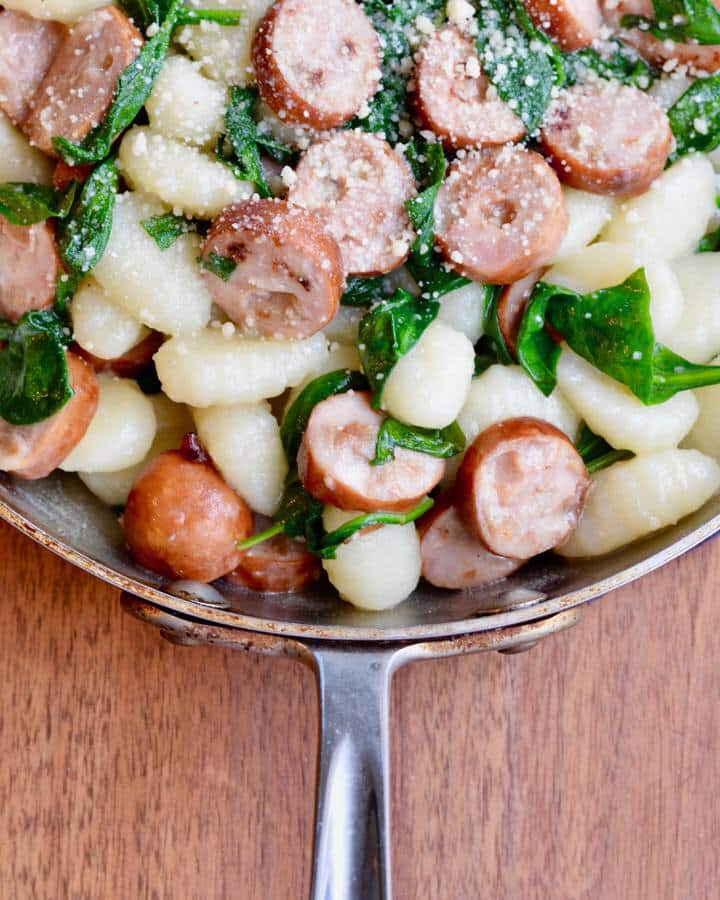 Nap Time is for Napping
I read all these blogs and articles about women who do these amazing things while their kids are napping. They run businesses, deep-clean their entire house, sew clothes for their kids, and make healthy snacks for when their little one awakes. Ha! As soon as I'm sure the baby's sleeping and my older one is occupied, I run for the couch. This is the moment I've been waiting for since I was rudely awoken by baby cries at 6am! Anyone else?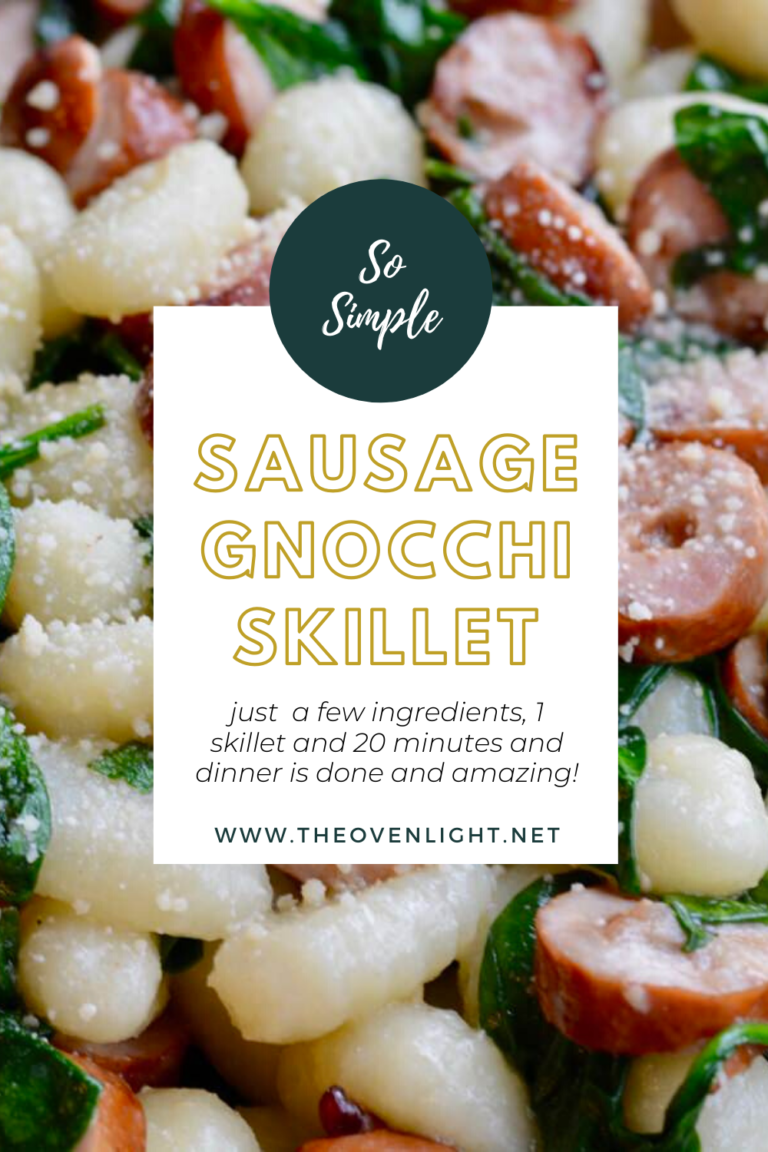 People say that you won't always be so tired, but shouldn't I be over it by now? I'm starting to wonder if having kids has fast-forwarded my aging at an alarming speed. My body thinks I'm 80ish and that I need a little shut-eye in my chair a few times a day. I don't know that I'll ever catch up. If I keep this up, I'll only be awake for an hour a day when I'm actually 80.
Gnocchi will become a regular in your house too!
Alas, let's talk about this amazingly easy sausage gnocchi recipe, you can almost cook it in your sleep! This is that recipe I tell everyone about. Do you have one of those? My husband loves this recipe because it actually fills him up, and I love this recipe because it's so easy to put together and so easy to clean up. This makes it into our weekly rotation and it uses ingredients I almost always have on hand. Winner, winner, sausage gnocchi dinner.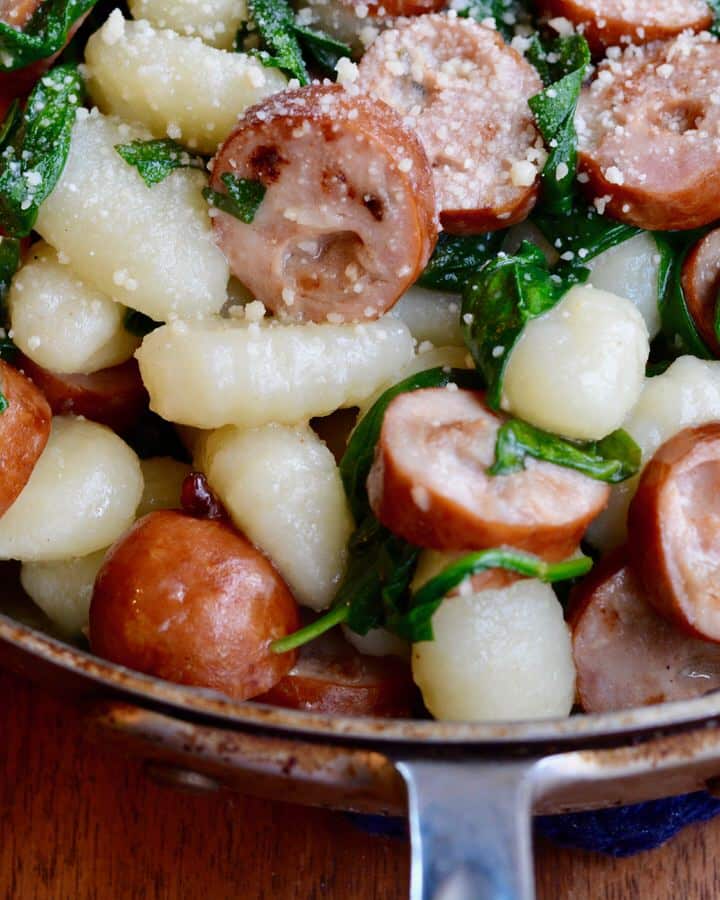 I love to cook with wine
This recipe also allows me to unashamedly pop open a bottle of wine at 5pm. No judging, it's for the recipe, and I had to taste it first, right? Wine also gives sauce a distinct flavor that can only come from wine. I typically buy the cheapest white wine I can if I'm just using it for this recipe, but since it takes less than a cup, buy something you'll enjoy drinking with (and before) the meal.
If you're in the market for an AMAZING skillet, go with this All-Clad. I've had it for 10 years and it still looks (basically) brand new. It's not non-stick. But let me tell you, I've tried a lot of non-stick skillets and they just don't perform as well or last as long as All-Clad. It really is the best (and I'm not being paid to say that).
I did the math, and this recipe costs me less than $8 total! Wahoo! When was the last time you went 'wahoo'? (Name that movie.)
Need more recipes like this Sausage Gnocchi Skillet Meal? Try these!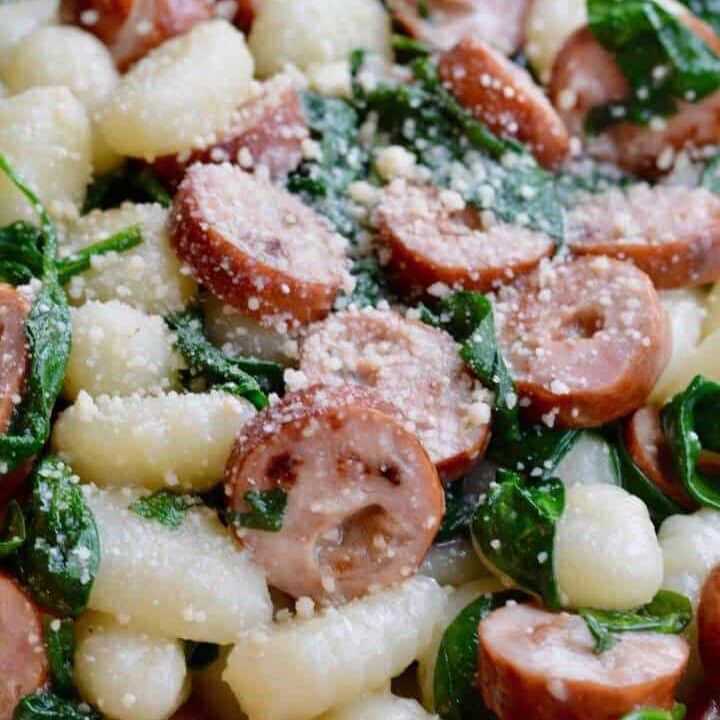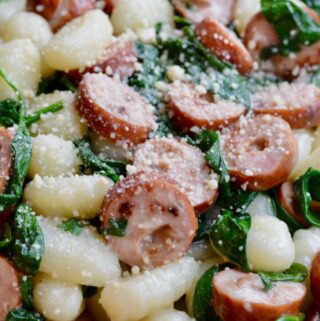 Sausage Gnocchi Spinach Skillet Meal
Quick and easy meal that is hearty and delicious! The whole family will love it! Now you can nap in the afternoon and know that dinner will be ready in a dash!
PRINT RECIPE
PIN RECIPE
Ingredients
1

lb

Gnocchi

4

Sausage links

Sweet is best

1

bag

Baby spinach

7

tablespoon

Salted butter

See note

1

C

White wine

2

Cloves of garlic

Or 1 teaspoon pre-chopped

Parmesan cheese for topping

optional
Instructions
Cut the sausage into ½ inch pieces and brown in a saucepan. (Or cook through if not pre-cooked)


Fill a large pot ½ way with water and bring to a boil. Put the Gnocchi in the pot and boil for 3 minutes or according to package directions. Drain and put Gnocchi and sausage back in large pot and set aside.

In a clean saucepan melt 1 tablespoon butter. Add garlic and sauté until fragrant (1-2 minutes).

Add the wine to the butter and let it simmer until reduced a little. About 3 minutes.

Add 1 tablespoon at a time to the sauce and allow to melt completely before adding the next tablespoon of butter.

Add the sauce and spinach to the large pot with the gnocchi and sausage. Put on low heat until the spinach is wilted.

Dish up and enjoy! Sprinkle with parmesan cheese if you wish.
Notes
Using salted butter adds just the right amount of salt for me, but feel free to use unsalted and control the saltiness to your taste.